Endurance Sports in New Zealand

When I first visited this place in December of 2010, I instantly fell in love with it. And I'm not the only one. Tourism is big, which is odd for a country this far away from the world's most populous areas.
Whenever Sophie and I think about what to do about the upcoming harsh and depressing northern European winter, a vacation to the southern hemisphere often comes to mind. New Zealand is always a top contender because Sophie had spend half a year here during high-school. There are many connections to great people in the country. That was one of the reasons why we booked a vacation for February 2018.
Another reason has been that our oldest daughter will start school later this year, which makes long winter holidays next to impossible, especially if these require such a long journey there and back. 42 hours from door to door is what it took for us to get from Hamburg to Dubai, then Bangkok, then Sydney, and finally Wellington, New Zealand's capital city. Not counting the time zone difference of exactly 12 hours, obviously.
But it's always worth it. The country is one of the best.
This being our third time in the country, we could enjoy a warm welcome by our friends.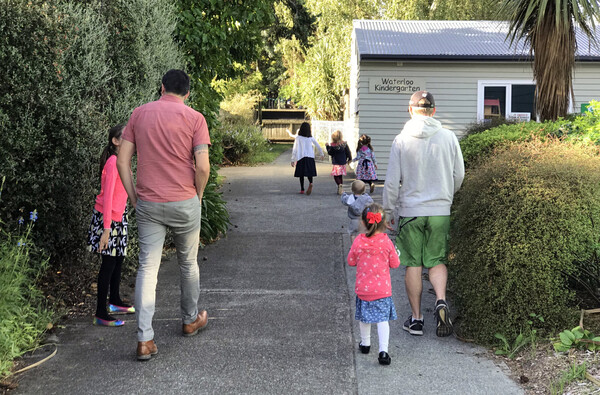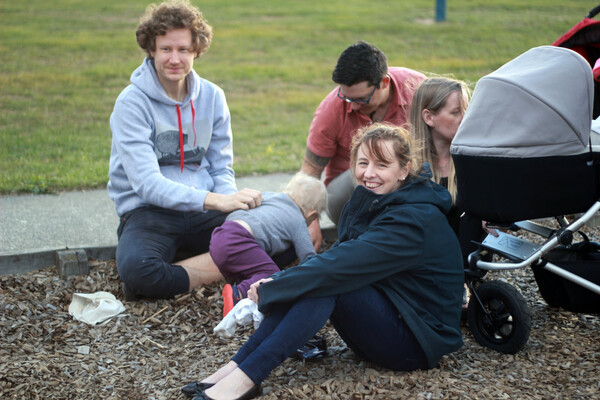 One of my favorite houses ever is the tiny house that our friends Kim and James built into a used shipping container in Days Bay, it's full of clever ideas for storage and furnishings. More over, it feels like such a warm place that they both created here. Ocean view from your bedroom windows isn't the worst, either.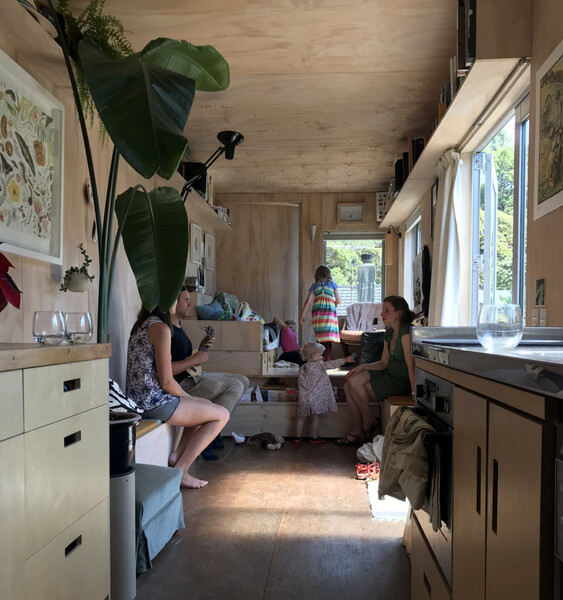 Coincidentally, the container originated from Hamburg, just like us. If you'd like to find out more, check this website about it: Makers of Architecture: Tumbleweed Can House or Kim & James' blog on building it: Can House.
Of course, whenever you're in a foreign and even exotic place, you notice the things around you which are familiar from home.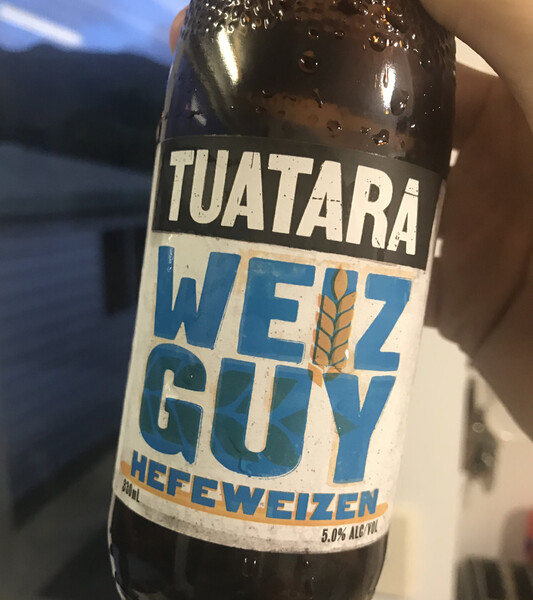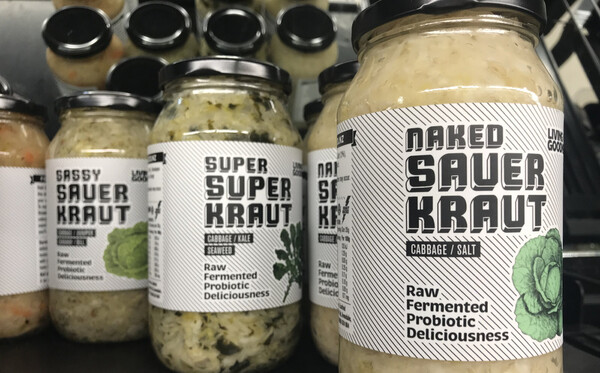 In terms of nature, New Zealand has so much to offer. You can find jungle, deserts, glaciers, volcanos, mountains, but also sunny beaches. For example in the northern parts of the South Island, of "Main Island", as South Islanders would call it. We spent a few days in the vicinity of Takaka to relax.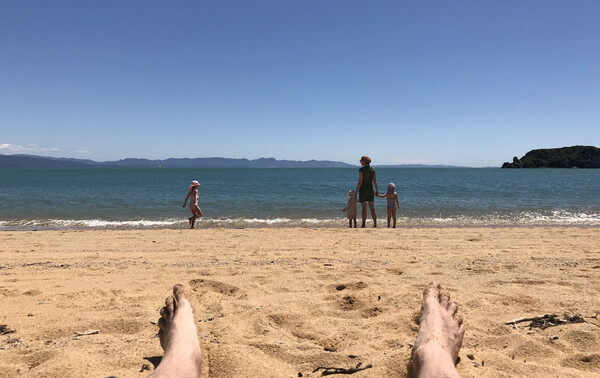 Our great friend Laurie gave us his car to drive around the country for two weeks, which was incredibly generous. So we made our way down south until Westport, at the Tasman Sea, which is the part of the Pacific Ocean between Australia and New Zealand.
The Buller Gorge Marathon
That little town of Westport hosts a yearly marathon event, which I found out about a few weeks prior to our vacation. Needless to say, I signed up and was keen to run my first non-EU marathon!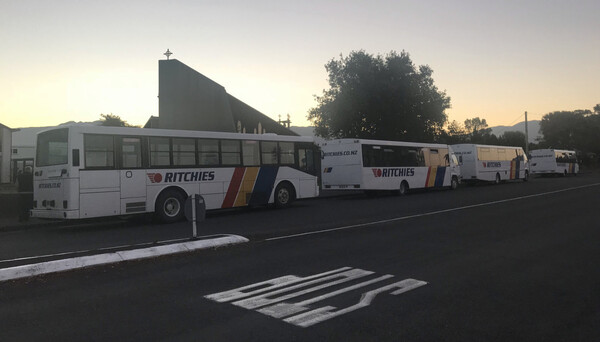 The event isn't big, but for New Zealand's standards, it also wasn't tiny. The South Island of the country has just over 1 million inhabitants although it's 840 kilometers in length. Therefore, it's not very densely populated. Many of the participants had to travel a long way to run today, even if they were living in New Zealand.
The name of the run comes from the river "Buller", which, over the last millions of years, had created a deep canyon, or gorge, through the heavily wooded area. The course is on an asphalt street right next to the river for a big part of the 42 kilometers, until it ends in the city center of Westport.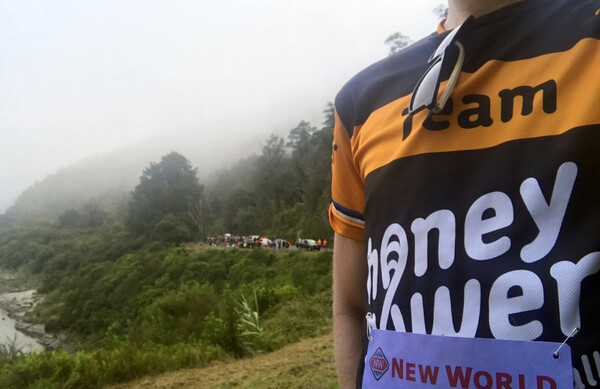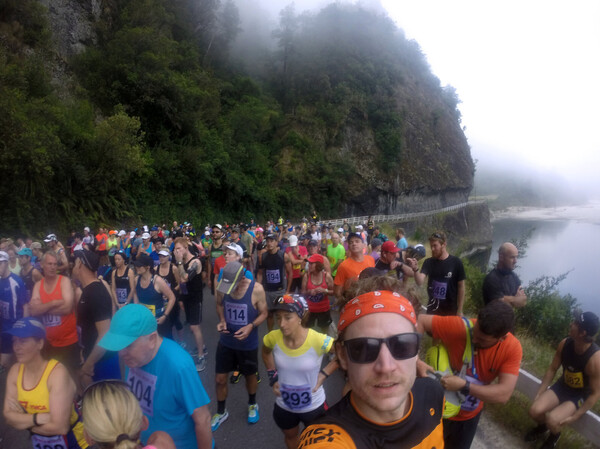 The sun hasn't been out yet, which was a pleasure. The last few days gave us slight sunburns, and I had feared today's run would increase those. A thick layer of sunscreen was mandatory for me.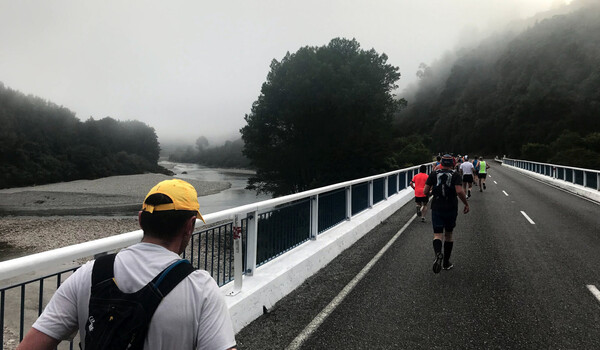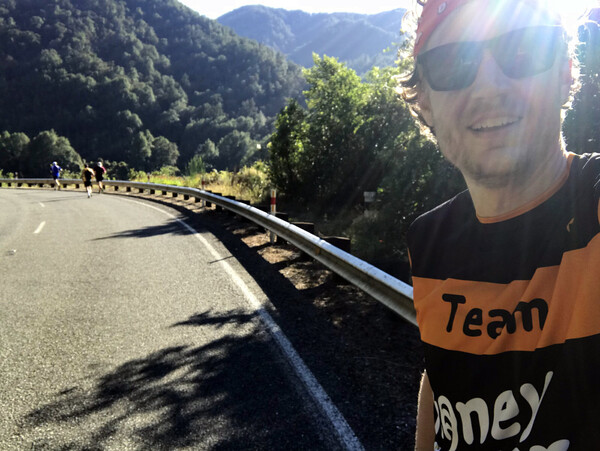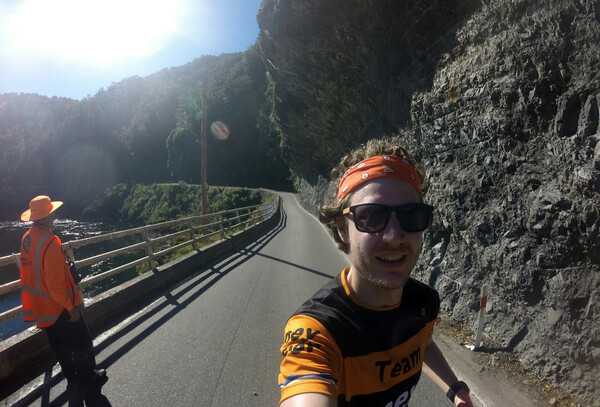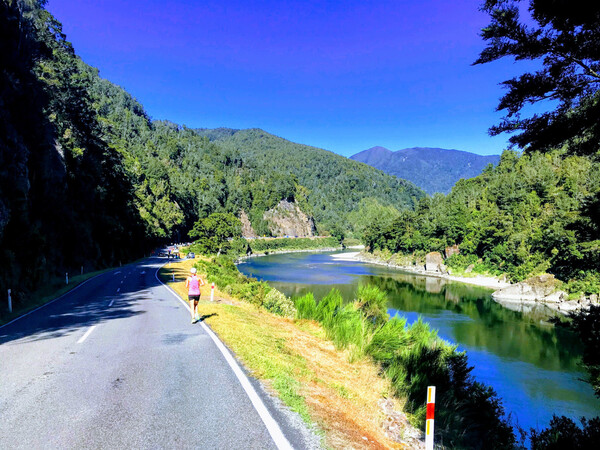 At the same time, a half marathon and a marathon relay race were being held as well. The shape of all the participants differed wildly. I was happy to see many elderly people at this race today.
My own shape was on a low point, unfortunately. Just before Christmas, which is around six weeks before today, I had a stupid accident and broke two ribs. The pain finally faded away after around four or five weeks, but before that, training was nearly impossible. Combined with the huge amounts of great food of the Christmas time, I was happy about every single kilometer I managed to put behind me today!
The other runners, just like about every New Zealander I've ever met, were extremely nice and had a good sense of humor. I talked to a few of them and it's always been a fun distraction.
The run itself got hard for me after about 30 kilometers. It always is about will-power at that point, but this time, especially so. I copied a strategy from other runners, which is a mix of running and walking. 200 meters of walking, 800 meters of running. That worked quite well until a few hills got in the way. Walking up, running down, instead.
Weather was perfect at around 20 to 25 degrees and sun by now, with a hint of wind to keep you from overheating. Water and isotonic drinks were offered plenty.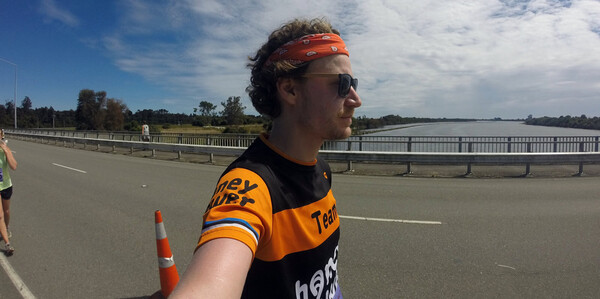 The course was not blocked for traffic. That's a bit annoying, to be honest. The drivers were considerate and didn't speed, but the smell of gas destroyed the wonderful natural experience to an extent. But I think there was no other choice, because it's one of only two roads connecting the city of Westport to everything else in the country. The other road would have meant a multiple hour detour for all cars. So we'd be understanding and share the road.
Crowds were mostly non existing, as there are no parking spots along the street. So it's been a nice and quite run, except for the relay switch points and some of the refreshment stations. I enjoyed it! The closer we got to the city of Westport, and especially within the city districts, some cheering crowds were noticeable, though.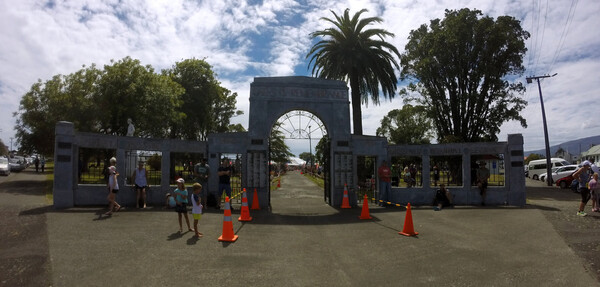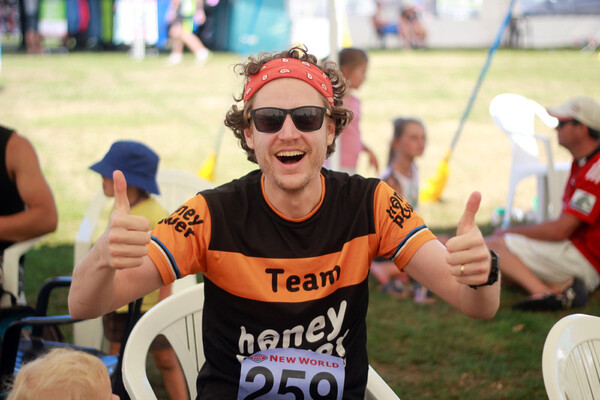 Well, it's been a fight – but a very nice one. Great course and nature, perfect weather, well organized. I can't say anything bad except: no medals! I kind of missed the routine of someone hanging a commemorative medal around my neck. Sure, those eventually land in a box in my basement and are never looked at ever again, but still it's part of finishing a marathon, I think.
The finishing area was big and crowded. Live music was playing, a rock band covering Lorde songs, lots of unhealthy food was offered, and somewhere in the middle my family. The kids had a good time on a nearby playground, Sophie was still energized. That went well! As a celebration I got myself a Subway sandwich before we triumphantly walked back to the hotel through a now very rainy city of Westport. That timing worked out perfectly.
A bunch of relaxation days in and around Queenstown followed. Queenstown is a very popular tourist destination, owed to the myriad of touristy activities offered in the town. For example, we could take a gondola up a mountain to not only enjoy this view: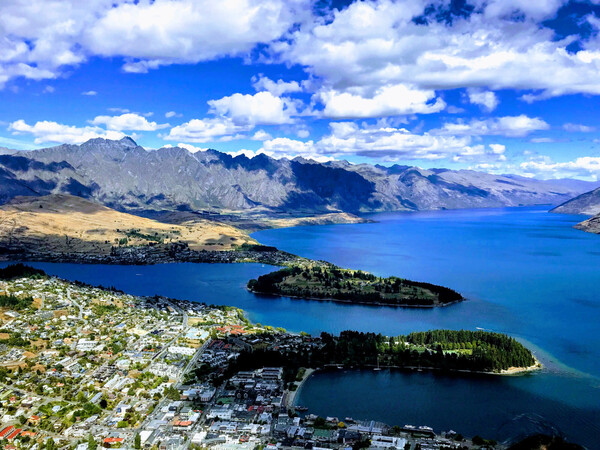 But also do a street luge race down a course on top of the mountain. Fun! A trip in a high speed jet boat through another canyon gave us some thrills and scared the little Vera shitless – tough girl got out stronger, I reckon.
My main endurance event was coming up. Just a week after the marathon I had signed up for Challenge Wanaka, a long running event in the city of Wanaka, located right at Lake Wanaka. Creative naming. Initially I tended towards the full iron distance, but in the end I was glad I chose the much easier half distance race of 1.9 kilometers swimming, 90 kilometers biking, and a 21.1 kilometer half marathon. After the accident and the Buller Gorge Marathon I would have had no chance at successfully finishing the long one anyways.
What do you do about all the triathlon equipment when traveling to a far away race? It's not that easy, especially the bike transport can be tricky and expensive. That's why I asked around and finally got an offer of a great and cheap rental bike just a few hundred meters away from the race center. Perfect. That way, I just had to bring my racing suit, a helmet, biking shoes, and running shoes.
I left the wetsuit at home on purpose, because it takes up lots of much needed space. It's not like I've never swum in very cold water without a wetsuit. But when already in New Zealand, I found out that the wetsuits were made mandatory at Challenge Wanaka – too bad! Fortunately it just took minimal effort to arrive at this solution: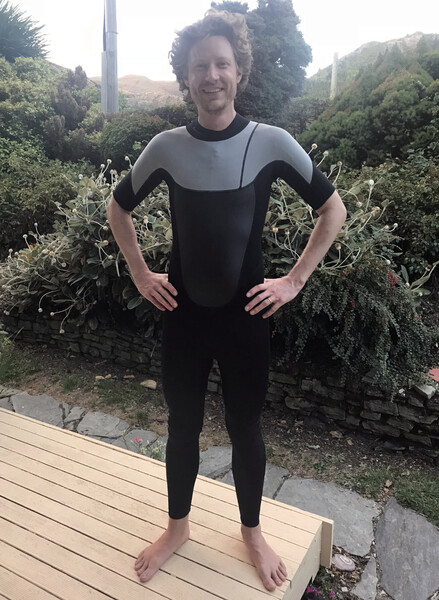 It fits, keeps warm, and should get me through race check-in. All for 50 bucks. Not too bad.
Said race check-in on the day before the race went fine, my cool rental bike including an electronic DI-2 gearbox was accepted by the officials and the helmet got a "this helmet is safe" sticker.
Today, a kids' triathlon took place. Hundreds of little ones were taking part. Some of them very eager and competitive, some forgetting it's a race and stopping on the run to check out some flowers. Fair enough. Enjoy the nature, I say!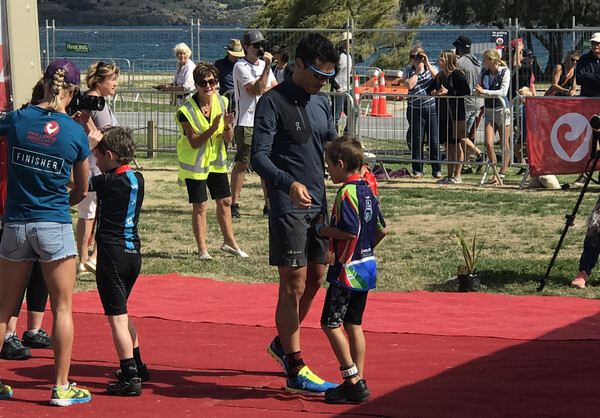 Good on him. He is usually a specialist on the shorter Olympic distance, but managed to become world champion on the 70.3 half iron distance twice as well. He never did the complete long distance Ironman triathlon before, though. Many expect him to try in the near future. I'd like to see him do that.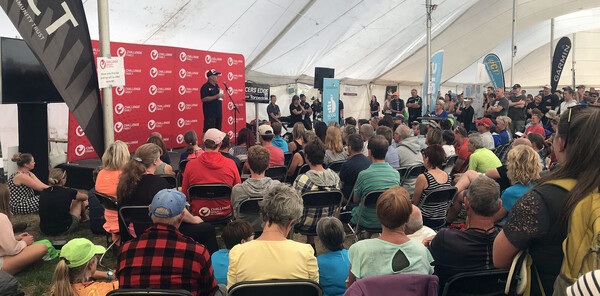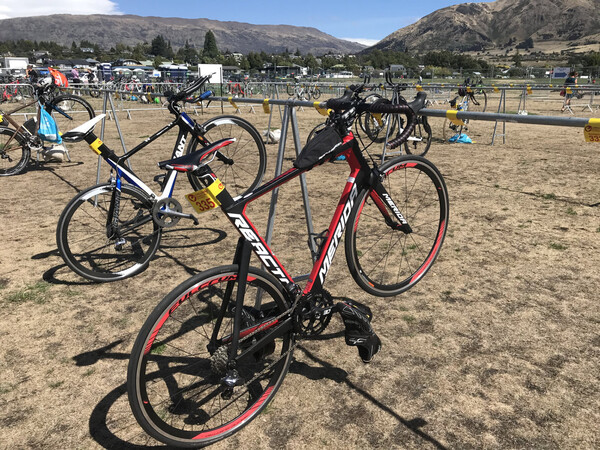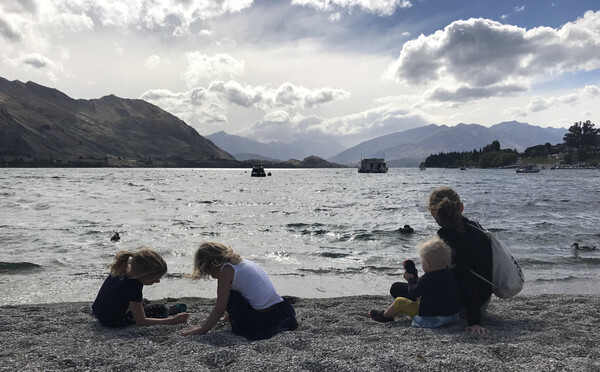 That evening, a big meal was necessary to load up the energy reservoirs in my body. No problem. After a good night's sleep, our friend Laurie, who had joined us for a few days here down south, kindly drove me to the start of the race, where the most annoying bit of any triathlon was on the plan.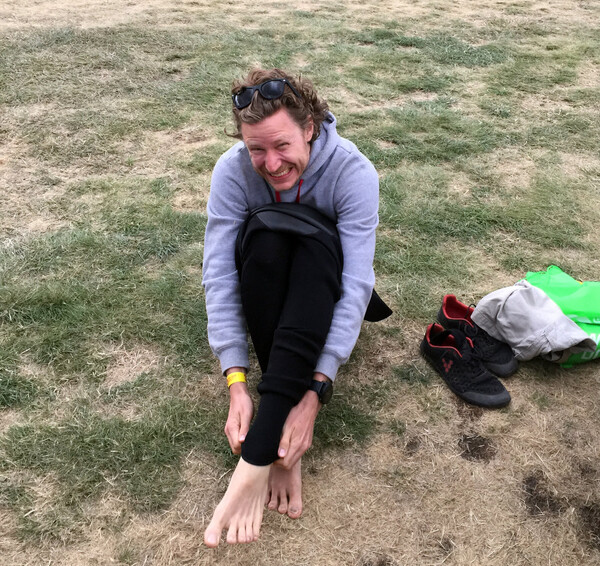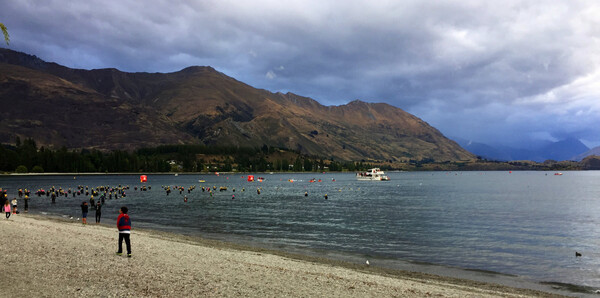 Swimming
The weather wasn't great this morning, there was slight rainfall and a cloudy cold surrounding us.
During the swim I remembered that it's really hard to swim when you haven't had any training in the previous four months. But on the other hand, I was glad I could do my standard freestyle strokes without feeling any pain in the ribs. Steadily and very slowly I made my way around the four buoys. I suspect the cheap wetsuit to be another reason which slowed me down, as it wasn't designed for swimmers, but rather surfers or divers. Lots of resistance. Still, after an insanely long 44 minutes I made it out of the water happily.
Compared to my personal best time of 31 minutes for the 1.9 kilometers this result was really poor. I didn't mind, though. The race was far from over.
It was cool to see Laurie again at the swim exit, standing there waiting in the rain. Great support.
Next, a short run towards the changing zone followed. I struggled with the zipper of my wetsuit, which another athlete realized and kindly helped me while running next to me. He didn't succeed. I tried again and thus broke the zipper off. 50 bucks down the drain! As I entered the changing tents, two volunteers noticed I needed help and ripped that broken wetsuit off of me. Very considerate and nice of them. I was glad to get rid of it, it had fulfilled its purpose and was never supposed to hold up for longer than this race.
Towel, socks, helmet. The usual. And onto the bike!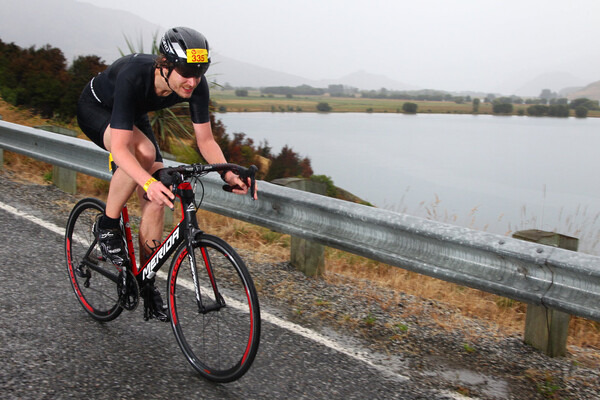 Biking
The weather situation was a bit unlucky. We couldn't enjoy the beautiful scenery, as most of it wasn't visible in the fog and clouds. Raindrops on the outer part and fog of the inner part of the windshield made it even harder to see. The bike worked very well, especially the DI-2 electronic shifter was lots of fun! I played with it whenever there was the slightest hint of an opportunity to change gears. The little *zzzt* sound of the switcher feels oddly futuristic.
The bike course was mainly on highways again, and the rough asphalt shook me good on those 8 bar tires. The vibrations went through all my bones for the whole ride. A bit of wind and some harsh little uphill sections made sure it didn't get boring!
As well as for the swim, my bike training in the previous four or five months was non existing. I had planned to prepare during January, but the rib pain made that impossible. So I just had to pull through. That usually works, although really slowly. In the end it took 3:20h to ride through the 90 kilometers including 800 meters of elevation gain. A poor 27 km/h average and I don't even want to know the Wattage. Worst bike split ever for me, I think. But I made it through, and that's what's important. I was really glad it was over though!
This time, the transition wasn't in a tent, but right next to the bikes. We had to put out running gear bags on our bikes the afternoon before, just like the smaller races usually dictate. Needless to say, the bags were soaked. We were soaked as well, so that's probably not a big deal now, I thought. I put the bike on my designated rack space, got into the wet running shoes and made my way onto the run course as the sun finally appeared.
Running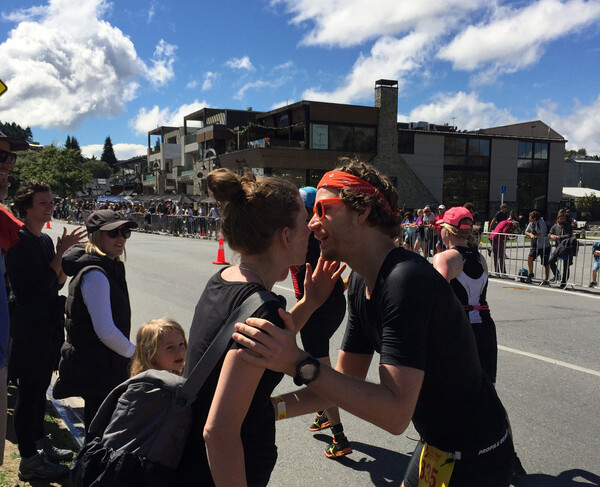 The run started out great. After more than three hours of continuous biking, the legs always feel a bit stiff and heavy, but I expected that. The sun really raised my spirits here and as we moved out of the town of Wanaka and entered the nearby nature I felt even more enthusiastic about it.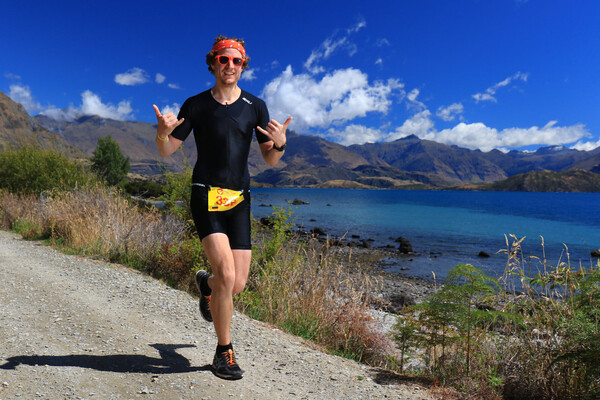 Steady pace, still energetic, beautiful course. There's not much else you can ask for! This is what I came here for. After around five kilometers we entered a forest, probably of Eucalyptus trees. The smell was amazing. It felt like my very own little wellness day to run this course.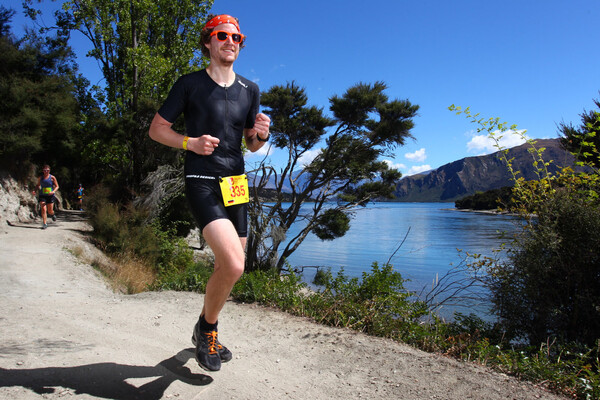 About 10 kilometers into the half marathon I felt it, though. I over-paced. The marathon from last weekend was noticeable. On a short uphill stretch I suddenly felt the energy leave my legs and needed to walk immediately, to my own surprise. Oh come on, this early? – is what I thought. I was already doing sports for five hours by now, still this felt early.
The strategy from last weekend needs to get applied here. Walking and running, constantly changing. I struggled with the rhythm, though. From time to time, 800 meters of running weren't possible, or 200 meters of walking seemed to be too long. The only possible option is to listen to the body and just give it your best shot. Also, strongly hope that suddenly appearing photographers will catch you while you're running and not walking!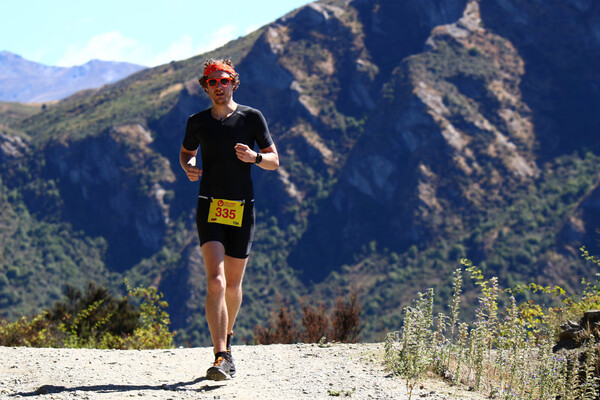 It got quite hot by now. I saw many people walking. The course had parts that were to be run twice, so I could see many other athletes at different stages. Also, the full distance triathletes had to do two laps. Some of the faster ones passed me by. They had done twice the distance but also got a 1:30 hour head-start.
Lots of New Zealanders were roaming the course, wherever possible. Friendly folks! At one point, an athlete in front of me was walking, while a bunch of Kiwis (e.g. New Zealanders) were cheering him on to start running again – it's a race after all, was their logic. Can't argue with that. When that walker got closer to the group, one of them saw the national flag on his bib number and exclaimed: "Oh, it's because you're AUSTRALIAN."
The Aussie couldn't let that insult go and immediately got into running again, for sure.
Wherever you get your motivation from! It's funny to witness this well meant love-hate relationship the two countries on the edge of the world like to cultivate. I think, in the end they like each other quite a bit.
I myself managed to wobble through. Longer breaks at the aid stations, a bit of walking, some encouraging words from Kiwis – mainly about the cool look of my sunglasses – and a delicious CLIF bar helped me a lot.
Javier Goméz already had won the race at this point. Everyone knew he was going to, but apparently a New Zealander managed to follow him quite well into the bike part, until his chain broke and he had to stop. Goméz, ever the perfect sportsman, stopped as well and waited for his opponent to fix his bike, until both continued. What a gesture! Both stayed close to each other for the rest of the race, Goméz was conserving his energy. In the end, the New Zealander obviously couldn't challenge him for a finish sprint, after what Goméz did. So the race ended a bit boringly, but with a good feeling for everyone involved. A display of great sportmanship.
I also finally entered the city of Wanaka again, some time later. Just a matter of meters until that coveted red carpet.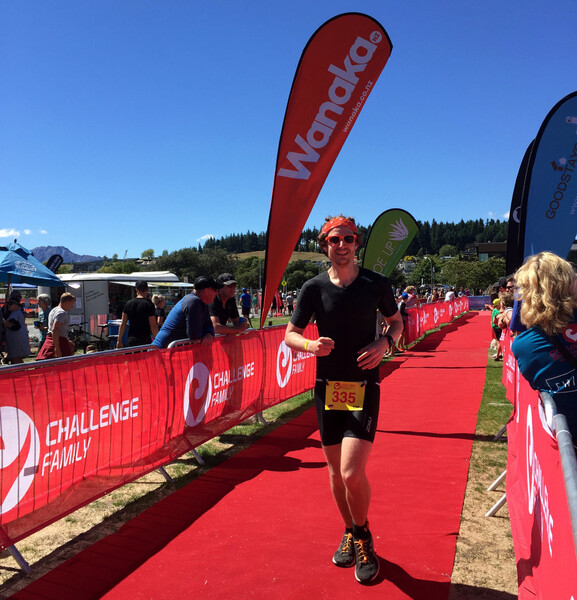 There's the family again, a hundred meters in front of the finish. Stopping to give some kisses. Sophie says that Vera wants to accompany me and lifts her above the fence. She's excited! Of course I gladly take her hand and share that moment with her.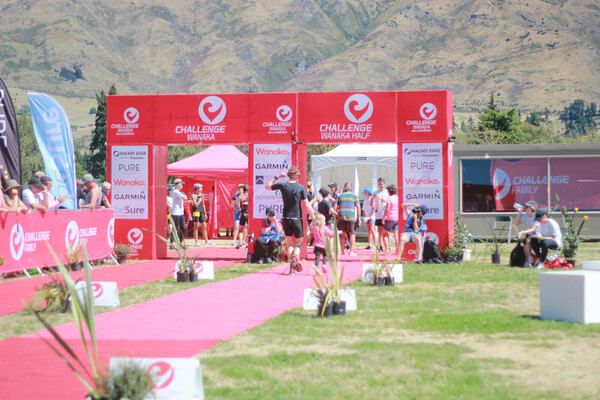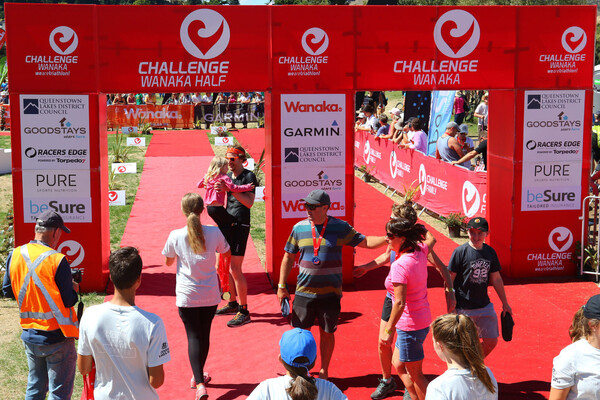 A friendly volunteer interpreted the situation correctly and put the finisher's medal around Vera's little neck. She was so proud!
That's been the best ending to the last hour of struggle on the run course. It leaves me with a smile.
Vera and I walked over into the finisher's tent where she got VIP access. The Subway sandwich company had put up a little place and handed out free sandwiches – perfect. Vera and I walked over to the family, where I realized it took me 2:12 hours to run that easy half marathon. That's also my worst half marathon ever. Ha!
From an athletic point of view, this day was a complete failure and suffer-fest. But from all of the other points of view, it's been amazing. I feel so thankful for being able to do a triathlon in beautiful New Zealand, together with my family and friends. That's what counts.
It's also a good way to start off the year: a terrible result motivates me even more to get going and improve for the races to come.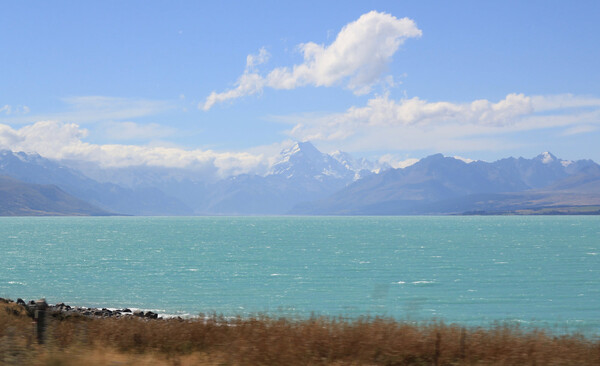 Every adventure has to end at some point. It's cool that a trip to a far away place holds another adventure in itself: the long journey back home. 42 more hours of travel.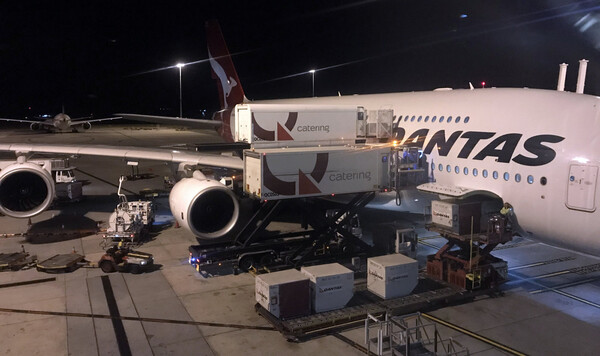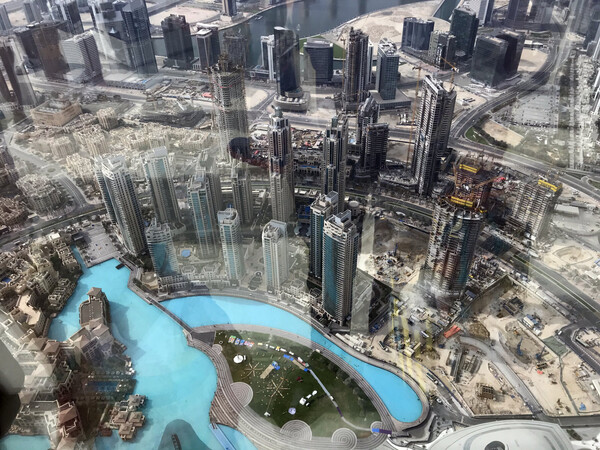 Dubai has an Ironman 70.3 (half distance triathlon as well) every January. I'll put it on the list. Such an interesting place.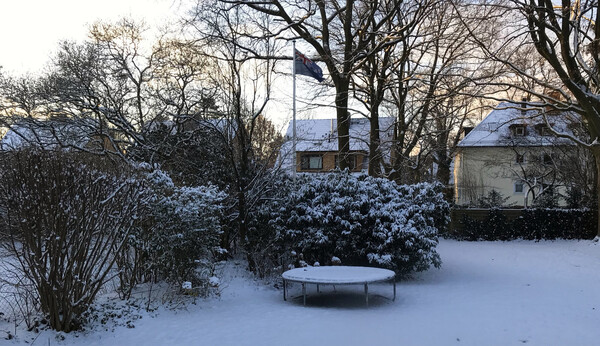 That's endurance races in New Zealand. Now my eyes are focussed on training for more marathons and the next big event, Hamburg's 100 kilometer power hike in April. Expect a post on that as well!
Thanks for reading and see you next time!
How do you feel after reading this?
This helps me assess the quality of my writing and improve it.