Hello, my name is Tim Teege
and this is my blog.
To get notified about new posts, subscribe via e-mail or add the RSS feed teesche.com/feed to your reader of choice.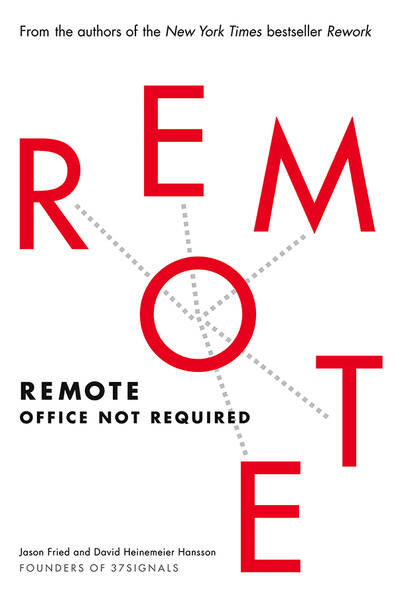 Remote
Office Not Required
258 pages, ★★★★☆
Finished on 20th of October, buy here.
This book about creating a company based on remote working was first published in 2013. Now, that the COVID-19 pandemic has hit so many companies with the necessity to suddenly work remotely, it's even more relevant. I have run my own company remotely for a few years and in general it's been going well. But, of course, some challenges present themselves from time to time, which made me look for answers. Answers from people with lots more of experience with that sort of thing.
This book spends a good percentage of it explaining why remote working is the future and just the reasonable thing to do. I didn't need that, I'm already convinced. But in between there was a good dozen of little tips and tricks I have written down and will try to implement in my own company now, in order to make the remote working go even better. Never stop to optimize! Also a plus: it's a quick read containing condensed information.
Facebook: The Inside Story
560 pages, ★★★★☆
Finished on 12th of October, buy here.
I've always been fascinated by the story of Facebook, the product. Shortly before the company was in its infancy, a bunch of friends and I made our first steps at coding something reminding of an online social network of that sort and ran into similar problems that Zuckerberg had at the beginning. Obviously, the paths quickly diverged enormously. While the first half of the book is recounting basic facts like "and then Zuckerberg put person x into position y, then he bought company z", the second half of this extensive book is captivating.
I'm glad I didn't discard the book after a months long break stuck between both parts. The main point we can observe when looking at what happened in the world since Facebook hosts a third of the world's communications, is the question: Is it worth it? How many live streamed massacres, how much foreign interference into world leader elections, how many millions of leaked personal profiles fallen into the hands of shady people – did you know Steve Bannon was part of the Cambridge Analytica disaster? –, how much abuse of our trust for the gains of ultra-capitalists, how much daily viral News Feed negativity does humankind want to endure in exchange for being "truly connected"?
Right now, my answer is: How about we just write down the phone numbers and email addresses of our friends to stay connected.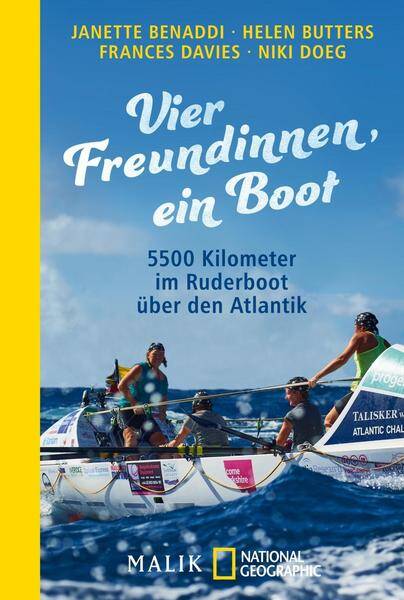 Vier Freundinnen, ein Boot
5500 Kilometer im Ruderboot über den Atlantik
336 pages, ★★★☆☆
Finished on 29th of September, buy here.
[German] I accidentally ordered the translated german version. These four British middle-aged ladies actually rowed across the Atlantic from La Gomera to Antigua, as part of the Talisker Whisky Atlantic Challenge. I've had that trip on my bucketlist for some years and always wanted to read a book about it, and now I have. The whole things seems a lot more doable to me, now. Adventure books mostly have that effect, because the authors tend to have survived. Note to self: do more research on failed attempts.
The book itself is a quick read. A real page turner for me. The ladies aren't gifted authors, but they had help. They describe a lot of details surrounding the whole endeavor, probably because the journey itself wasn't as interesting. Water and rowing all day for two and a half months. The structure of the book is therefore quite good and the content is entertaining and informative. But from time to time they described events that made me think these women were actually naïve teenage girls. Starting from being late to so many important events, sleeping through safety training as if that was cool behavior, killing the boat's battery during a Christmas party and having to go on without it, packing lots of food they didn't like and then threw overboard, all the way to severely burning their hands with celebratory torches during the arrival in Antigua. How lucky it all worked out in the end.
10th of September
Explanation: This post is inspired by a challenge created by Tim Hein and Brady Haran in an episode of their Unmade podcast. The task is to take any picture you took and describe it in exactly a thousand words. I chose one of my favorite moments of the recent few years, just before my win at the Te Houtaewa ultramarathon. At the time I also wrote a more detailed blog post about this race.
And as it's a podcast, I recorded myself reading this post and sent it to Tim and Brady, maybe it's interesting enough for them. Here's the audio.
24th of August
At the start of the previous four years, I have set personal goals to reach during those years. For 2020 as well. This particularly weird year is now more than halfway done (and many people hope it will end rather sooner than later). Still, I followed through with my goals as far as I could and will give my halfway point results here.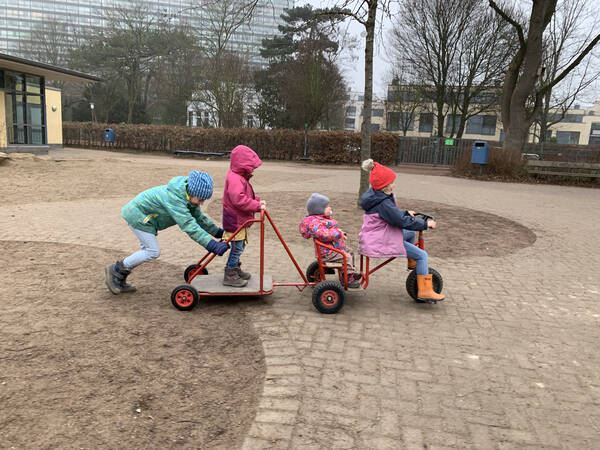 9th of August
There are a few standard distances many endurance runners have on their mind.
21.1k half marathon
42.2k full marathon
50k
50 miles (80.5k)
100k
100 miles (160.9k)
In addition, there are established time-based challenges like a 6-hour run, a 12-hour run, and a 24-hour run.
Above those distances and times, crazier things exist, but I would regard those as unusual. Just a tiny fraction of us ultra runners are up for those, while most of us are mainly interested in these mentioned categories, which also are used to hold national and international championship races.
15th of July
Currently I'm starting my training for the Endurance Trail des Templiers race, which takes place in October in southern France and will feature 106 kilometers in length and 5,125 meters of vertical gain.
Needless to say, it's going to be tough and I will need to prepare for that quite a bit.
But how to prepare for something like that?
I am also not entirely sure, but from talking to friends who have done similar races I got some helpful tips. Those are not surprising: run a lot, and run up and down some hills a lot.
Also, as I'm guessing the race will take somewhere between 15 and 20 hours for me, I think I should prepare to be able to stay on my feet for a long time.
6th of July
I like to shake things up with doing little challenges during the year that are usually supposed to last for a month. It's fun to follow through with difficult tasks I wouldn't otherwise manage to complete.
In the past, I have done things like a month of daily planking exercises, a month of eating entirely vegan food, a month of avoiding products with more than 5 percent of sugar, a month of daily 7 minute workouts, and a few other challenges, mostly about nutrition or health.
Because nutrition and exercise are difficult areas to get right.
15th of June
One of my annual quests is to do one marathon length run per month. As most of the races are still getting canceled, I need to do this on my own. The only problem is finding routes – a task which is usually done by the race staff of the races I sign up for. But during COVID-19 times, I have to do this myself and get creative.
To be honest, I think it's a bit annoying. I'm certainly no navigational expert and I have not much of an interest to become one. It's great that smartphones and tracking watches do most of the work these days, but I still find it distracting to re-orient myself every few hundred meters of a long run in an unknown area, losing the flow of running, and, in the worst of circumstances, having to track back to the route when I get lost.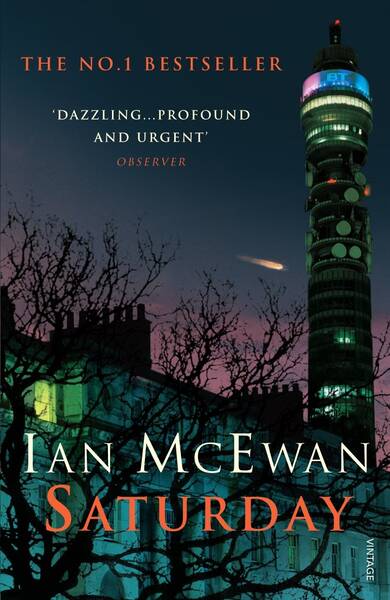 Saturday
400 pages, ★★★★★
Finished on 27th of May, buy here.
Wow, that was unusual. I can't remember the last time I've read fiction, but this was a strong recommendation from a good friend so I gave it a try. It sucked me in and was hard to put down. Finding the time for it has been a struggle though, so it took a few months to finish. Glad I did, though.
The book details a full Saturday (ah!) of a middle-aged upper-middle-class neurosurgeon living in London. Surely it's not a usual Saturday and a lot happens, but big parts are just him running errands and reflecting on it all. Henry Perowne is a richly written character with a colorful and interesting family (wife, two artistic kids, demented mother, alcoholic poet father-in-law). Good parts of his day reminded me of my own life, running errand after errand on a free Saturday to make sure everyone in the family is happy. It did not bore me at all. I felt reminded of the American Beauty movie and projected a sort of depressed state (midlife crisis?) onto him which I later realized wasn't really there at all. Worth reading.