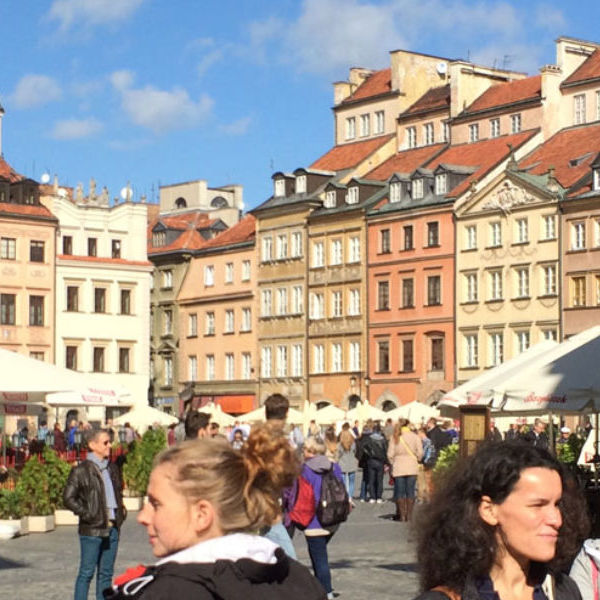 Warsaw
28th of September, 2014
Before going on this trip to Poland I was already wondering which famous musicians I could mention on this page. It was really hard to find some from Warsaw to whom I can relate to. Not many of them are internationally known I guess. But when the four of us arrived at the Warsaw airport, I got one. Frédéric Chopin. He is the guy the Warsaw airport is named after. And here I thought he was French all the time! Turns out his name was actually Fryderyk Franciszek Chopin, which sounds a lot more Polish, and he just took the French pseudonym to have bigger mass appeal. Why not! Also, his father was a Frenchman. To grasp some of his genius and to try and notice the melting of the French and Polish cultures within his mind, I highly recommend listening to this Nocturne (some might already know this from various uses in modern pop music).
There are more people from Warsaw worth mentioning in my opinion, although they are not musicians. Marie Curie, first woman to ever receive a Nobel Prize. Her actual name was Marie Skłodowska-Curie, which obviously sounds more Polish, but again very French. Also, recently deceased Benoît Mandelbrot, a mathematician which everyone who ever learned some computer science knows. There is a theme here! All of them have an obvious connection to the country of France. I don't know why exactly, but I think it's quite interesting. By the way, the airplane to Warsaw was full of French tourists.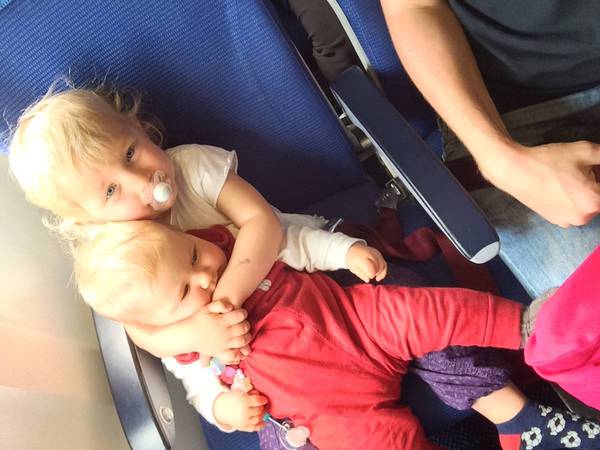 Of course, the history of Poland within Europe is not a happy one. The country struggled for a long time to even be acknowledged as a proper country. After Russia and Napoleon destroyed and killed what they could find, the German Nazis obviously had the most devastating impact on the country. Killing about 300,000 Jews just in Warsaw alone speaks for itself. The city got destroyed so badly during the second world war, almost nobody lived there for a while. But the people managed to bounce back and rebuilt their city with paintings from Bernardo Bellotto helping them. Great, isn't it? Some of the reconstruction is still in progress, which is why Warsaw is known as one of the biggest building sites in Europe.
It was the first time for me to really visit Poland. A couple of years ago I visited my then very new girlfriend Sophie in the city of Görlitz, where she was nerding around with some fellow geeks. Görlitz is a German city right next to the Polish border, so we went across to Poland for a walk. I really like how all the EU borders are gone. So this time, really in Poland, I was excited to see the Polish money for the first time, because they don't have the Euro yet, still Złoty. Now look at this: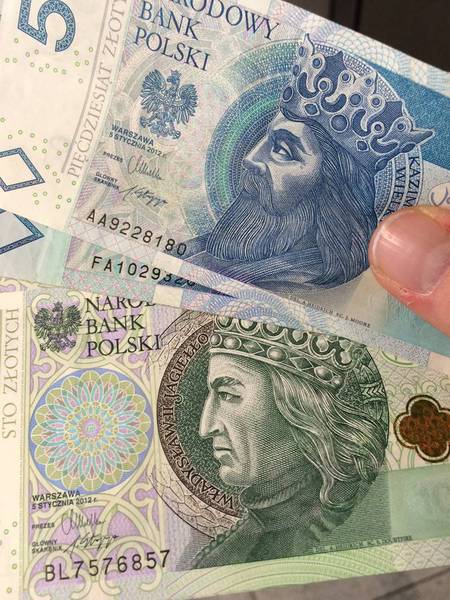 Beautiful. This looks like history. I like it.
We had a nice apartment not very far away from the city center, booked through AirBnB again. Still really liking the concept of renting a privately owned apartment of a citizen. This one was cozy and we felt immediately at home. On Saturday we took a look at the Old Town.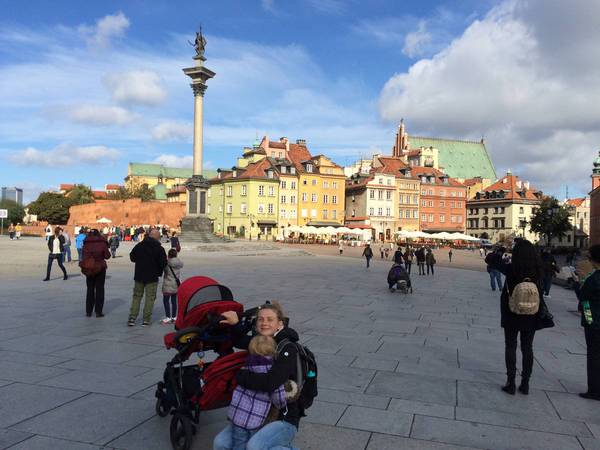 Also, this Warsaw marathon was the last chance I had at running together with my crazy marathon friend Jürgen Penthor again, because he only runs every marathon just once and has already done all my remaining EU marathons. We decided to meet again and spend the afternoon together, having some dinner with him and his wife Sonja.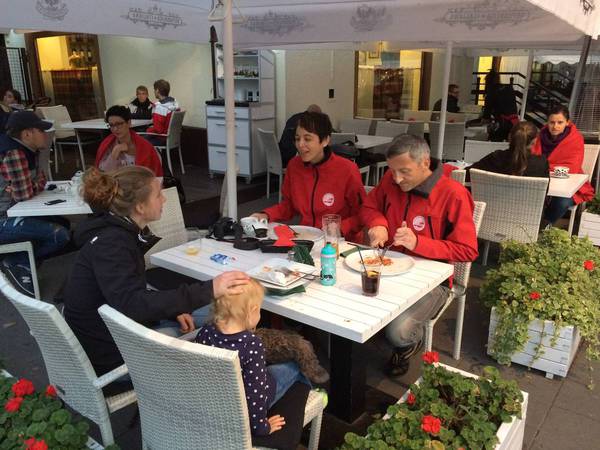 Now it's just one night until the great run. I did well this time, being quite afraid after the miserable last marathon in Helsinki, when I almost needed 5 hours to complete the race. So now I had enough magnesium the days before, ate enough and well, and had some proper training. By proper training I mean a half Ironman triathlon race in which I took part in two weeks ago. It was my first time at a long distance like that, having done only Olympic distance triathlons before. We went to Almere, Netherlands, which is right next to Amsterdam. Two friends came with us and we tried this new distance, which consists of a 1.9k swim, a 90k bike ride and a half-marathon at the end. It took me 6:26:03 hours, including a flat wheel I had to fix during the race. Still, this went pretty well and I was quite happy with the result! It also was great training of course, so I felt well prepared this time. Additionally, the start of the race was at 9:00 AM again, as opposed to 3:00 PM in Helsinki, so my body wasn't as worn out by the usual challenges of the day this time.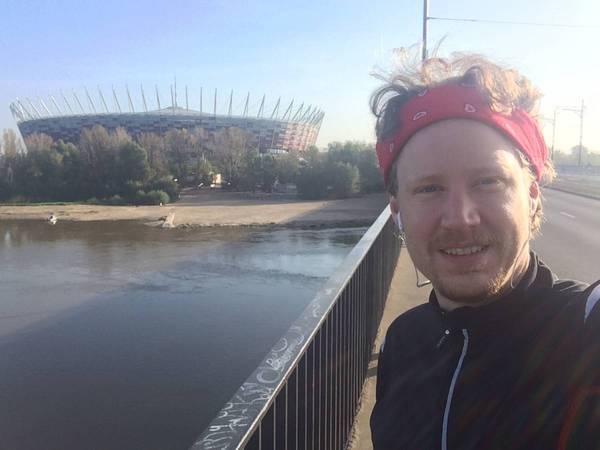 The new stadium of Warsaw was built in 2012 to accommodate all the soccer fans during the European Championship, which was held partly in Poland and partly in Ukraine. Crazy to think that Donetsk in Ukraine was part of that huge tournament just two years ago and is now in deep trouble with Russia. I hope the situation resolves itself soon. I would like to run another EU capital marathon in Kiev, if Ukraine somehow manages to become a member. But today I stand here, next to the stadium on this bridge above the beautiful river Vistula.
A little let down is the missing international character of this event. People are apparently rarely speaking English in Poland, and the whole announcing was done completely in Polish. Anyways, the countdown to the start of the race is always understood by everyone. One thing that was different though, was the cheerfulness of the people. The runners and spectators were shouting a lot and having a good time. The course was well designed and showed lots of the sights of the city, like this one: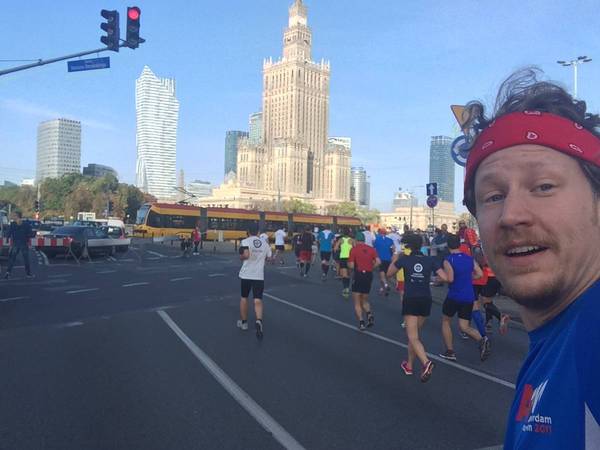 There was a lot of music on the road, almost at every kilometer sign. Notably some rap groups, which was new to me. A DJ with some turntables and a freestyle rapper usually, who always rapped about the current event, this marathon. This is as much as I understood of the Polish rap. I think there were three of these rap bands.
A highlight was a police marching band which played movie scores with great skill. A couple of kilometers later, at KM10 we came through a long tunnel which featured four huge screens that showed motivational video messages from kids and other relatives of the runners. Really nice! At the same place I saw a guy in front of me, grey hair, a bit shorter than me, wearing a Brisbane marathon shirt. I knew him, it was Jürgen! We chatted for a while until he decided he needed a PowerGel break. I was going rather fast this time, feeling really well, too. Then I saw this guy: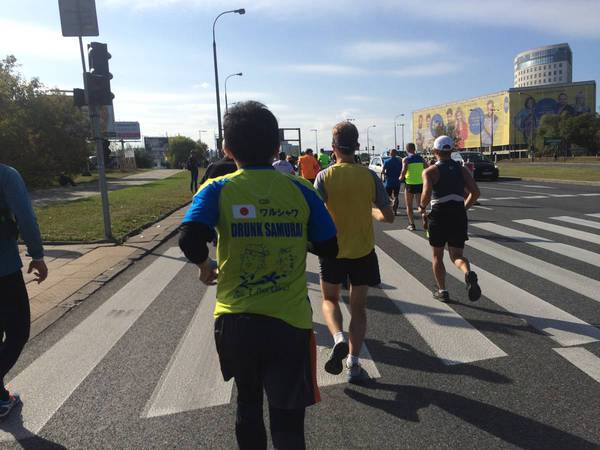 He didn't seem very drunk. But I overtook him. The weather was perfect and the course was flat, Sophie was there with the girls at KM3 and 14, which was within a huge park. Warsaw has lots of big parks, but they all seemed empty to us, maybe because of the time of the year. Still, they were beautiful.
The water stands occurred about every two and a half kilometers and usually featured bananas, isotonic drinks and water, presented by loudly shouting volunteer kids: "WODAAA! ISOTONI!!!"
I didn't look at the clock a single time and just ran my own tempo, trying to be a bit faster than usual because I felt I had the power for this. At KM25 there was a turning point where it was possible to watch the runners before me and after me for a few kilometers, which gave me a rough idea of my pace, because I saw the 3:50 and 3:55 pacemaker runners before me and the 4:10 and 4:15 pacemakers after me. Lots of pacemakers here! I kept looking for Jürgen behind me, but didn't notice him. He did, though, he told me afterwards.
The race was no problem this time, and very anti-climactically I reached the bridge from the beginning where Sophie was standing with the sleeping two girls, looking happy and telling me that I was going really fast. Cool! Two kilometers left until I went into the stadium from the beginning, where I overtook a man in his 80s, with his upper body being at a 90 degree angle to his lower body. He was running at roughly my pace, with surprises me every time. People have so much energy and will-power in them! Every time someone asks me about my marathons and then complains about his or her knees being bad, I think of these people who probably have a bit more than just a weak knee. In the end it's just training and endurance, the latter being created in the mind. I think many more people could manage to successfully run a marathon and get this feeling that we all have when we reach a finish scene like this:
It just gets me every time. Nothing like the first marathon, but still amazing and breathtaking for me. A pretty girl gave me my medal right after the finish, and then I looked on my phone to see how long it took me this time. 4:00:10 it said. Nooo! So fast and then again not less than 4 hours? Hopefully the few seconds while receiving the medal helped me, I thought. But first, a victory photo: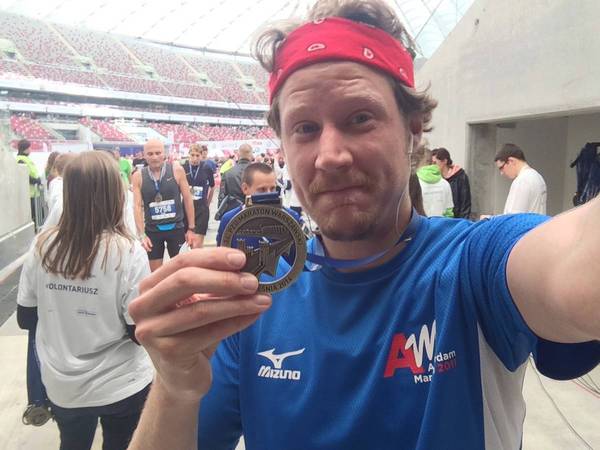 Now, to find a place to rest in the sun. Sitting down in the grass in front of the stadium was really nice. Now to find the ladies. No problem, a few hundred meters later there we were: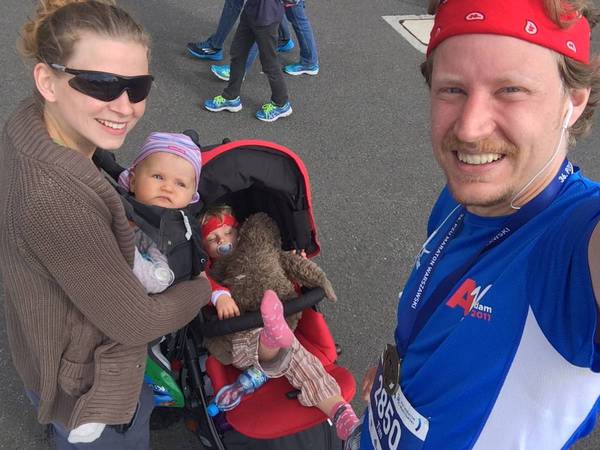 I was quite tired but not feeling too bad. We decided to get home by taxi, which was a good choice. After a relaxing bath and a nice meal at a very family-friendly restaurant I was glad to go to bed at the same time as the little girls today. Before that I checked the Warsaw Marathon website to see if they had the official results online yet, and they did. Excitedly I scrolled down, saw my name and next to it this time: 3:59:22! I did it!!! Finally less than four hours. What a great feeling! Lets see if I can get to 3:30 some day, haha!
On Monday we had some time left until our flight, so we went to a very cool playground in the vicinity and Julie had lots of fun there. But nothing beats flying!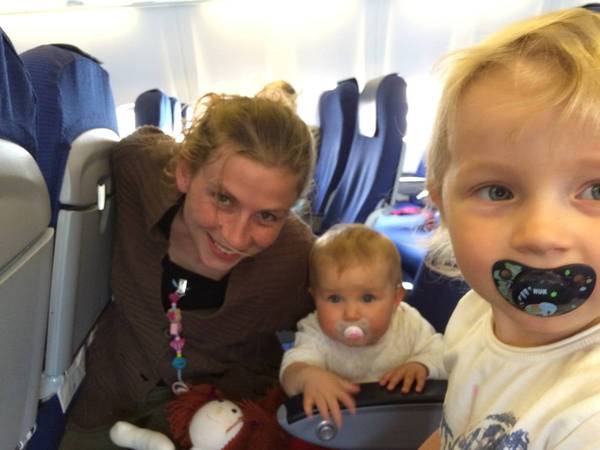 We had a stop at Amsterdam airport where Sophie noticed the unusual style of walking of two young guys in front of us at some point, which was oddly familiar. She jokingly said that their walking style looked like mine after my first few marathons. Then they turned around and one of them had a Berlin marathon medal around his neck. We are everywhere! I had almost forgotten that the Berlin marathon was at the same day again, and again had another world record. Dennis Kimetto was the first person to ever run faster than 2:03, with a finishing time of 2:02:57. What a runner!
After having arrived in Hamburg again, we unfortunately had to find out that our big buggy didn't. So we had to file this loss, which took a long time, and had to make our friend Vera wait a long time in the car, for which we felt really bad. It was so nice of her to pick us up this close to midnight on a working day, and then she even stayed and waited for us so long. The result was of course, that we had to carry the sleeping children without our buggy, but that worked quite well and we were tired but not angry. All in all everything was good. When we arrived home, I found this present in our house. Our funny neighbors received a package for me and they knew that I was expecting a new iPhone, so they wrapped it and wrote something on it. What a great end to this trip!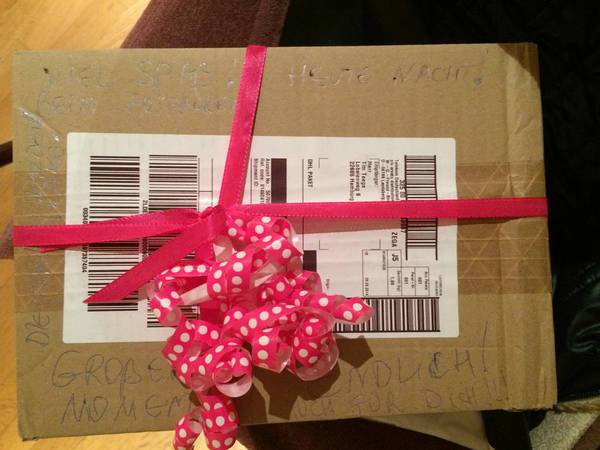 These crazy people! We are very lucky to have them as neighbors.
Alright, that's the story of our trip to Warsaw. Thanks for liking my Runtastic post (lots of you did, great!) and reading this, I hope you enjoyed it! The next one is coming in four weeks, in Ljubljana, Slovenia. Maybe I can beat my best time again? We will see!
All the best to all of you.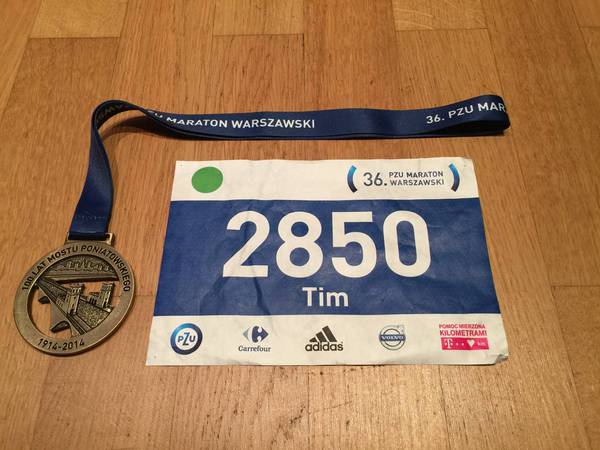 Certificate