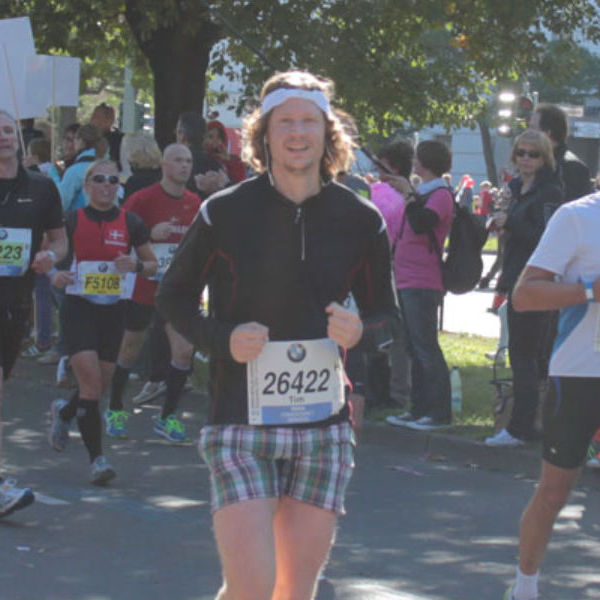 Berlin
29th of September, 2013
Berlin it is! After Hamburg, this is my second marathon in Germany and the sixth of this EU project. Though I've been to Berlin about 20 times I still feel like a foreigner there and almost as if I was in another country. Berlin is something very special and very unique. That's why I was very happy to get to know the city from a different side this time. One of my first competitive runs also led through Berlin, it was the Nike+ 10k Human Race in 2009, but the conditions were very different. It was held at night, everything was illuminated in bright and flashy colors and every single one of the few thousand contestants had to wear the same red t-shirt. It felt more like an event than like a race, but it was lots of fun and made me excited to find out how the Berliners would cheer at a full marathon race.
The Berlin marathon is the biggest marathon race in Germany and is part of the 6 World Marathon Majors, which are the most important races for the professionals. These races are in Berlin, New York City, Boston, Chicago, London and Tokyo. At this point you realize that Berlin is an important city. With about 40,000 runners you become sure of this. Also, Berlin has had the most full marathon world records. Eight in total, nine after this race. The course is said to be very easy, because it is nearly flat and between the huge blocks the wind has almost no chance of ruining your speed. For me this is an unspoken imperative to run a new personal best and maybe even finally beat those magic 4 hours.
So there we go! By the way, I got lucky and didn't have to pay the quite high entrance fee (I think it's about 120 Euros), because I took part in contest held by BMW, which is the main sponsor, and won one of the tickets! Very cool. This made Berlin the so far cheapest marathon trip of this project. The day before, a Saturday, I packed my wife Sophie, who was pregnant with our second child, and our little daughter Julie, who is almost two years old and happily talks, jumps around and is learning the colors and numbers, into our car and drove to the old airport area of Tempelhof. That's where the marathon expo was situated. So many people! Walking through these masses of people was a little strenuous for us after three hours of driving. So far I prefer the smaller running events, to be honest.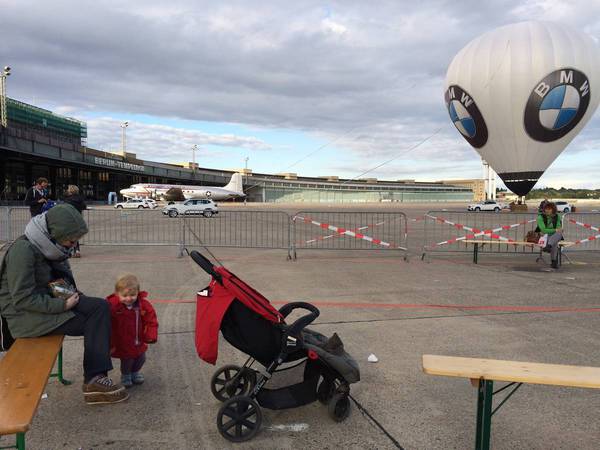 All the necessary things are done, so we could just go to the hotel and I could have the obligatory huge serving of pasta in the restaurant there, before going to bed. Eating and sleeping well before the marathon are most important things for me. Julie didn't know this and didn't like the hotel so much, but thankfully Sophie had enough energy left in her to calm her down so I could have my pre-marathon sleep and gather my strength.
The 29th of September, 2013 – a sunny but cold autumn day in Berlin. It was still a bit dark outside when I walked into the hotel's restaurant to have a bad and expensive breakfast together with the other marathon runners. The city is full with them. The food was still helpful and I was thankful there was a restaurant right within the building. The last few preparations were done, and then it's off to the train station. Berlin Ostbahnhof to Hauptbahnhof (East to Central station). Cosy! The train is filled with runners, which means I don't have to worry about the navigation here. I can just follow the stream of people. Relaxing! At Central station there is still the huge banner of Angela Merkel doing her famous diamond shaped hands pose to promote for the recent elections. Ha.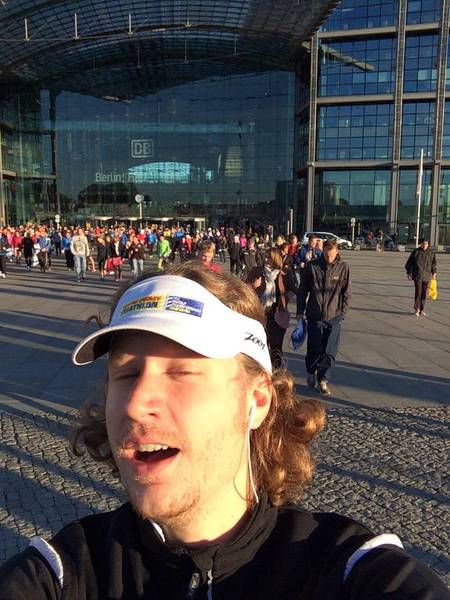 I am quite nervous – will everything work out well? Will I torment myself or will everything be easy? Will I have a good finishing time? Every time so much can happen. I want to finally hear the gunshot and don't have to worry about it anymore. But I still have to wait. The street Strasse des 17. Juni is filled with 40,000 runners. Unfortunately I was put into the starting block H, which is the last one. The starting gate is so far away I can barely see it from here. It is possible it's about a kilometer away I'm guessing. Insane! Suddenly there is an announcement, saying the racers will start in three waves. Blocks A through E at first at 8:45 am, blocks F and G at 8:55 and block H, which is where I am standing, at 9:05. Another 20 minutes more in this crowded place! How unfortunate. Slowly but steadily the time goes by. Then, finally, the gunshot is fired – by marathon megastar Haile Gebrselassie. Also, all of the other seven world record runners are here and are waving and cheering for us. Patrick Makau, Uta Pippig, I didn't know the others. What an incredible event! Those people travelled here for a few minutes! About 8 minutes after our gunshot I pass the starting gate. 28 minutes after the first runners startet – new record! Wilson Kipsang probably already ran the first 10k. Incredible guy.
Now I can finally run. Slowly around the Siegessäule (Victory Column), carefully to not step on anyones feet and still managing to overtake some people. This is really hard, because I am one of the faster runners in this block and having to pass by theses insane masses of people all time makes it next to impossible to find my own perfect pace. It gets better, though, and at about 10 kilometers (which I barely noticed, thankfully) I found my groove. After about 14 kilometers, at Moritzplatz, I meet Sophie and Julie, and my good friend Kösel, who is Julies godfather, and my old friend Thea with her sons Joris and Jasper. Her husband and my old buddy Vossii is running as well. After getting kisses from three different humans I naturally have a motivation boost and continue happily and relaxed.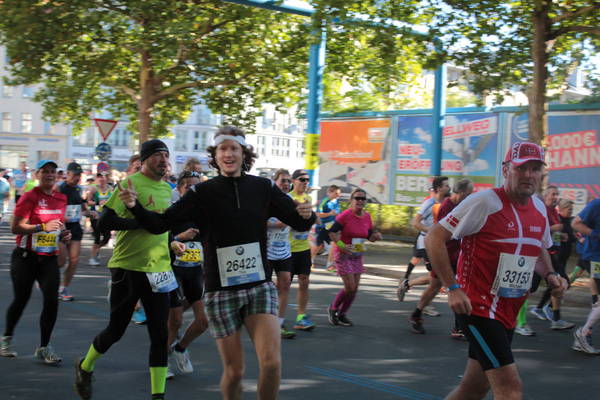 The first half of the race is over very fast and I barely notice that I'm running. But one thing shows me how average my performance really is, and that is a sign held up by a spectator that says "Wilson Kipsang läuft neuen Weltrekord! 2:03:23" – what?! This guy has already finished and I am not even half way through! That he got to start 28 minutes before my doesn't really help there. Anyway, what a guy and what an immensely good performance!
At kilometer 22 I eat a PowerGel that I brought with me in order to not get hungry and maybe even enhance my strength a bit – who knows. But then, at kilometer 27, there is a place built by the company PowerBar, which produces these things and gives them out for free by the thousands. Great! Or maybe not? A thousand meters after this place the street is completely covered with sugary, gooey gel. Everyone takes a gel, tries a bit of it and throws the rest on the ground. With every step anyone takes, and these are a lot of steps, you can hear their shoes sticking to the street a bit. Quite funny, actually. A few kilometers later, at 32, which is the magic kilometer only known as the wall, because it usually is the place where runners have used up all of their energy and really have to fight now, my fans are awaiting me again! Sophie, Julie and Kösel are standing there carrying the metaphorical hammer that makes me breaks this wall. Nice! We have a little chat and I am very happy to see them again. Julie, who is almost sleeping because it's nap time, even manages to still give me a little smile. After this the remaining 10k don't seem to be a challenge at all.
Well. At 36/37 my feet become heavy again and I start looking forward to the kilometer signs more and more. Come on now! Another PowerGel, but that doesn't change that much. The most powerful tool is always positive thinking. Just these X kilometers, usually I run those without any problems! – I'm telling myself. It works! I manage to keep my pace steady and I fight until after a last turn an amazing view offers itself to us runners: Berlins most known landmark, the Brandenburg Gate!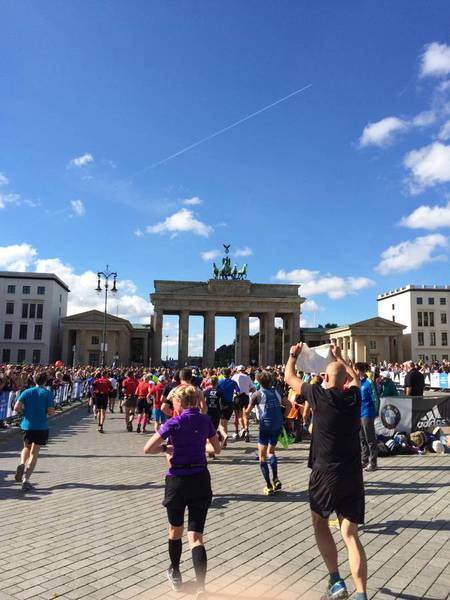 Many runners have a short break here and take a quick photo. So do I. What a sight! We're running right through this historical gate that separated Germany once, a few hundred steps more and there it is: the finish line. Done! Another marathon completed! Another time that a city seems to be a little different after running a marathon there. I have the feeling to understand Berlin better now.
A first look at my phone says: new personal best! 4:17:04, officially another 2 seconds faster. Very happy. I can beat the magic 4 hours another time, I still have lots of marathons planned. Maybe already in two weeks, when I run in Budapest, who knows! They give my a nice medal and a goodie bag full of tasty food and drinks, and another banana and an apple that tastes like heaven! Nothing is as good as an apple after marathon, but this particular one is even better than what I'm used to. Well done, Berlin!
Wobbling to the train now, going to the hotel, having a shower, meeting Kösel, having Vietnamese food, getting in the car and driving for three hours back to Hamburg. What a beautiful day! I love this balanced feeling after a long run. This is probably why I'm doing this over and over again. I am already looking forward to the next marathon!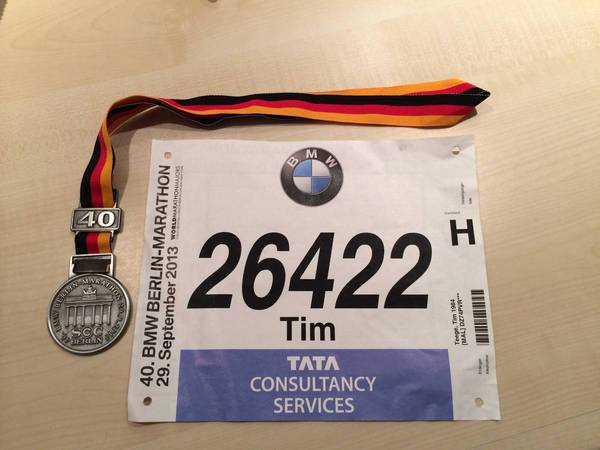 Certificate