Lavaredo Ultra Trail 120K Race Report: As Beautiful As It Is Difficult
I'm going into Round #2 of my dream to some day run the Western States 100 Endurance Run. Being awarded one of those coveted 250 slots for the annual race in California is getting harder every year as it is getting more popular around the world. In 2022, there were over 7,000 applicants for those few slots. To combat this, everybody has to enter a weighted lottery, but in order to do so, it is mandatory to have completed one hard and hilly ultra marathon, usually of a minimum length of 100 kilometers.
Every year you want to enter the lottery again, you need to run such a race again. The more cumulative years you enter, the higher your chances. It takes around 7-10 years until your chances are so high they're bordering on certainty.
I have entered the lottery once before, by completing the Mozart 100 race in 2021. In 2022, I chose the Endurance Trail des Templiers in southern France, but had to DNF after just 40 kilometers of 106. Not my day, too tough, no good vibes. So now, in 2023, I'm eager to get my second ticket for the lottery!
🤔 Why Lavaredo?
Fortunately, the list of qualifying races which the Western States guys publish every September grows year over year, too. So the options are plenty. Not for a German, though – we have exactly one race on the list, the prestigious and alpine Zugspitz Ultra Trail down in Garmisch-Partenkirchen, leading around Germany's highest mountain. I considered that one, too, but since there are more options just a few hundred kilometers south of it, in the Alps, and Zugspitz is supposed to be on very difficult terrain, I took others into account. There's also the Tuscany Crossing with its comparably little elevation gain of just 3,400 meters, or the Morenic Trail with just 2,500, near Torino, Italy. The timing isn't great with both, unfortunately.
A few friends of mine had done Lavaredo (here's the official website) in the past and talked about its beauty. It's located right in the center of the Dolomite mountains in northern Italy, based in the town of Cortina d'Ampezzo, host of the Olympic Winter Games of 1956 and also 2026. I've been there before, riding my bike from Munich to Venice with two friends, so I knew it's all stunningly beautiful.
There's nothing better than absolutely gorgeous nature around you during an ultramarathon to motivate you to keep going!
The date of the race at the end of June fit very well into our family schedule, too, and the reachability of Cortina wasn't the worst, either. So, for very reasonable 169 Euros, I decided to sign up. Lavaredo Ultra Trail is hugely popular, so it was needed to keep track of when the registration opens and be quick. As far as I know, just a few days later the 1,600 slots were gone. Which, by the way, is a huge number of entrants for a race of this difficulty.
It wasn't until a few weeks before the race, that I realized the global significance of Lavaredo. Apparently, it's often mentioned among the top 5 most popular or most well known ultra races in the world, named in the same sentences as the legendary Ultra-Trail du Mont-Blanc and the Western States 100 itself.
📝 The Hard Facts About Lavaredo Ultra Trail
On paper, this is going to be the hardest race I'll have ever done.
120 kilometers
5,800 meters of elevation gain and 5,800 meters of loss
Alpine, mountainous surroundings requiring secure footing
A night start at 11 PM
To qualify for Western States, a time limit of 26 hours
Definitely not easy. From my only other similar completed race, the Mozart 100, I extrapolated if it would be possible. At Mozart, I needed 17:30 hours for 108 km with 4,800 m of gain and loss. So at Lavaredo, I would have an additional 8.5 hours to run an additional 12 km and 1,000 m of gain and loss. That sounds very possible, I thought! I must be able to complete Lavaredo in around 20 hours for sure!
But I was very wrong. A new lesson I learned was that elevation gain doesn't equal elevation gain. Same with the loss. Two races with the same distance and amount of elevation can be hugely different.
From my failure at last year's Templiers ultra, I fortunately got the right mindset for this year's try. You need to be willing to put up with everything the race throws at you. And you need to expect the worst. Storms, mud, heat, blisters, bloody knees, pain in every step, whatever you can imagine. Only if you mentally prepare for it, you can do it. I made that mistake in France and I won't make it again.
👟 My Training and Preparation in General
As a person who grew up and lived in extremely flat areas all his life, training for a race in the Alps remains a tough challenge itself. Not only is it a logistical problem to make the time to travel somewhere hilly, it's also not my strong suit and therefore less enjoyable. I do love running through the Alps during these races, and if I would live there, training would come more natural to me, but here in northern Germany, I'm keeping it flat.
The closest mountains are a three hour drive away and their highest point is at 1,150 meters above zero, which still is lower than the lowest point of the entire Lavaredo course.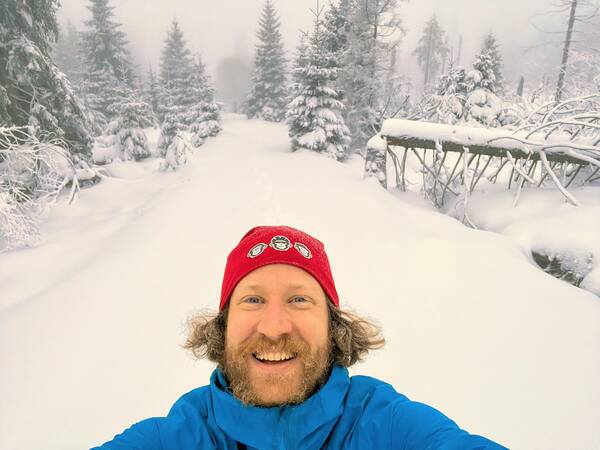 When some friends asked if we'd like to come run in those Harz mountains for a weekend in January, I agreed and took the family into the snow. Practicing there was helpful for sure. I had an 80k practice race scheduled in February in those same mountains, but that had to be skipped due to getting sick, unfortunately. I focused on city marathon training during the first few months of the year because I got into Boston Marathon anyways (race report). After that, it was already May and I did what I can do best: lots of long runs. Those might hopefully get me somewhere near Lavaredo level, or so I hoped.
In terms of gear, my two main changes were the type of shoes and giving trail running poles a go for the first time.
Last year during my failure at Templiers, I came out sure the HOKA Speedgoats weren't suited best for me personally, so I went for the more minimal TOPO Athletic Ultraventure 3 ones this time. Large toe box, very low heel-to-toe drop (I think 3 mm), great grip, and a very snug fit around the heel. I tested them during many long runs and they held up perfectly. My new trail favorites.
Now the former controversial topic of poles. A few years ago, a minority of people were using these walking sticks during ultra races. Some frown upon them, some ignored them, some had strong opinions like "I'm running with my legs, not my arms!" – but this purists' way of looking at it is of the past, I think. During Mozart 100 in 2021, I estimated around half of the runners used them, and now at Lavaredo I rarely saw someone without poles. Honestly, nearly everyone has them these days.
The sport has evolved, people have realized their clear benefit in terms of taking away pressure from the legs during uphills and downhills, and just like with carbon-plated shoes, it seems like the progressives have won. It is the new normal thing to do. For me, the final nail in the coffin was that even endurance beast and former Navy SEAL David Goggins did finally jump onboard and used poles on his latest MOAB 240 mile race. If the toughest guy on Earth isn't ashamed to use poles, why would anyone else be. So, half a year ago I bought some light-weight foldable carbon poles from Salomon and started to practice running with them. Yes, turns out it's easier. In retrospect I should have gone for the superior LEKI brand ones, though. In case you're in the market for them, check out LEKI. I got to test them at the expo. Lighter, more comfortable, fold away more easily and into a smaller package size, and have a better mechanism for securing them on the wrists.
In terms of general preparation I asked around for tips for the specific race from people I know who have done it before.
What came up first, was taking salt sticks due to the expected June heat in Italy. These little pills have sodium and some other electrolytes in them and should be swallowed every couple of hours, especially when it's hot.
Second, I should make use of the option to have a drop bag put down at the halfway point, containing a fresh shirt, new socks, and a bunch of my own gels and bars, so I won't have to carry everything all the way. I never did that before, but it sounded reasonable.
Regarding the elevation of the area, I was wondering if that could be an issue, and some suggested to arrive a few days prior and travel up to the highest points in order to acclimatize. Unfortunately I wasn't able to fit that into my tight schedule.
🇮🇹 Going Down South to Italy
I flew down to Munich on Thursday, 22nd of June 2023. From there, I took a rental car to drive the remaining four and a half hours through the beautiful Alps to Cortina d'Ampezzo, home of the Lavaredo Ultra Trail, or LUT for short.
A day before, there was a short scare when I got the sudden feeling that my trail running poles would probably not be allowed in the carry-on luggage on the plane for safety reasons. I usually only ever travel with just carry-on. I was correct. So I needed to book extra luggage just for the poles. But when the guys at the security check found my Swiss Army Knife which I had forgotten in my carry-on, they measured the knife and handed it back to me, because the blade was less then 6 cm long, they said. Just to imagine how much more damage one could have done with that knife as opposed to the sticks! Weird and inconsistent airplane security, as always.
It was a 30C day in southern Germany and northern Italy and at times the car's thermometer showed up to 35C even. Good thing I took the salt sticks, but the weather report suggested a thunderstorm and colder weather during the next few days.
Since most of the affordable hotels in Cortina were already booked because Lavaredo is a huge event, I chose a small but great hotel in the neighboring town of San Vito di Cadore called "Il Cardo". If you're looking, I highly recommend it.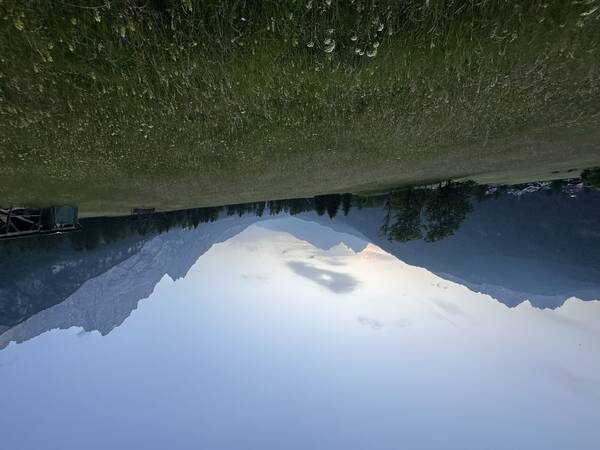 First order of business in Italy is, of course, having pizza. I got a good ristorante recommendation from the hotel staff and pizza really is that much more delicious in Italy compared to anywhere else. Whatever they do to it, I love it. Every time.
🙀 Race Day
A night later, on Friday 23rd, it was already race day – but the race wouldn't start until 11 PM, close before midnight. That's a first for me as well, a real night race. Since it's June, fortunately the night wouldn't be too long. First light of the day is expected at around 4:30-5:00 AM, only about six hours into the race.
But first I needed to tick off a few boxes. Mainly getting myself accredited at the race headquarters in the Olympic Stadium of Cortina. During a thunderstorm. So the weather reports were correct. I received my bib and one of those red UTMB bracelets because the race is also branded by that huge organization these days, as well as a comfy shirt with a cool looking Lavaredo design, and that was it.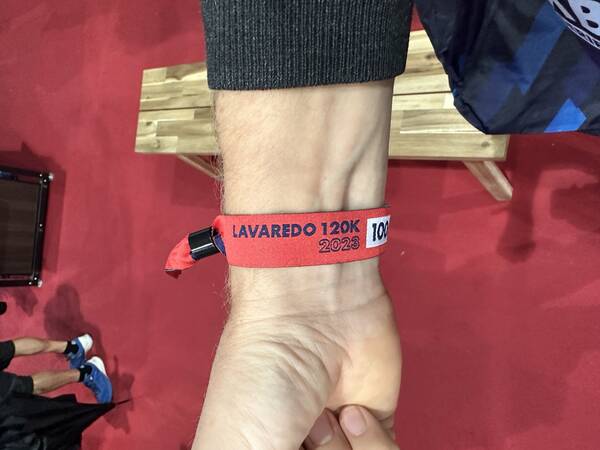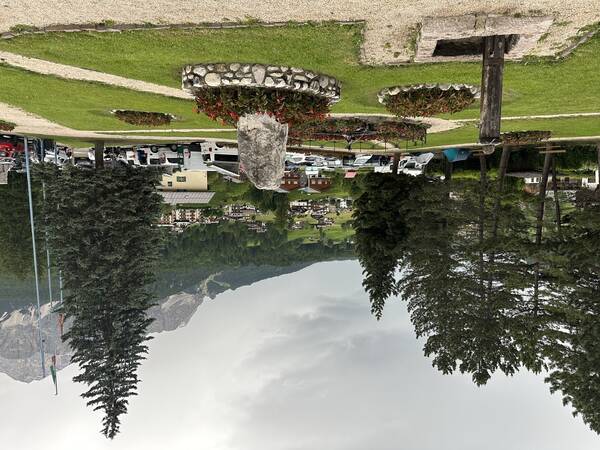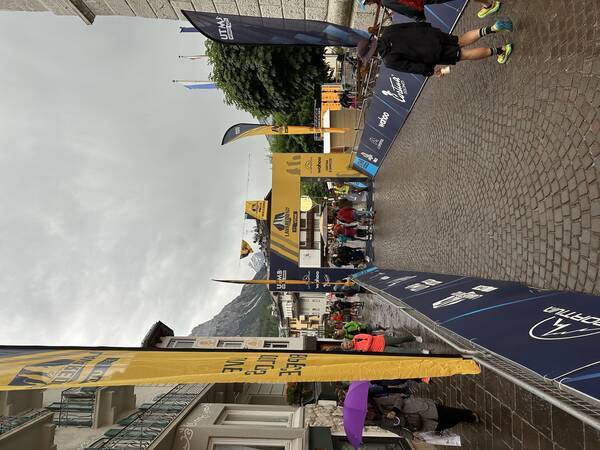 Of course, my daily streak run needed to be taken care of as well. I'm at well over 500 consecutive days and that's not stopping today. Two kilometers, the bare minimum. I was wondering before about how the rules would be applied here: The race will start at 11 PM, so technically I will run more than 1 mile (the actual minimum) before midnight, and the run will continue over into the next day, during which I will also definitely run at least 1 mile, and if it'll take me more than 25 hours, I'll even run on the day after that, possibly also for at least a mile. So that's three streak days in just one continuous run. 🤔
I decided that I wouldn't like how that looks, and preferred to have one separate activity for each single day. A slow 2k in the rain won't destroy my fitness level, that's for sure.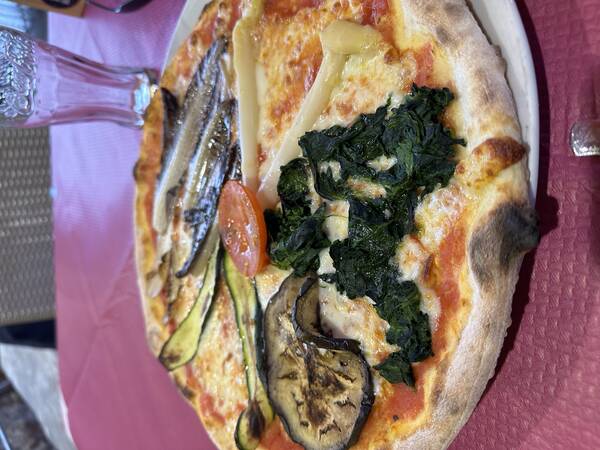 After another amazing pizza at Ristorante Al Passetto (here's another warm recommendation for you!), I went back to the hotel to have an afternoon nap in order to prepare for the next night without sleep. I aimed for two hours and got about 20 minutes due to too much excitement. Close enough!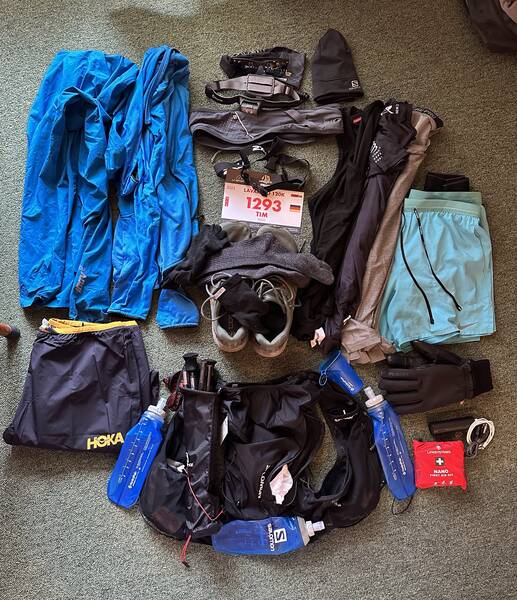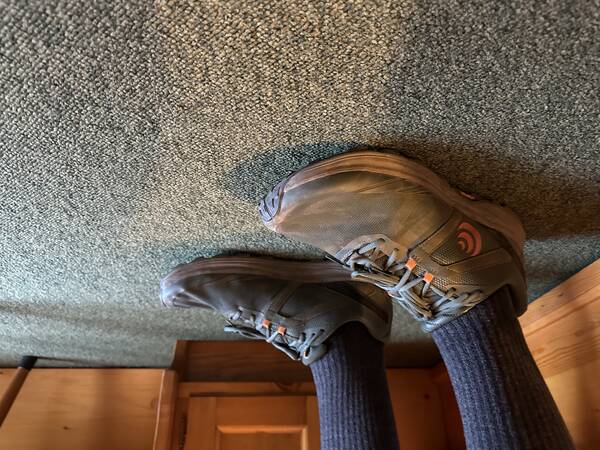 Going through all the details of my race plan and the gear for the hundredth time was on the list next. Somehow, the hours went away and I stepped into the car at around 8 PM, with three hours to go before the start. Finding parking in tiny Cortina isn't easy and I'm astonished how they are going to do that during the Olympic Games, but I managed somehow.
A few more bananas and cereal bars, getting in all the carbs and nutrients I can without causing any digestive issues.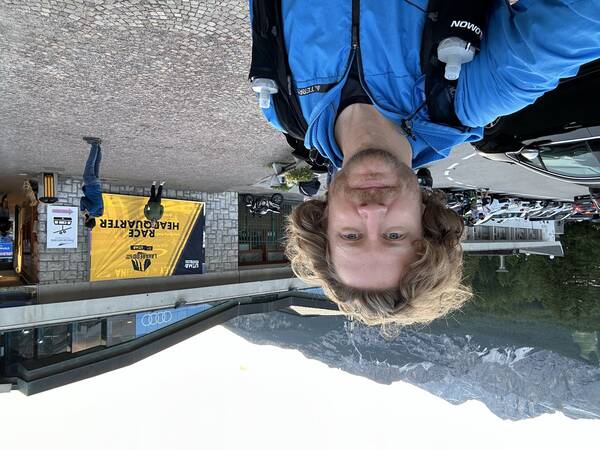 And then I just need to hand over my drop bag for the halfway point and walk over to the starting area next to that church tower of Basilica Minore dei Santi Filippo e Giacomo. And there's a party going on! An exciting Italian cover band called The Killbilly's [sic] plays energetic and running themed songs for us. These shoes are made for walking, or Tainted Love ("Sometimes I feel I've got to run away"), for example. Loved it! People were dancing. Such a great idea by the organizers to get us all hyped this way.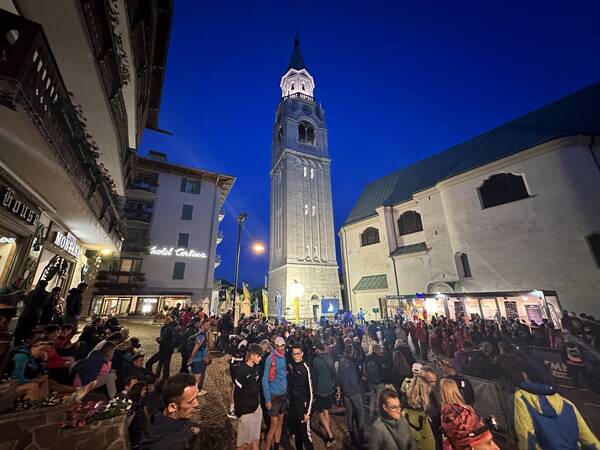 After a last hour of nervously hanging around in the area, it was time for a short last little briefing. To my surprise it was done in English, not in Italian! That's very welcoming and great, frankly. It was again mentioned that littering on the pristine trails would be punished by up to 60 minutes of a penalty time, but no news were communicated.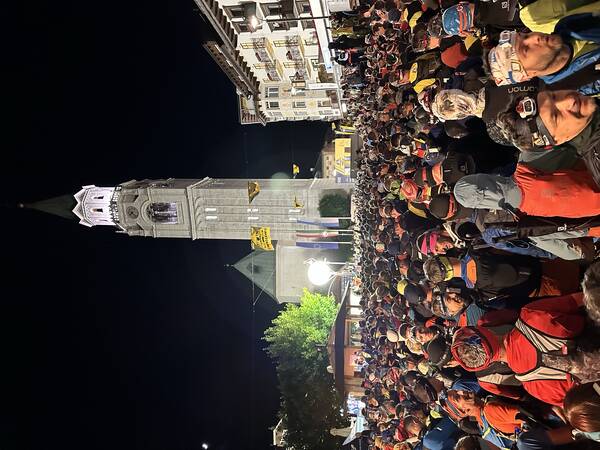 Right before the start, they played the incredibly fitting song "The Ecstasy of Gold" by Ennio Morricone. This Italowestern soundtrack was perfect. Instantly recognizable, and I'm sure I wasn't the only one with goosebumps. Many took out their phones to film the awesome scene. I was fully in the moment. One hundred and twenty kilometers are ahead of me, starting in just a few seconds now. And there we go.
🟢 GO GO GO!
The atmosphere was amazing. The crowds here were massive and euphoric, it was a blast to run through those first few hundred meters of Cortina's center. Absolutely perfect.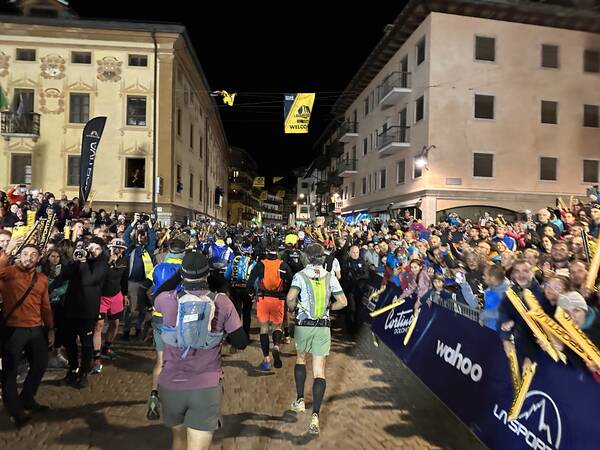 After that, it quickly got less crowded and just a few kilometers in, that was the last bit of asphalt roads we would see for a long long time. Here and there, a group of people would stand at a corner and cheer, but the dark of the night and late time of day wasn't as inviting for the crowds, of course. Just half an hour in, I got to enjoy near absolute silence.
It was so silent, in fact, I noticed it. Nobody talked to one another, everyone was just focused on themselves. I think that's fine, too. Probably the adrenaline, concentration, and sheer respect of the task ahead.
All 1,600 starters had enough space on the roads of Cortina, but as soon as we entered the first forest trail uphill, a congestion brought us to a complete halt. Some people chose to illegally cut the corner in order to get ahead – which I find absolutely ridiculous. They've got hours on end to catch the guys in front, why cheat and save twenty meters here? Some people started booing, others laughed at that, me included.
The first uphill was easily done, I was very happy with my progress. All the gear worked perfectly, too. Especially the shoes, they just fit like gloves. The mandatory real gloves were safely in my backpack, not necessary at the moment. I wrote a late night message to Sophie that running is pure bliss right now. And it was.
Orientation was easy due to a massive amount of runners around me, and all the headlamps lit up the course perfectly, too. And since the course led through forest, there was no beautiful scenery to miss during the dark night. Just clean air and easy non-technical paths to follow.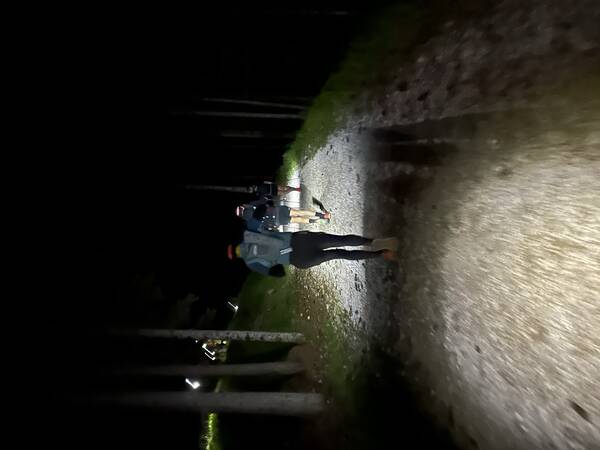 Time to relax, settle in, and review my goals for today, tomorrow, and possibly the day after tomorrow, too – in case the race takes me more than 25 hours.
🎯 List of Goals
Don't DNF. Make it through the race in one piece before the final cut-off of 30 hours.
Be fast enough to reach the finish in under 26 hours in order to qualify for the Western States 100 lottery.
Extrapolating from my Mozart finish, making it in under 20 hours.
It helped to view this race as a highly condensed week-long hiking vacation. In a short week, you would probably also do around 120 kilometers, I'd guess.
So this is in fact highly efficient vacationing!
The first aid station was located at 18.7 kilometers. We would have done around 600 meters of gain and a little less of loss until that point. The first downhill was a little technical at times, there were narrow single-trail switch-backs, and I saw the same older gentleman fall down twice – both times it looked like he would go on tumbling down the side of the mountain, but he fortunately caught himself in the weeds and tree trunks, climbed back up, and carried on. A lady gasped loudly and I was shocked, too. Close call!
Ospitale aid station, which I reached after around 2:30 hours, was fully crowded.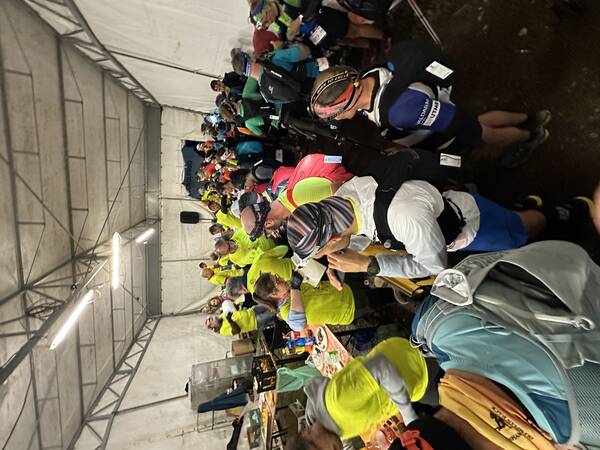 Since I chose to start at the back of the field in order to be able to pass more people during the race as opposed to getting passed by others, there was a huge Gaussian bulb of slower runners refilling their bottles at the same time. The aid station was oddly small. There would have been enough space for a tent twice the size. Anyways, all coveted goods were available and the volunteers were incredibly helpful and friendly. I refilled my own bottles and threw some openly available naäk brand electrolyte powder into the mix. The staff couldn't be fast enough to prepare that drink for everyone on time. No matter. Two cups of coke to get some caffeine into the body as well, and after a few minutes I'm off again.
🌓 Running at Night
This was a bit of a first for me and I can't remember if I've ever ran after midnight before. I was anxious about it beforehand, but it turned out to be just fine. The race adrenaline takes care of it and I think I yawned just twice in total during the whole night. Focus was on taking the best next step so there was no chance to give in to any tiredness.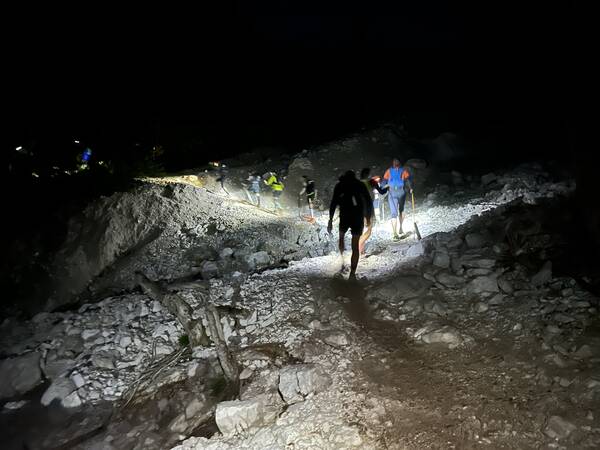 It was getting a lot more technical right now and the next section had a big uphill followed by a steep downhill. I still felt good and although apprehensive about my pace, I made good progress. I had put a data field on my watch which gave me the overall average pace as a reference point of how I'm doing. Before the race, I made the easy calculation that a 20 hour finish at a 120 kilometer race requires a total average pace of 10:00 minutes per kilometer. So, keeping that number under 10:00 minutes was my goal for now, but these first hard hills brought it up into 9:00 minute territory quickly.
Thankfully, my feet were doing perfectly. That was one of my main concerns, because my shoes at last year's DNF were the main problem. This time, I used a tip from James Lawrence, aka the IRON COWBOY, who broke a world record by doing 101 full iron distance triathlons on 101 consecutive days. An absolute beast. He puts vaseline on the sensitive areas of his feet: between the toes, underneath the fore-foot, and around the heel. Then, he puts on two pairs of socks: first, medium thickness injinji toe socks, then, thick normal running socks. I chose two different pairs of injinji toe socks, one thin, one thick, and that worked out very well.
Together with my shoes, I had nothing to complain about. Potential for optimization was only in the cushioning of the shoes, because these Ultraventure 3s are rather minimal, but it was good enough.
At around 4:30 in the morning, the first light appeared and contours of the surroundings became visible. This was a high point for me.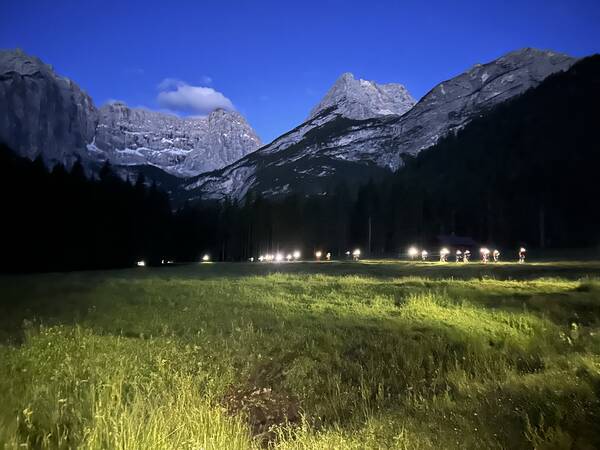 Just half an hour later, there was no need for a headlamp anymore and I was more than happy to put that thing back into the backpack. It does get annoying on the forehead.
✅ Marathon #1 of 3 Completed
There was an aid station at roughly the first marathon point, called Misurina. It is right next to a pretty lake of that same name, and it was a great feeling to be able to fully see the mountain panoramas.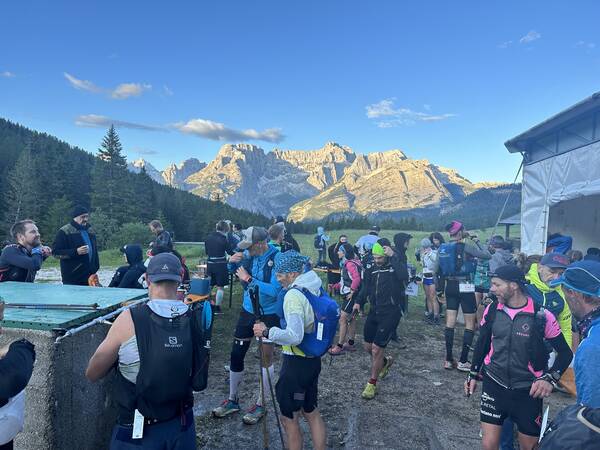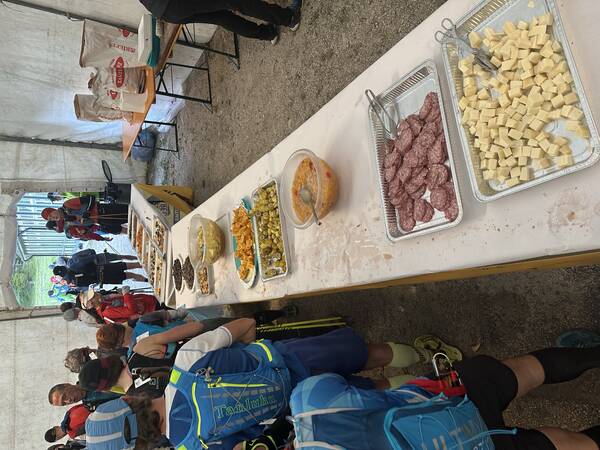 After about 7 hours of running, I didn't feel like a long break yet, and there also wasn't a huge buffer in my calculation. In fact, I had already dropped over that 10:00 min/km average necessary for a Sub-20h finish. And since I knew the hardest parts were yet to come, that goal seemed unreachable at this point already. It didn't matter to me that much, though. The course was a lot harder than Mozart and I realized elevation does not equal elevation. Depending on the surface and natural circumstances in general, there can be huge differences.
I think my relatively slow speed was also due to the height of this course. We started at 1,200 meters above zero and never went lower. The first three peaks were already at around 2,000 meters, and air is definitely thinner up there, making me slower.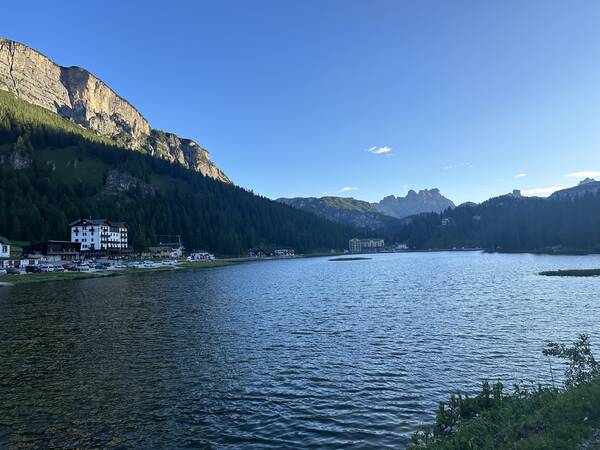 In contrast to the lower Mozart, there were not many relaxing flat passages. Nearly every kilometer was either steep up or steep down, or required focus on your footing. At Mozart, there were several stretches of a few kilometers of wide gravel or even asphalt roads, giving the brain and body time to refocus and also just to eat up some distance fast. I missed that.
📜 Premeditatio Malorum
The Stoics had it right. With such tasks it helps to think about all the things which could go wrong in order to be mentally prepared for them happening. I knew I didn't do much hill training and that my technique for it was near non-existent, too, so suffering was inevitable. I also preemptively thought about possible muscle tears, falls, injuries, blisters, stomach issues, and similar things which had a high likelihood of happening, in order to avoid desperation should those things hit me. It certainly helped a lot.
Another mental trick I played on myself was to only think about reaching the aid station called Cimabanche, which is at 67 of the 120 kilometers. It's more than halfway, and we would receive our drop bags there. My thinking was that should I make it there, I would have less than half of the distance left, and that must be motivating enough to keep trying. And motivating myself to fight just to 67 kilometers as a first step was a lot easier than thinking about the full 120k race in one huge chunk.
🥵 The Suffering Starts
It was a gradual process, as always, but for me it started between 45 and 60 kilometers.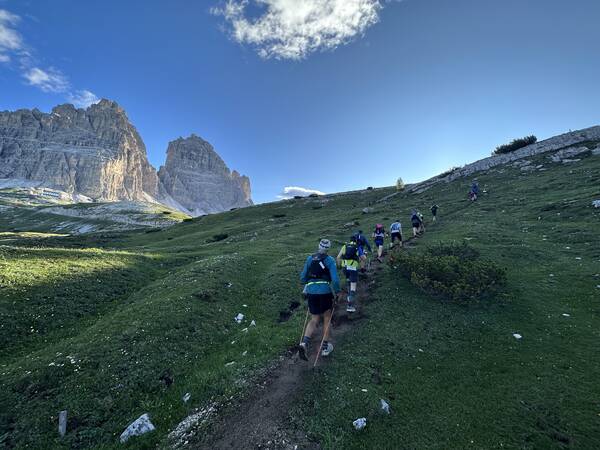 The next huge uphill would lead around the famous Tre Cime di Lavaredo, the three distinct mountain peaks which are often synonymous with the whole Dolomite mountains. Hence the name of the race. They peak at 3,000 meters but we wouldn't have to climb them, fortunately. We moved up to near the base of them at a height of 2,450 meters. It was cold up there! Quite windy and there was some snow as well. The thought of being almost at that significant spot made it easy for me to hike up with my trusty Salomon cheat sticks – after 45k I finally got the hang of how to use them.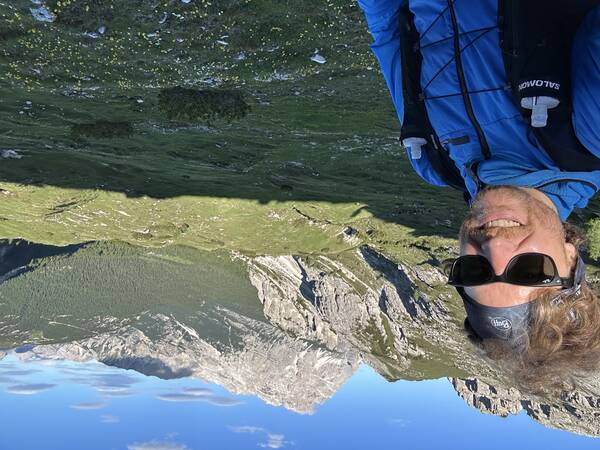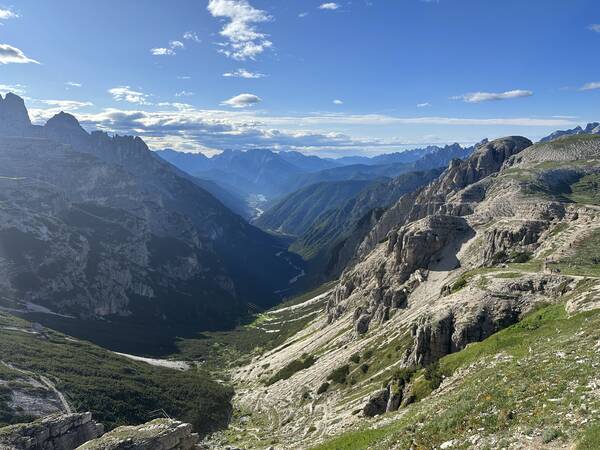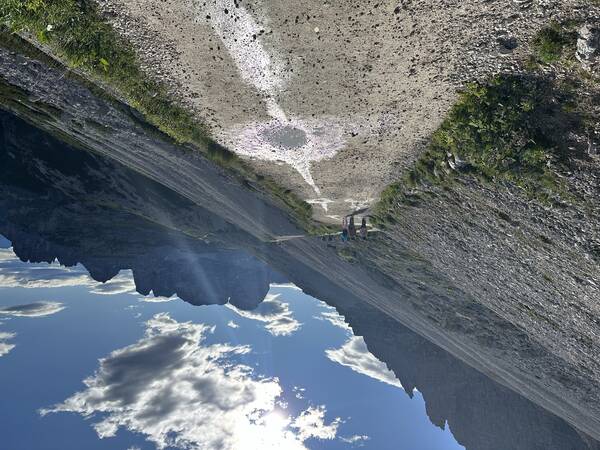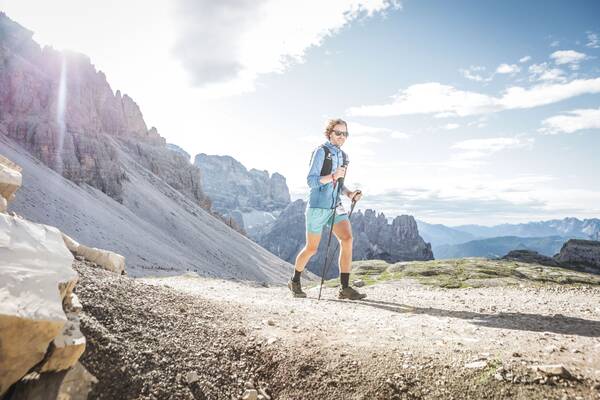 And there they were. Magnificent mountains.
🖼️ The Money Shot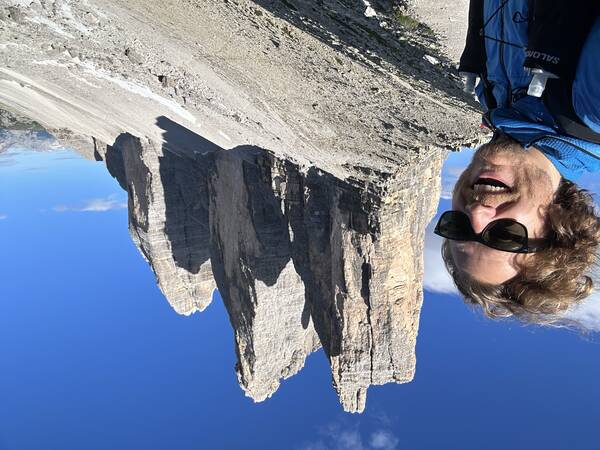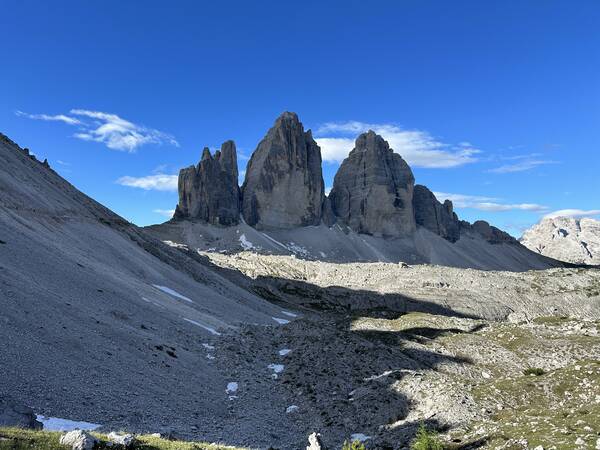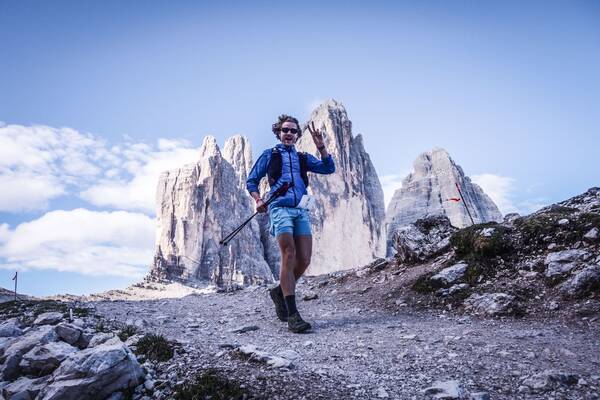 The pictures can't do them justice. Monumental. They were just so massive, standing right there next to them made me instantly just so respectful of nature. Who are we to think we can dominate the planet this easily. It all is just so much bigger than us small humans. Incredible, what nature is able to do.
🪨 Stones, Stones, Stones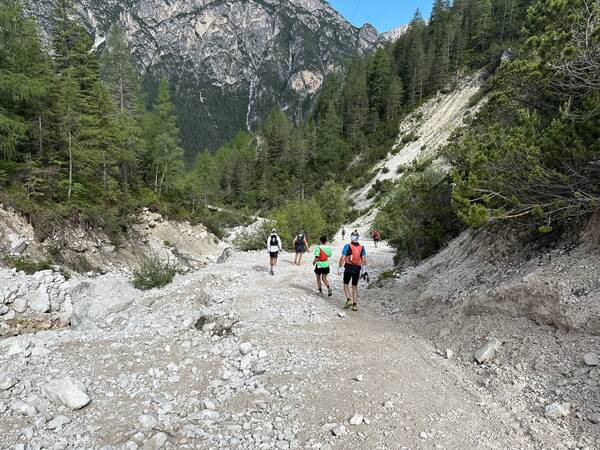 What goes up, must come down – for the umpteenth time now. And it wouldn't be the last. After that glorious loop around the Tre Cime, a long and winded downhill took place on a stony underground. Stones in all shapes and sizes, ranging from sparkling white to a muddy grey, were the main hero of this race. The Dolomites are known for it. Running on them is difficult: Your footing must be safe and secure. The big stones can hurt, the small ones let you slip.
I think I still have some sort of PTSD from the sound of these stones grating underneath my shoes 😄.
During that downhill I was very happy to have my running poles with me. Before, I thought they were mainly helpful on the uphills, but on many occasions I was glad I could use them on the downhills, too. The legs were thanking me.
The last third of the downhill was comfortably flat. I was even able to run for a few consecutive kilometers! Also, this part took place in the Südtirol region of northern Italy. The area is predominantly German and suddenly all the hikers around were talking German and roadsigns as well as village names like Schluderbach were German as well. It only lasted for short while until a sign saying "Auf Wiedersehen in Südtirol!" said goodbye.
⛺ Halfway There: Cimabanche
The aid station had been on my mind for a long time. A whole 67 kilometers down, "just" 53 more to go. I reached it super exhausted after about 11:15 hours into the race, at 10:15 in the morning. The station was about to get closed at 1:30 PM, a sign told me, which meant I'm still far ahead of the main cut-off, which made me quite happy. Sub-20 was gone by at least an hour already, Sub-26 seemed very possible still, and a Sub-30 finish is near certain – shouldn't anything significant happen to me.
It was hot by this time. Certainly above 20C, more in the area of 25C I'd guess. I decided to cut myself some slack, don't look at the watch during this break and focus on recovering a bit. I had another salt stick pill containing some electrolytes, refilled all bottles and drank some Coke. Then I had a lot of Italian bread with Italian tomatoes and Italian olive oil – it tasted amazing. There was soup with noodles in them, which I gladly devoured as well. From my drop bag, I took a fresh new shirt. Great tip by Maiken. It does feel a lot better. I restocked on my own energy gels and bars – so far I ate four Maurten gels and I think also four CLIF bars which I both carried here. I had the same selection for this second half ready to replace the empty packets in my backpack.
Then, the sunscreen needed to be applied. Sunburn would just make the rest of the race annoying. Thanks to Patrick for the tip: the Lifesystem brand makes excellent 50+ sunscreen for sweaty athletes.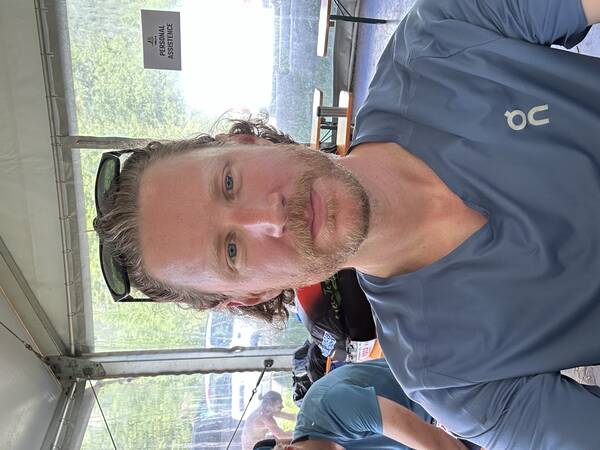 Quitting never crossed my mind at this point. The next aid station, Malga Ra Stua, was supposed to be just 9.5 km away and 533 meters up. Laughable, almost! It's all relative.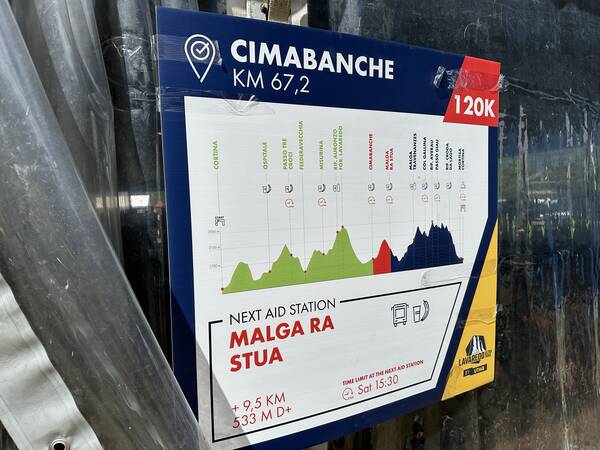 Later I was surprised to find out that this aid station stop cost me 30 minutes total. It felt like 10 at most. Again, it's all relative!
That next bit after leaving Cimabanche wasn't bad on paper, yes, but it had a section in between which was so steep I had to sit down multiple times just to get the heart rate lower than 180 for a few seconds. I ate a bunch of cereal bars, too, in hopes it would help. The Malga Ra Stua station was a welcome next section break. From here on, the real race would start.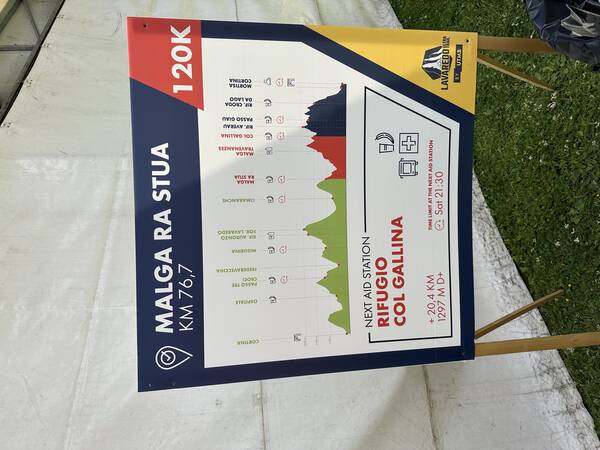 🏔️ The Real Lavaredo Starts
Sure, nearly 80 kilometers in, you feel like you've got it down. That's two thirds. Two of three marathons are over. Just one left. And looking at the elevation profile, it seems there's just one big uphill left, then a bunch of small ups and downs up top, and a long downhill to Cortina, and that's it. Easy, right?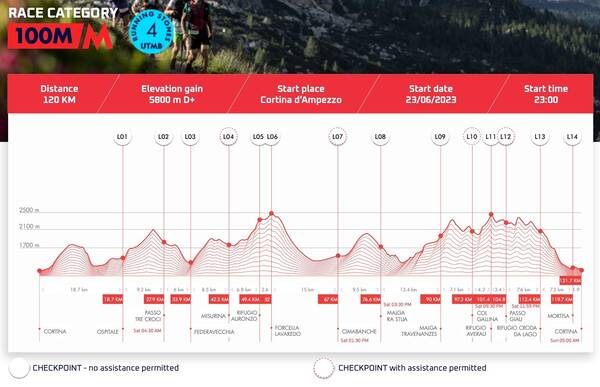 Not so fast.
Thankfully, I had read in a bunch of race reports that this is exactly where it gets tough. Those little ups and downs are actually highly technical and a lot steeper than it seems. And all of it has to be done on exhausted legs for most runners. The 80k have taken a toll on everyone. It's also very high up all the time, meaning thinner air, less oxygen, higher heartbeat, less output.
It all began with a long uphill stretch from 80-90 kilometers. This wasn't too hard except for the last bit. We followed a river upstream, crossed it a bunch of times, and got to see ahead what was coming up. That river was as clean as imaginable and I refilled my bottles several times in it. Such perfect stuff! Ice cold, right from the mountains, cleaned by all the minerals and stones, I don't think I've ever had water which tasted this good.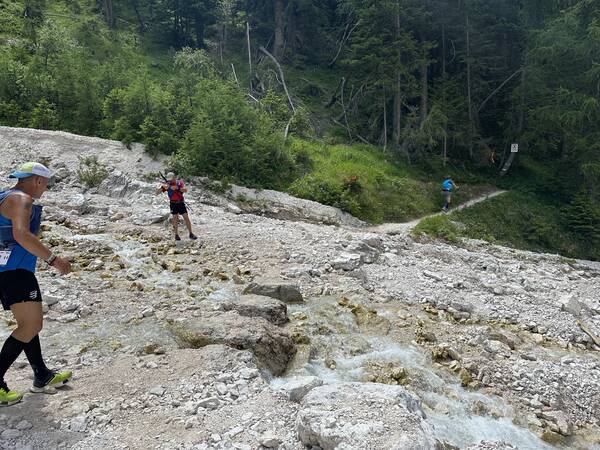 At the end of the river I could see where it came from. A couple hundred meters above, water just fell out of the mountain in a free waterfall, spraying in the wind, forming a small lake where it hit the ground next to us and turning into that mountain stream we now knew every corner of. Wonderful.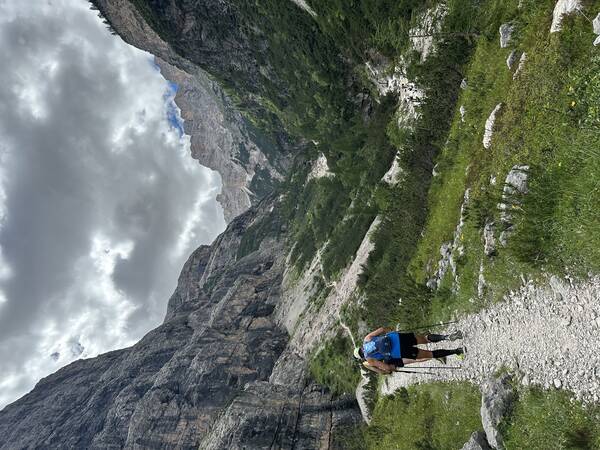 There were a lot more runners around right now, because there are more race distances available next to the 120k. They had an 80k, a 50k, a 20k, a 10k, and a kids' race. All other races except the 80k were long over, but those 80k folks started today at 6:00 AM and were led towards our route from the south, eventually joining us for roughly the last marathon, I think. They didn't seem to be a lot fresher compared to us, though.
The long uphill had another downside: no wide views, and the longest time between two aid stations. A whopping 20.4 kilometers with 1,300 meters of gain. Oof. They had a small hut with a natural water source in between, which was very much appreciated. I sat down here for second to hook up my phone to the spare charging battery I brought just in case. Good thinking. One of the other runners was lying on his back here, eyes closed fully asleep, snoring loudly. I could've done that as well, easily. Such a tough race.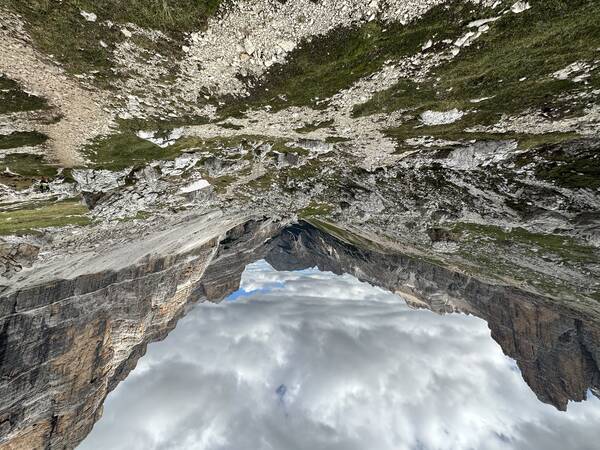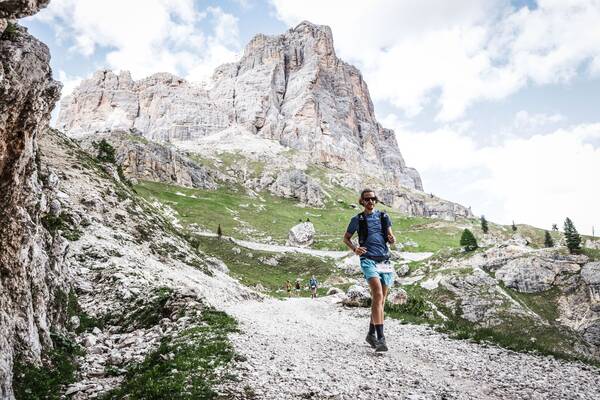 Parts of the course were so hard to run or even walk on, I had little flashbacks to Templiers and got a little scared again. Don't fall down! Even after 18 hours of running and a night without sleep, you can't take your eyes off the ground for once or that's it. It's a challenge to be in full-on survival mode for this long.
I think around here a big wave of desperation hit me. I was so destroyed I felt like quitting even though I've come so far. In addition to the legs, my back and neck were killing me now, too. I guess it's because the leg muscles couldn't soften the impact so effectively anymore, so now my back had to do that job. And all that looking down on the ground just in front of me for hours on end took a toll on my neck, too. Everything hurt. The familiar thoughts reappeared.
Why the hell am I doing this again?
If all these Western States qualifiers are this difficult, what's the point? And will I even have fun at the race in California? Isn't there an easier way?
I actually have an answer to the Why. Keep on reading to find out.
Don't want to miss new stories?
That's why there's a newsletter!
You'll never ever receive spam email and you can unsubscribe at any point.
Right when I was ready to quit at the next aid station, I remembered I had two pills of Ibuprofen with me, just in case. Before the race I told myself I will only take them as a last resort. Here, that situation seemed to have arrived. I was ready to quit. DNF again, just like last year at Templiers. Tears swelling up in my eyes. But first, let's see if the Ibuprofen helps. It feels wrong to take painkillers during such a race, masking the natural pain which is telling me that my body shouldn't do this anymore. But here I am, swallowing one. And sure enough, the back pain disappeared within 10-20 minutes, equal to about one kilometer in progress by now. Everything else stayed the same, but that back pain was manageable now.
🤕 The Inevitable Hiccups
We could see the next aid station from above, meaning there was yet another steep downhill required to reach it.
Although not the most technical downhill, I slipped on the rocky and dusty surface towards my first fall of this race. I wasn't surprised, because premeditatio malorum. The chance of this happening at least once during the race converges towards 1. It was a good fall, though, and I landed elegantly on my bum. My right leg got squished during the fall trying to hold my weight and immediately I felt a bunch of little muscle fibers in that calf overstretch or maybe even tear. Sharp sudden pain. "Are you okay?" said the runner behind me. Yes, yes, no problem. Up and forward. Left right, left right. Painful, yes, but I could manage.
Not long after, I slipped again, this time to the left side. I could catch my fall and prevent a full downfall as opposed to last time, but only thanks to my two smallest left toes. They took one for the team and again, a sharp pain hit me. My first thought was: "They are most certainly turning black now." – I was hoping that it wouldn't start feeling wet soon, because that would mean blood. Judging from the level of pain I was quite sure it might. But the double injinji socks prevented the worst. The toenails were holding up as of yet. Again, new black toenails were in my premeditative thoughts before the race as a huge possibility. So it was easier for me to handle this at this stage. Take it step by step and just keep moving. If the pain is manageable, and it was, then keep going and don't complain. Complaining is what blog posts are for! 😄
I got a bit unlucky later when several heavier stones hit those two beaten toes a few more times and in addition I stumped them again on a bigger rock. Always sending a wave of agony through my body. There were eight other toes which could have handled bumps way easier, but of course, the universe decided to test me by choosing those same two toes again and again. I sense a conspiracy!
Rifugio Col Gallina aid station was next. 97.1 kilometers down. Just at little more than a half marathon left. And finally, after such a long time, another chance to have food and drinks and sit down for a short while. I believe I even layed down for a few minutes here.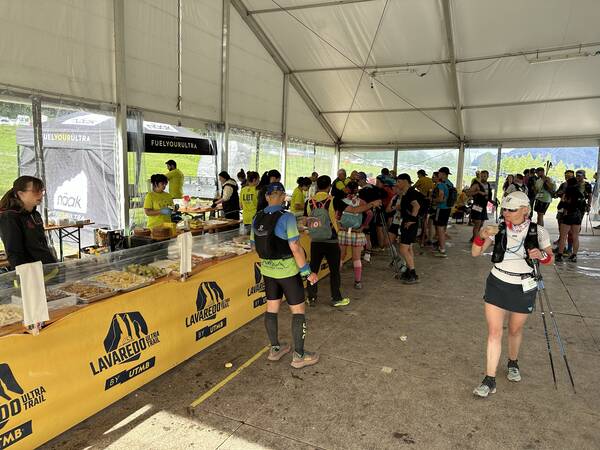 🐖 How The Sausage Gets Made
And since I was so down and near the end of my capabilities, and there had been this delicious looking Italian Salami sausage offered at every aid station before, I just took two pieces and ate them. As a vegetarian and weekday vegan for eight and a half years, this was the first time I consciously decided to eat meat since then. This should tell you what my state of mind was at the time. It wasn't impulsive, I actually had this thought at the aid station before – about salty, fatty Italian Salami. It felt like my whole body screamed for it. The next three hours between aid stations until now I was able to withstand that urge but it crept into my brain again and again, especially during those mishaps. Like a little devil on my shoulder saying:
"Just one piece! It will do just the trick! It's the ace up your sleeve! Think of that one of your vegan friends who has some meat once a year, too! No need to be dogmatic! It will taste so good!"
So somehow that devil convinced me that the piece of processed dead animal would help me now. It was delicious, yes. I knew that. Helpful? No. What the body needs is the Salami's salt and fat. It can get both from lots of other foods offered here. Immediately after, I felt regret. So I learned another lesson yet again. Then, I had some more of those delicious Italian tomatoes – whatever they do to them in this country as opposed to us up in the North, I don't know. But they are at least twice as good. It's probably the sun.
Time to sit down for a moment and reflect on what my body wants. A lot more food, it turns out. So I restocked on bread, tomatoes, cheese, and got myself a bit of hot soup with a big serving of rice in it as well. This was a great idea of the staff: Salt and carbs and warmth in one go. I didn't bring my own spoon because I thought I wouldn't need one to eat soup, so I struggled a bit trying to throw the hot rice soup into my open mouth from up top.
A fun 80k guy sat down next to me. He had the same problem, but he came up with a solution: "Hey man, you're doing it wrong, let me show you the proper technique!" he said in a lovely Italian accent before using his whole hand to scoop as much rice out of the soup as possible and throwing it into his mouth, laughing as half of it fell on his clothes and on the floor like Cookie Monster's cookies. I laughed too, but couldn't bring myself to lose all my table manners just yet to follow his example. I also suspected my hands, covered in all that sweat, food, insects, snot, sunscreen, gels, and what not, wouldn't have made it through the EU Food Safety Council at all. You know, the one which puts down the law on how bent the cucumbers and bananas are allowed to be.
Some more cheese and tomatoes before I left the tent. Two more aid stations to go. Almost at 100 kilometers, I was looking forward to reaching that holy mark, because it will be a point of success for sure and provide more motivation.
🧮 Finishing Time Calculations
Around here, 100 kilometers in, I met a German guy named Matthias who was at my level. We overtook each other a few times, mostly because one of us just had to sit down on a rock for a few seconds while the other hiked past him up the mountain. "Hey man, it's just a half marathon now." - "But at our pace, that will take at least around four more hours." – "Yeah, if we're lucky!"
The average pace on my watch had long moved past the 10:00 min/km barrier. With the distance of 120 km it's easy to calculate the estimated finishing time: An average of 30 seconds slower per km means 1 hour later. E.g., 10:30 min/km would lead to 21 hours, 11:00 min/km → 22 hours, 11:30 min/km → 23 hours, and so on. I think I was past 12:00 min/km already. Every aid station break costing me at least a quarter of an hour as well. By now I had to remember that I can't let it happen to get the average above 13:00 minutes per kilometer, because that would mean I would miss the Western States qualifying standard of 26 hours and I really wanted to avoid that. And also, in the race reports I had read I learned that the actual course is often really 122 instead of 120 kilometers long. At our pace, with such a close situation at the end, those two kilometers could make all the difference.
This gave me a sense of urgency and motivation again. I'm now at over 100 kilometers, I won't quit this now, and I also won't miss the Western States cut-off. I can't let that happen.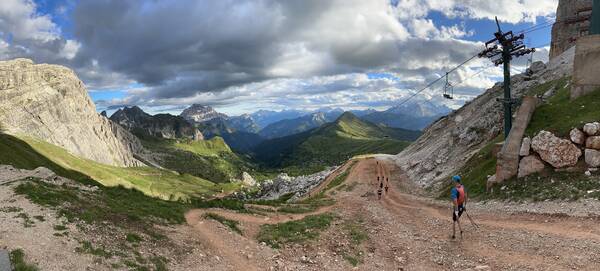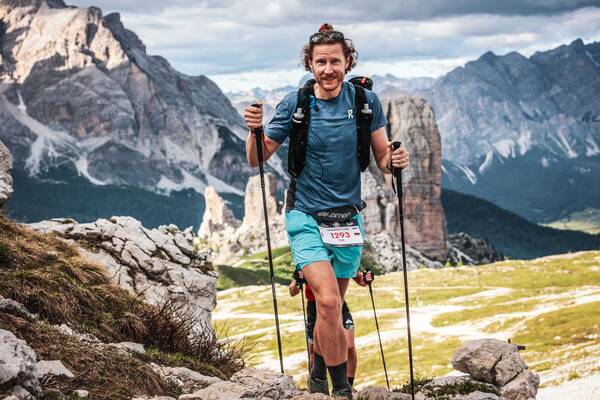 I came by a young woman who had chosen to lie down at an especially steep section, took out her phone and called her friend. She started crying and although I couldn't speak her language I was sure it was a call of desperation because the part of the course was just so incredibly difficult to get through. No one can help you here but yourself. There's no other way out than through. Even if you chose to quit, you'd still have to get to the next aid station or track back to the previous one – both options would be horrific in such a situation. The last resort in case of complete exhaustion to the point of losing consciousness is a helicopter, because no other vehicle can reach you in these mountains.
💪 There's No Other Way Out Than Through
For me, this realization helped, actually. I have to keep moving. The old left right left right left right, until at some point, there's the finish line. This is especially hard when leaving the comfort of an aid station, of course, but I was good at it. Once I was out of the aid stations, the mentality of just keep going to the next one set in.
We're still so high up we had to cross a small field of snow again. I saw that as an advantage, because it wasn't as hot here as it was down at Cortina's level. You have to see the positive things.
More and more runners were sitting on the side of the track with that look on their faces I was very familiar with: "What the hell am I doing here. How did I think this was a good idea." – The next day, we'll know.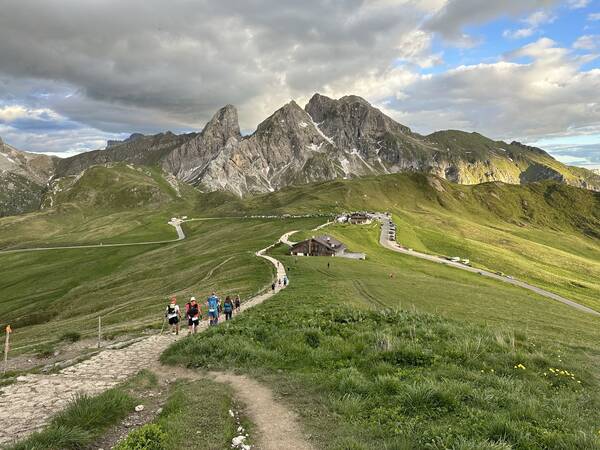 I received a message from my friend Patrick, who was watching the tracking from home, too. It wasn't live GPS tracking, the only updates happened whenever us runners would pass an aid station. At 104.5, Passo Giau aid station, the pain I felt in my neck and back was back. Especially the last drawn out downhill towards the station was tough. People passed me by, I was using my trail poles like crutches by now. Anything to avoid that landing impact. Far above 2,000 meters of elevation, the evening air didn't do me any favors in terms of power output, either. The damaged toes started to hurt again. I was very close to calling it a day. On the other hand, there are just 18 kilometers left now. Sure, those are particularly hard and contain nearly 1,000 meters of gain and 2,000 meters of elevation loss – which at this point provoked a desperate laugh from me.
But, I've come this far. What's the point of stopping here! Also, I had one last Ibuprofen in my backpack. This one might help with the back pain for a few hours, like the last one did. It might do just the trick to help me fight for a few more hours.
Also, the next aid station would be just 7.6 kilometers away. At about 8:30 PM, after 21:30 hours of running, I left Passo Giau and embarked on another stretch of highly technical alpine hiking. There was almost no running anymore.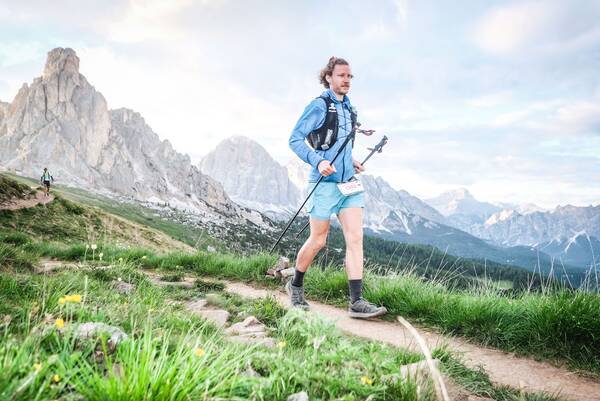 Fortunately, the back pain soon disappeared and improved my mood like only the scenery still could. My ETA moved down to over 25 hours now. Failing the Western States goal was getting more probable by the minute and I was dreading that last huge downhill towards Cortina. Will it be runnable? Will I be able to hike down faster or slower than my average pace so far?
😮‍💨 Yet Another New Problem Presents Itself
"I'm running with my legs, not my arms" is what the purists say about trail running poles. I would have been totally lost without my carbon Salomon sticks today, though. Quite sure I would have dropped out at the halfway point. But all the saved impact energy from the legs needs to go somewhere: Into the arms. The triceps most of all. They had already hurt like hell for hours by now, but something new happened. My fingers and the outer sides of both my hands went numb.
That's not good. Am I inducing nerve damage or will this just go away?
Fortunately, whenever I stopped using the sticks and just held them with my arms dangling down, the feeling in them came back. Just some temporarily stuck nerves. It became a decision between pain in the legs and numbness in the hands. Switching back and forth helped.
📝 Short Recap
Currently, I had pain
in my possibly newly black two toenails
in the calves, especially the half-torn right one
in my front thigh muscles (the quads)
in my lower back
in the muscles at the back of my neck
in my throat because of inflammation from all the mouth breathing
in the back of my upper arms (triceps)
and numbness in my hands and parts of forearms.
It was all on maybe level 4-6/10 measured by what I could imagine a 10 might feel like, so it was all possible to suffer through without any screaming. And the Ibuprofen certainly helped a lot. It didn't feel right to me, though. Is this what all those races would look like? On the other hand I remembered David Goggins again and again, as I did when hitting those toes. He famously says: "Is the pain manageable? Then don't complain!" – and also:
"When you think you are absolutely and completely spent, you are only at about 40% of your actual capabilities."
He is right. People are too comfortable. And we should get comfortable with being uncomfortable. Experiences like these widen the horizon and help getting to know ourselves and our true capabilities. Suffering through hardships, even though voluntarily, is a great lesson. You'll never know what your own future holds, but as it looks right now, the chances of us all ending up with some major illness like cancer at some point in our lives are ever increasing. I'm not comparing the awful experience of such an illness with ultra trail running, I'm saying that being prepared to suffer through something hard involving pain and willpower is a skill that we are able to train and which probably will come in handy at some point.
This is taking the Stoic Premeditatio Malorum to the next level.
🚯 Taking Care of the Planet
Many of our possible global future problems have their root cause in our own current behavior. Pollution is one of those. Here, I witnessed firsthand the egotism, arrogance, and ignorance of people which is the origin of most problems. In all the race info and even in the final race briefing just before the start, it was mentioned that littering on the trails was forbidden and to be punished with a penalty time of 30-60 minutes.
When I saw the first few emptied gel satchels on the ground I thought, well, someone's trash fell out of their pocket without them noticing. It can happen to anyone. But as the kilometers progressed, I saw plastic waste as often as every 50 meters. These weren't all accidents. People didn't care! But why?! Did they feel like this behavior would have no consequences? Of course there were no race officials around to supervise the whole course, so it all got unnoticed. People got away with it.
Just so much fresh trash on the trails, discarded without a second thought. Even whole empty pill cases, seemingly of painkillers. Some runners eat them up like candy apparently. It made me so sad, the disrespect for nature. Carrying the 10 grams of plastic to the next aid station in your backpack is definitely not too much to ask.
At a different trail race I did in the Alps a few years ago, the staff tried to take care of that problem by only allowing gels which the runners had marked with their bib numbers before. There were some checks, but obviously they couldn't make every runner open up their whole packs, so it was an imperfect idea, too. I don't remember much trash on that trail, though.
I'm thinking a lot about these problems, because they are the root cause of the bigger societal challenges we're facing: Many people are just not caring about the consequences of their actions. Punishments and incentives don't really seem to work. My best guess is that education would help. Play a well-made five minute video right before the start on the large screen which makes the consequences of plastic waste carelessly dropped in nature easily understandable. Maybe that could help. Trail running is about the nature. It's about becoming one with nature and appreciating its beauty.
In fact, this is the main reason I was still in the race: The Dolomite mountains are just so incredibly beautiful, it brought tears to my eyes at points. Especially after a long uphill when the big panoramic view presents itself for the first time while the whole body is aching. It's nature's way of showing us it's worth it.
🔦 The Long Night is Upon Us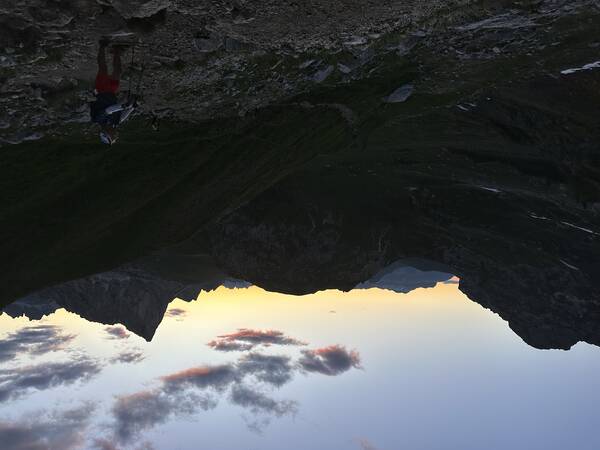 Shortly past 9:00 PM, the night started. For another thirty minutes or so, it was possible to run on the trails, but at 9:30, that was it. I sat down and put on my headlamp for the second night. It was a sad moment, I remember. It had been a dream to finish the race before it gets dark – with a daytime finish. But now that ship had clearly sailed and there were 12 kilometers more to go.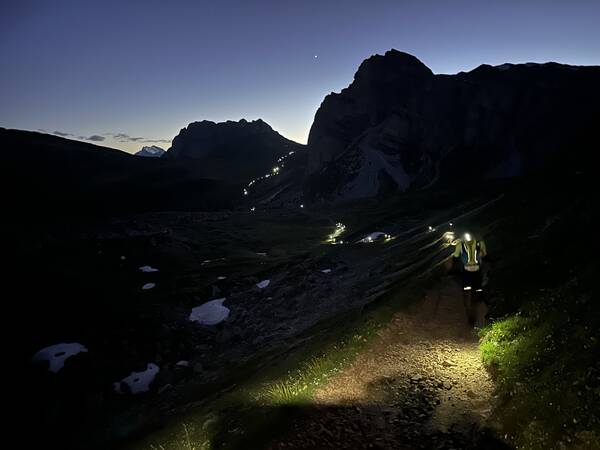 Thankful for my foresight at the Cimabanche halfway point aid station, where I almost put the headlamp into the drop bag for the staff to carry straight to the finish line – thinking I would easily make it before nightfall, I kept on going in the dark. It was tough to take, though. And the track didn't get any easier here, adding to the new complication of darkness.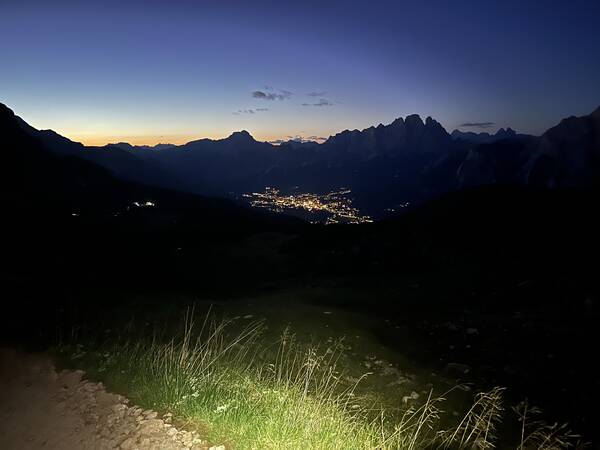 110 kilometers in, a beautiful view of Cortina from about 1,000 meters above presented itself. A runner next to me commented "Aaah. Bellissimo."
Yes. Bellissimo. The finish line is somewhere there. I'll make it. A little less than three hours left for about 10-11 kilometers. Usually I laugh about that, but not when it's involving 1,000 meters of downhills and such a beaten-up body.
The last aid station, Rifugio Croda da Lago, was small but hugely helpful. People here were especially relaxed and anticipative of my needs, I remember. Refilling my bottles, offering those delicious 140 calorie wafers, and generally trying to read from my eyes what I might need.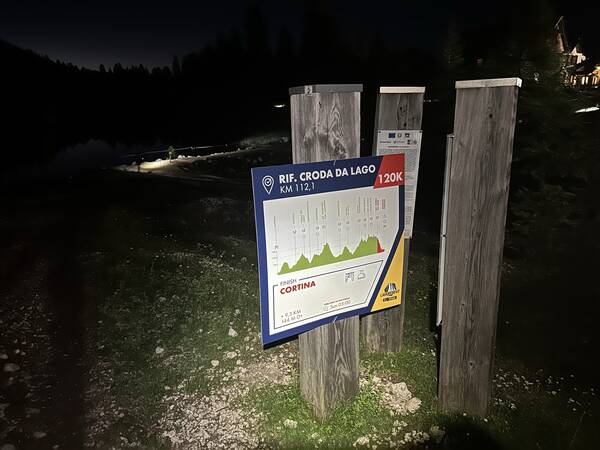 Another look at the watch: With another little break here, my average pace had moved up to 12:50 min/km, resulting in a theoretical 25:40 hour finish. Just twenty minutes less than the Western States cut-off. And by now I know how easily twenty minutes could vanish. I would need to keep up that pace by any means, better yet I would need to try to improve it just in case of some unknown hard parts coming up. So I needed to move. Half past 10 PM, I'm off to race to the finish.
🏁 Scrambling Down to Cortina
Just 9.3 kilometers left, involving 144 meters of gain, but more than 1,000 meters of loss. Two hours and exactly 22 minutes left. In the complete darkness.
Having seen Cortina from above and knowing that achieving this desired result is still totally possible gave me a huge boost. There were still a bunch of other runners around me who had the same average pace over the last 23 hours, to my surprise. Some of them were the 80k runners, who, in direct comparison, were a bit slower than me even. They were 16 hours into the race and had covered about 70 kilometers by now. That's an average pace of 13:45 min/km, a whole minute slower than me.
This was important, because at that pace I wouldn't make it in time, and the downhill involved lots of single tracks, it turned out. The people were blocking me. I didn't want to be that annoying guy breathing down the necks of the people in front of me during a challenging descent. For safety reasons, too. I'm not here to risk any lives for a Western States qualification.
And the downhill was steep. Possibly among the steepest bits of the whole course. But to my delight, the familiar stones were near non-existent. It was mud and dirt instead! In the middle of a forest, mainly. And the air got thicker and thicker the further down I went, naturally. This all was all helping me a lot.
1,900, 1,800, 1,700, down to 1,300 meters above zero in such a short time. The inner ears noticed. The slippery ground made a few runners fall down in front of me, but nothing serious happened. I overtook a lot of them and made good progress. Most of the 1,000 meters of elevation loss were done after just 4-5 kilometers. And my pole technique was flawless by this point: Of course, because I had practiced it for over 110 kilometers now! I caught every impact with my arms, ignoring the numbness and full of adrenaline again. I wonder if the adrenaline has any limit at all. At some point it must have. The chemical was a much appreciated partner in this whole endeavor.
Something new happened to me in these forests. Since I passed a lot of people, there were a bunch of sections where I was completely alone. No one visible in front. Everything pitch black, just a reflective course marker some hundred meters in front. The rocks and shrubs next to the track seemed to be looking at me. They moved like animals. When I focused on them with my headlamp, they turned into rocks and plants again. Hallucinations! I never had them before and always wondered what it would be like. Many runners who do races without sleep for this long talk about hallucinations. It is eery and a bit spooky. But my analytical mind was still able to identify them as clear hallucinations and no threats.
🏃 Run, Rabbit, Run!
My kilometer times moved below 10 minutes now. I was very excited. The downhill wasn't as bad as feared and my chances at Sub-26 grew significantly. The town's street lights became visible. First, the single trails changed into forest paths, then those forest roads suitable for vehicles, and suddenly there was asphalt. Just a few more kilometers now! And nearly flat ones, too!
Then, even the familiar church tower comes into view!
I'm looking at the watch again and again. At one point I ran so fast I felt like flying. But the watch confirmed, it was just around 7:30 minutes per kilometers. Usually that's nearly walking pace for me. But it's a lot less than 13:00 minutes, so I was getting happier and more excited. It's not over till it's over, though, and a face-plant on asphalt is still possible. I'm hugely tired, everything hurts, and my ability to focus isn't great. I just had hallucinations, after all. It just feels so good to run on asphalt though. I'm really happy to be running at all. On these roads I overtake another 5-6 people. A volunteer says it's just two more kilometers now.
I'm right in the city now, it's past midnight, there are no cars. Everyone is asleep already. A few friends and family of other runners are roaming the streets waiting for them. One more short uphill which I need to walk and there's the Corso Italia, the cobblestone street leading to the finish line.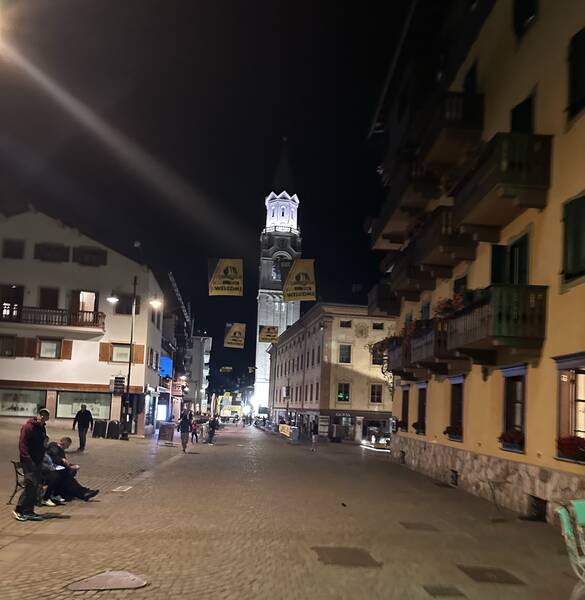 People realize I'm one of the 120k runners because of my red bib number, and that I'm about to finish. They look at me in awe. They applaud. And as I enter the tunnel, a few dozen people bang the fences so loud for me, I get emotional. This sets me off like a rocket, and in an all-out finish line sprint I race those last hundred meters. Despite all the pain, somewhere that hidden pocket of energy was left. Good to know.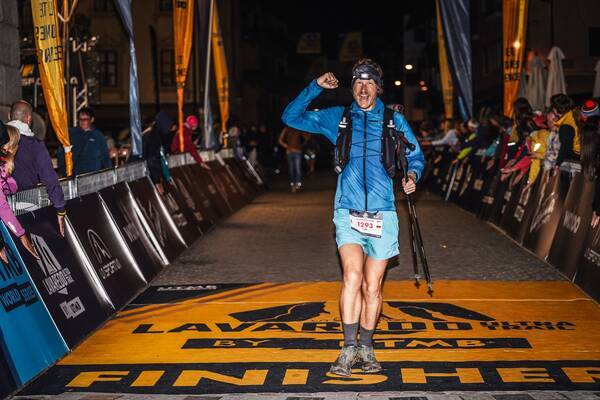 ✅ Race Completed
And there it is. Done. Photo finish. The relief! I know I did it in under 26 hours, but I don't care for the exact time right now. It's over, I've made it. Lavaredo Ultra Trail 120K, I'm a finisher. What a great feeling.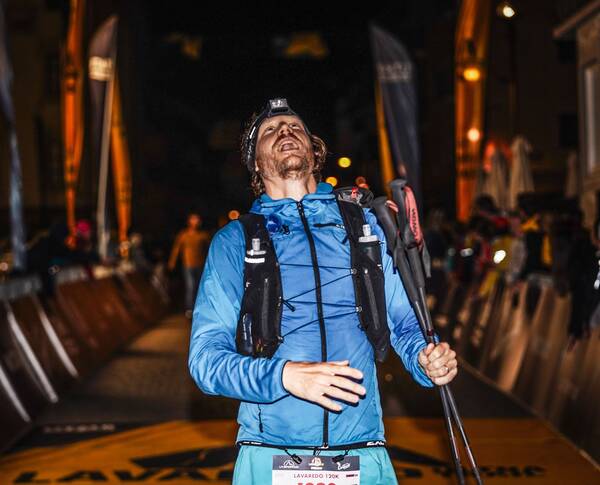 Super proud I've made it. This wasn't a given at all. It required everything I had. Winning a fight like this is always the best.
The GPS watch beeps after I stop it. Just 5% of battery left, please charge! Close call. I've never used up 95% of my tiny COROS Pace 2 in one go, of course. I'm impressed it made it through this whole race – as impressed as I am of myself. Here are the Strava stats it measured. With an official finishing time of 25:27:09 hours, I came in 789th of 1025 male finishers. 895th of 1,181 finishers, total. Nothing to brag about, but that was out of the question even before the race.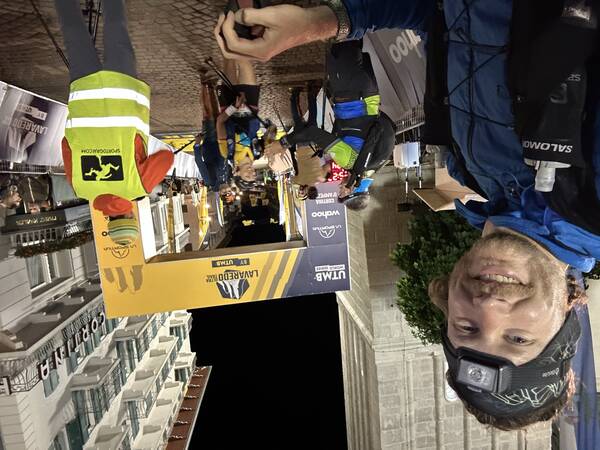 They hand me a lovely rain jacket as a finisher's gift. Great quality, I'm surprised again! For an entry fee of just 169 Euros, I got a quality cotton shirt up front and now this jacket, in addition to all the aid on course? This is an exceptionally good deal! Some jackets of this quality easily cost 169 Euros already. There's more food but I don't feel like anything. I didn't even touch the water and electrolytes in my two bottles during the intense downhill of the previous two hours. I just couldn't stand the taste of it anymore. They have multivitamin juice here, which is new, so I quickly down a bottle of that instead.
🎧 Listening to Music Which Isn't Real
There's not much more to do at this point. I long for my bed, so I decide to go straight to the Olympic Stadium to fetch my drop bag and go home. It's getting cold quickly and I'm glad I have the new yellow jacket. It helps. There's another rain jacket in my backpack, of course, but I forgot about that one. The brain is smushed, too.
There's hot food at the stadium and a few runners lie down to sleep. Not sure if that's okay, but it's tolerated. Again I'm so thankful to all the volunteers here, for example the guy who gets the drop bag for me and the people handing out hot pasta to me here at 1:00 in the morning. The pasta comes with peas which have bacon pieces in them. After about 40 hours of being awake involving a 120 kilometer ultramarathon I'm way too tired to care and eat it all up. Throwing it away would be stupid now, too. So that's eight years of vegetarianism and this race got me to have animal meat twice in one day. Not the best consequence of ultra running! 😅
I'm glad to find my rental car where I had put it after an aimless walk around the block and turn the heat up. A quarter of an hour of dark mountain roads are between me and my bed. But here come the hallucinations again. Suddenly, I hear music in my head which is not real. It's the same bar repeating over and over again, nearly making me insane. It's not a great song, too, which my mind created there. I don't recognize it and I can't control it. But again I realize it's just a hallucination and that it means I better focus on the road as hard as I can. It takes forever, but once I roll onto the parking lot of the hotel, turn off the engine and the silence of a night in the middle of the Alps takes over again, the hallucinations stop. Next time I would prefer paying extra for a hotel within walking distance of the finish line.
Finally I can take off my socks. And yes, the two toenails have turned halfway black already. Other than that, no blisters, no blood, no big chafing anywhere. Pretty stoked about that!
I'm in my bed at 2:00 AM after a quick shower and spread out like a starfish. Within seconds, I'm asleep. Five and a half hours later, I wake up in exactly that same position, seemingly not having moved one bit. That's new, too! I don't think I've ever recovered so efficiently. The buzzing of the first messages of the day coming in on the phone wakes me up. I actually feel okay, apart from the legs which could have easily been made out of stone right now for all I know.
Getting downstairs to the breakfast room seems easier when compared to Mozart, so apparently my body has learned about this new thing of 100+ kilometer mountain races by now. Still I need to use both my arms on the railings to support my body weight on every step. The four hour drive back to Munich turns into a six and a half hour drive because of a closed off Brenner mountain pass requiring a huge detour, but I make it in time for the flight.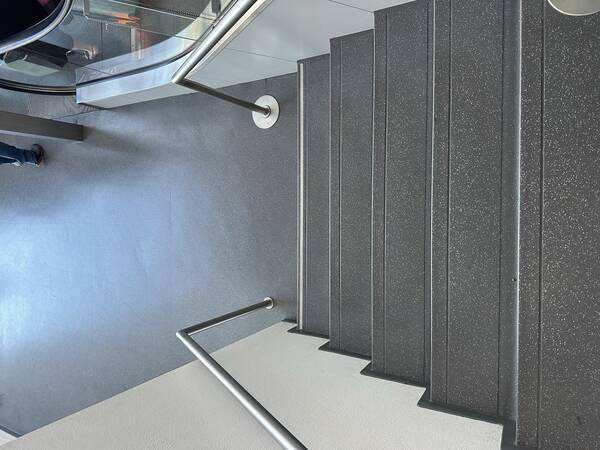 Back home in the evening, the kids come running at me and hug me and I need to laugh through it because it all hurts so much! Every touch on the thighs. Every time I bend down to cuddle them. Every stair up and down. Why do I do this again?
🇺🇸 Right, The Western States
One of the reasons. I've got two tickets in the lottery this year! How cool is that. My chances of getting a slot to start will still be under 2%, but it's better than last time.
The Western States has a 30-hour limit on its 161 kilometer course involving 5,000 meters of gain and 7,000 meters of loss. On paper that sounds like it would be tough for me to accomplish. But the big difference is the surroundings. It's not alpine, and many runners even make it through without trail running shoes because it's not as rocky or slippery. The trails are apparently a lot more runnable for most people. Also, the difference in elevation, compared to Lavaredo: While at first, the Western States route goes up to about 2,500 meters above zero and often into some snowy fields within the first ten miles, it descends from then on out and the latter 60% of it is all below 1,500 meters. The closer you get to the finish line, the less tough the climbs and descents – which is just the opposite of Lavaredo. So I do think I stand a real chance when running it, especially since it's often very hot during the race, a weather condition I actually prefer.
🇮🇹 Back to the Dolomites
I don't know if anyone would call this race "runnable". I certainly wouldn't, but I've learned that runnability is highly subjective. For the winners of Lavaredo, the largest parts must be runnable, because they finish with a time of about 12 hours, less than half the time I needed. Last year, Hannes Namberger of Bavaria beat the course record and went under 12 hours for the first time. 120 kilometers in less then 12 hours is an average pace of less than 6:00 minutes per kilometer.
This seems like pure magic to me. I just can't imagine a human being is able to do this. I would love to see drone footage of Namberger flying up and down these mountains. That average pace means that for every 8:00 min/km climb, of which there must have been a few even for him, he must have made a descent at 4:00 minute pace. How is this possible? Even doping can't help here, because it's all about the running technique. Something I clearly fail at.
When you take a look at the people who do well or win at these races, a pattern emerges. It's always people who grew up in the mountains or at least have spent a significant portion of their formative years in them. Practice makes perfect. This is something I will never be able to achieve. Secure footing, fearlessness stemming from experience, high altitude acclimatization, that's all behind closed doors for me.
The race itself is amazing, though. The area is stunningly beautiful, the staff friendly and helpful – even though not always fluent in English –, the whole organization worked flawlessly. I have nothing to complain about, expect for the size of that very first aid station. Make that twice the size and you've got yourself the perfect race. I can understand why I saw runners from Canada, South Africa, Japan, New Zealand, a few Americans, and nearly all the European countries.
This is world-class level racing. So if you're looking for a real challenge, come to Cortina.
❓ The Big Why
A pretty area and flawless organization of the event are certainly bonus points, but can't be the whole answer to the question of why I would do these races if they are so hard and cause so much pain. Or why 1,600 people would do a race like that, for that matter.
For me, and I think I'm probably speaking for many other ultra trail runners as well, the big drag is making use of the controlled possibility of moving out of our comfort zone and achieving something which is considered difficult by most other people.
From that, we derive a sense of pride and also self-worth. I think there's definitely a sense of tribalistic behavior, something instinctual, in the mix as well. We get a chance to identify as part of that group which conquers the mountains for the greater good of the tribe. That might be exploration, for example. Showing courage in finding better opportunities which might benefit the survival of our offspring.
We can't deny our heritage and monkey brains. But in a much more modern sense, it's also like a meditation retreat or a simple vacation for the brain. Running long ultra races which require this amount of focus don't allow for everyday worries to arise like they do normally. I can leave my sense of responsibility for my family and co-workers at home for a while. There's no pressure on me from the outside at all.
Everything is just for the moment and not the future. I'm in the moment.
🧑‍🎓 My Personal Conclusions
Again, I have learned a lot. Lavaredo has a good reputation and I knew the area to be this pretty, which is why I signed up. But for me, a race like this in the Alps is just too hard. I must face that fact. I won't be able to get significantly better at running up and down mountains like these while still based in flat Hamburg and taking care of four kids while running two and a half companies. Driving down to the next mountains every weekend just isn't an option.
Of course, I also drew a comparison between Lavaredo and Mozart, my only two alpine races so far.
🇦🇹 Mozart 100
108 kilometers
4,800 meters of gain plus loss
Finishing time: 17:29 hours
🇮🇹 Lavaredo 120K
121 kilometers (+12.4 percent)
5,800 meters of gain plus loss (+ 20.8 percent)
Finishing time: 25:27 hours (+ 45.6 percent)
That's nearly 7 hours more!
Although the distance is only 12.4 percent longer and the elevation gain and loss is just 20.8 percent more, Lavaredo took me 45.6 percent more time.
All in all, just based on subjective feeling, I would say that Lavaredo was around 30 percent harder than Mozart. So if you've got that reference point, maybe it helps you.
What follows is that elevation gain, respectively loss, isn't comparable. At least not very well. You can have two downhills which both lose, say, 1,000 meters over a 10k, one made out of huge stones, the other of mud, and the perceived exertion and time it takes will vastly differ. Mozart's routes were so much easier. Also taking into account what I've seen at Templiers in 2022, Mozart seems to be the beginner's ultra. Good thing Mozart was my first choice, otherwise I would have stopped the whole Western States project right then.
In addition to this race being the longest distance I've ever run and containing the most elevation gain I've ever accomplished, it was also the first ever race for me which took longer than 24 hours, or a whole day. I remember when I first learned about people doing 24-hour racing, I thought this was so far beyond my capabilities, I couldn't imagine doing it one day. But here I am.
When focussing on what actually went well as opposed to all the pain and problems I encountered, the list isn't that short. I didn't injure myself. No big face-plant, no blood, no digestive issues. In fact, that's quite unlikely, because many people have issues with the drinks and food during such a prolonged time of athletic activity, but I just didn't. Well, I was using the old exhaust pipe on my rear end quite a bit, to the detriment of the people running right behind me, but we're out in the open here. 🏃💨
I had no blisters in the end, no broken bones, not even a sunburn thanks to taking that possibility seriously. In the end, I got through this race quite well, taking everything into account.
Shows you the power of incremental improvement.
📈 Speaking of Incremental Improvement
Doing nothing else but running for a timespan of more than one full day brings some other challenges with it, though. As you might be aware, I am doing quite a few daily challenges, some of which were bound to fail during Lavaredo.
🏃 Running every day ✅ – That one is easy, although only on the surface. Since my goal is to have one logged activity for every single date, this race spanning three different dates wouldn't do it. So my decision was to run a very short 2 km on the day of the race, because it wouldn't start until 11 PM, then track a 2 km stretch of the race using my phone as opposed to my tracking watch to have another minimum streak running activity logged, and on the date I arrived at the finish just after midnight, I would run another 2 km in the evening back in Hamburg with Sophie. Safe!
💪 Core exercises every day ❌ – Although it would have been fun to do a 7-minute workout at one of the aid stations, I couldn't muster up the energy. Fair.
😮‍💨 Wim Hof breathing exercise every day ❌ – Similarly, I didn't want to lie down and breath heavily at any point during the race. That would have irritated everyone.
🌱 Eating 100% plant-based as often as possible ❌ – That one failed spectacularly, as you know by now. Poor 🐷.
🚱 Avoiding alcohol as often as possible ✅ – No aid stations offered any and I really didn't feel like it, either. Check!
🛍️ No purchases of stuff I don't need ✅ – Not much of a chance to browse Amazon while running up in the mountains.
🛏️ In bed at 9:30 PM every day ❌ – Should've run a bit faster!
📴 Less than 60 minutes of screen time per day ✅ – Easy, apart from taking a few pictures, I didn't look at the phone at all. Just 5 minutes of total screen time for the day.
🔤 Solving the NY Times Wordle ❌ – I honestly forgot about it, understandably. But that one should've been possible, I think. It usually takes around 2-3 minutes, and during a not so steep climb or at an aid station, I could've tried. Solving a Wordle during an ultra race. Bit like chess-boxing!
🤳 Taking a selfie each day ✅ – This, I remembered because my phone buzzed at noon exactly. It turned out a good one with the inevitable mountain backdrop.
That's a clean 5 out of 10, which is not the worst day!
💆 Recovery
Mozart took me 6-8 weeks until I felt fully at 100% again. So I took that expectation into it. As stated, my legs didn't feel as fried as after Mozart the day after, but it still was a major challenge to go down stairs for the next two or three days. During the short recovery jogs I did as part of my streak running, I easily increased the pace from 8 to 7 to 6 minutes day over day, but I kept it at short distances. I think it helps to keep moving. Whenever I sit down for too long, getting up was agonizing.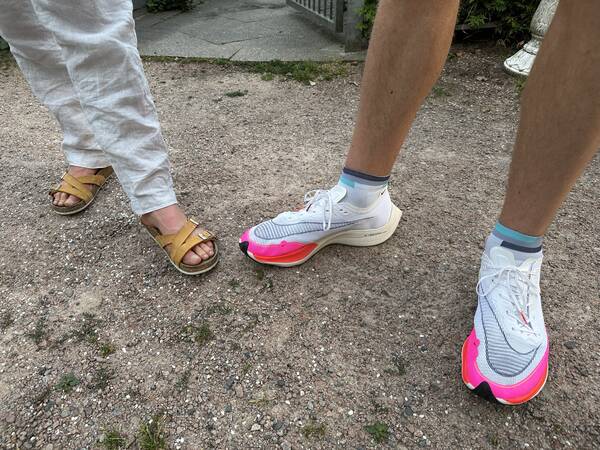 Six days after the race I felt fine with a 10k in under an hour and needed no hands on the downstairs anymore. That went faster than I thought. Still, the exhaustion is heavy and I'm quite a lot more tired during the days. Sleep is an issue, because I feel like I need 1-2 hours more every day as I did before the race. The 10,000 calories I spent running Lavaredo went back into my body within half a week and my weight remains unchanged. The sole of the front parts of my feet were numb for a few days, as were the two toes with those newly black nails. My two big toes were already a bit numb before but seemed to have gone even number from Lavaredo. Can be an advantage. Less pain.
Now, more than a week after, I still feel more tired than usual and my legs are definitely not fresh, but getting there. I'm taking my time. The next milestone will be doing a solo half marathon, possibly a week from now. Another week later, we're signed up for the Hamburg Triathlon weekend again, which isn't a race where I'm aiming for personal records this time. Slowly getting into it again, giving my body all the time it requires.
🧑‍🔬 What I'm Taking into the Future
I had loosely planned to do the only Western States qualifier in Germany next year, 2024. The Zugspitz Ultra Trail (ZUT). With 111 kilometers and 5,200 meters of gain and loss, as well as peaking at just 2,180 meters, it should be a bit easier than Lavaredo. But it's still alpine and probably highly technical, from what I've heard. Maybe it will take me 22 hours (the limit is 25 hours). While during Lavaredo I already thought about this and had the strong opinion of "Never ever will I sign up for Zugspitz if it's anything like this. Never!" – now, with a week having passed, that has changed. Zugspitz might be somewhere in the future for me. Not next year though.
Then it hit me.
What would this look like if it were easy?
I never asked that question before regarding the Western States project. But why not?
Greg McKeown talks about that in his book "Effortless". There's no reason to take the more difficult path if there's an easier one leading to the same outcome.
The list of qualifying races can be sorted by allowed finishing time, ascending. This basically means sorting them by difficulty. And there are several options which should be a lot easier! The easiest ones are all on other continents, but the first one in Europe looks promising: The Race to the Stones is the UK's biggest ultramarathon, taking place near Oxford. Over just 100 kilometers, there are only 1,200 meters of gain to overcome. That's nearly flat! And you get 17 comfortable hours. So why not. I applied the day after Lavaredo.
Let's see where it will lead me.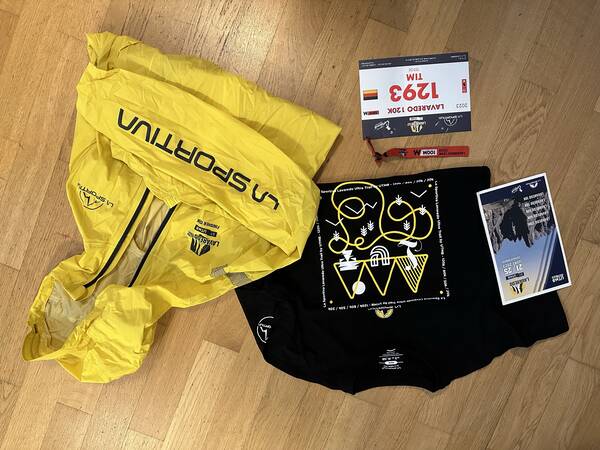 How do you feel after reading this?
This helps me assess the quality of my writing and improve it.