Building a Windows 10 PC
I would never describe myself a gamer. Especially during the last decade, adulting had the upper hand. Still, there were two games which I have played many times and which gave me many joyful hours. Those are Half-Life 2 and Grand Theft Auto: San Andreas. Well, I'd have to throw in Portal 2 too, probably.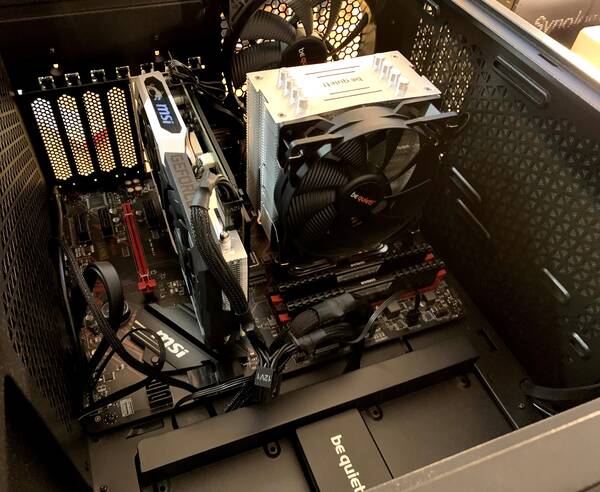 As almost everyone I knew, I grew up with Windows PCs. My first computer, which I got as a combined birthday and Christmas gift, was an Intel 486 with 66 MHz and 4 MB of RAM. That was around 1996 I think. I used it to play a few games here and there, sure, but mainly computers became interesting to me because you could use them to build websites using Microsoft FrontPage 97, hosted on GeoCities. I loved it and it later became my profession. Picking out parts and building new PCs also became a little passion. A huge part of my funds went into that. Together with friends I experimented with water cooling, built little servers, created PC cases out of Beck's beer cases and see-through acrylic glass (long before it was cool!), and decorated a Christmas tree with all the accumulated PC parts which were left over. Good times.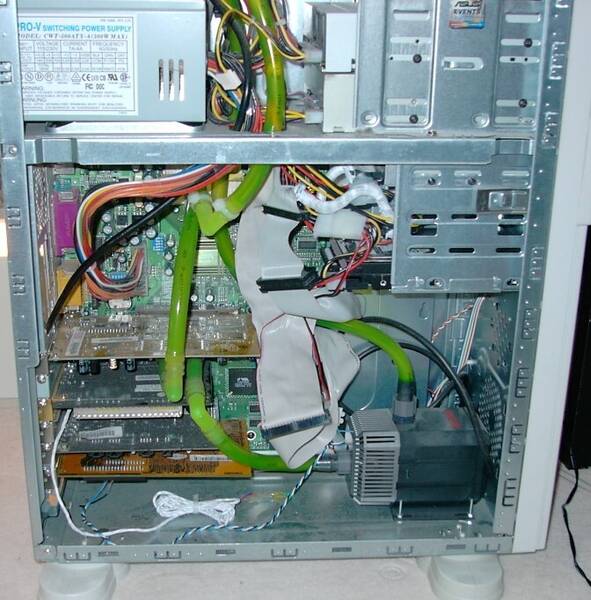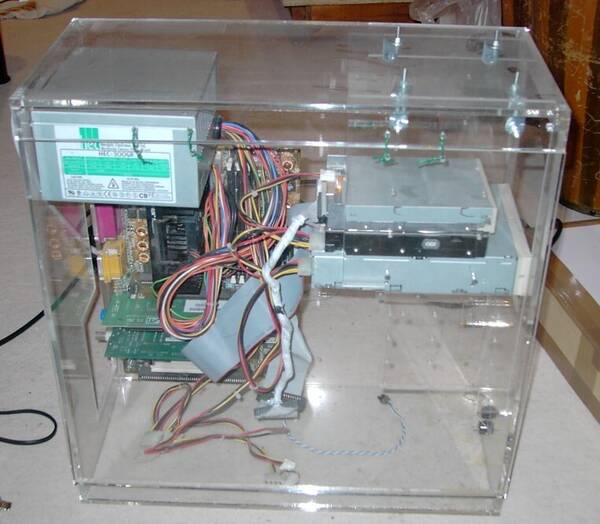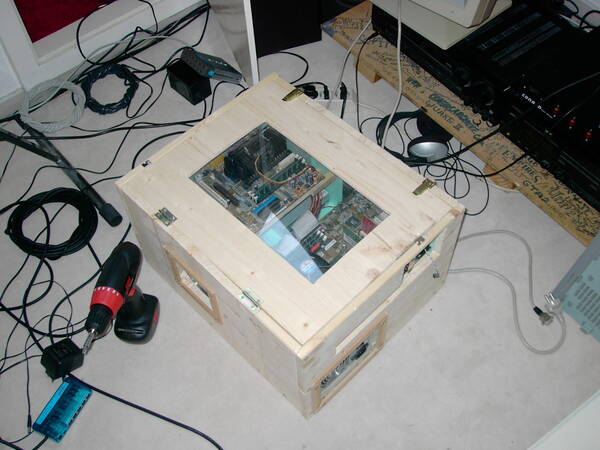 But then, I started working a real job and these machines became impractical. So I switched to Apple laptops eventually. What they say was true: those Mac computers just work and are perfect for the sort of work I do. Still are. Only one downside, they are not powerful enough for games, unless you are able to pay nearly 5-digit sums on them. Didn't bother me much, though. Steam came along, and so I could eventually play the older games on my MacBooks, like the mentioned Half-Life 2 (2004) and GTA:SA (also 2004). Until the day the macOS developers decided to not support those old 32-bit games anymore.
Adding push to shove, game design company Valve finally announced a new Half-Life game after a 16 year break. Great news for me, but the problem is that it would not work on Macs and also require a Virtual Reality headset. Virtual Reality is something I had never tried and seemed rather costly. A few months went by while this situation worked itself through my mind. And then I finally decided.
I Am Going to Build a Windows PC Again.
New project, this will be fun! Sure it's probably going to be expensive, but what to spend money on if not on hobbies which increase happiness and make life better.
So here is my story. Beware, it's getting technical.
First question: What exactly do I need to make this work? My goal is to have a reasonably powerful machine which mainly can drive one of these weirdly interesting modern Virtual Reality headsets which are required and supported by the new Half-Life: Alyx game, announced to arrive in March 2020.
That game supports a bunch of these headsets and they differ wildly in quality and price. The range is between two hundred and several thousand Euros. Lenovo Windows Mixed Reality, HTC Vive, Oculus Quest and Rift S, Valve Index, Pixma 5K, what to choose? I knew nothing about the topic, so the research would have to be extensive. In the end I landed on an Oculus Rift S. A company, co-created by John Carmack, the developer of Doom, one of the first games I ever played. Even though the company got bought and is fully owned by Facebook now, which I strongly dislike, it seemed to be the best suited, most compatible, and still reasonably priced option.
With that decision out of the way, I could just work myself backwards now: what machine do I need to power the Oculus well enough while not spending too much money on it?
In comes Linus Tech Tips, my favorite new YouTube channel. The guy and his team test hardware and make recommendations. They have such an extensive knowledge base that you just need a few videos to find out what you want and need. I also asked a few friends for tips and in the end decided in favor of a AMD Ryzen 5 3600X CPU, the core computing unit from which to build up the set. Powerful and cheap, compared to the Intel processors.
The other important part of a modern computer is the graphics processor card and I went for a GeForce GTX 1660 one with 6 GB of RAM, built by MSI.
All the other parts just fall into place and are rather low-end. An MSI B450 mainboard, 16 GB of Corsair 3200 MHz DDR4-RAM, a 500 GB SSD. And, not to forget, a 600 Watt be quiet! power supply and a Pure Base 500 black tower case of the same brand. The cheapest Logitech mouse and keyboard completed the order.
For this computer, I got away with slightly less than a thousand Euros. When comparing this to the MacBooks I usually bought, that price seemed ridiculously low. Especially when taking into account the computing power this build will have. On the other hand, Macs have other huge advantages, as I was about to find out again.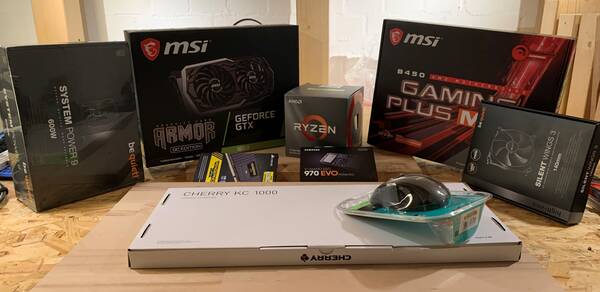 Unpacking all the parts and putting them together in the correct way was a proper nostalgic trip back to my teenage years and I enjoyed it a lot. It's almost like is was over too quickly.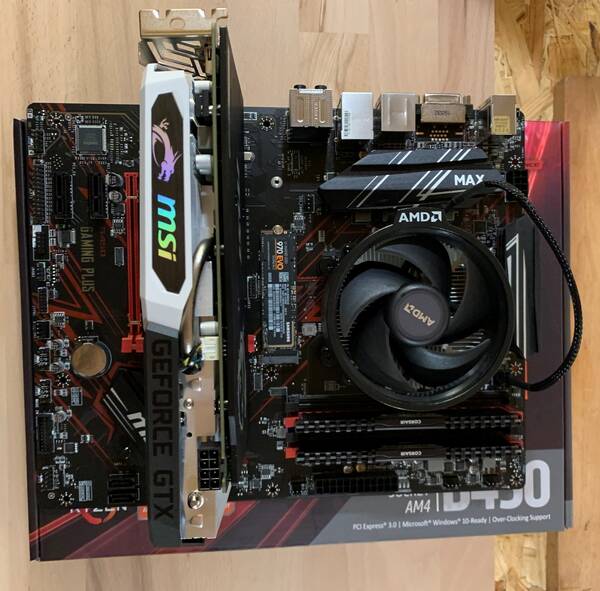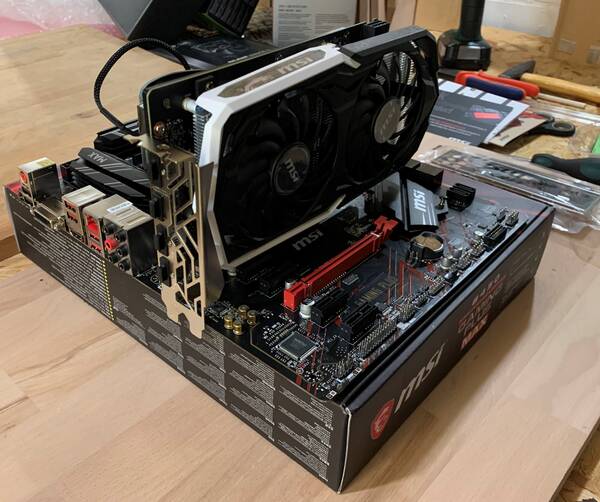 The only thing that was different from what I've been used to, was the hard disk. Which is not a spinning disk anymore, but just a chip on a little board, much like the RAM. You might know standard SSDs to store files on, and that's what I was expecting, but this thing goes right into the mainboard, no cables. The interface via which storage like this is added is called NVM Express, while the storage boards themselves are called M.2. Apparently, this is super fast. I like the idea of have one less cable.
The First Dry Run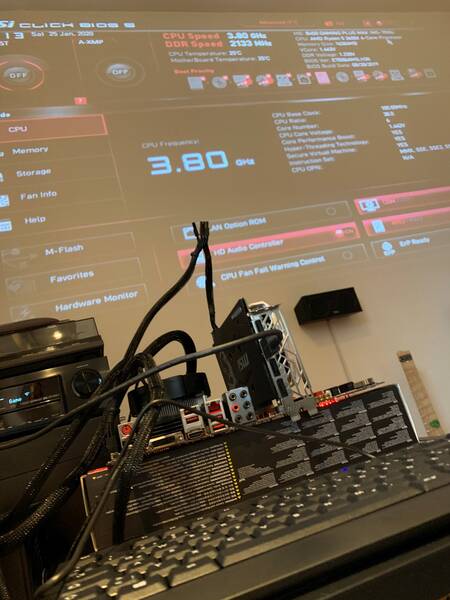 Before putting everything into the tower and fix it, it makes sense to try the setup out first. Will it boot up or is something wrong? That's always an exciting moment. Because there's no power button yet, I had to manually connect the two power button pins with a screw driver. And those fans and lights went on as planned!
The picture shows the BIOS, where some basic settings can be changed, for example the speed at which the memory runs. I needed to increase it from 2133 to 3200 MHz, otherwise quite a bit of performance would have been lost. Thanks to Linus on YouTube, again, that guy is amazing.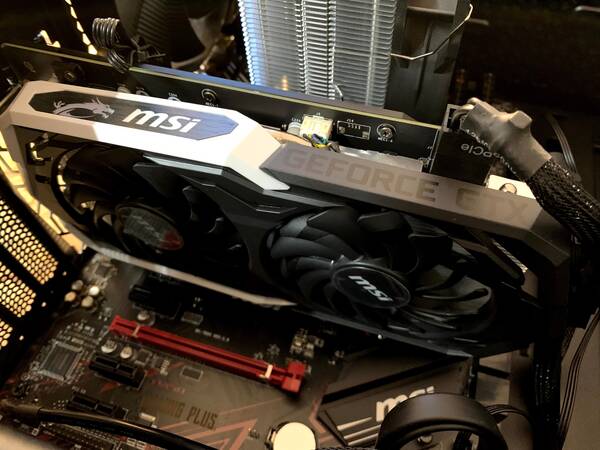 Now, neatly stashing it all into the big black tower. I'm not particularly interested in perfect cable management, but I have a few minor standards, which lead to this result.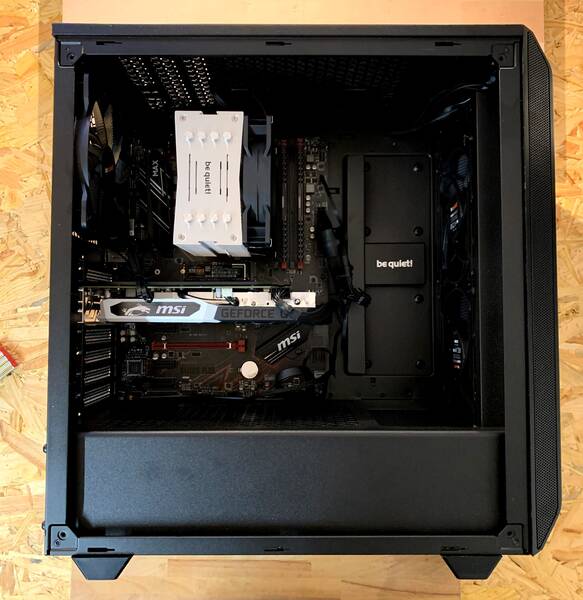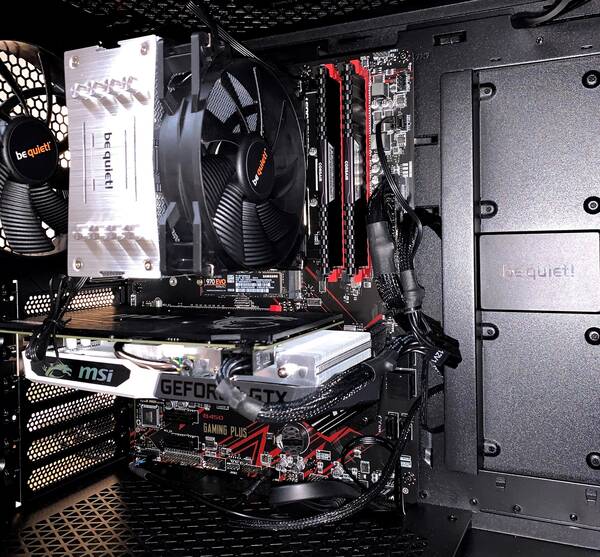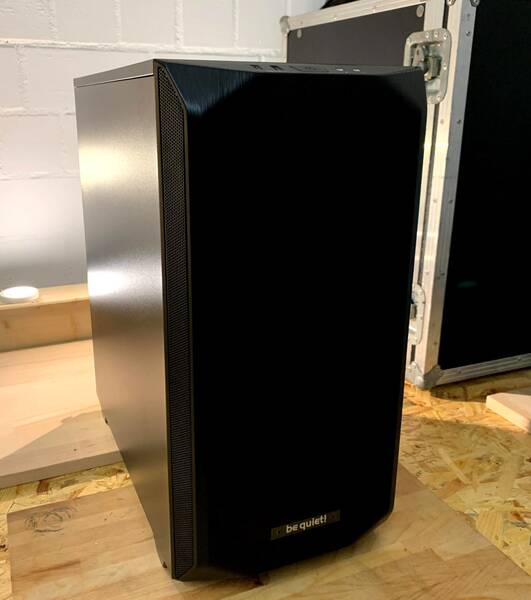 And Now, The Tricky Part
Installing Windows.
As mentioned, using Mac computers has a bunch of advantages. One of them is how easy they are to setup. Installing Windows on a new machine, on the other hand, turned out to be the first real challenge on this project.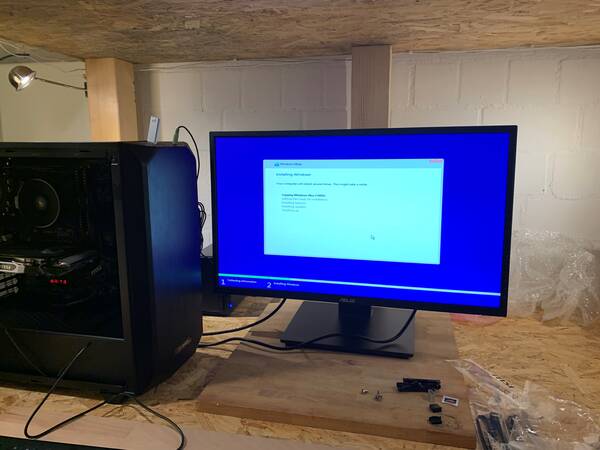 So what's the problem? Now that broadband internet is everywhere and delivers all the data needed on demand, no one needs a CD or DVD drive anymore. But how do you get Windows onto the computer without having Windows on it to configure the internet connection? Easy, a USB thumb drive.
Not so fast. Windows 10 can be downloaded from the Microsoft servers and has a file size of just over 4 GB. The Microsoft file system FAT32 unfortunately only supports files of less than 4 GB individual size. During the booting and installation this is never clearly communicated as being the main error. So this took me around 4-6 hours total to figure out a way around it. It involved lots of Googling and command line experiments, just like in the old days. I was a bit disappointed to be honest. These problems seemed so unnecessary.
But after three days, it worked well. I bought a cheap licence key for that Windows installation and activated it to be on the safe side. No experiments in this area, anymore 😉.
Installing all the software I need and working with Windows 10 daily, however, turned out to be a real pleasure. It made leaps since I last used a Windows computer some 10 years ago. I'm actually not entirely sure anymore what platform to prefer, Windows or Mac.
Of course, playing the old games was great immediately and I still have a blast whenever I find some time to play a bit. A few more games from earlier times have also made it into my rotation meanwhile. And using the PC for a bit of work in the evenings is also fine. I'm writing these words on it, for example.
The Periphery
After a few weeks had passed, I made a few changes to the setup as I went along and discovered shortcomings.
Keyboard and Mouse
Initially, I had the cheapest available option. That didn't do me any favors. So I researched some more and bought a Logitech MX Keys and a MX Master 3.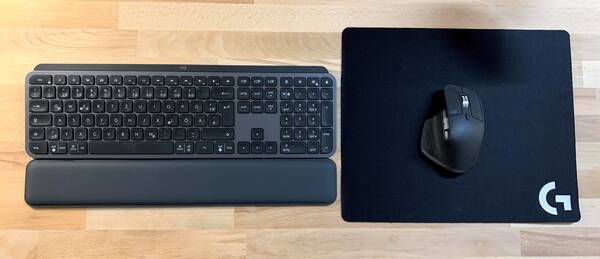 Display
I haven't mentioned the screen yet. It's a ASUS PB277Q, which has a 27 inch diagonal and displays 2560 by 1440 pixels, my favorite resolution currently.
Desk
I had the setup on my self-built OSB wood workbench. Fine at first, but the spiky wood annoyed me after a while. So I got a cheap massive beech plate from the hardware store and screwed four 10 by 10 centimeter legs onto it which I still had lying around. The plate has the perfect desk measurement in my opinion, 120 centimeters wide, 80 centimeters deep.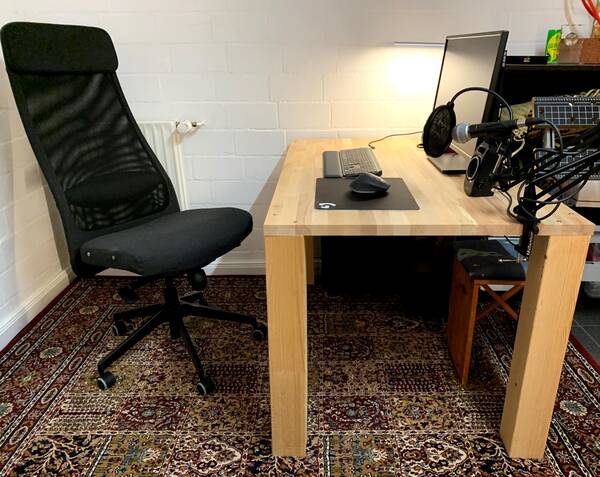 CPU Cooler
Optimizing the noise of the computer was the next task. The AMD Ryzen CPU came with its own cooler, but that one was loud. In addition to always changing the fanning speed for seemingly no good reason, it annoyed me. Another friend suggested going for a be quiet! fan instead, which I did eventually. Best thirty bucks invested.
Sound
While I like the sound of my Sony WH-1000XM3 headphones, I wanted real speaker sound because it allows to acknowledge the sound in the whole house to get through to me, still. For example, when I have the babyphone on my desk, I would like to hear it, too. Gladly, there's another really great and cheap option, this time thanks to the Hardware Canucks. The thirty bucks for CREATIVE's A250 2.1 system are also very well invested. Amazing sound for that low price point.
Virtual Reality
The main reason I did this.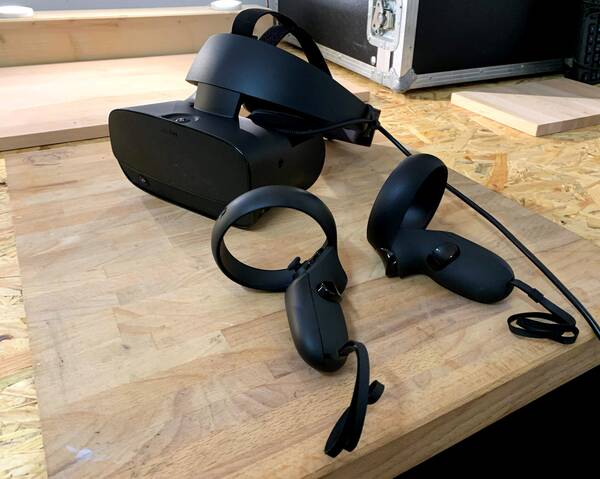 While that Half-Life game isn't out yet, I obviously already played around with this device. During the first tutorials I got so excited I couldn't resist waking up Sophie to share this amazing new experience with her. It's really incredible. The illusion works, you get lost in this artificial world they create. I haven't yet played any real games with it, but the Google Earth adaption got me captivated a few times already. Flying over the 3D models of the major cities and landmarks is just plain breathtaking. I can't wait for that game and what the future has to offer for these devices.
How do you feel after reading this?
This helps me assess the quality of my writing and improve it.