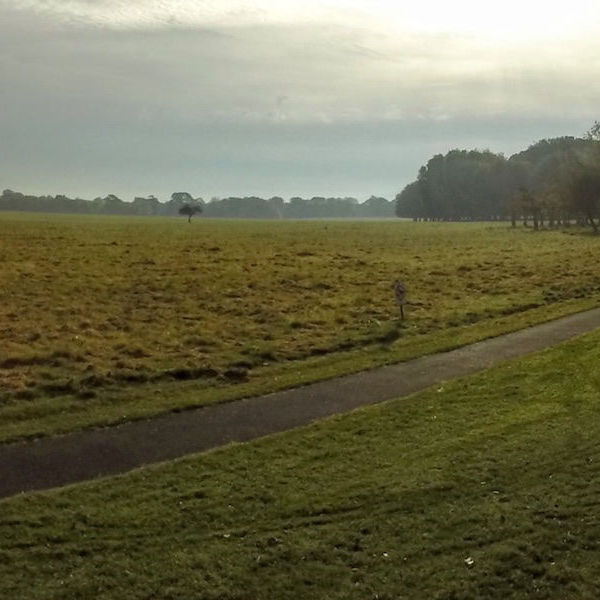 Dublin
30th of October, 2016
Fatherhood
At Hamburg airport, me, my wife Sophie, and our three girls Julie (4), Vera (2), and little Emma (0.5) were standing in line at the security check-in, when some middle-aged blonde guy talked me up from behind: "Are those all yours?" he asked. I turned around and recognized him immediately. An internationally known person which has publicly struggled quite a bit with the topic of fatherhood in his life. Boris Becker.
– "They are adorable! It's respectable you're taking them all with you."
– "Thanks!"
– "How old are they? 1, 2, and 3?" was his guess. That would have been fun!
Our encounter ended before I could extend the smalltalk or take a picture with him, because all phones were out of reach in the scanning machines. And shortly thereafter, he was gone as we reassembled all the kids and stuff we were about to take with us onto the plane.
What a surreal way to start off a trip. It had a strong plus: we were now finally all awake, this early in the morning!
This is Dublin
500,000 inhabitants in the inner city, but a total of about 2 million living in the area around it. It started off as a Viking settlement. Being prehistoric, the first records date back to the year 140 AD. It became a city in 988. After the Norman invasion and a lot more viking attacks, and the British Empire also played a role here of course, a union with the Britons was established in 1800, and ended again in 1922. Now, Dublin is in the Top 30 most livable cities of the world, according to The Economist.
Ireland, although geographically separated from Europe, is always somehow in focus. It's been called the world's "goodest" [sic!] country by professional international policy advisor Simon Anholt. Favorite quote:
"Before you go to sleep, your final thought before drifting off should be: 'Goddamn it, I'm glad that Ireland exists!'"
They've also won a lot of Eurovisions in the last decades, quite musical folks they are. Irish people also have built and shaped the US in a major way. Over here, they are know to be very friendly, but also drunk a lot of the time. That's an alright combination in my opinion.
The only thing I'm not completely comfortable with is the tax policy the country is currently using. Somehow, all the world's biggest corporations, be it Facebook, Google, or Apple, seem to use Ireland to save billions in tax money they would otherwise had to have paid to other EU countries for doing business there. You cannot blame the companies for trying to save money in order to grow, but you can blame Ireland for not fixing those loopholes. Maybe that's one of the reasons the country has dropped in the Good Country Index from 1st to 11th this year. Still, it's a great country and I was very interested in visiting it for the first time ever.
Kids Making Our Plans
Our plans were full with cool stuff friends mentioned to us to see and do in Dublin. But with kids, priorities are shifting towards keeping them happy for the most time possible. The first priority: keeping them fed. So after arriving in this pretty city full of fall colors, the first order of business is finding food. If you're visiting Dublin soon, please go to Sprout & Co. to have some of it, we were blown away by this restaurant.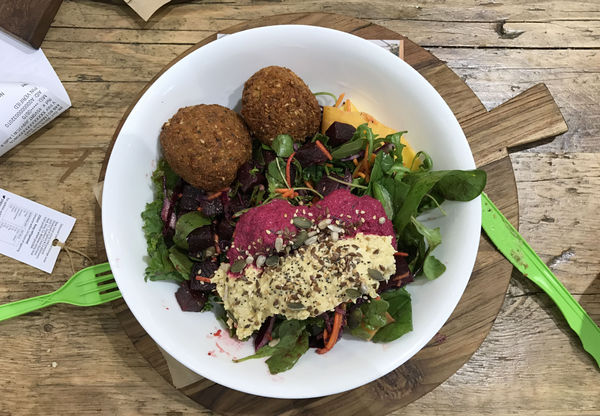 St Stephen's Green park provided a nice walk and a good playground to rid the 3 small ones of their new-found energy right away.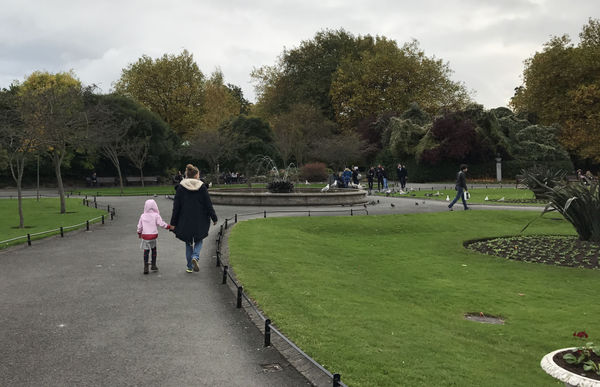 An Expo Worth Being Called An Expo
The next day, Saturday before the race, we started off by taking one of those cool double decker buses to the marathon expo, which was conveniently held in a large hall. The size of the event surprised me, as they were proud to announce a record number of registered participants of 19,500 runners. That's one of the largest races in Europe!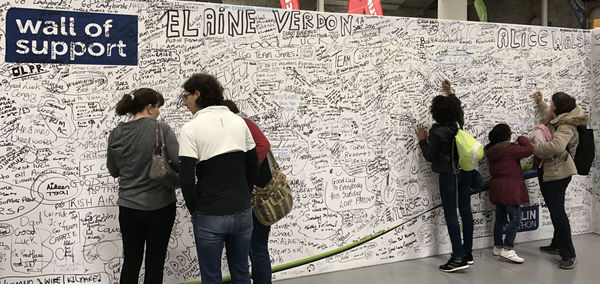 The goodie bag I got was a good one with useful stuff in it. Even a LED head-lamp for night training sessions. Nice gift! But I'm still wondering why they put a safety vest into the bag as well. Was I supposed to wear that? At what point?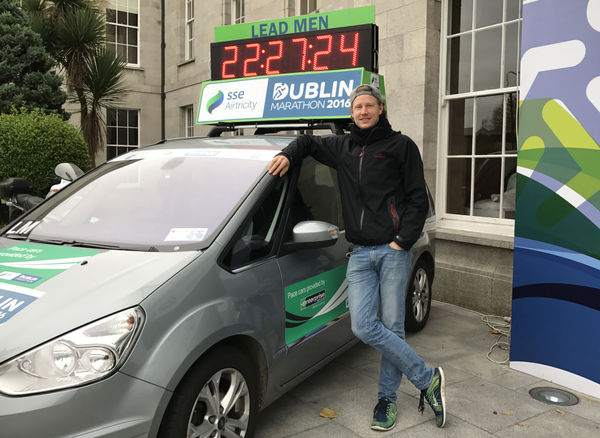 Arriving at our AirBnB flat at around noon, we were right on time to welcome some more family to the city: my dear sister Nici and her soon-to-be husband Philipp. They were joining us for the weekend and helping a lot with the kids. We went on another walk around the area to suck in this nice fall atmosphere.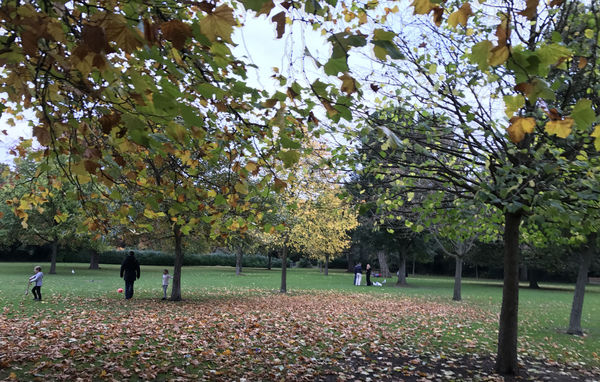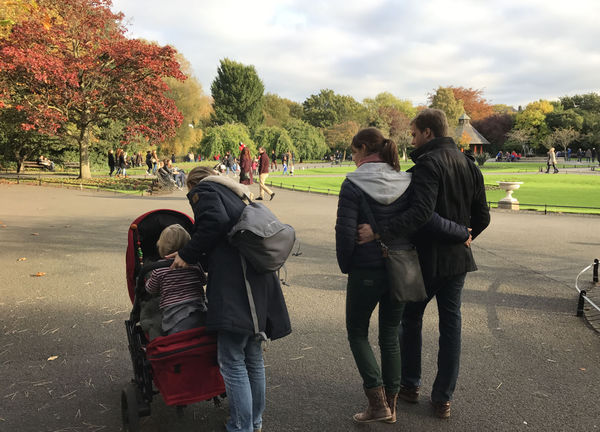 Many painting and puzzle playing sessions were to follow. We had nice and fatty lunch at a nearby Pub, and then played some more with the kids in the apartment. That was quite an exhausting day for all of us, and I had no chance to save up on energy for the race tomorrow, being a necessary piece in the machine for the tougher jobs like having one kid on the shoulders while pushing the other 2 in their double stroller. I guess this is all part of my endurance training.
Tonight, I fell asleep right after the kids did, at around 9 PM. The energy was just gone. Sophie felt the same, but Nici and Philipp explored the city some more. The advantages of being without kids.
Waking Up An Hour Late
As with 2014's Ljubljana marathon, the Daylight Saving Time was set back to normal in the night right before the marathon. Just to confuse us, with no clear benefit. In addition to the one hour we already turned the clock back by going from East to West in the plane, I now should have 2 hours worth of more sleep to regenerate from the hassle in order to successfully run today. Alarm clock goes off at 6:30 AM, which should feel like 8:30, and – plot twist – I'm still tired and exhausted.
I shovel in a large bowl of oats and top it off with a way too expensive smoothie, together with the kids. Now I'm awake!
It's 8 degrees outside, which should be alright, but it feels more like the 1 degree it had in Sofia, 3 weeks prior. The difference wind and humidity can make! Nevertheless, I opt for the same outfit as in Bulgaria, a long-sleeve shirt under a regular running shirt. Should be fine, I think.
The Waiting Game
Our flat is perfectly located, just a 10 minute walk away from the race's start right in the middle of the city. It's an odd place to start a marathon, though, because it seems to be in a regular residential area as opposed to near a stadium or on a large public space as usually. This is why the 4 separate starting waves are diverted around separate housing blocks before the start is even visible. I'm here much earlier than I should have been, so I awkwardly try to keep warm by jumping around without exhausting myself too much. Difficult task!
The Irish are a great force of positivity, though. Every once in a while some guy is just screaming in excitement at groups of people standing here waiting, just to get the energy levels up.
"Oi!" – "OOOI!"
The place is also unusually full of security. Often there are many more guards than you would think are necessary. It couldn't hurt, and it also seems most of them are volunteers and just want to help. It's appreciated.
9:00 AM, the 1st wave of a few thousand runners who plan on finishing in less than 3:30 hours are allowed to leave. I am in the 2nd wave, because I plan on finishing in between 3:35 and 4:05 hours. That's one of the 4 options I had to choose from. Our wave starts 10 minutes later, but now we are allowed to move towards the starting gate.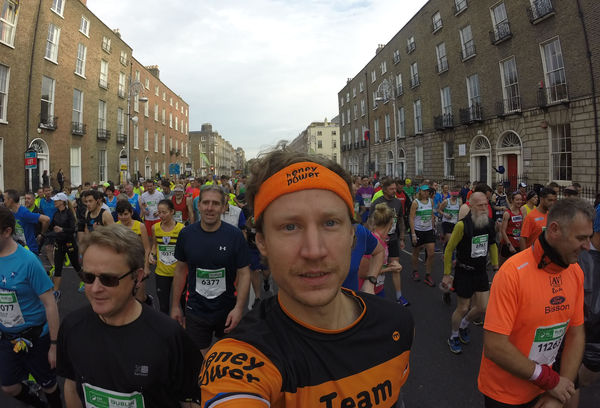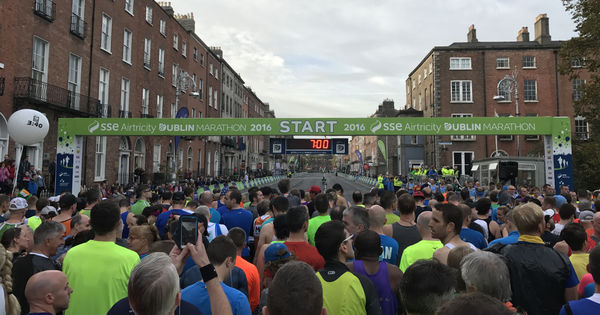 I'm right in front of this wave, although I didn't actively plan to. Lets see how this goes, I think! And then I even directly see the guy shooting off the starting gun which leaves a bit of fog around himself, signaling us to go on our 42.2 kilometer hunt right now.
And We Hunt
Number 25 is on its way! And finally I don't feel the cold anymore. Running just is the best.
After 2 kilometers, I already see these guys: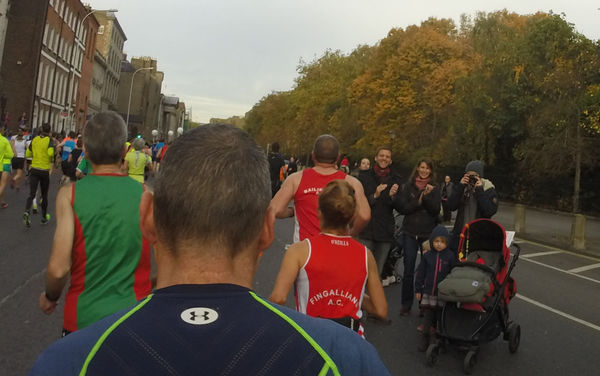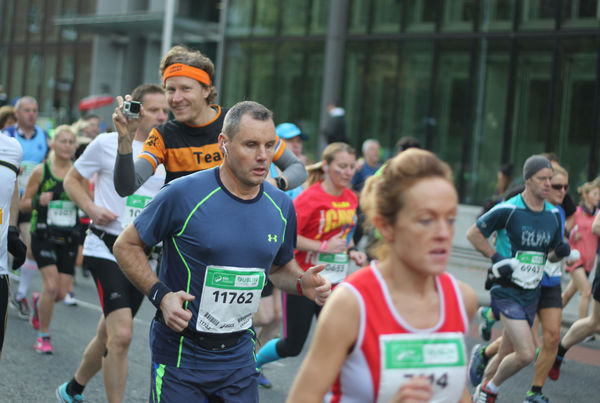 Unfortunately I made the slight but important mistake of not giving kisses to the kids. The running crowds were too big and I was too surprised to react fast enough to turn to them for a short stop-over. I knew right away this might haunt me later, especially in Vera's case, because I specifically told her the day before that I will run and then stop for a kiss when I met her, before running away again until I reach the finish. Not cool, dad!
I kept behind the 3:40 hours pacing runners, to be on the safe side for now. The course is fast so far, and we're almost immediately within the amazing Phoenix park, one of the biggest inner-city parks in the world.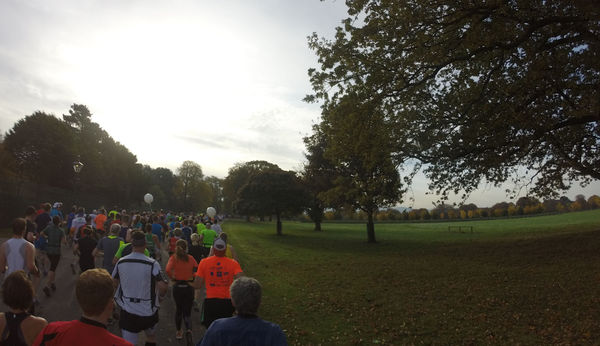 Chesterfield Avenue leads us through most of the park on a 3.3 kilometer straight stretch.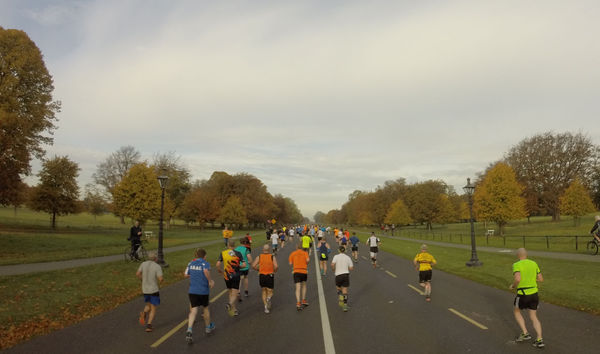 I passed by the 3:40 pacing runners around here just because I felt like running faster than them.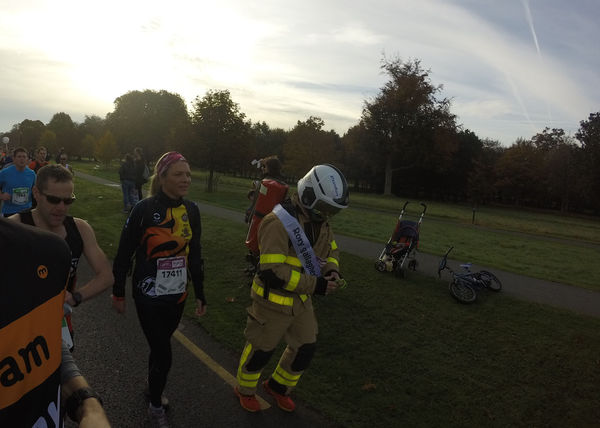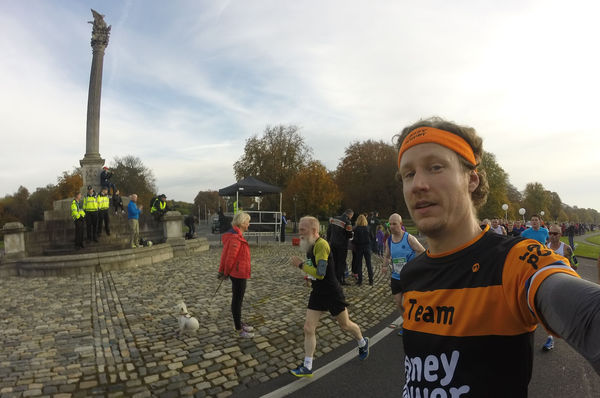 I overhear conversations between people from different countries coming together. One guy from Dublin is getting into a conversation with someone from Belfast. I don't know much about the history between Northern Ireland and the Republic of Ireland, but I have a feeling it hasn't been largely positive. These two were hitting it off, though. Two other guys were talking to one another as I passed them by, asking each other where they're from.
– "I'm from Russia, but I've been living and working in Sweden for many years now. You?"
– "Cool, I'm from New York City."
A woman next to us overheard this and chimed in: "I'm from New York, too! Right from the heart of Brooklyn." – so they started chatting about Brooklyn's and Stockholm's best running parks.
Marathons: Earth's meeting places.
And then there were more beautiful fields to enjoy.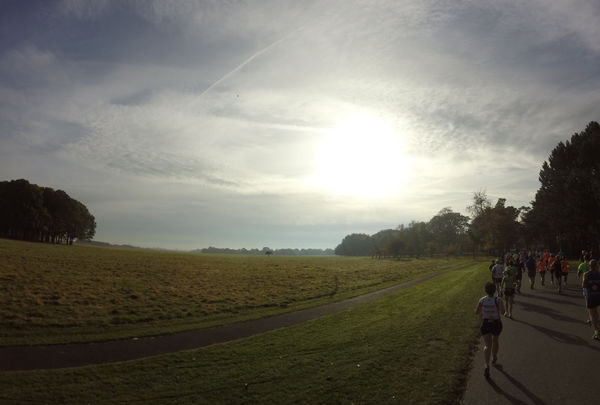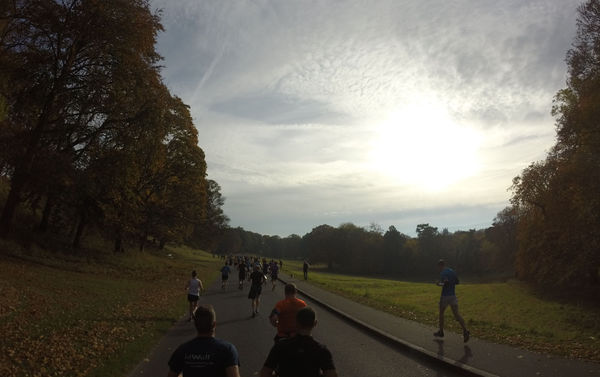 My pace is steady at around 5 minutes per kilometer, which would amount to about 3:30 hours for the whole race. I'm pretty sure I won't be able to keep it up for the whole race, because of yesterday's exhaustion, but I don't want to go slower. I'm feeling good now! Let future-me suffer! Who cares about future-me?!
Back in the city the crowds get bigger again, as is the noise. These Irish folks are really loud if they want to be! I especially like how they pronounce everything like Jon Snow from Game of Thrones (although the actor Kit Harington is apparently mimicking a northern England accent – I'm terrible at distinguishing). Many people read my shirt and say: "Go Team HoneyPower!" in such a rarely heard accent.
Then there's a sign held up by someone:
"Chuck Norris keeps saying: next year!"
The course is getting a bit more challenging as some hills require more power to get across. Every once in a while there's a little street tunnel which has no crowds and I positively notice the absence of the noise. Relaxing! On the other hand, the cheering Irish really push me through. It's a double-edged sword. Taking all into account, this really is an impressive race.
Kilometer 22, I am surprised by the family again! Now I'm in the right mindset to stop. Sophie quickly tells me: "Vera has been so sad you missed the kiss before, you need to give her a kiss now!" – as I gladly do. Poor little girl is still mopey. And so cute at it. My conscience is at least partially cleared. Good.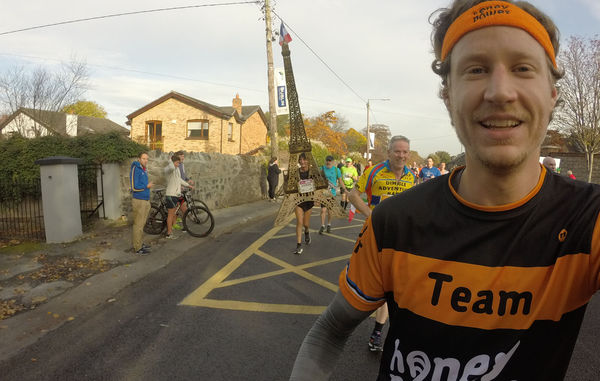 It's time for HoneyPower as the energy steadily wanes. Looking ahead, I packed all 4 sorts today because I knew it would be getting harder than in Sofia. From kilometer 24 on, I started with HoneyPower every 6 kilometers, leaving the Salty one for second to last, and the Espresso one as my ace up my sleeve for the last part. Good thinking, it turned out.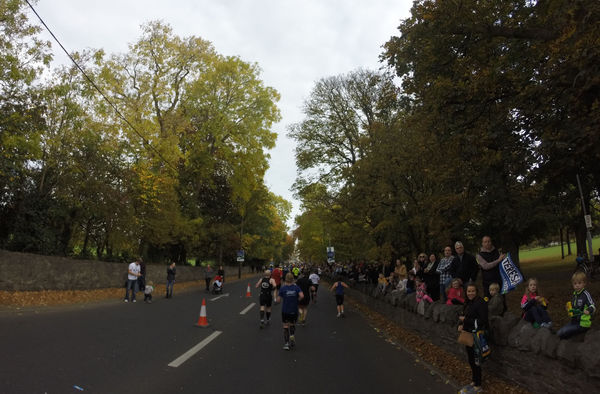 The Fight
Of course, the downfall had to happen at some point. This time, it's roughly after 35 kilometers. At first I tried to ignore it, but it hit me hard. I'm walking for a couple hundred meters. I need to summon up left-over courage and start again. Everything hurts, damn! There is no nutrition that can fix this. It's the physical exhaustion from the previous days, I'm convinced. So there is nothing I can do but fight.
Sure enough, at 36 there's a hill coming up right now – maybe the most difficult one of the whole course – trying to destroy my spirits today. And it is very close to achieving that. Oh, man. I need to walk again.
HoneyPower Espresso now. I hope it somehow magically fixes the muscle pain I'm feeling. Some isotonic power drink is offered. I accept and down the half-liter bottle. Not sure it helps, it still hurts like hell.
But then, at 37, something very weird happens. Someone holds up a big print-out of this picture: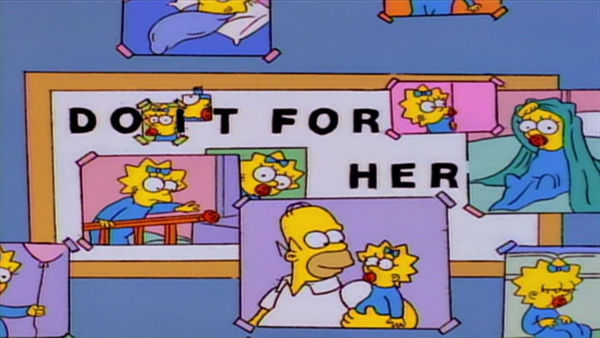 I need to explain this.
Within a fraction of a second I remember this particular episode of the Simpsons and cannot help but start to sob. In this rather serious and very touching episode, Homer explains to his children Bart and Lisa why there are no pictures of little baby Maggie in the family album. He tells them that after having them both he quit his soul-sucking job at the nuclear power plant in order to pursue his dream and work at the bowling alley, because they wouldn't need more money with "just" two kids.
But then, his wife Marge gets pregnant with little Maggie, which makes Homer very anxious and miserable, and subsequently leads to him quitting his dream job and submissively begging his old boss to get him his job back. One mouth more to feed requires him to make this sacrifice. Mister Burns, his boss, while granting him his old position back, sarcastically installs a demotivational plaque on Homer's office wall, reading:
"Don't Forget: You're Here Forever"
True for his job and also his job as a dad.
Maggie is born and the still devastated Homer is now surprised to immediately form a strong and warm connection with his little daughter. He still hasn't answered why there are no pictures of Maggie in the family album, and then says: "I keep them at a place where I need them the most" – the episode is then closing on the above picture, covering the message to eliminate the "de" from before "motivational".
I still feel a lump in my throat thinking about it. Although the soul-sucking job and anxiety bit are not what I've experienced, I can relate to "Do It For Her" very much. And at that moment I kind of saw a loose connection between the 3 Simpson children and my 3 girls. Julie is the wise Lisa Simpsons, Vera would be mischievous and very lovable trouble-maker Bart (it's a bit of a stretch, to be fair), and little Emma is about the same age as Maggie is on the show, sucking noisily on her pacifier.
I know it doesn't make any logical sense to be motivated in such an incredible way after seeing this picture and having this sudden flash before my eyes containing this Simpsons episode, but it did.
And I Ran.
It's just a marathon, it's nothing important, but still: I just ran. Sobbing from time to time, remembering the sign. Running slowly, but running. Increasing the pace, even.
I was fully aware I was slower than before, but I didn't care. Then, another spectator shouted: "The 3:40 pacers are just 100 yards behind you! Go go go!" – I looked back to confirm this, and then ran even more.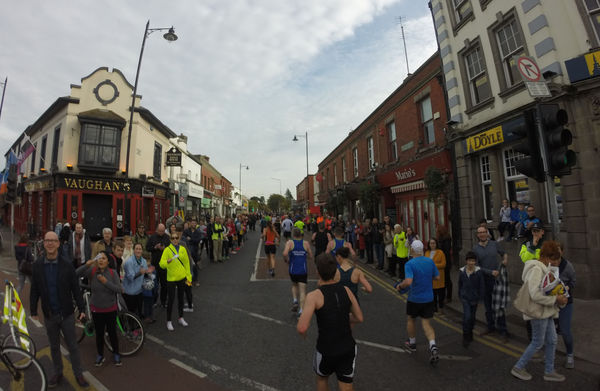 The legs burning, the lungs feeling like they were closing up soon, still having Simpsons flashbacks. 2 kilometers left, 1 kilometer left. Now I'm back at my 5 minute per kilometer pace. I'm giving it everything right now.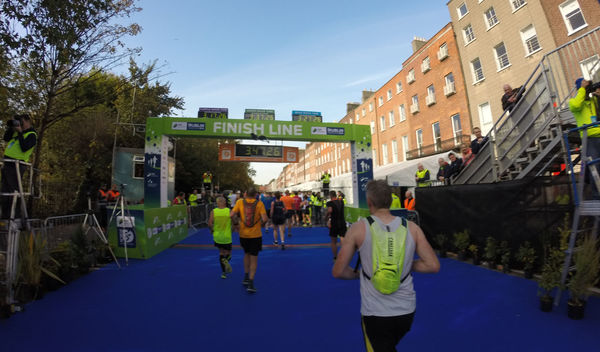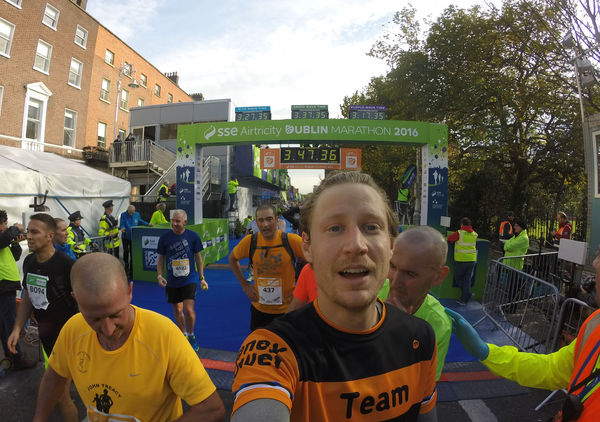 This is why I run. This amazing sense of achievement. Even though it's clearly for nothing, it doesn't feel like that. We humans are just still hard-wired for these emotions from our persistence hunting days.
I receive my medal and walk among the crowds into the finishing area. A random guy next to me reaches out his hand and we congratulate each other. Wow. I tear up again, thinking about my 3 amazing kids and how lucky I am that I'm able to do this.
I need to sit down.
500 meters to go to where the family will be standing. Seems like the world right now. Walking, sitting down again. Walking. And there they are. Vera is still a bit angry with me for not kissing her at the beginning, but we soon reconcile. A guy at a refreshment station next to us sees us and gets some tiny marshmallows in cups for the 2 bigger girls. These Irish – you can't say anything bad about them!
My legs recover a bit as we're slowly walking back to the apartment. It's amazing to me, how much of this is all in our heads and not our legs. So much more than you would think. Imagine what must be achievable if you would put yourself into the right mindset. Marathons become a joke.
But for now, everything has to switch back to normal. My short 3:37:20 hour vacation is over, child care begins again. I welcome it. Back home, Vera gets some quality playtime with daddy first.
Then: Food, beer, bed, home.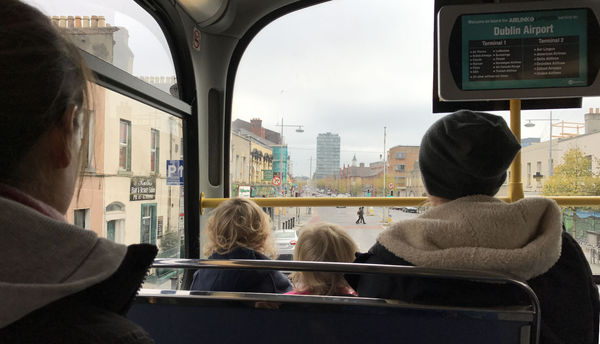 Quick recovery is now my job, as Sophie, the kids, and I will travel to south-eastern Austria next weekend to do another marathon a friend organizes. These crazy runners, right?
As always: Thanks for reading!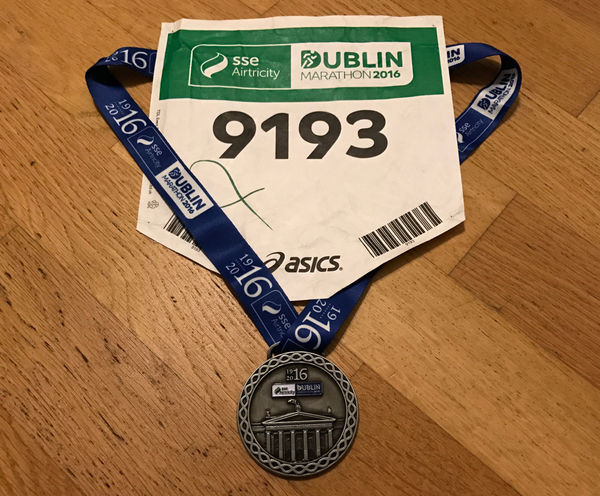 Certificate