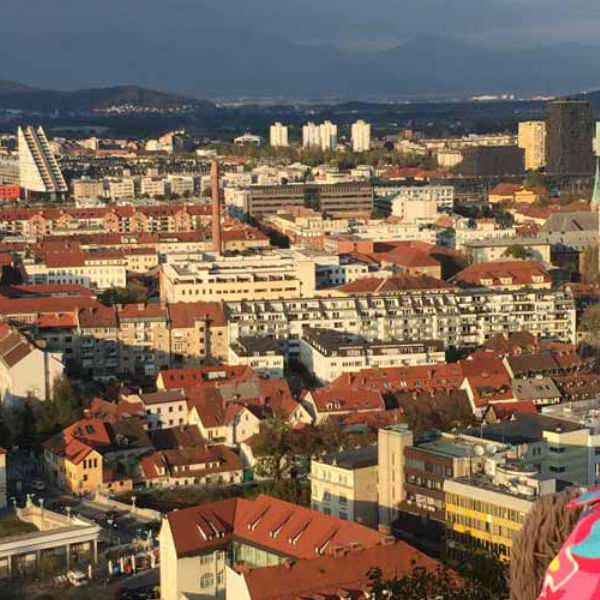 Ljubljana
26th of October, 2014
Ljubljana. This is definitely one of the smaller cities in Europe with only about 280,000 inhabitants, but interesting none the less. I was really looking forward to visiting this city, because I once drove through it with a couple of friends roughly ten years ago and noticed its beauty. Unfortunately there was no time to get to know the city, so this is what we've been doing now. First of all, it is a very cozy and comfortable place. Surrounded by rolling hills that remind you of Middle Earth in the Lord of the Rings movies, with the Alps always in the background, you feel safe there. This must have been one of the reasons it seemed to be a strategicially well suited place to build a town upon during the early middle ages. A small river aptly named Ljubljanica going through it doesn't hurt either.
Ljubljana, with its rather small population and the rather small Slovenian population in general, has naturally had to let lots of influences of neighboring states change the feel of it. Of course the Germans were here a couple centuries ago, giving the city the name of Laibach, then some Franks followed by the Austro-Hungarian empire which made Slovenia into a province, the Kingdom of Venice, Napoleon, fascist Italy during World War II, and then of course the unification of a communist Yugoslavia right after that war. Slovenia finally got its democratic independence in 1991, paving the way for a EU membership in 2004. All these influences are strongly represented in all the buildings, and being struck by several earthquakes throughout the centuries, buildings had to be rebuilt a lot– letting foreign influences become even more represented.
Thanks for reading through this last history lesson paragraph! I think it's really interesting how the European countries are intertwined in this way. Historically mostly by war though, but more recently by the huge unification effort that is the EU.
Now, the journey begins. It was a bit tricky to find good flights, because apparently only Air France goes to Ljubljana from Hamburg, which is the only airline we try to avoid. They let us down several times by being late (most recently during our marathon trip to Madrid), losing our luggage and the like. So I found a connection with Germanwings, an airline I really like (not only because my friend Hodg is a pilot there). We went to Cologne first, Klagenfurt second. Got in a modern rental car filled with buttons and unnecessary electronics which didn't work that well, but the car took us the remaining 120 kilometers over to Ljubljana. A nice journey, because you get to see the country of Slovenia. Also, Klagenfurt (Austria) was a nice town, hosting an official Ironman event every year where contestants may swim the Wörthersee, which is just stunningly beautiful. The center of Ljubljana is completely car-free, so we had to park illegally right outside of the center, to walk to our appartment, which was in this street: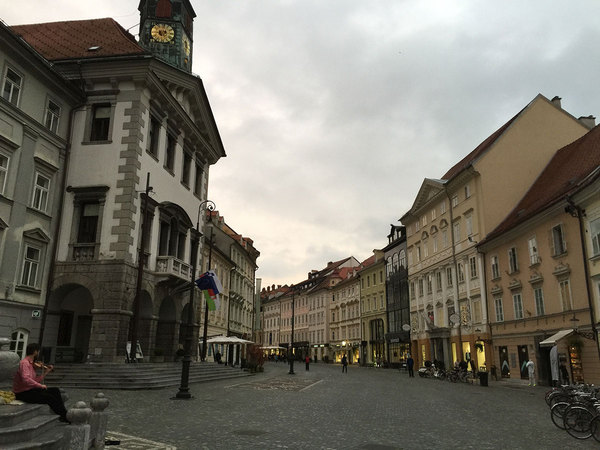 After settling down in the nice appartment of a web designer we got via AirBnB again (it had an 27 inch iMac for us to use!), I got up to retrieve the car and get it into a safe garage. That plan didn't go that well, because the car was gone! Towed away within the 30 minutes or so we left it there. How unlucky! So Sophie and me tried to find the place the car got towed to, which turned out to be really difficult. I got someone on the phone who spelled the name of the street, which sounded like this: "Ree, Bee, GeGe, Phree, Suh Suh Bah". I wrote it down and the street name looked like this: Vredh Ceccpgrrap Trg.
The taxi driver had no idea where to get me to, so he just drove somewhere into the outskirts. So there I was, surrounded by scrapyards and nobody. Google Maps knew nothing, too. A 30 minute walk later I found an obscure looking hotel with an unexpectedly nice concierge who spoke English and got me a real taxi. We drove for another 15 minutes, and there was my rental car! The fine was about a third of what I would have paid in Germany, so it was okay. I was a bit annoyed because of the three hours of family time I had just lost.
After having dropped off the car in a safe place, I came home to my three ladies. A worried Julie thought our car was destroyed, because Sophie, trying to show her how towing a car works, showed her some Youtube videos, which all had the word "fail" in their taglines, so she saw several videos of cars getting totalled in the process of being towed. We had to convince her the car was still okay. Something that always helps, is ice cream: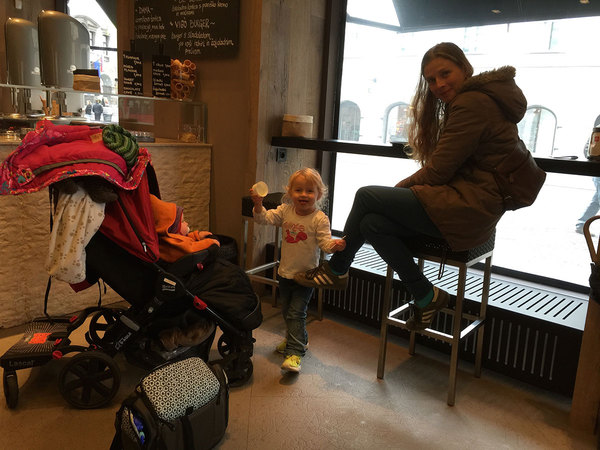 The next day we went to the marathon expo to pick up my stuff. It was a nicely organized venue with lots of wood. I always like it if decorators use wood instead of plastic. As always, all the major brands were represented, and the place had an international feel, although everything was in Slovenian. I wonder how they managed to pull off the event at all, because Ljubljana is a rather small and lesser known city in Europe, and also the entrance fee was the lowest so far, at only 30 Euros.
I really liked the newsletters we runners got in advance. They were consistently Slovenian as well, so I had to Google Translate every single one, but the messages were always really cute and encouraging. One thing that was on my mind after reading one of those newsletters was the turning of the clocks Sunday night, back from DST to normal time. It was in the night before the marathon run, so I panicked a bit. The race was supposed to start at 10:30 AM, which is just a bit too late compared to normal races. So I thought that they might have had changed it to not confuse everyone, which was very confusing. But thanks to our connected phones, that time problem didn't occur at all. You can see, I was nervous and excited for the race, unlike these DJs: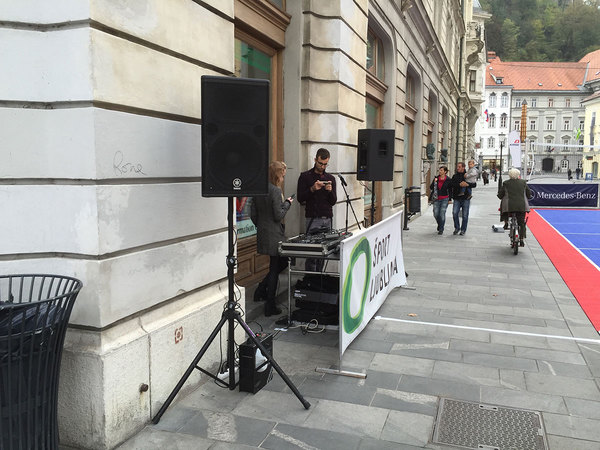 Afterwards we walked through the city and explored some corners we hadn't seen before. By the way, like many European cities Ljubljana is also quite good at environmental progress. I mentioned the car-free inner city, where you can only see electric vehicles that drive people around for free. Looking for a restaurant, we came across this cool machine: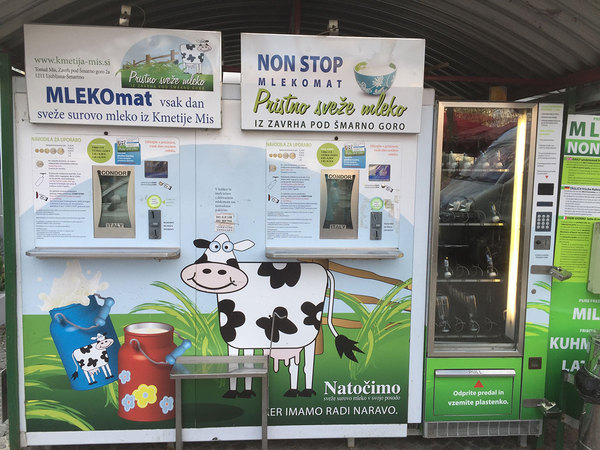 You can bring your own glass bottle or get one in the machine to the right and then fill it with milk. How cool is that! We took a cable car to the top of a small hill, where the Ljubljana castle was situated. You'll have a great view from that point. The coat of arms of Ljubljana is this castle with a dragon on top. Also, very cool. In the Greek mythology it is said that Jason (from the story of Medea) slew the dragon here in this area, an action that made the place habitable again. I like it.
That day we went to sleep early to get some rest before the big race day. I was in quite good shape, having had three running sessions between the last Warsaw marathon and now, ate quite well and remembered to have some Magnesium pills as well. All in all I felt good. So I was looking forward to the race, to see if I can maybe beat my best time again.
On race day, it was nice not to have to get up as early as usual, but at the normal time of about 7:00 AM, when the kids are usually also awake already. We had some breakfast together and then walked over to the starting point, a few hundred meters away. They had a really great starting gate with a huge percussion band right at the gate, on a moveable platform. They performed with custom made instruments that looked ridiculous but sounded really impressive. Loud and with lots of energy. A great start for the race: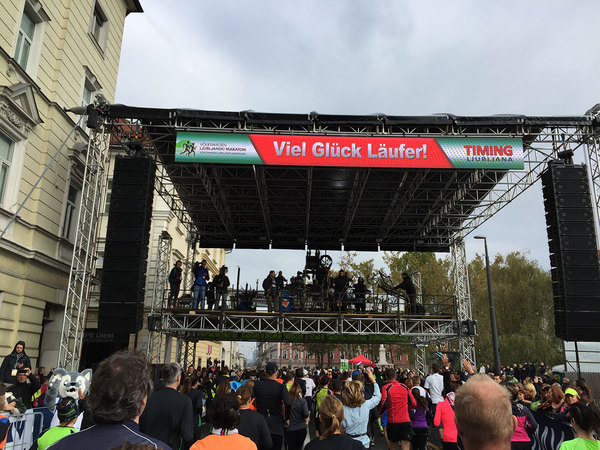 Again I started at the end of the runner's field, to have slower runners around me and not be tempted to go too fast at first. It worked quite well and the city was there to support us all the way. Lots of happy faces and encouraging signs. One couple holding up a sign that said: "TAXI: 041 40 68". After a few kilometers I passed this lady, who had the 4:30h pacemaking balloons attached to her: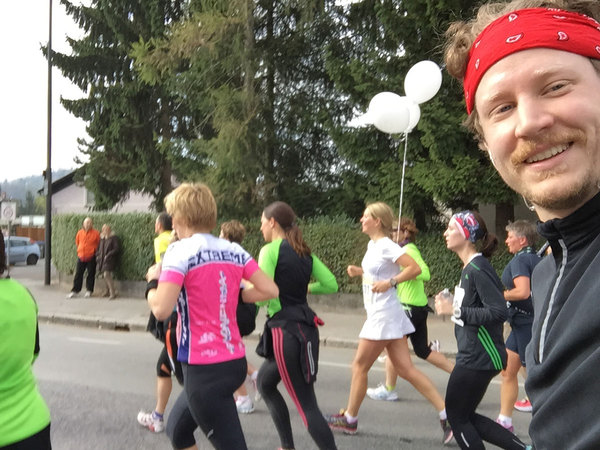 There was some more live music too, but less than usual. I think in total it was 3 to 5 marching bands, but they were nice to look at and played Alps style folk music. I felt as if I went on a skiing holiday. At KM 21 there was Sophie with the kids and her friend Polona from Ljubljana, a doctor who stayed in Hamburg a couple of years ago and lived with Sophie in her flat during that time. She is really cool and it was nice to see her again, even only for a few seconds and a high-five. Sophie later told me that Polona was making fun of my colorful running shorts, which is a totally acceptable reaction.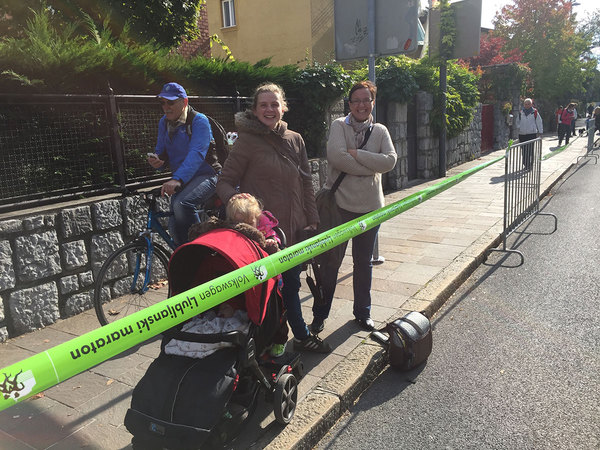 A few kilometers later I saw a lady pushing a stroller with two kids inside, both drinking from bottles and being roughly at the ages of Julie and Vera. I couldn't see any supporting people around her so I thought she was doing this on her own. Incredible effort! I hope it worked well and she finished the race. I think I would manage to do this too, but I'm worried if it would be entertaining enough for the kids. Sitting there for four hours and not really being able to play seems tedious for them.
I was doing really great, kilometers melted away, the course was nice and flat with just some minor hills, people were nice everywhere, especially in the outskirts. The only downside was the temperature, it was just about 5 degrees, so I had to wear my running jacket and was still freezing. That was a shame, because I had made a new running shirt for my marathons that I was looking forward to show off. On the other hand, the cold made me run faster so I could get into a warm bath quicker. I must have been really fast, Sophie had told me at 21 already I was still under 2 hours, and at 31 when they were cheering for me again, they were quite excited for me also.
I managed to keep the pace and power through. Everything worked really well, feet and legs, mind, lungs. It's one of those moments where I'm really glad I have no physical problems. You don't notice it that often. One of the reasons I like those runs so much. You really feel alive.
The course was star-shaped. Leading out and into the city a couple of times, which made it interesting. Especially that last stretch, which went right into the center where we had our appartment was great. Lots of people standing there being really noisy and cheerful, so I took the opportunity and dramatically took off my jacket. When the people saw my new shirt, they cheered even louder and I ran like this towards the finish, and did a new personal best!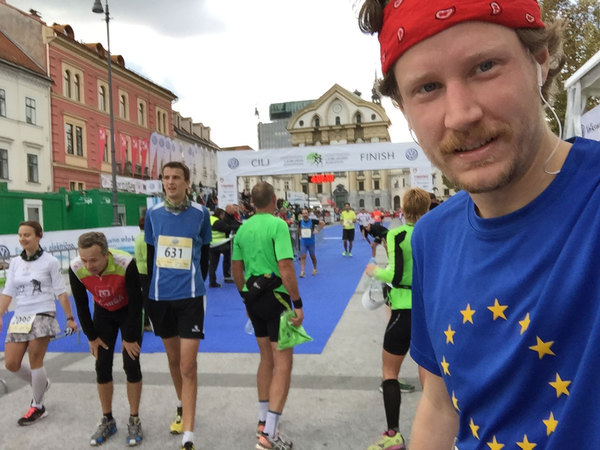 It's nice to travel these smaller EU countries that really like the EU. Flags everywhere and a positive attitude towards the union. I think in London or Paris or even Berlin people might have reacted in a different way. Still, I will run the remaining 14 marathons wearing this shirt. The EU is awesome. As well as this run: 3:53:46, almost six minutes faster than my best time in Warsaw four weeks ago! This was a great race. I was a bit exhausted of course, and freezing again, but there was hot soup for the runners. Meeting the girls and receiving some hugs and kisses topped it off.
We went home for a bath and a bit of relaxation and then found out that my friend Domes just got on a plane to Ljubljana for work. He also works for Germanwings and oversees the repairing of their planes over here. So we decided to meet up and have some dinner together. He brought his nice colleague Gerald and we found a great place to have some amazing food, almost by accident. Julie jumped around and got tired quickly, unfortunately right after I ordered a pancake that she wanted to have. Unfortunate for her! I asked the sleeping little girl, but she didn't even wake up when she heard the word "pancake", which means she is really out of it. Instead I ate the thing, which was delicious.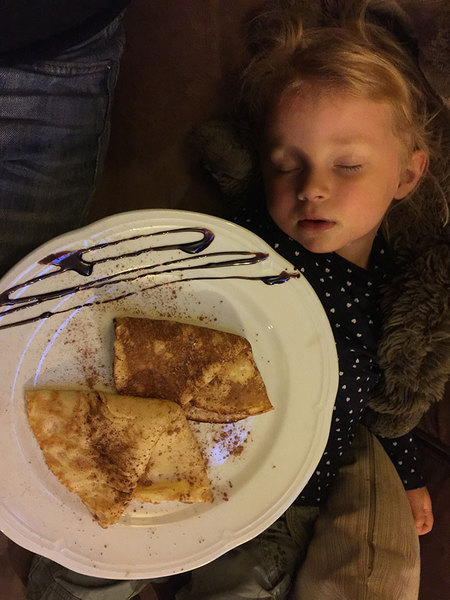 We talked about a lot of things, but then Domes had the idea of looking for a sponsorship for my EU endeavor. I thought it wouldn't be a very attractive thing for companies, because my reach is quite limited and the whole EU challenge is not a big benefit for anyone except me and my family, but he was almost certain there might be companies interested. Germanwings seems like a good idea, given that we're flying a lot and in many cases with them. We'll see what happens, I'm open to anything.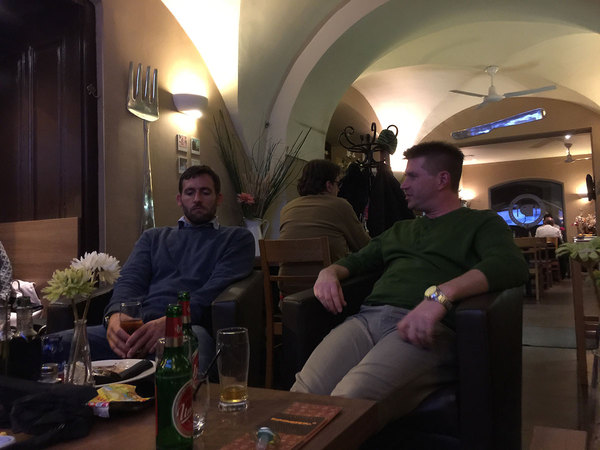 This was another very nice trip with lots of fun and a great race. The big milestone of being half-way there is reached now! 14 races completed, 14 more remaining. A good feeling. A few more things in my life seem to be half-way completed right now. We have two kids and want to have four, I did a half Ironman race this year and want to do a full one, and we'll see where my company goes. It'll probably grow, too. Right now it really looks like it. All in all it feels good.
This was a good year with six marathons and a couple of triathlons, and now it's off to winter break. Four months of nothing, just eating a lot, probably. I'm really looking forward to 2015, where I'm upping the ante again and try to do seven marathon. Four in spring, then a triathlon break in summer with the big Ironman Copenhagen in August, for which I'm really excited, followed by another three marathons in the fall, probably. It's going to be great.
That's it! Thanks everyone for reading, if you liked it, you can click the like button or just tell me. And another big thanks to everyone who cheered on Runtastic again! I got all your messages, it was really nice of you guys! Take care everyone, you'll be hearing from me in February at the latest when we go to Malta.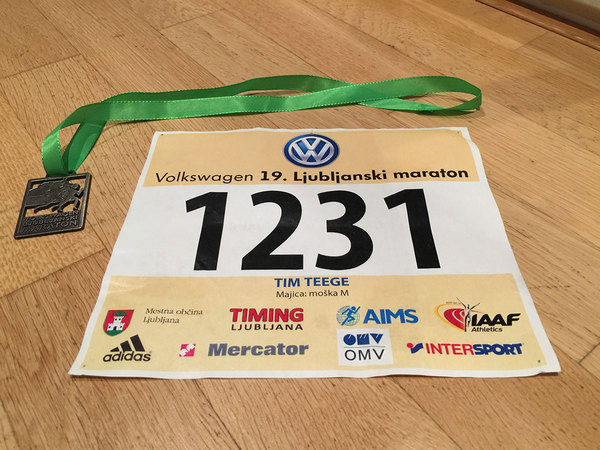 Certificate