Madrid
28th of April, 2013
My marathon run in Madrid unfortunately was kind of ill-fated. Almost everything went wrong, except for the race itself, luckily. Here we go:
It began like this: We booked a flight for Friday, because Sophie had a day off then, but there wasn't a reasonable connection except for HAM → CDG → MAD, carried out by Air France. Everybody knows that Air France is the worst airline there is and Charles de Gaulle is one of the worst airports in the world. To add to this, the first flight was at 7:00 AM, so we had to get up at 4. Sophie, little Julie and me were the only ones traveling, because Till, Lia and little Levi had cancelled the trip shortly before it for different reasons. At least there was some luck in the form of my very long-time and very good friend Hodg, who was as awesome to wake up at this early time to drive us to the airport. I didn't even have to ask him, he just offered to do this. What a guy! I want to make the rest of the trip there short: the flight in Hamburg was delayed by half an hour, which led to Air France screwing up our connection and rebooked us for the next flight which was three hours later. Three hours at the worst airport in the world with an annoyed child can be nerve-wracking.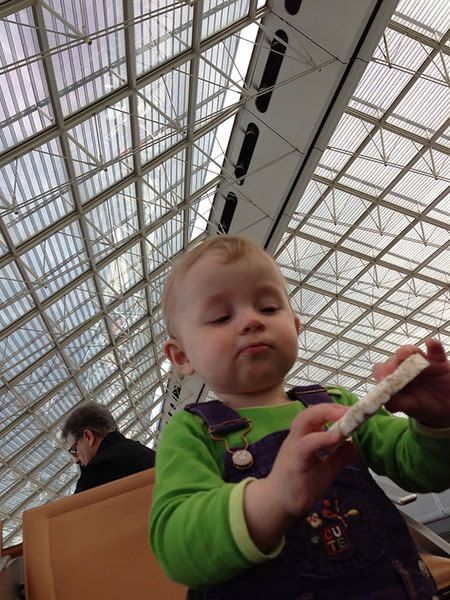 As consolation Air France gave us a truly terrible sandwich. Later that day we finally arrived in Madrid and quickly got to our place, which was a privately owned apartment right within the city center. A nice Italian lady managed the place and had to wait for an insanely long time until we arrived. Still, she was very friendly. And the place had a tub! Because of the long trip it was night already and so we just picked up some food and went to bed.
Saturday before the race was relaxing. Of course we went to the marathon expo, so that I could gather my marathon stuff. It was very well organized and filled a big arena. There were so many people that police had to make sure there were no mass panics and just let in waves of people at a time. A responsible thing to do, after the devastating recent mass panics in surrounding countries. The expo itself was very interesting, there were stands that had information about running gear, medical experts to consult, advertisements for other international races and stuff like that. And there was a multi-colored line system on the floor to lead everyone to exactly were they wanted to go and not waste time. Thoughtful. I liked the place.
In the evening we had our private pasta party in our little flat and after a night of good sleep it began: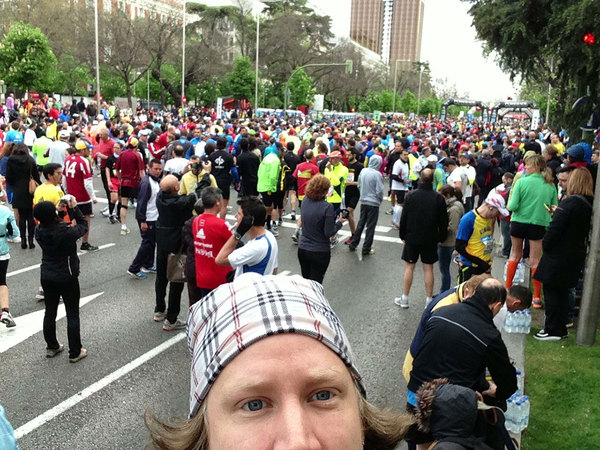 Getting up at 7, having a brown bread with ham for breakfast, do some more preparations and off I go to the metro station, Sophie and Julie always with me. The level of nervousness rises although this already is my fifth marathon. Two stops later we're there and all the runners in the train get out. We can just follow them and don't have to think about navigation, which is nice. I guess there were more than 10,000 runners at the start, but I don't know for sure. At the same time there was a half-marathon and a 10k run, which made the place really crowded with different people. Everyone will start at the same time on the same course. I went to the block of runners expecting a total time of 4 to 5 hours. Sophie and Julie had to wait behind a fence. Or was it me, that was behind the fence? Anyway, I managed to steal some kisses and hugs from both of them through this fence.
Suddenly the waiting was over again and we heard the gunshot that started the race. Right on time, 9:00 AM, but of course it took some time until I reached the starting gate because of the masses of people here. That moment though, I really like. The time of preparation is finally over, the nervousness is gone, now it's just running and nothing else. At first, the course led us through a financial district with huge skyscrapers. At kilometer 5 the runners who ran the 10k race left us at a big gate. People from both groups cheered enthusiastically for each other, which was really nice. Runners supporting runners. I hadn't really found my rhythm yet. The temperature was quite low, just above 5 degrees Celsius, and I didn't really feel the run so far. But the more I ran, the better I felt. After about 10 kilometers I noticed that I had my Runtastic app on mute to not be distracted by the voice saying what my current pace was. Unfortunately that also turned off the transmitted cheers from my friends via Facebook, which are the reason I use the app in the first place. Stupid! I didn't wonder so much now that nobody cheered so far. Almost immediately after I turned it on again I got the first "I like it!", which is always very motivating! But then, after about 13 kilometers, a very upset Sophie called me: she had met an old friend at Starbucks and some guy tricked her and stole her iPhone from the table without her noticing at first. :-(
To rationalize this situation and think about the next steps to take now is very hard during a marathon race. At least I could think of telling her to call the phone company and tell them to block the SIM card. Changing the passwords and activate the remote deletion – all that I thought about too late. During the next kilometers I could only think about the stolen phone situation and texted with my friend Maddin at home who was helping us solving the problems and managed to block the SIM card. Lucky. There was nothing more I could do to help Sophie as I had no possibility to reach her, so I decided to concentrate on the run again and find a solution later.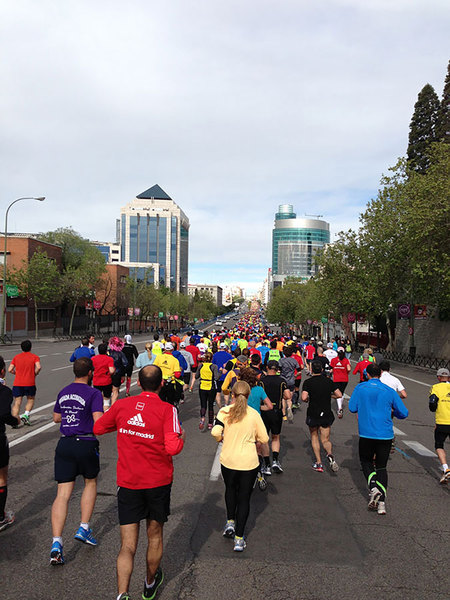 The run itself went better and better and at around 15k the group split up again, because the half-marathon runners wanted to get home quickly. Again, there was a lot of happy cheering involved. Now there was another nice thing, concerning my running pace: I didn't really have a goal this time, I just wanted to reach the finish, and at the start I saw the 4:30h pace makers run away and never saw them again – even during the very long and straight parts of the race. I was still thinking about the 4:30h guys, because my personal best at this time was 4:23 and I would have liked to be faster than 4:30 again. And then, suddenly, I saw three guys with blue balloons saying 4:30, and they were coming closer and closer! I guess it must have been at about 20k that I overtook them quickly.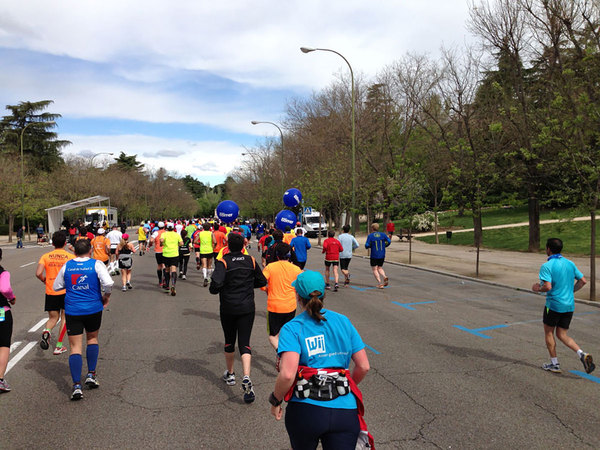 Meanwhile I completely found my groove and was feeling really well. Overtaking the pace makers was another very nice boost for me. Shortly after that, in the center of the city, there was a sudden view of the course that was simply breathtaking. A straight big road up until the horizon, completely filled with runners as far as you could see, the sun from behind, modern and beautiful buildings around us, it was very impressive. The other runners around me thought the same and got their cell phones out and took pictures. One guy next to me was enthusiastically saying: "¡Queeee paaasaaa!"
The next place we ran through was Plaza del Sol, which is situated next to our apartment. Sophie was supposed to meet me there to give me some more PowerGels. Of course this didn't happen, because she had to manage the loss of her phone and wasn't even able to conveniently check for the current time because of that. Luckily I still had enough of everything Sophie was supposed to give me, including motivation. So I ran across the place, where another amateur rock band was playing some songs. This marathon is one of the official "Rock 'n' Roll Marathon" series, were lots of live rock bands are playing during the race. This is a great idea in my opinion, the only disadvantage being that if you are a runner, you only ever get to listen to 20 seconds of their material and then you're out of reach again. But as entertainment for all the people that were visiting the marathon race, it's great.
The next kilometers led us out of the city into a park-like area, which was a very welcoming change. The air was considerably better here and all the noise of the city and the people was gone, which was nice for a while. At kilometer 25 we came across a stand of the PowerBar company. Helpers were handing out free PowerGels! As Sophie couldn't hand me mine this was just perfect timing. I took two of them, which had cost 1.80 Euro each yesterday at the expo. Good deal!
At kilometer 28 I noticed that we were going to run a kind of loop which would pass by this same spot at about 30. I like these situations, because at first you can see the people who are two kilometers in front of you, see how they're doing, and then you get to watch the people who are two kilometers behind you. When I was done with this loop I noticed the pace makers with their blue balloons from before! This was a nice surprise, because I knew now that I was two kilometers in front of them already, which is about 12 to 13 minutes. This is quite a bit! So I got another motivation boost from this. I thought the remaining 12 kilometers were going to be no problem at all, knowing that I could just take a rest for 12 to 13 minutes in between if I wanted and still be under 4:30 hours. Cool. A few minutes later at kilometer 32 there was Sophie standing there cheering happily! What a nice surprise and how amazing that she managed to come here! She said that she missed me twice already and also wouldn't be able to make it to the finish, though. How were we going to meet there, anyway, without her phone. It doesn't matter that much, we were just going to see each other at home then. Still, this was really great and gave me even more energy!
Every five kilometers there was a place to get something to drink, but here I really disliked the otherwise perfect organization. Even though they had enough water for everyone, they made a big mistake by giving it out in 0.5 liter bottles made out of plastic. This means that the runners grab a bottle, take a few sips and then throw the half full bottle on the street. No one of the runners is able to drink half a liter at once in a race like this, and carrying them with you is really annoying. So, the result is an insane amount of unnecessary plastic garbage including perfectly fine drinking water which is going to waste. Great though: they also had my favorite drink, blue Powerade! And they wisely put it into paper cups.
Kilometer 35 now, it's getting a bit more difficult. Before the race I looked up the height profile of the course and noticed it wasn't going to be easy. There are about 300 height meters in total and the last 7 kilometers are going straight uphill, about 70 or 80 meters. Though this is not as hard as Lisbon, were I ran a couple of months ago, it's still not easy. I managed to omit walking though, I had enough power. Everything went really well this time, I was just running and running and after a few more rock bands and orgies of plastic bottles we already entered the Parque del Retiro, where the finish line is situated. A few more minutes and suddenly the race was over! A quick look on my phone said: 4:19:46, new personal best! My official time was 4 seconds faster even. Happy!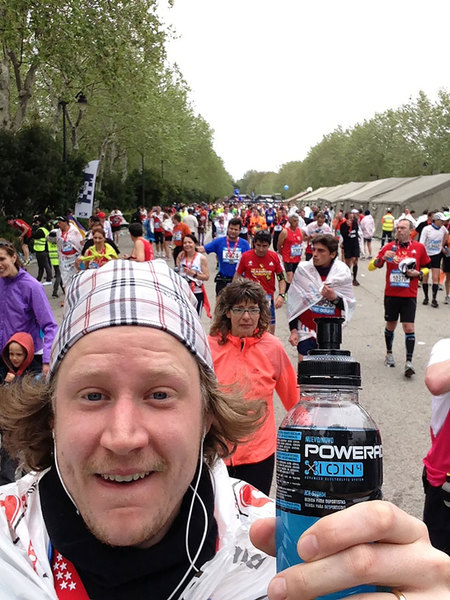 Now I just had to walk about three kilometers to our home. There wasn't a good alternative, because I had no money for a taxi with me, couldn't reach Sophie and didn't want to use a train or bus and not pay for it. So walking is the choice. This is were I had to fight a bit against my legs.
Now the stress begins. Upon arrival at our flat I had to take a shower quickly, get dressed, have something to drink, pack my things into our suitcase, grab the girls and rush to the bus which didn't go on Sundays as we then found out, get some cash from an ATM nearby to grab a taxi instead and make it to the airport in time. It worked! During the flight, Julie had lots of fun and played around so that I could relax a bit. We even got our connecting flight in Paris this time! 10:00 PM in Hamburg and Air France lost our suitcase in Paris. Of course. What a great end to this story! We were just laughing about it, as there were no really necessary things inside the bag. At least they managed to find it and deliver it to us the next day.
All in all this was a very beautiful and successful marathon in a welcoming and wonderful city, on a weekend filled with bad luck! Thanks for reading this, and until next time!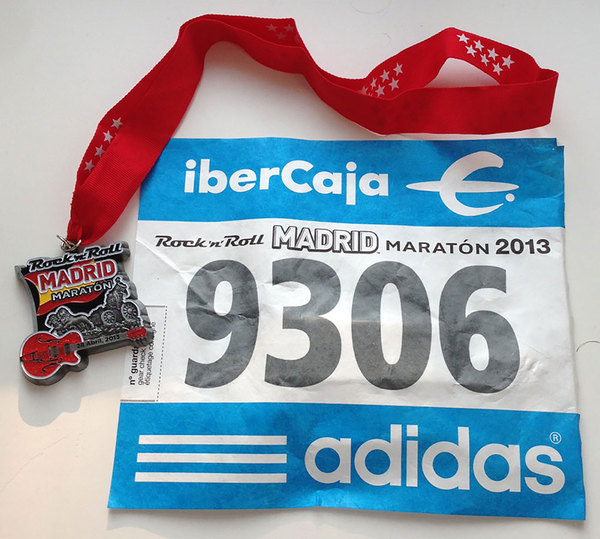 Certificate