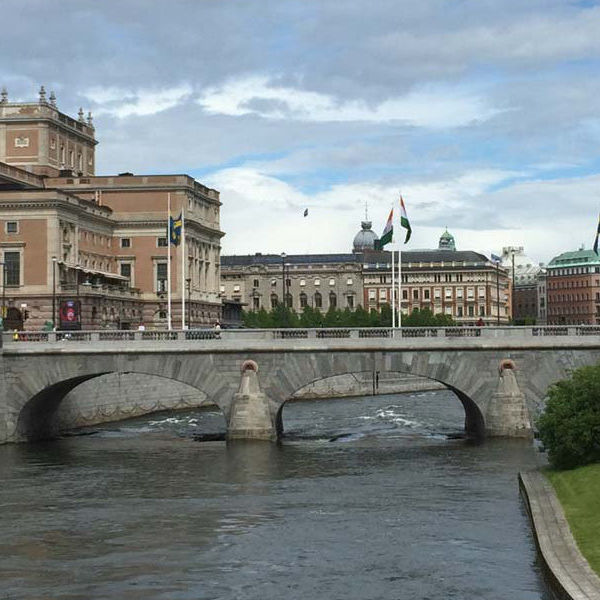 Stockholm
30th of May, 2015
This one is the last of my four-marathon spree this spring. After Malta, Bratislava and London it's nice to have a Nordic country in the mix. I like Sweden a lot, although I have never been further north than Malmö. Looking forward to find out what the capital of this great country will look like!
With 10 million inhabitants, an incredible Human Development Index, and being a member of the EU since 1995, this country is one of the most livable places in the world. The marathon race is one of the three biggest ones in the EU (measured by number of participants), which is quite the achievement if you take into account the rather small number of citizens and slightly remote location. I had quite high expectations, but I must say they were all at least fulfilled, if not topped.
Our journey begins with an unusual change of our standard marathon trip plans. We had planned to fly to Stockholm on Thursday and leave on Sunday, because the marathon is held on a Saturday in this city. Most marathons take place on Sundays, so this was the first change. A couple of weeks before the race my wife Sophie found out that she would have to work on Thursday and Friday and found no solution to this. Nobody was willing to switch shifts at the hospital. So she had to book another flight for Friday evening. Fortunately though, just two weeks before the race we got a new addition to our little family. His name is Egor and he will stay with us for a year, being our Au pair. He is from Moscow originally, 22 years old and a really nice guy. So I had some help for the flight and the first day in Stockholm, which was necessary and also great. Otherwise I'm not sure if I could have handled that trip alone with the two small kids, because they are still at an age where they require lots of attention.
So, the logistic efforts begin. After work I took my friend and co-worker Keno with me, we picked up Julie at the kindergarten and Egor with little Vera from home to go to the airport together. Keno dropped us off and there we were to start the journey. Egor was a big help with all the carrying and playing necessary to keep the kids happy. We had made sure there was enough time for everything and ran into no problems at all.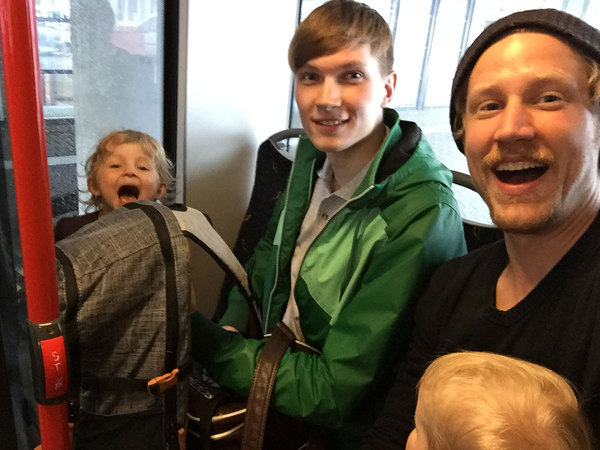 Germanwings took us to Stockholm where we got into the amazing Arlanda Express: a really modern and fast train right into the city center. It races with 200km/h through the small villages of Sweden, which looked beautiful. At least at those times where your attention isn't focused on the free Wi-Fi. If you travel with kids in Stockholm, one attending adult pays no fare at all, which is really nice, by the way. The kids travel for free as well, of course. This is similar to Helsinki, where we never had to pay anything for public transport, because one kid acts as a traveling pass for one adult in that city. So if you have at least two kids, you can go anywhere and pay for nothing. I like this forward-thinking Scandinavian mindset. We should have more of that everywhere else in Europe, and the whole world, for that matter.
In the city center we ran into the first problems: couldn't find the right bus, internet connection didn't work at first, Julie had to go to the toilet, Vera cried, weather was bad, we were all tired. But the people around us weren't annoyed at all, they wanted to help. In the end it all worked out and we found our very nice AirBnB apartment in the Östermalm region of the city. The kids went to sleep right away and Egor and me finally got the chance to talk a bit. He's been with us for two weeks now, but we barely had the chance for that. He's a really interesting guy, looking to learn German and maybe even stay in Hamburg after his year with us.
On Friday we started the day with a couple of games with the kids, and I checked out the local supermarket around the corner.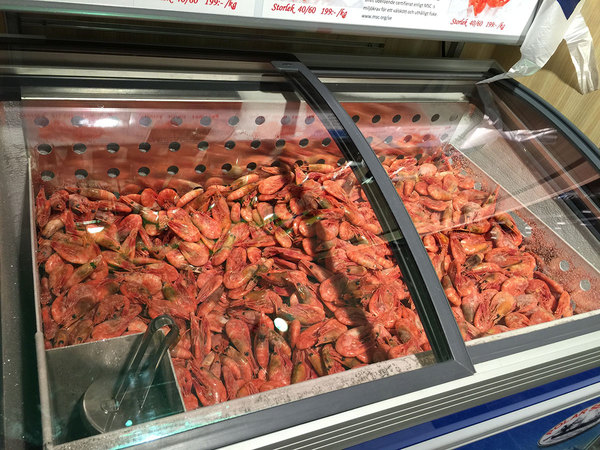 I met a man there and we bought almost exactly the same food, until we talked and found out we were both going to run the marathon.
It was time to check out the marathon expo and collect my racing number. 1.2 kilometers from our flat, right next to the Olympic stadium, perfect.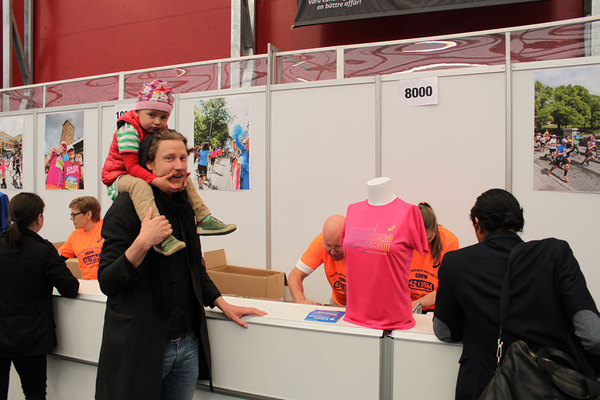 After we took a little walk through the expo and looked at some other races we exited the venue and found that there was no other way out then through the pasta party area. I usually never take part in these events, because they are incredibly expensive and the pasta is really bad. Not here. I received a voucher along with my racing number, so the food would be for free. Why not check it out, then! This was a good decision, the pasta was delicious. With dried tomatoes, spinach, olives, cheese. Along with it came some crispbread with a smooth cheese and free S. Pellegrino water. All of this as much as you wanted. So we feasted.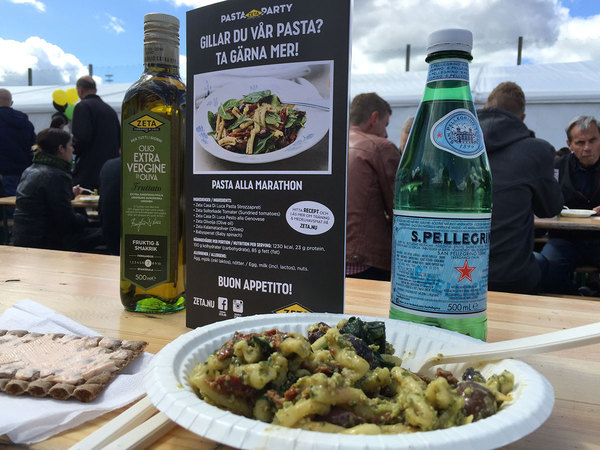 During the pasta party there were young girls performing some songs on a stage. Really talented, and a nice touch for this event. The atmosphere was very welcoming.
An ice-cream van right next to the venue took care of the next needs of my children, and after some more playing with Julie and Vera we decided to explore some of the legendary underground metro stations in the city. Egor found out that the most beautiful stations are called Kungsträdgården and Solna Centrum. So we walked to the former and planned to take the metro to the latter, as they were both on the same line. Now look at these: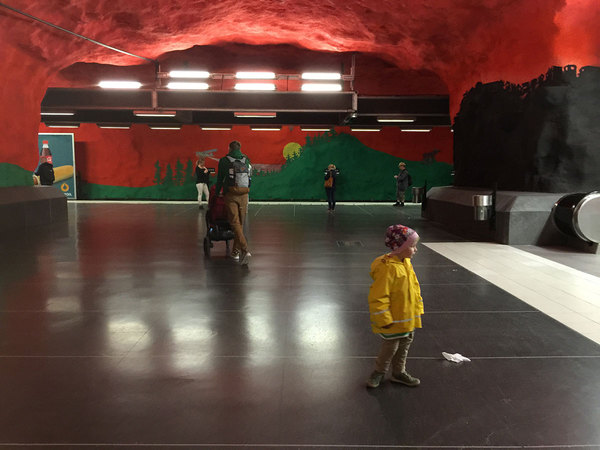 The incredible thing is that there are no signs of vandalism at all on these beautifully crafted stations. It would have been full with graffiti back home (or in any other major city I know).
We took the escalator and elevator to see what the outside looks like, but the area here wasn't very interesting, so we just went back again. Riding the escalator was lots of fun for Julie, because they are so long that you can sit down and look at the sideways elevator next to it, which is quite nice. In the afternoon we were back at our place and relaxed for a bit while Julie did her fish themed puzzle for the hundredth time ("I just like fish so much!") and Vera walked around the apartment in her favorite pants, which are thick and warm pants usually used to walk around in the rain and keep dry. Whatever makes her happy!
In the early evening the first family support arrived: my father and his girlfriend did a road-trip through Denmark and Sweden to meet us here and witness my marathon. We had another pasta party planned as preparation for the race tomorrow, but finding the right restaurant turned out to be a bit stressful. When we reached a nice looking one, the waitress told us they were completely booked and had no table left for us. As if she understood, Vera started to cry very loudly right at that sad moment – the girl has intuition! Of course there was another good place a few blocks further away. At least that's what we thought, until we realized we were just about 50 meters away from our apartment, sitting at the table of the restaurant. Well, it's a new city.
During all the eating the kids both did their own version of a marathon race while tirelessly playing catch with their grandparents Omi and Opi. So much energy in these little ones! The good thing about this is that you won't have to worry about how they're going to sleep after that much running. Just like with lots of running for an adult. Five minutes of lying in bed and you're out.
Afterwards we had some more time to kill and then, close to midnight, the next brigade of family arrived: my sister Nicola and her boyfriend Philipp. They hadn't been to Stockholm before as well, so they used this chance to do some sightseeing and witness one of my EU marathons for the first time as well. Half an hour later a really relaxed Sophie came into the apartment, too. She had almost forgotten how soothing a flight on your own can be, when you have nobody to care for during all these annoying harassment-like steps the airlines make you go through these days. She read a book while waiting for the flight to start, could enjoy the time on the plane and had it really easy to find her way from the airport to our place here in the city center. All in all a very refreshing change for her! I'm glad she had this opportunity.
So we chatted for a while until it was bed-time for all of us.
The next morning, day of the race, Sophie took care of the kids who were awake really early, so that I could catch enough sleep to be well prepared for the race today. The race was scheduled to start at 12:00 PM, so we had more than enough time for a large breakfast, playing with the kids and planning the day. At about 11:00 AM I was ready and left the place to go to the start on my own. A few minutes of time without conversation or responsibility for others is usually enough to get me into the mood of such a long race. So I walked down to the Olympic Stadium, which looks really different from all the stadiums that were built for the recent Olympics, because this one held the 1912 games. It is very small, seating just about 15,000 people. I guess that was enough during that time, because the modern Olympics had just started again a few years before 1912 after their famous 1,500 year break.
The streets were already crowded with runners and their families. Weather was okay, a bit of sunshine and not too cold. Loud music to get everyone into the mood.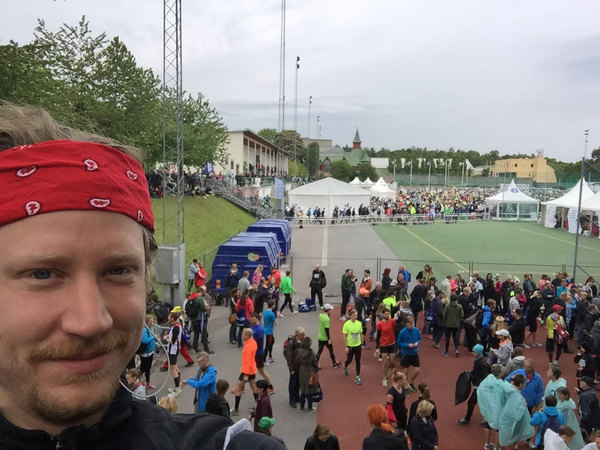 There was an MC who was trying to get everyone excited. That's always nice, I think. You can listen to what the person says and distract yourself a little from the upcoming nervousness. 101 nations were represented here, and the guy greeted the first 10 most-represented ones in their own language, much like at the Riga marathon. I like that. Number 1 was obviously Sweden, Finland second, Britain in third place and me and my German fellows came in fourth. Predictable, in a way. I was under the impression that the Scandinavian people reacted a bit differently to the upcoming challenge than the people I met in the more southern countries. Here, people are more quite and perhaps a bit introverted, in concentration. People in Malta, for example, were talking to each other, laughing, screaming happily, running around and generally seemed more energized. It's interesting to see the differences while taking part in the same basic event in all these countries.
In the waiting crowd, I saw this guy: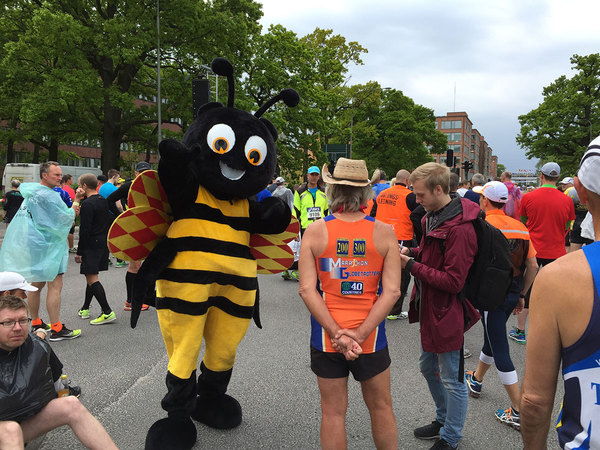 I had seen him before somewhere. His running shirt has these patches, indicating he took part in more than 300 marathons in more than 40 countries. What a waste of time! Wink, wink. Now I just looked through the pictures and found him: three months ago in Malta, I saw him. I wonder if I will meet him again. We didn't talk, but he is easily noticeable as you can see.
I little bit of nervous warm-up moves and the race started on time, just when sun went away and it slightly started raining. Oh, come on! What was great, though, was the space on the big streets in the first few kilometers. It was hard to step on someone's feet, unlike in London last time. The organizers were prepared in a better way for the masses of runners.
At kilometer 4 I met parts of the family for the first time, right next to the waterfront. I saw them a bit too late and had to pull off a solid U-turn in order to get some high-fives. Four kilometers later the one uphill stretch began. The course led over one of the many bridges connecting the parts of the city. From 0 meters up to about 40 meters. Normally not that hard to do, but here it was quite windy and the rain had increased, so that made it a little more difficult. The way down was a nice chance to safe some energy, and it was here that I found my rhythm and felt really comfortable with the speed I had chosen to run at.
It was also a change from the focussed mindset I usually have during the race and my thoughts wandered off to think about the running technique I was currently using. I had never really cared at all about technique, but lately, as I started to learn how to swim properly for my first full Ironman triathlon this coming August I focussed a lot on it. Swimming is 90% technique, people say. It makes sense, because of the huge amount of water resistance you have to fight. The wind resistance is not that big of a problem during running, but you can definitely improve a lot by focussing the training on technique from time to time. I mean, I still "just run", but I think all the swimming and biking I did lately helped my core strength a lot and thus also had an effect on my running technique. Maybe. During this marathon I sometimes thought about triathlon pros Jan Frodeno and Alistair Brownlee, whose running styles I admire. So I tried to mimic them and immediately felt a lot more powerful and efficient. Let's see where this leads me.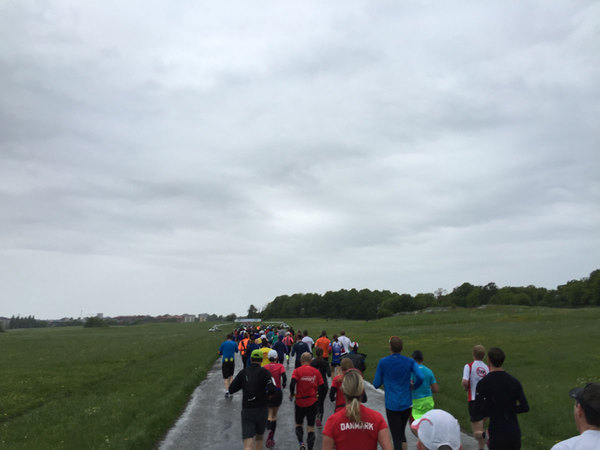 But first, I ran into my fans again at kilometer 12. Some high-fives at a really crowded place were really nice, as it rained more and more.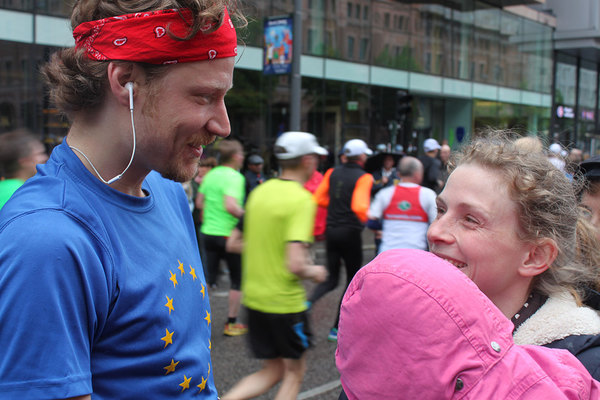 At 15, I felt really comfortable and had arranged myself with all the rain. The 4:00 hour pacemakers were long behind me, and from time to time I could even see the 3:45 guys in front of me! A new personal best is in the air, I think. But if I have learned anything from running marathons, it is that a lot can change during such a long race. Better not to get too excited and just focus on a steady and reasonable pace and the main goal: finishing.
We passed the Olympic stadium area again, because the course would do two loops, with the second one slightly enhanced. Which is why we found ourselves on these green meadows outside of town at 20, which I pictured above.
The rain increased even more here, and by now I was soaking wet. Feet were squishing in the shoes at every step. Ugh, not a nice feeling.
Along came another refreshment station. I like them here, because they used compostable paper cups to give out the water and sports drinks. Also, the waste bins were paper. At one point I managed to do a perfect over-the-shoulder hook-shot over a few runners while running myself and landed my cup 5 meters behind me exactly into the small bin. Awesome! Of course, nobody noticed.
Up until kilometer 28 we were outside of the city, but it wasn't all nice green meadows, most of the loop enhancement was industrious parts of town. And the rain didn't stop. The jacket I had knotted around my waist was dripping wet as well and got really heavy. At one point I almost lost it. At kilometer 29 we were passing the same spot as at kilometer 4, and there were my people again! This time, my father had also made it. His sarcastic "And, is it fun?" remarked the rain problem, but who cares. I'm already really wet, it's not going to get any worse now. Little Julie was sleeping again – it must have been 2 hours by now. I think she knows what she's doing. Playing in the rain is not as much fun, you might as well just sleep.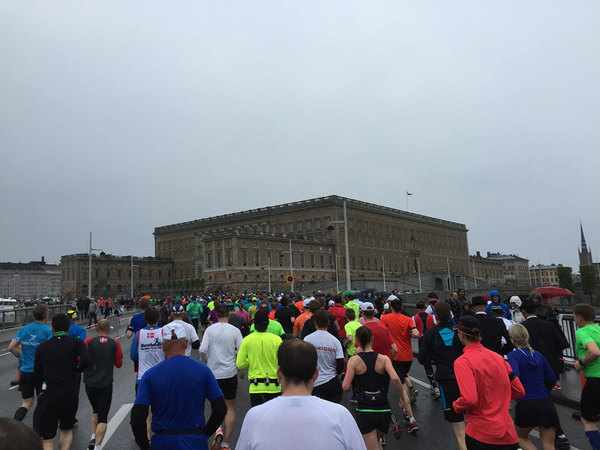 Not a big day to go sightseeing. The good part about this part of the course were the short tunnels underneath the streets: no rain, no wind! Weirdly, the race is still fun for me, I suppose I just have a good day today.
Every five kilometers there are digital signs telling us the elapsed time. As always, my individual marathon started a couple minutes later than the gunshot, because the thousands of runners have to get through the gate at the same time. I was just under 4 minutes later than the pros, so I just had to subtract these from the digital signs to get a sense of my pace. This time I was wondering if they subtracted the minutes already for the specific group of runners passing by. Technically, it should be possible to pull this off, of course not very accurately though. It seems unlikely, so I was happy about my fast split times!
Another thing that goes through my head when I'm running a marathon is lots of numbers. I never look on my phone to see how far and fast I actually am, in order not to mess with my speed and keep the pace that my body feels comfortable with. Still, I can't keep myself from thinking about the times. I always use a conservative 6:00 minute per kilometer pace as a ground speed in my calculations, because I can do this pace and it's easy to calculate with: one hour for 10 kilometers. That means I would complete the race in just over 4:13 hours though, because it's 42.2 and not 40 kilometers. In order to be under 4 hours, you'd have to gain these 2.2 kilometers (or 13 minutes and 12 seconds) somewhere. So, after 10 kilometers, you shouldn't be at 1 hour, but roughly a quarter of those 13 minutes 12 seconds less (3 minutes 18 seconds), which would be 56 minutes and 42 seconds. At 20 kilometers it's about 1:53 hours in order to reach the half-marathon at about 2 hours straight. At this point, kilometer 30, I should be at about 2:50 hours, but the clock here reads 2:38 – I'm really fast this time!
By now, it's getting serious again. The bridge from before is approaching for a second time. Now, with these couple more kilometers in my legs, it feels different. Also, the rain is running down the streets towards us, which doesn't help. The nice body core stability from last time I crossed this bridge is also slowly going away and my running style is now similar to that of sack of potatoes, as we Germans say.
On the way down from the bridge I realize that I might be risking another blue toenail here. Whenever it's going downhill towards the end of the race, the stability in my calves leaves and transform my running style to that of a penguin. Feet clapping on the street. This generates a lot of stress on the feet and that is what makes the blood run into the toes which are getting punched at every step. The adrenaline takes care of it, though. I don't mind too much, because it's not a lot of pain and of course, the toenails will grow again. Quite fascinating, the human body.
What follows is another long flat and straight stretch of the road with a refreshment station. I manage to again land two paper cups with cool throws into the bins. I'm thinking in Athens or Lisbon I might have gotten some smiles or even some clapping from the other runners, but here, nothing. People are focussed on themselves and probably just want to finish to get out of the rain and into a hot shower. Well, exactly like me.
We pass a band playing that song from the Disney movie "Arielle", it's called "Under the Sea". How very fitting! I smile.
At 35, we're still on the same road I know from the first lap, and I remember thinking "Cool, next time I'll be here there will be only 7 kilometers left!" – but 7 kilometers can be long, too. Especially if you're having 35 in your body and ran through all that rain. The crowds are screaming "Heja!" all the time, which always reminds me of this part in Blackstreet's "No Diggity".
I find myself using an old technique again and seeing every kilometer sign as a little win: "Just 6 kilometers left!" – "5! I can do this!"
Almost done. I'm glad. At 38 there are some volunteering girls giving out sugar blocks. I think that this is perfect right now, grab one and remember the rain: these are soaking wet! I eat it anyway.
And there comes the final stretch …
… the last turn left …
… and suddenly we're in the Olympic stadium.
This one is very nice, it feels so cozy because of its clear structure and small size. It is full with people, carrying umbrellas and therefore very colorful in this grey weather. One lap in the stadium and there is the finish line: 3:45:28! I beat my personal best by a solid 8 minutes, who knew? On a huge screen I see my name and time while coming in. Cool idea!
Relieved and happy I raise my hands up high and feel good. I look through the crowds and can even spot Sophie, Egor and the little girls: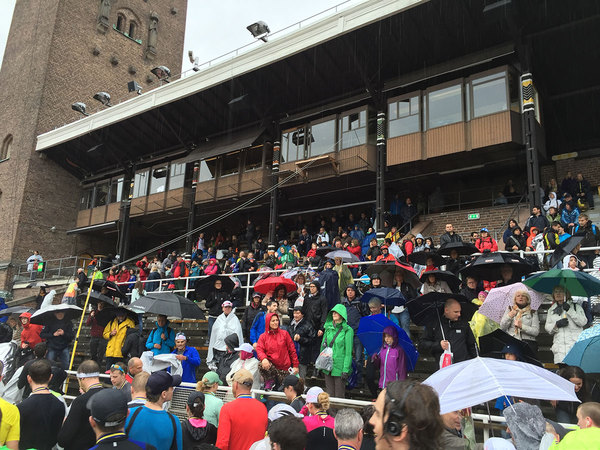 Some girls hand out the medals, I get a biking bottle of water, a warming cape, a finisher's shirt and a nice swag-bag filled with food. Well done, Stockholm! Putting on my new finisher's shirt, the wet pullover and the warming foil cape and I now am covered in 5 layers. Still, it's freezing and it hadn't stopped to rain. I begin to shake. Time to have a banana and look for the family. The phone says they are 200 meters away from me, good. I see another finisher who walks down a little hill screaming and grunting because of the pain and I remember my first few marathons when I felt the same way. I can't help but to smile at him. He smiles back, proudly. It's funny how such a sense of achievement can make you totally put into perspective the kinds of pain you experience at first.
After meeting my family I just wanted to go home with them straight away. Julie shared her sweet cake with me and was happy to see me again after all these hours. 15 minutes later I'm in the hot shower, which was one of the best feelings I have experienced in a long time. Now I realize how frozen I am: my hands and my face burn in the warm water because they are so extremely cold. It takes a long time for me to warm up again. When I was feeling better again I got out to sort out the clothes from the run, they feel like they weigh about 5 kilos right now, with all the rain water in them.
Now that the day is almost over it's the right time to go out and have some dinner. We found a nice place for all us nine people and I really enjoyed the time with all of them, and, of course, the beer.
Back at the apartment, the others are all very tired and go to bed early. I'm the last one awake at 10:00 PM, oddly. I guess it required quite a good amount of energy to watch me and go through Stockholm today. I'm thankful to all of them to have done this with me.
One day left in Stockholm! We spend it finally really discovering the city.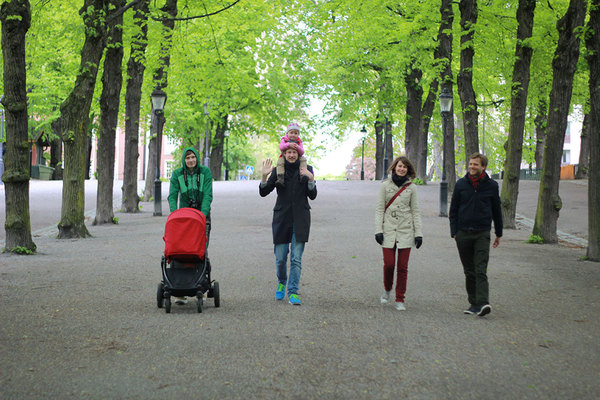 Also, today was apparently King's Day here in Sweden. Egor explored the city on his own and even saw the King!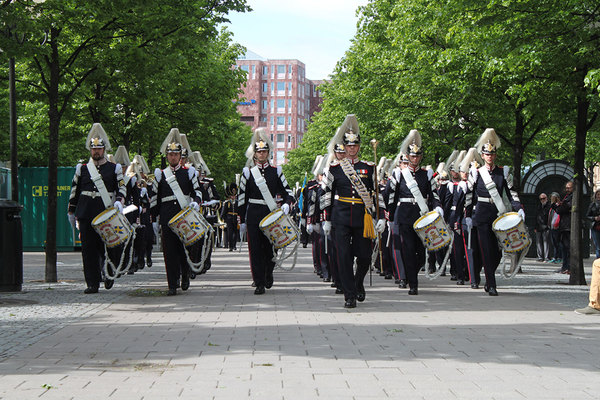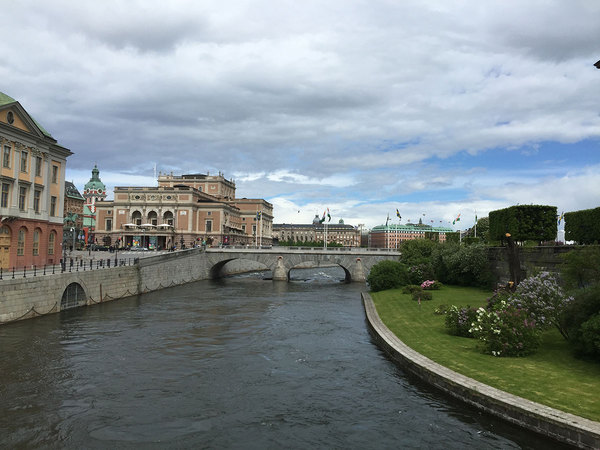 We went to a photography gallery and looked at some animal pictures together and had a nice lunch, containing the most amazing Shrimps I have ever had. Again, well done, Stockholm! But I think I was the only one who was this happy with the food.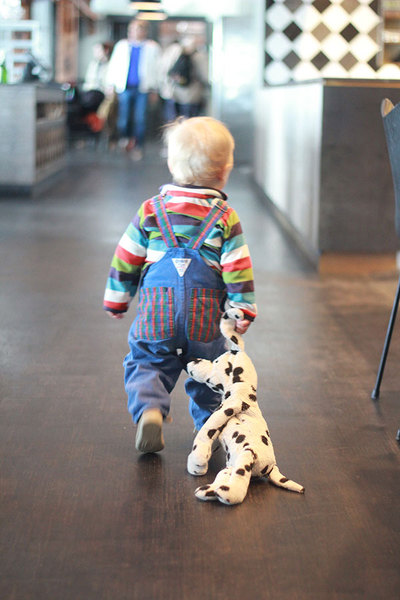 A trip to the airport in the awesome Arlanda Express and it's off to our home.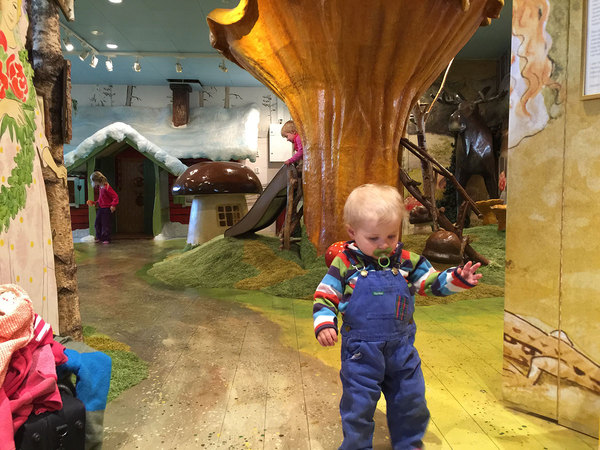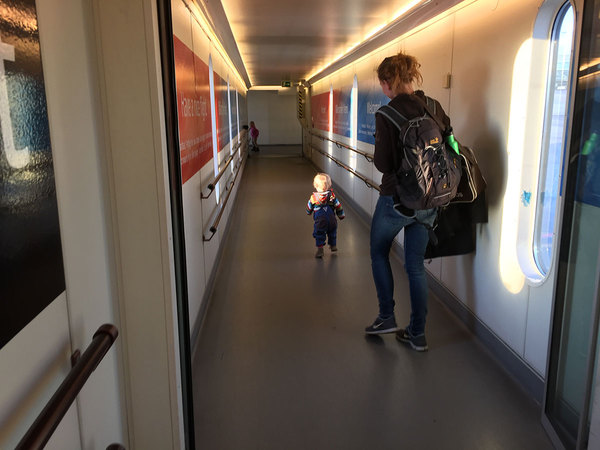 And home we are. What a nice journey. Thanks everyone for reading and cheering on Runtastic, it was lots of fun. Now begins a marathon free summer for me, because the triathlon season is starting. Two weeks after this marathon I will do another half Ironman in Denmark, then two Olympic distance triathlons in July, followed by the big one: Ironman Copenhagen in late August. First time ever! Also the next time I will run a marathon, although not as part of the EU challenge but rather after 3.8 kilometers of swimming and 180 kilometers of biking. Let's see how that goes!
I'll probably write about that one here as well, just to not forget about the experience as I'm getting older. The next real marathon will take place on 13th of September this year and will be in Tallinn, Estonia. A smaller one, but I heard great things about the city. Apparently it looks like Shrek is in that area. Can't wait!
All the best to you and until next time!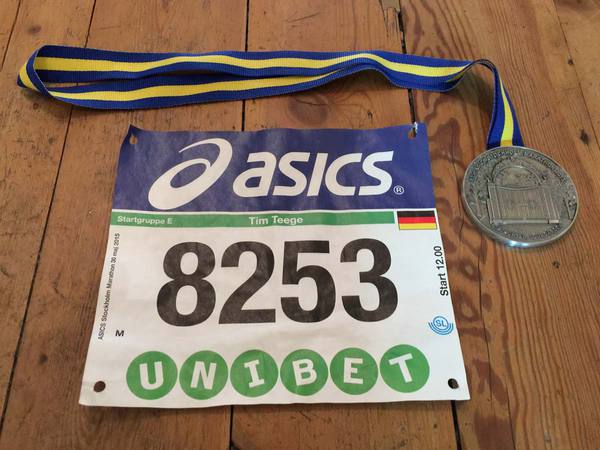 Certificate