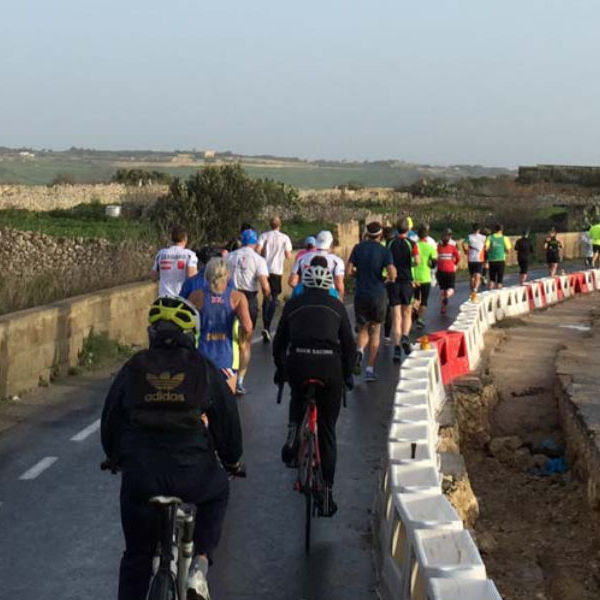 Malta
22nd of February, 2015
Malta. Although I named this report "Valletta" for consistency reasons, this is actually the first marathon of the EU challenge that isn't going through the capital of a EU country. Valletta is a very small part of Malta, built like a fortress because it has been attacked multiple times throughout history. Streets are very small and steep, so that it would be really hard to plan a marathon going through the capital. That might be why the organizers decided to have the race start at the small town of Mdina ("medina" means "city" in Arabic). The course is going around in circles a lot until it finally reaches the coastline just a few kilometers away from Valletta in the town of Sliema.
So, technically, my EU challenge (running a marathon in every EU capital) is not possible. In Cyprus, the situation is quite similar. The capital Nicosia hasn't had an official marathons since 2012 and I am not sure if they will have another one soon. At least there are several other marathons on the southern EU part of Cyprus. Same thing.
I had never been to Malta before, but I have heard some things about it. My father travelled there in 1969 but didn't like it very much. My father-in-law's mother Rye and her first husband Bill were moved to Malta because of the second world war. They were both British citizens and he was in the Navy, so they had no choice but to relocate to Malta with their small child, my father-in-law's half-sister Sandy. They spent a couple of years there, but then Bill died in the war, unfortunately.
The timeline gets a bit fuzzy here, but Rye then moved back to Britain and met my wife's grandfather Arthur a couple years later. After the war, they spend a big part of their lives in South Africa were my father-in-law grew up until he moved to northern Germany. About 5 years ago, Rye then finally moved back to Britain from South Africa to spend her last years "at home". I've had the chance to meet her in Cape Town and Britain, but we never talked about her time in Malta, so I have no idea how it was for her. When we tried to visit her again two years ago, she died the week before our planned arrival in Huntingdon, an hour north of London. It was a sad vacation.
So we flew to Malta without any real knowledge about this small country other than some information from Wikipedia. With just about 400,000 inhabitants it is the smallest country of the EU both in population and in size. The history is quite interesting, because almost any European people had already owned the four islands of Malta once. It is a strategically well located country right in the middle of the Mediterranean.
Over the centuries, the Maltese people built the islands to be a fortress for them to withstand all these attacks. Didn't help that much, especially when the huge forces of the Romans, Arabs, French, British and even Germans attacked. All those sieges had a big influence on the population, architecture and language. Maltese is the only Arabic language that is written with Latin letters. It also has a lot of English and Italian in it, so it sounds strangely familiar. Thankfully, about 70% of the people are bilingual and speak English very well.
We had booked a flight with Germanwings and Air Malta via Zurich and were really looking forward to this small vacation after almost four months of a marathon break during the European winter. Our daughter Julie had turned 3 and little Vera is 1 and going to Kindergarten already. They are both doing very well. Sophie had started her first job as a real doctor at the beginning of the year, so the days have been long for us and we needed a little break.
I had used this winter to learn how to swim properly in anticipation of the big Ironman Triathlon that I'm doing in August. Having never been able to efficiently freestyle swim so far, I tried my best with the help of lots of friends and, of course, Youtube, to make it to the full 3.86 kilometers which I would have to do as the first discipline of the Ironman. I reached that goal in early January, where I, for the first time ever, managed to crawl the whole distance in about 1:45 hours. If I can get that to 1:30, I'll be happy. Shouldn't be a problem. So after that I focussed on running again and persuaded my neighbor Michael to sign up for the short Hamburg Triathlon (while we were both a bit drunk on New Year's Eve), so that I would have a new running partner. We did a couple of Sunday sessions in which we usually ran together for 10k and then I did another lap of 10 more kilometers afterwards. On Wednesdays I usually did another 10 to 15 kilometer run with a few hills to train myself for the hilly Malta countryside. I got into quite a good shape by doing that.
So, without further ado, our trip begins.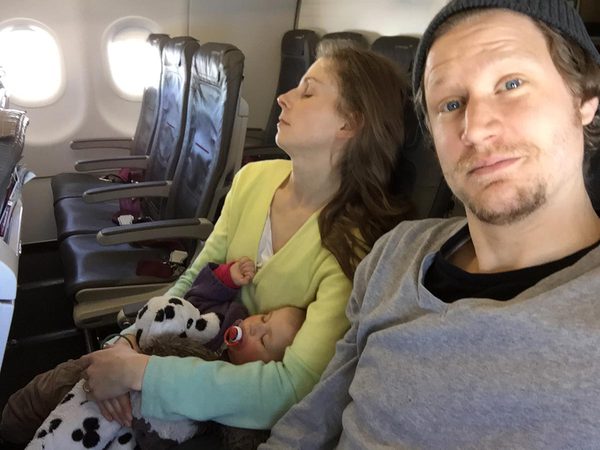 We had about three hours to change planes in Zurich, of which we spent most of the time in a children's area which was perfect. The kids were happily playing and we had some time to relax. Sophie had broken her big toe a few weeks ago and it still hadn't healed very well, so that we took a scooter with us for her to easily get through all those long airport halls. Also, Julie and me had quite some fun with that scooter.
Arriving in Malta quite late at night we spontaneously decided to rent a car. That turned out to be a wise decision. That way we could use the whole Saturday for an extended trip to the other big island of Malta named "Gozo". Driving across the whole main island and going on a short boat trip we could grasp quite a bit of the country. Malta in February isn't at its best and the weather wasn't great as well. Still, traveling through all the small towns was nice.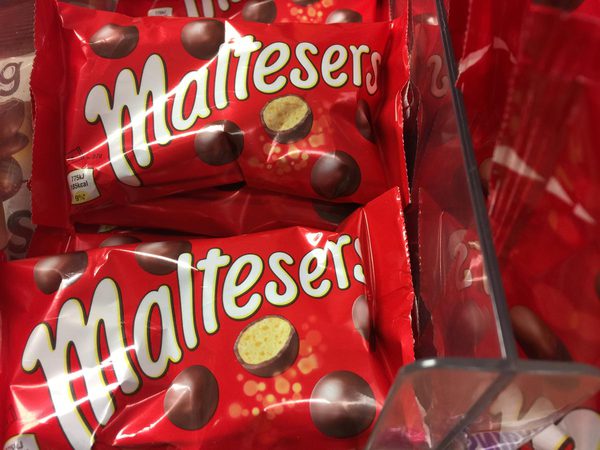 After driving through the whole island of Gozo we arrived at an impressive place called "The Azure Window".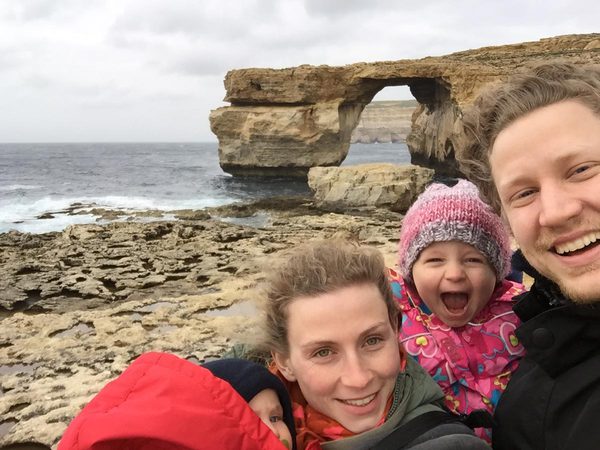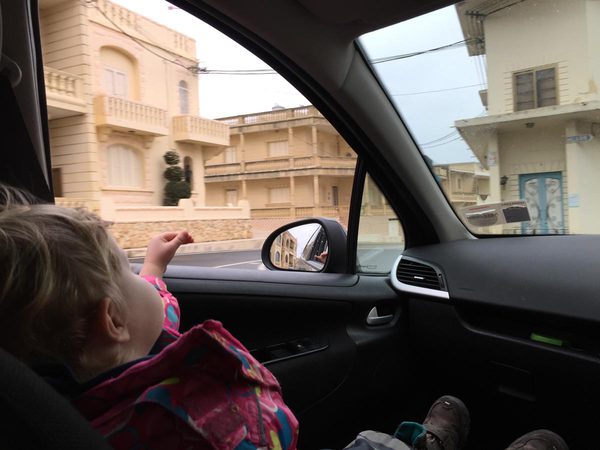 It was quite cold with just about 10 degrees Celsius. Winter in warm countries can be a nuisance because the houses aren't well isolated and heating is highly inefficient compared to our standards. Electricity is really expensive in Malta, so our apartment had a portable gas oven which didn't really make it warm. We just cuddled a lot.
After a short trip to the race headquarters in the town of Sliema to collect my racing number we had a big meal at a great restaurant there. Lots of carbs for everyone! Then off to an early night in the flat, because I would have to get up at 4:30 in the morning on Sunday. Earliest start of a marathon day so far, I think. I didn't sleep too well because I irrationally panicked that my alarm clock wouldn't work. The kids slept perfectly, but Sophie had nightmares about me running off with an imaginary girl. Oh no!
At 5:00 AM I got outside and tried to find a bus to get me to the marathon shuttle which was supposed to take the runners to the start in the town of Mdina. Unfortunately there was no bus, because the route it was supposed to take was under construction. So I walked for three kilometers in the dark and empty city with not a single person around, freezing. I arrived at the shuttle bus in time and it immediately left for Mdina, passing right by our apartment on the way. Argh! But I was glad I made it to the correct bus. Twenty minutes later after a really fast and bumpy bus race we were in Mdina. It was still dark and the starting gate hadn't been put up yet. A couple of hundred marathon runners were there. It was right next to the old gate of Mdina, which was also used for a scene in one of the early episodes of Game of Thrones. Really cool to be here. There was a small restaurant right next to the start which was earning a lot of money right now. I took the opportunity to try and get a couple more minutes of sleep, but I was a bit too nervous and it was too cold.
One and a half hours later the sun was up and the start was prepared for the runners.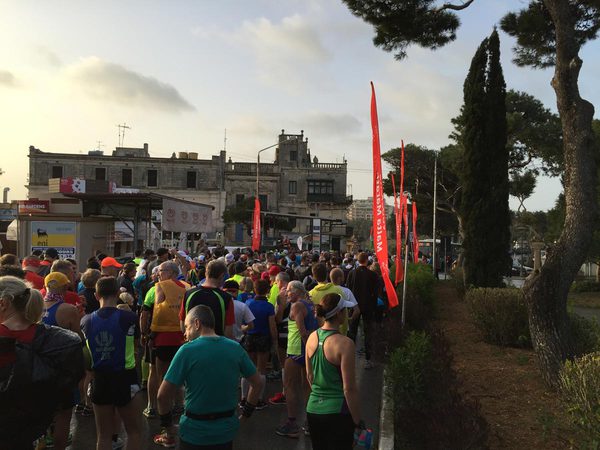 Some American runners next to me were talking about the weather forecast. There was supposed to be a thunderstorm during the race. Oh come on!
So far, the weather looked quite alright. Cold, but no rain and no wind. The announcer was speaking English and I was really looking forward to running. Running home, that is. One of the advantages of an AB race (the start being somewhere else than the finish) is this feeling of running home instead of running in a big circle. At 7:30, really timely, the gun went off and I got to run! A great moment, as always. Blue sky, green fields, running down the hill. Very good.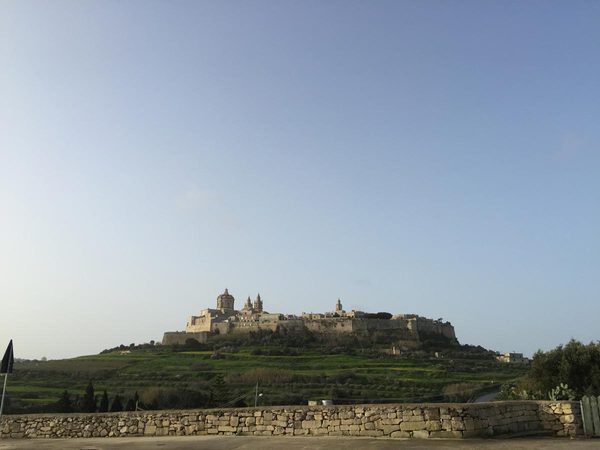 I was doing well. About an hour later the rain started. No thunderstorm so far, but rain and wind. It was actually quite refreshing and not as bad as I thought. The main island of Malta is quite small, so that it wasn't easy to find a perfect route for the race. Which is why the track did a few smaller circles and some parts were run several times. Also, the route wasn't free from traffic. Most of the time, we had to run next to cars. At 8:45 I think, the half-marathon race started at the same place in Mdina and those runners then joined us at our 25th kilometer. That was nice because there were suddenly more people to run with, but on the other hand, those were the slower runners (even some walkers) who were in the way from time to time.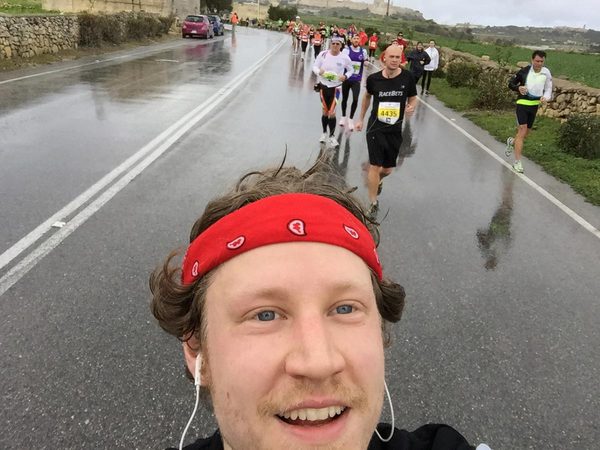 The rain was becoming a bit annoying now. The wind increased as well, and on some stretches it came right from ahead. One part of about half a kilometer was particularly hard, because it went uphill quite a bit with rain and strong wind from the front. This required some will-power. Then again, there were a lot of parts that went just downhill, like this one: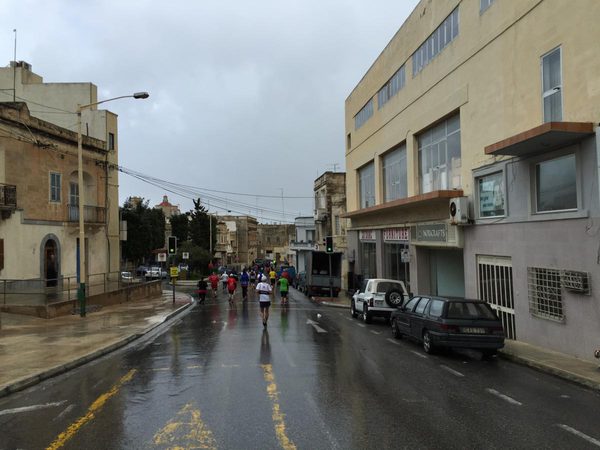 In this area there were a couple of musicians playing songs by Kings of Leon, Lorde and the like. A good choice. Live music is always welcome during running.
At kilometer 29, my girls were waiting for me! They took the rental car out of the city and stood there in the rain. Quite an effort and really nice.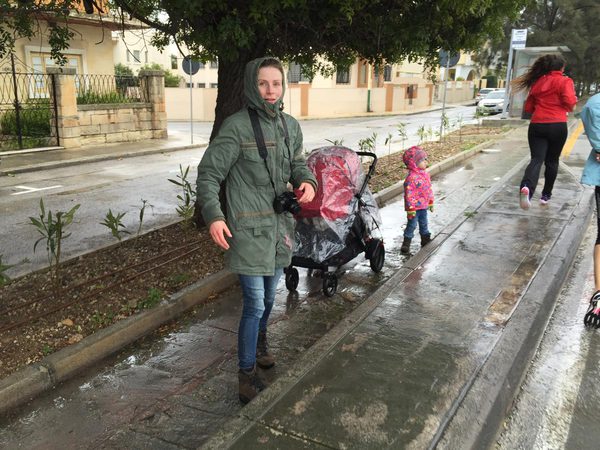 This time I didn't get as tired as I usually do, but instead I got hungry. More and more. The two PowerGels I had at 26 and 35 were good but only delayed my hunger. At 38, the weather was sunny again and the rain had stopped, and some guys were giving away candy. How lucky is that! At no other marathon I have received free candy and right now this was the best thing that could have happened. I ate the bag and felt a lot better right away. Just a few downhill parts left until we reached sea level at a small harbor. The last three kilometers were the exact same that I walked this morning, and it was interesting to see this area in quite a different situation, now fully crowded with people standing there in the sun.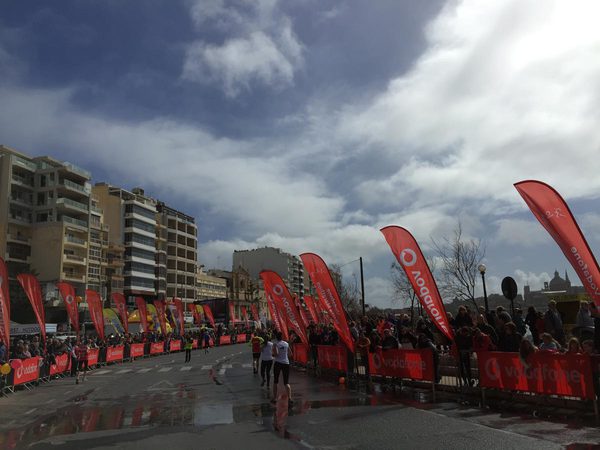 I had no idea about my time, but I felt it would be below 4 hours again, which would be nice. When I reached the finish the sign said 3:53:50, almost my personal best, I was surprised! The official result would be 3:53:38, which is exactly 8 seconds faster than my personal best in Ljubljana last October, so I was quite happy.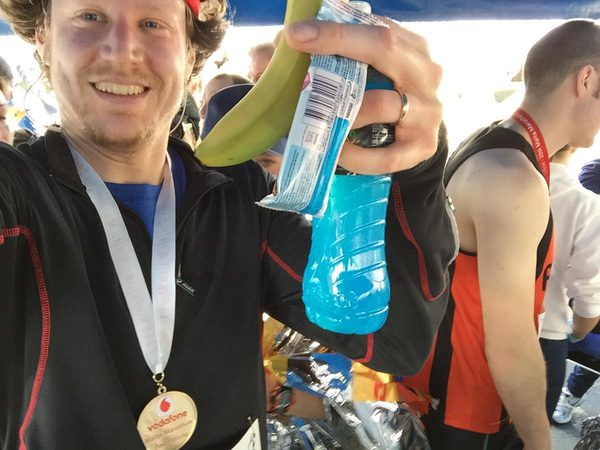 This was a nice race and I was doing really well today. No huge problems. I had a nice long shower and then a nap together with little Vera, who was also a bit tired. After that, Sophie made us lunch in bed, how nice is that. We used the afternoon to do some more sightseeing and finally went to the capital city of Valletta, which was impressive but still a bit shady and shabby.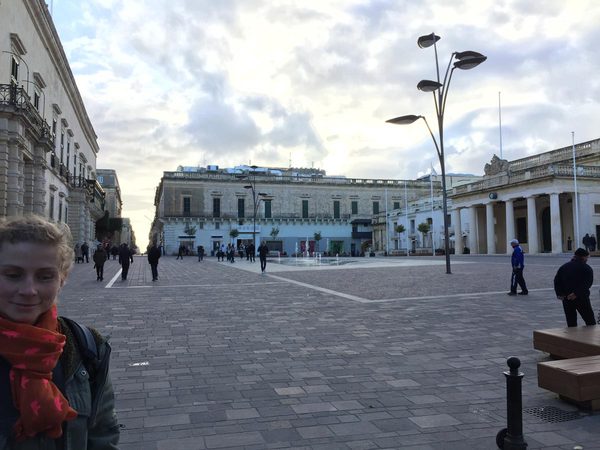 Julie's primary memory of the trip will probably be the ice-cream we then had. It was one of the best I've ever had and she certainly enjoyed it, too. It is quite astonishing that she is still sharing this stuff with her sister.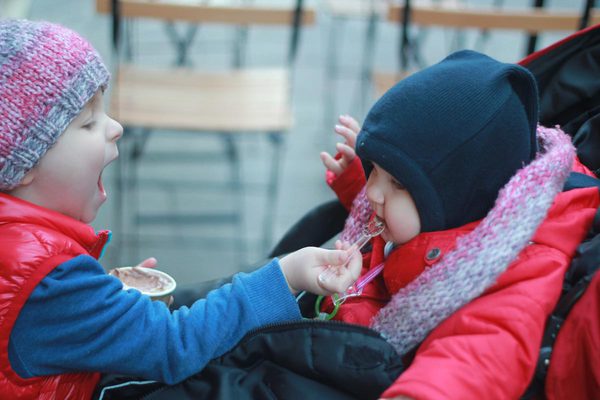 We did another trip to the Valletta waterfront to have dinner and then fell asleep really early after a great day.
On Monday we flew back home. Vera seems to be getting the hang of flying.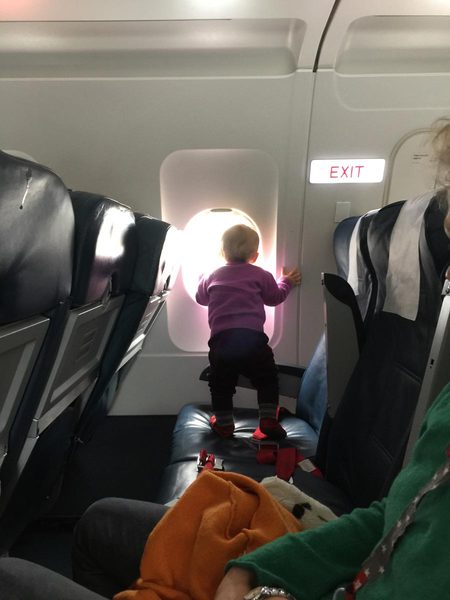 Air Swiss took us back home from Zurich to Hamburg and provided the girls with enough Swiss chocolate. Needless to say, they're our new favorite airline.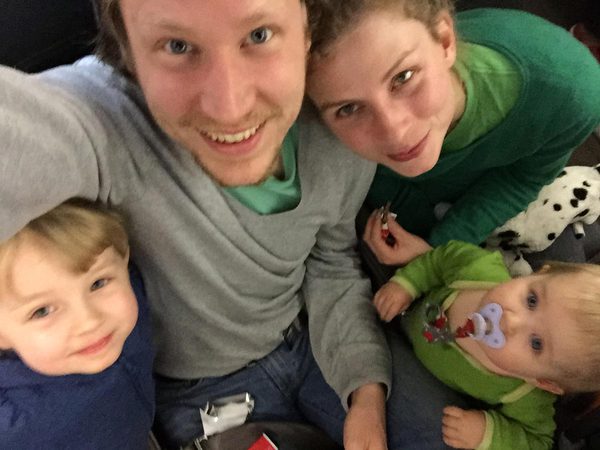 And that's it, 15 done, 13 left. Thanks to you all for reading and sharing, and especially for cheering on Runtastic again! Looking forward to Bratislava, Slovakia in four weeks.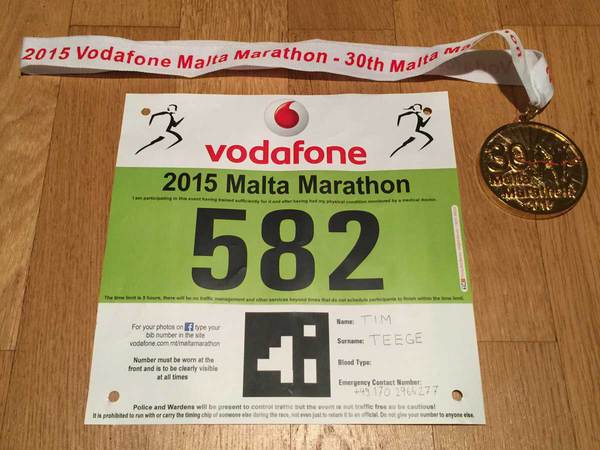 Certificate