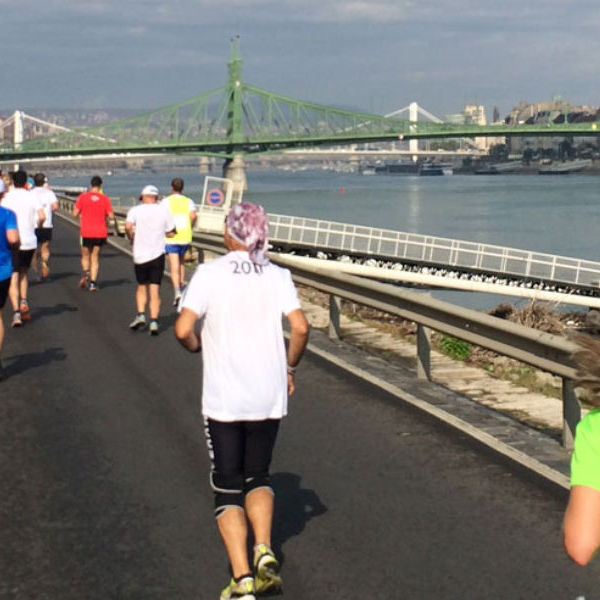 Budapest
13th of October, 2013
What associations come to mind when you hear the word Budapest? You might think of goulash or music, or even the questionable political course that the country has recently taken. But I now have a different association altogether. After this trip, I can only think: "mustaches". Walking around with a mustache seems to be the polite thing to do in Budapest. A basic gesture of common decency and politeness, just like wearing pants. You never know what will happen when you visit a new country in Europe, there might be something very weird about it. But let's start at the beginning. This is the first marathon trip that I had to do completely on my own. The problem was that Sophie's final medical exams were right around the corner. We didn't know that before, we just knew that her written exams would be right before the weekend, so we thought we could do this trip as a celebration of these exams. She also had her oral exams coming up, which could have been anytime between the middle of October and January 2014. But then the letter from the institute arrived saying that her exams would be right in the middle of October: how unlucky! So Sophie had to stay home and learn for these final tests and I had to take the trip by myself. Fortunately we had booked a trip cancellation insurance so we didn't lose all the money.
So, here I go, off to Budapest to run the seventh marathon of my project. After this one, I will have completed 25 percent of the project! That's something to look forward to. So I got in a car2go car, went to the airport and found myself in a small Czech Airlines propeller machine on the way to Prague, because that's where I had to change planes. And have a Bud.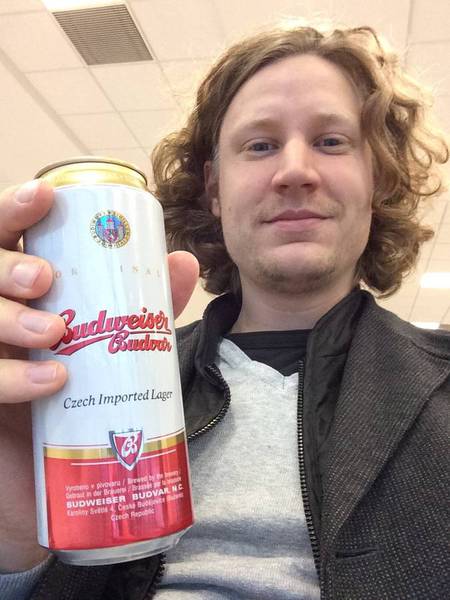 Next stop is Budapest. Really small airport! It's already dark here, the sun goes down remarkably early. It's kind of confusing to find your way around in this country, because the language is not at all recognizable. No noticeable relationship with the Roman or Nordic languages, so not a single word seems familiar. To add to this element of strangeness, the language most closely related to Hungarian is Finnish. They're both part of the Finno-Ugric languages. But at least some people spoke some English, so I found my way to the place that Sophie had booked for us, a privately owned apartment in the VII. district. The owner was still awake when I reached the flat, but I was quite tired so that was the end of the day for me.
On Saturday I had just one thing to do: go and get my start package at the racing center. That turned out to be right where the start of the race would be, so I had the opportunity to check how to get there for the day of the run, too. It was about two and a half kilometers away at the Heroes' Square, which was fine to walk for today, but I would take the Metro tomorrow to not exert my feet too much. The place was nicely organized, I got everything I needed right there, including some PowerGels. After some shopping and a lazy afternoon spent on the couch with my laptop that day was over fairly quickly. Time to have a huge portion of pasta and try to fight the nervousness and go have some sleep.
October 13th, 2013. I woke up at 7, had some breakfast and prepared for the race. Not much to be done, also it isn't difficult at all, but there is always this nervousness that makes it a long process. I triple-checked everything, because missing any part of my usual routine can make the race very uncomfortable for me. So, off to the Metro station at the opera building, and in about ten minutes time I and several other runners reached the destination, the Heroes' Square. I was way too early, as always. So I wandered around and tried to keep warm because I brought no extra clothes. I couldn't have given them to anybody, because I was all alone, another negative effect of Sophie not being there. Fortunately, there was still a big tent that was warm inside. Time went by very slowly, but finally it was time to go to the start. Everybody else assembled there as well, between 3,000 and 4,000 marathon runners, I think. As usual, there were some other races at the same time, so in total there were more runners. I think it was a good number of people for the marathon. Not nearly as crowded as Berlin two weeks ago, which was nice.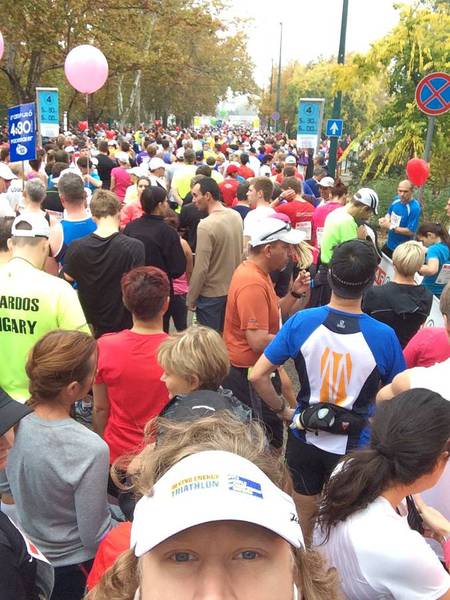 Still, it was quite a long way to the start from my position. I had to go to Block 5, because of my personal best of more than 4:15 hours. About 80 percent of the runners were in front of me. An interesting touch was that people who ran their first marathon had to wear a sign on the back that said so. So they were branded as rookies. I was very okay with not having to wear that sign. The closer to the gunshot it got, the more energy the announcer had. He was going on and on in Hungarian. There was a translator present, but he didn't take his job very seriously. Even then, when the announcer started counting down from ten, he did it in Hungarian and those numbers also sounded very strange to me. Some of those simple numbers seem to have four syllables! Weird language, really weird.
Right after this countdown it began. My seventh marathon of this project, eighth in total. About four minutes later I crossed the starting line and it really began. People were cheering a lot here, and there were many of them. Really nice atmosphere. The weather conditions weren't perfect, it was still foggy, very humid and less than 10 degrees Celsius. The first few kilometers I had to find my pace and try to get into that marathon feeling. After about 15k I felt I had it.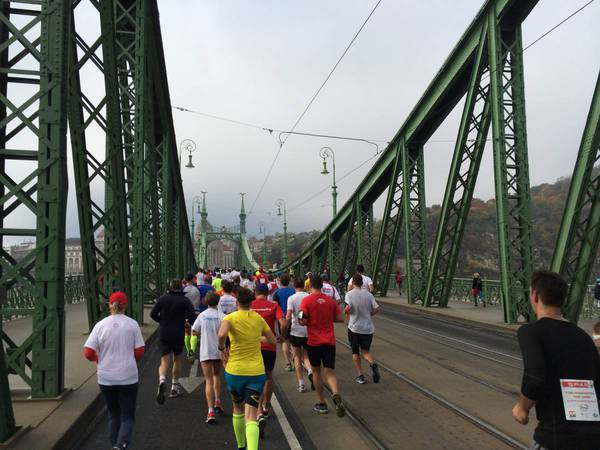 On the picture you can see a guy on the right who has a sign on his back that says he is a Team Runner. That means he was part of a four-person relay race that was held on the same course, starting 15 minutes after us single runners. Of course, that meant that we passed a total of three stations during the race where runners were exchanged for new runners. It was interesting to see how they held up. Some of them were as slow as me and very tired at the end of their shift. But in general it meant that I got overtaken by freshly exchanged runners a lot.
Thanks to a couple of friends liking my Runtastic Facebook post, I got some cheers on my headphones that almost made me forget I was alone. Very nice. The route was amazing, Budapest is such a beautiful city. There was a lot of live music, too. Especially choirs, which you don't see that often in other cities, but here they were performing classical pieces flawlessly. The city has a long history in music, of course, and attaches great importance to it. There were a lot of samba drum groups and rock bands, too. They were all playing much better than the bands in the cities I ran before, not only technically, but also the choice of music was way better, in my opinion. This one band was playing Lenny Kravitz' "Are you gonna go my way" when I was there, and shortly after, when I passed them again, they played Jamiroquai's "Deeper Underground". Both of these songs require a lot of heart and great skill to make them sound as massive as the recordings do. Just being a three-piece band, they accomplished that in an amazing way. I was certainly very motivated after passing them. After about 20 kilometers we got this great view of the city: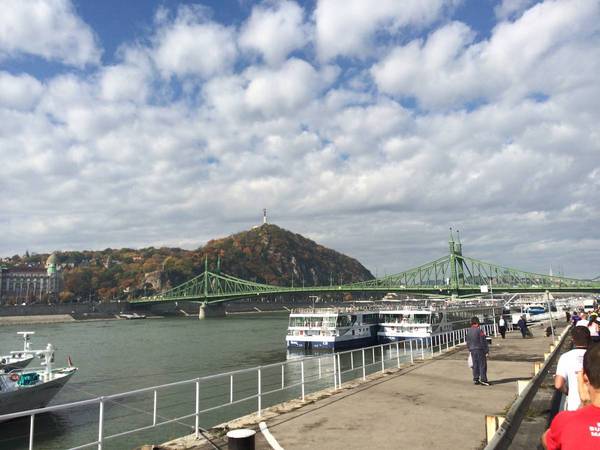 This area had the most spectators. The mood was very good, the crowd very nice. It felt good to run. Then I reached my important milestone at KM23. It means that there are less than 20k left, at this point I start counting down at every kilometer. Before that point it seems too hard to me. Imagine thinking "Okay, now there are just 37 kilometers left! Yay." – doesn't work. But when it's less than 20 it sounds doable to me. That's my tactic. This time, though, it got really hard. I was doing okay, time-wise, but I now slowly started to notice that I ran another marathon just two weeks ago. My feet didn't like it that much. Still I was in this to finish it. And if at some point I'd have to walk, so be it. Quitting the race was not an option. I had to fight mentally. The improving weather and the nice crowd helped a lot. The course was very flat, that was good, too. But the most important thing didn't happen anymore: nobody cheered on Runtastic :-(.
Where are you, friends? I thought everyone had forgotten about me, and that was a sad feeling. I had hoped for a connection error that prevented the transmission of the Likes, but I didn't want to check because I was afraid it wasn't a connection error. So at KM32, after the hardest 10k in a marathon I had ever run, I finally looked at my phone: it had somehow logged me out. Relief! Buggy iOS7, you are awesome! I punched in my code, and there they came: within the next few minutes it rained virtual hugs on me, it was a storm of Likes. It felt great. Lots of people were thinking of me, I really needed that at that moment. Although it got harder and harder for my legs, my motivated brain did all the work and took me further towards the finish. Just a few kilometers left now, at every refreshment station I walked a bit in order to not spill the drink (free blue Powerade again, my favorite!) and had to fight really hard to start running again. But it worked every time. Then suddenly, there they were: the SPAR zeppelins at the finish line, hovering around at about 50 meters above the Heroes' Square. Almost there! There is a park around the square, which we had to run through first, though. At one point I saw the 4:00 hour pacemakers with their green balloons, which was incredible. It meant I wasn't that far away from 4 hours total! That gave me a final boost, although in fact I got slower and slower. Still, it felt okay, and then finally there it was: the finish line. Done! Another marathon completed. A quarter of my project!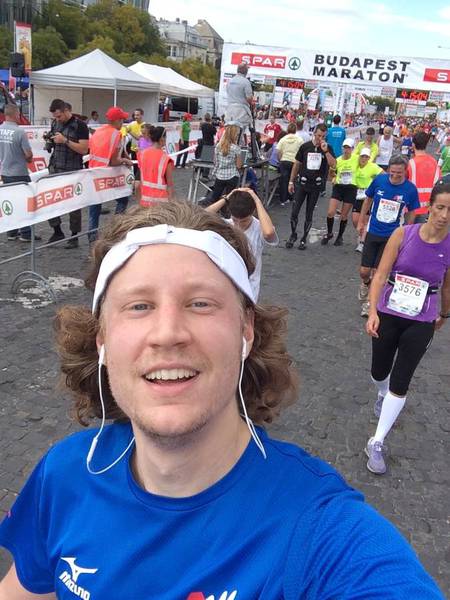 What a great moment! My feet and legs were aching quite a bit. But still, I proved to myself that I am able to run two marathons within two weeks. I think that is quite a skill. A first look on the watch said: 4:10:09, my official time was 4:10:01. I beat my personal best by 7 minutes! Quite good.
After that, it was time to celebrate. And what better way to celebrate than with good food! So I went back to the flat, took a bath and googled the best restaurant in the area. Turns out it was a steak house – perfect. They served me a huge Tenderloin with bacon, cheese, onions, and potatoes. With some home-made iced tea that was plain perfection. Never had such a good iced tea. Of course I had to order the obligatory goulash soup as a starter, and it was very nice too. Every time I run a marathon I somehow gain 2kg, but it's obvious how that happens. It's good that the training makes me lose it again.
Altogether, this was a very nice run. A beautiful city with a well planned course along the Danube river, nice crowds and a new personal best. What else could I have asked for. Still, I'm looking forward to the next marathon where my family will be with me again. That always makes it a lot nicer.
Not much left to do than to sleep for a very long time and then fly home. I had to change planes in Prague again, where I got myself another very good beer: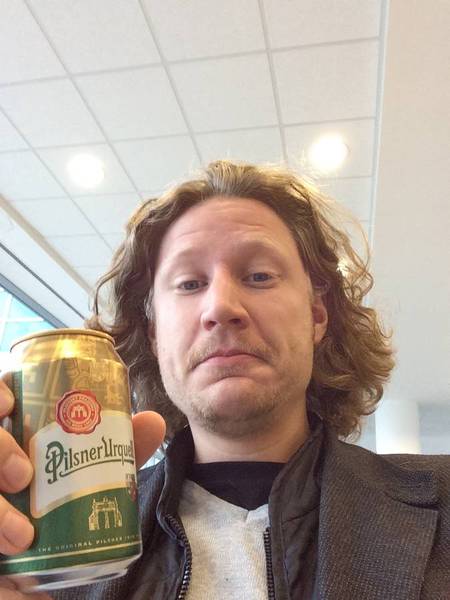 That was it. Thank you for reading this! I hope you liked it.
Certificate