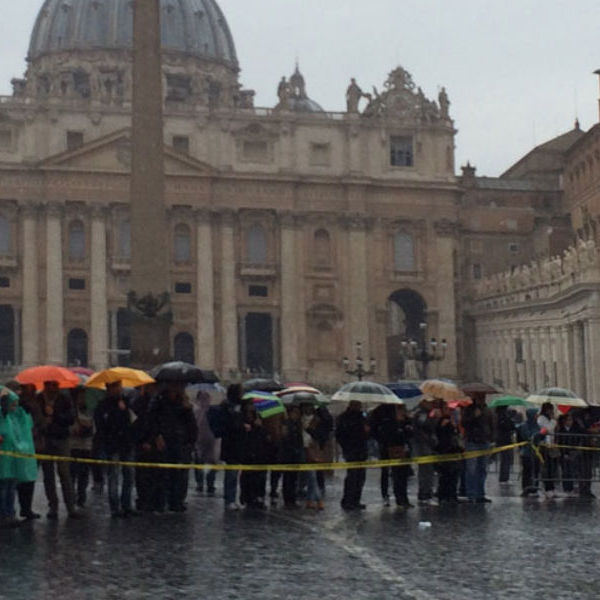 Rome
23rd of March, 2014
Do yo know any other Italian singer besides Eros Ramazzotti? Exactly. But except for the area of music, Italy has a huge variety of other things to offer. On top of my list is: culture, food, family values. Culture and food are definitely still up there, but in the family department we were a bit dissatisfied during this trip. This time I was traveling with my wife Sophie and for the first time our two daughters! Little Julie is 2 years and 4 months old right now and has just recently become big sister to little Vera Marlene, born on 27th of January, making her about 8 weeks old. We took a flight with easyJet from Hamburg to Rome, which was Veras very first flight. She did very well. Julie is a pro already, having been on about 20 different airplanes so far. She loves flying, as you might notice from this picture: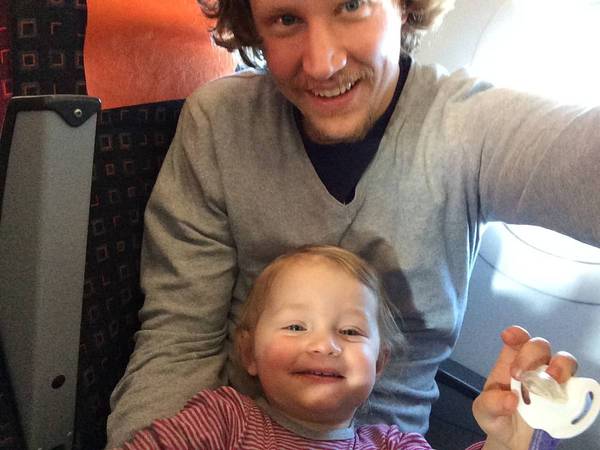 Being a four-piece family makes these trips a bit more expensive, especially since Julie needs her own paid seat now that she is older than 2 years. A big advantage of that is that I now usually have two seats. Julie is on my lap and that way we can relax, play and sleep a lot better. So, the flight went really well and public transport in Rome also worked for us. Arriving at our privately booked flat at night was not a big problem, but for our clerk it was. He gave us the wrong room, which we didn't even really notice at first, because we were quite tired. First of all, why is there a clerk at an allegedly privately owned apartment? The practice seems to be to develop these hotel-like flats in poor neighborhoods (flats that are cheap but look expensive) and then to privately rent them out on AirBnB/Wimdu/et cetera in order to avoid taxes, although you're basically running a hotel. This is not a fact, it's just what I assume. The hotel sector is definitely changing right now because of this. AirBnB is already prohibited in some countries, because the hotel lobby is usually quite strong.
Anyway, we had a good night of sleep and then we realized our flat was about one third the size of what it looked like on the pictures, didn't have a tub as requested, no wi-fi, no pots and pans, no oven. Traveling with kids is all about planning. Not having these things that we counted on destroys a lot of our plans and makes it harder to enjoy the stay. Long story short, some phone calls later the manager told us there was mix-up (obviously) and gave us 100 Euros in cash and promised us the real flat for the last night and an additional extra night for free (that we couldn't use, though). Quite nice.
So, Saturday, off to the marathon expo! I took Julie with me and we had our little father-daughter trip across the city. It wasn't far away, just a few stops by bus. Located within some congress hall it was well organized and fun for Julie. There was a parkour simulating the 42 kilometers of the marathon that we could run thru together, and everyone was loving little Julie, giving her coloring tools, a balloon, or just big smiles. After getting back to hotel it was still morning. Now we basically had the day off.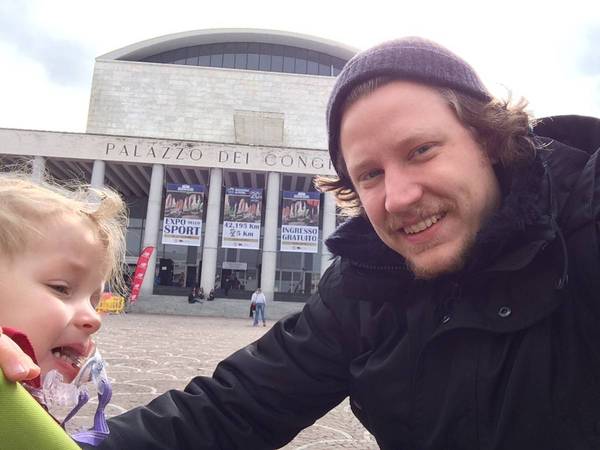 Off to some sightseeing! I've been to Rome twice before, the first time was 2002 because my mother decided to get married in this city, and then in 2005 with a couple of friends after we heard about Joseph Ratzinger becoming Pope. Nobody of us was particularly religious, and certainly not Catholic, but a new Pope coming from Germany kind of triggered something within us. So we got in a car and 22 hours later reached Vatican but missed Benedict XVI's inaugural speech for a few hours. Didn't matter, we took the chance to explore Europe some more instead. Back to 2014. My three girls had never been to Rome, so I thought the best thing to do would be going to St. Peters square and hopefully getting inside of the basilica to see this massive building. Biggest church in the world. When I am in places like these, I am completely awed. Julie was looking at everything and commenting like this: "The child is holding an apple!" or "There are naked babies flying through the air!", which made me realize how mundane some of these statues actually were. Afterwards we had some more time left and the kids were still alright, so we did something that I was wanting to do for a long time: visit the Sistine Chapel. Both times I've been to Rome I wanted to see Michelangelo's work, but both times there wasn't any time or the place was closed or something. But this time it worked. We went inside and it was a surreal but humbling experience. First, to get there we had to carry our buggy containing two kids up and down an insane amount of stairs and were sweaty and exhausted. And then after many rooms that were already filled with amazing pieces of art we finally entered this main room everyone knows. Wow. It was the only room with no artificial lights, so the walls looked less colorful and dark. I guess to save the paintings. Then, of course, the room was packed with people from all over the world. I ran our buggy over what felt like 30 pairs of different feet and apologized without a pause. But stopping and seeing The Creation of Adam and The Last Judgment was incredible for me.
Afterwards we met with a friend of Sophie's with the wonderful name of Alashiya, which is apparently the prehistoric name of the Kingdom of Cyprus, she told me. This makes sense, because she is from Cyprus. What a great opportunity to try and make the Nicosia marathon exist again! Nicosia is the only capital of the EU where the marathon doesn't reliably take place. Alashiya told me her parents still live there and hosted a friend of hers during the 2012 marathon. So maybe they run into someone that makes the Nicosia marathon take place again. How great would that be! After a walk together we had some pasta for lunch and Alashiya really enjoyed playing with the two little girls and told us about her very interesting work within the FAO department of UNO, where she helps making the world are more sustainable place. If you're reading this, Alashiya, keep up the good work!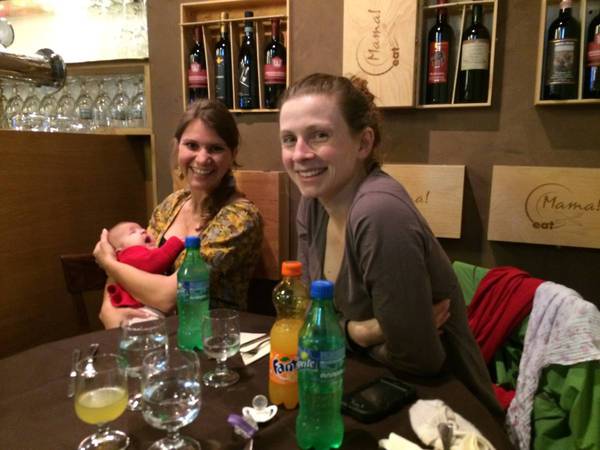 Following our late lunch there had to be some Italian ice cream. Julie got a scoop of chocolate and was in heaven right away. After that we were pretty much done for the day and just headed home for some more pasta (just for me) and then an early night. On Sunday, the day of the race, I got up before the girls. This usually never happens, as they almost everyday wake me up right after they've woken up. Soon enough still, Julie's little eyes opened up and she smiled, crawled out of her bed and wanted to play. I had some cereal for breakfast and then I left for the start of the race. The nervousness strangely wasn't really noticeable, compared to the other races so far. I took a bus to the Piazza Venezia, which is right next to the impressive Altare della Patria. What an immense building again! From this place, the starting point was about 100 meters away, but to the wrong side. All runners had to line up from the back of course, so we had to walk for what felt like eternity thru the entire Forum Romanum, up and down. A nice bit of sightseeing as well! When I finally reached the masses of runners, there were just two minutes left until the gunshot was heard. Perfect timing! Right at this time it starting raining a lot. The day was a bit rainy already, but now it really started so that everyone was soaking wet. Wow, this was a first. How is this going to play out? I have been running in the rain before, but how is this going to affect me after 20 or 30 kilometers? While I was thinking about this and enjoying the still great atmosphere, I simply starting running. The race began without any time to worry about it. Some guys beside me were singing "'O Sole Mio". I am definitely in Italy right now. Also, the song is about how good a sunny day feels. Right.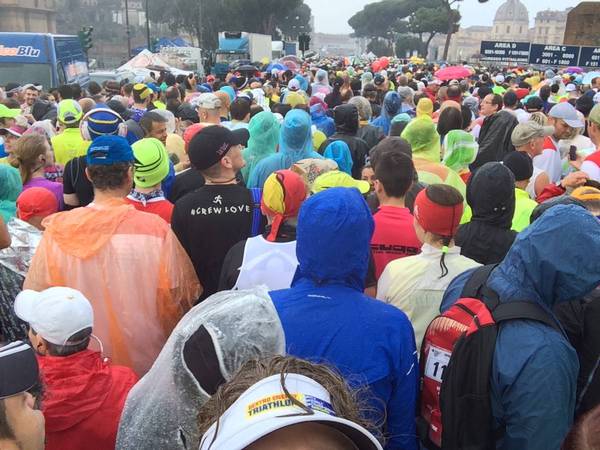 But here I go. The tenth marathon, ninth of the EU project. Some kind of jubilee! It's pretty cool how far I've come already, I think. It's not the easiest task to run all EU capital marathons, I'd say. It's really fun though, I enjoy it quite a lot. This particular race being in the rain is basically just a fun addition to the adventure. Another story to tell my grand kids some day, maybe.
It was really crowded, there were 20,000 signed up participants of the full marathon (15,000 finishers), but there was also a 5k fun run at the same time with 80,000 participants, which is just an insane number of people. They must have started at some place else, though, because it certainly didn't feel like 100,000 runners around here. Starting a marathon in crowds like these isn't easy, especially if you're in the last block of runners, which is usually very slow. Also, the little hills right at the beginning and the wet cobble stone streets didn't help, so that many people fell down on these first few kilometers. I found my rhythm after about 5 kilometers, which is early for me. At 8, I passed the 4:45h pacemaker runners with their purple balloons. I was thankful that I managed to do this after my last marathon in Athens, where I finished even slower than that. I want to pass by at least one more team of pacemakers, so lets see if I can do that. A 5k later, at 13, I saw them. 4:30h runners. Good pace! People on Runtastic were cheering a lot this time, which was really helping me. At 18 there was another big shower that got us all really wet again, but shortly afterwards there was this amazing view of Saint Peter's Basilica as a reward: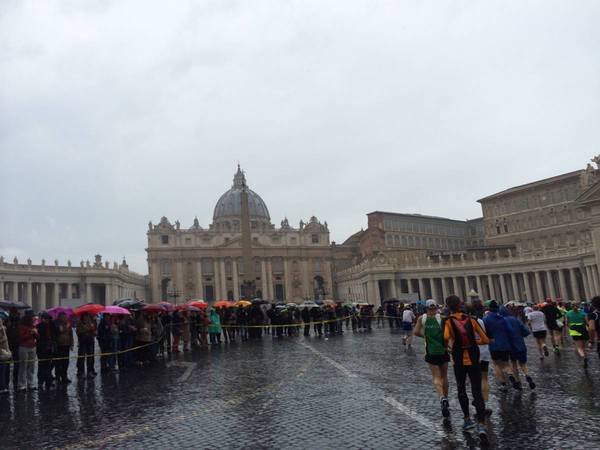 And then, right after that there was another reward for me: Sophie, Julie and Vera standing there! How amazing that Sophie managed to come here, carrying the girls thru subway stations and thru the rain, just to see me for a few seconds. She is just perfect. Julie was happy and was making her little marathon run routine. Maybe one day we will run together!
The kilometers melted away, as always. From time to time I saw this friend: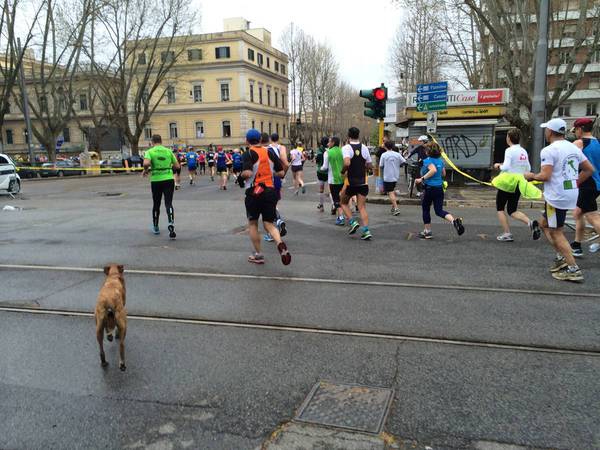 Yes, he was keeping up. The runners were used to him after a few kilometers, but the crowds were laughing and pointing at this little guy. The tempo was noticeably slower than what he is used to, but I'm guessing dogs usually don't run these long distances. Anyway, I saw him at 30 for the last time, but Sophie told me he finished the race. Respect!
So far I was doing fine with the weather conditions, although they were really weird. For many kilometers I was feeling just a bit too hot so that I thought about taking off my jacket all the time. At about 20, I finally decided to do this, because the sun briefly came out. I had to stop running to take my bib number off of my jacket and put it onto my shirt, because that is a hard task with all the needles. It took me about two minutes, which is the reason I was pondering doing this for so long. It felt good right after the change, but then, of course, the sun went away again and there came another quick and wet shower from the sky. Come on! I thought, screw it, I'm just going to do this now. A marathon is 40 percent physical fitness and 60 percent will-power, I've recently read. Seems about right. Then, at 36 I got a text from Sophie, saying she'll be standing at a tunnel coming right up on the course. Amazing technology, right? She could see my Runtastic tracking and she had a plan of the course, so she could easily guess where I was going to be at any particular time. I didn't see a tunnel anywhere, though, so was wondering if I already missed them. But how could that have happened. So I kept running, hoping for the street to turn downwards into a tunnel, and after about two more kilometers it did. And there they were, taking photos of me.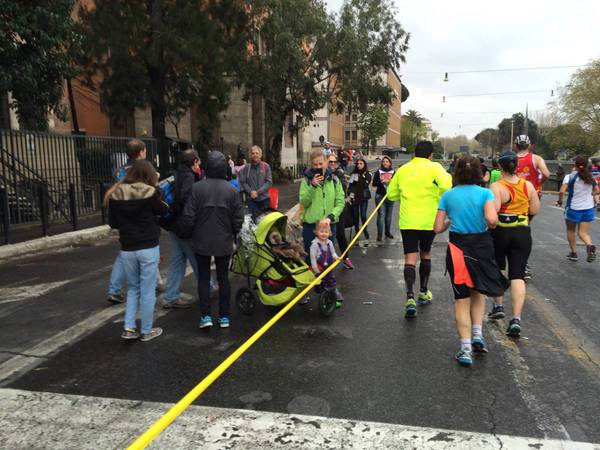 This situation was quite impressive for Julie. At first she was really happy to see me, but then she was really sad that I was running away again, and after the race she would often excitedly tell us: "And then Papa ran away into the tunnel!", which almost sounds metaphorical, although thankfully it wasn't. I, for one, was completely happy to see them. In addition to the many many Likes on facebook, which were transmitted to my headphones, I got lots of motivation for the last few kilometers.
I would say I am quite an experienced marathon runner by now, which is a thing that is not true for most of the other runners here. When I see some people, I can't help but wonder why they thought it was a good idea for them to try this. There was this one guy at about 39 kilometers, who had blood red knees. The insides of his knees were hitting each other with every step and I thought that he must have know that this was his style of running and therefore it wouldn't be a wise thing to do for 42 kilometers. I passed him and then I saw his front side. He looked even worse. Not only was his face expressing strong pain, but his white shirt was full of blood around the nipple area. What a poor guy! Why did he do this? He must have known! I hope his recovery is going well. But most of the people were looking okay and ready to achieve this great goal. The crowds were getting denser and the atmosphere was more exciting as we ran towards the city center, back to where we came from this morning. Just a few more steps and we were greeted by these guys: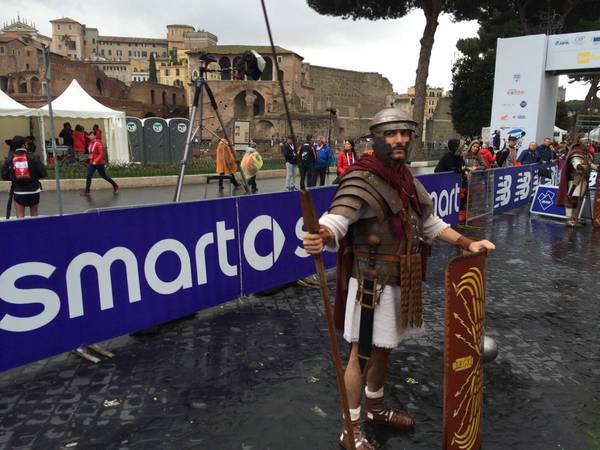 Nice idea! I really like how all the countries show their funny and historic sides during their capital marathons. I also really liked this marathon race itself. It was not very hard, really flat, and the weather had next to no effect at all on me. This is what I looked like right afterwards: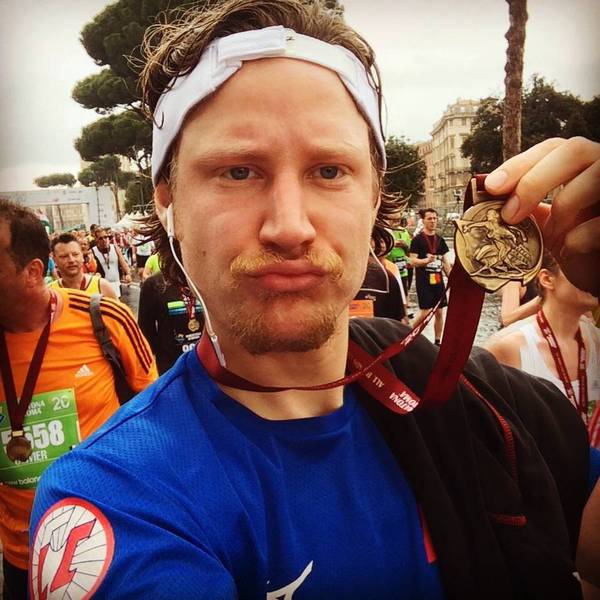 Another finish! 4:18:55, a solid time. 9 out of 28 marathons are done. Quite proud of it. I wonder how my finishing photo will look like at the last marathon. By the way, I plan on running Brussels last, because it's the capital of the EU. I also plan on running Brussels together with Sophie, carrying our kids (how ever many they may be at that point) in some cool device that I still have to build. Sophie knows this and is a bit skeptical of it. If you see her, tell her it will be no problem!
No problem, like getting home now: it almost took as much time as the run! First of all, meeting Sophie in the crowds took some time, although we both sent each other our current GPS locations from time to time. She walked here from that place at the tunnel where I last saw her. People were rude to her and never really helpful when she was looking for helping hands to carry the buggy up some subway stairs for example. She was a bit annoyed by the behavior of the Romans and their presumedly important family-values. They were barely noticing her giant buggy and not even getting out of the way a lot of the time. I hope this is not usually the case with Romans. The Italian people I've met so far were not at all like this. It must have been the exciting day with all the people trying to race thru the city and find their friends during this event. When we finally met we were really happy, though. Julie had had a bit of a nap and was happy, and Vera has been sleeping for almost the entire day so far. What more could Sophie have asked for, this was perfect. Then it started raining very much again and we cowered under the umbrella that Sophie wisely brought, me shivering from the cold, walking towards the nearest bus. A bus that didn't run today, as we found out. At the next big intersection we tried to get a cab, but a friendly woman saw us and told us they were never going to take us with them because you had to order them. So we got to the next metro station, all the time in the rain. Julie singing. Carrying a buggy with two kids down the metro stairs after having run a marathon is not the easiest task, but we managed. Two train rides and a lot of waiting later we finally reached the flat and almost immediately collapsed on the bed – in our dreams, because we have two kids. Collapsing on the bed isn't an option when they want to play. So that's what we did. A nice cuddly afternoon spent in the bath tub and the bed reading children's books, eating and laughing is not bad at all. Then at 8:00 PM, when the kids went to sleep, Sophie and me gladly went to sleep, too. What a day! Exhausting, but great. Life is good.
The next day basically just consisted of the journey back home. Everything went according to plan and we arrived safely and also strangely rested. However that came to happen! I can't wait for our planned weekend in Vienna in three weeks, and I also just signed up for two more marathons this year: Helsinki and Warsaw. Marathons are fun.
Okay people, thank you very much for reading this, I always really enjoy when you come up to me and tell me that you read my reports! And if you were one of the nice people that cheered on Runtastic: you are awesome! You don't know how much this helps if you haven't tried it yourself! So thanks again for that. And see you next time, hopefully!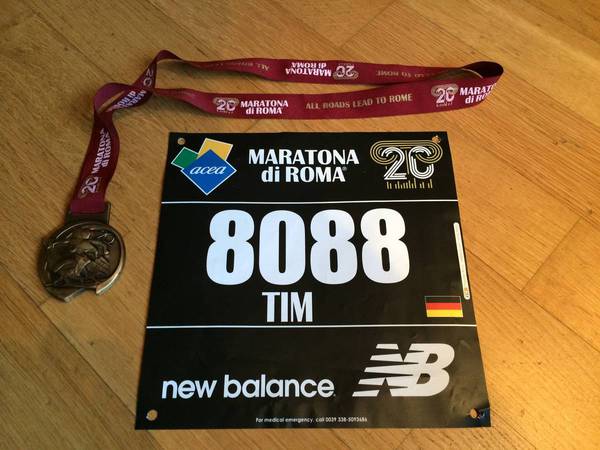 Certificate