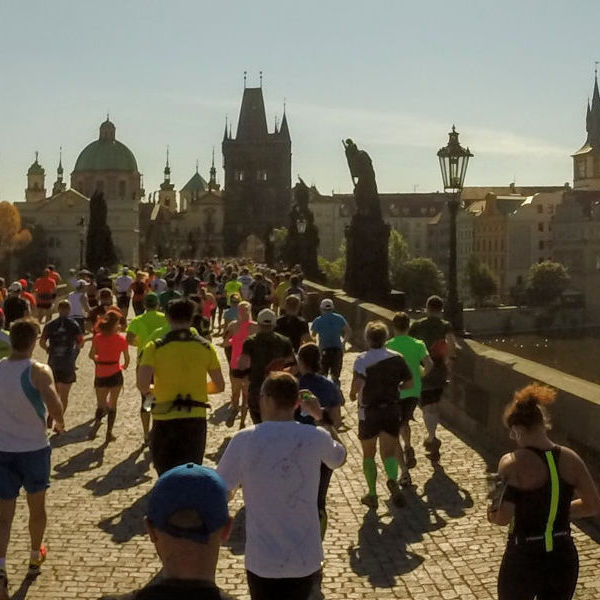 Prague
8th of May, 2016
Beer. Kafka. Thirty Years' War. Bohemia. Mozart. Castles. Smetana. Monarchies. Gothic. Kepler. Jews. Absinth. Dvořák. Einstein. Zátopek.
Now that we got this out of the way, let's get on with the race! Just kidding. I really admire this city and its rich culture of more than a thousand years. It's been situated in the Duchy of Bohemia, the Kingdom of Bohemia (being part of the Holy Roman Empire, Austrian Empire, and Austro-Hungarian Empire), Czechoslovakia, the Protectorate of Bohemia and Moravia, the Czech Socialist Republic, and finally the Czech Republic since 1993.
It's not huge with about 10 million citizens, but doing pretty well on a number of other things. Prague especially is very popular with international tourists, and the low cost despite a high standard of living makes it a beloved city to relocate to, as well.
Prague has been featured in many movies, music videos, songs, you name it. There's some kind of association existing in almost every persons head when hearing the city's name. "Haven't you already run in Prague?" is a question I often got when answering one of the two small-talky questions I have answered a lot of times, "which marathon is next?". The other question being "when's the next kid coming?" – I guess my behavior got quite predictable over the course of the last few years!
But no, I haven't already run in Prague. Hamburg is still the only city that had me running a marathon in it more than once. That might change in the –distant– future, because I recently got this idea of slowly repeating all EU marathons I couldn't finish in less than 4 hours. It's weird, but I kind of like the idea.
For now, a standard Prague marathon is the plan. 3 weeks after the Hamburg marathon and 2 and a half weeks after our third daughter's birth, my two work partners being on vacation, there has been a lot going on recently. To top it off, I got sick the week before the race and even had to lie down in bed for a whole day on Wednesday before the marathon weekend to get better – something that hasn't happened to me in a very long time. It worried me quite a bit, because I was really looking forward to the city and the run.
At one point we were very close to calling the whole thing off.
Some consultation with a couple of physician friends and strong antibiotics saved my ass though, and me, my wife and our three kids, our au pair Egor, and my two great in-laws were on our way to Prague on Friday of the race weekend. I was on a plane with our oldest, Julie, while all the others preferred to take the train.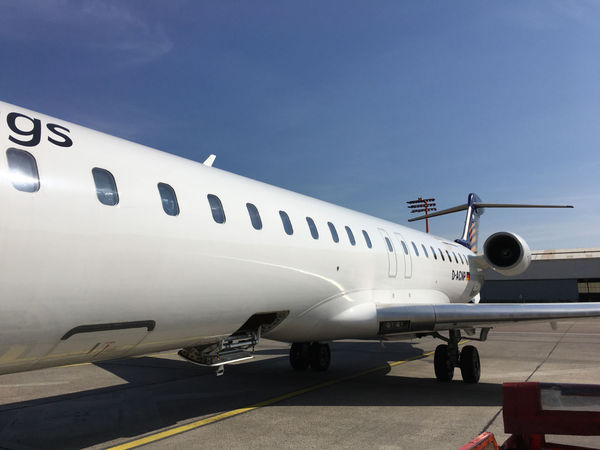 Julie and I had us a great day together. It's rare that I get to spend as much time with just her, now that we have 3 kids, so this was very special to her and me as well. Of course, if you're a little girl spending a whole day with just your dad, it also means being allowed to eat about 3 ice-creams.
We went to the marathon expo together in the afternoon. In an old and beautiful city like Prague that is held at a place like this: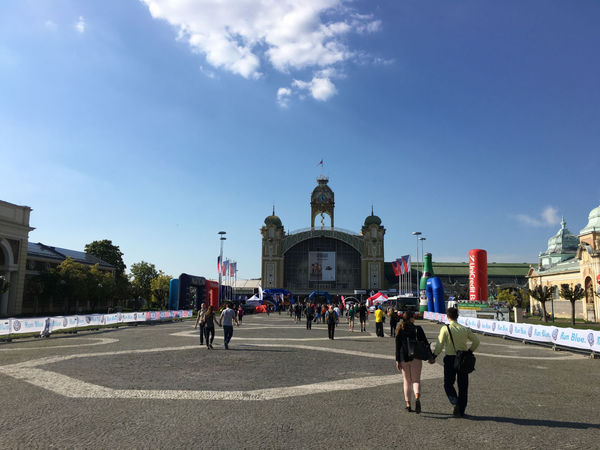 Weather was great, too, the first days of summer had just arrived. Inside the expo we quickly got the racing material and strolled around looking for nothing in particular. Julie got some free samples here and there, as well as a cool balloon to take with her.
Then we spotted the wall with all the registered runners names, a feature lots of marathons have. Compared to the huge wall in Paris this looked funny, though.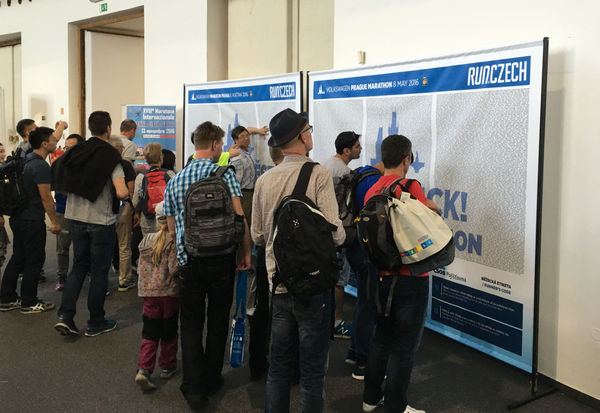 In the evening, the others all arrived and we met them at the central station to walk over to our apartment right in the center of town. Prague isn't big, which is very refreshing.
We got the whole Saturday to explore the city together, play with the kids and just enjoy it here in the sun. Good times.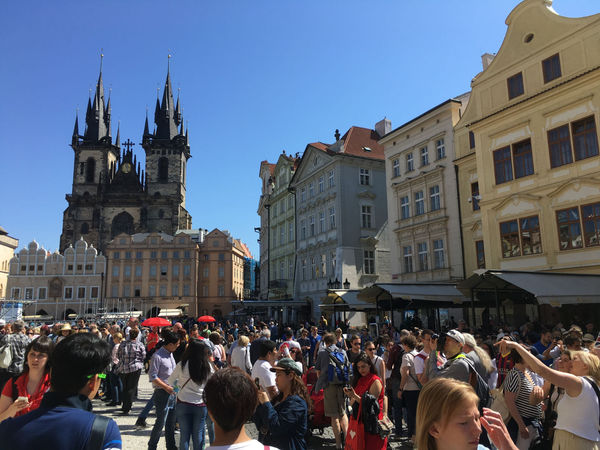 Hundreds of people were standing around a clock and taking a video of it. Turns out the clock is the oldest still operating astronomical clock in the world. From 1410.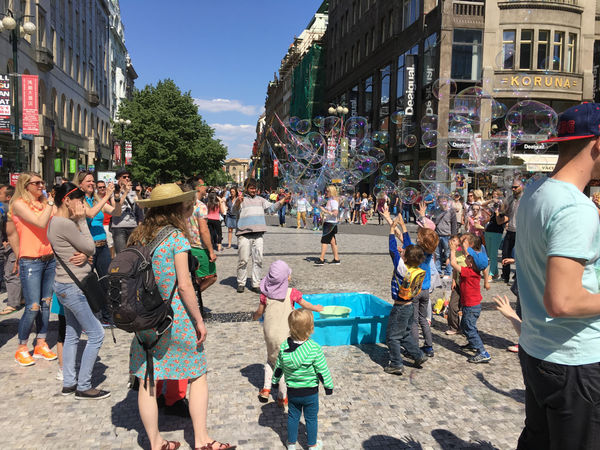 The kids were a bit tiring to handle that day, I had to carry them all a lot. Having not quite regained my strength from the sickness yet, I was once again a bit worried about the race. As always in situations like these, my plan of choice is to plainly try and see how it goes. Getting enough sleep and having a large muesli breakfast laid a good foundation for that.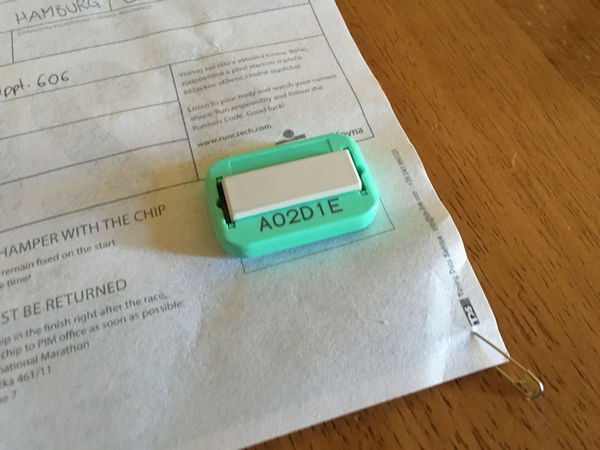 At 8 in the morning it wasn't too warm yet, so I opted for a sweater and planned to stash it at the tent service. But stepping out of the apartment I realized these tents were located roughly 50 meters away. So I wore a sweater for roughly 50 meters.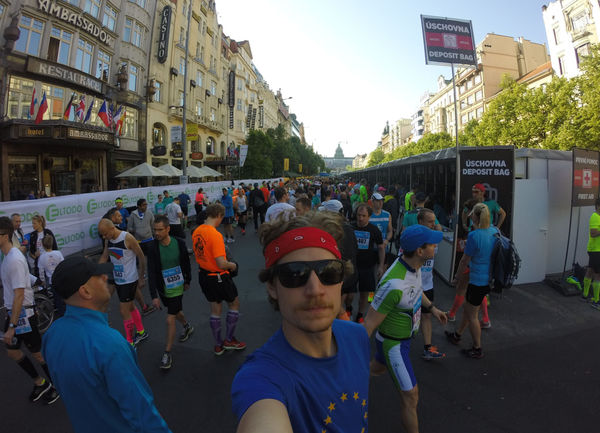 The walk towards the start of the race was a bit longer than expected, but very relaxing in the empty streets. Empty, if it hadn't been for a couple thousand quiet runners. It felt very good to arrive at Old Town Square, which was completely transformed overnight to be the marathon epicenter. Today, the plaza was location for the start, finish, parts of KM 12/13, lots of tents, a huge video screen, and some live music. Because the racing course crosses it, they had to build a bridge for the crowds to avoid a Berlin wall situation.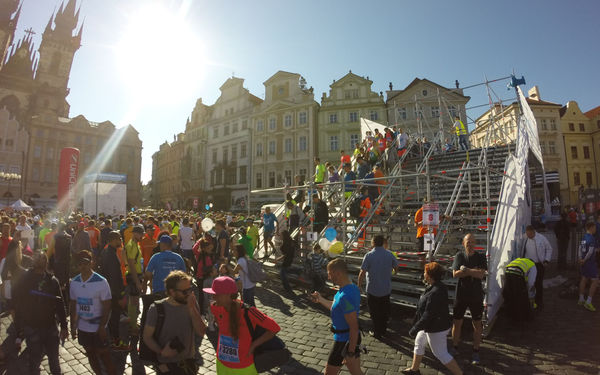 There was an MC as well, entertaining the crowd like a radio station host, mentioning lots of interesting facts about the race. Parts of it in English. I learned there were roughly 10,000 runners from about 95 different countries present. That's a good number. It is difficult to get these numbers in your head and really grasp them, I find. The difference between these 10,000 and the 22,000 in Hamburg didn't seem as vast as the plain numbers would make you think. 10,000 is quite a lot, especially for a rather small city like Prague. It's all relative, anyways.
Running a marathon while being sick. How will that feel? Probably not too great, so I was prepared to fight against all sorts of pain during the next 4 hours. Hopefully just 4 hours. I was determined to follow through with it.
To convince myself it was doable, it helped a lot that I had recently read a very inspiring book called "Ultramarathon Man" by Dean Karnazes, a crazy person who holds the current world record for longest run without sleep, which was 560 kilometers in just under 81 hours. He writes about many other insane races he completed, for example the Badwater Ultramarathon, which he finished many times and even won twice. That's "just" a 217 kilometer race, but it starts in California's Death Valley, the hottest place on earth, in July, where 45–50 degrees Celsius aren't rare, and ends near the summit of Mount Whitney at an elevation of 2,548 m. Not only are you running for an incredibly long time, but also through a desert and up a mountain during really bad conditions. And somehow, people still manage to do that. And they are also just human. Key to these kinds of tasks is, of course, the power of the mind. That's what I was planning on utilizing today, too.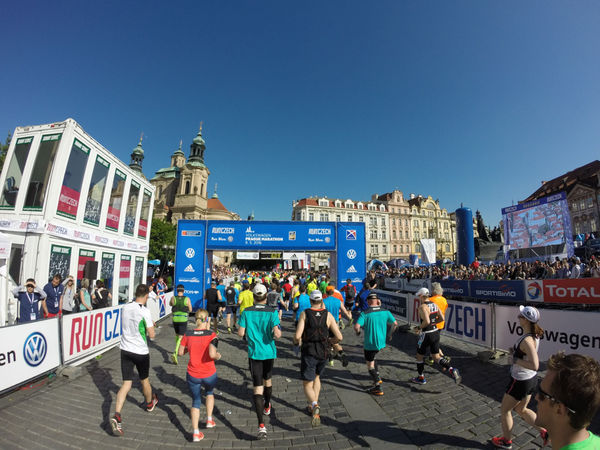 Right before the start, the official Czech national anthem was played, quickly followed by the unofficial Czech national anthem, which is Smetana's Vltava (German: Die Moldau), containing a powerful and patriotic melody, known all over the world today.
The course is oriented along the Vltava river, probably mainly because it's beautiful. The first few kilometers already contain a couple of bridge crossings. Everything is so stunning I take pictures almost all the time. The course is a loop here, so when returning we can see the very fast leading group, consisting of one or two dozen Africans, as per usual. A bit later, a huge crowd of families with many kids, everyone dressed in matching white shirts, runs towards us on the other side of the road. Some kind of family fun run, I suppose. It looked like fun.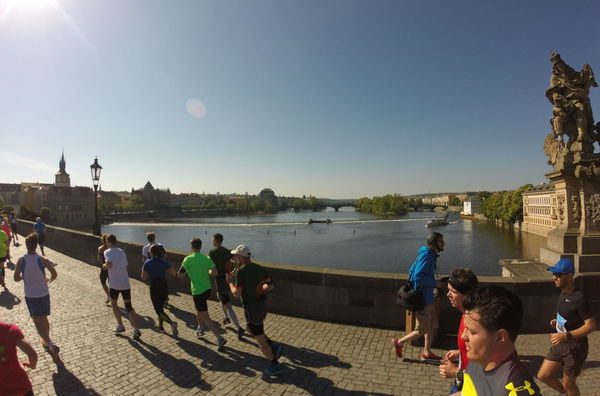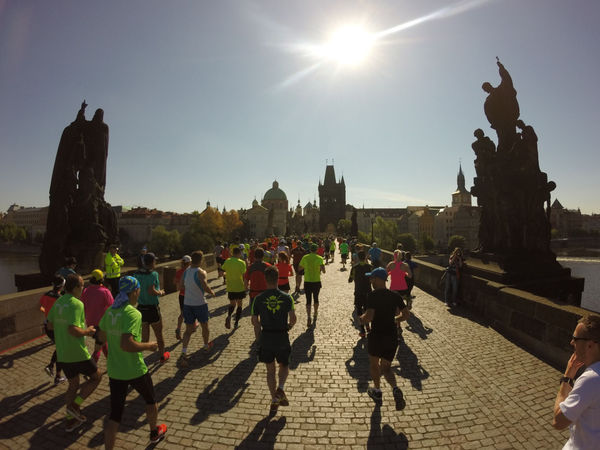 This is one of the most iconic bridges in the world, and you can see why. It's more than 600 years old, and incredibly, still standing.
I'm running very carefully, keeping a casual pace of about 5:30 min/km and making sure my pulse stays below 150. It works and I feel fine, despite the circumstances. The course is so distractingly beautiful, I barely have the chance to really think about the pain.
At KM 10 I get overtaken by the 4:00h pacemaking runners, though. I don't know what to think at first. Normally this would make me disappointed and eager to run faster, and it does a little. The question is, what strategy will win in my head, carefulness because of the pain, or ambition. At this point, I decide to be just a little bit faster and overtake the 4:00 hours guys again to stay closely in front of them for the time being. As a psychological advantage.
3 kilometers later, the family awaits me at the fences not far away from our apartment. They've all made it here, I'm very happy to see all these smiling faces! I take a bit of time to thank them all, and talk for a bit and kiss all the kids and answer their questions. During those 30 seconds, the 4 hour runners overtake me again. Oh well!
Maybe I should just let them leave and ignore it. That seems to be the reasonable option. Run the pace my body allows me to today. Be glad it's faster than ∞ min/km and enjoy the course as much as it deserves.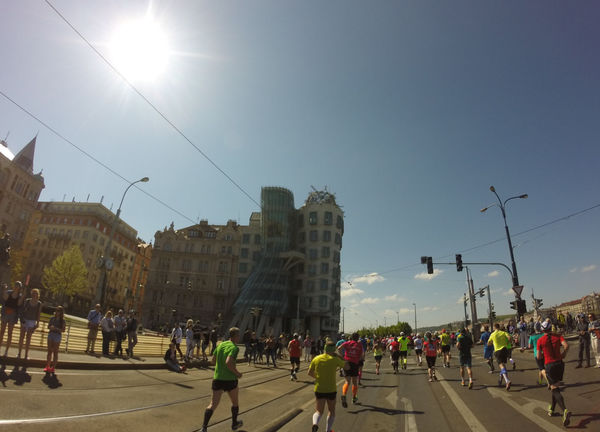 But then, somewhere between 15 and 17, I suddenly have a change of heart. Dean Karnazes survived the most gruesome conditions, and did that so many times, with just his willpower. I can fight, too!
So I increase the speed and soon pass by the 4 hour balloons again. Ah, this is better!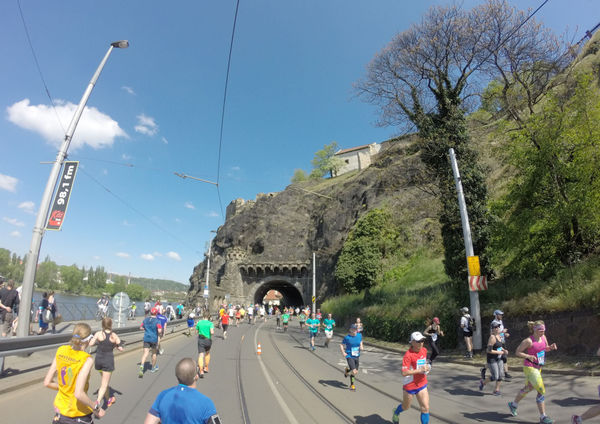 I just have to stress this: what a great city. I can very much understand why so many tourists choose Prague as a destination. As a person from Hamburg, I often compare the cities I visit with the one I know best of them all. It has some things to offer, as I (proudly) explained in my most recent blog post about the Hamburg marathon, but it really doesn't compare well to European cities like Prague, Paris, London, Berlin, or many others. "The most beautiful city in the world" is a phrase I have often heard to describe my hometown, but people who say so have clearly not seen a lot of the world. Which is fine, but what I'm advocating here is to travel more. Shifting money-spending priorities towards this is a good decision in my opinion, because after all, we all are born on this one planet and will someday die here as well: it seems logical to use the time to explore the place.
The running gets more difficult now. The increasing of my pace bumped my heart-rate up to 170 (85% of my max), which seems to be too high to maintain for the remaining 25 kilometers. I just barely manage to keep up the pace, it's quite hard on the psyche. The legs feel swollen and slow, as if I'd have to drag them behind me. Not the best day for running a marathon.
To the rescue: Honey Power! Yes, I've got a new trick up my sleeve. It's basically an eco-friendly and all natural Power Gel. As the idea of Power Gels is to give you energy in the form of easily digestible forms of sugars to avoid your glycogen savings being empty, honey is the simple base of this product. No need for artificial stuff like all the other brands include, this is raw and good for you. It also comes in 4 great flavors, one of which with coffee for the additional caffeine kick, another one with an extra amount of sodium to make sure your levels stay healthy.
I packed all 4 and was very glad I did. Having just one right now at KM 20 felt very good.
The only downside with this new product, it's next to impossible to buy. For now!
Of course eating some tasty honey with mashed fruit in it doesn't solve all the problems. But it tastes great and makes sure I don't lose my energy. Good that that's taken care of.
The weather is quite warm meanwhile, the course somewhat less interesting, unfortunately. Although we're always in close proximity to the wonderful river, it's rarely possible to see it. And the further we move away from the old city center, the less attractive the areas get. True for almost any city.
I check my GPS watch very often to make sure I don't unintentionally lose speed again, which results in me keeping a very steady pace but having to fight harder and harder to hold that up. I'm grateful everything else during this run is working very well. The water and isotonic drinks stations are perfectly organized, it's not too crowded, there are wet sponges to cool you off at every refreshment, I'm not missing anything except my fitness.
Some more Honey Power. That helps. 5 kilometers later, another one. 31, Sophie is there again! She's holding Emma, who is sleeping during her first ever marathon and looking very cute. That carried me through a lot more kilometers.
Back to the city center, the last part is a repetition of the first part, a loop through the north of the city. It's not far now, I can do this. I'm calculating a lot to see how far I might be in front of the 4 hour pacemakers, and see if I'm losing time on them or not. A couple minutes are there, but they could be used up very quickly if I would have to walk. I see a collapsed guy being taken care of by some paramedics at the side of the road. I don't ever want to end a marathon like this. I'm pretty sure though I can finish today without something like that, but on the other hand, he probably thought the same.
Honey Power, now with caffeine for the last 5 kilometers. A good boost! The crowds are good today, not many people, but in great spirit. Funny signs, smiles, music, cheers. "You're looking good, it's not far now!" – it seems so ineffective hearing this from some stranger, but it really does help to hear that.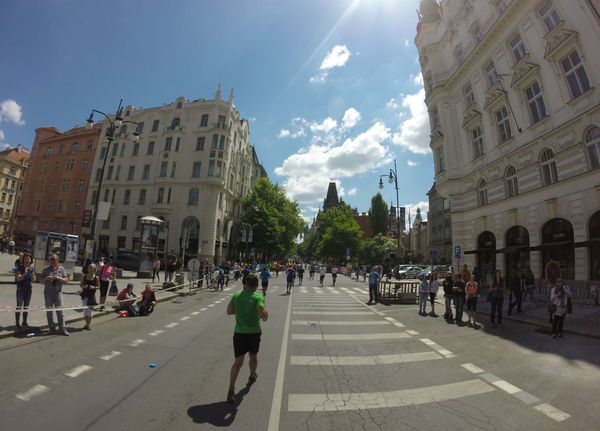 Everything works according to the plan. I can keep the pace. No balloons will overtake me again today. 40, 41, then a sign: the last 700 meters. I could walk and still make it in front of them!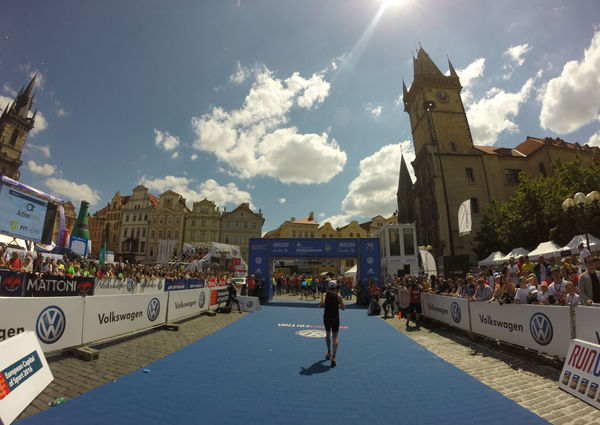 Wow, that was a fight. 3:55:33. It's weird, it felt harder than the other two races during which I struggled a lot (Athens and Helsinki), but this time I was mentally prepared and fought against it and won. I guess that's the experience I have accumulated. Running through that gate at the end always is a high, no matter what happened during the 42.195 kilometers before it. This time I was especially glad I made it through, though.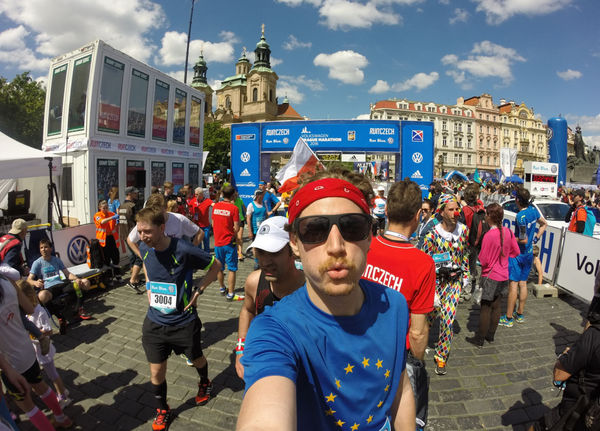 That was quite a race. You might think I'm glad it's over, but even if it was painful and a fight, I enjoyed the time. It's still nice to focus on just this one thing for a longer period of time every once in a while. I wonder how many marathons I will have done when I'm old and can't do any more.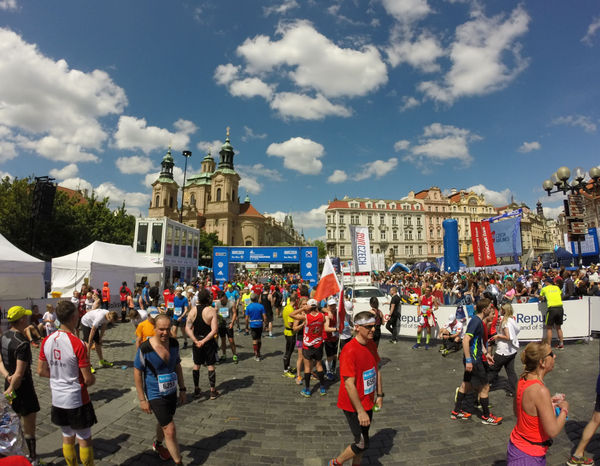 After this, I had to sit down right away to get some strength back. The finisher's goodie bag had cold water in it, that's convenient. I sprayed it over my pumping legs to cool them off. It worked. Strolling through the streets of Prague, I'm happy. I took my time, sat down a few more times until I got back to our apartment to meet all the others and face the mayhem that would commence right then. Bath with the kids, a few minutes of lying in bed and I'm almost good as new!
In the evening, after the kids fell asleep, we used one of the last chances of having our great au pair Egor with us. A week after the Prague trip, he would be leaving us to go home to Moscow. It's already been a year, his visa is expiring. So he was kind enough to watch the kids while Sophie and I walked around the city. Together with tiny Emma of course, she needs Mom around her 24/7. It was a very nice time to see the city's specialties on a warm summer's night, I won't forget that.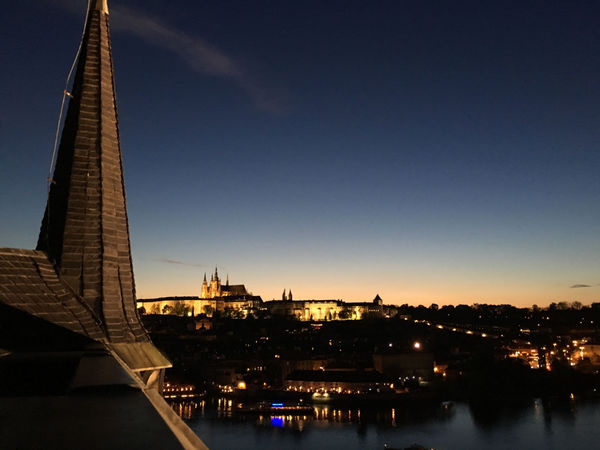 There is just one possible conclusion to arrive at from this trip. I'm going to do an ultra-marathon soon. I'm ready. Provided I have enough Honey Power with me, but I'm working on that already. Smiley face.
Thanks for your attention and all the best! It's going to be a marathon-free summer again, as most European races take place in spring and fall. But I'm doing something crazy in a few weeks, I'm attempting an open-water swim of 12 kilometers. It's a race in Cologne and I've never swum that far, so I'm probably going to blog about that. If you're interested, sign up for the newsletter below!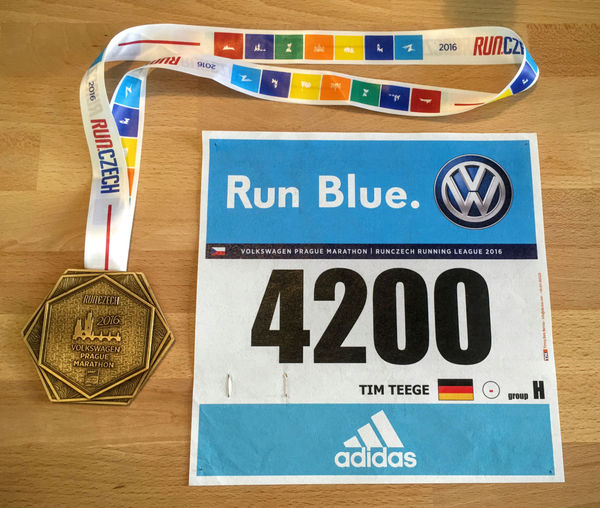 Certificate