The Hamburg Triple, Part I: The Hamburg Marathon
The Hamburg Marathon

For 2016, I am currently planning to do the "Hamburg Triple" for the first time. I don't know if that term actually exists, but if not, it does now! So, what is the Hamburg Triple? There are 2 variants, the small triple and the standard triple. I'm making these up right here.
The Small Hamburg Triple
Hamburg half-marathon
June, 21.0975 km run
Hamburg Triathlon (short distance)
July, 500 m swim, 22 km bike, 5 km run
Hamburg Cyclassics
August, 55 km bike
The Standard Hamburg Triple
Hamburg Marathon
April, 42.195 km run
Hamburg Triathlon (Olympic distance)
July, 1,500 m swim, 40 km bike, 10 km run
Hamburg Cyclassics
August, 100 km or 155 km bike
The special task is to do it all in a single year. So far, I have completed some of the half-marathons, some triathlons and one marathon in Hamburg. But I've never competed in the Cyclassics bike race, although I was registered twice, but had to drop out both times. Last year the Ironman race got in the way, so 2016 might be the right time!
I didn't originally plan to do this, because the first part, which is the Hamburg Marathon, was scheduled for 17th of April, just 2 weeks later than my Paris marathon run. But as I returned from Paris, I wanted to run again. So I got a cheap Hamburg Marathon ticket from a nice girl on eBay and was all set. No booking flights or an apartment, because I already live here. That's new!
Another thing which fueled my earlier decision skip the Triple this year, was the estimated date of arrival of our third daughter on 19th of April, just two days after the race. But before getting that cheap eBay ticket, my wife Sophie and I thought it would be okay to try. I could always just run directly to the hospital in case the little girl decided to show up early!
Thus, the Hamburg Marathon stood on a wobbly foundation and could very well not happen for me. That's not a problem at all, I view it as a nice bonus race. So I did my usual very small amount of training between the Paris and Hamburg races. Basically just one fast triple Alster lap, which is about 22 kilometers in total.
And as the days went by and the race got closer, it got more and more exciting: will I run or will I be getting another daughter on Sunday? But it looked like running. The little one didn't feel ready yet, I guess. So I woke up early, had lots of muesli and got into the train towards Congress Center Hamburg, where start and finish are situated.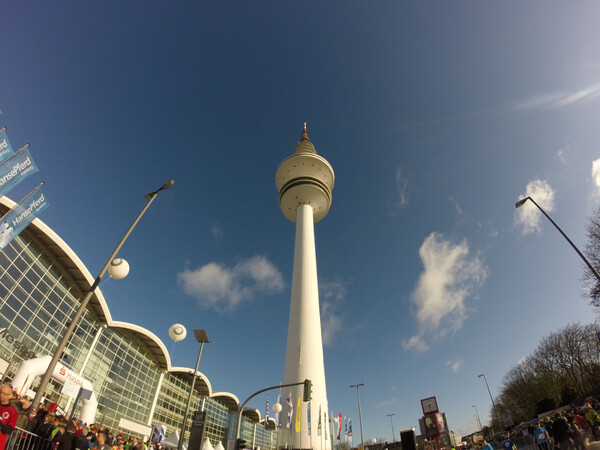 That Hamburg-born, name-giving guy Heinrich Hertz is responsible for your device's Mega or Gigahertz, by the way. Yes, there is some international relevance to this little town in the north of Germany! But not much.
We're really not known for great weather here, but today was a very welcome exception. Blue skies, 10 to 15 degrees Celsius, very little wind, no rain. Perfect for running.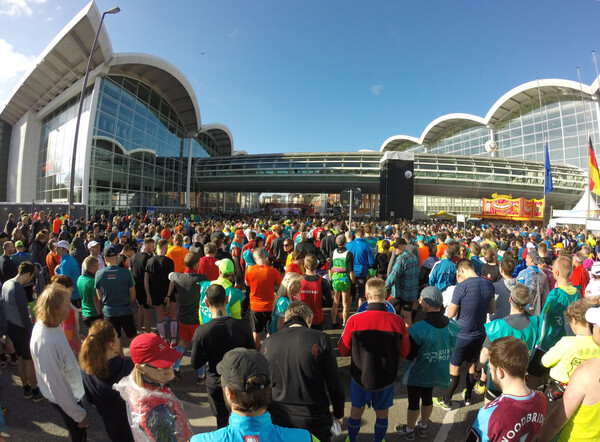 Today the place became a sporting event. 16,000 registered full marathon runners, 6,000 additional marathon relay runners. Quite a big number. The organization was flawless, I can say that with a bit of experience. But a big negative point was there as well. 90 percent of everything was German-only. The announcer even said that we have runners from an astounding 85 different countries here today, but did so in German. All the huge signs everywhere had very little English translations on them, if any. This has got to improve.
Afterwards, our senator of interior and sports, Andy Grote, said a few (German) words and the sponsors and the MC did so as well. Then the clock suddenly showed 9 AM and another race was started. It's nice to be running again in Hamburg, 6 years after my first ever marathon right here in 2010. I'm really looking forward to see all the very familiar places in a marathon context today.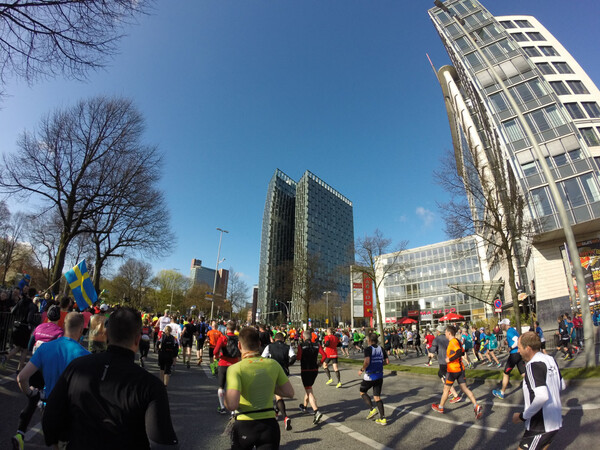 We've got huge broad streets here for all the runners. There's a lot of space, which is nice. Not many spectators are on the pavements, but some showed up this early Sunday. It's a good atmosphere. A couple turns later we run down the whole Reeperbahn, probably the only Hamburg street which is known outside of Hamburg. Some people outside of Germany have even heard of it. Why? After Amsterdam's, it's probably Europe's biggest red-light district. Shady dance clubs, lots of good bars, more than enough little restaurants, and many strip clubs, sex shops, and the like.
If tourists visit our city, a stroll along this "Sinful Mile" is a must. Also, it's where British rock band The Beatles got famous. They'd had a 3.5-month long residency gig in 1960 at a run-down club on Reeperbahn, and that is considered to have set off their success in mainland Europe.
"I might have been born in Liverpool – but I grew up in Hamburg". – John Lennon
They were very young at the time, discovering sex, drugs, and the obligatory rock and roll.
"Hamburg totally wrecked us. I remember getting home to England and my dad thought I was half-dead. I looked like a skeleton, I hadn't noticed the change, I'd been having such a ball!" – Paul McCartney
Today, the band is commemorated with a vinyl record shaped plaza at the corner of Reeperbahn and Große Freiheit (great freedom), including metal outline statues of the five Beatles. Stuart Sutcliffe was the fifth member of the band during those days, until he decided to stay in Hamburg for a girl he met here, but then tragically died a year later from a brain hemorrhage, aged 21. Poor guy, this "Fifth Beatle".
We run along the plaza at about 2 kilometers in, I'm rolling pretty well. There's a little uphill section following this, but it's easy. A little later we pass by Altona Rathaus (townhall of Altona, the district of Hamburg we live in), which is where I married Sophie almost 4 years ago.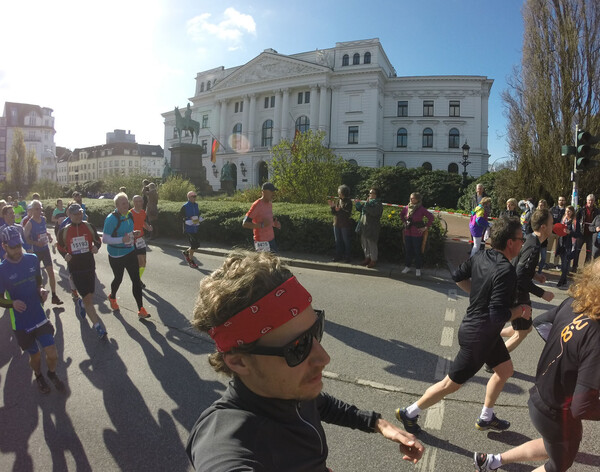 Still perfect weather. I run at a relaxed pace, because I want to save up some energy in case I need to make a turn and run directly to the hospital to be there for the birth of my third daughter. But so far, no phone call. Sophie is doing fine, it seems. A few minutes later, the course leads right into our neighborhood, called Othmarschen. Just a few hundred meters from our house, Sophie and the girls met one of our daughter Julie's little friends, Linda, and her parents, to wait for me and cheer a bit. And there they are!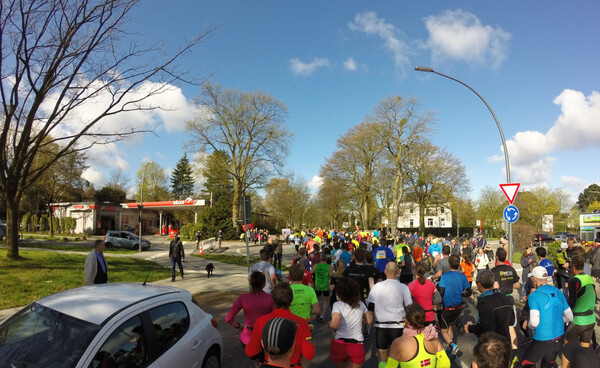 Sophie is still standing and smiling, despite the huge belly. And surprisingly she quickly tells me they are planning to meet me again later today at KM 25, which is a rather long train ride from here. I'm happy about that, but not sure if it isn't too much for her, given the circumstances. But if there's one thing I know, it's that it's very hard to convince my wife to do less and relax more. Possible, but difficult. Definitely not doable during a 20 second conversation while running a marathon, that's for sure. So I just accept her decision, and half-happily, half-worried look forward to 25. The place will be a bit closer to our hospital, so that's a plus.
Two left turns, and we're running back towards the city center, on one of Hamburg's most beautiful streets, Elbchaussee, leading right along our river Elbe. There are incredibly beautiful mansions, and you can see the port of Hamburg, the original source of the city's wealth, from here. Everything is green and the sun is still shining, so this is like a walk in a beautiful park. I hear the crowds mumbling in awe and disgust about someone apparently running barefoot, so I wonder if I can overtake that person soon to see for myself. After my experiment with barefoot running in Paris, my interest has grown even more. The person must be close in front of me. Then I see him: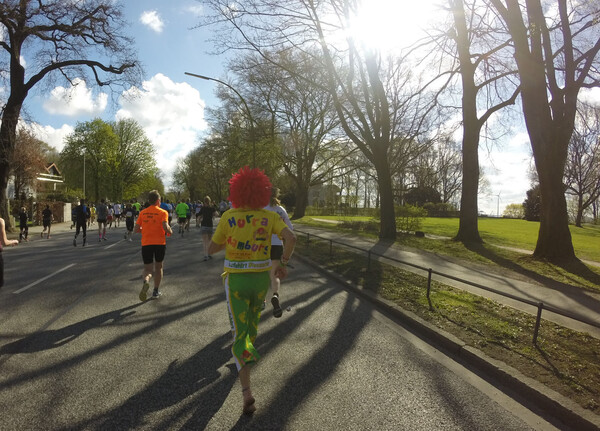 He is raising money for charity this way, which is always respectable. If you can speak German, take a look at his website, his name is Dietmar Mücke.
More than 100 barefoot marathons and lots of barefoot ultra-marathons as well, that's impressive!
He is talking to many runners during the race and is still very fast. I don't manage to pass him by, although (or because?) I'm wearing quite good shoes and he isn't. Maybe he is going to slow down later and I can talk to him.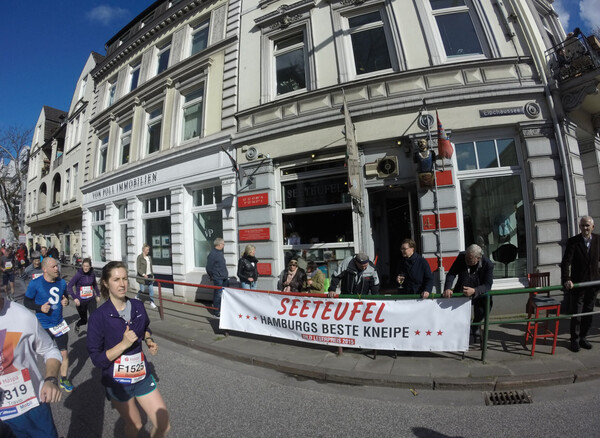 The buildings are very beautiful and old in this area. Roughly 10 kilometers are done by now. The supplies at the refreshment stations are very helpful, and half-way environmentally conscious, too. No plastic bottles, but plastic cups. They also offer electrolyte drinks in paper cups. Freshly rehydrated we continue down Elbchaussee!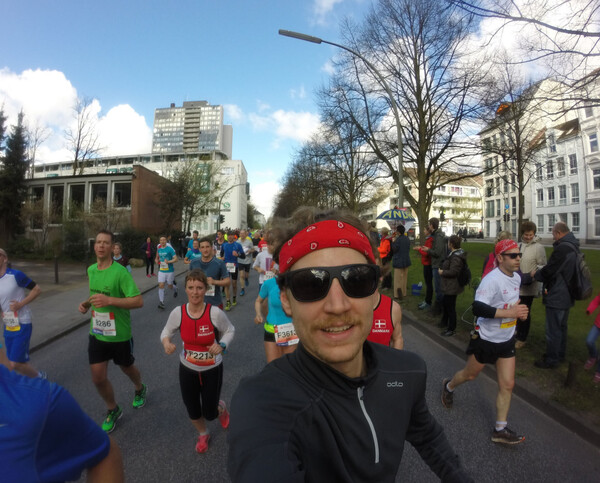 And then, next to Alter Elbtunnel (old Elbe tunnel), I see Pumuckl again. He has met another runner I know: Michel Descombes! I met him and chatted with him right before the Luxembourg marathon in 2013, he is another one of these charity runners. Always dressed as a stereotypical Frenchman, holding a (fake) baguette, he loves everyone and is always smiling or laughing. Great personality.
Dietmar Mücke (Pumuckl guy) even has a section on his website devoted to Frenchman Michel, featuring lots of pictures where both are hugging enthusiastically. This is both very cute and also beautiful. Our world needs more love.
Now we're down on the same level as the Elbe river is, closer to the city center, and the new gentrified part of town, HafenCity.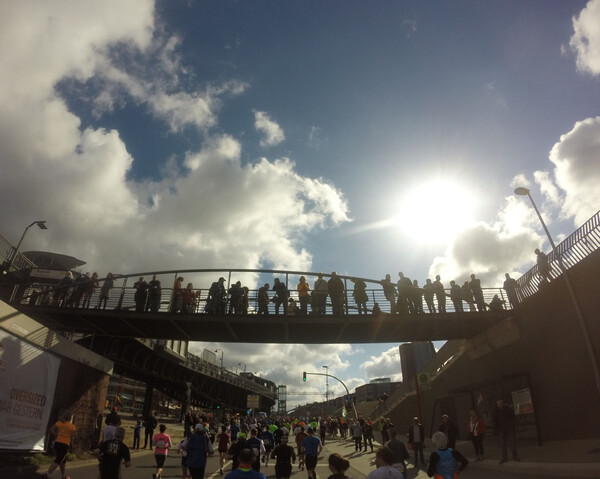 This is the city of bridges, with about 2,500 of them. That's the most bridges in a European city, even more than Venice or Amsterdam. We need less walls and more bridges, am I right?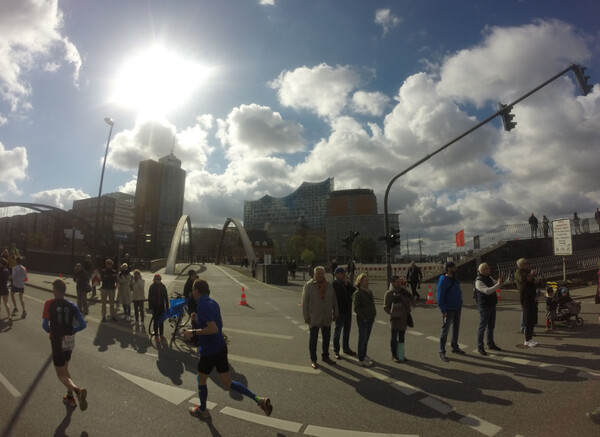 That building cost about 3 times as much as the contract said in the beginning (€241 million compared to €789 million), and took 6 years longer to complete than previously thought. Therefore, just saying the name Elbphilharmonie to another Hamburger results at least in some disappointed frowns, but often also in a bit of anger at the local government.
Putting all of the negative emotions and problems aside, it will be a world-class concert hall with one of the best acoustics to be found anywhere. I'm looking forward to seeing a concert in there in early 2017, when it's going to be opened.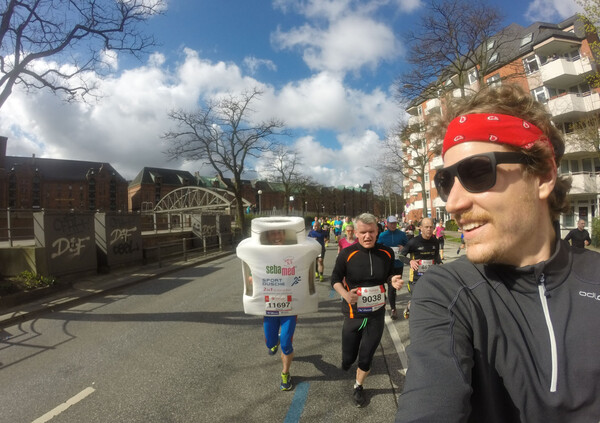 I always wanted to do a marathon in a costume. Some day I probably will, but I'm not yet sure which costume it will be. It would be good if it had some charitable benefits to it and wouldn't just be paid for by a random sponsoring company. Do you have any suggestions? Tweet to @Teesche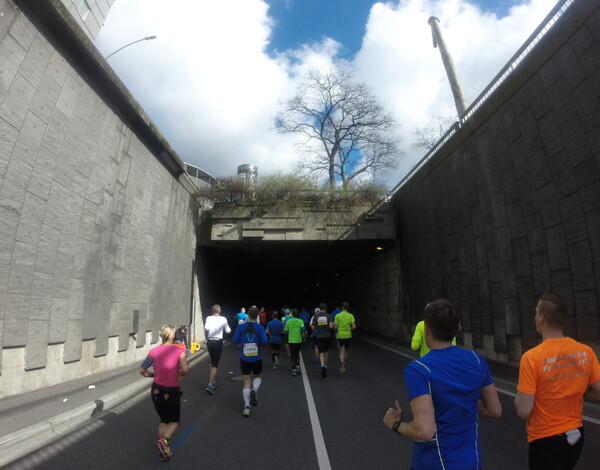 As you might be aware, I like a good tunnel during a marathon. The Paris marathon's tunnel two weeks ago was especially nice, with relaxing music playing and soothing imagery put up on the walls. This tunnel, Wallringtunnel, also didn't disappoint. But it was the other extreme, harsh red lights and the Rocky song "Eye of the Tiger" was playing, while most runners screamed and applauded in a motivational way, because the spectators weren't able to see us inside the tunnel. Funny!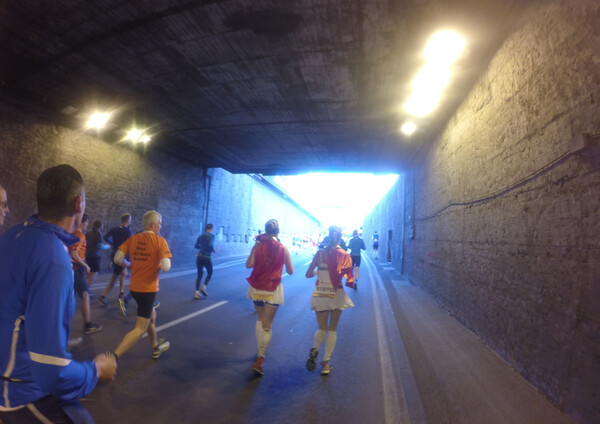 550 meters later and we're out. Those 2 amazons guide the way.
Almost immediately afterwards, us runners are greeted by the beautiful central lake-like river, the Alster.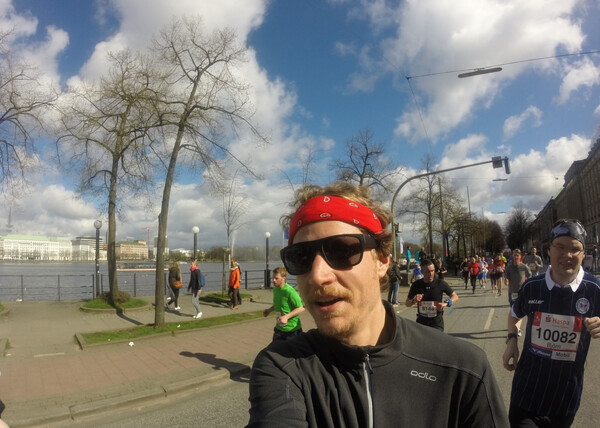 There are two Alster lakes, the smaller of them is to be circumnavigated completely. That's about 1.5 kilometers.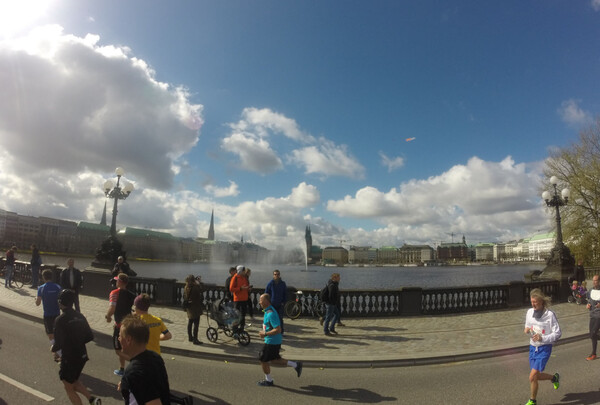 After crossing one of the 2 bridges dividing the small and the great Außenalster (outer Alster), there are a few kilometers to be run right next to the latter.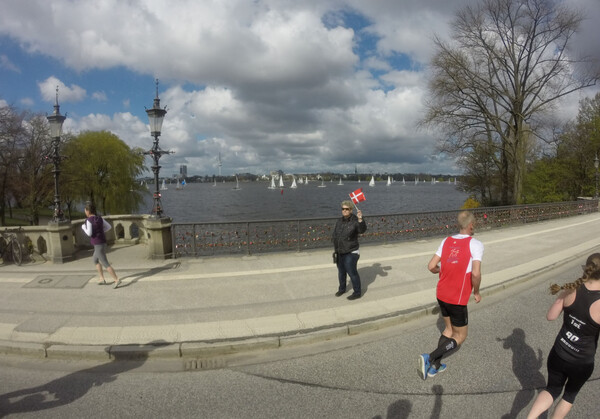 Traditionally, at Hamburg marathon, the nationality with most participants after Germany is the conveniently located Denmark. And they can always be counted on to show that!
The half-marathon spot is soon reached, and we go to the north of the city. Along the Stadtpark, Hamburg's biggest park, always following the blue line.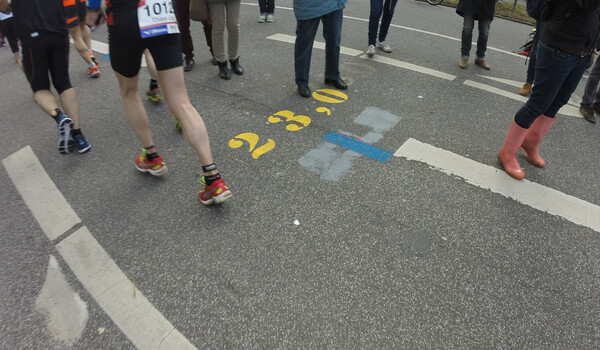 Something new, after 23 kilometers: food and drinks are offered to the runners by normal people who just decided it would be nice to hand out some nutrition! They even went through the hassle of putting up tents and preparing a few things. That is exceptional and I loved the effort, although somewhat unnecessary, because the food and drinks provided by the official organization was flawless.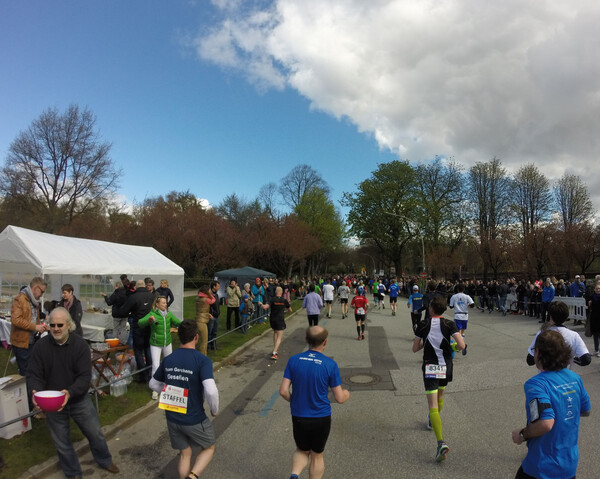 At 25, and there's the train station I was looking forward to: Alte Wöhr – Sophie and the kids went there, together with helping au pair Egor, to see and support me once again. Our third daughter is still not ready to be born just yet. I had my Runtastic live tracking activated for a change, to make it very easy for them not to miss me. And it worked! Many kisses later, I ran on with a smile that lasted for a long time.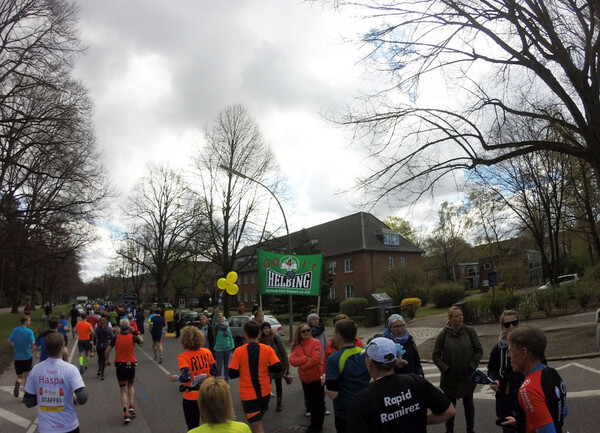 This 175 years old traditional Hamburg schnaps brand is very special to old and young Hamburgers alike. And I'm quite proud to say that I developed the current website of it with the company that I founded and run with my two partners. Seeing this logo always feels like home in a way.
Now follows the only boring 5 kilometers of the race course. Going up north to Ohlsdorf is just added to get to 42.2 kilometers in the end, I guess. The streets are not as beautiful anymore, there are tinier crowds up here, but the weather is still perfect and my remaining energy is also on a healthy level.
At about 30, we turn south again and it slowly gets nicer and nicer. The Eppendorf part of the course is usually fullest with spectators, maybe because it's a very lively neighborhood. There's a Red Bull tent at 36, giving out the drink to runners. I have one, I like the taste.
Further south, we touch the western part of the bigger Außenalster and I can see a pacemaking runner a few hundred meters in front of me: it's the 3:45h guy! I just now realized I'm quite fast. This awakens my ambition and I presume now would be the time to use up the remaining energy. So I run faster and soon overtake the guy. I remembered this pacemaker to be a blond girl I had seen at the start of the race, but this one was a dark haired guy. Where is the girl?
Getting back to the center of Hamburg, the crowds get bigger and bigger. There is more music playing, more screaming names, more everything.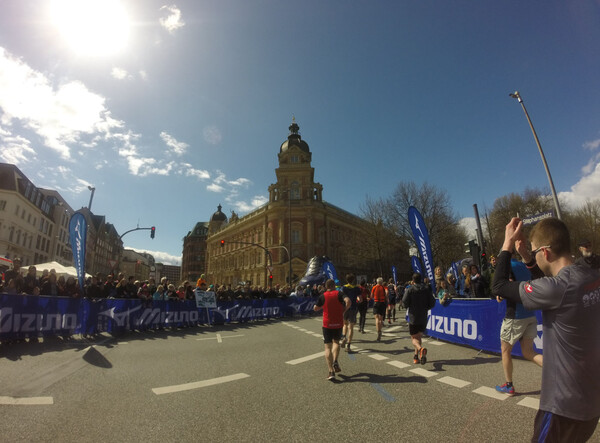 39, 40, 41, it flows. No pain anywhere, nothing to complain about anyways.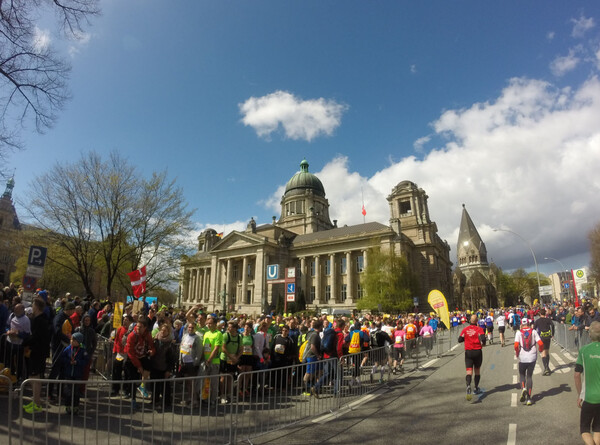 To the left you can see the relay racers. This is the place where the last of the 4 relay runners meets their 3 buddies so they can all triumphantly cross the finish-line together.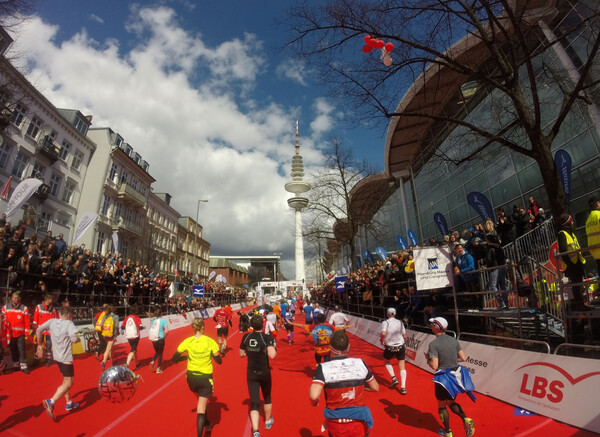 And then, I reach the final stretch. Mister Hertz' tower is still there as well. And a blond girl pulling a 3:45h pacemaker balloon! She is fast, I would need to step it up if I wanted to overtake her before the finish-line. I'm not sure if I can do it, most of the energy is gone. But I give it my best shot, and…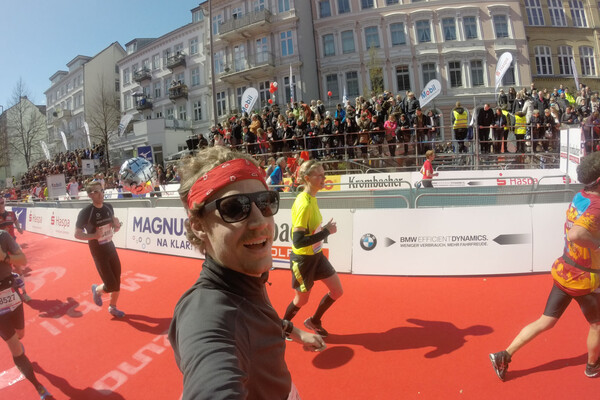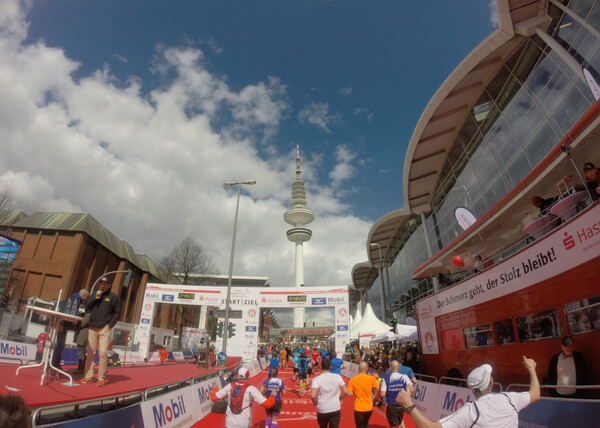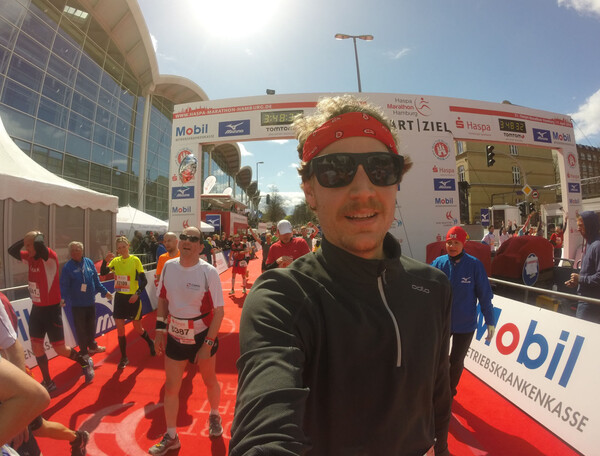 That was a nice run. Right then I receive an automatic text message from a sender named "Hamburg", giving me my finishing time: 3:42:59. Quite good, just about 2 minutes slower than my personal best! I didn't expect to be that fast, it must have been a good day – or just the home advantage.
We are diverted to go right into the huge Congress Center halls, where one of the main sponsors, a supermarket chain, provided us with food and drink of a big variety.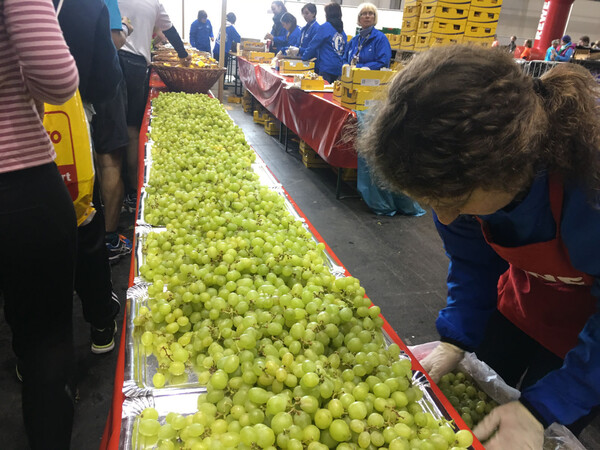 You can replenish some of the ~3,500 burnt calories right there.
Then I take a look at the medal they gave me. It's a little surprise, because it's shaped like this: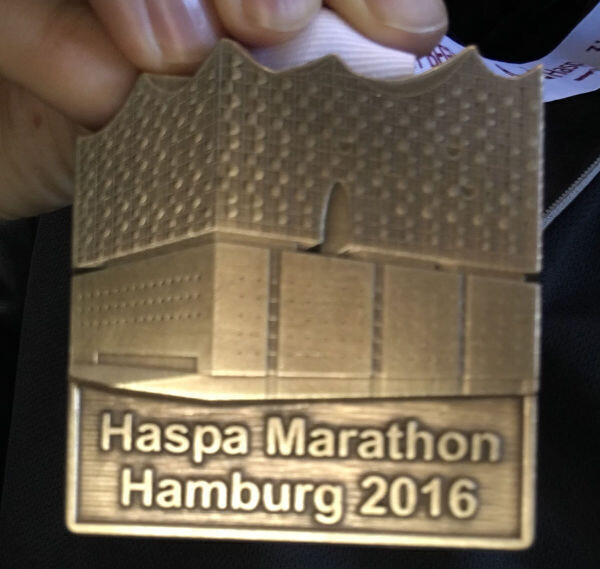 Remember, the controversial and very expensive building which makes Hamburger frown or get angry. I think this is a nice effort to make us citizens reconcile with the city's management, but you can also easily think it's a bit hypocritical to do so. I'm sure time will make a huge difference in this instance, and eventually we'll forget the bad things and enjoy it for what it is. Almost like with a marathon race, but not this one, because there hardly was anything bad at all. And yes, I'm prejudiced towards this city. Smiley face.
Thanks for reading! If you enjoyed this, why not sign up for the newsletter underneath – it's easier not to miss any new posts that way.
And 3 days later, we finally got our third daughter. Her name is Emma and everyone is healthy and happy. Her first marathon trip with us will happen 3 weeks after this, when we'll go to Prague. See you then!
How do you feel after reading this?
This helps me assess the quality of my writing and improve it.