Marathons for the Mind w/ Peter Thompson
Tuesday Marathon Running for a Good Cause
It's becoming more and more clear to me: marathons bring people together. And they can actually help! Today I'll tell you how this one guy from Bournemouth, UK, got on a truly epic journey to make both of that happen.
Some time ago I was contacted by another EU marathon runner, Mike Harley from Bristol. We've been writing back and forth ever since and I admire his fundraising effort as he's on a similar path to me, which is running a marathon in every EU country. Mike recently mentioned me in a tweet, along with another crazy bloke from the UK, Peter Thompson. What's that guy doing?
It's easy to find out: www.marathonsforthemind.com
The short summary goes like this:
44 marathons across 44 European countries in 44 consecutive days
Yes, it's that crazy. He's doing that to raise funds for two mental health charities named Livability Holten Lee and MIND. He's also working in that field. Amazing guy. Incredible runner, too, as you might imagine.
Needless to say I was browsing his website and when I saw the planning of his route to get through the 44 countries included Hamburg as #39 (where I live) and he hadn't yet reached it, it was clear to me.
There's no way I'm getting around running his Hamburg marathon with him.
So I contacted him on Twitter and he got back in touch. It was a date.
Tuesday, the 9th of May, 2017. 7:00 AM. Ibis Hotel Alster Centrum
I got into the lobby, and a few minutes later a guy entered it from around a corner. Legs wide apart, stiff, bandaged knee, walking slowly and a bit hunched. Physically looking like a man with 38 marathons on 38 consecutive days in his body. But having a big smile on his face.
Mind over Matter
We've had a little chat and I was immediately shooting all kinds of questions at him. It's just so interesting to me, how he made all of this work! I'll share a few of his "secrets" down below.
But first, I met his buddy Noel, who is accompanying him on the last 7 days through Amsterdam, Hamburg, Copenhagen, Gotenburg, Oslo, Reykjavik, and Dublin. Though not running the complete marathon every day, but rather going on a separate challenge raising money for the same cause: doing 100 miles (161km) in 7 countries on 7 consecutive days. Also, Noel had invited a friend from back in Bristol, Andy, who had relocated to Hamburg to work at Airbus in our city. So, 4 runners we were.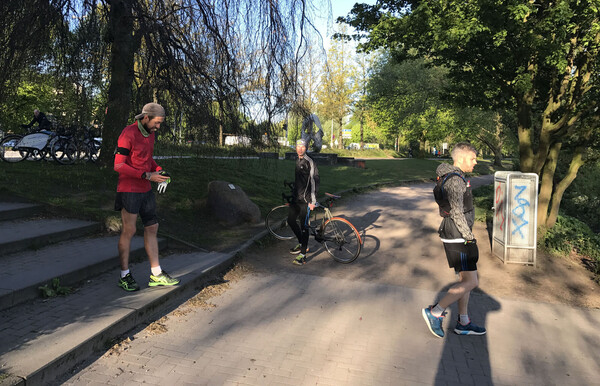 Some selfies, social media updates for all the people who sponsored the challenge, and then, at 7:16 AM, we went off to run a marathon!
For this year of 2017, that's my third complete marathon in Hamburg. Oddly enough, on a Tuesday morning.
Peter and I immediately hit it off, because obviously we share some of the same interests. Exploring the world, promoting the EU, and running. We've had many similar experiences so far. And I just admired him for doing this challenge just to help others. What an honest and gold-hearted person you must be if you put yourself through a challenge like that just to get enough attention to convert into money for people who are worse off than you. It's beautiful.
But onto the Details
As you might imagine, running a marathon every day and also traveling to a new country every day, requires first of all, lots of careful planning, and second, quite a bit of luck. Imagine having to get from Sarajevo to Zagreb with a few buses at night which then just don't show up. Or landing in Saint Petersburg to start off the journey only to find out the luggage containing your running gear hasn't arrived and is nowhere to be found for now.
What a nightmare! Both those things happened to Peter and he was able to solve the situations with effort and luck as well. For 38 consecutive days, so far.
He's been planning for several months, having a Plan B for every journey to make sure nothing can go wrong – in case things go wrong.
What Did Peter Do So Far?
He's endured the heat of Malta and Greece, the snow and rain of Slovakia and Amsterdam, the politically charged situation in Russia, Belarus, and Ukraine, the difficult public transport situation in some of the former Yugoslavian countries, the hills and stairs in Luxembourg, the masses of runners at the official London Marathon, but most of all, the pain and physical struggle of so many more runs.
But, he has completed them all. All 38 marathons thus far. 42.2 kilometers in each and every one. Regardless of the circumstances. Talk about determination.
What Was Hamburg Like?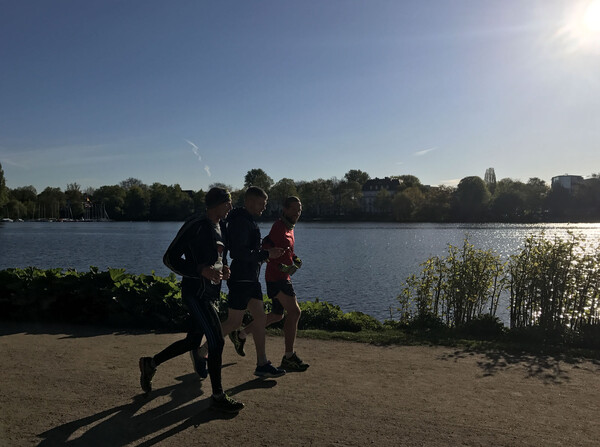 Contrary to the weeks of rain leading up to today, we've had blissful sunshine for the whole time. Around 10 degrees of temperature and next to no wind at all completed the perfect marathon running weather situation.
Noel and Peter had planned to run Alster laps until the marathon distance would be achieved. Smart thing to do, as it makes it easy to have enough food and drink with you when Noel and Andy would stop running. They could just meet us at every of the 7.4 kilometer laps. But because of these weather circumstances, Noel and Andy decided to run a lot more than they had initially planned to do.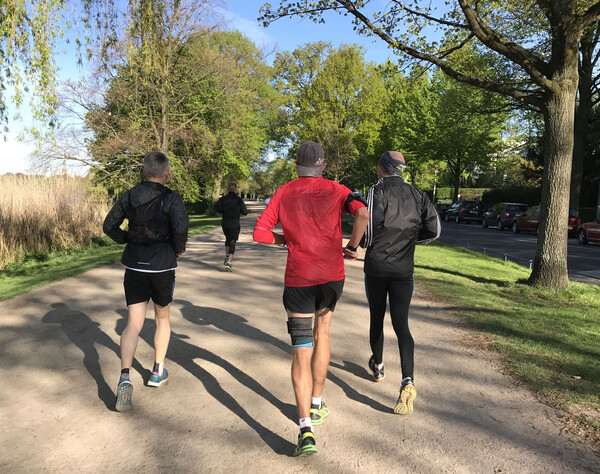 The run itself was rather uneventful because of the repeating easy route. By talking for the whole time and keeping Peter's preferred rather easy pace of around 6:00 minutes per kilometer, the kilometers seemed to fly by. After 2 laps, Andy and Noel decided to pause for one lap.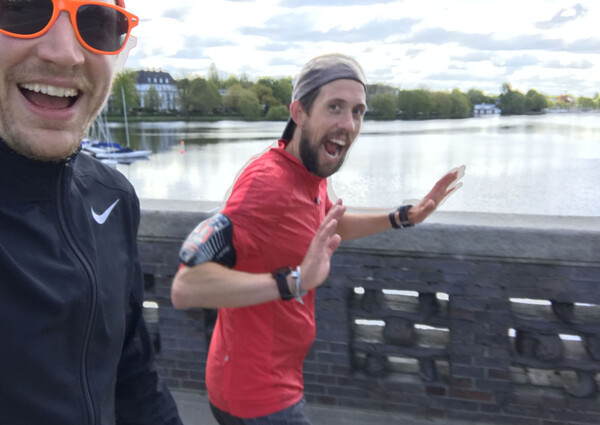 To start off lap 4, the other two were back again and stayed with us for the rest of the marathon. Noel had his bluetooth speaker attached to his backpack, so we (and many other distrusting Hamburgers) got to enjoy some fun disco tunes along the second half. Awesome!
The two public water fountains on the route around the Alster provided us with some hydration, and some HoneyPower also helped along the way, sure enough.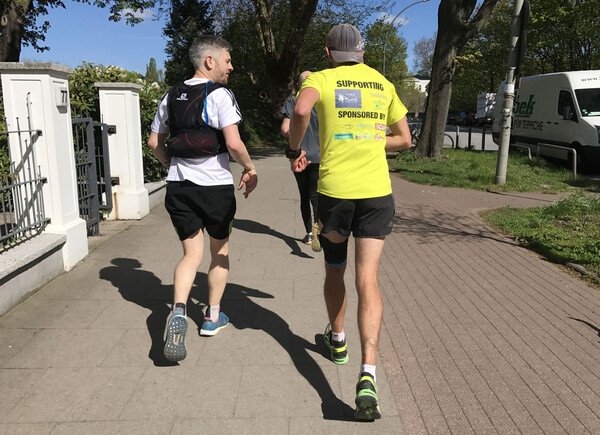 5 complete laps of 7.4km to make 37km, and then a 2.7km incomplete lap and turn around back to the start.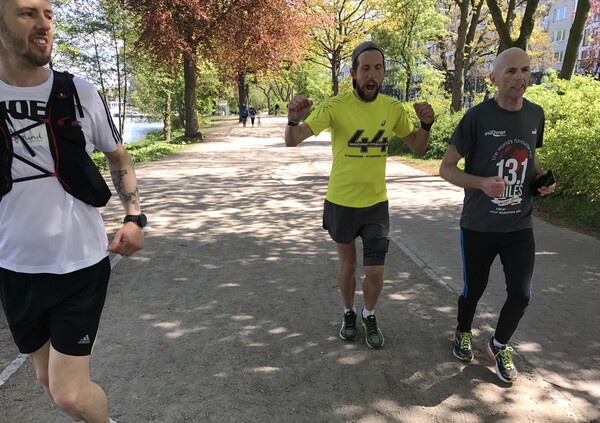 By the way, you can find all of Peter's runs as Strava activities on his Strava profile.
Peter held up perfectly. The very flat Alster course did its job well, so he was able to keep the pace for the whole time. Number 39 became history just like that. And suddenly, Peter has just 5 marathons left to complete this epic endeavor.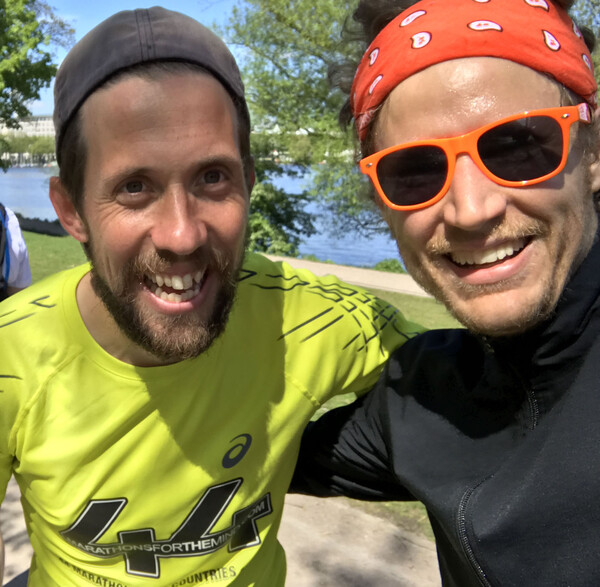 ---
Q: What's the Most Difficult Part For Him?
Probably a combination of traveling and reaching a specific new place in time, combined with the lack of sleep and nutritious food, and the lack of time for the body to regenerate.
Q: What's Peter Eating?
He says he's usually very conscious about his nutrition, as he is an ambitious runner with a personal marathon best of 2:25:31. With that kind of PB you can win marathons – and he did a few times, by the way!
But because the days are full with running, logistics, and traveling, it's never easy for Peter to get decent food. His go-to food is just sandwiches at airports or train stations. He tries to get in the necessary 6,000 calories with that kind of food. Although not perfect, it apparently somehow works for him. The human body is amazing.
Q: Did it Get Easier at Some Point?
Peter said he got into a sort of rhythm after the first week. He talked to Nathan Farrugia, a fellow crazy runner I'm in contact with, to find out some tricks. Nathan did the then 27 EU countries in 27 consecutive days, a few years ago, and he said that it's tough to make it through the first week, but afterwards will get better. Peter has had the same experience in general.
But in Andorra, #26, he has hit another low point, mainly due to sleep deprivation.
Luxembourg, #36, was also very tough on him, but he seems to be recovering from that as well.
Q: What's the Financial Side of This?
You might be thinking that this journey must be very expensive. But it all depends on how you choose to do it. There are some companies which Peter managed to convince to sponsor him, including interrail, which lets him travel across Europe via train without paying. That helps a lot. A few plane rides are still required though. And places to have an overnight stay are also necessary. In total, he estimates the cost of the whole journey to be somewhere in the area of around 8,000 Euros, of which he is paying a huge amount himself. So far, the donations have far exceeded the cost, so this isn't a problem.
Q: What's His Mental Strategy?
To take one day at a time. I've heard that a lot before, and it seems to be the way to go for many difficult challenges. A task can seem daunting if it's just viewed as a whole. Breaking it down into smaller bits makes it easier to digest. So Peter is keeping in the moment, just thinking about today, then moving on. Seems to work!
Just like me, he has a mental marker during a marathon, which he tells himself makes it more likely to achieve the goal if the marker is reached. For me, it's always kilometer 23, because upon reaching that spot I know it's now just 19 kilometers left, which is less than 20, and thus is easy. But because Peter is English, he has different measurements in his head, and those affect his way of thinking, obviously. Mile 10 is such a milestone for him. Mile 20 is another. When he gets there, he feels more confident. (The 42.2 kilometers of a marathon are 26.2 miles)
Q: Who Is Supporting Him?
In addition to the several generous companies (like the guys from the awesome and delicious CLIF bar, for example) and hundreds of people who gave money, on many of the races he is accompanied by interested and admiring runners like me. Sometimes there's even a whole running club joining him. But on about 12-15 marathons he's been alone, as well. It just hasn't always been possible to reach out to running communities in every place he got to in time.
Q: Whom Is He Supporting?
As mentioned previously, this is about mental health. As our society evolves, more and more problems have arisen which haven't been problems before. One of the more prevalent ones is mental health issues. Still really difficult to combat by traditional medicine, not completely understood on a scientific level, and plainly underfunded.
So, this has got to change.
If you feel the same, please consider to give something to further Peter's cause. Every Euro or Pound will help. You can donate by clicking right here, right now!
Thanks and keep on running!
How do you feel after reading this?
This helps me assess the quality of my writing and improve it.