The Hamburg Triple, Part II: The Hamburg Triathlons
The Hamburg Triathlons

This is a love story about triathlons. Also, the second part of my three part undertaking "The Hamburg Triple" after The Hamburg Marathon.
Short Recap: What Is This Triple?
The Hamburg Triple is not an official thing, but it consists of 1. The Hamburg Marathon, 2. The Hamburg Olympic Distance Triathlon, and 3. The Hamburg Cyclassics, 100km or 155km.
There is also a beginners' version, The Small Hamburg Triple, which has 1. The Hamburg Half Marathon, 2. The Hamburg Sprint Distance Triathlon, and 3. The Hamburg Cyclassics, 55km.
I'm going for the standard one.
(And the small one, too. It's not possible to do both complete triples in one year, but almost. I already finished the Hamburg Marathon and the Hamburg Half Marathon, and in this post I'll describe what it's like to do two Triathlons on two consecutive days, because I'm crazy like that. Hence the title: The Hamburg Triathlons. That only leaves the Cyclassics bike race: unfortunately, all three race distances (55km, 100km, and 155km) are held simultaneously, so I can only choose one of them.)
Triathlons And Me
If you follow this website you might already know I like to do some triathlons, too. It started in 2010, when my friends Martin and Kristian (who are now the co-founders of my company, teege.me) insisted that it's a sport worth trying out. After calling them crazy for about a year, I did the olympic distance of Hamburg Triathlon in 2011. That's 1.5 kilometers of swimming, followed by 40 kilometers of cycling, and a healthy 10 kilometer run at the end. Doable distance, but requires some preparation.
I finished and fell in love with the sport and immediately planned to do this race every year starting right then. In 2012, though, the Hamburg triathlons were on the same date as my wedding, and I still have sane priorities. Some of them, at least. But in 2013, 2014, and 2015, Hamburg had me again. At the same time I also tried longer distance triathlons and became a full Ironman finisher in 2015. After having accomplished that, it's time for the Hamburg Triple, which has been on my list for some years now, as well.
What Has Happened So Far?
It all has to happen in one year, though. In April, I finished the Hamburg Marathon in 3:42:59, which is a result I am quite proud of, and followed it up with the Hamburg Half Marathon in 1:40:38, which makes me even happier, because it's faster than both Martin's and Kristian's half marathon personal bests. And because we work together, I now have the opportunity to rub this in their faces all day every day! But kidding aside, beating their times took me 6 years to achieve and I had to fight really hard during especially the half marathon, so it's quite a milestone for me personally.
Off to the Next Challenge
Two triathlons on two consecutive days. Hamburg is part of the ITU World Series, which is like a Formula–1 season of triathlons. About 10 races take place during the year, all over the world, and points are awarded to the pros, which are then counted to determine the champion in the end of the year. Simple. Hamburg is a very popular station of the tour, not because of the weather (definitely not!), but because of the beautiful and not too difficult course, and last but not least the crowds. With about 250,000 spectators and 10,000 amateur participants like me, it's the biggest triathlon event of the ITU tour.
The race weekend is always packed with events. It starts on Friday with the expo and test swims, before it goes crazy on the next 2 days. Saturday has the sprint distance event for amateurs, as well as the female and male pros' races, whereas Sunday has the olympic distance amateur race as well as the very cool pro event called Mixed Team Relay Championships, in which national teams of 2 women and 2 men each compete against each other. Each of the 4 pros has to do a very short triathlon (300 m swim, 6.6 km bike, 1.6 km run) before high fiving the next of his/her team. Hamburg crowns the World Champion team every year since 2013. After that, the weekend is over.
You see, because Saturday has the sprint distance race and Sunday has the olympic distance, it's possible to do both! That's what I thought, and so I signed up for both.
Training Status
To pull that off, an alright training situation is required. My year has been very good so far, I feel stronger and healthier than ever before. Unfortunately, a month long throat infection with antibiotic treatment threw me back a bit in May/June, but I overcame that and still got to practice more running than ever before, including 4 full marathons in spring, a 12 kilometer swimming race (after 10 kilometers I got pulled out of the water because a nearing thunderstorm, though), and more cycling sessions than ever before: 6! Ha. Compared to what I've done in the years preceding, I'm in good shape so I don't see any problems coming up.
What's the Specific Goal?
I almost always set some achievable goals for an event like this. This time, I'm happy with finishing both triathlons and eventually completing the Hamburg Triple in 2016, but there is something else, too. Again, my friend and co-worker Martin. After beating his half marathon best a couple weeks before, I'd really like to top that off with beating his olympic distance best, as well. Last year, I came close at just about 80 seconds behind his best, so it might be possible, I think. No spoilers!
Hamburg and Sports
My town has had a weird year regarding sports. First, the enthusiastically proclaimed application of the city for the 2024 Olympic Games got destroyed by a referendum. Turns out people here don't want their tax money to pay for it, but are fine with watching the event taking place somewhere else, payed for by someone else's tax money. The beauty of referendums! I voted pro Olympics and was really sad when I heard about the outcome.
On the positive side, by the time the sports community of the city felt defeated and unwanted after the referendum, it also soon sparked sort of a "now more than ever!" attitude in amateur and pro athletes alike. This was noticeable in record sign-ups for sporting events, growth of sports clubs, and projects like Alsterrunning finally really taking off with thousands of participants.
And then, somewhat surprisingly, the company IRONMAN bought the holding company that owns and organizes many sporting events in Germany, including the Hamburg Marathon, the triathlons and the Cyclassics bike race. So all 3 Hamburg Triple events are IRONMAN owned since January 2016.
What this tells me, is that there has been a wise business opportunity, and IRONMAN took it. So we really are worth something here. As a side-note, Christian Toetzke, who has been the founder of the Cyclassics in 1996 and still is a key figure in several of Hamburg's sporting events, became an executive at the IRONMAN company, too. Why do I mention him? We'll see!
The Triathlon Weekend
The first thing I always look forward to on race weekend is visiting the event site to collect the starter's bag. Or bags, in this case. It's like an exhibition with lots of tents where small and big companies show off stuff for triathletes. Amazing bikes, wetsuits, shoes, powergels, that sort of stuff. I talked to a couple of interesting people, bought a few little things and enjoyed the atmosphere, because here I'm surrounded by people who like triathlon as much as I do. Even though this is one of the three biggest triathlon events in the world, together with the Ironman Hawaii World Championships and the Challenge Roth, the portion of society which knows and enjoys triathlon still is rather small.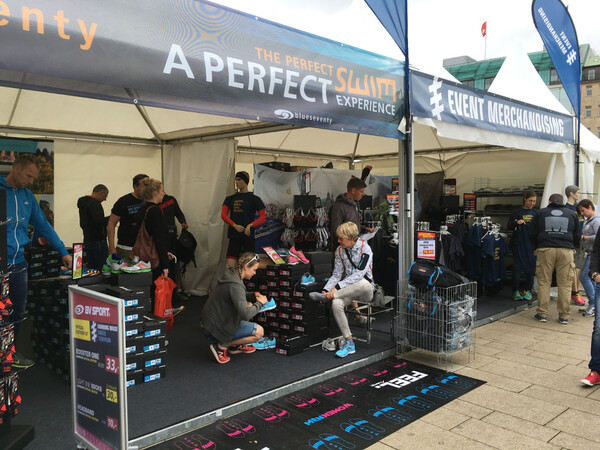 On the other hand that also means that you can get quite close to the "stars" of the scene. Some of them just run around the area, being approachable. I talked to a guy who has been a catcher for the bikes at last weekend's Frankfurt Ironman European Championship and had Sebastian Kienle's EUR 20,000 bike in his hands to put on the bike rails in the transition zone. He sure was glad he didn't drop it.
New bike day 😀 huge thx 2 @bikeonscott, @ZippSpeed, @SRAMroad, @profile_design, @PROLOGOTOUCH & @continentaltire pic.twitter.com/OLAXrRSbgE — Sebastian Kienle (@SebastianKienle) 13. Juni 2016
I talked with him and his colleague about other cool events and they immediately recommended Challenge Roth, a long distance (3.8 km swim, 180 km bike, 42.2 km run) triathlon in the vicinity of Nuremberg. Very old, very traditional, loved by the people in the area, always sold out within seconds of going public, and taking place this Sunday as well. One of my triathlon idols, Jan Frodeno, will be there to try and beat the world's best long distance time, set in 2011 by Andreas Raelert. 7:41:33 is the time Jan wants to beat while I do a simple olympic distance triathlon.
After going through all the tents on the expo and successfully only buying very few things, I stroll around the area to take a look at the other bits of the race which are already set up. Those look like the calm before the storm today.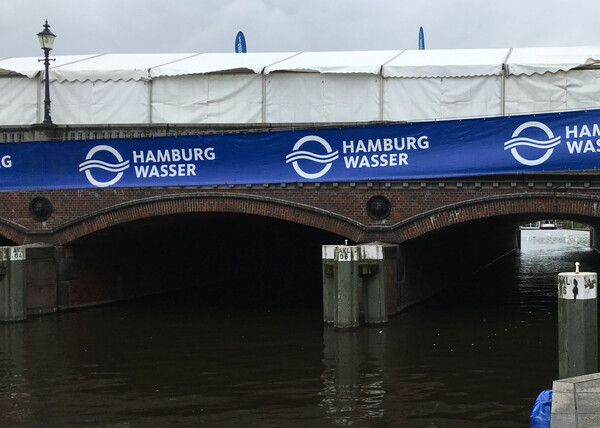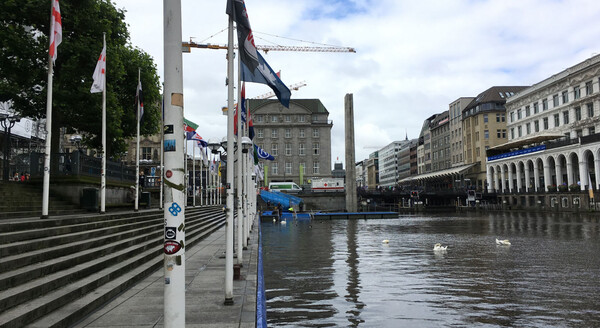 The Sprint Distance
For me, it's starting much easier than for Frodeno at Challenge Roth tomorrow. A good meal in the evening and some sleep is all I ever need for an event like the upcoming one. On Saturday I can take my time, because my sprint distance starting block doesn't leave until 10:20 AM. Sounds good, right? But if you're having 3 kids at home this can make a noticeable part of the energy get lost before the start. Sophie and the kids take the train to the start to show some support, while I bike the 10 kilometers to the city center in order to warm up.
The weather is okay, not too warm and a bit cloudy. It feels like rain. A very typical Hamburg summer day.
Bike checkin works well, I enter the transition zone a bit late at 9:40 AM, and it's hard to find space for my bike on the racks. This event really is crowded every year, wow. Chatting to a nice guy next to me while setting up my transition spot. Triathletes are very nice people. I get into my wetsuit and meet Sophie and the kids through the gates which guard the 5,000 expensive bikes. The kids are doing great but require lots of attention today. I admire Sophie for putting up with this exhausting hobby of mine. It's good the kids enjoy this day-trip and the whole spectacle.
I'm slowly walking towards the starting area, looking forward in excitement for every single detail of the upcoming race. This is my first triathlon since Ironman Copenhagen last August, almost a year ago.
I get into the warm-up zone at Jungfernstieg. Every 8 minutes, a starting block of about 200 triathletes leaves the pontoon for the 500 meter swim, while the next 200 athletes enter the pontoon area, and the next 200 athletes enter the warm-up area. This is perfectly organized. So every group gets a 8 minute warm-up program done by a fitness coach. The groups are easily told apart by the color of the rubber swim caps, by the way. Today, I'm wearing a green one. The short work-out works out well for me, I'm warm and stretched now.
Now comes one of the best parts: walking down to the pontoon on the blue carpet. The chips on our ankles all beep as we're registered for the race now. It's about to start.
And So It Begins
I get into the water, it feels great to be in the Alster again. Not the cleanest river, but a very nice one. It's so refreshing to not be in chlorine for a change. I'm doing great and joke around with a guy next to me, as we're all preparing and doing a few swim strokes to get into it. And there is the signal: GO!
Just 500 meters to swim. This is rather short and therefore very hard for me to find a good pace I'm comfortable with. I'm used to longer swims at a slower pace with a lower heart-rate. So I swim a bit too fast in order to reach another of my small goals: under 10 minutes for the swim. There comes the first turn around a buoy, then the second, and we're heading "home" towards Rathausmarkt (townhall square). Just 150 meters from the end of the swim, the Reesendammbrücke's tunnel is to be swum. It's dark and about 50 meters long, and can be a bit scary. For me, it has never been a problem. But this time?
Panic!!!
I'm surprised that in the tunnel, I suddenly have the feeling of not getting enough air, being just about to pass out. I check: maybe the wetsuit is too tight around the neck? No, it's been fine on many different swims. Do I have anxiety in tunnels or some sort of claustrophobia? Usually not at all. Am I going over my body's speed limit? That could be it. Then, right next to me a girl grabs the rope which is tied to the sides of the tunnel as guidance and suddenly screams: "Heeelp!" – as she's not drowning but holding on to the rope, she clearly is having a panic attack. Another athlete swims to her to calm her down and call the officials on the kayaks, who immediately head for her to help. I have never seen this before. Just to calm down as well, I switch to breaststrokes and peacefully finish this swim. That was weird.
Transition 1
The swim exit at the Rathaus is as impressive and beautiful as ever, I love this experience. I'm standing up and running on blue carpets again, the timing chip beeps, I stop my watch. 10 minutes and 6 seconds. Haha, so close to my first goal, come on!
The run towards the transition zone is very long, which is hard after the swim. But also good, because it's a good opportunity for friends and family to show support along the fenced blue carpet trail. As do Sophie and the 3 little ones. Standing there smiling, one after the other, I can give everyone a kiss and happily continue. So great of them to be here for me.
I think this crowd support made me run a bit too fast, because I feel dizzy again. As I reach my bike and take off my wetsuit, I have to sit down to not pass out. This is new and a bit unsettling, to be honest. I'm quite sure now that it's the unusual speed. I decide to keep it down and play it safe now.
Biking
Another long run with the bike in hand through the transition area and I can finally sit down on my awesome carbon piece of equipment. That's better! 100 meters and we enter the Wallringtunnel, which is nice and quiet. Also, downhill. Perfect to calm down even more and take it easy. The course roughly leads to the place where we live, then turns around. It's 22 kilometers long in total. It's quite crowded and difficult to avoid drafting, which is forbidden and can be a reason to get disqualified if a race marshall sees it. 10 meters of space in front and behind you is the minimum. So there is a lot of passing taking place.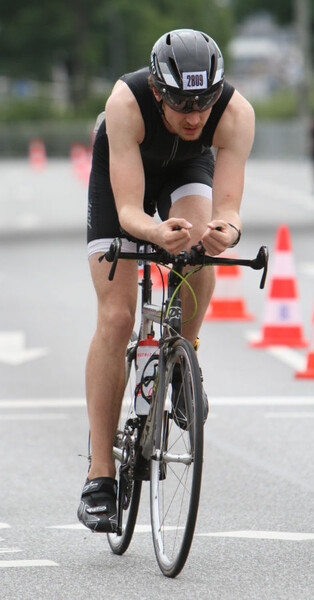 After about 5 kilometers, a middle aged guy with a salt and pepper beard passes me and assumes his new position in front of me. He is a bit too slow for me though, I question why he passed me by. I overtake him again and shout at him: "Go! Come on!" to motivate him to do a small speed battle with me. He mumbles something and follows. Then, he overtakes me again, as do I a couple minutes later and again motivate him to keep up.
After 11 kilometers, the 180 degree turning point is reached right after a downhill section on which I reach 55 km/h and am now fully dry.
Turning, and back up that same section. Not so easy. This is the only difficult section on the bike course, and many people struggle a lot. I don't, but not because I can bike well, but because I humbly shift down gears. Most people here don't allow themselves to really shift down, maybe because of a psychological blockade that makes them think they would be slower if they would shift down even more. That's stubborn and won't help. So I pass by a lot of them on this section, with the only trick of clicking the gears twice more than the others. Quick win!
This sprint distance is for everyone. It's short, anyone can do it, experienced or not. So it's understandable not all the people know the proper techniques everywhere. I'm happy for them trying at all and getting to experience the always amazing finishing moment. It's a huge achievement for some amateurs here.
A few minutes behind the climb, my favorite guy passes me by again. This time I really notice him. He's wearing a German national team triathlon suit. An old one. His name is printed on the lower back, but the racing number is in front of that. I can't read it. Oddly, his racing number doesn't have his first name on it like everyone else's. I think he might at least be a former pro athlete, looking at his very well trained calf muscles. Maybe he's even some sort of famous person who doesn't need his name on the racing number. Who is this guy?
From Altona back to the transition, the last few kilometers are downhill a lot and we experience slight winds from behind, so I roll there quite fast and enjoy it a lot. The course is a bit different from the usual olympic distance that I've done a few times now. We're at the Elbe river for a longer time, and get to ride through the quiet and relaxing tunnel into transition.
Transition 2
In the tunnel, I carefully get out of the biking shoes which are mounted on the pedals. This isn't easy and you have to do it in time because the transition area is there sooner than you think. I messed this up a few years back. But today everything works out well and I step off of the bike and run barefoot towards my transition box. On the way there I see the guy racking his bike and I can finally read his name on his suit: TOETZKE. At this moment I don't know who he is, but the name sounds familiar to me. Someone from the scene probably. Lets see how good he can run with those insane calves. I pass him by because my spot is a few hundred meters later. Quickly racking the bike, stepping into my cool new shoes, grab sunglasses and HoneyPower and GO!
Running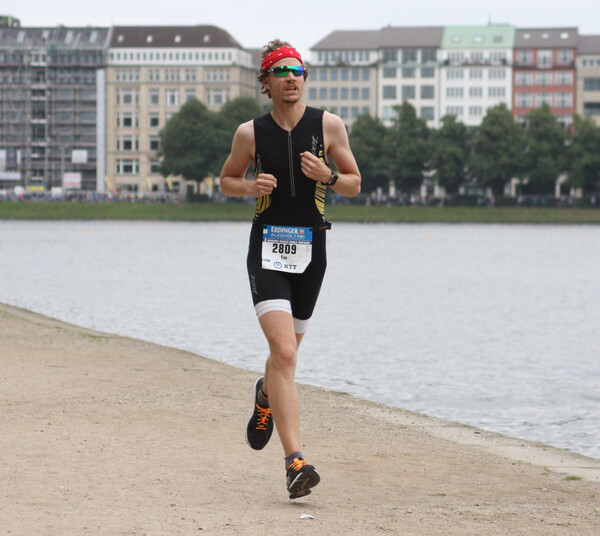 Just 5 kilometers! Another very short distance that I'm not so familiar with. Whenever I tried to do a fast 5k I couldn't really go a faster pace than my 10k pace. My body is trained for longer distances. So I just run as fast as I think I can do on 5 kilometers and see where this will take me today. The course is great, leading around the smaller Alster and parts of the Außenalster, while the weather is improving. I have some HoneyPower and a cup of water. I'm about 1 hour into the race already. The turning point is reached almost immediately, it feels to me. Quite surprised.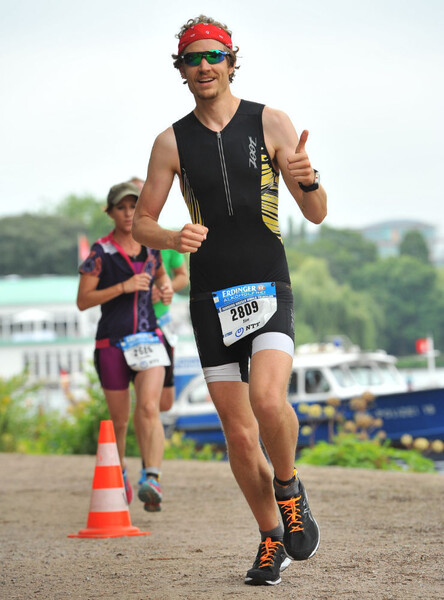 After about 4 kilometers I see Toetzke in front of me. No way! I can realistically overtake him! But I strategize first. He has been battling me on the bike and will probably recognize me and then fight for the win, so I stay 10 meters behind him because the pace we're running at is hard here. I watch him fist bump one of the MCs on the course (he is definitely well known here I see) and keep it up behind him. Then, the last few hundred meters begin. Now is the time to attack.
What's Left?
I have watched a couple of pro races and this is always how they do it. Give it everything they have on the last few hundred meters. So this is it, do I have it in me? I increase the pace as much as I can and overtake Mister Toetzke smiling. Will he follow? I look back, no he doesn't. I'm a bit disappointed that it's not going to be a final battle. But I'll take it! Faster than Toetzke!
1:22:12 in total, says the LED board. Quite okay I think, but also beatable next year. To give you an idea how this time compares: I've been faster than 85 percent of all the male participants today. As I find out about that, I'm quite surprised and also very happy with that result.
Right after the finish I run into my friend Hendrik, who has been a bit faster than me but complains about his knee. Also, one of my neighbors Arne is standing there, he's had a weak finishing time for his standards, he says, and already plans to have a couple of beers to forget about the results here. Behind us, we can see Toetzke giving interviews to the press people standing at the finish line, so now I definitely know he's important here. Hendrik has heard of his name but doesn't really know who he is, either. We run into Sophie and our 3 kids and give and get some much deserved hugs. Now I can finally google him: he basically runs all Hamburg Triple events, in addition to lots more. And takes part in one of them, as well. Cool guy! But not as fast as me, ha-ha!
One of the best parts of the Hamburg Triathlon is the area behind the finish line. Food and drink as much as you want. Every year I get orange slice after orange slice and sneak them out for the kids. Alcoholfree Erdinger beer is very nice and refreshing now for me. During the 10 minute wait at the container showers they had set up for us, I run into an old friend who I didn't know was into triathlons, too. His first one, but he had fun. It's becoming a more popular sport every year. We talk about old days and joke around a lot, good times.
It's been a good first day!
The Aftermath of Day I
On the way to get my bike out of the transition area, I watch another triathlon. On my phone. Challenge Roth 2016 – one of the world's most popular triathlon events, a rather fast long distance (3.8 km swim, 180 km bike, 42.2 km run) race. It takes place right now, and the amazing Jan Frodeno is currently trying to break the world record time, as he announced. The last few minutes are happening and I excitedly watch him run the marathon, it looks like he can make it. And then, he really does break the record and improves it by about 6 minutes to an incredible 7 hours and 36 minutes.
It's a new world record! Congratulations @janfrodeno! The fastest man in #triathlon #ChallengeRoth pic.twitter.com/wLl8R1YTDo — Challenge Roth (@ChallengeRoth1) July 17, 2016
What an athlete! And what an atmosphere. Challenge Roth looks great. Maybe one day, I'll try another long distance triathlon, too. It's certainly been very inspiring to watch the guy fly through it.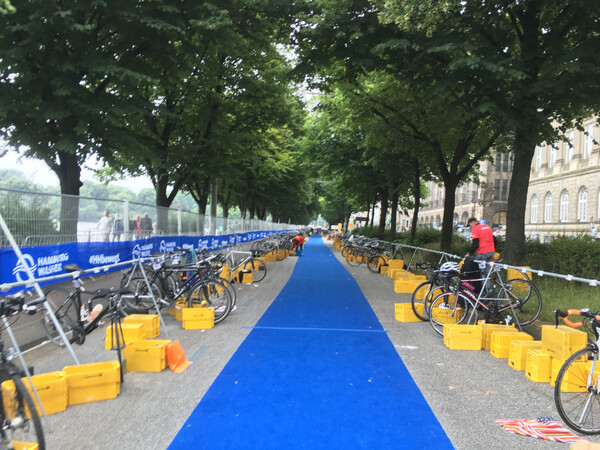 Getting home on the bike is harder than it sounds, because the streets are first crowded with triathlon people and then Schlagermove people. Think of a huge street parade with tens of thousands of colorfully dressed and intoxicated people dancing and singing to Schlager music, which is a mix of the popular Eurodance electronic style with Country-like folk lyrics about love and loss and the like. Happy, friendly people, but lots of them. I have to go the long way round and hope not to bike through all of the trash and glass on the streets now. A couple kilometers later there's another street event blocking my way, the altonale cultural festival of food and art. Very nice, too. What a busy day for Hamburg! In the late afternoon, I'm finally home and meet the family there again.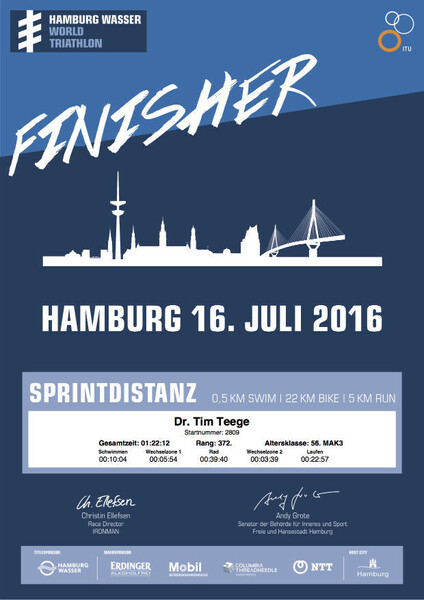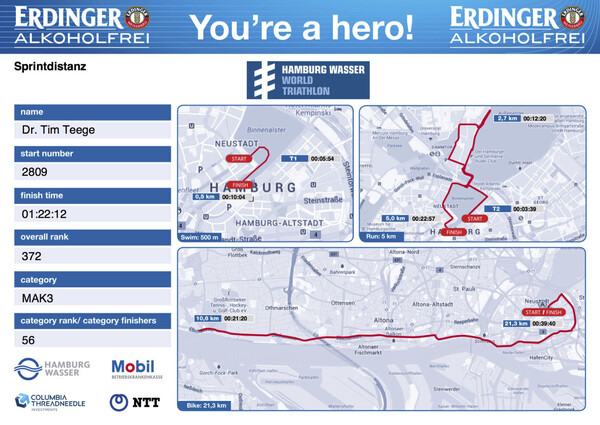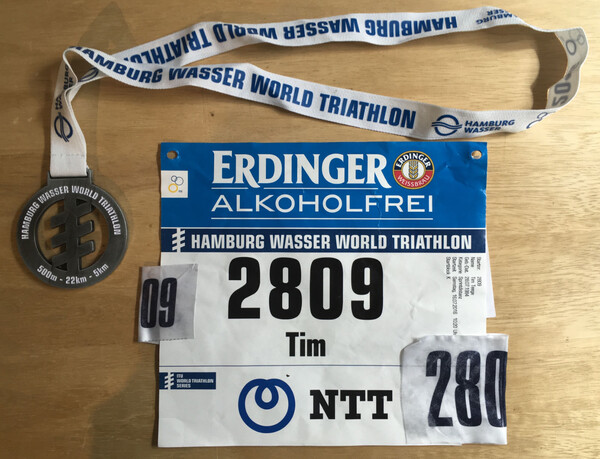 I feel tired, but today is also the main event of the race weekend and the pros are doing their world tour triathlon. I've never watched it in person in Hamburg, but always wanted to. So my little Julie and I get into the train and go back into the city center. It's raining everywhere. But the experience is great, I get to see these crazy people race through Hamburg at a speed I can only dream of. At one point the top leading men run me by just about a meter away. And by standing there, I even make it into the official race summary video. So cool!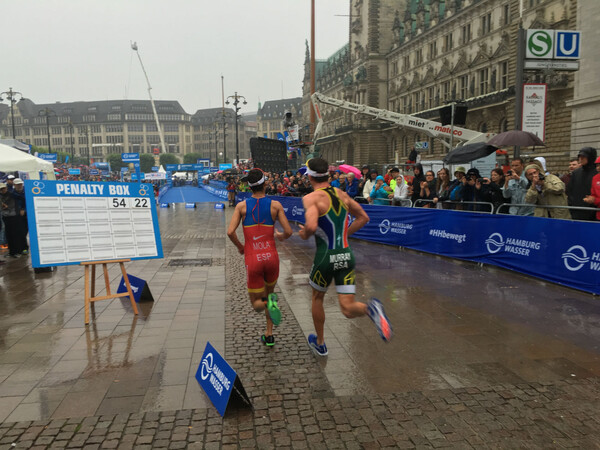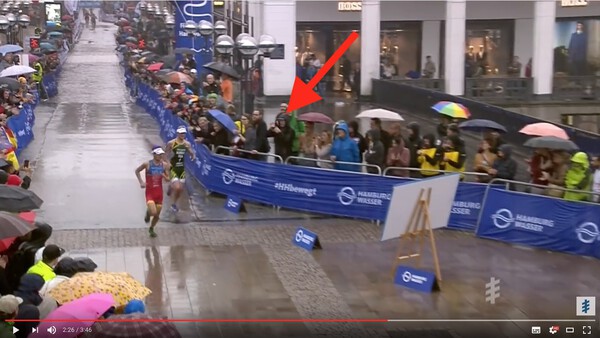 I even get to see one of the leading men, Richard Murray, do a penalty time of 10 seconds and then angrily give the officials the finger, which of course never made it into the summary videos. He got disqualified for it later, of course. Triathlon pros are usually not that rude.
Julie (4) is a bit impressed with the athletes too, but watching me compete is more exciting for her. Also, she prefers eating Crêpe.
So we go home and I eat well to regenerate and collect some energy for my own record attempt tomorrow. Will Martin's office best time fall to pieces? Or will I need another year to defeat him?
Day II: The Olympic Distance
Sunday morning. This distance is more difficult, but only on paper. Just because it's longer, of course. But for me personally, this is easier, because I know the length of the distance and how to use my energy on it fairly well. Last year, the 1.5 km swim, 40 km bike, and 10 km run took me about 2:43 hours, while my friend Martin's personal best was roughly 2:41. So, after beating his half marathon best time just 2 weeks earlier, I want to do the same again today.
My starting block leaves as early as 7:40 AM today. This also looks more difficult on paper, but it actually suits me better. It means I have to get up at 5 AM, which is 2 hours before my kids wake up, so I don't use up energy by managing their morning routine like I did yesterday. Instead I'm on my own at breakfast and can concentrate on every detail of the race as I drift into the mindset needed for my task today.
The Morning Routine
Of course, it begins with packing everything I need today. The list is long and divided into 3 parts: What goes directly on my body, what goes into the triathlon equipment bag, and what goes into the bag inside the bag, to be used after the triathlon. Details are also important, like putting a bit of olive oil into my ears to make the water run out smoothly (since I know this little trick, swimming has been so much more enjoyable to me!), leaving my wedding ring behind in order to avoid losing it in the Alster, and lastly, stuffing my equipment into the bags in the correct order to save some time and nerves later.
I relaxedly bike to the start at the city center again, just as yesterday. Today though, it's darkly clouded and raining. Not so nice. The empty streets are generally in a good and clean condition, but I come across several places with lots of glass from broken beer bottles due to yesterday's festivities. This is not good. Hopefully my tires will make it through.
It's looking good as I get close to the city.
But of course, it has to happen today: Just 500 meters before the event area I hear the sound "Fffffff" – crap! Within seconds, the front tire is completely flat.
– "Don't worry, I know what to do in situations like these."
– "What's that?"
– "Panic!!!"
I'm a bit relieved it's just the front tire and not the back one, because that would be harder to repair. Good thing I have my repair kit mounted to the bike for all triathlons I do. Bad thing though: I only have one spare inner tube. And this is my only option right now, I have to put in the new one.
As I get out the wheel, the rain increases very much. I'm soaking wet right now and start to lose hope that today's race is going to go well for me. Depressing situation.
I quickly locate a huge glass splinter in the tire, it's still stuck in it. It pierced right through the tire and the inner tube. This is even worse, because it means the tire might not hold the new inner tube very well, now having a hole this big. But I cannot replace the tire, so I only have one choice. Remove the splinter, put in the new inner tube, inflate it with my CO2 cartridge, and hope it holds up.
And so far, it does. That was close.
It's good I put in lots of buffer time, so I still make it to the check-in with a good three quarters of an hour to spare.
Preparing For The Record Attempt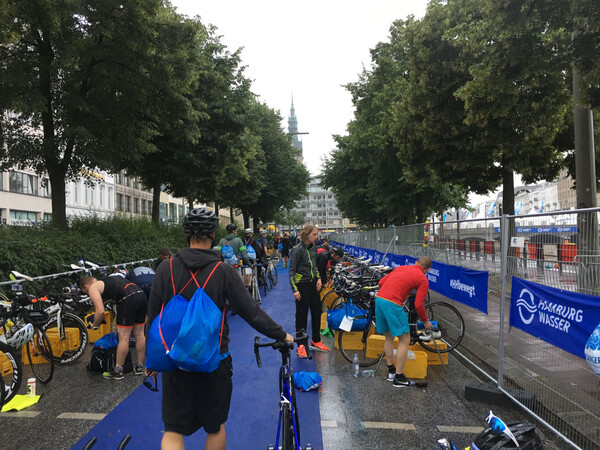 It's not too crowded yet, because my starting block is one of the earliest today. That's nice, because there's lots of space left on the bike racks, and I can relaxedly set up my transition area. All items into the correct order of usage. Helmet and bib number on the bike, running shoes with sunglasses, HoneyPower, bandana, socks in the yellow box, towel over it to protect it from the rain, and then the changing of clothes begins.
Out of the soaking wet jeans and sweater, into the wetsuit. Today I have to pack a bag with my wet clothes to give to the volunteers in the tents who take care of it until I will have finished the race and reclaim the bag.
A good 30 minutes left to the start. I walk over to the starting area, barefoot, like yesterday. Right there, I run into two old friends from school (they're brothers), who I haven't seen for easily 10 years now. Funny! We chat a bit, because I had no idea they were into triathlons, but they had heard about my marathons. Now that I see them in their wetsuits, it makes total sense they are triathletes. Both are even taller than me, slender, and quite athletic guys. We wish each other luck as they have to leave for the pontoon now. They are 2 starting groups ahead of me – 16 minutes. Later that day I looked them both up in the results list, and they came in Top 50 of the thousands of participants. Incredible!
I explore the pontoon and watch the earlier groups swimming already. And there it happens.
The Pain
Suddenly there's a piercing sensation in my left heel. Oh no, I think. What is it? Just very little blood, weird. I stepped on something sharp, I think, walking away. But the pain doesn't stop. There must be something still inside my foot. Another piece of glass maybe, like in my tire earlier. I examine it closer, but I cannot see anything to pull out. The pain is still there, though. Luckily there are two paramedics standing besides the pontoon entrance, so I ask them for help. They are very kind and get out some equipment and try to find the splinter. But: nothing. I am quite sure they pushed it in even further.
The Despair
It's too deep now for them to get out with their equipment. So, my choice is either to give up right now and go see a doctor, or to ignore the pain and fight through the race.
Having had bad luck with glass now for the second time, in addition to the terrible rainy weather, thinking about the odds that my bike's tire is already deflated again as well, I feel quite defeated. Why today?! I only get this chance once a year. Can it really be that this is not the day I'll conquer my goal?
The Hope
I stand up feeling a mix of anger and sadness. I walk around for a bit. But the pain is less and less noticeable. There's still blood, but not as much. Maybe they have pushed the glass in and it sealed some vessels? The important thing is, I don't feel as much pain anymore when walking barefoot. That's good.
I'm thinking, I can do at least the swimming part now. In the water, there's no direct pressure on my foot. Sure, bacteria might enter the wound, but I can deal with that problem later. Also, I'm vaccinated thoroughly, of course.
Biking might also be okay afterwards. Most pressure will be on the front of the foot, not on the heel. Provided the bike still holds up. The only problem is the run, as I see it. But who knows, maybe my new running shoes are soft at exactly that spot so I don't feel as much pain during the 10k.
Decision Made
I'm going to give it a try today. No matter the atrocious situation here. This idea grows in my head and quickly becomes a "now more than ever" attitude. I'm going to fight!
As yesterday, there's a short guided warm-up right before entering the pontoon. I like it and stand/jump on my front feet to ease the pain during the exercises. Then, the 200 people of my starting group make their way towards the pontoon. I'm one of the first. Strolling on that familiar blue carpet, watching the dark water, soaking in the atmosphere. The calm before the storm. One of the best moments of the race is the few moments before it all goes havoc.
Because my decision to pull through today got stronger and stronger within the last few minutes, I feel very secure now about the whole thing. With a huge cannonball jump I throw myself into the water. I'm the first. I don't care what the other timid athletes think. I'm here now and I'm going to do my absolute best today.
Suddenly landing in that cold muddy water with a big splash I feel like I'm exactly at the right point at the right time. This is where I am supposed to be. I kind of feel one with it all, as stupid as it sounds.
A few warm-up strokes around the area, going forward to the red rope in the water where we will start. The announcer says a few motivating words, some of the athletes scream and raise their hands in excitement, and the countdown starts. 10, 9, 8, …
Beep. GO!
I love this. I feel so alive! Seeing the Kennedy and Lombard's bridges in front of me, the water is fresh and not too bad, the rain has stopped. It's a lot lighter outside now. It's all getting better. I'm in the first 30 to 40 percent of the swimmers and I am very proud I made it this far in the sport of swimming in just 1.5 years of very little training. Breathing left, right, left, right, looking forward. The bridges are still in sight. Getting closer. Left, right, left, right. Swimming into the occasional neighbor athlete. "Sorry!" Left, right, left, right.
Swimming Is Awesome.
Then I reach the two bridges. Underneath it's dark and quiet, with just a bit of splashing hands and feet to be heard. Two buoys on the other side mark the turning point. About 700 meters are down. Back "home" now. The city center is the goal to focus on now, particularly the town hall tower, which is very visible. Left, right, left, right. I love it.
Getting close. Will I reach it in under 30 minutes? No idea. Don't care anymore about the time. I just enjoy the water and the scene and the thousands of spectators, who are here to support their friends and family and even strangers regardless of the time of day or the weather.
I feel a lot better and more relaxed than yesterday during the swim. Keeping up the pace is no problem. The last bridge is something to look forward to, entering the area underneath doesn't feel as anxiety-inducing today. The swimmers' field is mixed now, the caps have different colors. Slow swimmers from the starting group in front of us, fast ones from the one behind.
After coming out from underneath the pitch black bridge area, the goal is in plain sight. The blue carpets and helpers' hands are reaching out for us. Getting out is always a bit hard on the legs, but I don't stumble. It's all good so far.
Run to the Transition
Coming towards the transition zone, I see a lot of fans, but my family is still at home today. No problem. The best thing is I don't feel any pain in the heel right now! I can fully run on the foot as if nothing happened. What a relief. In the transition zone I'm one of the first, most bikes are still here. How cool! My swimming time wasn't bad apparently.
The rain is gone, but everything is still wet. My stuff in the yellow box is all wet but still usable. Wetsuit off and over the metal rail, and drying myself off with a towel for a few seconds. I want to pull over my shirt because it's still quite cold, but I cannot get my arms inside of it because everything's too wet. So I throw it back into the box and just go for the helmet, starting number, two HoneyPower gels, and of course the bike. The front tire is still okay! Another 400 meters of barefoot running through transition zone while pushing the bike with one hand. Still not too crowded here, no accidents. At the end of the zone we're finally allowed to jump on our bikes. Carefully.
Relaxing Cycling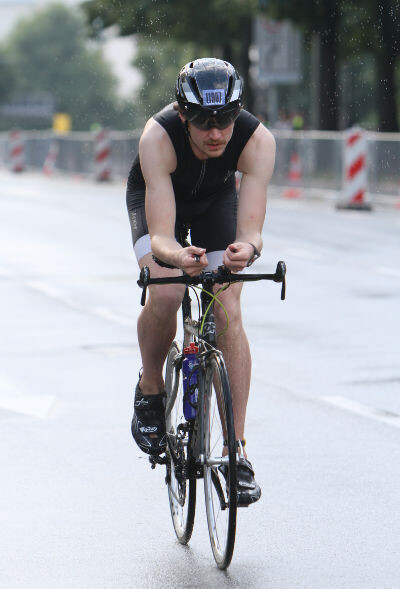 The streets are still a bit wet, but luckily it's not too cold. My shirt is not missed. The course is different from today. After leaving transition, we have to turn left instead of right, which means no tunnel, but rather bridges. While biking over Lombards bridge I can see the sun coming out from behind the clouds. That's better! This ride is becoming great. Streets are almost empty this early, and the weather is a lot better in general. No winds, very relaxing.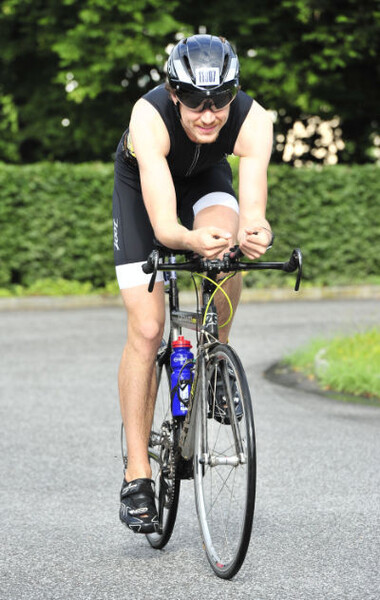 In no time I'm suddenly at the turning point, which is again right in the vicinity of my home, roughly 10 kilometers from the bike course start. I have some sports drink and prepare to climb up Teufelsbrück hill. As with yesterday, many cyclists don't really know how to use their gears during uphill sections, and I think it's an ego problem. They use too hard gears and go down to a minimum cadence, which is not only inefficient but also very tough on the muscles. I just shift way down and overtake a lot of them on this hill, even though I'm usually a really bad cyclist. It's my worst discipline by far.
Riding back the same course, I notice how many people are trying to fix a wheel here. I guess there are still lots of glass pieces from the parties yesterday. Fortunately my wheel still holds up. A few of these poor people desperately shout for spare tubes, but I've used mine earlier. I feel sorry for them.
Back at the two Alsters, the first lap is done. About 20 kilometers. The sun is out, my legs are good, I'm happy with the speed I can cycle at today. 180 degree turn and the same thing again.
It's getting even better, I'm just pedaling down the road. HoneyPower and some water, seeing a few more guys fixing their bikes on the road side and feeling sorry for them but pedaling on. Nothing I can do. Down the Teufelsbrück hill at 55 km/h, and back up at 25 km/h. With a rough average of somewhere between 32 and 35 it's going back into transition. This time, I don't meet any CEOs of global corporations there.
Transition Time
Off of the bike, 400 meters of pushing it to my yellow box while running barefoot. Still no pain in my glass heel. Great!
Bike on the railing, helmet off and into the box, running socks, running shoes, sunglasses, red rockstar bandana, another HoneyPower into the suit pocket and GO!
The socks and shoes feel soft, I still don't have pain. To the end of the transition zone, *beep* and the 10k begins!
The Showdown
I'm running along the small Alster, then crossing on Lombards bridge once more, looking at the later starting groups swimming underneath it now. It has become a beautiful summer day. I could go for another swim!
The course makes a sharp turn into a tunnel leading underneath the bridge, north towards the Outer Alster. My pace is at 4:50 min/km, which is fine, but I think I can go faster. I'm giving myself a few minutes to get into the groove and increase the speed during my favorite – and probably best – discipline.
It's going north, following the water. HoneyPower and water, feeling good. I did perfectly well so far, nutrition-wise. A few hundred meters after the northern tip of the Alster I reach the turning point after about 23 minutes of running. That's just okay, I think I have something more left in me for the next part. It's still possible to beat Martin's best time, so there's some more motivation. Now I can give it all I have.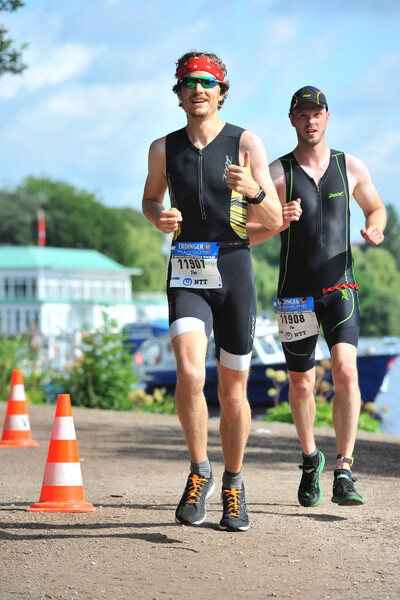 At KM 6, a guy overtakes me. That doesn't happen often here, because I'm a good runner on triathlons. I notice his outfit. A few hundred meters later I overtake him again. He says to me: "Hey come on, pull me with you!", meaning we should motivate each other. Even better! So we talk a little (his name is Flo) and increase the pace until we're not able to talk much anymore. 4:30, 4:25 min/km. Wow, quite fast! We keep running next to each other.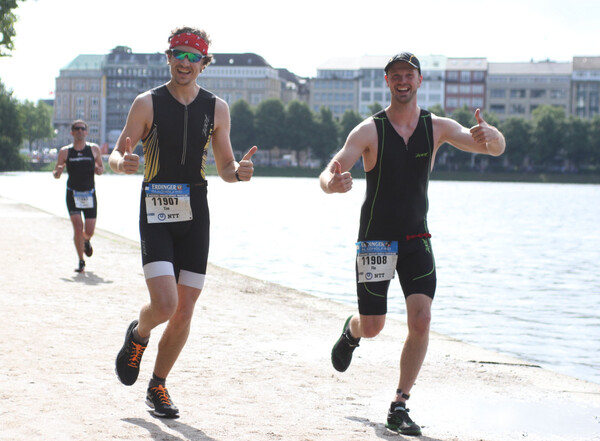 At KM 9 he finds some more power in him. I don't have that in me anymore so I have to let him go and he earns 10 to 20 meters. The crowds are huge on these last few kilometers, very loud and nice. He is yelling at the crowds: "Show support to TIM, there behind me!" – the crowds scream my name. What a nice gesture!
I'm fighting really hard now. Not much more left in me. There's the blue carpet, I can see it! The finish is in sight! Come on now!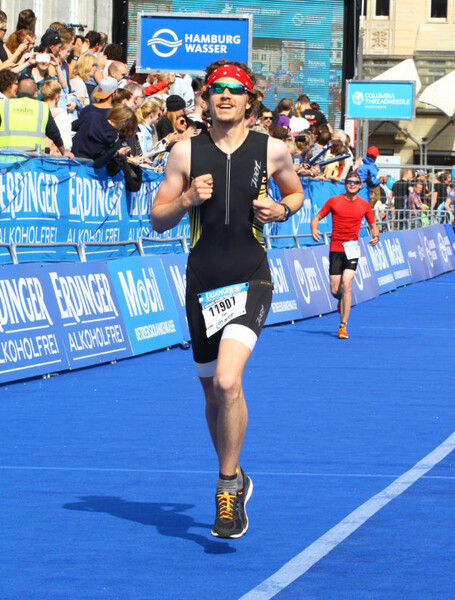 A few more meters, huge smile on my face, I'm pretty sure I have outdone Martin. Go Go Go!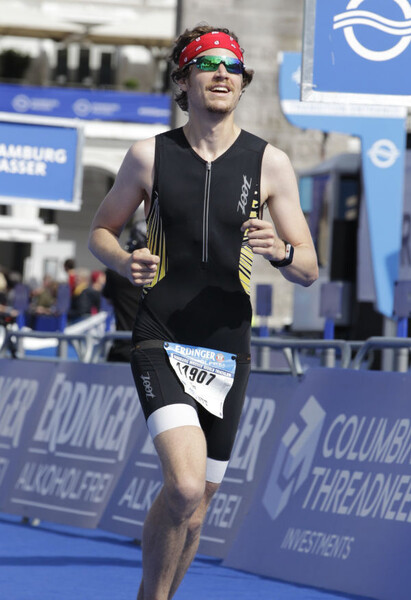 Success!
The finish line screen shows my name and finishing time, and a quick look on the watch confirms it: 2:38 hours and some seconds. YES! A lot faster than my goal. Faster than 75% of the male participants today, by the way. Not too shabby.
I get a medal and feel very good. There's Flo. We hug and congratulate each other.
What a Race. What a Day.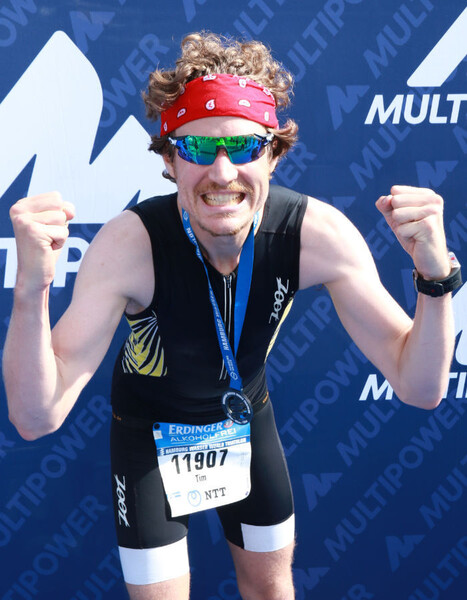 I slowly, but very confidently walk towards the buffet. Erdinger beer, sports drink, the body is grateful.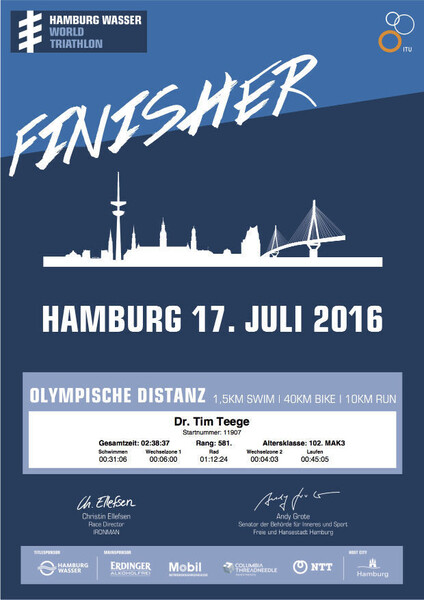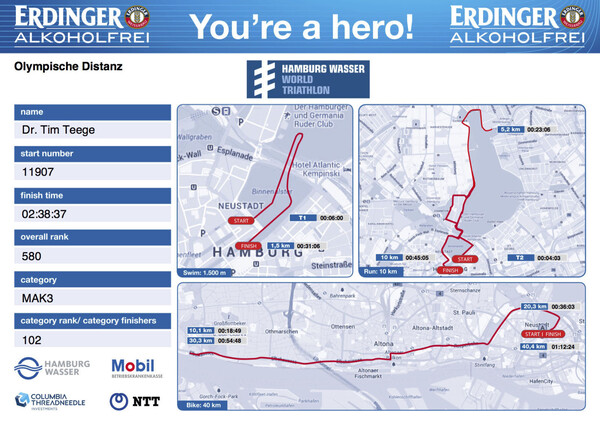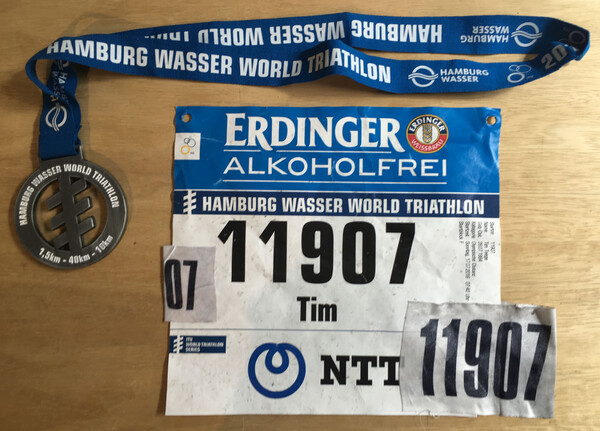 With my wet clothes bag I walk back to Reesendammbrücke to watch the last swimmers making it to the swim exit at Rathausmarkt. In the beautiful sun I sort through my stuff in the bag, while a nice old lady starts talking to me. She did her first triathlon ever yesterday and loved it. Who doesn't! Her husband is doing it right now and has already done lots of full Ironman races, with the goal of qualifying for the Hawaii World Championships. Incredible! He came close a couple times but never quite managed to. I say: never give up on it.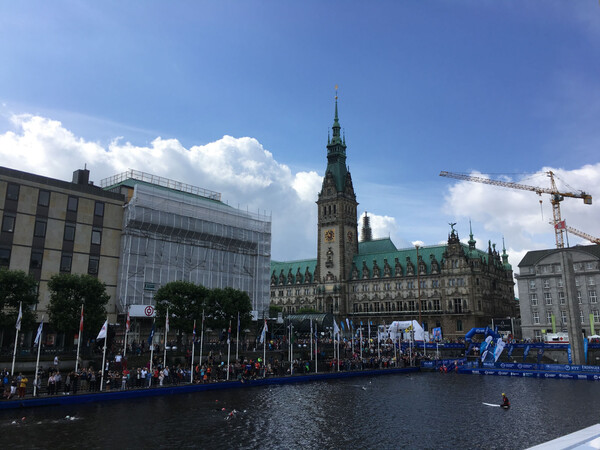 Then suddenly, at that same spot, my friend and business partner Krischi and his girlfriend Nena and son Lasse arrive. Surprise! I didn't know they planned to come, and it's very nice to see them here. Next, there's a text from Sophie, she's also almost here. A couple minutes later she proves herself right. Big hugs from everyone.
We hang around as we watch the very last swimmer of them all reach the swim exit. He's done it, too. Walking through the triathlon expo again, I meet old friend Antje, also a triathlete, and proudly tell her about my victory over Martin with 2:38. She says: "Wow, and you also almost beat my best time of 2:37!" – aaah damn! The pursuit is never over, I guess. New goal for next year.
The Aftermath of Day II
Although I didn't feel a thing from the glass in my foot during the race, in the afternoon the pain suddenly slowly increased out of nothing. Probably at the time the adrenaline of the victory had worn off. It grew stronger and stronger, until I barely could walk without making a stupid face. So I went to a surgeon the next evening, and that dude had to give me anesthetics because the bottom of my foot is very sensitive to pain. After a couple cuts he managed to get it out: just a 5mm long, 1mm radius cylindric piece of glass. I was very glad it's out.
Conclusion of the whole event, especially regarding the two triathlons on two consecutive days: Again next year!
It took just a few hours until that thought entered my brain. Definitely doing it again exactly like this from now on. As well as the Challenge Roth 2017 long distance triathlon the weekend before. Because why not! A few days later, the online registration of Challenge Roth opened up and I sat there right at 10 AM, refreshing the site again and again. And it helped, I was one of the people who got in during the 60 seconds when it hadn't already been sold out! Never say never to another long distance triathlon race.
First in the queue for #ChallengeRoth 2017 entries tomorrow morning! #dedication pic.twitter.com/xdcQKzJMHC — Challenge Roth (@ChallengeRoth1) July 17, 2016
See you for Part III in August: 100 kilometers of Cyclassics biking. The only race I have never done before and will very likely be quite bad at. We'll see!
How do you feel after reading this?
This helps me assess the quality of my writing and improve it.