The Ironman Copenhagen
This is the Big One
A full Ironman is the ultimate challenge for anyone who counts triathlon as one of their hobbies. A truly magical race. Do you know anyone who has ever completed one? There might be some people in your circle who pulled this off, but they're usually really a minority. Nothing compared to people who have finished a marathon. For those of you who don't know what all the fuss is about, an Ironman race consists of the following disciplines:
3.8 km of swimming (usually open water)
180 km riding a bike
42.2 km (a full marathon) of running
The race starts with the swim and the clock isn't stopped in between disciplines. The first one to complete all three parts in that order wins. It is considered one of the hardest sporting events in the world.
But… Why Would I Do This?!
I put "Completing an Ironman Triathlon" on my bucket list in 2010 I think, but it has been in my mind for a much longer time. The first time I heard about this type of sport was from my father. I was about 8 or 10 years old and we were watching sports television together. Usually we watched tennis or golf or some sort of track and field event, but this time a rare thing happened: a triathlon race was on. I'm not sure which one, but it wasn't an Ironman race, because my father used this chance to tell me about the Ironman race. And the way he told it, instantly made me think "Maybe some day I can do this!", because he said something like this:
"Listen, an Ironman race is practically not possible to complete. First off, you have to swim for 3.8 kilometers, which nobody is able to do. Then, 180 kilometers of biking followed by a full marathon? I don't think so! Not possible. I don't understand how anyone can do that."
I have to add that my father is a very sporty guy. His marathon personal best is 3:23 hours (18 minutes faster than me, as of September 2015) and in his prime he used to compete in rowing races on a high national level. So that statement had quite a lot of impact on me and stayed with me ever since.
Why Now?
You might have heard about the Ironman Hawaii — that's the World Championship of this type of triathlon, held annually on the Big Island of Hawaii.

Ironman has become a huge multi-national brand and holds dozens of Ironman races around the whole world, many of them for this long distance, and lots of them offering the Half Ironman distance as well, which is called Ironman 70.3, because that's the complete distance of the Half Ironman in miles.
I did two of these 70.3 races before. The first was in September 2014, after which I got mad and thought: "Why not try a full Ironman next?" — It hadn't occurred to me up to that point that I actually could have it in me to finish the big one. It seems like a huge step, even if looked at after finishing a pretty demanding Half Distance. Very far away. But then again I was thinking: "I'm in quite good shape at the moment, when will I ever be truly ready for a full Ironman race if not now?" — It should be possible. Others have done it, why shouldn't I be able to.
So I googled.
Turns out, these Ironman races are really popular! They're usually setting the limit at a couple thousand entry slots and many of them are sold out a year in advance within hours after going public with the registration form. What? The people's competitiveness is apparent even in the registration process. As with Apple products, this just makes you want to get in on it even more.
I didn't have that many options in selecting a specific race, because I wanted to take my family with me together with all the necessary equipment. I thought it would be annoying and risky to fly somewhere with the bike, so there are just a few options left which are reachable by car from Hamburg. All of them were sold out for the next year. Some ideas were needed. Like at the London marathon, which is also usually sold out within hours, I got myself a place with the help of a travel agency which is specialized in Ironman race trips. Expensive, but effective help. A couple weeks and mails later I held my confirmed reservation for a race on August 23rd of 2015 in my hands:
Ironman Copenhagen 2015
Copenhagen, an awesome city. One of the best in the world. Also: flat! That's very important for the cycling bit, if you're a bad cyclist as I am.
So after that was done, the difficult part starts: Finding the time to train enough while running a company and having two kids at home.
Learning to Swim
Part of the training had to include learning how to swim properly, so I had quite a lot of work to do! After the decision was made and the ticket was bought, winter started, so I could spend the season in a swimming pool. Well, about 90 minutes per week if I was lucky. Because of my job I have learned how to use my time effectively, so I treated the swimming like a project I was working on. First, there comes the research: know your task — in this case, the technique to solve a problem. Fortunately, Youtube exists, and there are several cool channels that show you how to freestyle swim.
My friend Keno came with me and took a video of me under water with a GoPro, so I could analyze my amateur style and compare it to videos of Michael Phelps.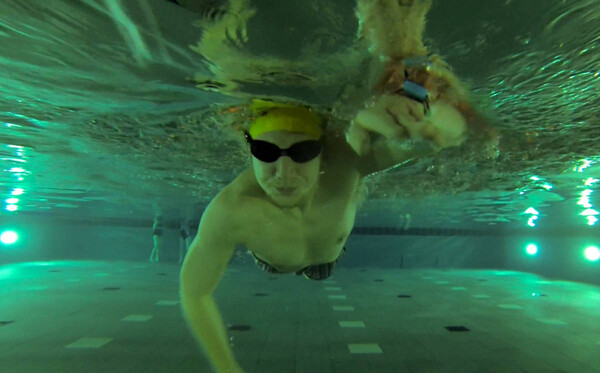 Phelps and I are really differently skilled swimmers, it turns out! But it helped a lot just to see what I did from the outside. And after I successfully conquered my fear of drowning by just exposing myself directly to it, the task got a lot easier. The first time I made it through 50 meters of freestyle swimming (head under water, breathing on alternating sides — the usual freestyle technique) without a panic attack was in January, I think. I was so proud! From that moment on it was easy. The week after that I managed 250 meters until I got really tired and was out of breathe, yet another week later I did 1,000 meters, and then I completed 2,000 meters of continuous freestyle swimming in one session. The learning curve was amazing! I was still really slow, but that's not a problem — the task I set is to make to the end, not to be fast.
In March, just about when the outdoor cycling season normally begins, I made it through the complete 3,860 meters for the first time. It took me 1 hour and 45 minutes. The time cut-off for the swimming part at an Ironman race is usually about 2 hours and a bit, so this was my first victory: knowing I could make it through the swim and be able to continue the race by now. The effort it took to achieve this milestone was surprisingly small, which motivated me a lot.
Spring is also the season where many European marathon events take place, and I had booked Malta for February, Bratislava in March, London in April and Stockholm in May. One marathon race about every four weeks. By now I know my marathons, so I didn't worry too much about that last bit of the Ironman. All those races helped to remember how to run a marathon and get me into shape after the winter, so this plan should work out well.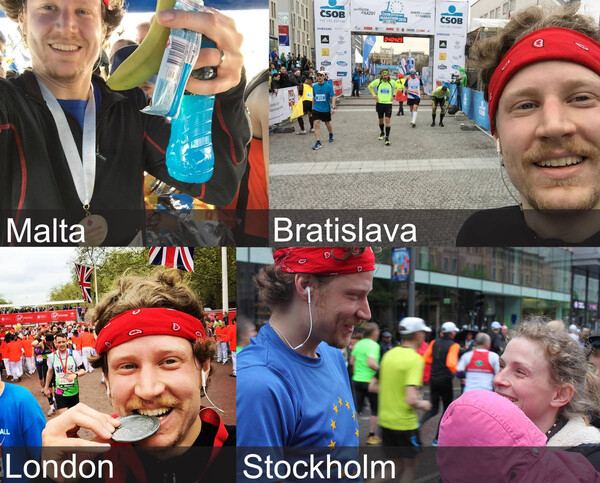 The thing is, many Ironman athletes I talked to or read about on the Internet say that the marathon after 180 kilometers of biking is a totally different thing from a "normal" marathon, and I really believed them. It sounds so unbelievably hard, even when you have some marathon experience. So the next most important part of the preparation happens with an aching back and bottom on a bike.
Cycling Training
This sport takes up way too much time. With my nice aerodynamic triathlon bike I can hold up a steady pace of about 30 km/h for quite a while. Divide 180 by 30 and you get 6 hours of straight biking. Having no lunch breaks, no red traffic lights or punctures at all. When to practice for that? A triathlon friend told me to try and do some 200 kilometer rides as well, in order to get the body up to a level at which it's comfortable with even more sport than needed. I honestly planned on doing that, but never managed to. The longest distance I rode during practice was just 100 kilometers, and this sounds like way too little training. This made me very nervous. You have to know your biking, since it is the longest and probably most important part of the race.
Test Triathlons
So I had another idea to get myself into shape for the Ironman: do a couple of shorter distance triathlons in the summer. I found a Half Distance race (reminder: 1.9 km swim, 90 km bike, 21.1 km run = 113 km or 70.3 miles) for June in Billund (Denmark) which looked really nice. And there is always the obligatory ITU Hamburg Triathlon, an Olympic distance event with just 1.5 km swimming, 40 km biking and a 10 km run, which is really fun in my hometown. Since 2013 it's the biggest triathlon event in the world if measured by number of participants!
Both races went really well. In Billund I freestyle swam the 1.9 kilometers for the first time in just over 40 minutes, which was amazing to me, then did the bike part in 2:47 hours (more than 32 km/h on average!) and finished it off with a solid 1 hour 53 minute half-marathon. Total time of 5:32 hours. I was incredibly surprised and happy with that result and got some much needed confidence for August, especially because after finishing I felt like I could easily run some more.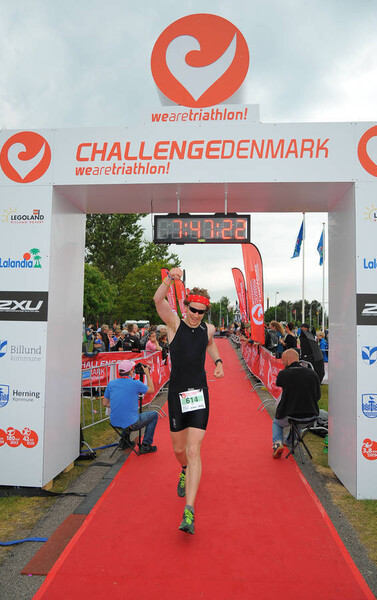 The short Hamburg Triathlon also went really well. I do this race every year because it is so much fun, and I usually improve my end result by a few minutes. This time my friend Hodg participated as well, and I shaved off a huge chunk of more than 10 minutes of my personal best time for a finishing time of 2:43h — which I never thought I could do. I ran a personal best 10k at the end, but I missed my goal of completing a different bucket list item: beating my very athletic friend Maddin's best time of 2:41h. Less than two minutes! In the analysis of the split times I found out that he was slower than me but changed a lot faster between the disciplines! That is why they call the changing in the transition zones "the fourth discipline". I thought I'll just beat him next year. Learning how to change fast isn't really important for my Ironman goal.
Also, the last hundred meters I slowed down a bit, but for a very good reason: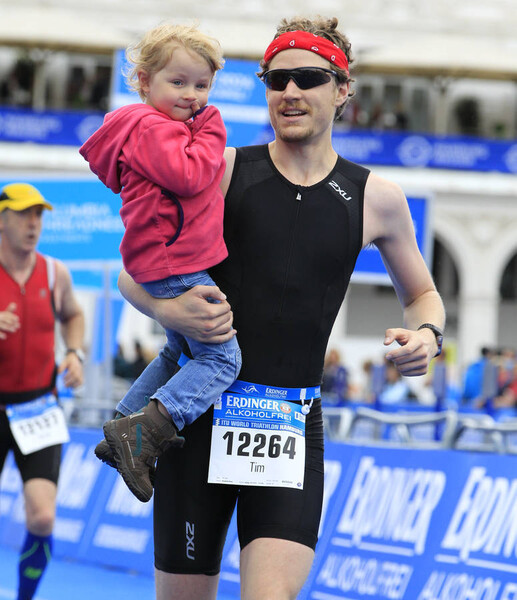 The Last Few Weeks Before the Race
So that went pretty well. But as superstitious people say: if the last rehearsal goes well, the first real show will fail, and vice versa. Good thing I'm not superstitious. But still I knew I had to step up the game to be on the safe side. A good Half Distance and fast Olympic Distance race are not good enough if you want to make sure to finish the Ironman. You have to put in lots of effort. So I stepped it up in July and August, doing one of the three disciplines six days a week. Cycling for 40 to 50 kilometers in the late evenings, swimming 4,000 meters without a break every Friday morning, running a half-marathon almost every other day and doing a long bike ride on one of the weekend days.
I did two tries where I cycled for a long time and then went running directly afterwards. It hurt both times and required lots of mental strength to pull through, which made me more nervous afterwards. One time I rode 100 km and then ran 10 km. It was really hard, and still it was just a fracture of what I would have to do on race day.
The Doubts
Do I have what it takes? The willpower is key here. It is a battle of the body and the mind. I was questioning everything. Is this worth it? Will the feeling at the finish line and the life-long sense of achievement make up for everything? I remembered my first marathon finish and thought: if it's that good, it might just be worth it.
As the race came closer I contacted an old friend named Gabriel, who I knew did an Ironman race, to ask for tips. He had four main suggestions:
Don't do any sports in the week before the race
Eat nothing but carbohydrates on the last three days
During the Ironman eat as many PowerGels as you can
During the marathon part of the race, just drink Coke
I found these really helpful and just talking to him got me to calm down a bit. The 'relax during the last week' part was especially nice.
The Race Weekend
Copenhagen, here we come! My support team had expanded quite a bit. Not only my wife Sophie and our two daughters came with me, our Au-pair Egor was with us, too, as well as Sophie's parents, my father with his girlfriend and my old friend of almost 20 years, Kösel, with his girlfriend Ursula. A huge group to not disappoint! Somehow they all managed to make me feel no pressure, and were really just there for support, which was awesome. All the loving helping hands with our kids, the cooking and house work et cetera during our stay in Copenhagen took away all the usual energy-consumption of such a weekend trip.
I got my racing number in the huge Ironman tents in the city center, where I also had to quickly sign a contract which said I wouldn't sue if I died. Well, now that I'm here.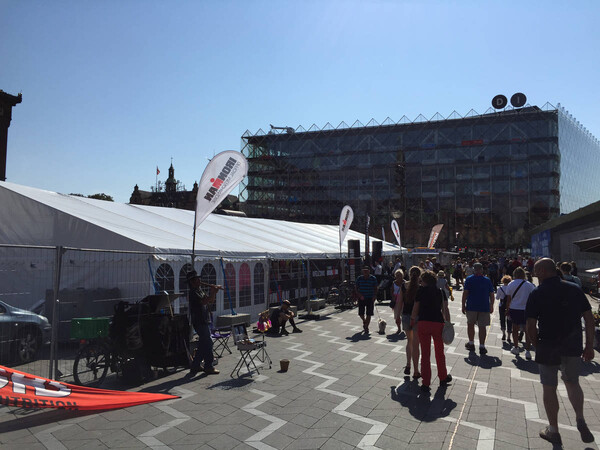 That's one of the signs that Ironman is an American company. As with all successful ideas, when capitalism gets a hold of them, they blow up and sometimes out of proportion. The whole brand was recently sold to a Chinese company, though — I wonder what that says about the world economy and the future of the sport, except that triathlon is probably a good investment because of its current and projected future growth. We'll see.
Intermission: How Did Ironman Start?
Two sports clubs in Hawaii in the 70s weren't sure who the fittest athletes are: swimmers or runners.
Of course, one was a swimming club, the other a running club. So they decided to set up a race in which they all would do both disciplines to find out. During the planning they heard of cyclist Eddie Merckx, who had one of the biggest maximum oxygen intakes ever measured — so may a cyclist be the fittest athlete of all? That's how the cycling part came into the mix. On the Hawaiian island of O'ahu they combined the three already existing racing events, which were the Waikiki Roughwater Swim (3.86 km), the Around-Oahu Bike Race (185.07 km, originally a two-day event) and the Honolulu Marathon (42.195 km). They slightly changed the courses to make it possible to change between the disciplines and invited people to test their fitness in 1978. 15 men started, 12 finished. By today's standards, a nerd won. With a degree in physics and working as a communications specialist for the US Navy, Gordon Haller was the first one to be called an Ironman.
After that, the race grew without effort and expanded over the whole world, but the World Championships stayed right there.
A fascinating phenomenon. But still, the whole thing never answered the main question of who is fittest: swimmers, cyclists or runners.
What's your opinion? Is there a clear answer to it?
The Last Day
To round off the day before the race, I met with my father and we cycled down to Amager Beach, which is 6 km South-East of the city center. It's the place where Copenhagen goes to relax at the beach, but also where the race would start tomorrow. I dropped off my bike and my two transition bags — one containing the bike gear I would need, the other filled with running gear.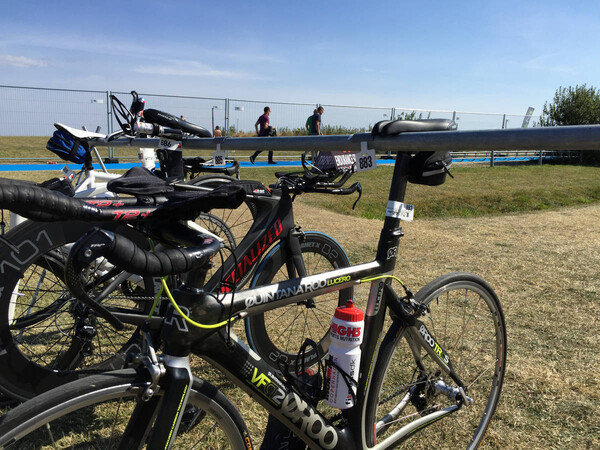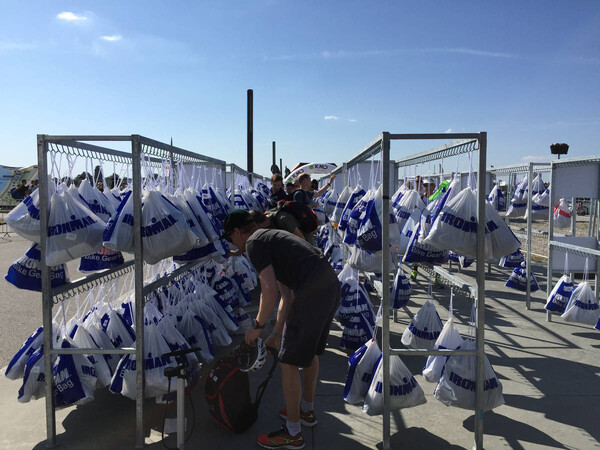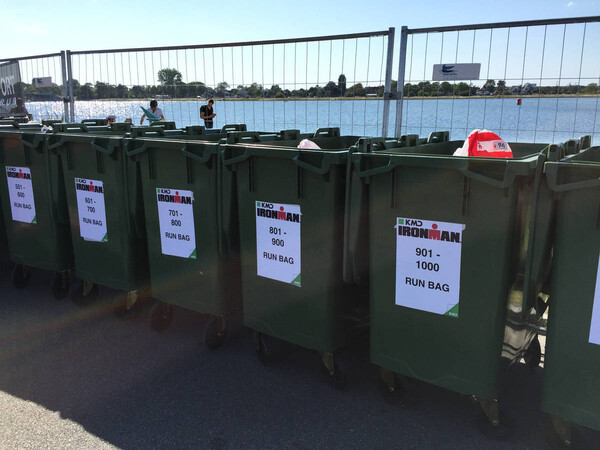 We explored the area together and pondered where to meet tomorrow between those thousands of people. If you see the sheer size of this event, it becomes understandable why they take such high prices for an entry. It's ridiculous what the organisation has to pull off here in order to make sure everything goes smoothly.
Sophie arrived as well, our kids and her parents along with her. We had a few hours of a beach holiday and then met my whole team at a restaurant to have as much carbohydrates as possible.
The Morning of the Race
After about 8 hours of solid sleep (I honestly don't know how that could work, since we were sleeping in the same tiny room with both kids and I was quite nervous) the alarm went off at 4:45 in the morning. It's still dark outside as I shovel in as much Muesli as I possibly can. The last preparations are made, I have to focus on every detail. I don't want to forget anything and mess the whole race up. It's a tense situation for me, but I'm calm. Sophie's parents promised to take care of the kids when they would wake up, so Sophie and I could leave the apartment together to go to the Swim Start.
Walking through the empty Sunday morning streets of Copenhagen towards a subway station. The calm before the storm, I think. Some party folks are wandering around in their short and cold looking flashy outfits, half drunk, half asleep. Around the subway station homeless people sleep. A clash of two worlds. Down in the station we are suddenly surrounded by fellow Ironman athletes. Us aspiring Ironmen are easy to spot: tall, slender, colorful tight clothing and an empty expression in our eyes because of the nervousness. It is a weird and unreal scene to me, all of this. For quite a few years I had this dream of becoming an Ironman some day. At first it was a joke, but it got more and more real until now here I am. This is it.
The last few weeks and months of training have been quite stressful and have demanded a lot from not only me but first and foremost from my wife Sophie. Her support has been amazing throughout this endeavor. She's given me all the time that I needed to get into shape to be an Ironman and had my back at every occasion. But I'm sure I'm not only speaking for myself when I say that I started really looking forward to the time after the big race, when the training would finally stop!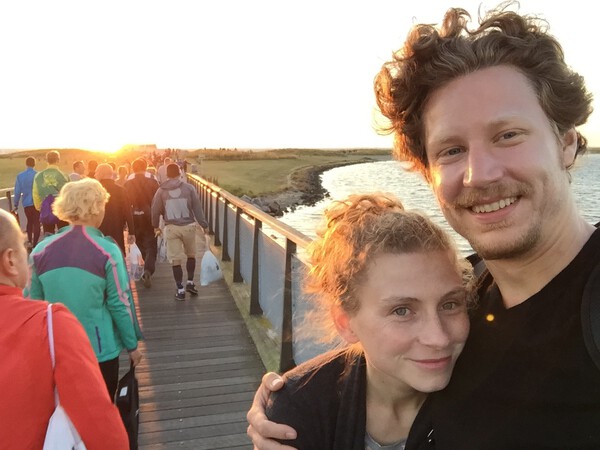 We reach Amager Beach as the sun is slowly rising and hear the MCs lightening up the mood. It's working. They're talking about the professionals who are participating in the race today. Triathlons are one of the few sports where amateurs get a chance to do the same race as the pros. Have you ever run with Usain Bolt or played Tennis against Roger Federer? Here you get the equivalent chance to do so, and I really like that. I don't know many of the pros in the scene here, but one name stuck with me: Michelle Vesterby. She won the Billund-Herning triathlon in June, in which I also participated, and she is a very likable person apparently. She was number 38 in the world but needed a 35 position in order to qualify for the World Championships in Hawaii this October. So she wanted (and I think, needed) to win here in Copenhagen. The crowd loves her, probably not only because of her great personality but also because she's from Denmark as well. So I was on her side, hoping for her to win today.
While waiting for the time to go by I made a little video of the scene here at the start, just to capture the atmosphere a little bit.
The last minutes go by as I mentally go through the whole race again and again. What to do in the transition areas, when to eat what, how to pace myself perfectly during the cycling bit. Again and again. It's time to put on the timing chip and the wetsuit now, green cap on the head, goggles as well. Putting on a wetsuit is a work-out in itself, so now I'm ready for some sports!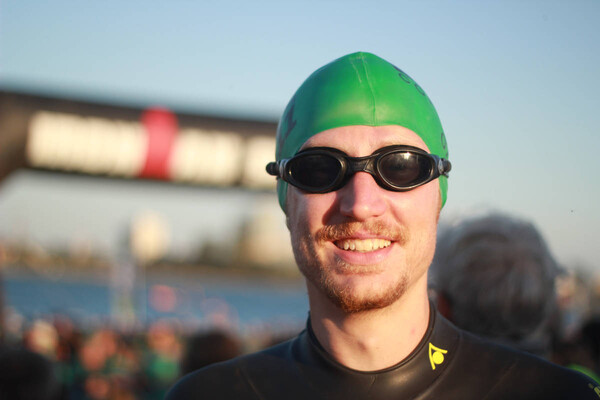 Last but not least: giving Sophie my wedding ring, because I don't want to lose it in the water. 7:00 AM — the gunshot for the start of the professionals. It's real now. 7:05 AM, the athletes who plan on finishing in less than 10 hours get into the water. Me and my fellow age-groupers between 30 and 34 with our green caps kiss our spouses and kids goodbye and walk towards the starting point on the beach. Sand between the feet, it feels nice. Last stretching moves, arms swinging. 7:10 AM — this is our signal!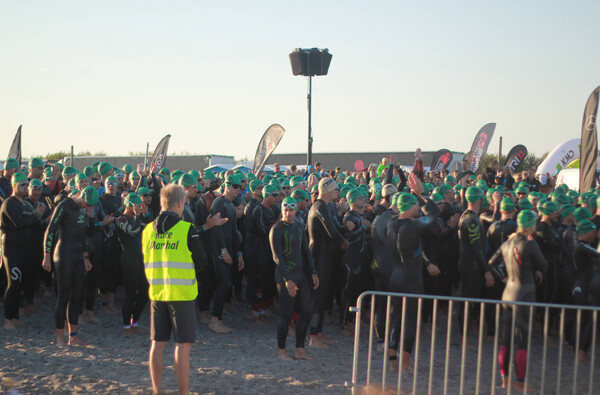 The Race Begins
For a second I really can't believe it. It's starting right now and I'm about to do a full Ironman. Sports for the complete day, without a break. The sun was just rising and I will be done when it's about to set again. Unbelievable. But that thought leaves my head as I walk into the water and focus on the race. I'm in it now and I'm going to see how far I will get. I let myself fall into the water, which is perfect, not too warm and not too cold, calm and clear. The air temperature is great as well. With my swimming speed I am right in the middle of the field. I would have never thought I could do this — six months ago I could barely swim!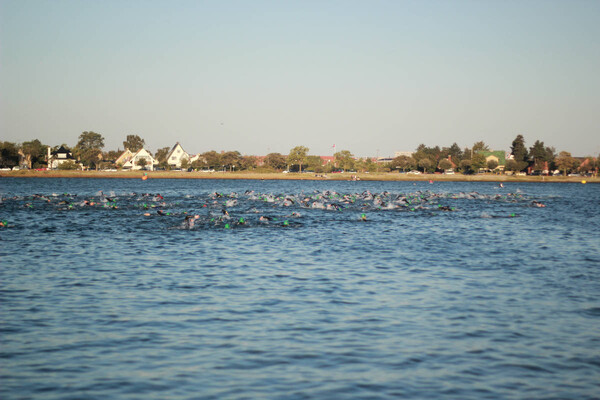 But now it feels really nice and has become my favorite discipline. I see the ground of the laguna from time to time — this is how clean the water is. Salty, because it's the Baltic Sea we're in, but not too bad. I look out of the water to the left and to the right while breathing and make sure there are people swimming on both sides all the time — to confirm that I stay on track. Many people swim so far off course here, because they didn't think to develop a technique for swimming in a straight line.
The swimming part is quite ambiguous to me. On one hand, it's really lonely and quiet. You don't hear anyone cheering or talking, you cannot really see the things around you. Basically you're alone with your mind for a while, which can be nice. On the other hand, so much is going on, because swimming requires the most body-control of all three sports. Remember what to do with your hands (elbows high, fingers together), to keep a good posture, don't move the legs at all to save the muscles for later. Especially the correct breathing technique is difficult to handle. Also, it's noisy under water, because all you hear are the loud bubbles you're making while exhaling. When your head is out of the water, you just hear hundreds of hands and feet of the athletes in your vicinity smashing into the water. Also loud. For me, the isolation feeling is nice, especially in the morning. I like to keep to myself during that time, so I really enjoy the swim here.
We swim under two bridges, both having cheering crowds on top and a huge sign, the first one saying 500m, the second one 1,100m. I'm doing really well all the time. After the second bridge we turn around a big red buoy and swim south again under the same two bridges. As we come near a third bridge at 2,700m, I notice athletes walking in the water next to me — we're so close to the beach that it's just about a meter deep here.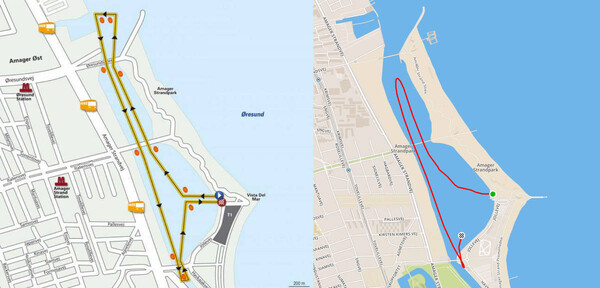 I touch the ground twice by accident and have to focus on the best path to swim again. In the southern loop the water smells a bit bad, probably because it doesn't circulate very well here and thus develops algae. It's still good and the loop here is quite short. Swimming underneath the same third bridge for another time (3,200m sign on this side of the bridge) and I can see the start of the race again where we would also have to get out of the water. This is quite a moment for me, because I realize I'm almost done with the swimming, which is the first big milestone of the race.
But a few hundred meters to the swim finish, I notice a problem. I drank too much before the race. And now I wonder where the next opportunity would be to get rid of that extra water. Probably at the first bike aid station at kilometer 30 — way too far away! So you guessed it, this has to happen right now before I leave the water. Yes, in the wetsuit. Not that great a feeling. In contrast to the stories I've heard there are worse solutions to this recurring problem, though. Apparently it's common that you just go ahead while on the bike, riding. Without even bothering to pull down the suit. So I guess my way was not that bad — at least there was lots of water around me to wash everything away. I feel a bit bad for the guys behind me, though…
Just a bit left and suddenly the carpeted plank is within reach. Switching to breast-strokes now for the last ten meters to get the blood circulation going and I'm out of the water! Awesome. Helping hands on both sides because it's quite hard to go from horizontal to vertical so suddenly. Compare this to jumping out of bed in the morning and running through the house immediately — you're guaranteed to get a bit woozy at first. But I was feeling fine, much better than after the swimming sessions in Hamburg in fact. I guess it's the adrenaline. Great stuff.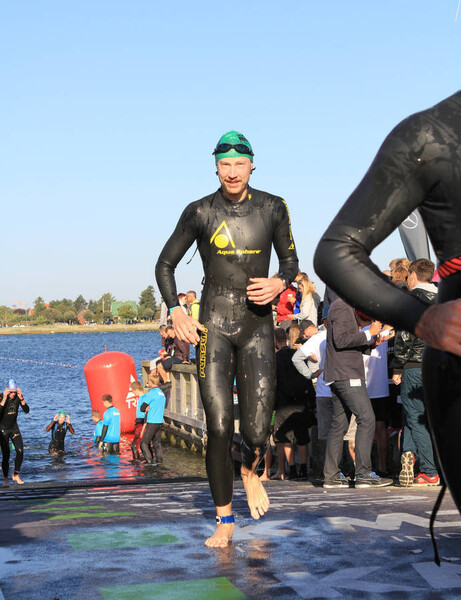 First Transition: Swim to Bike
Now begins the carefully planned transition which I went over again and again in my head. It all happens really fast after quite a long time of swimming which doesn't require that much brain power. Finding that switch is a challenge. Here is the imaginary list that I follow during "T1", as we triathletes say:
While walking/running from the plank towards the transition tents: Putting goggles up on the forehead
Looking on the GPS watch (swimming time: 1:17 hours, great!), pushing the End Discipline Button
Searching for familiar faces in the crowd, especially my father who said he'd be here on the right side (I didn't see him here — too crowded)
Simultaneously reaching for the cord on my back with which the wetsuit zipper on my back can be opened
Opening the Velcro on the back of my neck
Awkwardly pulling down the cord and removing the top half of the neoprene wetsuit (getting it off of the arms over the watch and mandatory Ironman wristband is very difficult)
Getting the goggles and cap off of my head into the left hand before reaching the shelves with all the transition bags
Finding my transition bag with my number 883 (I am relieved that it's easy to find and still there), grabbing it with the right hand
Into the tent, finding a spot on the bench, putting down the bag, removing the wetsuit down to the knees, sitting down, removing it completely
Opening the bag, getting my towel out of it, quickly drying a couple body parts (10 seconds)
Getting out the vaseline, applying it to the more sensitive areas (I'm about to sit on a bike for 6 hours…)
Helmet on the head, closing it right here
Putting sunglasses on
Putting socks on
Getting all the PowerBars (3) and PowerGels (5) out of the bag and putting them into the back pockets of my triathlon suit (I wore that underneath the wetsuit in case you're wondering right now)
Putting vaseline, towel and the soaking wet and therefore really heavy wetsuit into the now empty transition bag, closing it firmly
Grabbing the bag, running out of the tent, finding the correct dumpster to put the bag into (they're numbered and will be transported to the finish line)
Running towards the bike while hoping it still has air in the wheels after the night outside, finding it and checking quickly: positive!
Grabbing it off of the rack and running towards the official starting line pushing the bike — during which I hear someone scream my name: my father made it! I wave and say something to him which I forgot right away because of the transition zone adrenaline
Reaching the bike start, jumping on the bike and getting it up to some speed, while putting my feet into the shoes which I had already mounted on the bike pedals, then closing the Velcro on them
Looking on the GPS watch, hitting the Start Next Discipline Button
And that was the first transition! All of that happened in roughly 7 minutes, and that is really slow compared to the other amateur athletes and the pros especially (they need about 2 minutes, depending on the location and weather conditions). I didn't rush, because I wanted to make no mistakes here. Also, I didn't practice…
180 Kilometers of Biking
After that challenging transition is over, it feels like it's getting quieter. The change worked very well, I didn't mess anything up. This biking part is easy, in theory. I have to take care of two main things during this long, long ride:
Food and fluid intake. Not too much, not too little. Today I'm going to burn about 10,000 calories, and I don't want to run out of energy. Ironman finishers say that your food intake during the biking will heavily influence the run, and thus, the whole race.
Ride fast, but slower than I think I could. That means: if I start feeling my upper leg muscles get acidic, it's too late. I am a type of person, who always feels those muscles. On almost any hill or acceleration. So this isn't going to be easy for me.
Another different thing is safety. Although the roads are closed for traffic and mostly in good condition, biking at those speeds is dangerous. Handling a light carbon bike with that weird arm position is not easy and many others will struggle as well and they might be dangerous to you. Falling off of the bike needn't be the end of the race, but it would certainly make it harder and just be annoying.
Punctures or other mechanical problems might also occur. On my first Half Distance triathlon I had a puncture right away and had to fix it during the race. I carry everything with me and know how to do this in a few minutes, but what if something else breaks? Or I have two punctures? The race might be over, and that would just be really sad.
So I focus on keeping safe and not taking risks.
There are just about no crowds at all. After 10 kilometers (about 20 minutes) I reach the city center, and there is my family! It was a slight surprise to me, because they weren't sure if they could make it this early with all the kid logistics since it is still not even 9:00 AM, but here they are! I realize it quite late, but smile and wave while racing away happily. Just a few seconds, and the moment is over. This makes you appreciate all the effort the guys put into it. Another cool thing: by accident, at this corner there was a photographer present who took this great shot of me with just my father-in-law Peter and nobody else in the background.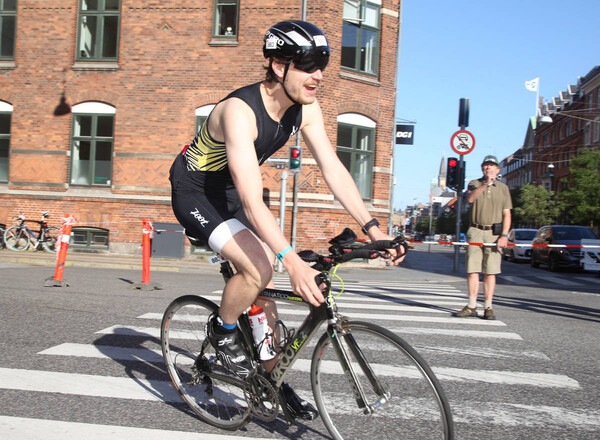 The sun is all out by now and I'm glad I put on lots of sunscreen this morning. The course leads through the city center, which is still quite empty and features lots of constructions sites. The streets are not in perfect condition here and I worry about my neck muscles a bit. After 20 kilometers we're out of the city, going North along the coastline. It's a shame I didn't have a camera with me, because it was stunningly beautiful here. The waves clashing on the shore right next to us, the sun from the right side warming us up, no winds at all. No cars, no noise, just the rolling green fields on the left side. Wonderful.
Ironman has very strict rules regarding the technology you can bring with you during a race, which is basically: nothing is allowed except for a bike computer which is mounted on the bike, and a wristwatch. No GoPros or other cameras, no phones, no music players, no headphones, nothing you normally see people carrying around during marathons and other events like that.
The biking went well so far. I just had to remind myself many times to not go faster. I was careful with the changing of the gears, staying in easier gears to have a higher cadence is preferable because it uses less energy and tires your muscles later. Every once in a while, though, I caught myself using too much power and forced myself to go slower. The thought "I'll have to run a marathon after this!" helped a lot with that.
Every 45 minutes I had either a PowerBar or a PowerGel to replenish some burnt calories. I estimated that this would work for my body, because it did work quite well during the training sessions. Of course I had no idea how my body would react after so many hours of sports with this type of nutrition. This is a first time thing and therefore an experiment.
Regarding drinking I was even more careful. Lately I have heard so much about the consequences of wrong fluid intake during such a long race, most notably the Australian guy who died after the Frankfurt Ironman just a few weeks ago. His mistake was not taking in enough sodium during the race. He probably had mostly just water, and way too much of that. As a result he got a brain edema, collapsed right after finishing (amazing how the mind still controlled the timing apparently), was taken to the ICU of a nearby hospital and died three days later.
My first priority here was to not die. So I talked with my doctor/wife about this and how to avoid it. Easy: don't drink just water, but mix it with those isotonic drinks they offer as well. And drink when you're thirsty, not at much as you can. Additionally I had some salt pills with me for when I started feeling woozy (one of the signs), but I planned to save them for the marathon. The sodium in the isotonic drinks and PowerGels should suffice very much.
There were Aid Stations roughly every 30 kilometers, offering everything you could want except for a nice steak and a beer. Starting with portable toilets (urinating at any other place during the race would lead to immediate disqualification if noticed, by the way — harsh rules), the volunteers were perfectly organized and each screamed what they were offering every time a cyclist came along. They must have all lost their voices that day. Water bottles, bottles with an isotonic drink, PowerBars, PowerGels, Fruits, and mechanics for your possible bike problems.
After 40 kilometers we left the Baltic coast and turned West, inland. This meant: hills. Not many of them and not very steep, but noticeable still. It was a bit difficult to keep using as little energy as possible during the climbs here, but thinking about having 140 kilometers and a marathon left helped to slow down again.
The rural areas we went through were just as nice as the picturesque coastline road, but in a different way. Lots of rolling hills and fields around us, narrow streets and every once in a while, a small village consisting of just a few houses. The people living there were usually in front of their houses, cheering. Friendly folks!
At kilometer 70 the course led us to a bigger road, much like a small highway. There were next to no turns which made it quite boring. Soon we reached the highest point of the course at 72 meters above sea-level. That hill was a big party zone. Many fans and spectators had come to this remote place to see us athletes move up really slowly here. Loud music and MCs, people on the streets forming an alleyway like you would see at the Tour de France every year. This was new to me and quite the experience! After a few hundred meters of climbing slowly, the top was reached. Right there they had set up another Aid Station. Perfect positioning!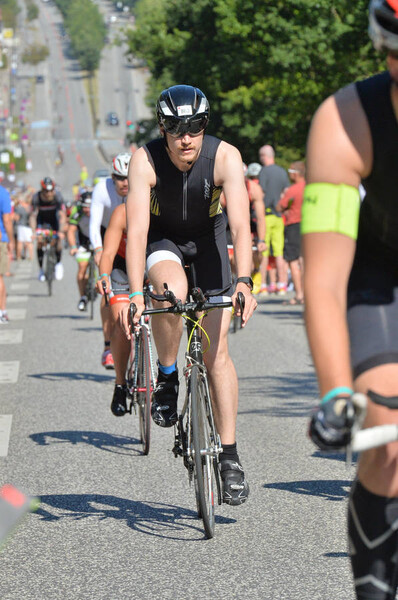 Going through a few more little towns until at 93 kilometers a significant place was reached: the end of the first lap! From now on everything will look familiar to me. Just a couple kilometers later, right after another Aid Station I was surprised by the family again! I had no idea they would make it so far outside of Copenhagen (about 20 kilometers), but here they were. I was so surprised that I barely managed to get a high-five from Egor while racing on. This place was just a few meters away from the beach, so it was actually the perfect location to spend the day for them. They stayed there for a couple more hours while I cycled the remaining 80 kilometers.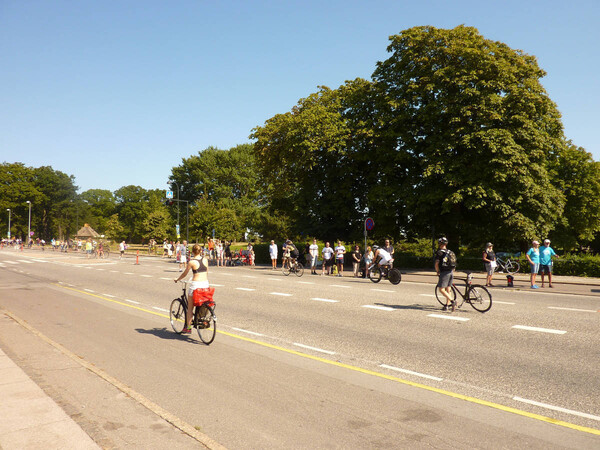 I got a little slower now, down from about 30 km/h to 28–29 km/h on average. My main concerns were sore thigh muscles and a tired neck, because of the aerodynamic position that you're sitting in on the bike. Not only do you have to look forward to see the road, but also to save energy by having a smaller attack surface for the air you're cutting through. This makes a huge difference. When you leave that aerodynamic position at 30 km/h and go to an upright position you immediately lose 2 km/h whilst putting in the same energy. If you do that at 40 km/h you lose a lot more speed.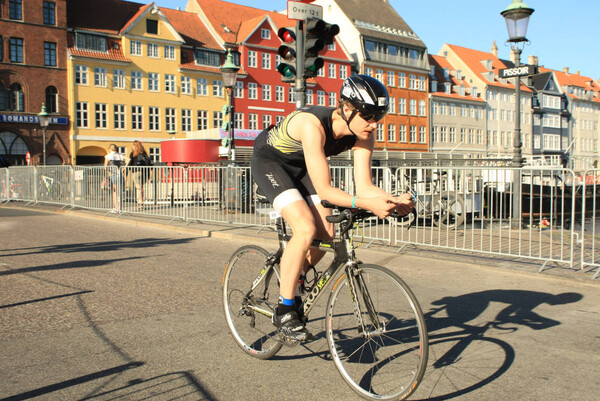 Compare this to Jan Frodeno's aero position. Quite the difference! He might win the World Championships this year (edit: he did!), so it's okay if I look ridiculous compared to him.
This head position is really unnatural, though, and very hard to practice if not during daylong bike rides. Every bump in the road will make the head fall down a bit and the neck muscles have to take care of that. For so many hours. So I got more and more tired and had to sit upright from time to time. The course was still the same with many of the same people standing at the same places holding up the same motivational signs. About three hours later. Being an Ironman supporter requires nearly as much stamina as being an athlete!
The hills in the inland section of this second lap were a bit harder this time, but still okay for me. 130 kilometers, 140, 150. Isotonic drink, water, PowerGel, PowerBar. Not much else to do than to pedal and enjoy rural Denmark. To get an idea of this course, the organizers put up a time-lapse video of the course, which is really relaxing in my opinion.
There came the turning point from before. Last time I had to turn left to go on the next lap, this time I turn right towards the city center where the next transition area will be. Still 10 kilometers to go, but this seems like nothing now! The thighs are doing fine after 170 kilometers and I almost can't believe that I'm doing okay right now after 7 and a half hours of sports already.
I'm yawning a lot, though. I think I'm genuinely tired and could very well just go to bed now and sleep. But the race isn't done so far, so I'm looking forward to the Coke and promised Red Bull on the run course. Gabriel also told me to swear off caffeine completely for the last four weeks before the race, just to make the benefits of it during the run even more effective. Unfortunately, he told me a week before the race. And also, it would be so annoying to let go caffeine for even a week.
One of my left lower leg muscles starts to hurt and I really hope I won't need that specific muscle for the run. But what can I do. The last kilometers are on the same street where the run course is located and so I see lots of people already on the running tracks. You see, I am a very slow cyclist compared to most of the other athletes, and here I was even actively trying to be slower than usual. Naturally, about 500 cyclists from the later starter groups passed me by, while I overtook what felt like 10 people. Those 500 and all those who swam faster than me are now in front of me, already running. In total about 1,600 of the 2,100 athletes. Yes, I'm in the last quarter somewhere right now. But who cares, I'm still in the race and feeling good.
The mental preparation for the run is now my task, meanwhile I try to use even less energy on the bike. I'm on the last few kilometers and suddenly I can see the end of the bike course in front of me, and it looks so beautiful. No more cycling soon!
Check out my GPS tracking along with more stats on Strava.com
I remember to get out of the shoes in time and put my feet on top of the still mounted shoes to slightly pedal the last few hundred meters, smiling. I suspect some family members in the area and am on the look-out while I remember the upcoming transition routine. It's easier than the first transition, but still a challenge because of the concentration and speed after more than 6 hours of the same movements. So, here it comes.
Transition from Bike to Run
Look for the line on which to dismount the bike — if you cross it on the bike you're disqualified
Jump off of the bike right before the line without breaking anything or hurting the valuable feet
Handing over the bike to one of the helpful volunteers who put it on the racks for you
Look for family: there is some! Sophie takes a photo, I run to her and tell her I'm still fine and she shouldn't worry — which is true, of course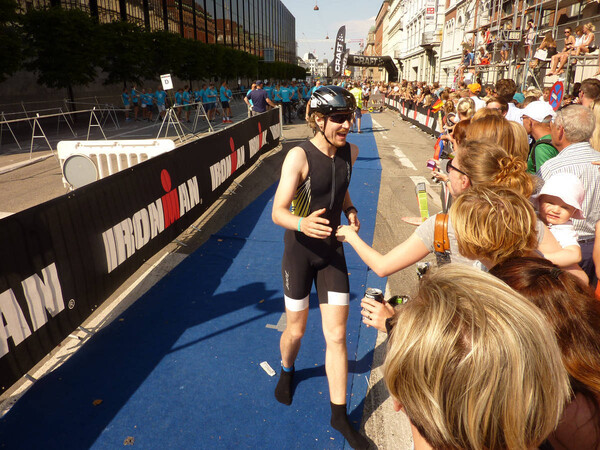 Almost forgot: push the End Discipline Button on the GPS watch: 6 hours 14 minutes — very acceptable
Spot more familiar faces: Kösel and Ursula! The crowds are huge here and the noise is an issue, so I just scream something nice at them to thank for their support here
Now on to find the red bag with my running gear inside — not a problem, the place is well organized and they sorted the bags
Into the changing tents, open the bag, helmet off, red bandana on, removing biking socks
Second Vaseline session: an update for the sensitive areas, because running takes an even bigger toll on the skin as biking, and also the feet are important now
Put on running socks, running shoes
Racing number belt around the waist *click*
PowerGel and PowerBar restocking: 4 gels into the back pocket, 1 more bar
Everything else into the bag, close it, grab it, run out of the tent
Throw the bag into another dumpster right outside and go go go!
Transition 2 is done! This was easier. The motivational music and crowds get my adrenaline pumping again and I can't help but smile and be happy about how far I've come already. I don't really think about the marathon coming up, but see it as just another run at the moment. Hopefully that will stay this way. First thing I notice: the pain in the lower leg muscle in gone. What a relief!
The Marathon
Almost 8 hours are down by now, it is about 3:00 PM, which means serious sun made more effective by the now missing cooling winds I had enjoyed during the biking. Quite hot it is, but I like it this way. I'm looking forward to the running course because I don't know it yet and I wonder if it will be similar to the official marathon course I ran a couple years ago in this city. It's right next to the water, which I always appreciate, and consists of 4 identical loops of about 10.5 kilometers each to get to the full 42.2 kilometers in the end.
The first kilometer leads to the finishing area, which is also full with people. I see the Rådhuspladsen (town hall square) where I would turn right in 40 kilometers to finish this. But not now, I have some running to do. I'm thinking, I'll do one 10k loop just to see the course and then see how it's going from there. Baby steps, right?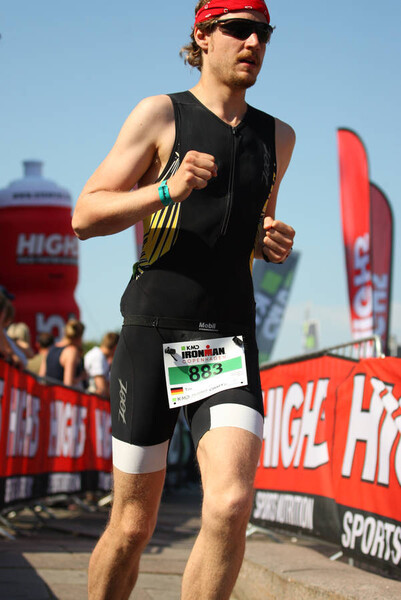 The next kilometer leads south, right next to the water, and then, after turning North again, on the water! There is a place where some bridges and plateaus are built on the water for people to relax and sunbath (mostly topless, by the way — European style), so my GPS track looks like I'm running on water, which almost feels true! This course choice is really cool, I think. I have a slight motivation to jump right into the water to go for another cooling swim right now.
Two kilometers are done and weirdly this early I feel so good that suddenly I catch myself thinking for the first time: "I can really do this. I will probably finish this Ironman today!"
Although I'm really careful with these types of thoughts, I kind of know deep down it's true this time.
The course is so nice and diverse. The ground changes a couple of times, we run through the famous Nyhavn area with those colorful houses, which is really full with fans and tourists while loud music is playing and people are cheering while eating deliciously looking Danish ice-cream. Life is good, I think.
Every two kilometers there is an Aid Station and these are even better than the ones during the bike course:
Wet and cool sponges
Water
Isotonic Drink
Coke
Red Bull
PowerBars
PowerGels
Fresh Fruit (Bananas, Oranges, Apples)
Salted crackers
Again Water
You could live off of these stands. And one of them every two kilometers is more than enough. I use every single one of them still, mostly having a sponge to cool off the head, then a cup of water and alternate between Coke and Red Bull to keep awake, sometimes a sports drink and sometimes another water. In total I'd say that today I took in between 10 and 12 liters of fluids. Crazy!
About every 40 to 50 minutes I have a PowerGel and one of the three sodium pills I took with me. I don't feel like solid food, so no fruit, bars or crackers for me. This type of nutrition works out really well for me, it turns out.
As we're running North, there are less crowds, but still a lot around some of the "Hot Spots", as they call them. These are special places along the course where it is easier to cheer on the runners, for some reason. The people are really friendly and give out compliments to everyone. Sentences like: "You are all heroes" or "You look beautiful, you can do this!". At one point there is a nice old lady with a little crazy vibe, who is saying the same mantra-like sentence over and over again, while clapping a toy rhythmically: "You. Are. So. Cool. *Pause* You. Are. Beau-ti-ful!" — I instantly like her.
As we get further North, something like kilometer 7 or 8, we're running on some sort of pier. A huge cruise ship is here. The course is the same going back, so runners are coming towards us almost all of the time. Here is nothing in between us to separate the course. In the middle are four young guys (early twenties) who have brought their big and loud speaker and turnt it all the way up with hardcore house music, while insanely dancing to this. My fellow athletes were annoyed by this, but I liked the attitude.
A couple hundred meters later we reached the northernmost point of the course, the next turning point. Right after that there were young volunteers who handed out colored hairbands to wear around the wrist to remember how many of the four laps are done. Of course, the tracking chips on our ankles made sure we didn't cheat, so these bands were just for our own lazy brains. First time here, I got a red one. The guys were taking close looks if we had any other colors already on the wrist. Quite a difficult job, if you think of the pace some of the runners have.
Going south again we slightly divert from the course we came, so that now there are some cyclists to see! Remember when I was just about to finish the biking part and saw the runners? This is me, now, is what I'm thinking. There are still lots and lots of cyclists coming "home", which makes me feel a bit better after being overtaken so often. I am 8 kilometers of running ahead of them all, cool!
Another two kilometers and the road is getting broader, the crowds increase as we're coming towards the finish line again. No familiar faces this time. I hope to see some of them soon.
So now, the task repeats itself three more times. Water-bridges, Nyhavn party zone, weird mantra-lady, house music guys, cruise ship, another color wristband (yellow, this time), seeing some more cyclists who are coming towards the finish line. After the second lap is done, I see someone I know: Michelle Vesterby! The Danish pro who wants to win here in order to be allowed to compete in Hawaii this year. She is coming towards us on the big road right before the finish as I'm leaving the area again for the third lap. The crowds are so loud here, screaming her name, clapping and shouting. She is smiling and I calculate and realize that this is her last lap! She is about to finish this thing. Right behind her comes an official bicycle with a sign: "First Female" — she's going to win and really turn her dream into a reality! As I see her and realize this, I get really emotional all of a sudden. I even cry a bit because I'm so happy for her, which is weird. I don't even know her. What's happening? It kind of feels good, though. Maybe there is already some of the happiness coming out about my hunch that I will finish here as well.
Half-Marathon down, Half-Marathon to go
I have done roughly 21 kilometers of running and a total of about 10 hours now, so there is not much left. At least if compared to what I did so far.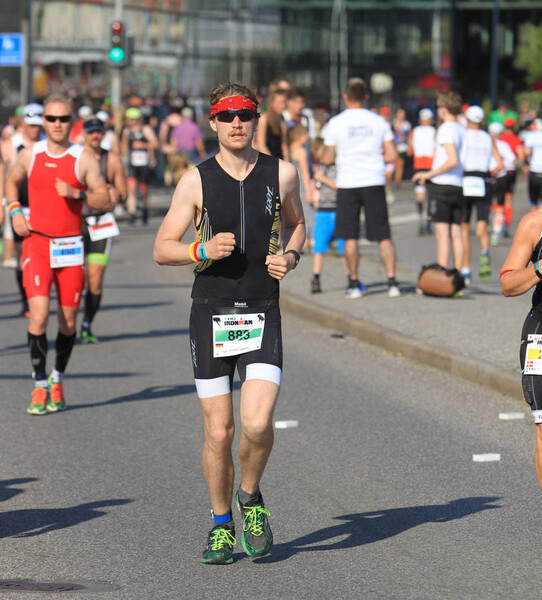 No familiar faces again, though. A bit sad. I hope that nothing serious happened to them. In theory it should be pretty easy to come and support me here, because everything is very near to our apartment. Well, okay then. Another lap, as the sun is slowly setting. Some more PowerGel, running on the bridges, Red Bull, salty pill, Nyhavn party, mantra-lady, house music guys (still dancing!), cruise ship, wristband: a blue one.
At 25 kilometers I remember what Gabriel also said to me: "When you've made it to 25, you can be quite sure you'll finish!" — wow, okay. I can do this and it's not just a weird feeling anymore, it's real. I feel pretty well and I think I'm keeping up the pace as well. I avoid looking at the GPS watch too often (it's a Polar V800, in case you're wondering, and it's great). It can mess with my head and make me not respect the speed my body wants to naturally run at. But I think I might even be able to finish in less than 12 hours now. Before the race I never thought about a specific goal time, because it messes with your head as well, and it's the body that makes the rules here. But of course I calculated before and thought I could make it between 12 and 13 hours, maybe in the vicinity of 14 if something goes wrong. But now that I'm closer to 12 hours I'm happy, even though it shouldn't be important to me.
Last Lap and Familiar Faces!
I'm coming closer to the finish line again to start my fourth and last lap. That's a nice feeling as well. Right after running out of the area again I finally see Sophie with Julie! I am so glad they're here to share this with me. I stop briefly and we talk — the family is so tired from the day, they're home and relaxing but planning to come to my finish. Sophie is glad I'm doing okay and I can't hide my excitement about the fact that it's actually within reach now. A kiss for both of them and off I go on that last lap.
A bit has changed now, the sun is slowly going down, it's 6:00 PM and people are not sunbathing anymore. The temperature is still very nice. The weird singing lady and the house music dudes are my constant. They are all still here and partying. Incredible! The cruise ship is gone now, though. The last turn on the northern most spot, and I receive the last wristband: it is green. Now I have all four Google colors on my left arm.
The bike course seems closed now, I think the cut-off time has been reached. Who hasn't made it through the 180 kilometers yet won't be allowed to start their marathon. Many runners around me have fewer wristbands than me, I notice. Also, during the run I was overtaking quite a lot of people, especially now on the last lap. I think this is the time where my marathon experience is a clear advantage. Many of the other triathletes have probably not done 19 marathons before and therefore misjudged their powers. But I have not miscalculated, I'm glad. I'm still running at roughly the same pace and feeling well. I'm getting lazy and start calculating now: can I walk the last kilometers and still finish under 12 hours? Probably not. A kilometer later: now? Maybe. Ah forget it, I just run through the whole thing!
And that't what I do. Until that fork in the road within the finishing area is reached for the fourth time. This time, and I enjoy this a lot, I don't have to go left again, I may go right! Four wristbands prove me worthy. I turn right and now I'm on Ironman branded carpet, looking towards this beautiful gate at the end. It's so loud and crowded here and I love it!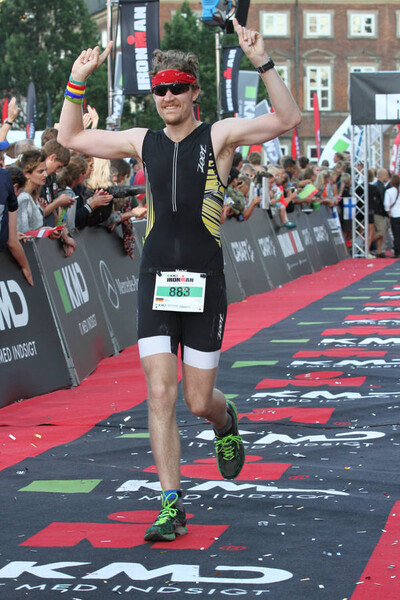 I briefly see my father and his girlfriend, him making a video of me with his phone. Cool! Then, twenty meters before the finish, there is Sophie with Julie on her shoulders in the first row! This is so cool that I put my hands up in the air proudly as people cheer for me and my achievement today. Just a few meters left, and there it is.
I AM AN IRONMAN!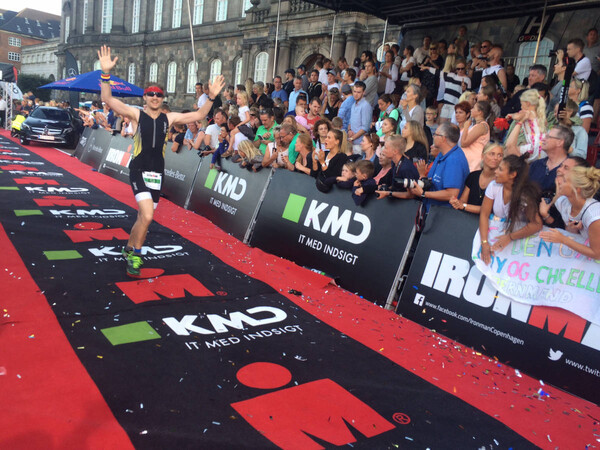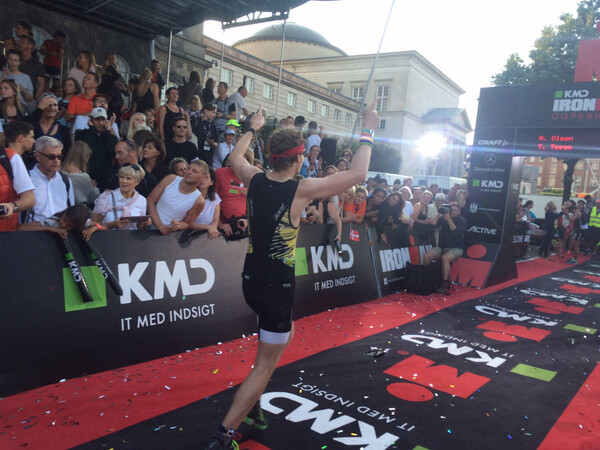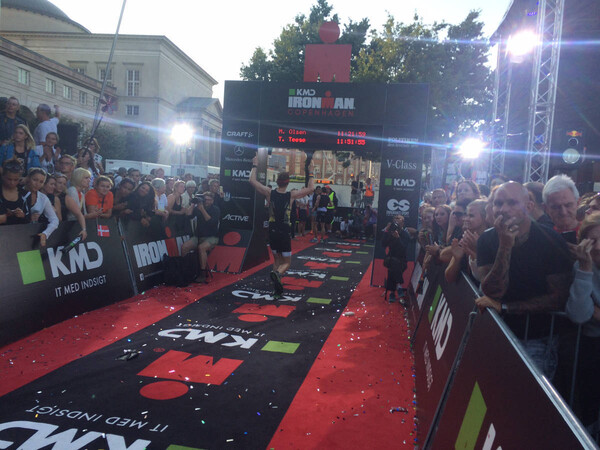 I really did it. Swim 3.8 kilometers, bike 180 kilometers, run a full marathon — brag for the rest of your life! — as the official slogan goes. I am not sure what to feel right now. I thought I would break down and cry, but I don't. I smile. Relieved. A woman puts a medal around my neck and I walk relaxed. No sports for the first time after 11 hours, 51 minutes and 58 seconds — less than 12!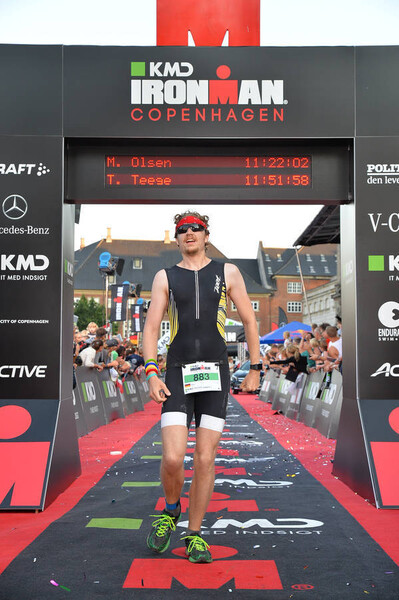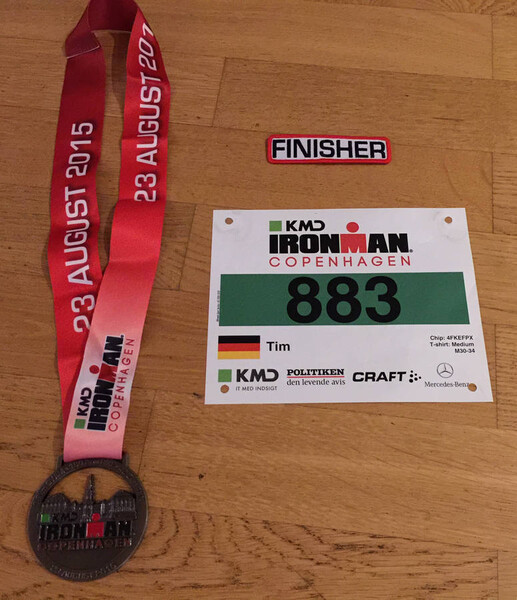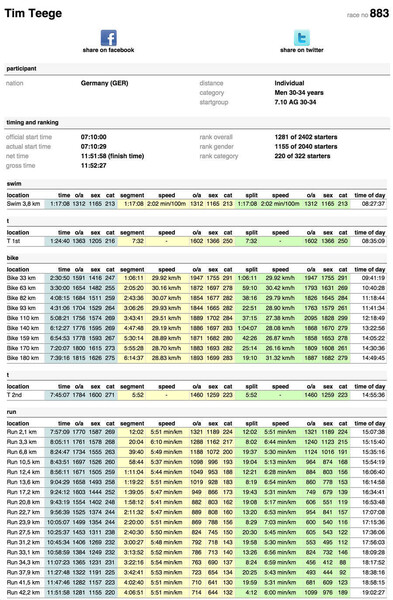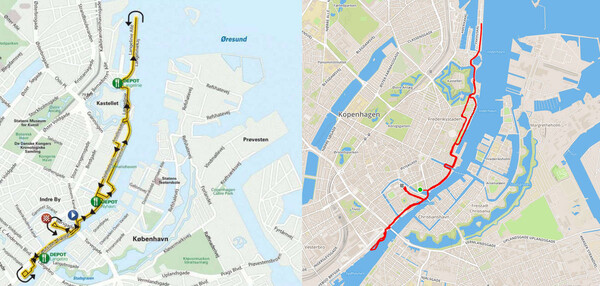 Some more nerd stuff: my tracking of the marathon on Strava.com
It is so crowded here, but I almost immediately find myself standing next to Kösel and Ursula! What are the odds. They hug me and tell me how impressed they are. They ask some questions on how the race went. I feel like a pro giving an interview after winning something.
I tell them I'll go to the finisher's area to check out where to get my stuff back and have a massage. So we split ways again. It's a relaxed place, they hand me a delicious cold fruit shake and I soon get back one of my two transition bags. Then I find the free massage tent and sign up. It takes 10 minutes of waiting. Weirdly, after 12 hours of sports I now lack the patience. As I decide to skip the free massage and walk back out to find the others, they're already here inside the athlete's area. Sophie, little Julie, Sophie's parents Peter and Susanne and my father Klaus and Birgit. I get a hug from each one. Julie wants to play wildly and amazingly I still have some energy left for this and throw her around like we always do. Who would have thought! Susanne bought me a gift: one of those Ironman shirts that have all the participants names of this race on the back — my own included. This is so cool! They make me pose for some pictures.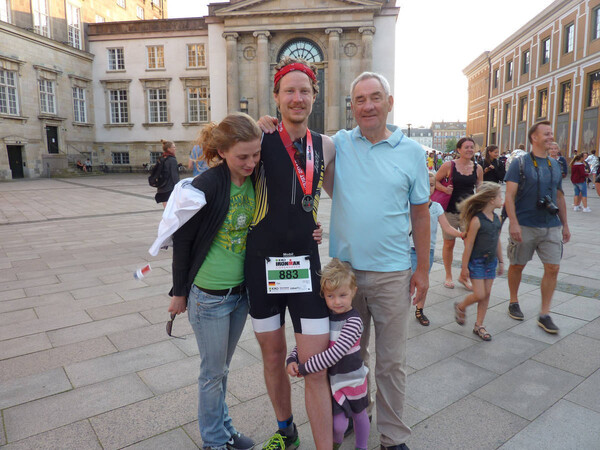 I'm still very happy and feeling well, but I kind of want to get my bike back and go home to have some real food for a change, as you might imagine. So Peter accompanies me to the bike racks in case I unexpectedly collapse spontaneously. A few hundred meters away we find the bike racks. 3,000 triathlon bikes with an estimated average price of 5,000 bucks (probably more) means 15 million worth of bikes. Wow.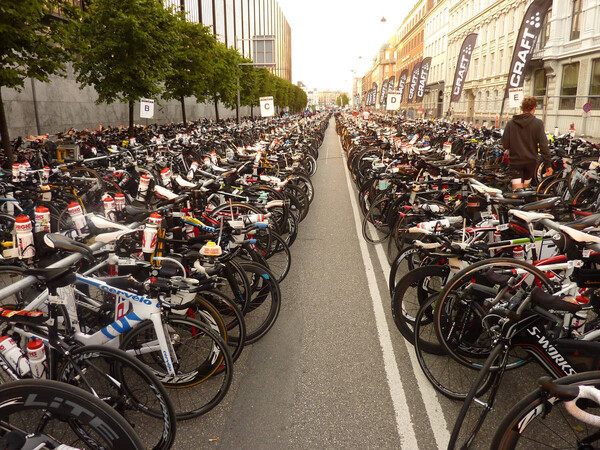 How to find mine? Simple: some dudes with iPads hover the area, ask the athlete's racing numbers, enter it and find out the exact location of the bike. Well done! My other transition bag is here as well. So we walk back to the apartment where I finally get my well-deserved shower and some pizza from across the street with a beer. A couple minutes later I'm asleep.
What a day! I still haven't completely realized what I did here. I was tired for about a week afterwards, by the way, but nothing sore, not even really sore muscles. Not quite sure how that happened. But I fell into kind of a hole without the training, which was weird for me to handle. And also, my already bruised toenail didn't take it too well: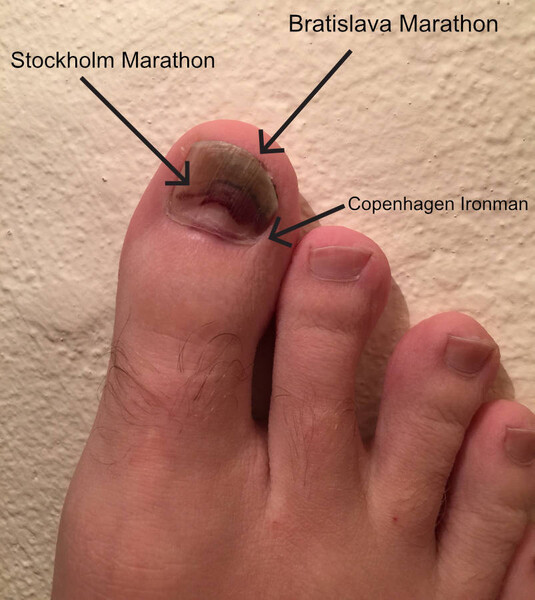 Here is a movie I got from the organizers in which you can see me in action — I heavily edited it, so it's bearable to watch.
That's it! Now it's time for the biggest lie triathletes say: "Never again!" — we'll see if that's true for me. I must say, the amount of required training is so high that I am honestly not sure I'll do this again. Maybe when the kids are older and all the other hobbies don't do it anymore. That's one of the good things about triathlons: the best are not very young here. I still have a couple of decades left! Most of us do.
It has been a great experience though, and I'm glad I did this. Something I would immediately recommend to anyone interested enough. If you would like some more questions answered, I'm happy to help: find me on Twitter (@teesche). Thanks for reading and all the best!
How do you feel after reading this?
This helps me assess the quality of my writing and improve it.