The ITU World Triathlon Hamburg
The "Hamburg City Man"
Now this has very little to do with my EU challenge, but I want to share it anyways. I want to tell you about the 20th of July, 2013, when I did my second ever Olympic distance triathlon race. The ITU World Triathlon Hamburg, the world's biggest triathlon. This distance consists of a 1.5k swim, a 40k bike ride and a 10k run. And I had so much fun that I would like to recommend this to absolutely everyone reading this. Yes, you too!
First of all: Hamburg is one of the most beautiful cities in the world. This was especially made obvious to everyone on this perfect summer weekend with amazing warm weather and happy people everywhere. Just imagine this: it is the middle of summer, but you had to work a lot during the last weeks, clients might get on your nerves, you're sweating all day every day, but then, on an early Saturday morning you just jump into the cool water of the Alster and have a swim while people standing there applauding you for it. This alone is just brilliant.
To my knowledge, this is the only chance you get each year to take a legal swim in the Alster. Some people might have prejudices because of the quality of the water in the middle of a busy city, but it's really not as bad as you might think. Starting at Jungfernstieg you swim north, underneath the Lombards/Kennedy bridge, turn around and swim back south to get out at town hall "Rathausmarkt". Your body is now awake, you feel fresh and healthy. I myself am only able to swim breaststrokes, not freestyle, which means you can usually find me within the last third of the swimmers, but who cares.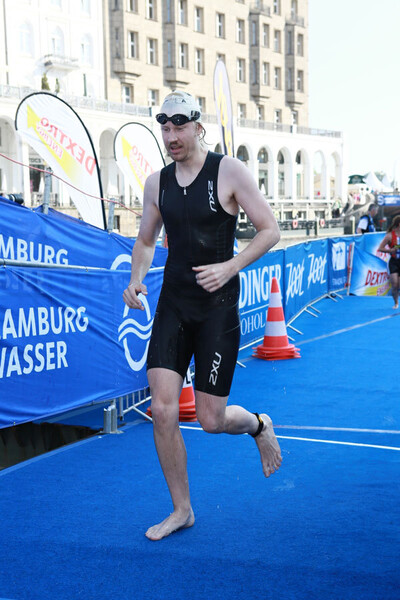 After swimming, the nice volunteers smile and give you a hand at crawling out of the water where the first thing you see is the majestic Hamburg Rathaus (town hall), while running on comfortable blue carpet. Again, everywhere people are cheering and smiling. A couple hundred meters later you'll find your bike between the other 5,000 bikes. Not a problem though, the areas are marked.
5:45 minutes later I changed my outfit and got on my bike. Helmet on top, sunglasses where they belong, put on the correct shoes, bib number around the waist and you're done. Sitting on a bike feels really nice now, just rolling away right towards the river Elbe, along one of Hamburg's most beautiful streets, the Elbchaussee, down a hill to Elbe ferry stop "Teufelsbrück". Turning around back to the city, turning around back to Teufelsbrück, turning around back to the city. 40 kilometers. This course is another highlight of the race, because the Elbchaussee street is such a perfect street to have a bike ride on. With no cars on this day it's even more enjoyable, of course. I've heard of people who only sign up for the triathlon to bike the Elbchaussee without cars once a year. This is how nice it is.
I managed to make it in less than 1:20h, which was my goal. 1:18:50 is very acceptable to me. I must say that I am not a very good cyclist and only got to practise the 40 kilometers twice this year. I tell you this to encourage you: it is still possible to pull this off and have fun even if you don't have time for proper training.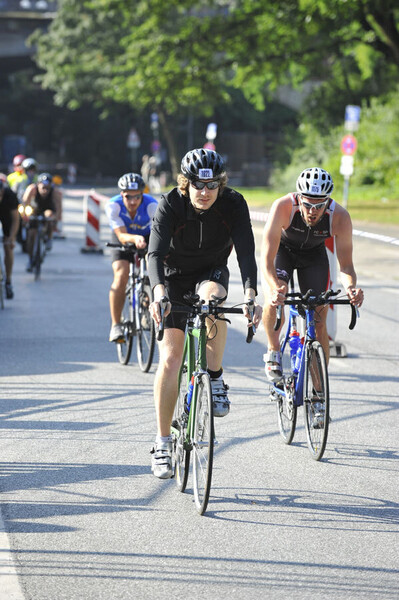 Back at the Ballindamm, where the bikes are to be parked again, I made a small mistake. I saw the professional triathletes leave their shoes on the pedals and get off the bike running on their socks. My shoes are also mounted to my pedals, so I could have done this as well. But the mandatory spot to get of the bike came so fast that I only managed to get one foot out of the shoe, and the other one clicked out of the pedal. So I was running with my bike with one shoe on. People saw this and I got a few laughs. I didn't mind, this happens.
The next step is about 10,000 steps to the finish line. But first, return the bike successfully and put on the right clothes. Remove biking shoes, put on running shoes, throw down helmet, remove sunglasses, put on cap, and off you go. Around the "Binnenalster", across the Lombards bridge, take a look at the later start group swimmers down there, and then north along the Alster westcoast, turning around, back again. That's 10 kilometers. Because this is a marathon blog you probably already knew that running 10k wouldn't be a problem for me. It's true, but I'm not used to these shorter races, I usually find my rhythm after about 6 or 7 kilometers. Still I was really relaxed during the run and got through the finish gate at Rathausmarkt with a time of 2:57:38. Less than 3 hours! Happy.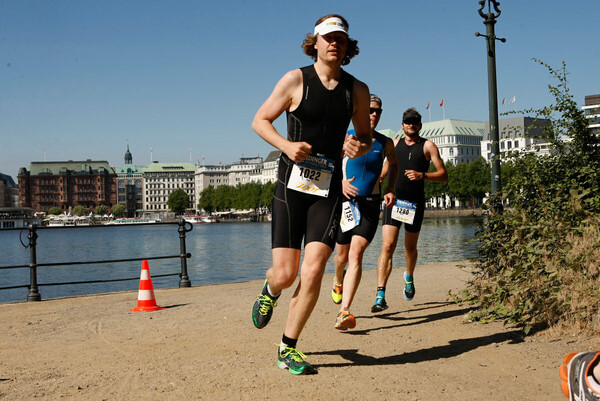 The organisation of this event is always 100 percent perfect. It begins with the swag bag they hand you when you come to get your racing number and timing chip. It has energy gels, a bicycle bottle, even pasta. They thought of everything. In the morning the start group split is well done, the changing zones couldn't be better, but first of all I have to mention all the volunteering helpers. A triathlon needs a lot more helpers than a marathon. And the people here are just amazing. They anticipate you and help you, always with a smile. The course is also great, and the nutrition supply zones during the race too. Cold clear water, isotonic drinks, bananas, oranges, energy gels, power bars, everything you'll need. I did lots of these competitions, but Hamburg triathlon is one of a kind in terms of everything. Did I mention free professional massages after the race?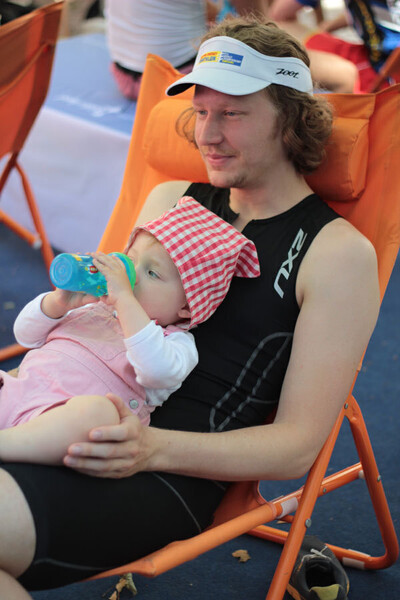 Of course such a race is even nicer if there are some people you know taking part with you as well. This time my friend Hendrik and his younger brother Niels were there with me. We exchanged some encouraging high-fives and then started at the same time, but I didn't see them during the race. It's because they're really fast. Hendrik is a very good cyclist and Niels, who is just 18 years old, has even been on the podium of a few runs before. He can do the 10k in 35 minutes, which is just a few minutes more than professionals need. Of course I didn't see those two guys until we met again at the finish line with a cold beer in our hands. Alcohol free, surely. They loved the event as well. Niels and me already signed up for another triathlon: sprint distance in Otterndorf at the end of August. I'm looking forward to it already. And the three of us are thinking about giving a longer distance triathlon a chance. The next step would be a half Ironman, with is 1.9k swimming, 90k biking and 21.1k running. I can't wait for the next season!
My conclusion is that I'm now going to do this every year!
How do you feel after reading this?
This helps me assess the quality of my writing and improve it.