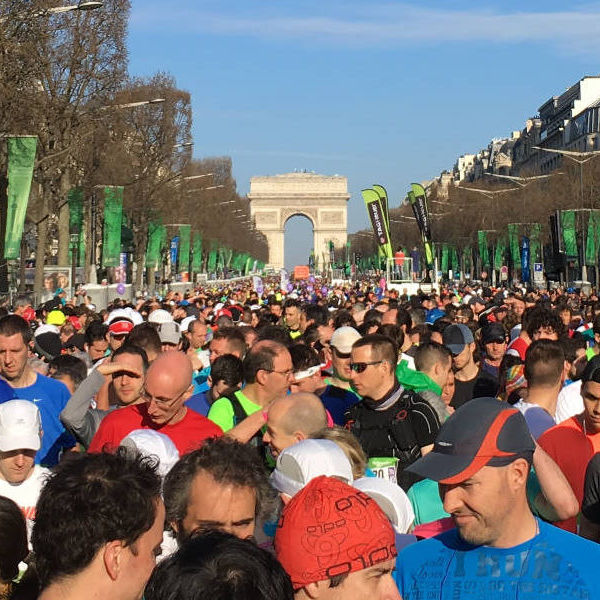 Paris
3rd of April, 2016
Paris hosts the largest marathon race in Europe. This year is especially full with a new record of 57,000 registered runners. This is second just to the New York City marathon.
I was a bit surprised when I heard this. I was sure London and Berlin were bigger. As you can imagine, because of this and the general world-wide popularity of the city of Paris, it was hard to get in. I had Paris on my mind for years now, and this time I monitored the Facebook page of the race organization closely in order to not be too late again. About a year ago, in spring of 2015, I was one of the first few thousand people to successfully register.
If you've been to France or have at least watched the Eurovision Song Contest once, you'll know that it's not easy to communicate with the French without speaking their language. Although they're very nice people, they can come off as arrogant in regard to the language they speak. They view French as the world's number one language, it seems. Although many of the French people, if not most of them, are able to speak English fairly well, it seems they choose not to. This can be frustrating. I was very relieved when the marathon website had the option to switch to English – which is not a given! The weekly newsletters they sent out were strictly French-only, though. I had to Google Translate them all in order not to miss important information.
To be frank, I think this is annoying. As you know, my goal is to bring people together and show the diverse cultures of our European continent. A common language everyone agrees upon is very necessary to achieve this, and it seems that all but the French are on board with the language of English being the solution to this.
It's getting better, though. I had not nearly as much problems as I had on my countless visits to France before.
It couldn't get much more international with 57,000 runners from 160 different countries, as the organization claimed. That's a lot of countries! More than 75% of them all, depending on how you define a country.
One thing I almost missed because of the unnecessary language barrier, is that I was required to bring a medical certificate signed by a doctor to convince the Paris marathon organization that I am healthy enough to participate. This has happened only once before, in Rome. Alright, no problem – my wife is a doctor and filled in the document.
After Tallinn and Cyprus this is the third marathon in a row that I would have to travel to on my own. When I registered a year ago, I didn't know Sophie would be pregnant again with our third little daughter, due two weeks after this race. Flying wouldn't have been the best idea for her now, so I went alone. I was glad that Paris is a European city with direct flight connections to Hamburg, so it would be easy to fly home right away in case she would have to go to the hospital while I'm away.
Training was a stark contrast to what I did before the last marathon four weeks ago. Almost nothing. A few long runs on weekends, and one more short run per week. Not much! I didn't really feel like it. What I felt like doing instead, was swimming. Since the Ironman last year I really got to enjoy it and am currently looking more and more into long distance open water swimming events. I will blog about that as well when I have something to say about it. It's very interesting to me, and therefore I've spent some time in Hamburg's public swimming pools in the last few weeks and months instead.
I did, however, more or less establish a new routine of monthly athletic challenges. Starting in January with my sports every day routine, in which I did – you guessed it – sports every day. That meant, at least a 7 minute workout but preferably a long run, some swimming, or extensive body weight exercises. It got to a lot more in the end, and I was quite successful.
February was the month I tried "Peter Greif's Countdown to Marathon" training plan, which was really intense but got me into a good healthy state in retrospect.
In March I convinced some guys at my office to join me in the Planking Challenge, starting with an easy 30 seconds of planking on the 1st, increasing the duration by 5 seconds every day. So on March 31st we reached 3 whole minutes. It was fun, and a few colleagues joined me from time to time. It gives you a bit more core strength which is good for any type of physical activity.
In April we started the silly #MakeMeGreatAgain Challenge in the office, which consists of the following tasks each day:
In the mornings, two whole minutes of planking
Somewhere during the day, a 7-minute workout
And to round it off, in the evenings, another two minutes of planking
Let's see where this is going to take us, fitness-wise. It can't be bad, I guess. With that background, I was keen to see how I was going to be doing at this marathon.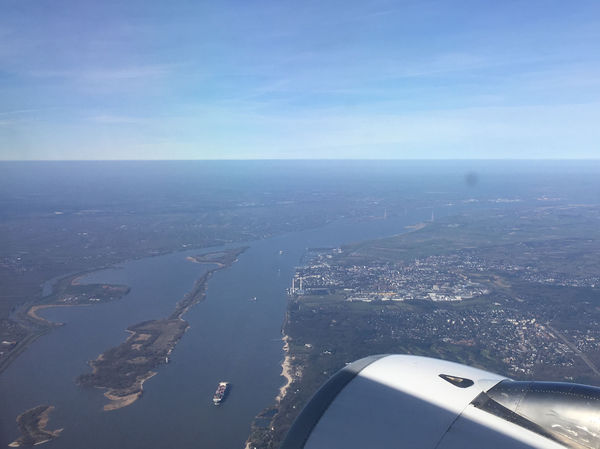 Flying to Paris went well, finding your way around the city is easy, too. I got hungry and stopped at a small Crêpe place. This is when I remembered, what this country might lack in internationality, it makes up for in culture. A big part of it is food culture. Everything tastes so much better! Food has a very special place in the French people's minds. The love that's going into developing and preparing the dishes is unparalleled. I like that a lot, as I very much enjoy good food – and who doesn't!
When I reached the hotel I was very tired already. It's been a long week, work-wise. I even had to do a power nap in order to summon enough energy to go to the marathon expo, which is situated another 45 minutes away by metro. It's a big city!
My medical certificate got thoroughly examined and afterwards stamped at the incredibly big, full, and loud exhibition halls. No waiting lines though, perfectly organized! The bib number was given to me as well, together with a practical backpack. Then I came by the huge wall of all the 57,000 names of registered runners. This was incredibly big!

Running through the hall to find the Pasta Party Area, where I was going to meet with – wait for it – Sidy Diallo!
I saw him first in Tallinn and thought: "What an unusual man!" He found my website afterwards because I mentioned his name and we started talking. Similar interests are bound to forge friendships. Later, we discussed where to meet, and several options were on the table: Caribbean running cruise marathons or Dakar, Senegal – because he was signed up for those, Brussels – because he travels there for work often, Malta – because he was signed up for the marathon this year, or Paris – because he lives in the vicinity and works there most of the time. Paris was on my marathon list too, so Paris it was going to be.
As I paced towards the Pasta area I wondered if I would recognize him. But that turned out to be no problem at all. In fact, it's difficult not to recognize him. He had bought two Pasta Party tickets for both of us and we sat down, ate, and talked for hours. With his 60 years of experience and very interesting life he has a lot to say and I loved listening to it all. During the time, almost all people passing by saw his shirt ("I ran 48 marathons in 2013!") and looked impressed. Some came by and said "Well done, Bravo!" and two even recognized him from other marathons or from the media, in which he appears from time to time. He is a person of interest to many.
Sidy Excursion
This guy is a French diplomat, having lived and worked in Burkina Faso, Nicaragua, Australia (Canberra), the USA (Chicago) and Paris for 3–4 years each. You can say he truly is a Globetrotter, as most diplomats are. Also, we share the common interest of bringing people from different nations together. I'm currently just exploring how to do that and view my running as a first step into that direction, but he did it professionally for many years. Clearly someone to look up to.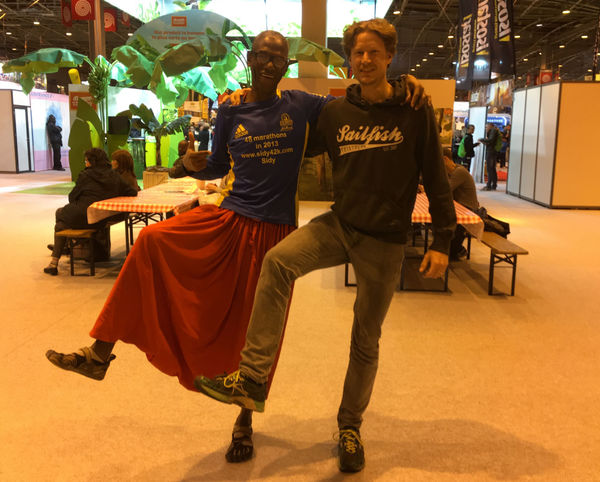 Just a few years ago he picked up marathon running, and got to 131 marathons in 50 countries so far. That's a big commitment – and I know what I'm talking about here. He ran marathons and ultra-marathons on all 7 continents, even in Antarctica.
Just two weeks ago he did a 80k race from his home to the city of Paris. There are not many weekends where he doesn't participate in a race somewhere. His wife and three teenage boys accompany him whenever it fits everyone's plans. He is a very positive person with a lot to say about human behavior. Lots of interesting ideas.
We talked about what makes people want to run. Why do we run? The answer is, we're hunting. It's a primitive brain thing. In these times where we as a species have figured out how to get food without physically working for it, our brains don't get the satisfaction of hunting and bringing home food the same way. But it still makes us happy to run – that part of the brain hasn't evolved. Easy!
Sidy wants to motivate more people to become active and run. Other types of sports are good, too, in his opinion, but running is by far the most primitive and therefore, satisfying way.
He also told me his view on bad experiences. Many people get angry when things don't go according to plan, but he makes the best out of it. For example, when he arrived in New York City to run the 2012 marathon, Hurricane Sandy was responsible for the race being called off. So he thought about running a few Central Park laps instead. As it turned out, many people had the same idea, and the park was full of people doing laps until they reached 42.195 kilometers. Very kind citizens came and brought food and water for the runners. It was going down as the "Run Anyway New York City Marathon". Although not the first choice for anyone there, it was a truly remarkable experience!
Also, he and I had exactly the same opinion on people who complain about their fitness or find excuses when asked about running. I hear those a lot, because anytime I mention my hobby to someone new, I get answers like "That's amazing, but unfortunately I could never do it, because my knee hurts sometimes!", "I had a little cold a few weeks ago!", "My cousins mother-in-law's doctor said it can be bad for your joints!", "I just don't have the proper genes for running!" – that's all bullshit. We all are able to run. Well, except the truly handicapped, of course. Everyone who can walk, can run. And should run. We agree on that.
Sidy surely takes it to extremes, but this is exactly why he is inspiring to so many. Another special thing about him is that he is putting emphasis on the minimal running style, wearing shoes that are basically just a layer of protection from sharp objects on the streets, no damping at all. He even did 4 whole marathons completely barefoot, and was planning on doing that tomorrow, too. Wow! I've always thought about going barefoot as well, but delayed that plan because I thought it would take a lot of effort to built up the necessary protective skin on the soles.
As the evening began we decided to meet again tomorrow during the race and leave the exhibition halls. Another long metro ride and I was back in my new neighborhood, the 17e arrondissement de Paris. I was hungry again and came by an Italian place. The pasta was almost as delicious as Italians themselves could offer. France!
Day of the Race
At 6:10 AM I was woken up by an automated text message: "Get up, the marathon is today!" in French, what else. What a nice idea, though!
I put on the marathon gear, then walked down to the promised breakfast. I was the only one there, not even any employees. Fortunately I had my trusted chocolate Müsli with me and found some milk in the fridge they had. Then, the receptionist showed up, and after getting over the shock that someone would be here this early, brought me everything they had to offer: yoghurt in several variations, coffee, orange juice, directly to my table. Good service! With a full stomach I went to the metro and rode the 5 stops to Place Charles-de-Gaulle / Arc de Triomphe. Walking out of the underground and seeing that huge iconic arch again was amazing.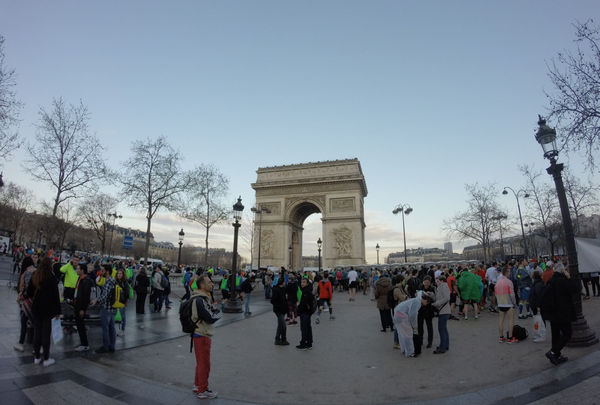 The area was full of runners, as the start is right next to it on Avenue des Champs-Élyseés. The sun has just risen and the atmosphere is great here. I behave like the standard tourist that I am and take lots of pictures of this impressive scenery.
As I walk over to the bag drop-off to get rid of my sweater, I realize the size of this event. Many hundreds of meters of VIP booths and sponsor tents and the numbered bag drop-off boxes take a while to pass by.
There even was strong airport-like security to get in. Backbacks were checked. The illusion of safety.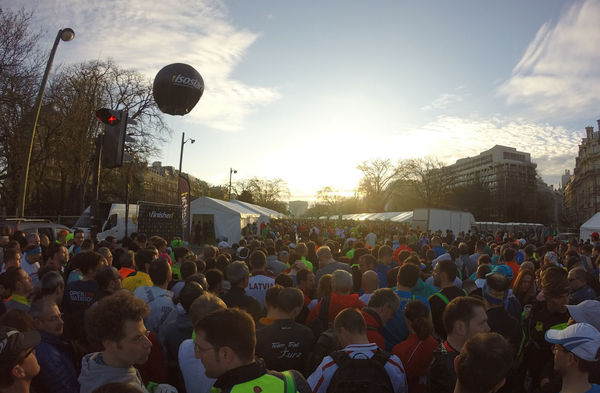 Back to the start. I was signed up for an estimated finishing time of 3:45h, so I had to find that block of runners. Everyone was carefully divided.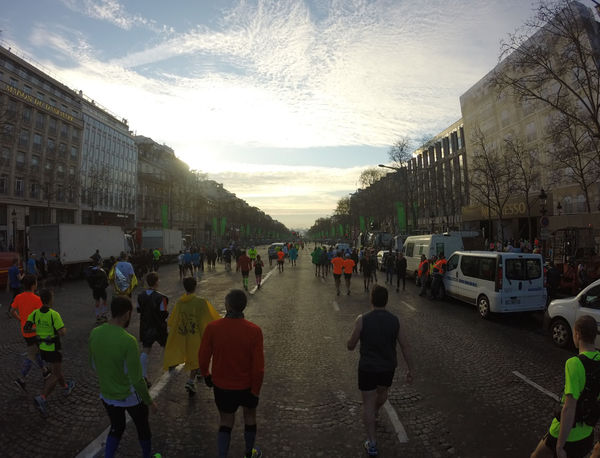 Two or three kilometers of walking later, I found the entrance and had to stand in line for at least 15 minutes to get in. Wow, this is big.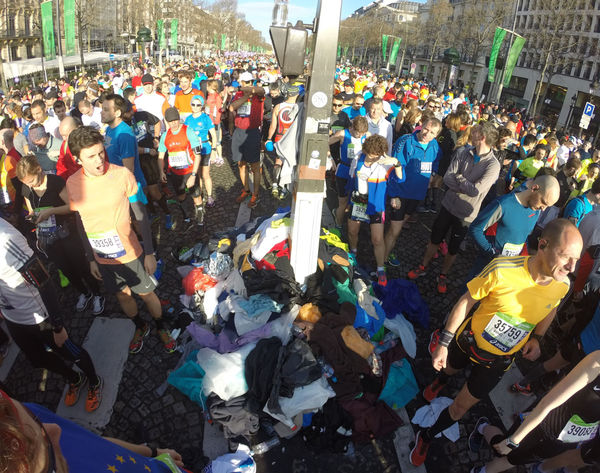 During that time I wrote my traditional text messages to Sophie to let her know everything is going according to plan, but this time she wasn't responding. Bad situation, as she usually responds right away, and this could mean she's in the hospital having our baby right now and I would prefer to quickly get out of here and to the airport. A couple minutes later I called her to find out she had forgot her cellphone somewhere else in the house. What a relief! So everything was still fine and she and little Vera wished me well for the race.
Runners as far as I can see in both directions, incredible.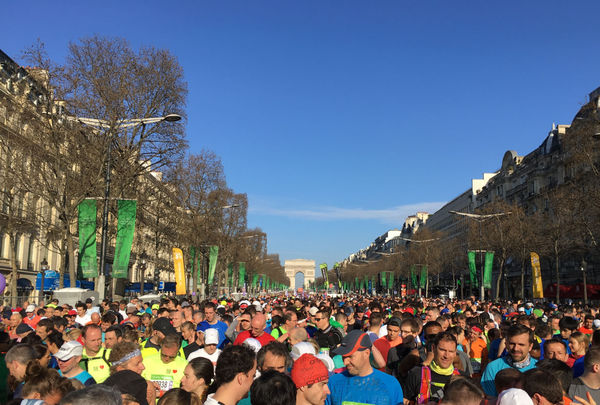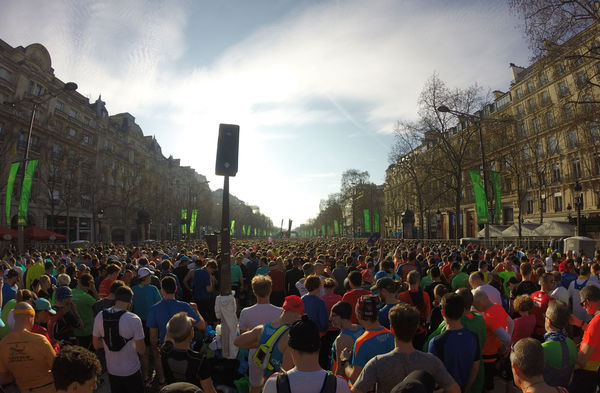 At 8:45, the elite runners start, while we still got to hear pumping electronic music and are shown some warm-up moves by elevated fitness coaches. The next starting blocks follow at 8:47, 8:50, 9:00. My block is next, 9:20 AM. The last block leaves as late as 10:15.
The Race
Another barely hearable gunshot fired somewhere in the far distance and I start my 21st EU marathon run!
These carefully divided starting blocks had one big advantage: space for everyone.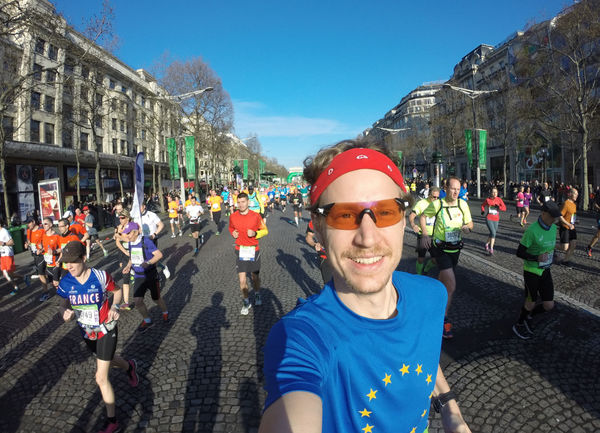 Even though this was the most people I have ever run with, there were no problems of getting in the way of one another. Big difference to London, where that was a real issue.
On an unlucky note, my great GPS watch (a Polar V800), let me down today for the first time ever. I just couldn't get a proper signal from the satellites. I wonder why – can GPS satellites overload? I thought they were just passive "mirrors" and bounce back the active signals of the devices. I need to research this.
During the first kilometers, I feel my legs. 15,000 steps of yesterday mixed with the new #MakeMeGreatAgain Challenge took a toll on them. But, running is always possible, as our bodies are built for that. Remember Sidy. And it's true, it gets easier with the next couple kilometers.
It's just beautiful, this scenery. The sun is still barely strong enough but tries its best to warm us up, as we roll through the canyon-like streets between those amazing and very old buildings.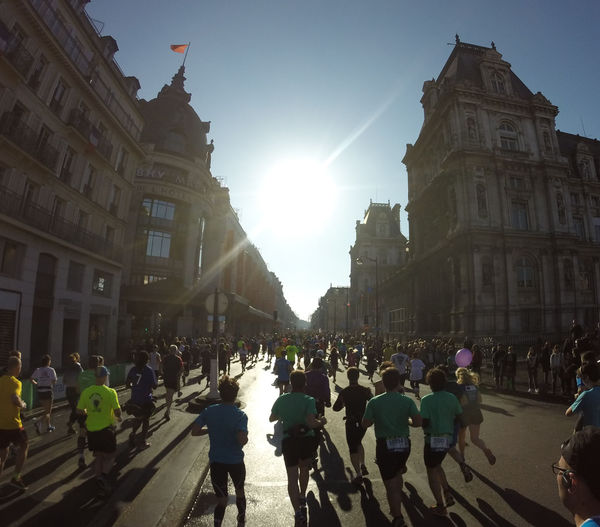 I enjoy it a lot. There aren't many spectators, which is unsuspected but quite alright with me.
At KM 5, they have put up the first refreshment station, offering mainly water. In plastic bottles. Thousands of them, that get halfway emptied and then thrown away. You can probably guess how I think of that. Why is it so hard to get paper cups and fill them with tap water – or at least, out of 20 liter water barrels? Put the huge sponsor logos on the barrels instead, if they're unhappy! We could have saved so much plastic and water today. I hear there is a new type of marathon races, named green or eco marathons, where the idea is to counteract these types of wastage, and show possibilities to be more sustainable to the big events. Paris people, look those up for next year!
After 10 kilometers there was another station. Plastic wherever you looked. A cool thing, though: They put up many big trash containers with signs behind them to throw the plastic bottles against, so they would drop off and fall into the bins below. Fun!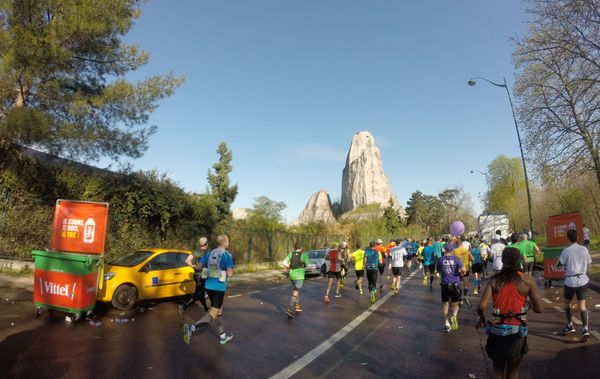 They provided no isotonic drinks here, which made me a bit nervous. If you've read my Ironman post you know that it can be very dangerous to do endurance sports while just drinking water. You miss out on several important nutrients during a high-stress situation for you body, which can lead to brain edema and death, even. A plain marathon is not nearly as dangerous as a 12 hour Ironman race, obviously, but still people have died this way. Not a particularly proud way to go. So I think about where to get enough sodium, now that there's apparently no sports drinks offered. Fortunately I packed more than enough power gels. Three.
Nutrition is becoming more and more interesting to me, so I wondered about how I could get the sodium from what they offered.
Bananas: good, but after the cramps I got in Athens I haven't risked eating them during marathons anymore. No sodium anyways.
Oranges: not much sodium, some magnesium, which is good but not necessary right now for me.
Sugar pieces: I have my power gels, they consist of mainly sugar.
Raisins: why raisins? I have never seen them offered at marathons before. So I looked up their nutritional value: lots of sugar, okay, a couple of other important nutrients in lower dosages, lots of potassium. This would have been valuable! But I didn't know that so it changed nothing.
So, some more running. It will work out somehow, I think. The course leads east, towards the edges of the city. We get to a park-like area which contains spaces for people who enjoy an equestrian lifestyle. Hippodrome, they call the place. At about 17, I see a familiar person.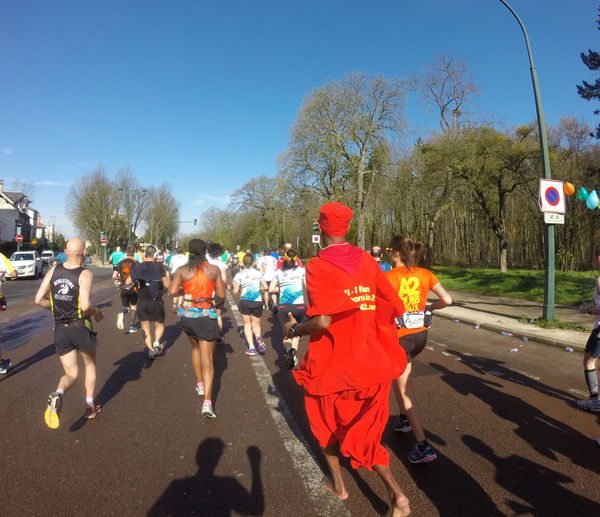 He is wearing his traditional outfit again and has forgotten the shoes, as promised. Insane!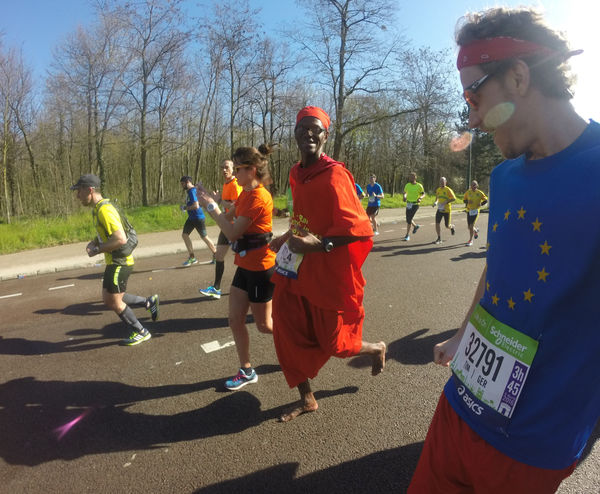 We talk for a few minutes and are interrupted again by other runners who come by and say "Bravo!" to him. I take a couple pictures and then run away at my own pace.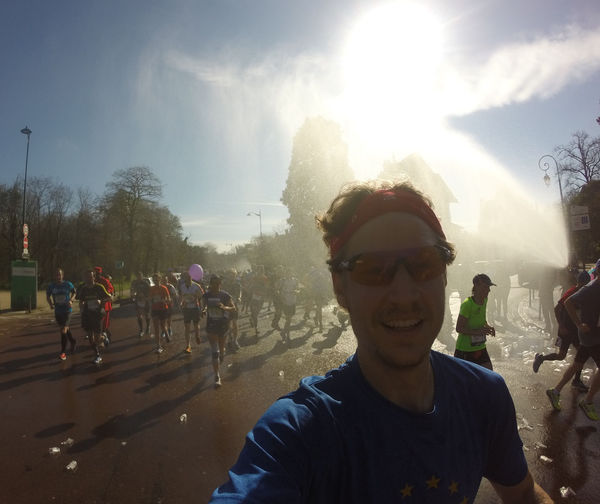 It's getting warmer as the day progresses, so the firemen spraying water into the masses is a very welcome addition.
I'm doing well, it feels much like a standard weekend run to me. At 23 I have a first power gel, which is quite early, but I was worried about my sodium intake. So that's alright.
The course leads around the Bastille for the second time and then makes a sharp left turn towards the river Seine.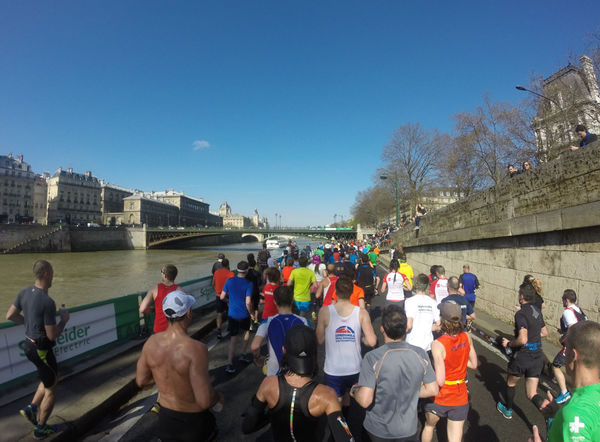 Beautiful! I can see the Cathédrale Notre-Dame behind some other buildings on a small island in the river.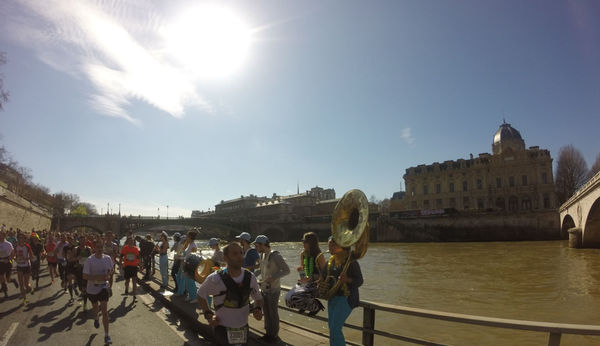 After a few really nice kilometers with lots of live music on the side of the road, we run into a city tunnel. I always like that, because it's normally really quite and a change to the usual energetic atmosphere. The organizers did something great here, probably because they knew that many runners enjoy tunnel stretches like I do: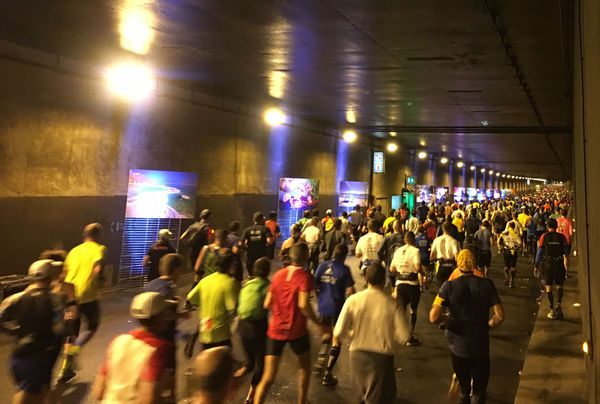 They put up relaxing imagery and music that you would listen to while doing Yoga or something. And they even sprayed some kind of scent into the tunnel, it appeared. I didn't recognize the smell, but all in all this tunnel part was a great idea! This definitely has to go on my list of the things I would want to do if I ever organize the Perfect Marathon.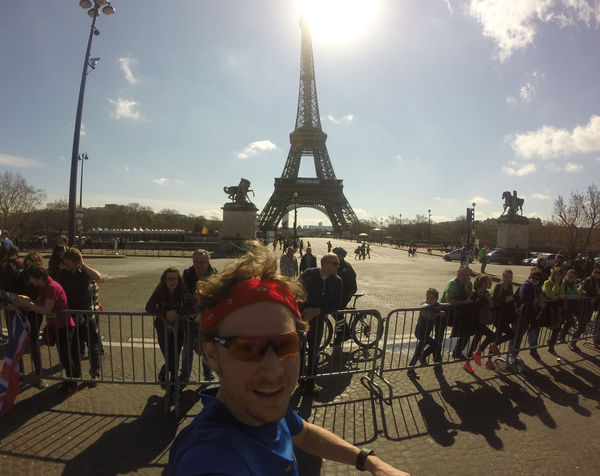 More than 250,000,000 people have visited this tower. Have you been one of them? I haven't, unfortunately! There's always another reason to visit Paris. I'm looking forward to it, some day.
At 30, I was a little surprised by a special feat. They built a wall!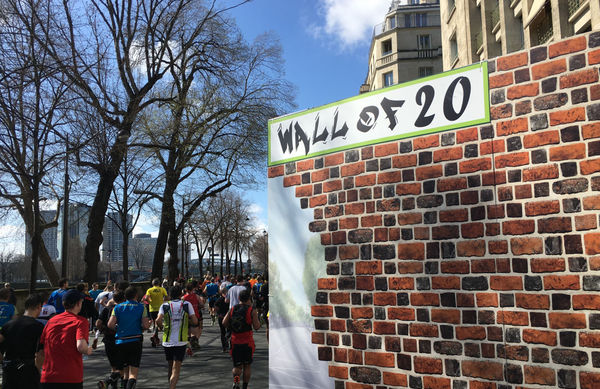 This wall was there to show the usual time of the race at which many runners run out of their body's glycogen, because there's a limit. This is when running starts to feel like running against a wall, or being hit with a hammer, or dragging someone heavy behind. It's not a nice feeling, but your body can be trained to experience this as late as possible. And there's a good trick to combat the situation, if it occurs: eating sugar. Power gels, for example.
Here, they built this actual wall for fun. And it had an psychological benefit as well, as you feel like you're running through the much feared wall and are done with it afterwards. Nice idea! One mistake though, it said "Wall of 20". Could've meant 20 miles, but that would have been about 32 kilometers. The usual well-known place you hit the wall is KM 30, which is roughly where it was located. Come on, Paris, it's in the details!
By the way, if they had provided us runners with isotonic drinks along the way instead of just water, they could've put up the wall as late as 35, probably. And just as I thought of that, there is a refreshment station with isotonic drinks! Well played, Paris. Well played. It's going to be the only one, though. So, some more gel it is.
Then I experience another new feeling. The race is getting a bit boring. This is complaining at a very high level, because we are in one of the greatest cities of the world, everything is organized fairly well, the weather couldn't have been better, and fitness-wise I'm doing remarkably well. Still, I feel like this is getting repetitive. Of course, it's my 23rd full marathon run (21st of this EU capital challenge), and I've seen a lot so far. Too much beauty, maybe.
I wondered, how could I change that? I need to try something new here, maybe. But what? Then I remembered the incredible Sidy, who is running barefoot right now. There's a suggestion! How hard can it be. Obviously, my feet are not trained to do this for the whole remaining part of the race, because I never run barefoot on asphalt. Did it once for fun a few months ago, mainly on grass though for maybe 5 kilometers. It was quite nice. How long can my feet do this with no preparation whatsoever? A few hundred meters maybe? What's the worst that could happen – pain on the soles and putting on the shoes again, defeated. I could live with those consequences. So I decided to give this a try. Starting from KM 40, for the last 2.2 kilometers.
I'm excited as I made this decision. Something new to experience and learn about! At 38 I eat another gel, enjoy the scenery some more and look forward to 40. Still got lots of energy. Maybe it would be another different option to try an ultra-marathon soon, I think. I got the energy and experience, why not. I ponder buying one of those backpacks for runners, which contain a bag which can be filled with fluids. I could've taken that with me and filled it with apple spritzer, because that's probably the best drink for athletes, containing almost everything you'll need. For an ultra-marathon it might make sense.
Going Commando
But for now, barefoot it is. 40, and I go over to the side of the road, take off the shoes and socks, put them in one hand and off I go! Weird feeling. The asphalt is a bit rocky and rough, but it's alright so far. Feels like some kind of massage therapy to the soles. My joints are doing okay with the now very natural damping. My GPS watch is struggling very hard, because it relies on the shoe sensors to calculate my speed, but I have those in my hands now. Well alright, the GPS tracking is messed up anyways today.
From time to time I step on little stones, but they go away by themselves. It's working better than I thought! Looking on the street in order to avoid the very default situation of stepping on a banana peel and falling down is becoming important now. That means I cannot look at the sites, people and course so much anymore. But it's worth it, this is fun! I step on a few squished oranges and power gel packages lying around, but it's alright. I see the KM 41 sign and am very surprised how fast I've reached it! I must be going at about the same speed as before. Makes you wonder why we all put so much money into better and faster running shoes, haha.
At about 41.5 the little stones on my soles get a bit annoying, though.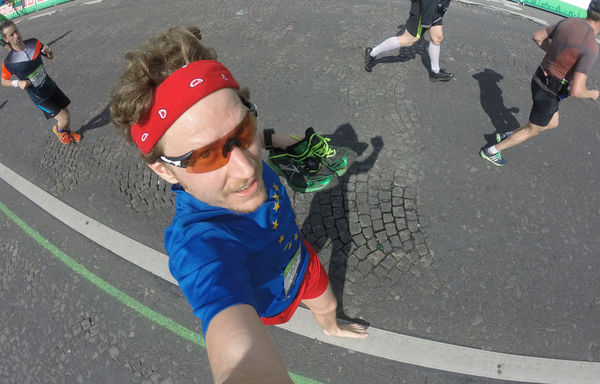 I choose to run on the white street stripes, because they are smoother. My two big toes suddenly start to tingle, I wonder why that is. That can't be good. But hey, there's just a few hundred meters left. The adrenaline will take care of it. Some spectators applaud as they see me going barefoot. Some probably also think I'm insane. Sidy told me he's getting asked "Don't your feet hurt?!" all the time during his barefoot marathons.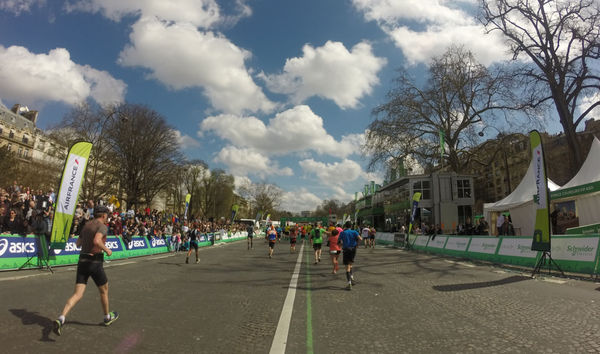 Then suddenly, there's the finish! Wide street, as always, huge green gate, photographers, carpet – how nice! – and then I'm done!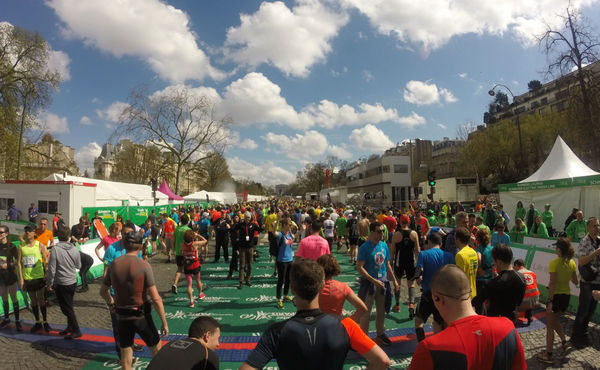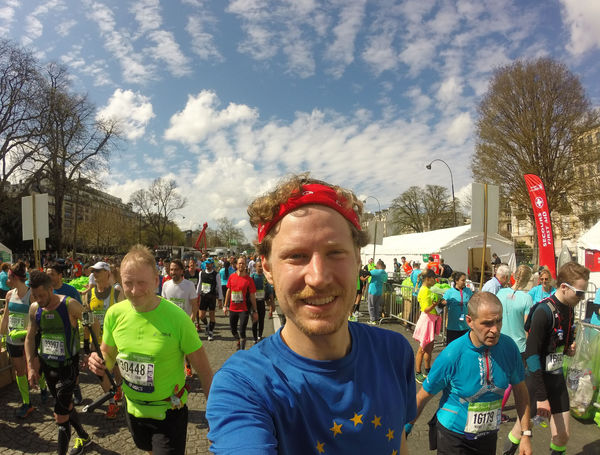 Triumph right in front of the Arc de Triomphe. I feel a bit woozy, though. How did that happen? Probably the nutrients I didn't get because of the missing iso drinks. I'm so used to them. Crap, this isn't good.
The Aftermath
I walk for 50 meters and then look down on my feet for the first time: blood on them! How did that happen? Is it someone else's? No, it's mine, the tingling toes are bleeding. Both of them. Huge open blisters, this doesn't look good. How come I didn't notice? I put the shoes back on quickly and head for the first-aid tents. There's a nice lady who even speaks German due to studying in Stuttgart, and who is very helpful and cleans and disinfects my wounds.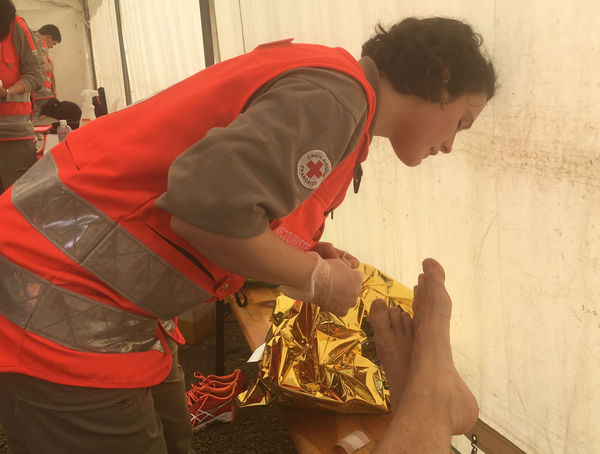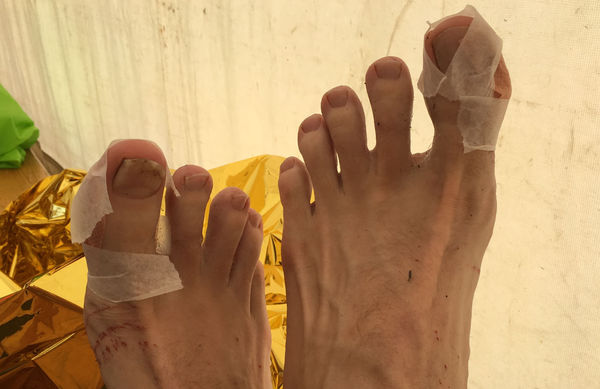 I still feel dizzy, though. Maybe I've not had enough water as well? This is weird, the whole race went so well, and now that I've finished it, this happens. I grab a bottle of water and empty it quickly. Doesn't help right away. I eat a few oranges, hoping they contain the nutrients I need. Not so much. I need to sit down and relax. Walking very slowly and carefully, I realize this a bad situation, because I'm alone here. No one can really take care of me in case I collapse or something like that. I'm glad I'm staying in Paris for another night, rushing to the airport now would've not been easy.
My feet start to hurt more and more, probably because the adrenaline wears off, until I decide to lie down for a while, right near the Arc de Triomphe. The weather is still perfect, which feels nice right now. A few minutes later I decide to power through now. Just one goal: reach the hotel room in one piece. I can do this. If the circulation keeps getting worse, as it does, I can always lie down somewhere.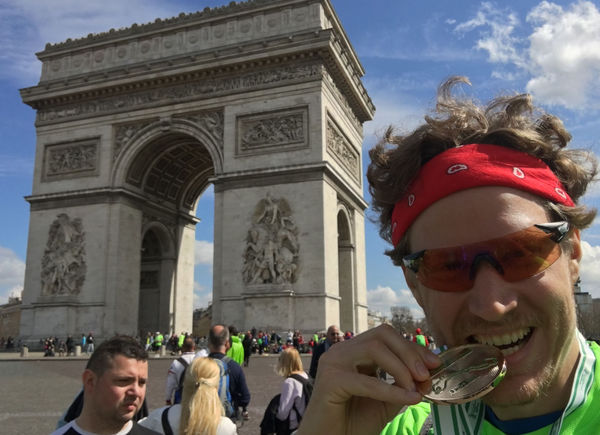 The Long Way Home
I walk around the Place-Charles-de-Gaulle to the metro station, down into the filled up subway wagon. Standing. Waiting. It takes forever until the train leaves, I keep getting worse. At the next stop I feel like I'm about to collapse and decide to get out and lie down again. That helps a bit. I take the next train and hold up, standing, for the next 4 stops, until I reach my neighborhood. Sitting down again. Ah, fresh air, that's always good. Just 300 meters to walk to the hotel, this is possible, come one. And it was. This felt like another whole marathon! First action: eat everything I have lying around in the room. Pistachios, sweets, that's it. A very quick shower and one and a half hours of sleep later I doing well again. What a relief!
I stroll to the same Italian restaurant as yesterday, because it was good, and eat a lot to regain strength.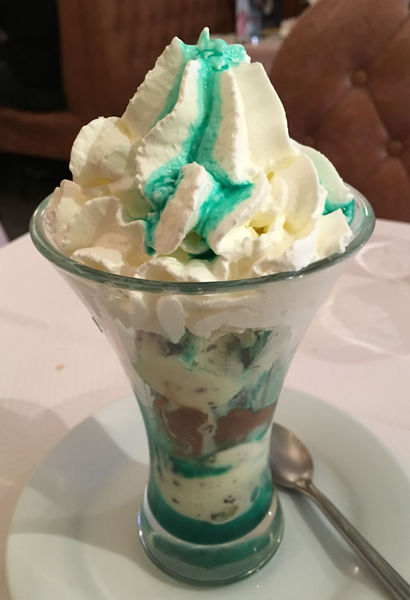 A few other runners are there, too. Some wearing their medals still. Really?
Back at the hotel I feel healthy again, and do my daily 7-minute-workout. That's a bit hard on the squishy toes, but works. A long night of solid sleep later, a plane takes me to Berlin.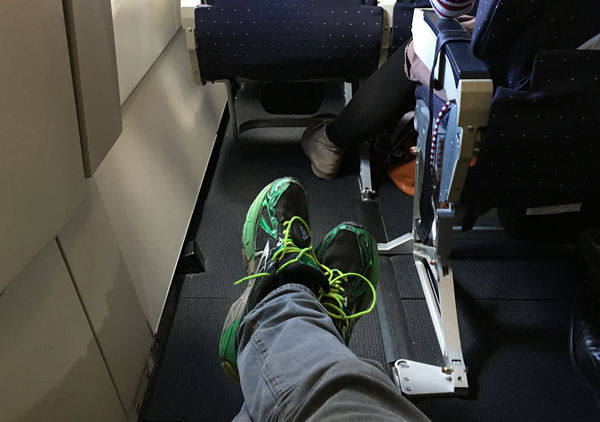 Meeting my friend Kösel, seeing a show of the awesome band At the Drive-In.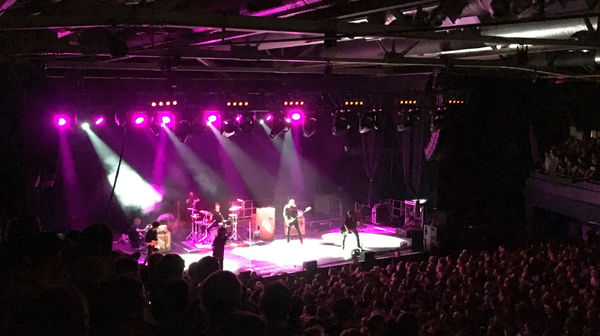 One night and a fast train ride later I'm at the office again, as if nothing happened. Great weekend with lots of different experiences. The feet are doing very well again, by the way. I think I'm going to expand on that and do some more barefoot running in the near future. It's almost summer, after all!
Thanks for reading and see you in May, when I'll write about Prague!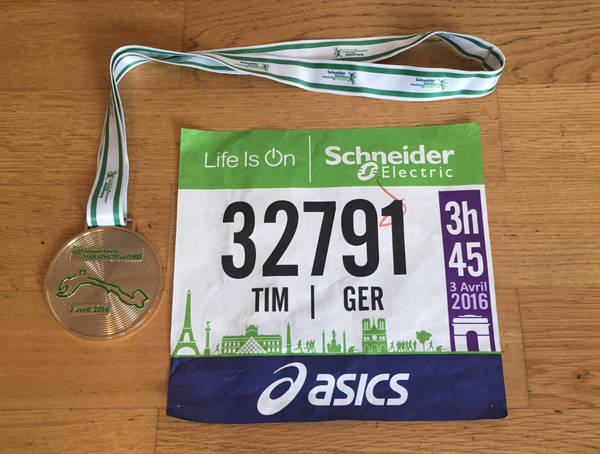 Certificate