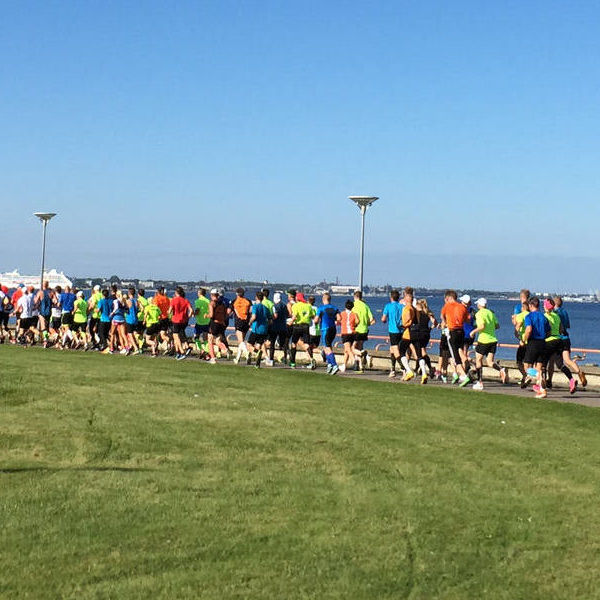 Tallinn
13th of September, 2015
This is going to be a short one. Just three weeks after my first (and probably last) Ironman triathlon, I wanted to run in Tallinn (Estonia), northernmost capital of the three Baltic sister countries. I was looking forward to the city, because I'd never been there and was curious how it would compare to Riga, one of the other Baltic capitals, which I liked a lot.
Our usual plan of taking the whole family for a nice long weekend getaway wouldn't work this time, because Sophie unfortunately had to work on the days surrounding the weekend. So we thought about what to do, but the only option that made sense was that I would go alone.
Going on a marathon trip alone is really different. I did that once in Budapest, and while it was a nice change, I do prefer having my family around me very much. So I decided to make it a very quick and short trip, with just one night in Tallinn. Because I would have to pay a lot less without taking everyone I chose to treat myself with a nicer than usual hotel room. Wise decision. I love comfortable hotel rooms!
My Ironman race was three weeks behind me, I had enough time to recharge and do some training as well, so I was quite confident for the race. But then, two days before I would leave for Tallinn, I played a little too enthusiastically with my daughters and hurt my ankle. Crap! I would still go there, of course.
The marathon would take place on Sunday, the 13th of September, and I had booked a flight for Saturday before that. In the morning of the 12th I sadly left the family to go to the airport. Two days of solitude would await me, a fact which I was not looking forward to. Therefore, in the plane, I wasted my time with Instagram.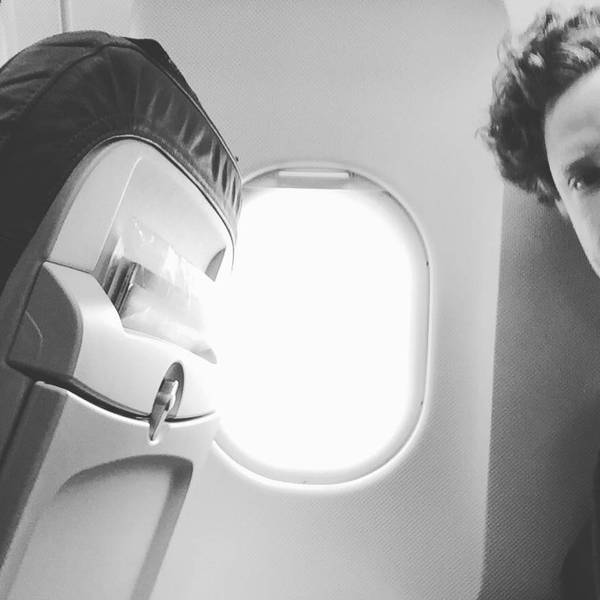 A short stopover in Frankfurt and a couple hours later I'm in Tallinn. Beautiful weather in this small but very cozy city. This time I didn't really care in depth about politics and history of the city and country, but still read the Wikipedia article and learnt of the former name "Reval" and the many conquerings by various other nations including the Danish, Russian and German people. That means lots of different influences over the last centuries, which is apparent in the culture of the Estonian people. The language sounds more Scandinavian than Slavic though, which baffled me a bit.
What I enjoyed particularly about the city was the small size of it. That always makes me feel like I'm on vacation. The airport is less than five kilometers away from the city center, my cab ride there cost 8 Euros, which is ridiculous. When I arrived at Freedom Square, this was the first thing I saw.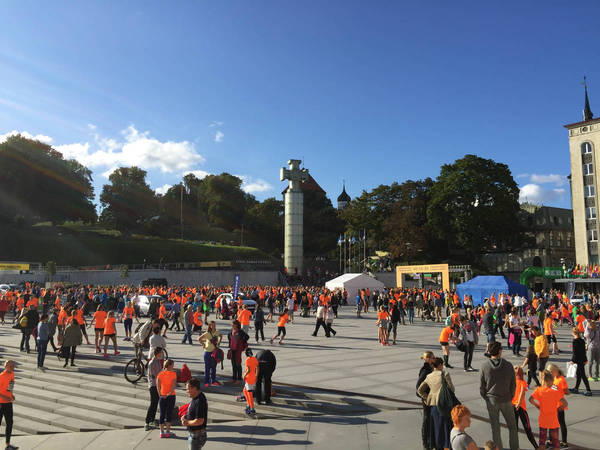 The center of the city was also the center of the marathon weekend. The people dressed in orange were about to do a 5k Fun Run, and right next to the start I found the marathon tent, my target and one of the few important tasks for today.
A minute later I had my racing number, which included a timing chip, and a free shirt in my hands. Friendly people, smiles everywhere. Lovely place!
Off to the next target: my hotel room. Man, was I looking forward to this! I really enjoy good hotels, not only because I rarely get the chance to be in one. Because this was one of those rare occasions, I chose a very good one which was perfectly located, too. Just 200 meters walking from Freedom Square, can you believe it?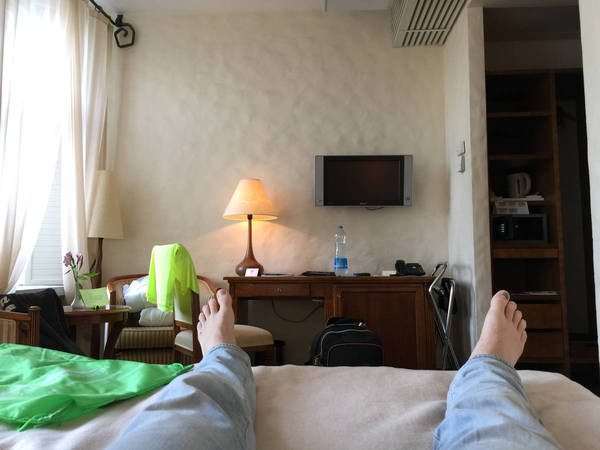 Great room, view of the city, bathtub, incredibly comfortable bed. What more could you ask for? Service was impeccable as well. Only one slight problem: I had hoped for a late checkout because of the marathon race tomorrow, but that wasn't possible due to the hotel being fully booked — because of, you guessed it, the marathon race tomorrow.
You know my pre-marathon evening routine, right? Of course my next action is what people refer to as "carbo loading". The marathon had a partnership with the Vapiano restaurant chain, which I enjoy, so I went there and had insane amounts of great pasta for next to no money. Another bonus point for Tallinn. It adds up!
A relaxing bath and I'm asleep at 9 in the evening. A very solid 9 hours later I'm awake and feeling great. What a difference it makes to not be woken up by my very energetic kids! The hotel breakfast had everything you could wish for — unfortunately I couldn't make use of that because I need to eat my special muesli before every marathon. I made a couple mistakes in the past with the wrong meals before a race, and those were not great. So I snuck in my own stuff and felt a bit bad about it. Priorities, right?
I jumped into my marathon clothes, packed my bag, checked out of the hotel, and gave the bag to the receptionist to store it away during the race. A walk of 200 meters and I'm exactly where I need to be.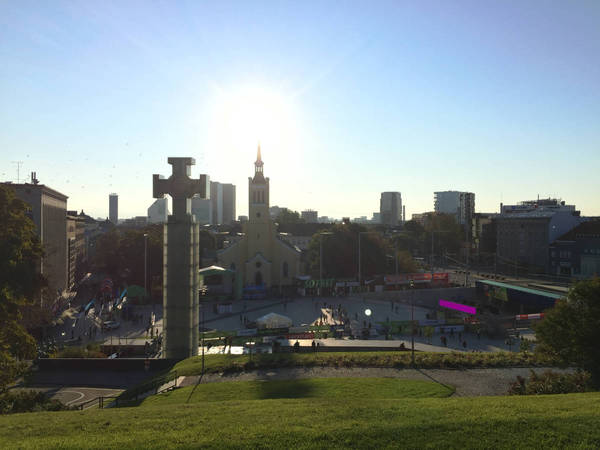 This really is a beautiful city. To be safe, I was there way to early, so I walked around and checked out the area. Wonderful. Weather was perfect as well. Then I had this rare photo-op: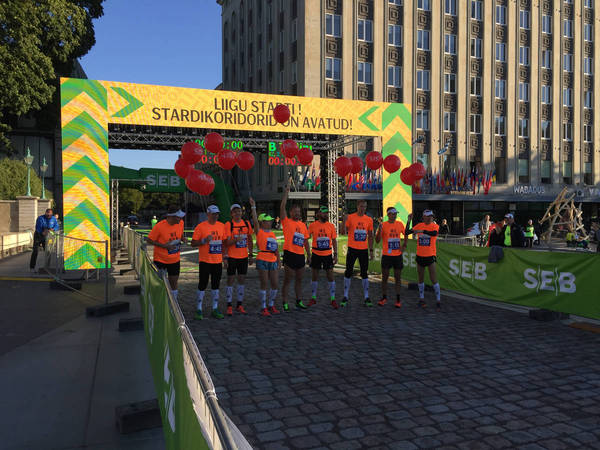 One person for every 15 minute step seems a bit too little. What if the one person falls or something? I thought of the Rule of Two: "Two is one, one is none." In other words: if it's important, always have a backup. Also, I got this idea into my head to one day volunteer at a marathon to be one of those guys as well. Should be fun! Who is with me?
Just a few minutes before 9:00 AM and all the people who looked like they were about to run the marathon collectively moved north, away from Freedom Square. That surprised me, because I hadn't studied the course map before. So the start wasn't here but 200 meters away. When we arrived there, we were standing just right of… my hotel. Cool!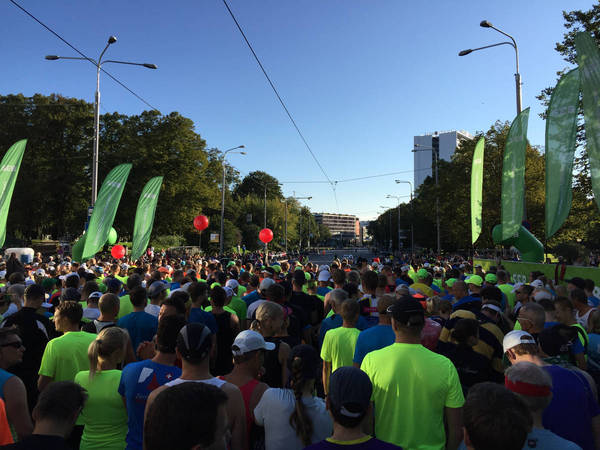 As always, I was getting slightly nervous, but this time it was next to nothing. I was looking forward to it very much and was excited to see the city during the run. And there we go: another marathon had started! Right then and there the 4 hour pacemaker, who is the most important one of them all, lost his balloon. Poor guy. Rule of Two!
The ankle pain which I got from playing with Julie had stayed with me for the whole time so far, but now, after a few meters of running, it was gone. How can that happen? Maybe the adrenaline again. I love that stuff!
Just a few kilometers later we were at the Baltic. We would stay there almost the whole time. I like the sea and remembered it well from my Ironman race three weeks ago in Copenhagen, so this was good planning.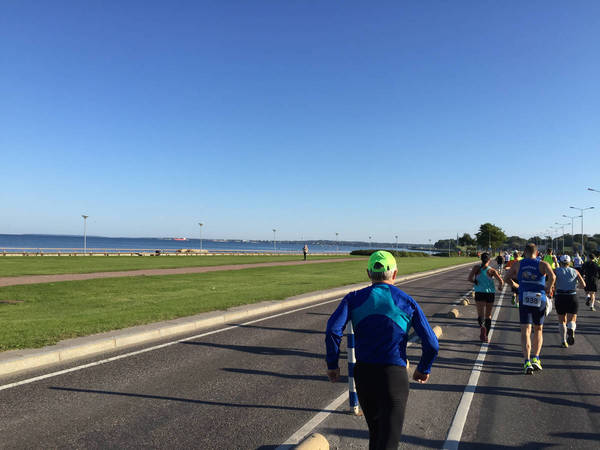 The problem that most smaller cities have with organizing a marathon is where to establish the course. They run out of city very fast. First measure: make it two laps of 21.1 kilometers, that helps. Second: if the city is still too small, have the course lead out of it and back into it again. That's what they did, so we ran for ten kilometers next to the Baltic and then turned around.
You might think that it was boring to run this course, but I didn't feel that way. You hear the waves on the shore and the rhythmic taps of feet next to you, feel the sun, and have this great view almost all the time. It's quite pleasant and I was doing very well, too.
The crowds weren't too big, as you might have guessed. But still, some were present and it was nice to hear them call my name and shout "Go Germany" from time to time, because my family wasn't here to cheer for me. Roughly in the middle of that 10k course they had some kind of cheering station set up, where music was playing, cheerleaders were dancing and the crowds were slightly bigger. That was a nice effort. Lots of very friendly volunteers handing out the drinks, as well. Smiles everywhere.
On the way back to the city I eventually saw the 3:45 balloon guy in front of me and slowly came closer to the throng right behind him. The course was very narrow here so it took me quite some time to run past all these people following him. But I managed to, and I think this was probably the first time I ever did that! Ahead of the 3:45 hour pacemakers, not too bad.
Back in the city the course now lead around the former city walls, through a perfectly maintained park with a beautiful garden and river running through it, over a small bridge (exhausting after all this flatness) and towards Freedom Square. Halfway done! Somewhere there I saw an odd looking guy, wearing some kind of traditional African outfit, with a shirt saying he did 48 marathon 2013. That's crazy! I found him online, his name is Sidy Diallo, check out his website. Interesting guy.
I was doing really well at that point, time-wise and fitness-wise. Off to the next lap! The Baltic again. It's cool to see all the sights again, they stay in your head longer afterwards. I felt some energy left so I went a bit faster now. Then I got a text from Sophie in which she asked if I was doing okay, because Runtastic had stopped the live tracking. Oh come on! Runtastic recently got bought by Adidas, and maybe the resulting increased bureaucracy made it harder to maintain a steady and fast-reacting server structure for them. My only guess, but very far fetched. That annoyed me. Good that I have my Polar watch tracking me as well. Rule of Two!
Somewhere here this photo was taken: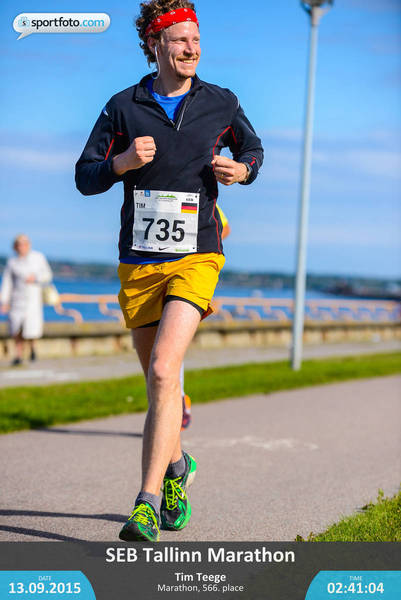 When I came to the far away turning point for the second time at roughly about 30 kilometers total, I noticed I was starting to overtake more and more runners. It's always the same but it still astonishes me every time: Why do so many people miscalculate their strengths by that much? I don't know. And maybe I'm too harsh on them, a marathon is still quite an achievement. I must say, though, that after completing the Ironman it seems a lot less hard to me. Running is still a great sport, and the marathon race is the pinnacle of it. It's the most important event at the Olympics. So I definitely have lots of respect for everyone being here. Especially everyone who is faster than me (many, many people) and the elderly ones. The combination of the two is killer. 75 year olds who finish in 3:30. They exist and it's insane!
I'm doing my thing, keeping my pace very well. As we come closer to the city I'm also getting slower, like all the other people at kilometers 25 to 30. The last 5 kilometers are still quite a challenge for me every time. I tried to push to keep the pace but I really couldn't and I can't say why. I felt energy left in me, my legs were doing fine, but I couldn't go as fast as the last 38 kilometers. Through the city wall gate, on cobblestone, up a hill, over the same bridge as last time.
Another long stretch that went slightly uphill. Fighting face! I can do this! There comes the part where I had to go straight ahead last time, and now I'm allowed to go left. 100 meters and there it is, the finish on Freedom Square! Yes!
The watch says: 3:41 hours. Again a new personal best! I'm still improving, good to know! A bit exhausted but really happy with how the race turned out I walk through the finishing area. A minute later, what do I see? My hotel! What a huge convenience this location is.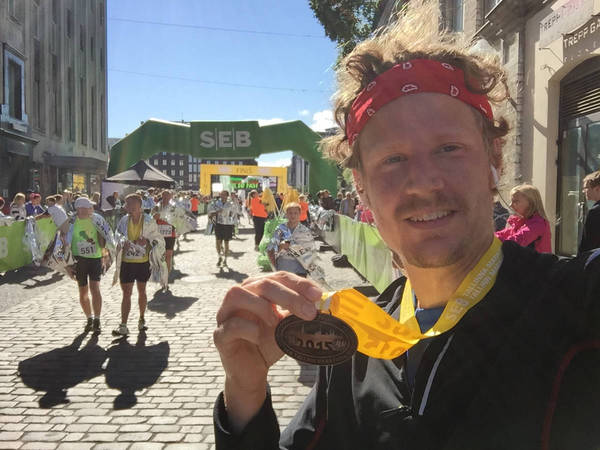 I just love this feeling, the first 10 minutes after a marathon. Everything feels perfect. The problems seem far away and I feel content. It's like a (very mild) drug. The feeling then wears off, but it's still present for the rest of the day usually.
I step into the hotel to get my bag back and make my way to the sports hall which is supposed to be offering a free shower for marathoners. Just two kilometers of walking away, it seems like I'm far out of the town already. The neighborhood instantly looks worse. The sports hall is in great shape, though, and the hot shower there is awesome. I call a cab, go to the airport and walk around until my flight leaves. What I notice from all the advertisements here, is how open Estonia is to immigrants: they really want people to come, and they make it really easy for foreigners to move here and work. I think that is a great attitude. One that several other than European countries should definitely copy (looking at you, Hungary). It seems to work, Estonia's economy is growing fast.
And so my weekend ends with a very uneventful flight back home. Sophie had enough energy left to pick me up from the airport and so we were reunited again. Next time we're going to Dublin at the end of October, which I'm looking forward to, because the whole family will be there with me again. It's nicer that way.
All the best to you and thanks for reading!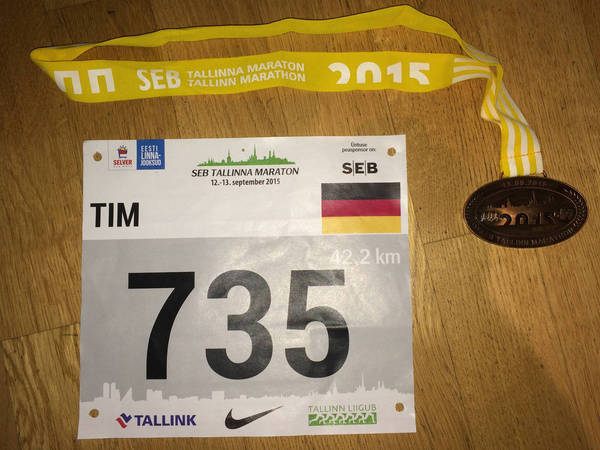 Certificate