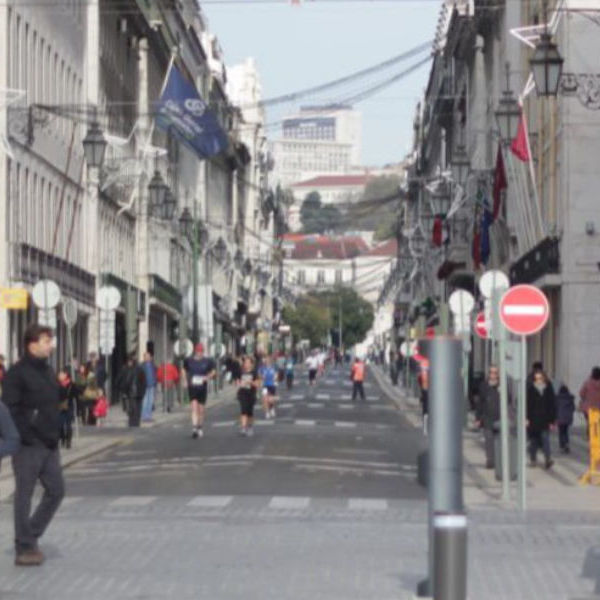 Lisbon
9th of December, 2012
EU capital marathon, the third. This time it's going to be in Lisbon, Portugal! This marks the first trip that we had to get on a plane for. We managed to assemble a nice group again, consisting of Sophie and me with little Julie, Till and Lia with little Levi, Maddin and his girlfriend Kiro, and Sophie's cousin Kathrin.
The two little ones survived the flight quite well and showed themselves to be very cooperative in our endeavor. We had booked a privately owned flat with AirBnB again, which was situated right in the middle of the Old City. It was decorated in a peculiar but stylish way. There were things like a 1940s movie projector and little old TVs as bedside tables, which were creating a unique flair. The walls were decorated with vinyl record cases and the floor was full of Flokati rugs. Thankfully we wouldn't have to clean those! It was very cozy though, and the position of the flat right in the city center was perfect for traveling with young children.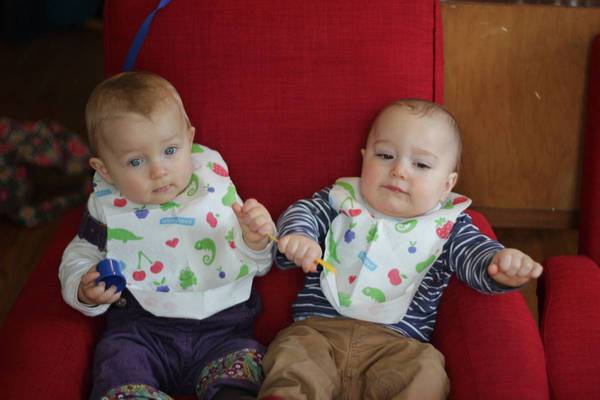 On Friday and Saturday we were exploring the beautiful city with its many hills and stairs. I had never been to Lisbon before, except for a stopover at the airport, but Sophie had lived and studied here for a year. Now I was finally able to keep my promise of coming here with her and letting her show me around. Another thing was quite convenient, and that was Sophie's ability to speak Portuguese fluently. No one of us was able to say more than the few obligatory tourist words and not many Portuguese people are able to speak English.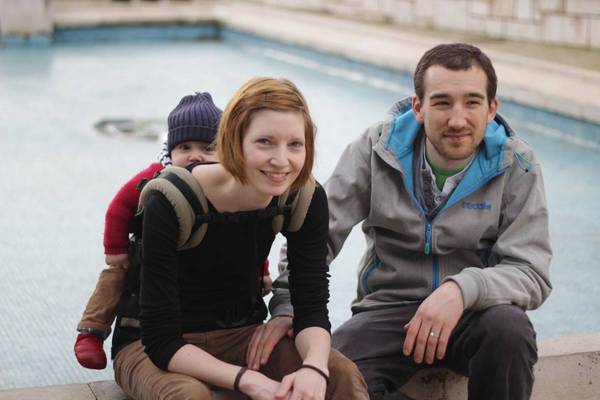 This marathon would have a change of runners. Serzhey didn't have enough time, because he was in the middle of his year-long internship to become a medical doctor, but Till signed up for the race. It would have been his first marathon, but unfortunately he got a cold just a few days before the race so he decided not to run. Maddin wasn't in good shape as well, that's why he just signed up for the half-marathon race that was held at the same time. That means that I was the only marathon runner of the group for the first time.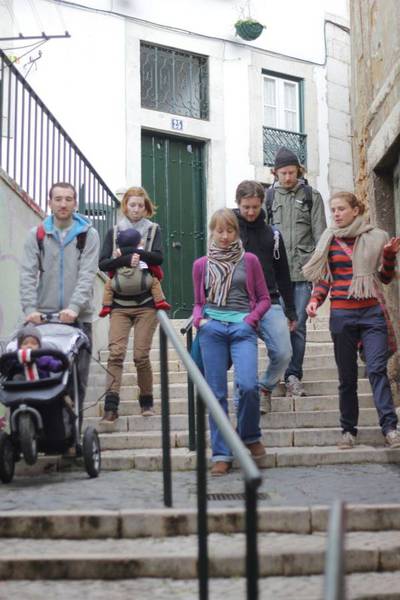 On Saturday our group split up, the girls wanted to explore the city some more, Maddin and Till went to the little town of Cascais to go climbing right at the Atlantic ocean, and I took the metro to get to the racing center in order to collect my racing number and that stuff. The racing center was inside of a small gym hall and I got the impression that the race was going to be really small. There was just one counter that gave out the racing numbers, and next to it another one were you could buy PowerGels. Then there was a guy that cooked coffee and gave it to everyone that wanted some. That was it. I asked a helping girl for some printed maps of the route to give to my companions, and she gave me the last two remaining ones. Wow. I kind of expected this event to be not as perfectly organized as the other two marathons I ran in northern Europe. So far there wasn't a problem, but I was a little afraid that maybe the water stations during the race weren't well organized, too. If there would be no water for the runners, it could be really difficult. But every problem is solvable. Just go and do it.
In the afternoon our group met again and we went to the city center and enjoyed the amazing weather. It was just under 20 degrees Celsius! In the middle of winter! We all really needed the sun. Convenient as well: we didn't have to go looking for a heated room to change Julie's diaper, we could just do that in the streets or on some public place!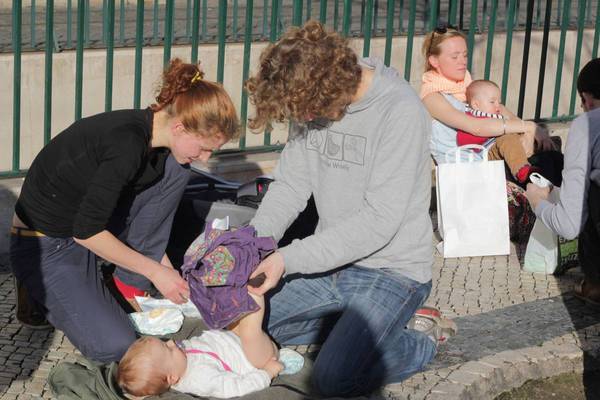 In the evening we had a big meal. Pasta, very traditional, and lots of it. Some people say that this carbo loading before a race is not as good as you might think, but I don't care about that. I always felt good during a race when I had eaten lots of Pasta the day before. This time it would be the same.
Lisbon's marathon is quite small, as expected. I think there were just about 1,500 people running the full race. A few more were running the shorter races, that were held at the same time (half-marathon, 10k, children's run). Still, it felt small and cosy, which was a good new experience for me. On Sunday morning Till came with me to the start so that I wouldn't have to be there all alone. In the metro we met an interesting guy from Belgium who was going to run his 20th marathon here but was a lot more nervous than me. He had an interesting tactic of running four marathons per year and before each race he doesn't drink any alcohol for 30 days. Then, after completing a marathon, he "drowns" himself in red wine, as he said. That sounded a bit dangerous to me, but it seemed to work for him. :-)
I, for one, am happy with consuming alcohol very moderately. But who knows, a little more red wine and I might be able to run four marathons a year as well. Ha!
So now I stand here at the start of this race that is difficult to assess and supposedly very hilly. I didn't train a lot before this race, I just had three major runs (20k, 25k and 30k) in the weeks before today, and so I am a bit nervous, of course. As always, the nervousness is immediately gone the moment I cross the starting line. The timing chip is securely attached to my shoe, the clothes are warm, the stomach is full but not too full, the weather is alright at 10 degrees Celsius, everything is fine. What they said was true, the course is immediately quite challenging. It goes up and down a lot, passing the two big football stadiums of the city, with next to no spectators. That is quite refreshing, actually. At KM10 I run next to a man that caught my attention for two reasons: first, he was wearing a shirt that said "Zeitsprung-Marathon Bremen" (~ time jump marathon). That is a marathon on the first weekend of October, starting at 1:00 AM, which is right before the Daylight Savings switch of the clocks. So everyone is running an hour less… well, kind of. Still, a funny idea! The second thing that got my attention was a chain of little bells that he had around his ankle. With every step he made it produced loud ringing noise. After a few hundred meters it got really annoying! There was only one solution: running away from him, fast. Within a few minutes I managed to be out of reach. How does this guy not go insane? Shortly after this we found ourselves on a 4 kilometer long slightly downhill part of the race, which was really good. After that I see my personal fan club for the first time. The girls just had to walk 100 meters from our apartment to see me. KM19, with a bit less than 2 hours, I'm happy for many reasons. Well planned, as always!
Now the course gets boring. It is completely flat for about 15 kilometers. We are running along the Tejo river, with little to no view of the water itself. Instead we get to watch the half-marathon runners coming towards us, which is always nice. One of them was Maddin, who was running in a very relaxed way and even took the time to have a short break in order to take a proper photo of me and give me a High Five. Well done! After that we soon come across this famous bridge that almost looks like the Golden Gate Bridge. At KM28 there is a turning point so that we have to run on the same street, back to the inner city. Starting at KM30 it's getting harder to run. I have to fight. Maybe I ate too many PowerGels, because my stomach feels full. I had a little Aspirin Effect with me, that I ate at that point, but I have no idea if that worked at all.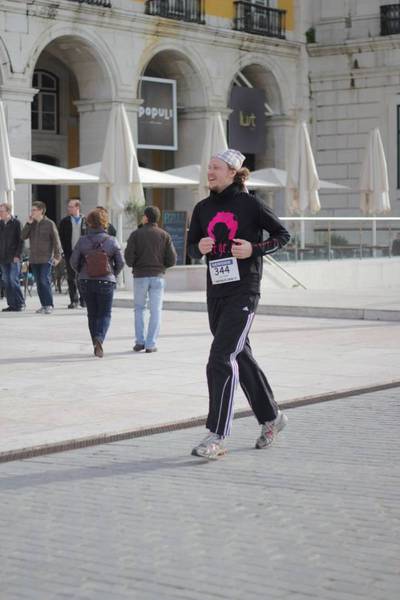 I lack motivation at this point. The field of runners has stretched big time, and there are still little to no people in the streets cheering. It's a shame and it makes me realize how much I appreciate a screaming crowd, when I finally meet the girls again at KM36. They build some kind of cheering device from trash bags, which was really sweet. I really needed that motivation, because I know that from now on the course goes straight uphill. Until the finish line. The last 5 kilometers. Who made that decision?! I still am in quite a good mental state, so that I am ready to fight, but it is a lot harder than I expected. Starting at sea level it goes up to 120 meters above it. Very slowly but steadily. I am looking forward to every kilometer sign and think nothing but "only 5 km left, only 4 km left", but it seems like a much longer distance. I was very fast, but now I'm losing many minutes. The only important thing is finishing the race. I'm not looking at the time at all, anymore. But then there comes the moment when I have to take a short break and have to walk instead of running. I didn't have to do this since my first marathon in Hamburg, but now I have no choice. Walking for 5 minutes, I manage to regain a bit of my strength to run again among the others who are as tired as me. But then, suddenly, I reach the absolute top of the hill. The last kilometer to the stadium is flat. What a relief! I feel like I can fly. On the last meters I take a look at my cell phone: I still managed to run a new personal best! I can barely believe it and race towards the finish line. 4:23:31! Yes! Another marathon completed! Shortly afterwards I see Kathrin and Sophie, who both came here to pick me up. They were a couple minutes late, but still, how very nice of them to come here! So I have some company to go back to the flat with. They even got me a bag of sweets to celebrate. Woohoo!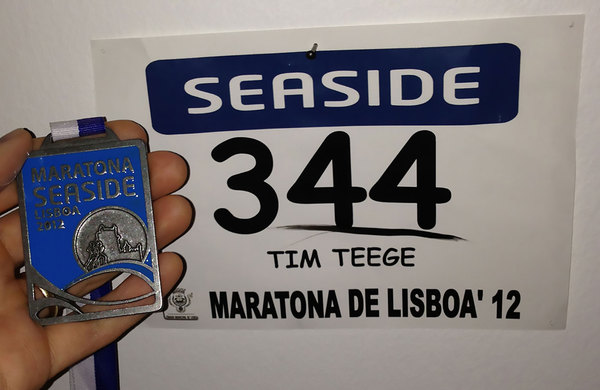 Certificate