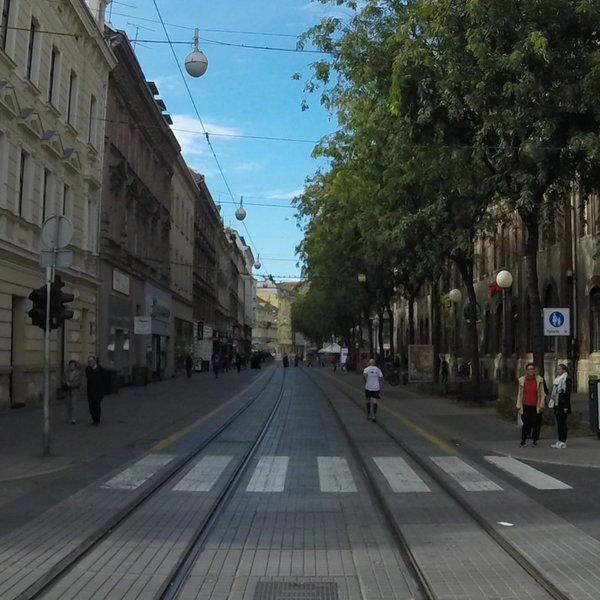 Zagreb
8th of October, 2017
Finally a real marathon again!
It's been a year since I've done the most recent EU challenge marathon, Dublin, and already about two months since I last ran a full marathon at Ironman Hamburg. That's too long!
Needless to say, I was really looking forward to this one. The story leading up to my participation was a curious one. I had initially planned to do Zagreb in 2018, because of conflicting schedules. My last three remaining marathons are all traditionally held on the same date, the second Sunday of October, apparently. So I had signed up for another remaining marathon race, Bucharest (Romania) for this year, 2017. October 8th, it was supposed to be.
But then, a few months ago, I got an e-mail which certainly was very bad news to many other Bucharest marathon participants, but not to me: The race had to be postponed to October 15th, because of a somewhat spontaneous NATO summit in Bucharest on the weekend surrounding the 8th that required an inner city lockdown.
My reaction was very joyful, because this meant I could do two of my remaining EU marathons in 2017 instead of just one! Of course, there is no real rush for me, but I still just appreciate completing a task earlier than expected. So I immediately registered at Zagreb marathon and wrote an e-mail to the Bucharest staff, thanking them. They replied very cheerfully because they got lots of angry mail and my happy one was well received. Just as intended.
Two Marathons on Two Consecutive Weekends?
Isn't that too much? Last year after Dublin, we went to Rauchwart in Austria and I ran that marathon just six days after. It worked and I managed some 3:55 hours for the second race, although I had to fight a bit harder. So, I guess I should be okay if nothing major goes wrong.
We planned a family vacation around the races, because we needed one. Haven't been on away for longer than a weekend since January together, it clearly was time. After all, it had been a demanding year for both Sophie and me, career-wise.
So we decided to book a motorhome in Munich, and planned to fly there with airberlin. Our mistake. A few weeks earlier, that airline declared bankruptcy, received a government bailout of 150 million Euros, and was bought by easyJet and Lufthansa. To top that, they decided to cancel many flights and not pay their former customers back. Including us. I felt really bad for those who had really big trips planned, as airberlin also offered intercontinental flights. We were able to just book an ICE train ride to Munich instead. Lucky. You don't really see that coming – your airline declaring bankruptcy.
Starting The Trip
In Munich, we picked up the rental caravan and drove south.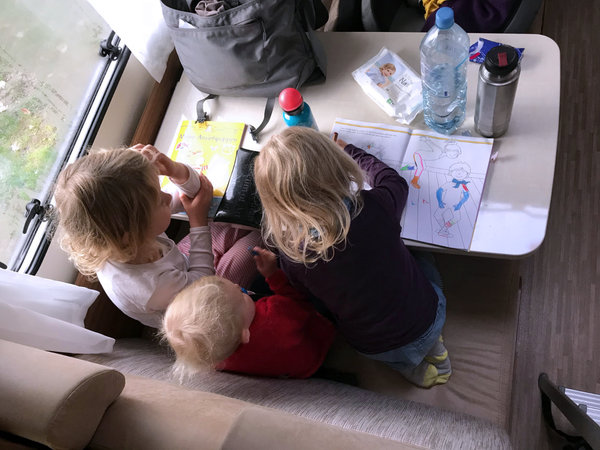 The freedom such a car offers you is unparalleled. We went for Chiemsee for the first, and Wörthersee for the second night. Two very beautiful lakes in the south of Germany and central Austria, respectively. Another night in the middle of hilly and green Slovenia, and we reached Zagreb in Croatia's north.
Zagreb
The city has been around for more than nine hundred years, and was used as a capital city to Croatia for almost 500 years. There's a lot of shared history with the bordering countries like Slovenia and Serbia. After the second World War, the countries were united as communist Yugoslavia, run from Serbia's Belgrade. Croatians didn't like that, protested, and were put behind bars. In 1991, following the fall of the Berlin Wall and the USSR, Croatia declared independence and got attacked by the Yugoslavian army. The unrest wasn't a major problem apparently, and Zagreb celebrated it's 900th anniversary in 1994. With roughly 800,000 citizens, it's an important city right at the border of central and south-eastern Europe.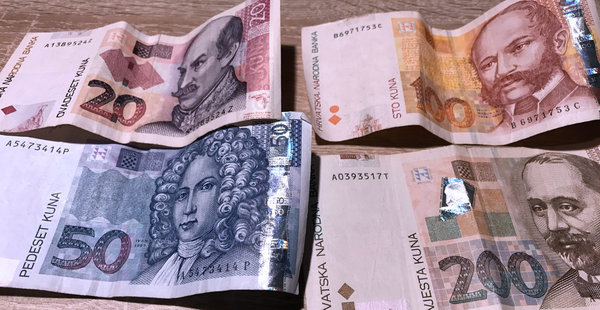 Finding your way around such an ancient and beautiful city with an eight meter long camper van definitely isn't recommended. It took a while until we found a place to stash that huge car away, because Sophie had booked an AirBnB apartment in the center for a night, in order to have better access to all things marathon related. Also important for a traveling family with three kids in camper van: a washing machine. Very thoughtful of her, as always.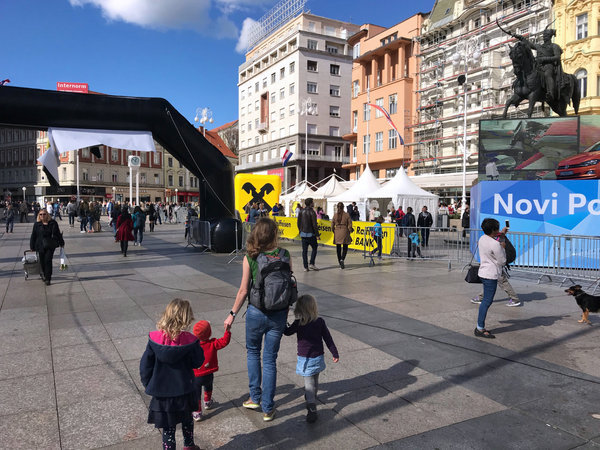 We walked around in the city on Saturday of the race weekend and couldn't have missed the sponsor's expo on the big Ban Jelačić Square right in the center of the city. Alas, the race number pickup was nowhere to be found, and no one had a clue where it was. The website of the marathon was terrible, as there was next to no information on anything. But in the end, I found the little door around the corner.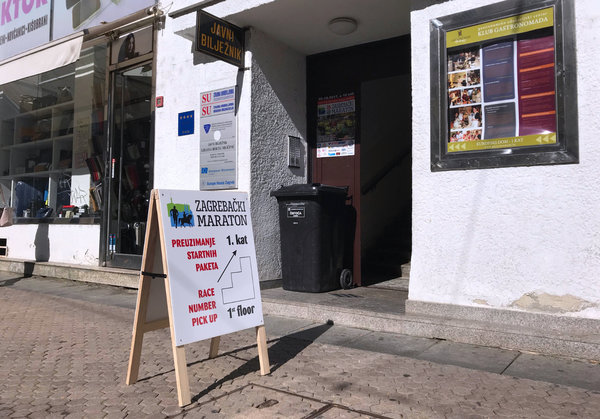 The door led into Europe House Zagreb.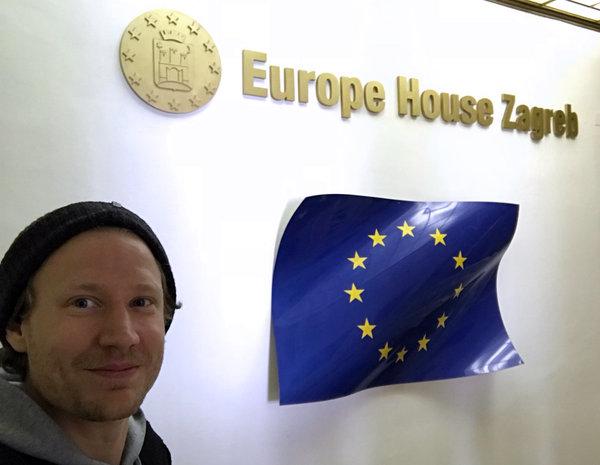 The EU
Croatia is the newest EU member and joined the union on July 1st, 2013. At the time, my marathon challenge was already in motion, which led me to believe that some other countries, currently in talks with the EU about joining in, might become EU members as well and spice up the challenge. But, unfortunately, it was the other way around, since we lost the UK this year.
The Croatian volunteers were very friendly and helpful and handed me a goodie bag containing a race shirt, sweatband, protein shake, a Red Bull can, an inferior powergel, some weird gum drops, and lots of advertisements for stuff to buy in the city. For a total marathon participation cost of 20 Euros, you can't complain at all.
The Information Situation
The bag was missing something important though. That was, a proper plan. No information, no guide, not even a map. I had no idea where I would be running tomorrow and how to plan family meet-ups. Even finding out the starting time (10 AM) was hidden somewhere on the slow and poorly designed website. There's some room for improvement.
Later, I stumbled over a GoogleMaps link of the course and found out it was going to be several laps. Roughly measuring it, I saw it's probably going to be two laps. This marathon is full of surprises. It's slightly weird, but I must admit I enjoyed the uncertainty a bit!
Zagreb Appreciation
It is a beautiful and certainly a bit of an underrated city, we found out. Lots of pretty ancient buildings, artfully decorated and renovated, as well as big plazas, lots of green areas, and mountains as the backdrop. And an important kids' (and adults') favorite are several tram lines! As people from Hamburg, a city without a tram, we all always get excited when coming to a city and discovering it has tram lines. Those are the best way of public transportation, I think.
Our AirBnB flat was within a rather inconspicuous building, but the inside was where it did shine. Located right at Croatia's longest road, the Ilica, just 1.2 kilometers from the start and finish of tomorrow's race, it also ticked those boxes.
Fitness Level
As I've stated, I couldn't wait to finally run a proper marathon again. But what about my body? Just a week ago, I did the insane ÖtillÖ Swimrun with my buddy Rasmus, and just five days ago I participated in Hamburg's iconic Köhlbrandbrückenlauf, crossing our huge Köhlbrand bridge, twice. Especially during the forest trails with a few uphill and downhill sections on the 34 kilometers of ÖtillÖ 1000 Lakes, I did not give my feet a break. A bit of pain in the achilles heel of my right foot persisted. But pain is just in the head. Until it isn't. As always, my strategy is to try and go as far as possible.
Apart from that, I am in good shape. The last few months I had a race on almost every weekend, and enjoyed all of those. I was missing the slow long weekend runs, though. There wasn't any time for those. So that's something I'm looking forward to, because after Zagreb and Bucharest, my athletic year will be over. At least there's nothing on the list anymore, right now. I need that too, sometimes.
The Preparation
Meanwhile, everything seems to be less nervousness-ridden with my marathons. It has almost become like one of those slow and relaxed Sunday morning long runs. I don't really care about the carbohydrate intake the evening before, and I'm just glad when I get a bit of sleep the night before. Both worked out well this time, thanks to Sophie. I was definitely setting the bar quite low this time for myself, because the most important thing to me was to finish tomorrow, and also to be able to finish in Bucharest, just seven days later.
Morning of the Race
A starting time of 10 AM is probably the best possible situation for me. I was able to sleep as long as I always do and get up at 7:30 AM, as I also usually do. Also thanks to Sophie, who took care of the kids who woke up a bit earlier. We all had a relaxed breakfast with some oatmeal and bananas, and we even had enough time to get everyone ready to accompany me on the walk over to Ban Jelačić Square. The walk of 1.2 kilometers through cold and cloudy Zagreb took a good 30 minutes because of the kids, but we still managed to be there on time and even get some coffee at a nearby warm organic food store.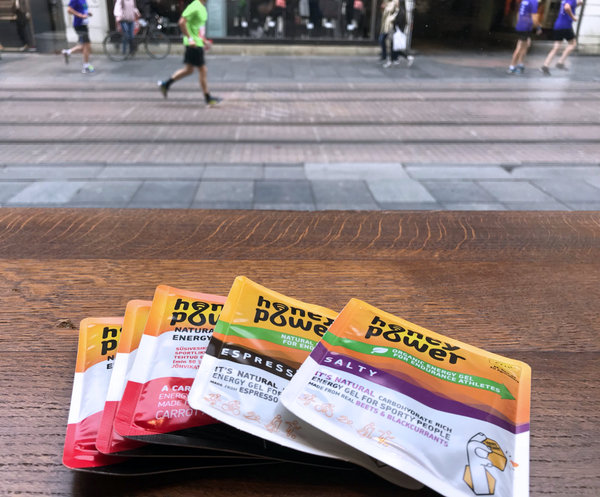 With about 15 minutes to go, I kissed them all goodbye and made my way over to the starting gates. The square is filled with people. Definitely in the thousands. Today, a marathon, a half marathon, and a 5k so-called "Citizen's Race" will all start at the same place and at the same time. You could've planned that in a better way, considering the amount of people participating, but here we are. Squeezing everyone into a small fenced area. On the upside, enclosed by human masses you don't notice the cold as much.
A few pacemaker's make their way through the crowds towards the front. I see my chance and follow them through hundreds of apparent students who are standing here, about to run a 5k in their standard streetwear, it seems. What's their deal? Is it maybe a school assignment?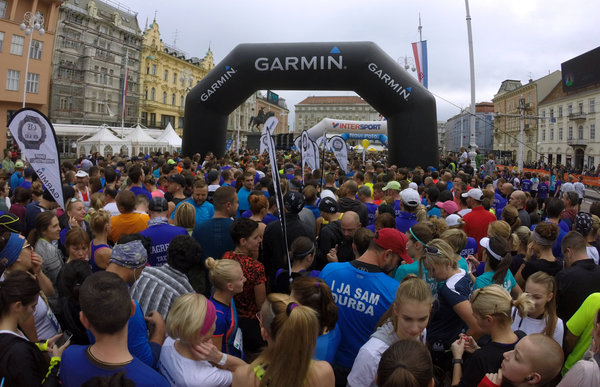 We all stand around, a few are shooting a selfie, me included, and an MC narrates what happens.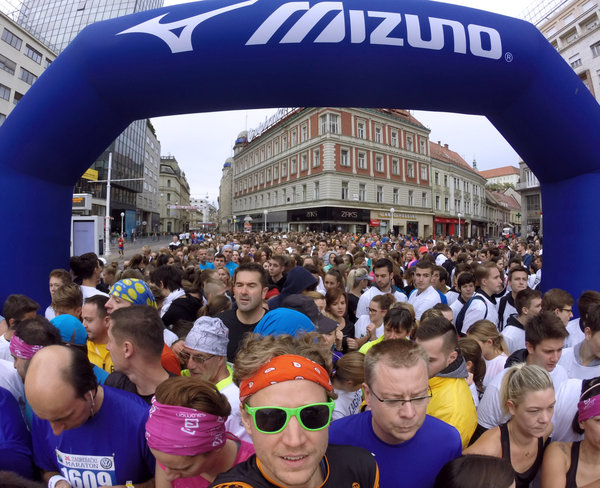 The square has huge fixed digital advertisement screens attached to some buildings, which also show the current time. This way everyone can see that the organizers miss the planned 10 AM start. Unfortunate, to have your failure televised! About a good minute later, a little countdown is initiated and my 26th EU marathon commences.
Start!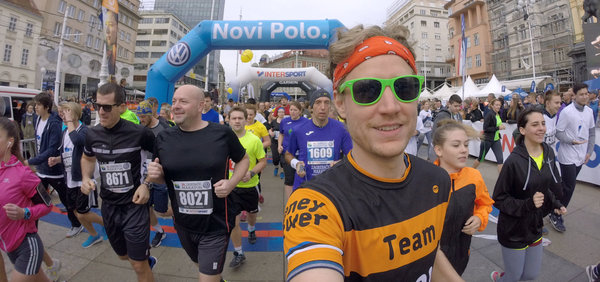 Of course, with all these crowds, there is no thinking of real running at first. The top priority is to not run against anyone and to not fall down.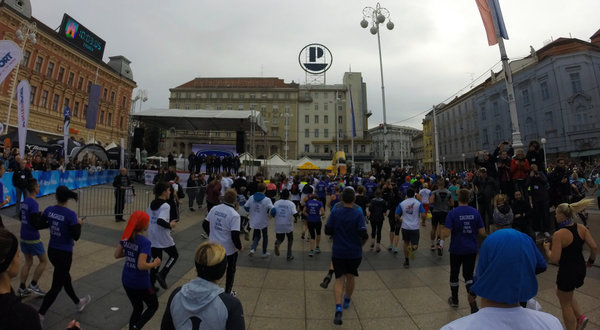 After about a kilometer I can increase my pace to something normal, somewhere between 5:00 and 5:30 minutes per kilometer. The leader of the 5k "Citizen's Race" is already racing towards us, because that course is just 2.5 kilometers East followed by a 180 degree turn and back to the start on the same and very crowded street. That poor guy had to run on the sidewalks and try to avoid hitting the spectators.
Citizen Erased
Finally, after 2.5 kilometers, all those fun-runners had to turn around and go back home. The course got some much needed air.
The Course
On paper, the course was very boring. The very long Ilica street was the only street needed. 7.8 kilometers East, 10.5 kilometers back West passing the start, 2.7k East back to the start. And then again. The fun thing was that this way you could constantly see people coming towards you, being on different stages of the race.
I did not know when the first turning point would be reached, because that info was missing on the website as well. So it came as a surprise to me. Funnily enough, the website provided the information that the course would have exactly 0 meters of elevation. I highly doubt that, although it was rather flat and fast, and certainly a course to try for personal bests.
Soon the leaders of the half marathon and full marathon came towards me, which made it possible to roughly guess where the turning point was going to be. They usually run around 3:00 minutes per kilometer.
At first, it seemed we were running out of the city, because there were some industrial areas, which were then followed by a big bus station, some wide fields, and some more city. This part of Zagreb wasn't the prettiest, but a few nice areas were surely to be found.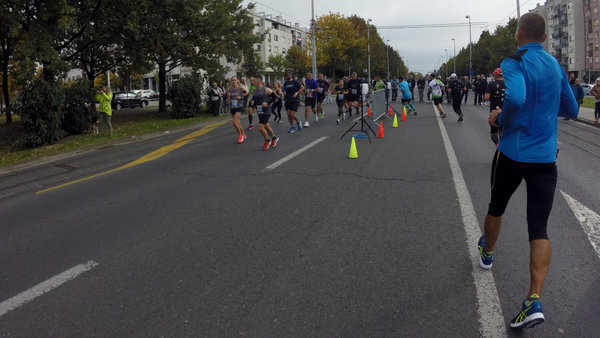 The watch reveals 7.8 kilometers. So, now it's also clear how far the course will need to pass by the start/finish area. A quarter marathon minus 7.8 equals 2.75 kilometers.
The Mental Situation
Although this course was probably the most boring of all EU capital marathons I've done so far, it was great for the mind. You know exactly what's going to happen. It was a bit comparable to the marathon section of this year's Challenge Roth long distance triathlon – which also had two half marathon loops along the same road. It's easier because there are no hilly surprises coming up on the second lap. You know what you're having to deal with.
Soon I can see the marathon leaders coming towards me again, they're already on their second lap. The half marathon leaders therefore are done already.
The Crowds
The crowds are nearly non-existent here on the Eastern part of the course. A few good people, showed up. Probably relatives. In the city center, there are some more people. There was certainly a variety of noise levels.
When I pass by the start/finish area after 15.6 kilometers, fast half marathoners reach the finish right then after around 1:25 hours. Not too bad. I hope to soon crack the 1:30 hour barrier for a single half marathon race as well. Four minutes to cut out for me.
But now, on the 2.7 kilometer Western loop, there is suddenly a lot more going on. Two running crews have set up cheering stations are are giving it their best. Confetti throwing, MC, good music selection. As I passed them by for the first time, "No Diggity" was played.
An Overwhelming Surplus of Diggity
It's amazing to feel the effect of music during sports. I've heard it increases your efficiency on many endurance activities by around 20 percent if you're listening to music you like. It's all in the mind – this big mysterious device.
What also always changes my total perception of everything is seeing the family. 1.2 kilometers after the start/finish, they're waiting for me, all four of them. Four kisses, two of them shove me back onto the street to make me finish the race faster. That has become our thing. Maybe I'll get to someday push one of them during a race.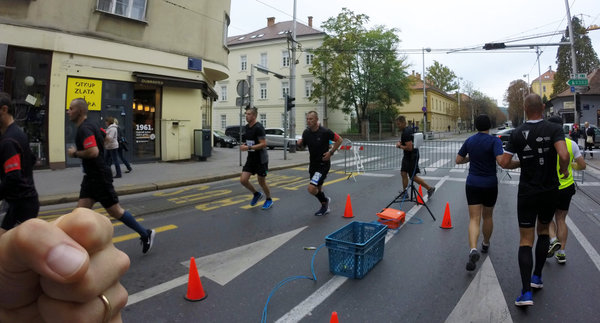 10 minutes later, the kids again! Same procedure as last time.
The watch confirms I've become faster without realizing it. The magic works.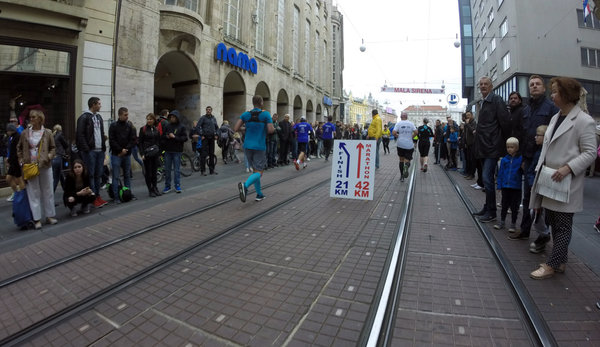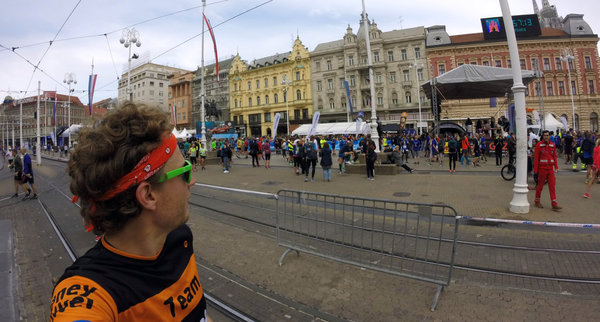 Lap 2: Emptiness
1 hour, 54 minutes. The half marathoners have now left us all. There are very few runners left, just around 500 in total, all somewhere on this long road. At first the race seemed huge, now the opposite. I like how I can have both the excitement and attraction of a huge race and the quietness and relaxation of a smaller race at the same time.
The Nutrition
After 25 kilometers I'm still feeling quite good, when usually the legs get a bit heavier. I'm not pacing it hard, so I guess that helped. Also, I started with HoneyPower earlier, just for fun basically. So far, I have had two Sourish ones with carrot and cranberries, and one Salty with beetroot, black-currant, and salt. Tastes great, provides a boost. Not much you can do wrong here.
There are enough aid stations and they are organized well. A downside is the half liter plastic water bottles. That's definitely not how we're going to save the planet. People are grabbing them, having a sip, and just throw the rest away. Reusable cups would be good, or at least some eco-friendly paper cups.
At least lots of homeless people were able to slightly benefit from this by immediately collecting all the bottles in order to exchange them for about eight cents each at a supermarket.
Isotonic Drinks
It's rather standard to offer those. Recently I'm not so sure it's really needed, though. It should be possible to get through such a race with water and just some salt, as well as HoneyPower, of course, because the energy just has to come from somewhere. The idea of isotonic drinks is that they supposedly have the same electrolyte concentration as blood has, so it's supposed to replenish lost stuff. But the body is usually quite good at making these electrolytes from food. And the drink also has to go through the stomach and digestive system before anything can enter the bloodstream.
So where's the benefit?
Is it a marketing thing?
What did our endurance running ancestors drink as they persistence-hunted gazelles for 80 kilometers until those gave up and died?
Anyways, this particular iso tasted awful. At first I thought it was cleared apple juice and remembered that cleared apple juice gets its visual transparency from using pig's connective tissue, which is why I avoid drinking it. But then I realized it's artificial instead. Horrible stuff none the less. I can go without it.
"The sugar in those drinks is for your brain, not your body." – Michael Lemmel
I heard that sentence last weekend from that founder of the ÖtillÖ races, when he told us about the special type of low-sugar iso they were offering at ÖtillÖ races.
Although the statement is not completely true, we know what he means by it. There's too much industrial grade sugar in everything. We don't need that much, but our brains are tricked into thinking we do.
Willpower Does.
The harder kilometers are coming up. There always has to be a little fight, I think. I don't know if I'll ever be able to run a marathon which is completely easy. The fight is just part of it.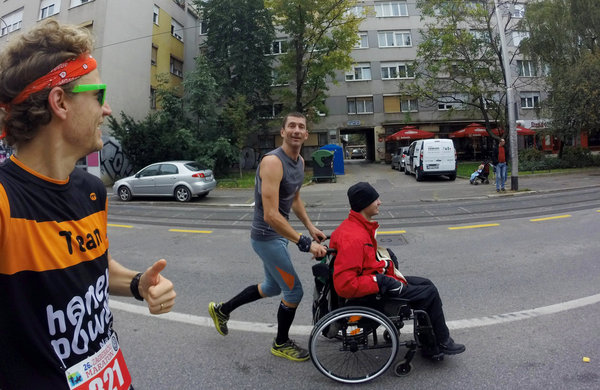 Whatever it is that makes us finish these races, the main ingredient is the mind. If we want it, we can do it. No talent needed, just practice. I very much admire those who make it under a lot more difficult circumstances, and those who do it for someone else to enjoy it. The mentally and physically challenged guy in the wheelchair was so happy, he reached out for a fist bump with me as I talked to them both. A great moment.
Empty Streets and Sun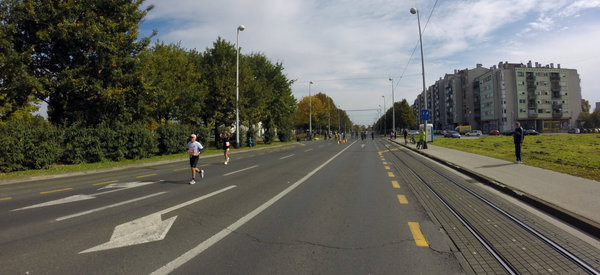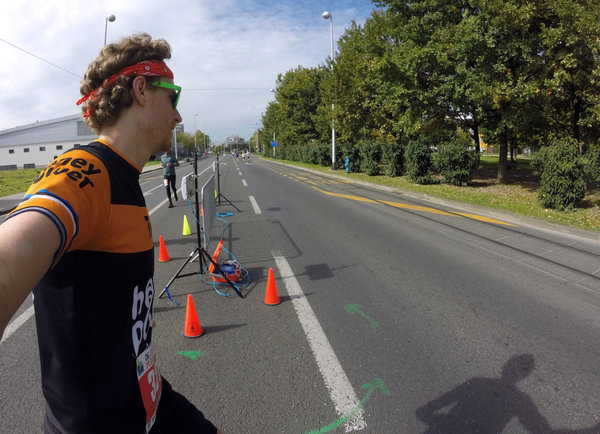 28 kilometers down, some more HoneyPower and back home! It's really empty on these streets, I enjoy it.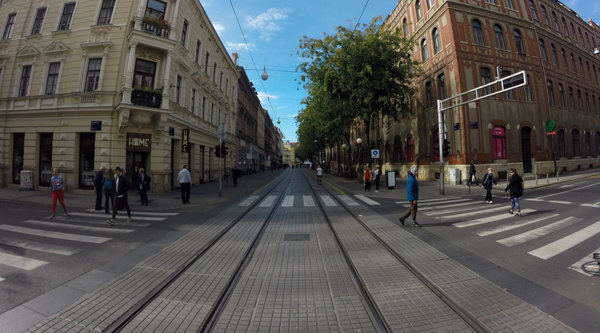 7.8 kilometers later, the noise and crowds are still there to greet us – apparently having increased in size. 3:18 hours are through, I see a few runners finishing the race – good pace! I came closer to that this April when I did Hamburg in 3:26, but today it's all about a safe finish and a fast recovery. I've got 5.5 kilometers more to go.
I suddenly hear a crying voice I recognize, it's my little Emma. She hasn't been feeling well. 800 meters later I see her and the other three girls. Emma's getting more teeth at the moment and needs rest. Nothing serious. So it's very understandable that Sophie and the three little ones go back inside as I finish the race and won't come to meet me at the finish.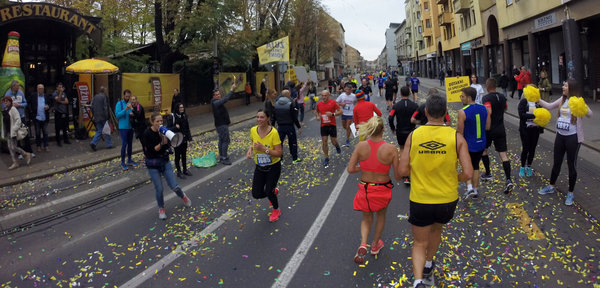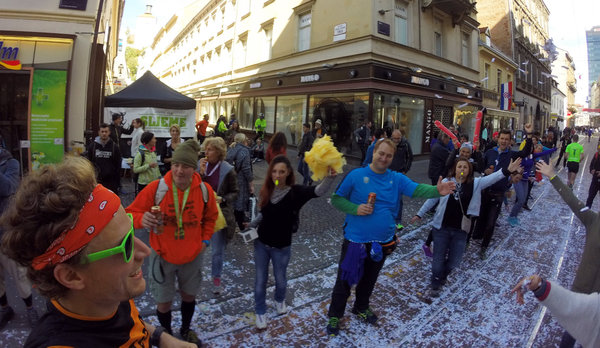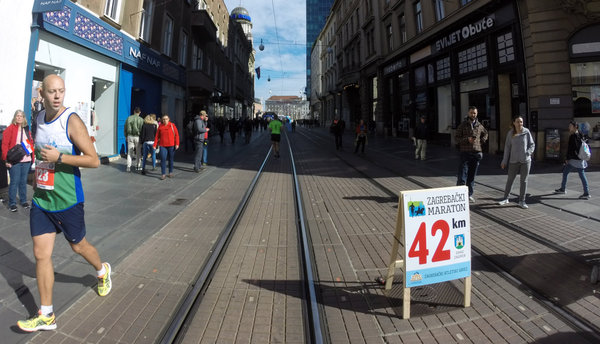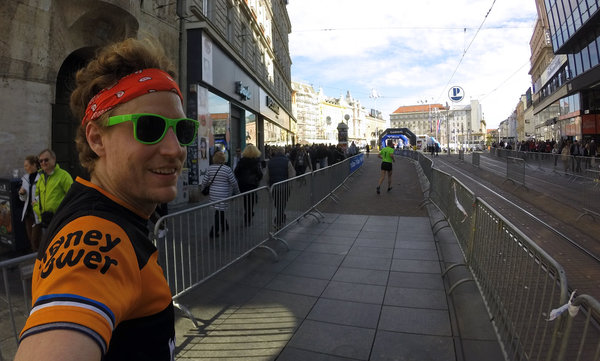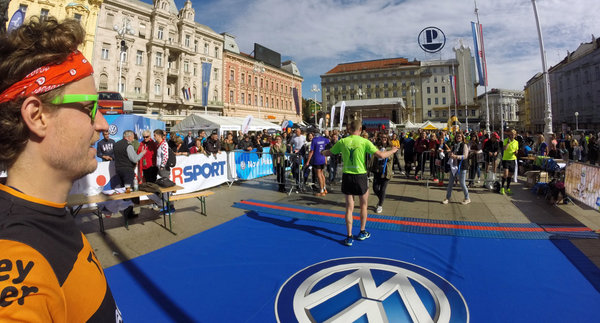 Number 26 is in the books. I receive a nice elaborate medal and a towel from a smiling lady. In the sun. On a pretty place in the center of a pretty city. After just having done a marathon. All is good.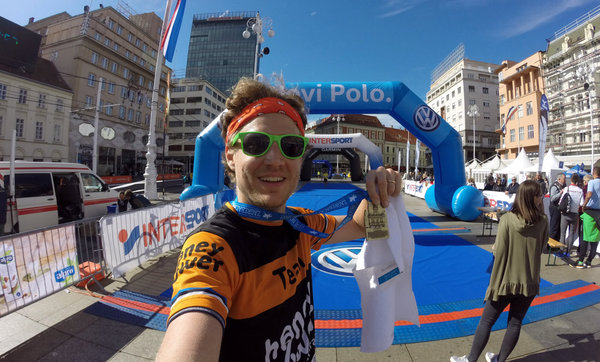 3:50:08 is also a time I can very much live with.
An alcohol-free beer fills me up nicely, some more water to keep being hydrated as well. I sit down for a few minutes and realize how slowly my rhythm of breathing has gotten. I don't know what's that a sign of, but I feel good. Relaxed. A bit like I'm about to fall asleep, in a good way. Tired and happy.
Walking home for 1.2 kilometers feels like a long time now, because surely the feet and legs would like to rest. It's that good feeling of having done something exhausting and justifiably walking slowly afterwards.
At home, I receive lots of hugs at first. Just Julie prefers the entertainment of an iPad – we need to work on that. A hot shower and some left over pasta Sophie had made make me feel on top again. Tiny Emma needs a power-nap, so I gladly accompany her while she closes her eyes on my chest.
Packing the bags and off we go to have another week of mobile home vacation somewhere in Southern Europe!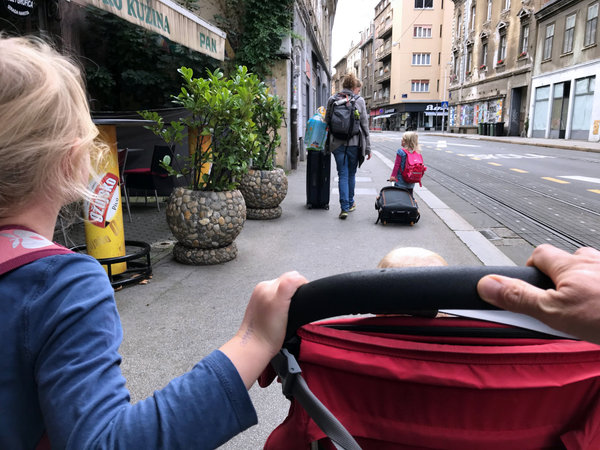 Conclusion
It's a tiny but nice marathon race on a rather boring course. There are no surprises, it's very cheap, not too far away from anywhere in Europe, and a good course to try for a new personal best.
Just two more EU capital marathons to go and the challenge is completed. Can't believe it.
A few days later I realized I had no sore muscles at all. The combination of a slow pace and lots of races in the last weeks probably gave my body the chance to adapt. I hope it stays that way until Bucharest – in just a week. Thanks for reading!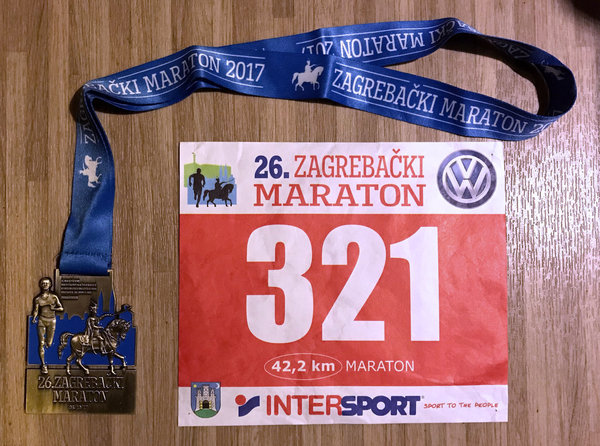 Certificate