Challenge vs. IRONMAN, Part II: Challenge Roth
Part II: The Challenge Roth 2017

4:45 AM – the alarm goes off. I'm awake and happy as if it's my birthday and I'm eight years old. Oatmeal and smoothie, as always, because it works. Getting dressed, making the last moves like putting on sunscreen and trying to make the temporary number tattoos hold on to my slightly hairy arms. Impossible.
We take a shortcut to the swim start to one of the four parking lots which were prepared to take up to 15,000 cars. In this rural area, that's huge. Everything worked out very smoothly, points for Challenge. We had to pay three Euros for the parking, but I learned that the price is a government condition. The Challenge Family doesn't want to make money off of things like this because they're not as greedy. So they gave the complete proceedings of that to charity. Again, points for Challenge.
I enter the athlete's restricted area and exactly at 6:15 AM, drop my bike transition bag at the designated spot. Right at that last possible minute. Relieved I made it!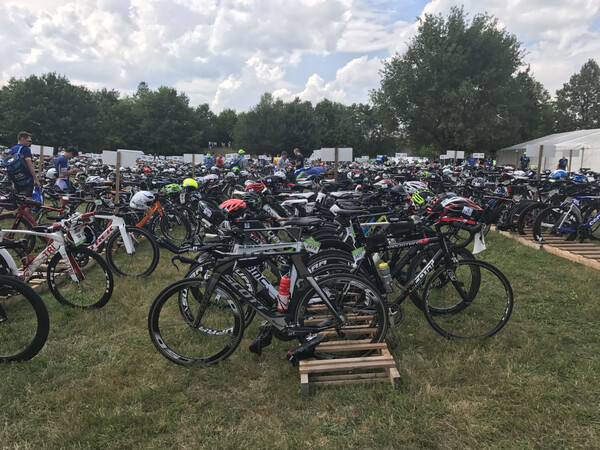 Now I've got some time, because my starting group won't leave until 7:35 AM. Good thing is I can go to the fences and have a few minutes with Sophie and Emma. Huge motivational boost, always.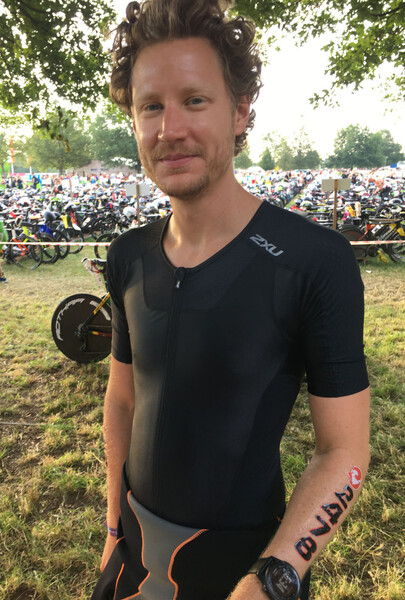 At 6:30 I am able to watch the professionals go off. Huge cannonball shot, some hot-air balloons go up into the air, the incredibly huge crowd goes wild, it's very emotional. To be part of this is a great experience. Much better than the Ironman races I did before.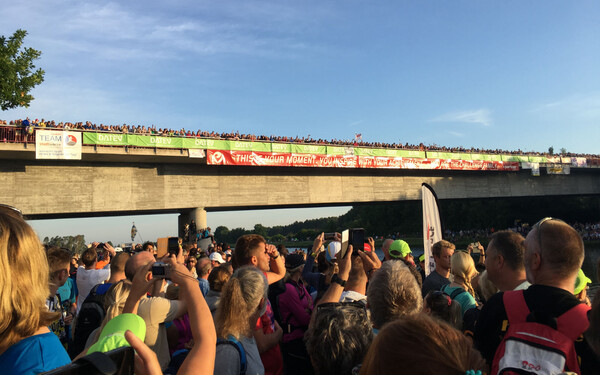 Also cool is that along with the male pros, all the handicapped athletes were allowed to start. And the people who took part in every single Roth triathlon since the beginning, which is 30 total races. Needless to say, those were just three or four people, and rather old ones. Which makes it even more awesome. They were treated like VIPs. That's how you care for your customers!
New score: 3:0 and 4:0 for Challenge vs. Ironman
Those male pros included Nils Frommhold, Timo Bracht, Maurice Clavel, Bart Aernouts, Joe Skipper, and a few dozen more. Five minutes later, the female pros leave, including World Champion Daniela Ryf, who wants to do the fastest triathlon time ever recorded, just like Frodeno did last year. Will she make it? The run course has been changed since last year and is supposed to be a little harder. I'm looking forward to seeing how she's doing.
Starting now, every five minutes another group of around 200 triathletes will begin swimming after another insanely loud cannonball blast.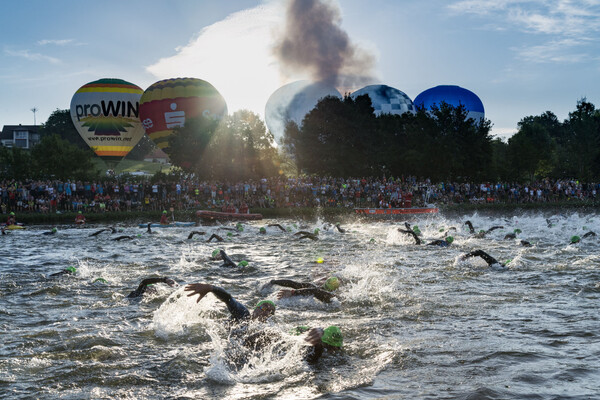 Coincidentally I meet my friend Joachim in between those 3,500 athletes and we have a chat and reassure each other until he has to leave for his group's start.
Before I have to enter the water, I can see the pros swimming down the canal again, because the course is going roughly 1.5 kilometers down the canal, then back again to the start, then about 400 meters to the other side and back again to were it started. Now, the pros have apparently done three kilometers. The crowds go wild again. It's so impressive seeing them all on the other side of the canal and up there on the bridge. Shortly after, I can see the pros exit the water and run through transition. Those guys are fast! Mounting their bikes and off they go.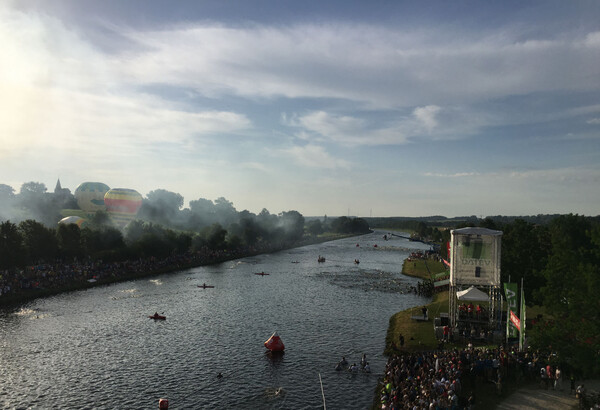 That's about the time I need to get ready. At 7:25 AM I must enter the gated area in front of the water entrance. 7:30, we're allowed to walk into the water. There are dozens of volunteers standing there, young and attractive, and all are clapping and saying things like: "Enjoy the experience!" – "Have a great day!" – "Good luck and godspeed!". Warm smiles. Man, this is nice.
Challenge 5, Ironman 0
Finally in the water! I get comfortable. And I forget that it's just five minutes until our cannonball bang, and maybe 100 meters to go to the starting line as I float around and just enjoy the feeling of being in water. The next blast surprises me a little, but here it goes!
So it Begins: Swimming for 3.86 Kilometers
Go go go! Long distance triathlon coming up. 3.86 kilometers of swimming, 180k biking, and a full marathon to round it off. A long day, probably! Hopefully, because that would mean nothing went wrong.
So, the body warms up. The noise in the water is crazy. Arms and legs crashing into the wonderful water, which is very clean. I hit a few people by accident and get hit by a few others. Nothing major. After a couple hundred meters our group is stretched out and my muscles warmed up. Now we're talking!
In the groove.
I just love swimming, ever since I've properly learned it a few years ago. Especially when it's not a swimming pool but real water. This channel is perfect for it. Great choice, Challenge!
(No points this time, though. Because the Ironman swim courses I've experienced so far were also top-notch)
On the shorelines, there are thousands of spectators cheering. Almost on the whole course. Every 100 meters there's a sign showing the current completed distance. Very helpful.
Turn around at the next bridge after 1.5 kilometers. I feel great. After about three kilometers, my goggles start to fog up. I might need to get new ones. As I contemplate if I can do the rest with fogged up goggles or if I should stop and clean them, some guy accidentally hits me in the head.
BAM!
A bit confused, I look around. Then I realize some water has entered my goggles, cleaned the fog and apparently went out of the goggles again. I just have to readjust them slightly and I'm done. So, to the guy hitting me on the head: Thanks, I guess?
And there's the second and also last turn at 3.4 kilometers. Just another 400 meters to go, and that's the swim. Wow, that went fast!
Smiling volunteers help me get out of the water. Those people are so nice down here!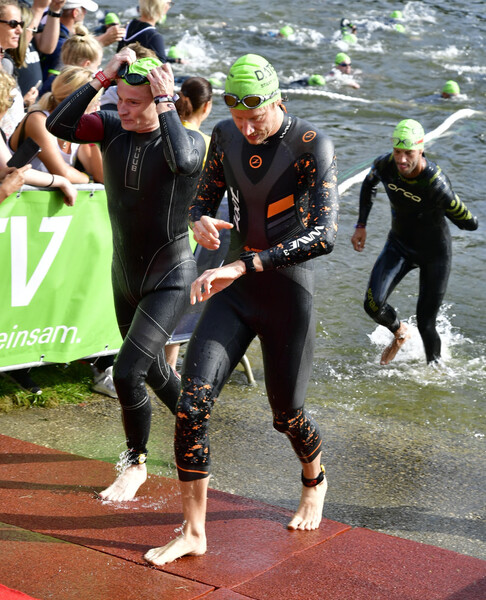 Three minutes better than last time in Copenhagen. Very good.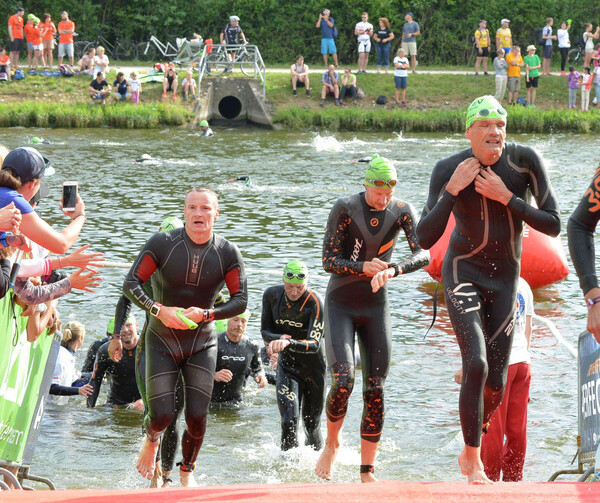 Sometimes, the correct tracking is obviously more important than a photogenic smile for the cameras.
Off to collect my first transition bag and run into the tents.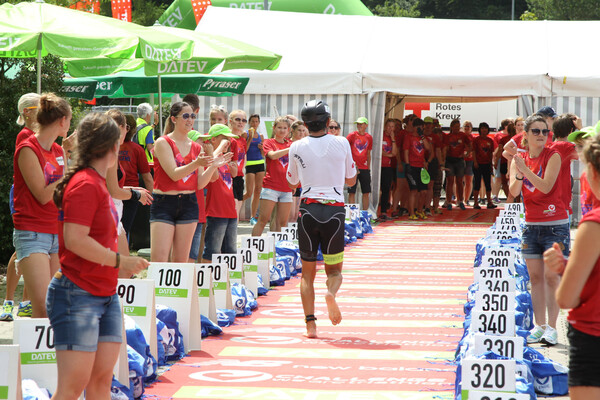 Into Transition 1
As I pull up my goggles and pull down my wetsuit, I miss my transition bag and realize this when the numbers on the bags get too high. Turning around, I find that fortunately it's just 10 meters behind me. The volunteers help as I need to go against the stream of other athletes for a few seconds. Crisis solved!
As I run towards the changing tent, I notice that my circulation is doing fine this time. I had problems at other triathlons before and felt a little woozy after the swims, but ever since I heard the trick of going crazy with the legs during the last 100 meters of the swim, it hasn't been a problem anymore. It gets the blood flow going, which is what you would want went going from horizontal to vertical in an instant.
In the tent I find a free space to change cloths. To my surprise a volunteer girl comes up to me and immediately starts helping. She asks for my bag as I get rid of the wetsuit, and proceeds to pull out my stuff from the bag and line it all up on the table for easy access. Then she grabs my wetsuit and puts it into the now empty transition bag. She's like a personal assistant!
She hands me my towel, then my biking socks, and then the vaseline which I apply onto the more sensitive areas. At first I think that's a bit weird doing this next to a young attractive woman, but then again: who cares! No need to make a big deal out of this. No damage done to anyone. When I think about it, this relaxed handling of gender issues could never happen in the US, which is probably why the Ironman races would never have this kind of service.
You guessed it: Challenge 6, Ironman 0.
After this, she hands me a tissue I had in the bag to clean my nose, then a HoneyPower I had put into the bag as well, and I eat the thing as I thank her and run towards my bike, while she closes the bag and puts it into the designated area. Usually you need to do all of this on your own. These Roth people truly are doing everything right so far. I'm impressed and enjoying the experience very much! Ironman has much to learn.
My bike is very easily spotted, but a bit wet from some rain during the night. Doesn't matter, because I'm also wet from the swim. Helmet on the head. I push the bike over the green grass field onto the road and through the bike course starting gate, until I'm allowed to hop on and start pedaling. This time, getting my feet into the bike-mounted shoes works right away, which pleasantly surprises me as well. Is this my lucky day? Certainly feels like it so far! Spirits are high. As well as the upcoming hills! Lets see.
Biking for 180 Kilometers
Biking is always bound to get uncomfortable at some point for me. Compared to swimming and running, the position your body is in, is a rather unnatural one.
But, I Have a New Mental Trick Up My Sleeve!
I came up with that during my one 100k bike ride in the rain towards the Baltic sea a few weeks back. It was so uncomfortable that I needed to mentally fight a next level enemy.
So, the trick is to internally view the body as a tool, and to keep just the head comfortable, being the cockpit. Kind of like a mechatron robot, in which the person steering it sits in the head area while the body doing the work is completely mechanical – a machine.
My head is comfortably warm inside the helmet which even has a visor in my case. So, I feel safe, protected from sun, wind, and rain. From just that, I take my comfort. It's my control unit and the body is somehow detached from it and just there to do the work like a machine. Sure, I need to make sure I use the body correctly and optimize whatever I can to guarantee that, but as long as the head is fine, it can make those decisions necessary to accomplish this goal.
This way, it's much easier to feel comfortable in uncomfortable situations for the body.
The Course
Roth has a fast course, they all say. Good, I thought. But then I found out, this "fast" course includes a whopping 1.200 meters of elevation, which is usually considered to be hilly, at the very least. I am, on the other hand, from Hamburg. That means I have next to zero chances of training on hills. This might get interesting!
Also, the last time I did a full 180 kilometers on a bike was my last Ironman race in August 2015. Will I be able to do it again? I was about to find out.
On the more positive side, I did get a new bike last winter. It's faster and fits me better. And the Ironman 70.3 Kraichgau five weeks ago was a great training ground for a more hilly course. Another advantage is the fact that the bike course has two laps, which means after the first lap I'll know exactly what will come up, so I can use my remaining power more wisely.
Now it's time to pull through. Eat wisely, as well. Because as you might know, during the bike part you lay the energy foundation for the marathon. I had another trick up my sleeve:
Top Secret New Nutrition
You probably know the powergel of my choice, HoneyPower. It's great and will get me through today. But that's not the only thing. I feel better when I have something to chew as well. To get the stomach going a little bit during those 11+ hours of sports. That's why I packed prototypes of what will become the new official HoneyPower Bar. Our partners in Estonia and we are very excited that this might become a reality soon. And I can tell you, right now they already taste great and I can't wait to sell them on our online shop next to the HoneyPower gels.
So today I was testing how well the prototype HoneyPower Bars would hold up during a full long distance triathlon. Best kind of test, I figured.
So far, the weather has been kind of perfect for the race, actually. Not too much sun, not too hot, and no rain as well. For a vacation day you would be a little underwhelmed by the weather, but for this type of race it's great.
Right after the bike ride started, the course led over that bridge we swam underneath before, and which was full with cheering crowds. Great way to get going. Right afterwards, I saw Sophie! She made it there and I could wave at her as I flew by.
At least in my mind, I flew.
When I first took a look at my GPS watch I saw that I had already done 15 kilometers. "Cool, just 165 kilometers to go!" – is what you would say, if you were crazy.
Aid Stations and Fluid Intake
That went faster than I thought. There's an aid station roughly at every 17.5 kilometers. At Ironman Copenhagen, it's been at every 30 kilometers. That increases the score to 7:0 in favor of Challenge vs. Ironman. This is a sweep!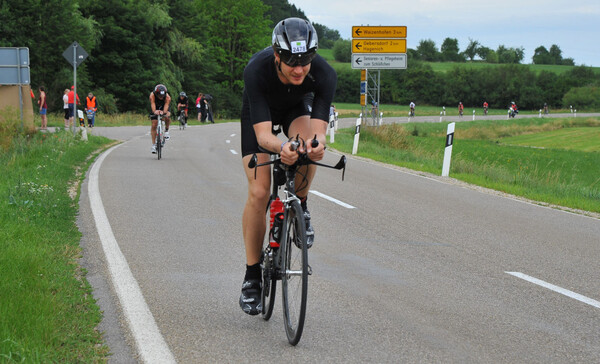 At every of those aid stations I have to decide if I take a bottle with water or a bottle with isotonic drink. I don't want to carry two full bottles, but my body needs both types of fluids. The logical solution is switch at every station. Problem solved.
Drafting
The anti-drafting rule at this event says you have to
be at least 12 meters behind the next person.
If you want to overtake, you have exactly 30 seconds for that
and need to make sure that you get back into the line at least 12 meters in front of them again.
Also, don't cross the middle line of the road during overtaking.
And always keep to the right.
Those rules are universal, so Ironman races usually also apply them. But because the course is rather crowded with 3,500 athletes on two laps, they are not always possible to follow. Especially on the hills. Fortunately, the 60 race marshals on their motorbikes passing by to enforce the rules know about this problem and are kind.
But I get to be the witness of some penalties for other cyclists in front of me. I wasn't involved, but I felt bad for those guys, because they probably didn't mean to get an unfair advantage but rather just had no choice at the moment. The rule can be tough to follow at times. A specialty of the drafting penalties here in Roth is that in addition to the five minutes you need to wait at the next penalty station is the extra lap of one kilometer during the marathon, which makes it really tough. I don't really have an opinion about this. Is it too harsh? Or is it justified? No idea.
My take on this is to just be cautious. Don't ride too hard on the edge, don't risk it. It's not worth the 20 seconds you might win. So I keep the distance until it's relatively safe for me to overtake a person. It can be annoying at times, because a person might go ever so slightly slower than me that a passing would require lots of energy to complete in those 30 seconds. Sometimes I don't risk it in those cases and stay 12 meters behind until something happens.
At every hill, for example, the cards are shuffled again. Athletes I couldn't overtake in the plains were easily defeated on the hills, and vice-versa. Same at the aid stations. And during all the remaining time, some people decide to slow down to have a drink or some food which makes them easy targets, as well.
The Business
Hey, it's between 8 and 15 hours of continuous sports. Many people need to take care of the business during that time. And on the bike course, the ~17 kilometers in between aid stations equipped with porta potties can be a long way. I didn't run into problems myself, but I saw a bunch of athletes who had stopped on the side of the road in the unpopulated areas to take care of their business. When I first saw one of them, I thought: "Wait, isn't this illegal?", but then remembered that it's illegal only in Ironman races.
What's the reasoning? Well, Ironman is an American company. And if you do this anywhere in public in the US, even if you're hidden away in bushes within a park, that's called "indecent exposure", and might even get you into jail in some states. Unthinkable in Europe. But as Ironman exports their races everywhere, it takes its rules with it. Regardless of the situation in the different countries. My opinion is that it doesn't do harm to anyone, and we're all human beings, no need to be weird about that. Go, Challenge!
Internationality
Because of the bib numbers on the backs of every athlete, I got to recognize a lot of the fellow people. The bibs have the first name and the flag of the persons country of origin. French guys "Christophe" and "Jean-Pierre" were in front of me a lot.
Christophe really enjoyed driving on the left side – maybe he has British ancestry – which nearly made it impossible to legally pass him by. Which means I saw a lot of his butt today. At some hills I could finally get him, but on some downhill sections he would get me again – restarting the game. It was quite fun, to be honest. Gamification of a triathlon, if you will!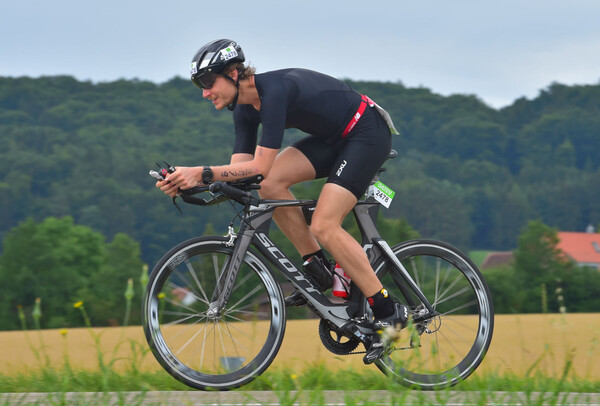 Those flags on the back of everyone really gave me an impression of the international character of this race. 70 different nations are represented, as the statistics said. Only 60 percent Germans, because that's the highest amount allowed by Challenge Roth, in order to make the race more international. I noticed lots of Europeans, but also quite a few Brazilians, Americans, Australians, Peruvians, and New Zealanders. Especially those New Zealanders were cool – they had matching suits in the tough Maori warrior look on them. I counted four of them. What a long journey for this race – worth it, though!
I notice the rather dull names of the Germans here. Christian, Michael, David, at one point there were three Peters in front of me next to each other.
First "Real" Hill
Somewhere around kilometer 35 or 40 we reach Greding. This little village is a spectator hotspot because of an uphill stretch which is maybe five kilometers long. It's supposed to be the toughest hill on the course.
Bring It On!
There were huge crowds, loud music, an MC talking and giving out high-fives to us riders, smiling faces, words of encouragement, and so on. I flew up there! It was so much fun. These crowds here really are amazing.
Right at the top the crowds vanished. It was quiet. Right after a successful mountain climb this quietness is nice. Again: well done Roth! Or rather: well done, Greding!
The Fastest Guys
After roughly 50 or 60 kilometers, a really fast guy overtakes me. Blue dress, perfect aero position, crazy expensive bike and helmet. That's Nils Frommhold! Winner of 2015 and a likely winner of today. And that guy really is fast. He is obviously on his second lap, which means he has done around 140 kilometers already. Wow!
Many minutes later, the other pros follow. Just two or three of them, though. Then, another 10.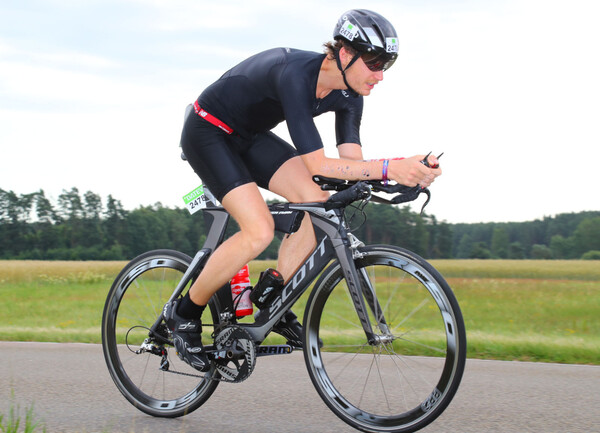 Bad Luck
Another 10 kilometers later I suddenly see Nils Frommhold again. He is sitting in the grass at the side of the road with a sad expression on his face. Oh no!
This must mean something went wrong. Poor guy! I later found out that he collided with an older woman athlete and broke his bike in the progress. Both him and the lady weren't injured, but his prize money was out the window. That must have sucked for him. I hope it will go better for him at his next race.
Solar Hill
Onto the main attraction, somewhere around 73 kilometers in. Every triathlete who knows something about the sport has heard of this hill. It leads up to the village of "Solar", hence the name. Nothing to do with photovoltaics. I was really looking forward to this experience, because I've heard so much about the emotional moment of riding through those masses of cheering people as if you're a Tour de France pro.
But first, right before the hill, there's Sophie and Emma again! So cool, the made it to this spot!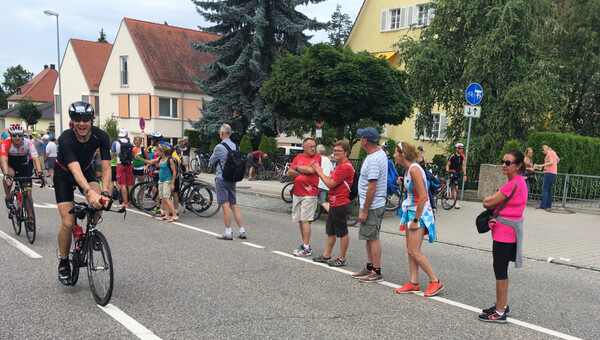 Again, I only have the chance to wave at her quickly, because stopping would be quite dangerous. But she knows about that.
Then it begins. I can see the huge "SOLAR HILL" banner they put up, as well as the huge crowds. Probably in the thousands, I'd say.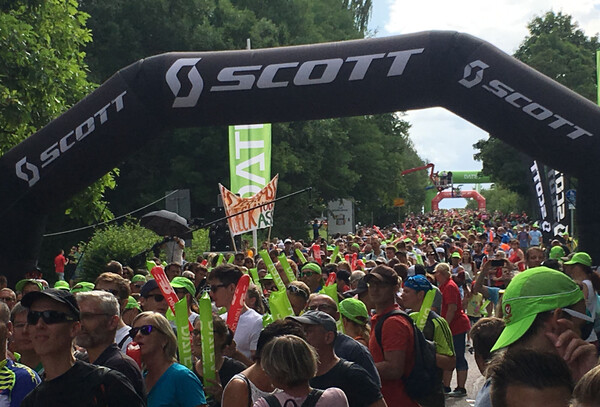 To say the least: it's exactly as I imagined it, but better. There's just nothing compared to experiencing a thing yourself.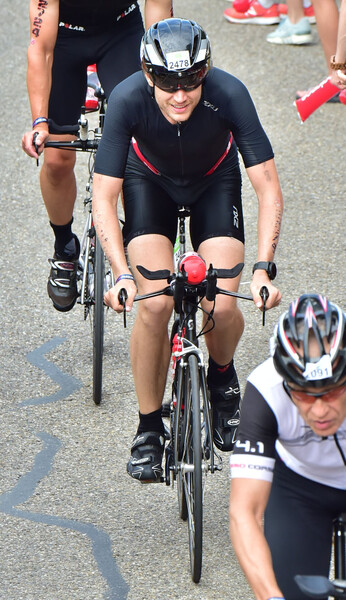 What a crowd! I cry a few tears of joy, it's so emotional for me. I feel lucky to be alive and get to see this. The people basically carry you up the hill, it's incredible.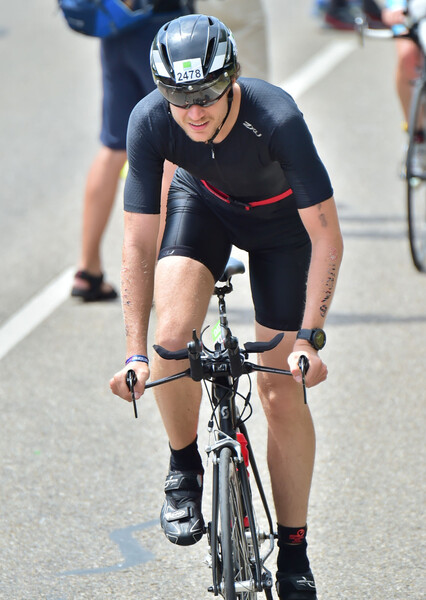 Best. Triathlon. Moment. Ever.
And a few hundred meters later, it's over. Sad on the one hand, happy on the other. Still, the section is leading up the hill, so there's no relaxing yet, but I feel so good I barely notice it. What an amazing place. Even this early into the race I have to say I recommend the Challenge Roth to everyone interested in triathlon, it's an epic experience.
Definitely 8:0 for Challenge
This video doesn't come close to the real thing, but it might give you an idea.
As I calm down and go on pedaling, I suddenly notice Sophie again! About 10 kilometers after Solar Hill, she's at the course again. Little Emma has fallen asleep. It was a downhill section near Hilpoltstein, so it was tough to see her and wave before being out of reach again. But I could make it happen. So lucky she's supporting me so much.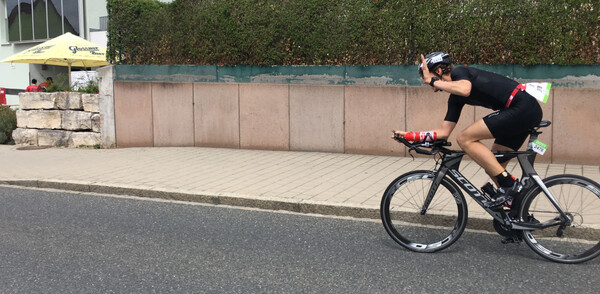 Another highlight is what they call the "Pyraser Bier-Meile" (= "Pyras beer mile", as you might have figured). Around the little village of Pyras, people have put up decorated beer tables facing the road. They are sitting behind them so they have a good look on the athletes passing by, but can also have their beers at the same time. There's music, the mood is good. It might not be a full mile in length, but it certainly is quite a long stretch, maybe 200 meters. Cool idea, makes you feel as if you would be doing something extraordinary.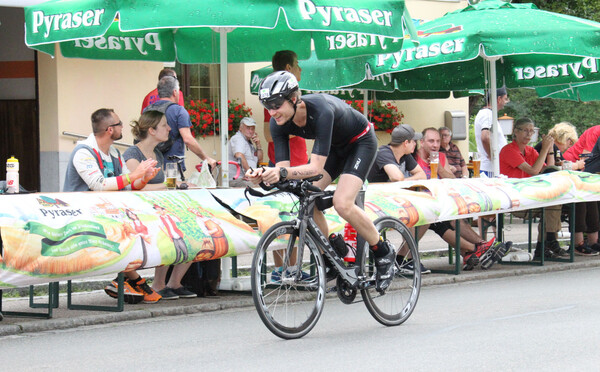 And there's the fork in the road. 89 kilometers are done, the next lap has to begin. Crazy to think that most pros have already done both laps and were allowed to make a right turn to reach Transition 2, when I'm just half-way through the bike part.
Lap 2
I turn left and look forward to another lap of nice crowds, tough hills and fast biking.
It's gotten a bit warmer now, and the course seems to be a little more crowded with athletes. Now I notice my legs getting stiffer. They have already done quite some work. I have the slight feeling I might be more exhausted than I was at my last long distance triathlon in Copenhagen. It's hard to say for sure, though. Back then, it took me 6 hours and 14 minutes to complete the 180 kilometers. I'm hoping for a Sub-6 time today. We'll see.
The Greding hill is quite hard, again. I'm slower compared to the previous lap. But the crowds are still huge and a big booster.
Solar Hill has gotten quite empty though. I guess many people had to depart to be at the marathon hotspots early in order to make sure not to miss their athlete relatives and friends. It was still great driving up there again, but nothing beats the first time.
At 165, there's Sophie again! Sitting under a tree in the grass with little Emma. Looking comfy.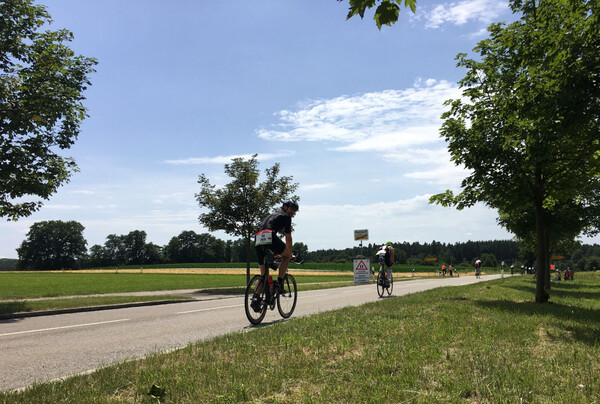 She later told me the people living in this area were so friendly, an old lady came out of her house and offered her some coffee even.
The Neck
My body is doing quite well so far, if you don't count the neck pain I'm experiencing. I have had that problem before: the unnatural aerodynamic body position is tough on the back and neck, by extension. This is something you can train by doing longer bike rides in that position, which I didn't. So I have to sit upright from time to time, allowing the wind to fully blow against my body, making me a lot slower.
I start looking forward to every uphill section, because as you slow down you become less of a target for the wind, which makes the disadvantage of an upright position a lot smaller. The faster you go, the more energy you need to fight the wind. Every time I reach 35 km/h or more I need to go into the aero position again to waste less energy but increase the neck pain. Difficult situation.
I think it's gotten better for me compared to Copenhagen, though. I probably spent more time in the efficient body position than back in 2015. For who knows what reason – can't be the bike training!
Suddenly, I'm a bit surprised by the fork in the road coming up! Decision time: shall I go for a third lap or on to run the marathon? Just kidding. I turn right, because 180 kilometers are definitely enough for today. It's a proud moment to be allowed to turn right. The MC is screaming: "Just 6.4 kilometers to go!" – easy peasy!
Almost There!
During this bike part, I've eaten five HoneyPower gels and three prototype HoneyPower Bars. I feel strong and healthy. Time for a marathon!
The last kilometers include a few more hills, but the last bit is a nice long downhill section leading towards the town of Roth. All the athletes around me are also looking forward to stepping off the bike, I can tell.
Unfortunately, someone got careless and unlucky here, about 200 meters in front of me, which is 200 meters in front of the Transition 2. The poor guy seemed to have slipped on something with his bike and crashed hard onto his side, while going 40+ km/h. It looked terrible! The crowds around were screaming at us following athletes to slow down and be careful while they were going towards him to make sure he's alive. He didn't move as I passed him by and I thought about stopping and trying to help. But I decided against that, because there were lots of people already on it and I don't have special skills which would be helpful to him. Thankfully, paramedics were just around the corner and already being called. This poor guy, though! He didn't die that day, fortunately, but the race sure was over for him – after 179.8 kilometers of the 180.
That's quite something to process. But I was sure he was in good hands with the perfect organization and management here in Roth.
I need to shrug off the shock and make sure to get on and don't screw up myself. Appraoching the transition zone, I have to quickly get out of my bike-mounted shoes on this 40+ km/h section to be ready to jump off the bike. It works. Right before the line, I get off, as a volunteer comes towards me and immediately grabs my bike to safely put it on the racks. Great service, again.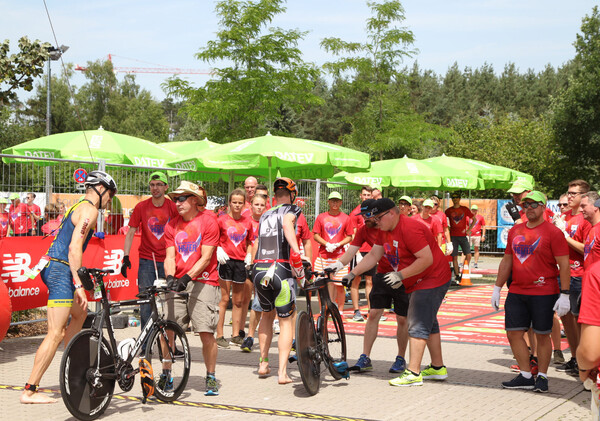 (No special points though, because the Ironman guys did the same thing)
But, as I have already put my bib number on the front of my body, as is mandatory during the marathon run, the volunteers in the transition bag area see my number and immediately show me the right row to run into until someone identifies my bag and hands it to me, smiling. That's something that gets a point! Are we at 8:0? 9:0? I lost count. I think you get the point:
Challenge is far superior in customer service, compared to Ironman!
In the changing tent it's the same great experience: another pretty volunteer girl shows me an empty space at the tables, grabs my transition bag and puts everything from inside of it in a line as I get rid of my helmet and biking socks. She takes my helmet, puts it into the bag. And she even gets the socks out of my running shoes for me, which I prepared like that to safe time. Sunglasses, more HoneyPower into the back pockets, and the girl puts all the rest into the bag and takes care of it, again. This is so helpful!
Running a Marathon
Now I can completely focus on running the upcoming marathon. Quickly out of the tent, through a blown up black gate, beeping sounds of the time tracking mats, and the run officially starts!
Finally.
Just a marathon left.
My favorite part. Right next to swimming. And biking. In case you didn't get it yet, I love triathlons!
The course has been changed since last year. I can't compare both courses, but I think they probably did a good job. Their goal was to make it easier for spectators to watch and a bit more interesting for the runners. Before, a lot of the course went down the canal in which we swam before. The canal has a rather narrow path – not much space for crowds. And it's a bit boring. So now, they've reduced that part and created a 21.1 kilometer course, which leads down to the canal, 180 degree turn back to Roth, then up to the town of Büchenbach and back to Roth again. Obviously, that course has to be run twice to get to a full 42.2 kilometer marathon.
The cool thing is that both "back to Roth" parts are run on the other side of the same street. So you have other athletes running towards you at all times!
The Hills and the Body
Right after the first few hundred meters, though, it's going downhill and up immediately. Phew, is this going to stay that tough? 200 meters of elevation, it said before. This is not the easiest course, to be sure.
But my legs are doing great. And I enjoy the feeling in my neck, which is: no pain! The biking is over, now some other muscles apparently take care of holding my head up. That's good.
After two kilometers I see my friend Christoph coming towards me! I know his speed, so he must be on his second lap already, which means he's at about 30 kilometers. Very fast, as predicted! He looks tired though. Not too much color in his face. But he'll make it, I'm sure.
The Heat
It's still cloudy in the sky but warm. Good conditions. I notice the perceived increase in warmth because of the missing winds of the biking section. Good thing we're getting through many aid stations and water spraying set-ups to cool down. I take wet sponges every chance I get and squeeze them on my head to cool down.
On the aid stations, they have everything you could possibly need. Water, isotonic drinks, cake, salt, fruits like melons and oranges, Red Bull, coke, energy gels, energy bars.
My rhythm is to first get two wet sponges and squeeze them on my head, followed by a cup of water and a cup of coke or Red Bull (not on my head, but which I drink), and again a cup of water or iso. Sometimes the water they hand out has already gotten a bit warm, in which case I just throw it on my head as well. And at the end of each station I take another two sponges to cool down and continue. So you realize now that it has, in fact, been quite hot that day. Somewhere around 25 degrees, but no direct sunlight, fortunately.
It's a bit easier to find the perfect balance of fluid intake compared to Ironman 70.3 Kraichgau recently. Probably because the weather is a bit more predictable.
Waaaaaaaah! Energy!!!
I plan on having a HoneyPower gel for every 10 kilometers, but since I have already had three HoneyPower Espressos during the bike and second transition, I feel like I'm on fire already! With all the upcoming coke and Red Bull I will probably have real trouble sleeping later – but who cares! I'm in Roth, running the marathon!
Just 3.5 kilometers in, there's Sophie! Finally I can just easily stop to give a kiss and have a little chat to thank her for here presence during the bike course. Running is great for that. Little Emma is still doing fine as well.
A bit later I reach the first turning point at the canal, so it's going back to Roth and I can meet Sophie again after seven kilometers at roughly the same spot. Very clever course!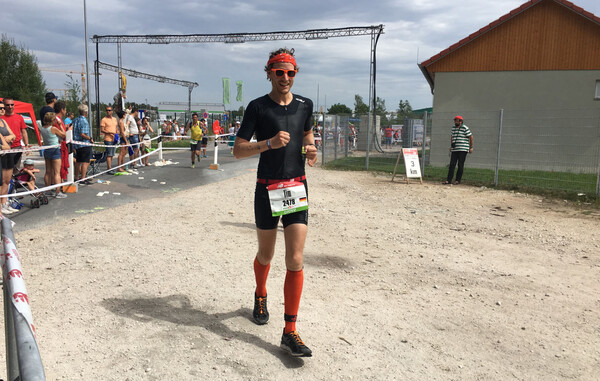 I'm glad to be able to tell her that I'm doing very well and feel energetic and confident I'll make it to the finish line today.
A guy next to me is vomiting on the sidewalk. Multiple times. I hear him as I run along the course and get further away. Over and over again. Poor guy. It makes you realize that so much can go wrong during these many hours. If I would guess I'd say he's had the wrong powergel and should try HoneyPower. Right? Right!
As I come closer to the start again I notice the hills feel steeper running in this direction. This might get tough later. 10 kilometers down, though! Feeling good.
ROTH!
Now, the course leads right through the center of the city of Roth. For the first time, we can see what has been done here – and I must say it's insane! So much entertainment, happy cheering crowds, MCs talking enthusiastically, huge TV screens displaying the runners live as they run by, people with beers in hands enjoying themselves – amazing, Roth!
Shame it's over after 5 minutes, because the center is rather small. A kilometer later there's another little center of attention, full with people. They put up a kiddie pool with cold water next to the course. I feel compelled to jump right in, but I can withstand the temptation. Using quite a lot of will-power.
There's someone I know coming towards me again! It's Philipp, a very talented young triathlete. He is wearing a HoneyPower sweatband and has the logo printed on his suit – we high-five! He's on his second lap as well, so almost done. I've got another 30 kilometers ahead of me.
Hills
Now, the really tough part begins. We enter a little forrest and the road leads right up. The air is great and the noise has gone, which is a welcome change, but I could do without this hill! I manage without walking, as many others walk here.
One step at a time.
After reaching the top, it's going downhill right into Büchenbach, the little town on the other end of the course. There's a small lake which marks the turning point. One lap around it and back again. Cool idea! Kids have painted pictures of the countries of many participants and put those pictures up here around the lake. I like this welcoming culture these Bavarians have. Well done!
It's another loud hotspot here in Büchenbach. Lots of crowds, loud music, everyone on the course screaming my name and is trying to high-five me. It's a party and it smells like grilled meat everywhere, which is not for me. But I hear lots of compliments on my awesome orange sunglasses. Yeah!
A bit sadly, I have to run out of the town again and back into the woods up the hill. But at least I know what's coming up. Now I've seen the complete course after just 15 kilometers of running. This course change really was a great idea and makes it a lot easier to run the full marathon, mentally.
In the woods, more and more people are walking. I guess they've all lost their power. I would have loved to be able to give out HoneyPower to all of them as back at Rauchwart Marathon or the upcoming NordseeMan / NordseeWoman triathlon race. Maybe next time here in Roth as well!
And there's the fork in the road: on to the finish line or to a second lap?
A Second Lap
I can keep up my pace, because I actively started with a rather slow pace of around 5:40 to 5:50 minutes per kilometer. Just to be sure I can finish. When I get down to the canal again, there's something new on the otherwise very quiet and empty artificial river. It's a cruise-ship! This one looks like it's especially made for canal trips because its shape is more like a cuboid than a ship. Very straight lines. A bit like a very boring building.
But it moves and has people on the balconies.
Old people, not looking very fit.
Staring at us.
In their underwear.
Okay.
Turning point again, back to Roth! After 29 kilometers I meet Sophie and Emma. To me, the last time I saw them at seven kilometers feels like it just happened, but she tells me she went on a trip to the Rothsee to bathe sweaty Emma. I realize she's had a full two hours to do that.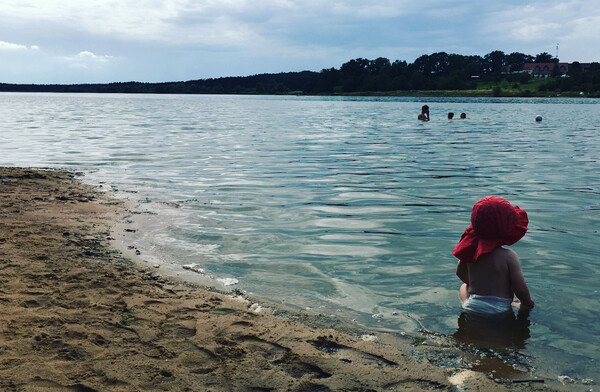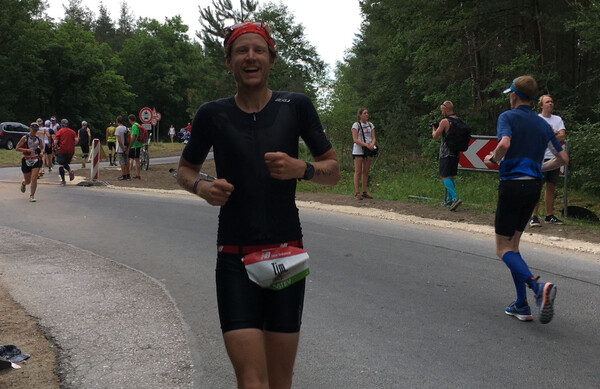 Man, these long distance triathlons really have earned their name!
I have some more HoneyPower as it starts to rain a little. Easy summer rain, very nice actually! I have to take off my sunglasses because it's getting darker – not because the day is ending, but because of the rainclouds.
As I enter Roth again, I get the chance to see Chrissie Wellington! She's a legend in triathlon. She has won so many races and currently holds the world's best time for the long distance, which she did here in Roth in 2011, in 8:18:13 hours. Incredible woman. Today, Daniela Ryf tried to beat that time, but couldn't do it, although finishing in first place. So Chrissie is still holding the record. Today, she's running for fun, doing just the marathon while two other athletes did the swim and bike before her as part of a relay team.
She says she's here because she loves the place and the people and also to be a witness and support to Daniela trying to beat her record. She's smiling all the time and even stops for interviews with the MCs along the course. Tough to beat that level of empathy and charisma!
On towards Büchenbach for a second time, defeating the hill twice without walking. I'm a bit proud I pulled that off!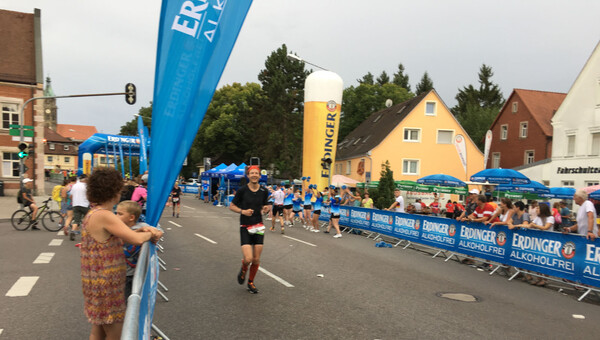 And now I see the fork in the road. I have earned it this time to take a right turn towards the stadium. It's still 1 kilometer to go – but come on, 1 kilometer! I could crawl if I needed to. I run into the city park which has been completely transformed to be the Challenge Roth headquarters. The course is now more narrow and has fences on both sides to keep the crowds from messing with the runners. It's necessary because the crowds are out of control here – in a good way. So many cheering, screaming faces are looking at me as I run through.
"You Can Do This, Tim!"
"Almost there!"
"You nearly did it!"
"Come on, the last few hundred meters!"
"You're awesome, keep going!"
The red carpet begins. Damn, this is a nice feeling. And then, there's the huge gate to enter the especially built stadium for the final lap. Kids are holding on to the fences and give out high-fives, even in this gate!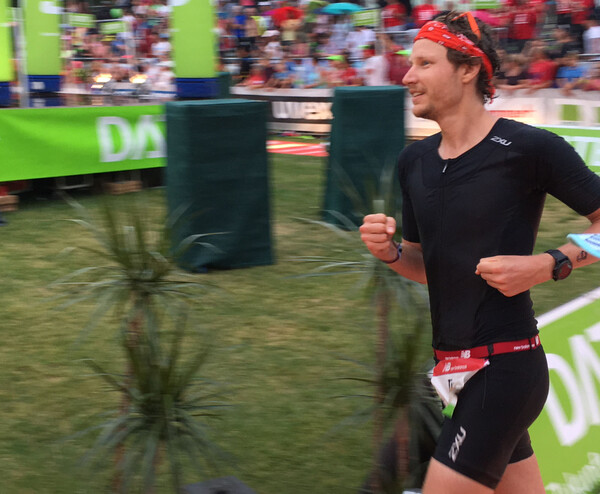 I'm in the stadium. Amazing moment. Just 100 meters left of Challenge Roth. More high-fives. Many kids have joined their parents to run through the finish gate with them – this is forbidden at Ironman races, but allowed here. Rightfully so! It's such a great moment for everyone to finish this race, sharing it with loved ones is even better.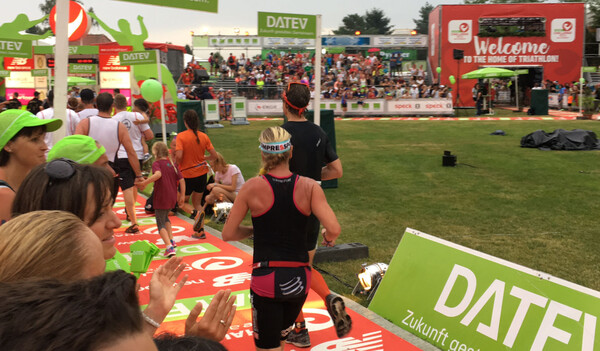 Sophie is probably somewhere in the stadium, but I can't see her. Well, so I enjoy this on my own for now. It's unforgettable. Another turn to the right.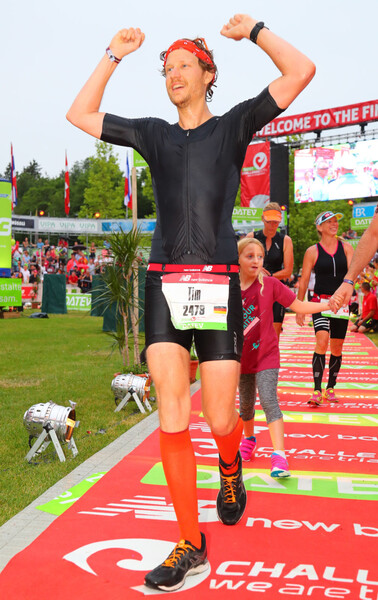 DONE!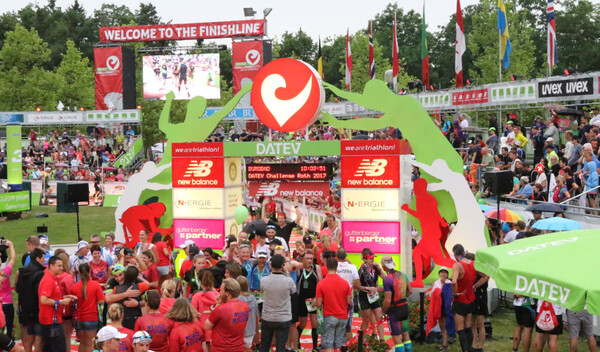 Hands in the air, tears in the eyes. Challenge Roth completed. A huge amount of emotions for me. And everyone else as well, I'm sure. What a day.
The Stats
Swim: 1:15:11 On Strava
Bike: 6:06:15 On Strava
Run: 4:05:11 On Strava
Total: 11:35:53 (15 minutes faster than in Copenhagen)
1.326th of 2.967 men (top half, yay!)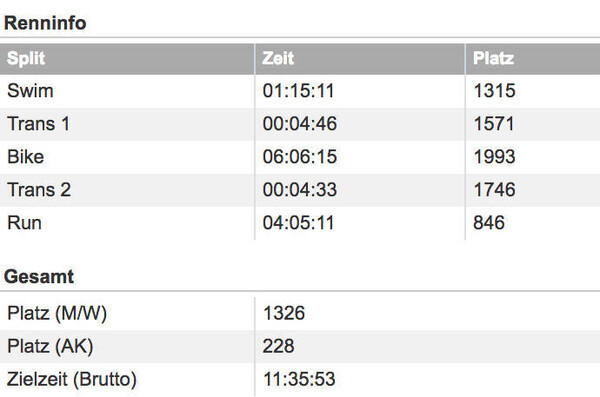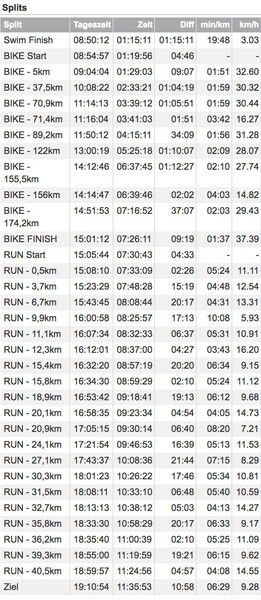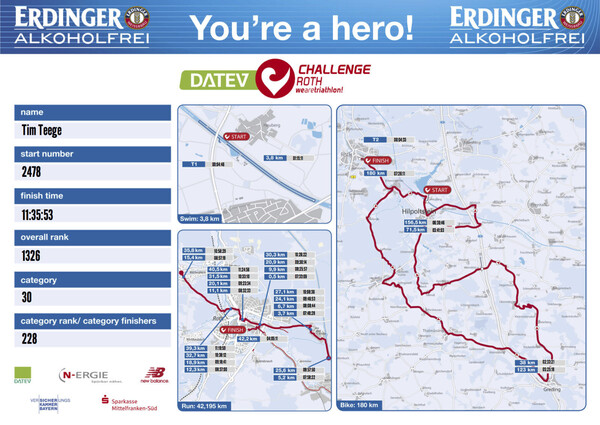 The Aftermath
Second ever long distance triathlon completed! Something to be proud of. I feel great as I realize what's happened today.
A huge amount of volunteers are here right after the gate, again to help with every need. I get smiles and congratulations with my heavy medal. Super nice people.
Slowly I walk over to the tent which has some food, I suspect. Now I notice that my feet are very wet, probably from all the water I poured on my head during the last four hours. The adrenaline made me forget about it, I suppose. Maybe my feet are covered in blisters because of it. Well, it'll heal! I've had an awesome experience today, I don't care about the feet right now.
In front of the tent, volunteers are giving out finisher's shirts. I'll take one, why not. And an alcohol-free cold Erdinger beer as well, thank you very much. Time to sit down on some bench and enjoy the beer first. A guy from Belgium sits next to me.
"Congratulations!" – "Cheers!"
A bit of rain as I am full of endorphins. Suddenly, someone I know comes up to me: it's Jonas, whom I know via the triathlon scene on Instagram, really. Cool to meet him! He did the bike part of the Challenge Roth Relay today. It took him 5:45 hours. Quite good! We have a chat and congratulate each other.
Now I'm ready to explore the tent. What does Challenge have to offer here? First of all, the huge tent is full with massage beds. It's not 10 beds with a waiting list as at Ironman races, but rather 50, I'd say. Next to every bed there's a volunteer ready to massage. A few beds are even free right now. Perfect! When I remember Copenhagen, I had to put my name on a list and wait for at least 20 minutes at that Ironman event. Challenge wins again!
I decide against a massage though. The legs feel fine. The buffet looks great, too. It's set up in a way that doesn't really require you to wait in line. You can just go up to it and eat. Pasta, biscuits, cookies, soup, bread, yoghurt. I try a sandwich, but it's difficult to eat for me – I guess my body is still in sports mode. Together with a vegetable soup it works better.
Alright. First part of the recovery is already done – I get my bag containing my other pair of shoes. While changing into them I take a look at my feet. To my surprise, they don't look too bad!
Off to meet Sophie at the spot we agreed upon. And she's there! Nothing better than a hug from her right now and to give a big cuddle to little Emma, the cutie.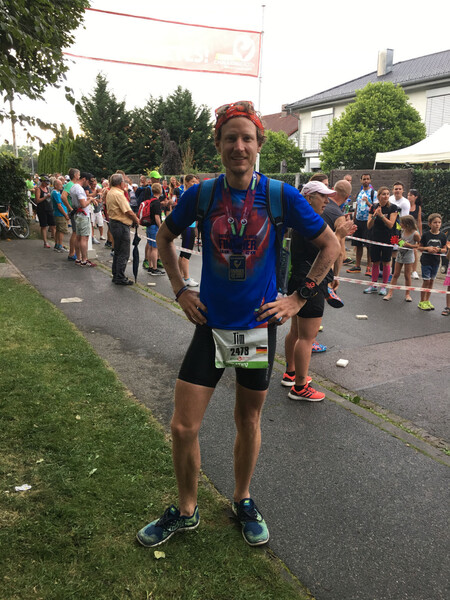 Pain?
When Sophie hugs me, I eventually realize the first kind of pain now after the race. It seems to be some sort of surface pain on my skin. Maybe because I was shaking my body for more than 11 hours and the skin rubbed against whatever is right underneath it for that long? I don't know, it feels weird. I'm glad I feel some kind of pain – I was already wondering where the pain was!
All in all I'm super happy, though. Everything's okay with me, no problems.
We relax a bit and then go to get my bike and transition bags back. As you might expect by now, two volunteers immediately come up to me, ask my racing number and run to search for my bike and bags for me. You can't go wrong here in Roth! This race tops everything I've experienced in triathlon so far. A couple minutes later they come up to me with my gear and I can leave the area to walk over to our car with Sophie.
Everything is so nice and quiet right now. I love these few hours after a triathlon. It's just the best feeling. Good thing we have another night here to enjoy that, before we drive home the next morning.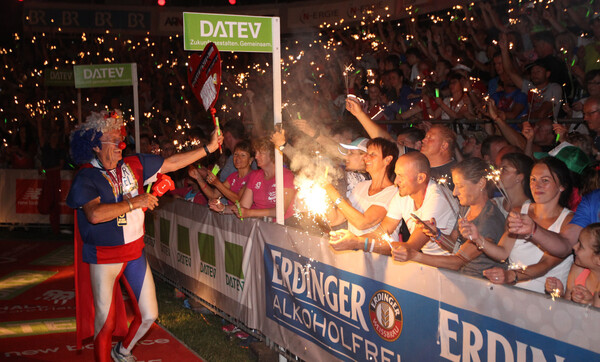 Thanks for reading! I hope you enjoyed it. If you ever should have trouble deciding between an Ironman or a Challenge triathlon, I hope my recommendation is perfectly clear by now.
Challenge Family Wins.
Or does it? In five weeks, on August 13, I will do IRONMAN Hamburg. Can it beat Challenge? We'll see in Part III of this series!
How do you feel after reading this?
This helps me assess the quality of my writing and improve it.