The Meatless Experience

A Year of Not Eating Animals
When I met my wife Sophie some 7 or 8 years ago, she hadn't eaten any meat for about 15 years. I, on the other side, just loved my burgers, steaks, and bacon. I couldn't imagine getting rid of that delicious food.
So What Has Happened?
While Sophie, tolerant as she is, never made an effort to convince me of not eating animals as well, I started talking to her about what she was missing out on in life. In my mind, meat was a nice tasting luxury that improved my life. But did it, though?
I grew up in a part of society in which it was never really questioned why we are okay with killing and eating certain animals but caring for and keeping other animals as pets, for example. It was never talked about in school – even though we've had multi-year courses on both philosophy and ethics. Even worse, all of us used to make fun of those who weren't eating meat.
To some people, being different equals being weird, and that's a shame.
"Everyone is eating meat, so why should I stop? It's delicious!"
Truth is, that's the one and only argument in favor of eating dead animals. There is not a single other one.
It's healthier? Wrong.
It's the only food that can give you enough proteins? Wrong again.
Avoid eating it will make you sickly and weak? No.
At The End of 2015, My World-View Had Changed
Because of my running, cycling, and swimming, I was exposed to more and more sources which talked about nutrition and keeping up a healthy lifestyle. Facebook posts by athletes I like, podcasts I listen to, just about everything in my personal internet bubble. In the real world though, not so much.
So I just felt like experimenting, because how else would you find out if something is good or bad for you without trying it?
First of all, I did some research. What was it exactly that I would be getting myself into? What's the supposed benefit of eating plant-based, and what other consequences exist? Why is it good or healthy?
5 Simple Points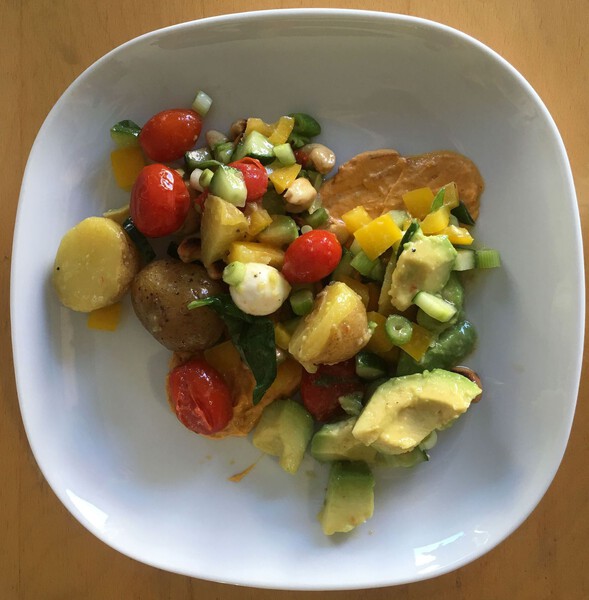 My personal motivation for this experiment was a mix of point 2 and 3: I care about the environment and my own health. A bit selfish, I realize that.
So I set the goal for 2016 to not do anything that would have required an animal to be killed for it. From January 1st to December 31st. Simple, right?
It's Not As Easy As It Sounds
Turns out, there are many more things in our daily lives which are made of or with dead animal parts.
But first things first. How did I start this? As I said, I used to love meat. Still do, but I used to, too. There is no negating it tastes nice. So I thought, have some kind of a last supper on December 31st of 2015. I bought my favorites: Italian dried ham from Parma, and some Danish bacon. Delicious! And then, just like that, that was it. Starting a day later, I didn't eat any dead animals ever again.
What Happened In The First Few Days
First of all, I farted. A lot. Eating so much vegetables instead of meat was a big change to my daily diet. Even though I was never the huge meat eater – I maybe had meat twice or three times per week –, my vegetable intake automatically increased. So my body had to adapt, and it did. After about 6 or 8 weeks, the farting thankfully stopped. Never would I have thought about that!
Also, within the first 6 to 8 weeks, I lost weight. Not a lot, but a good amount. Funnily enough, a few years back a running coach told me that my ideal marathoner weight would be 73 kilos, and my ideal Ironman triathlon weight would be 75 kilos. Within 2 months of avoiding meat, I reached those 75 kilos without any effort whatsoever – and stayed there. Quite nice!

During those weeks I gave in to an increased craving for cheeses and other dairy products, like yoghurts, or milk. Also, ice-cream.
But, and I was quite surprised by that, I did not crave any meat or fish. Still don't. Funny how that changes.
So, How Did I Feel?
Immediately, without special attention on it, I realized I felt more awake and more fit in general. That's very subjective, I think, and probably won't happen for every single person trying this.
But what will definitely happen for everyone trying this, is the following: you'll see food with different eyes. Just because of this rule of no meat, you're forced to really think about food for a change. What should I buy in the supermarket? What will I put on my bread? What will I prepare for dinner? What do I order at a restaurant? Those are questions that need different answers now, and that's good. Actively thinking about your food intake makes it better. The temptation for a quick mega-chain burger somewhere is just eliminated. You'll need to explore, improvise, and learn. To me, that's fun.
Sports
It used to be a stigma that people who don't eat meat just wouldn't be able to be athletic. I'm glad that this seems to be over. The world is full with world class athletes like Patrick Lange, Rich Roll, John Lewis, Scott Jurek, Carl Lewis, Venus Williams, who base their athletic success on their plant-based diets. I myself have had a great year 2016, sports-wise. I improved all of my personal bests, some of them by a big margin. Those are the measurable numbers. But I also just felt better at sports. Do you recognize that feeling after a huge burger meal? Feeling lazy, fatty, lethargic? I haven't had that since.
How About Animal Products?
The thing is, just avoiding meats and fish doesn't automatically make you healthy. There is still a lot you can eat that won't improve your well-being. Especially animal products which clearly aren't meant for humans, like cow's milk, eggs, or cheese.
Going plant-based doesn't equal going healthy, but it's definitely healthier.
I'm sure of this, because I feel great now. Don't get me wrong, I didn't have any health problems before. And I was surprised it worked out so well for me and especially that I didn't crave any of the meats and fish I used to eat a lot of before. There are just so many delicious other options I've discovered, it's really not a problem.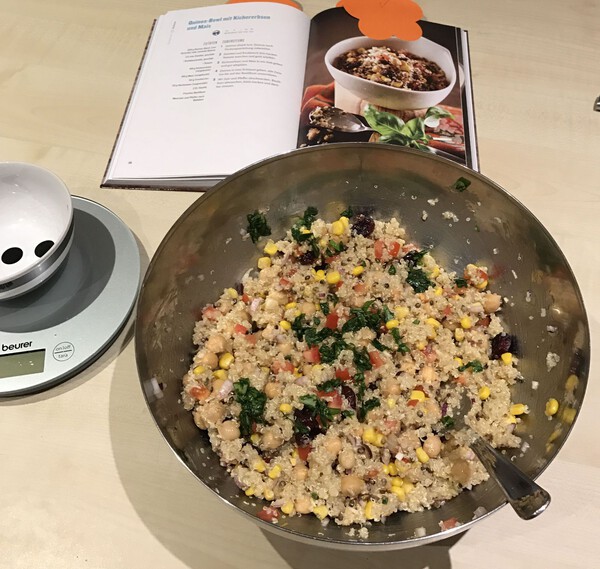 So, 2016 was a big success for me, so much so that I've decided to keep eating like this.
I will start a test month of a full-on plant-based diet some time this year 2017. But that's a whole other thing. Avoiding dead animals is rather easy, but animal products are in everything, it seems! You'll need time and patience to do that carefully.
In October 2016 I've started to prepare myself for that, though. Since I've been about 12 years old, I've had this rather strange habit of drinking a whole liter of chocolate milk every single morning. It was quick and easy and would give me enough energy to keep going until lunch and beyond, even. But it's a liter of breast milk from another species, supposed to nourish a different animal, which is just so strange, when you think about it! There must be better options, I thought. So I've tried brewing my own sugary drink in the evenings with lemons, limes, ginger, and Mascobado sugar. My good friend Vera gave me a recipe I experimented with. And while it was alright for one or two weeks, I was missing something. The nutrients, probably. So I've switched to a different breakfast:
I put some things into a blender every morning. Those usually are:
1 whole banana
1 whole pear
A good hand full of fresh spinach leaves
3-4 table spoons of oats
1 1/2 tea spoons of Chia seeds
A bit of freshly peeled ginger
A bit of lemon juice
A tea spoon of honey
Half a liter of coconut water, or just water
Blend, drink, done. This adds up to about 1 liter of a green smoothie that gets me going every morning and helps keeping up with all our kids, work, and sports. I can recommend starting the day with fruits and veggies to everyone, because I'm convinced it's a healthy thing to do.
Mistakes I've Made
As mentioned, there are some things you wouldn't necessarily expect to contain dead animals. For example:
Right in January, while on vacation in Chicago, I ate some gummy candy. Those almost always contain gelatin, which is made from connective tissue of cattle, usually. I didn't think of that at first, but then remembered and stopped. But during the year there were some more instances, I think maybe 3-5, when I made that same mistake again. Candy was lying around somewhere at a friend's place and I just ate some without thinking. So, I'm training to be more aware of the ingredients of food in that area.
Worcestershire sauce. I like that. But it contains anchovies, traditionally. I was glad when I found a vegan alternative that tasted just the same. No need to harm any fish. Beware before ordering a standard Bloody Mary!
Apple juices, and maybe some other clear fruit juices, too: these are often filtered using gelatin, but it doesn't say so on the labels. Easy solution: don't buy the see-through cleared juices, but those blurry ones instead. A similar thing happened with Guinness beers. They used to be filtered using fish bladders. Ew. But a few years ago Guinness wisely changed the production methods and is now fully vegan. When the news came out, I was quite shocked that Guinness used to be non-vegan. You wouldn't expect that of a beer, right? Good for them they changed.
Cash money: modern polymer banknotes, like those of the UK, Canada, or Australia, contain animal tallow. There are protests against it, some of them successful even. My opinion: in a perfect world there would be no need for something as archaic as cash money. Use your cards and phone instead, wherever possible – this decreases cash money demand and hopefully makes it disappear altogether soon, as Sweden shows is possible.
Also not to forget: every single item in your house that is made of or contains leather. A cow had to die for that. I didn't go as far to sell all these items, but for every new item I buy, I check if there are no dead animal parts in it. It's quite interesting, even. And if I can replace an item, I will. Recently, I bought a new wallet made from recycled bicycle inner tubes.
Concerning leather items: There is one conscious mistake I've made. That's my iPhone case. I tried the silicon alternative for a few weeks, but it was so annoyingly sticky to pull that out of my pocket. I couldn't find any smooth alternatives, so I sadly bought the leather one instead. As always, the company Tesla leads the way here by offering "vegan leather" as interior for their cars. Why no vegan leather for your iPhone cases, Apple? I bet it's just a matter of time.
The Meatless Experience in a Nutshell
It's been an enlightening year for me.
My weight has effortlessly dropped to the exactly perfect number I was professionally advised to keep up for my upcoming Ironman triathlon aspirations.
My body's ability to regenerate after a tough race or training session has increased immensely – what used to be two days of sore muscles is now just nothing.
I feel better, more awake, more resilient, more energetic. More capable of being productive and efficient. And just fitter.
Also, my sensitivity towards animal well-fare has increased, which makes me feel like I'm going through life more open-minded and aware. Asking more questions about everyday things and trying to change them for the better subjectively improves my everyday life.
This whole experiment has convinced me that experiments are a good thing to do. Learning more about yourself in this world is an enjoyable experience.
I wish that same experience on everyone else and suggest to find an experiment to grow with as well. Be it eating in a different way, learning a new skill, facing a fear, or just setting and reaching a new specific goal. Just start!
Thanks for reading this – and if you want to discuss further, I'm happy to talk more in-depth about the details. Twitter is the way to go.
How do you feel after reading this?
This helps me assess the quality of my writing and improve it.