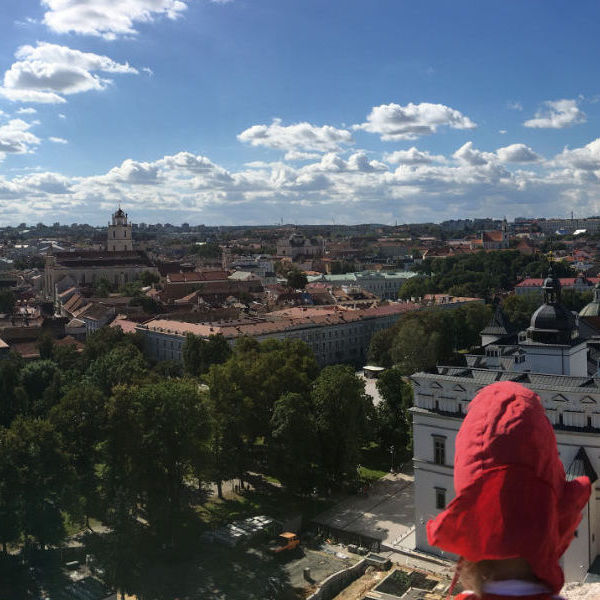 Vilnius
11th of September, 2016
Frank Zappa
This musician genius has absolutely nothing to do with the Lithuanian capital of Vilnius. Still, there's a 4 meter high cast of his in the city center.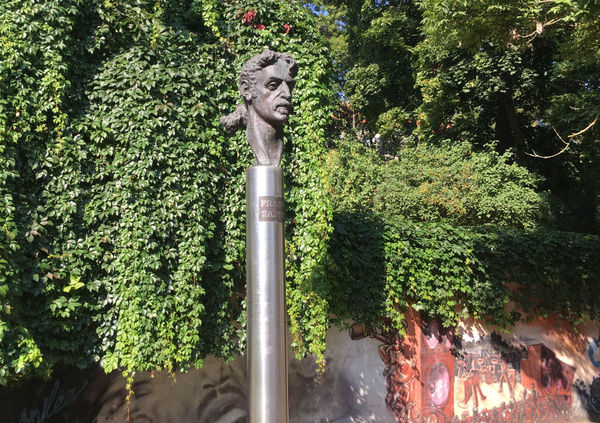 But why?!
The basic reason is that Vilnius has some citizens who inhabit a healthy combination of effectiveness and silliness. Frank Zappa was a silly guy, too. When the Soviet Union broke apart and Lithuania became independent, lots of statues of socialist leaders were torn down, which created free spaces on the remaining plinths. Some people wanted to replace one particular statue with a statue of the late Frank Zappa, which is very cool, if you ask me.
If You Swap Lenin for Zappa, You're Going in the Right Direction!
The Guardian wrote about it in 2000, it's a very cool story, and also touches on the subject of Užupis, a UNESCO world heritage neighborhood in Vilnius, which is also a self-declared independent state – The Republic of Užupis – right in the middle of Vilnius. Of the 7,000 citizens of Užupis, about 1,000 are said to be artists of different kinds. The "country" has a president, four different flags corresponding to the current season, has its independence day on April Fools', and claims to have an army of 11 people. This is just brilliant.
"Don't Fight, Don't Win, Don't Surrender!" – Užupis' Motto
Of course, no nation recognizes their sovereignty, but Lithuanians are treating them in the correct way. They let them have their fun. A former Vilnius mayor even lives in the area and is often taking part in their events. Many world leaders could learn a lot from that.
Other than that, Lithuania remains a mysterious country to me. Soviet history, now one of the 3 thriving Baltic sister states, it seems to have found its place. Still, we didn't really know what to expect. And if it hadn't been for my marathon conquest, the chances would have been rather slim to visit the place. After coming back from it, I can now say it's definitely a place worth visiting.
When friends asked their question "which marathon is next?", I always answered: "Vilnius, and can you tell me which country it's in? In fact, can you name all 3 Baltic states and their capitals?" – very few were actually able to do that. Tells you a lot. But to be honest, I couldn't tell either before I visited them all. Travel broadens the mind.
Marathons Again, Finally!
It's been a while since I've been running these distance events, and I must say, I've missed it. My summer was full of cool and new events – mainly triathlons – and it's been a lot of fun. But a good old fashioned marathon just is a great race.
My training status is probably the best it's ever been so far in my life. In almost all of the races I did this summer, I reached new personal bests. One week, I even got to 100 running kilometers for the first time ever, by doing 4 sessions of ~25 kilometers in the mornings. Quite good! So I'm hoping for a new full marathon personal best this year, too. 3:40:47 is the time to beat, done in Tallinn about one year ago.
The weekend right before the Vilnius marathon, I did a bit too much sports. On that Friday, I ran a 27 kilometer training run in the morning, and then heard about a small 7.532 kilometer (= 1 Prussian Mile) race in the evening, at which I came in 11th out of 121. It felt funny to reach the finish and then stand there with just a few other people who were also done. I made 2 new running friends that way!
The next day, Saturday, I drove to Hannover to partake in the olympic distance Maschsee Triathlon, which was very nice and successful, too. But my immune system didn't take it that well, so that a little infection from my kids' kindergarten managed to take me down. I had to spend part of the week being useless in bed, and was very sad about that. Towards the end of the week it got better, so we decided to do the journey.
I remembered the rule I got from a similar situation right before the Prague marathon this year: if the pain is below your neck, don't run a marathon. It wasn't, so I will try. Into the plane!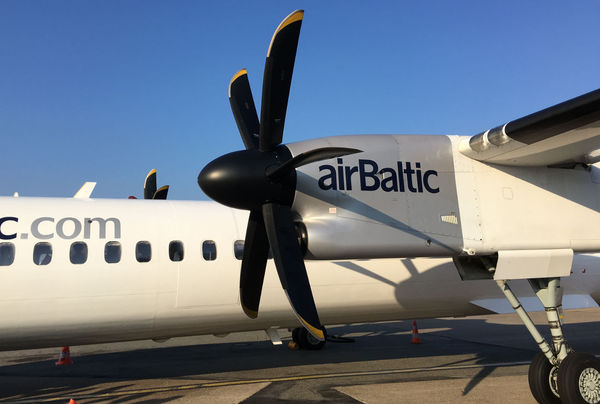 These planes seem so archaic. But they do the job and after a short stop-over in Riga the 5 of us arrived in Vilnius. For little Emma, it was the first flight ever. She did very well.
"Jerusalem of the North" or "Rome of the East"?
From the airplane windows I already noticed the huge amount of beautiful churches in this city. Vilnius has a rich Jewish history, and was always known to be very liberal and welcoming to others. They welcomed many different cultural influences, which is always a good thing.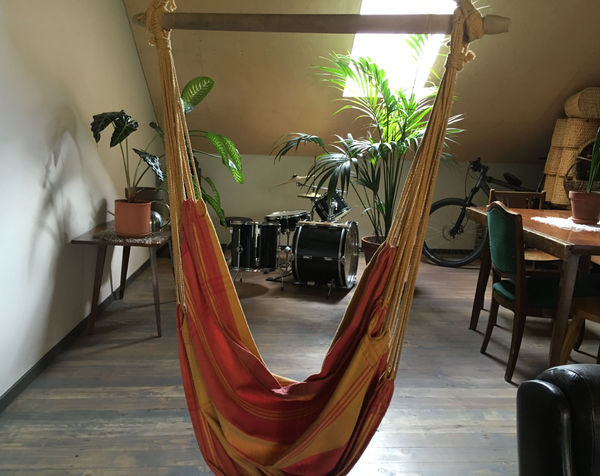 We arrived at noon on Thursday of the race weekend, so we had lots of time to walk through the streets to explore the city.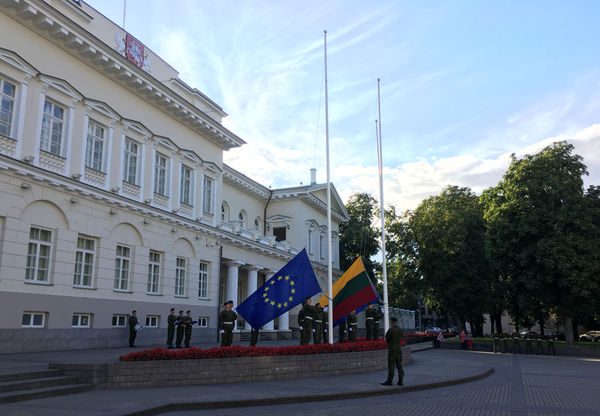 After these EU struggles of the recent months, it's very nice to see that some countries still enjoy being a member. For good reasons, of course, being a recipient nation of the union. The capital is in great shape and some sort of optimism hangs in the air. The country is among the fastest growing economies in the EU, has a high Human Development Index, and it's very easy to do business here. In 2015, the euro currency was adopted in Lithuania, as well. A country on the rise, and partly because the EU exists to help each other out. That's something.
Walking around in the great weather we noticed lots of tourists like us roaming the many plazas. Everything looked very pretty. The language of the locals sounded very weird to me. I have studied Russian in school for 3 years, but haven't learned enough to be able to speak. Lithuanian sounded so close to Russian, but I could not understand a single word. Sometimes, when listening very closely, I could make out a word that sounded similar to a Russian word I knew. It was a strange experience.
We made our way to the marathon expo, which consisted of just one tent with the starting bags and one NIKE tent with sports clothes. Tiny.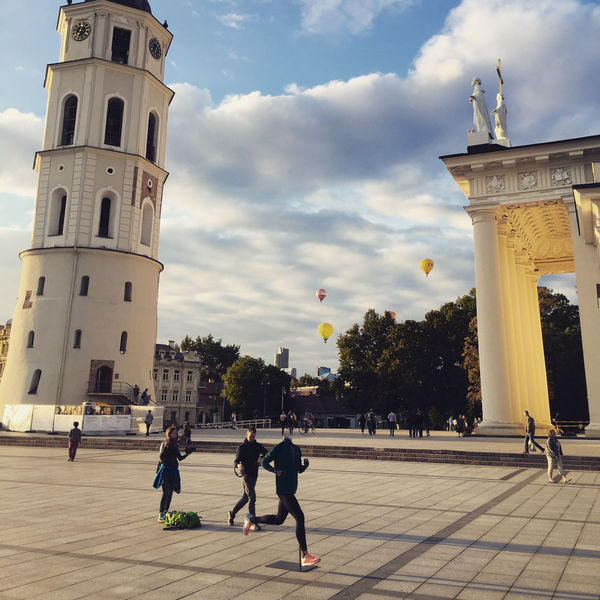 The tower on this cathedral square in the center of the town got a nickname from us: Rapunzel's tower.
The volunteers in the tent were very nice and handed me a marathon bag full of great stuff. Food, drink, even a free shirt. Considering the tiny amount of money I've paid for this marathon, I'm already recommending this race at this point.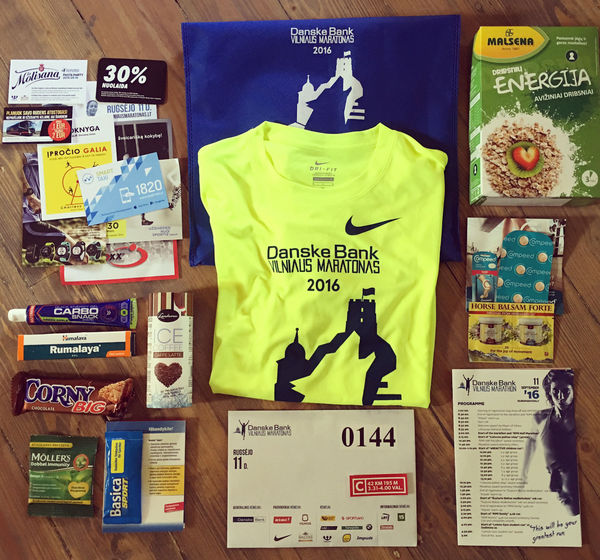 We walked around some more when Sophie and I realized we both thought the other one had packed clothes for me. I always carry my special marathon clothes as carry-on luggage into the plane, because I don't trust the airlines, so the run was safe, but normal clothes for 5 days of Vilnius were missing. Well! We walked into a store and I just bought everything I needed for the price of a single shirt in Germany. Great day!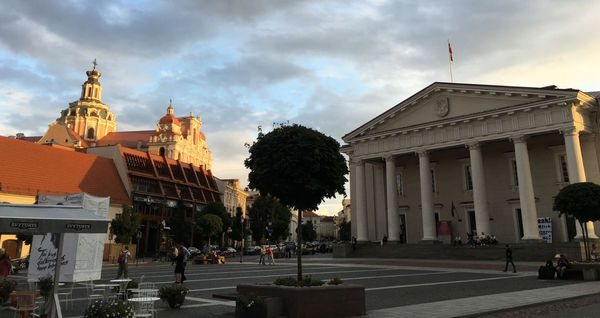 We went to family friendly restaurants and were swept away as well. Great food, great atmospheres, lovely people, and low prices. Especially the Vegafé chain was our favorite. Recommended.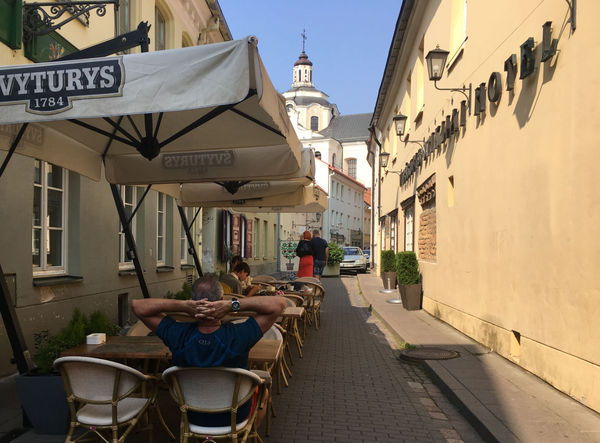 Our three kids were quite a bit of work during this trip, but it's always worth it. Seeing them enjoying these new places and excitedly talking about it later is just so rewarding.
The evening before the race we had obligatory pasta, and I followed a popular Instagram trend of laying out my running clothes, because why not.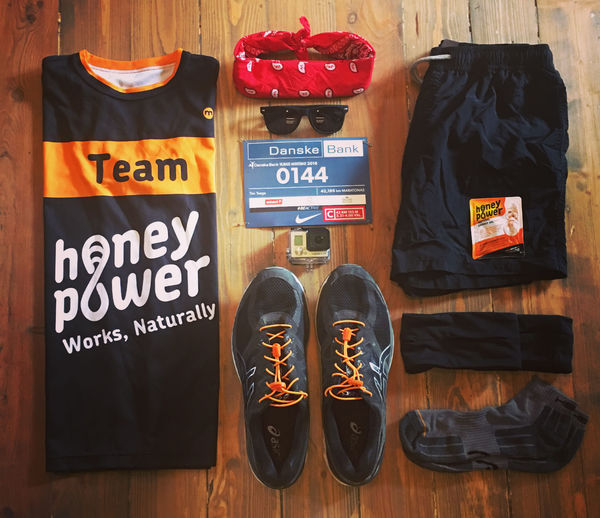 I was worrying a bit about getting enough recovery time from last week's sickness in time for the race. I still felt a bit weak. The night from Saturday to Sunday wasn't the greatest, and during breakfast, when I usually enjoy my early quiet marathon concentration me-time phase, the kids woke up and wanted to play. As cute as they are, no one can say no to that.
Sophie took over again at 8 AM, as I needed to leave to be at the start in time. It's so great of her to take care of all 3 kids during these events, I'm very thankful. She never complains. I hope the kids are well behaved during the next few hours.
The Race
16 degrees, fog, empty streets. 800 meters to walk to the start. Compare that to a 1.5 hour train ride through the city of London – how diverse our European capitals are!
But when I arrived at the cathedral square, everything looked a lot larger than I imagined. Many more tents were put up during the night, runners were everywhere, loud music playing, good atmosphere.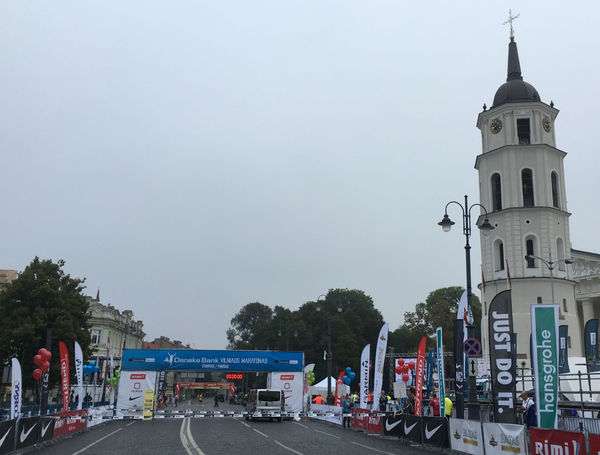 A huge TV screen was broadcasting a few presenters/organizers who were talking about the event and proudly announcing that 1,000 participants from 50 different nations were going to do the full marathon. There's also a half marathon, a 4.2 km fun run and a kids' run. In total, there were a few thousand people doing some running in Vilnius today.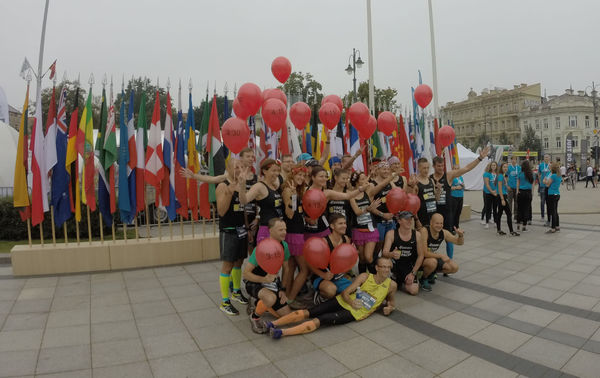 A little warm-up session with a fitness coach, a parade of the nations, the national anthem playing. They gave us the works.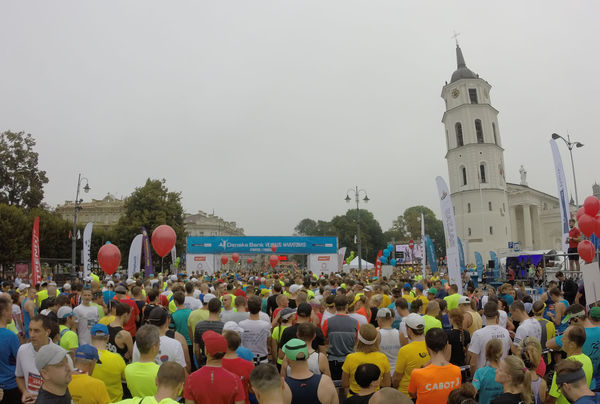 We marathoners were about to start together with the half marathoners, so it got a little more crowded at the start. Still, very moderate, compared to many other EU marathons.
Start!
9 AM sharp, and off we go! It just takes about 30 seconds until I run through the gate as well and am off to my 23rd EU capital marathon. We're getting closer to the end.
Right after the start, the first river crossing of the Neris is occurring.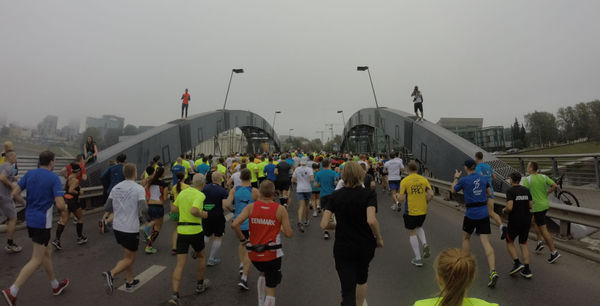 I feel good enough to be running again. But I fear the week has taken its toll. I can only try and see what will happen.
The course is nice, leading along the Neris river at first, on closed down main streets. To the right side we can see the financial district with quite a few glass skyscrapers. I got into my preferred pace of around 5:00 minutes per kilometer, which would mean a 3:30 marathon, 10 minutes better than my personal best. I have no idea if I can do that today, but my body felt like going at this speed, so I chose to follow.
The course went through some narrower streets now, and it was quite crowded there. Not perfect, but standard during the first kilometers.
After 6 kilometers we cross the Neris for the second time and get right into Vingis Park, a forresty area of the city, very green and relaxing. I notice how much better the air suddenly became, and that makes me even faster. I overtake the 4 hour pacers and even the 3:45 hour pacers within the first 4–5 kilometers.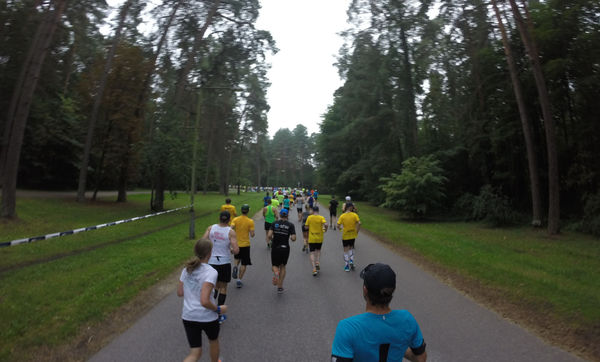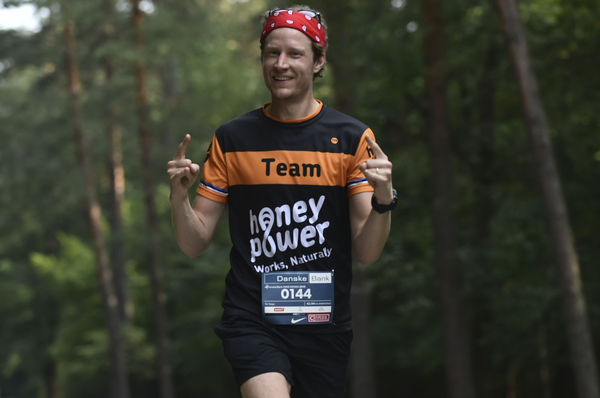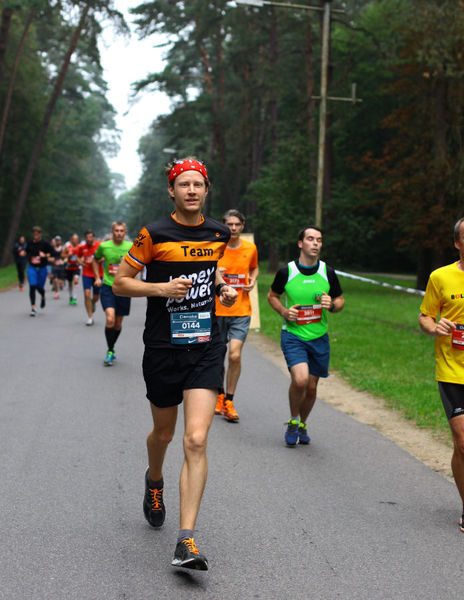 At kilometer 10, we're still in the forrest, but now run around its core, which is an open air stadium field. This is funny, because it feels like running in a circle. I can see all the people in front and behind of me.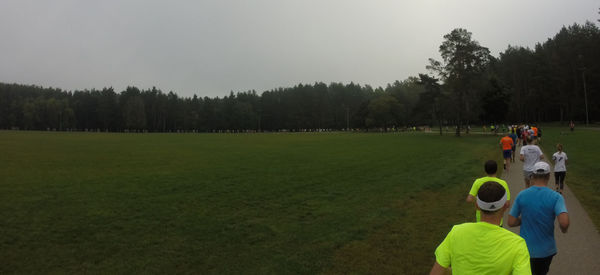 After that, there are some surprisingly demanding hills to be conquered, and then it's out of the park again. A street section follows, which has a 180 degree turning point after 1.5 kilometers, with is also cool. I can see the 3:15 pacers and the 3:30 pacers coming towards me, and after I turn around as well, I see the slower 3:45 and 4:00 pacers, too. I'm closer to 3:30, I realize.
Now comes the very pretty part. We're running right into the old town on its cobblestone streets. Those are not easy to run on, but it's stunningly beautiful. At kilometer 18, Sophie and the kids are awaiting me! The spot is just 50 meters from our flat, so it's perfect for them. Julie and Vera had ice-cream and are happy about seeing me and demand kisses. It's great they are here with me. The last few races were too much of a logistical effort for everyone, which meant I couldn't share my happiness about this hobby of mine with anyone really. But today it's different and I enjoy that a lot. My dear 4 ladies. Emma is sleeping, Sophie is doing great. All good.
The course has some more demanding ups and downs now, when I suddenly see a hot air balloon just about to take off. Cool!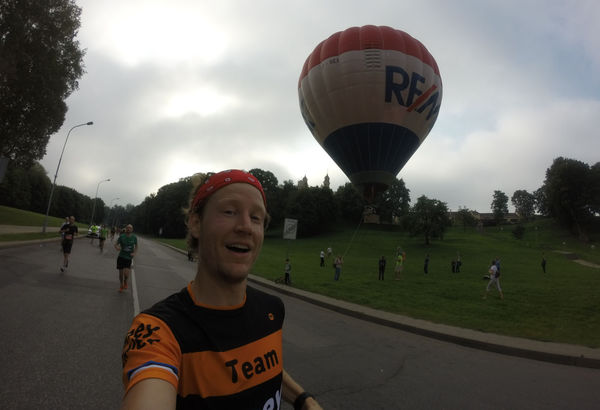 Right after this, we go through the before-mentioned neighborhood and independent state of Užupis. There are no people around, though. I hope they're not silently protesting the event, but I don't think so. Maybe they are still asleep, they are artists after all.
Just a few more turns and there's the goal! But that's not the end, yet. I am just half-way there. Marathoners have to do two laps, while maybe 80 percent of the runners are finished here.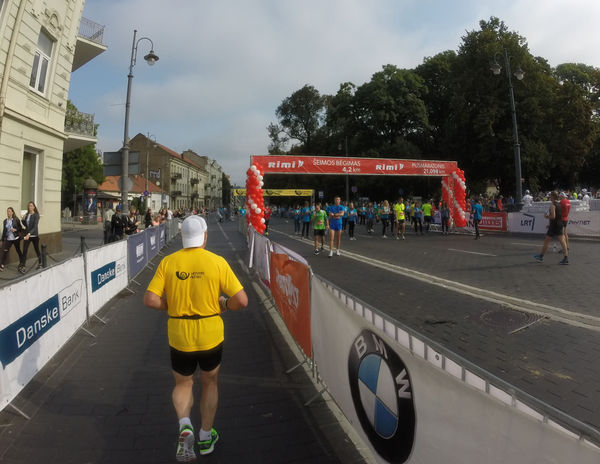 I can watch the half marathoners stop and proudly receive their medals, as I follow this yellow dude on towards the next lap.
Suddenly it's all a lot more quiet. There are so few runners left! In my imagination I expected 1,000 full marathoners to fill up the streets quite well, but that's not the case. After 21.1 kilometers, the fields is stretched out over many kilometers, of course. The first few guys will be completely done already within the next half hour or so.
My first lap clocked in at about 1:46 hours. I'm very happy with that. Doubling the time would be 3:32, so a good personal best might be possible. After the first half is done, I usually allow myself to calculate a bit, and I think it's doable today. But a marathon starts at kilometer 30.
It's also good that I know how the next half of the race will look like with its ups and downs, so that I don't misuse my energy. The first few kilometers are great, and getting into the Vingis Park is another highlight. The fog and clouds have moved away and made space for a great summer's day. 25 degrees.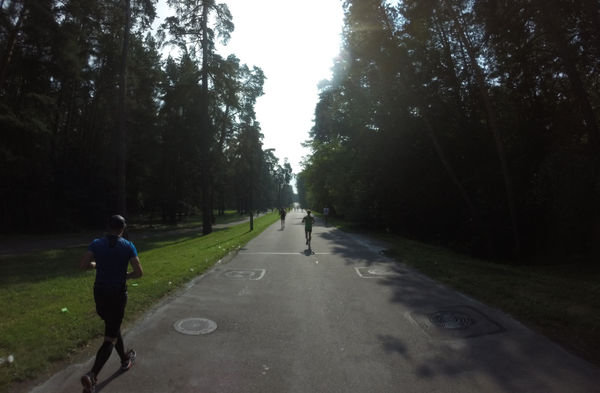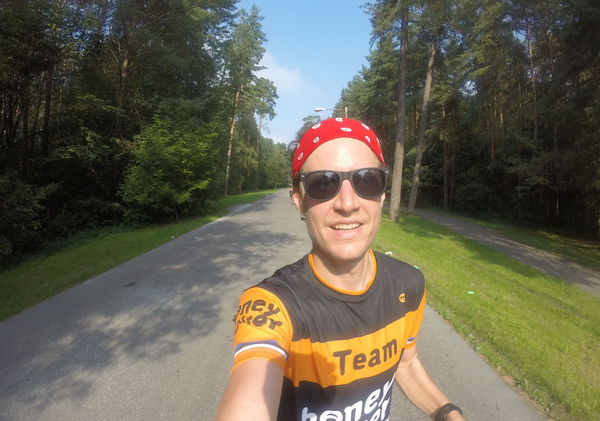 Some other runner starts talking to me. He is going for 3:30 too, it's his second full marathon, and he's a local guy. We wish each other good luck and I overtake him.
And Then It Happens
At 32, still in the park, one of the hills suddenly gets me. The power is gone. I need to walk. It's been such a long time since I've had to walk during a marathon. "What's happening?" I think.
All the possible reasons flow through my head, as I know there are no real solutions. It's not the "guy with the hammer" or "the wall", I've had enough energy gels, I've eaten enough, had enough drinks, sodium, everything. It must be the week of sickness. My muscles aren't ready yet.
Walking gets the heart rate down a bit, which feels good. 30 seconds of walking, who cares. Maybe not 3:30, I can try some other time. But I realize that I'm going to have to fight again, which is not really what I wanted to do today. There are other times when I want that, but not today.
I run again, and it's alright. Downhill is okay anyways, my flat pace hovers a little over 5:00 minutes per kilometer, which is still very good. But I'm getting slower, I notice.
Cheer Up!
What's different here from other marathons, is the volunteers. They are doing a great job as well, and everything works perfectly. But they seem to have positioned some volunteers just to be cheering, with no other task at all! Every now and then there 2 or 3 girls in their early 20s just cheering in the middle of the street, wearing the official volunteer clothes, high-fiving everyone. Cool! All their cheers are done in Lithuanian, though. They're talking to every single runner directly, because there are so few at this state, so it's actually a little interesting what they have said. But there's no time to say "English please!" and start a conversation. Anyways, I liked this idea.
It gets more difficult. The feet hurt, the lower legs hurt, the upper legs hurt, the back hurts. Crap. I get slower, there's no choice. On some of the hills, I walk. Kilometer 35, and the old town part begins. I receive a text from Sophie: Julie and Vera spontaneously decided they wanted to take part in the 200 meter kids' race! They've never done that, but I guess being confronted with my running inspired them again today. I'm a bit proud. Sophie sends pictures, they even received shirts and medals for finishing! Very cute. It's a very well organized and executed event here in Vilnius, I'm impressed.
36, 37, 38. Slowly I'm moving forward.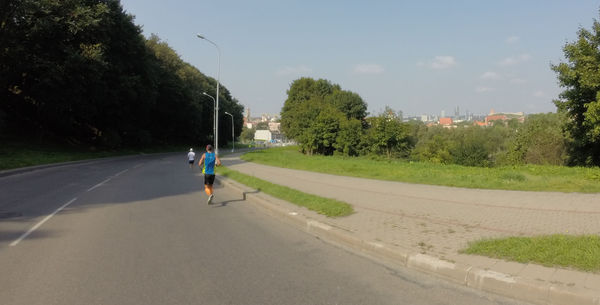 I reach 40, and that's a point were I decide to run through the rest. It's a fight, but it feels like I should do that now. Also, I don't want to walk through a finishing gate. The pace is low and I'm sure it's not going to be a personal best anymore, but I don't care about that a lot.
Some more cobblestone is a bit difficult now, but doable still. I'm glad I'm not at the Badwater Ultra or Western States 100. Yet.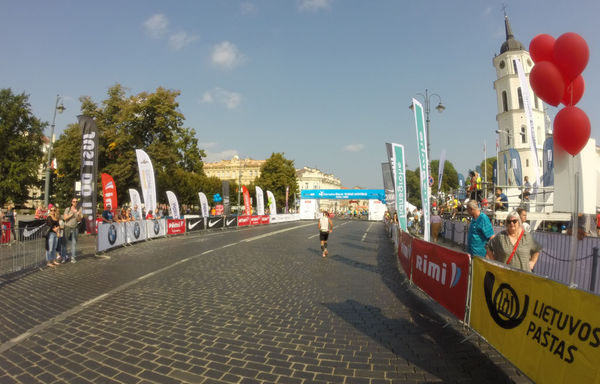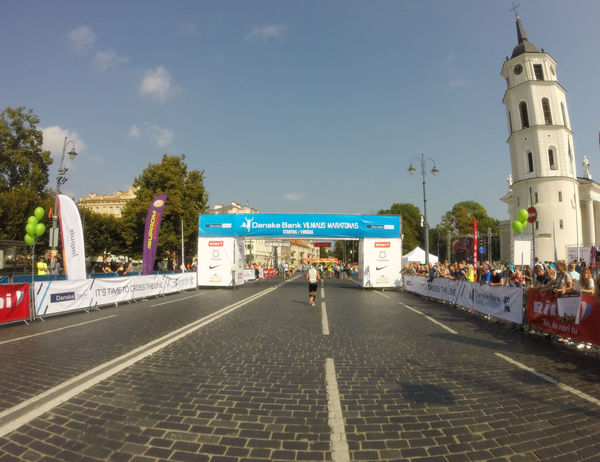 What a great time! My third best marathon ever, I didn't expect that after the struggle of the last 10 kilometers. I think that means I can do a much faster marathon soon, given I don't get sick again the week before. Good to know.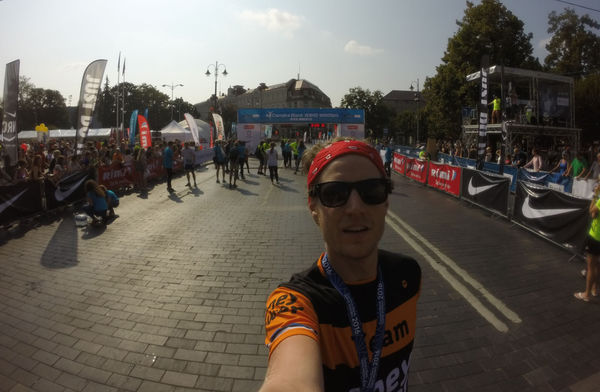 I'm very glad another marathon is done. And it was a beautiful one. Very well organized, on a great course. Thank you very much, Vilnius!
I walk over to Rapunzel's Tower and just lie down on the grass next to it.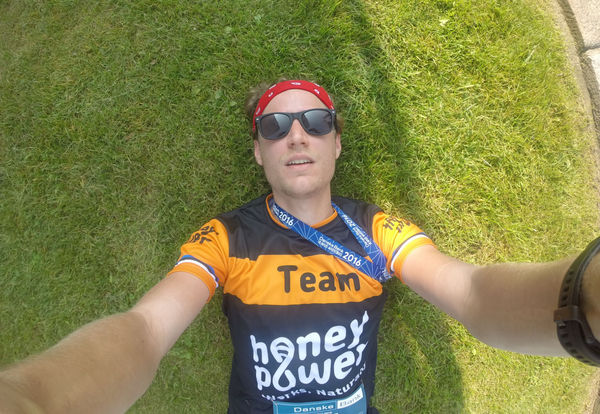 Wow. I'm exhausted. Sophie and the kids soon come over from the kids' run and Julie and Vera present their medals to me. It's so cute to see them having earned their first running medals ever just now! Julie (4.5 years) was really into it, apparently. Vera (2.5) insisted on trying as well as her bigger sister, but then didn't really understand the event. Both got finisher's bags as well, containing some toys and sweets. Lovely. After having finished the race, Vera asked Sophie if she could do the same thing again right away. Just like her father!
But not immediately. It's nice to have the buggy here for me as a crutch. The legs are giving me a hard time.
The Harder the Race, the Better the Finish
Happily exhausted. Broad grin on my face. Marathons are the best.
Thanks for reading and until next time! Sofia, Bulgaria is coming up in October.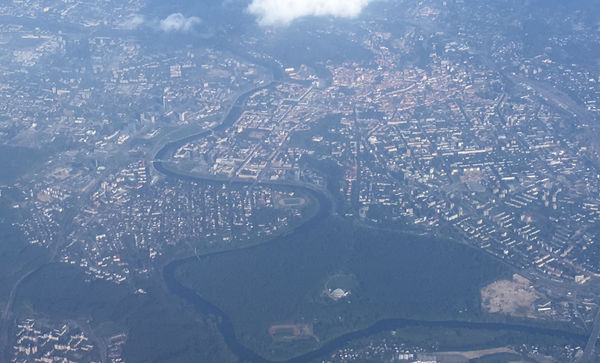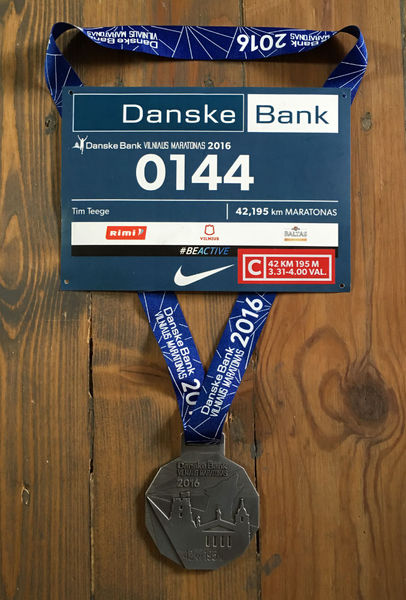 Certificate