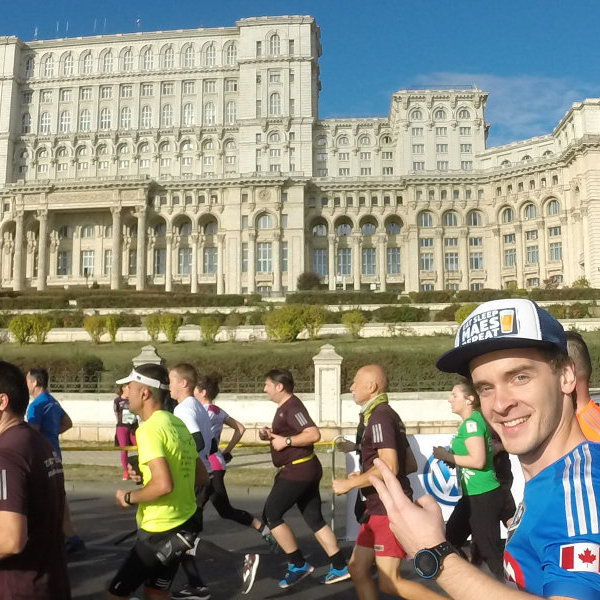 Bucharest
15th of October, 2017
I've been feeling a bit bad about my last post. At the Zagreb marathon, I didn't have the time and energy to look up the history and interesting facts about the city and country as much as I usually do.
This time, I want to do it justice. And it was the right decision, because as I've read myself into Bucharest and Romania, I found many things worth noting. Some events from the history read like a Hollywood movie script and even are quite recent.
So, let's go!

After last weekend's marathon in Zagreb, my wife Sophie and our three daughters had another five days of travel in our rented camper van and enjoyed the Alps in Southern Tyrol. It's been beautiful, fun, interesting, and also exhausting.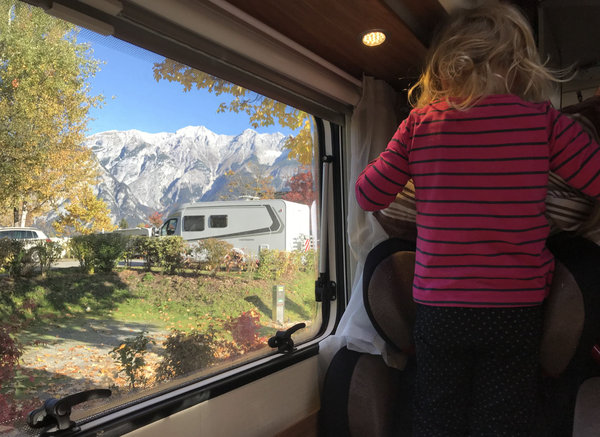 On Friday we had a planned separation back in Munich: Sophie and the kids would take a train back home to Hamburg as I would fly to Bucharest for two nights to run that marathon as well. A mini vacation just for me, thanks to my great wife.
I returned the camper van in Munich and had a great day in the city until my flight departed. I like Munich quite a lot, as I've had the chance to work and live there for half a year back in 2007, ten years ago. So I visited my old apartment and walked through the neighborhood streets in a bit of nostalgia.
Lufthansa's Disciplinary Measures
My Lufthansa flight to Bucharest was supposed to leave at 10 PM and be steered by my friend Hodg, a Lufthansa pilot. It's been seven years since I've last been flown by him (Stuttgart-Barcelona and back right away) and I was looking forward to it. But then, the company decided to strip Hodg of his requested route to Bucharest and make him go through some hours in a simulator instead!
Every pilot has to do that from time to time. But as we've had quite a few timing conflicts lately, it's crazy how much power the company has over the schedules of its pilots. They have very little say in when they want to have free days. There are no weekends, no holidays, and the longer vacation times have to be planned a year in advance and are often moved around later. There's a price for having such a prestigious job (including a good salary).
So I had to fly with some unknown other Lufthansa pilot and stay at the hotel that Lufthansa pilots usually use, but without my old friend Hodg.
Romania
On the upside, I could use the two hours in the plane for reading about the place I was going. And I couldn't stop!
The modern state was founded in 1859, when two regions merged. Those were Moldavia and Wallachia. In German, we have the saying: "Somewhere in Wallachia" – meaning some place that's so remote you might as well have disappeared completely. Although the region still isn't the densest populated bit in the world, Romania has got 20 million inhabitants, which is quite a bit, compared to most EU countries.
It joined the NATO in 2004 and the EU in 2007. It doesn't have implemented the Euro currency yet, but instead builds it's transactions on the trust in some bearded men, again:

Romania != Rome
Why does it have nearly the same name as the ancient city? What are the parallels?
It's quite unclear, but apparently the first reports are of traveling Italians in the 16th centuries, who met Romanians who just called themselves that. Coincidence? I don't think so. Copy-cats, if you ask me. In German, the country is called "Rumänien", the difference being the "u" and "o". The words rumân and român used to have different meanings: rumân used to mean 'slave', while român just meant the people living in that area. After slavery was abolished around 1750, both words merged and now mean the same. A citizen of Romania, obviously. Because there are no more slaves. Or are there?
Nature
The flora and fauna of the country is amazing. Thousands of free roaming wolves and bears move through the country. Around 60,000 free wild dogs roam the city of Bucharest, apparently. Didn't see any, though.
Mountains, the Black Sea, Transylvania, the river Danube, more than 3,500 lakes. There are efforts to conserve the nature, but the dedicated budget for doing so is rather small, unfortunately. The EU has to push the country a bit to do the right thing.
The EU
Romania is one of the countries who profit quite a bit from the EU. Infrastructure has made leaps, as well as the communications development.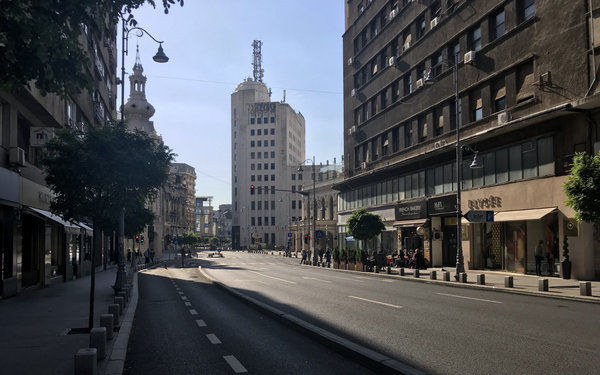 Low prices for broadband mobile internet provide a huge advantage to everyone. Not surprisingly, Germany is the country where the most imports come from and where the most exports go to. Austria is the biggest investor country, buying lots of privatized companies and developing them. But still, a few EU goals aren't met yet, most notably anti-corruption guidelines. This is in the DNA of the citizens and has been for many decades. It will take time until corruption hopefully fades away, as the human development index increases and the need therefore diminishes.
Bucharest
As I arrive in the 1.9 million people metropolis, I was very keen on visiting the Palace of the Parliament, because this one holds many interesting stories.
But first, everything was dark as the local time was 1:00 in the morning. I took a cab to the hotel because I was tired, and survived the ride. The driver wanted 100 Leu or 20 Euros, my choice, he was coughing all the time, and made the religious cross sign in front of his body about every 20 seconds. He clearly wanted to survive the ride himself. But did he have it in him? In the end, yes. And therefore, I survived as well. Close one! I don't know what was wrong. The streets were empty and wide, the route easy, he might have just felt his own end coming.
After just six hours of sleep in order to not mess up my sleep schedule, it was time to explore. The Palace. And everything else.
Did you know about the legend that the position of the horses' legs in a statue signal how the person on top of it died?
All feet on the ground: natural causes
One foot in the air: got wounded in a war, but survived
Both front feet in the air: died fighting in a war
Nope, probably not. Someone researched the legend and found out it was true for about 50 percent of the statues, which of course means, it's a lie.
Onto exploring. First, I saw lots of German influences. The mentioned King Carol was German, originally, by the way. Just 0.2 percent Germans live in the country, but the cultures are intertwined. There's a daily newspaper for Germans in Romania, for example. In the Hipster café where I had a bit of a breakfast, they served fritz-kola, developed in my hometown of Hamburg. It's the Hipster thing to do!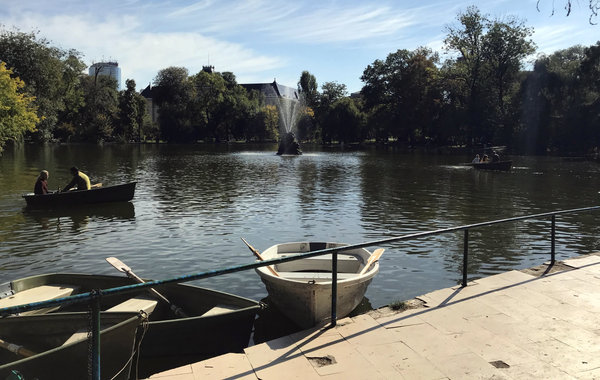 Isn't that a great idea? Within this park there is a pond, on which citizens can just row around for fun, without payment.
Two kilometers of walking later, I found myself on an open space where the marathon expo was located. This was way bigger than I had expected: lots of activities, food trucks, sponsor's tents, even an entertainment stage on which a popular Romanian teenager singer was currently performing for more screaming teenagers.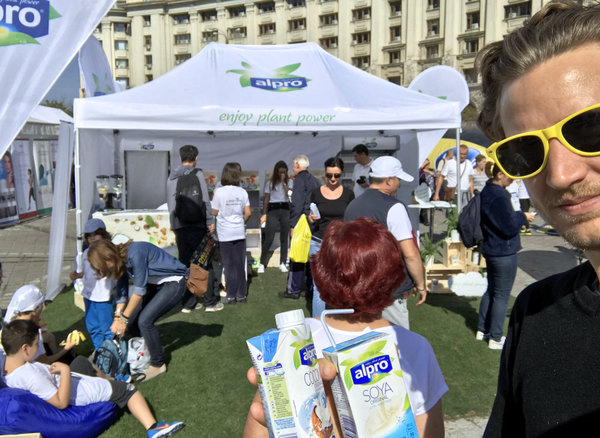 Even alpro was around, giving out free samples of their plant-based products. Even though they belong to the billion dollar faceless corporation named Danone, I think it's worthy supporting the plant-based substitutes cause, as the world hopefully transitions to less animal products. Also, their stuff just tastes grrrreat. Thank you very much.
So, why all those kids' activities?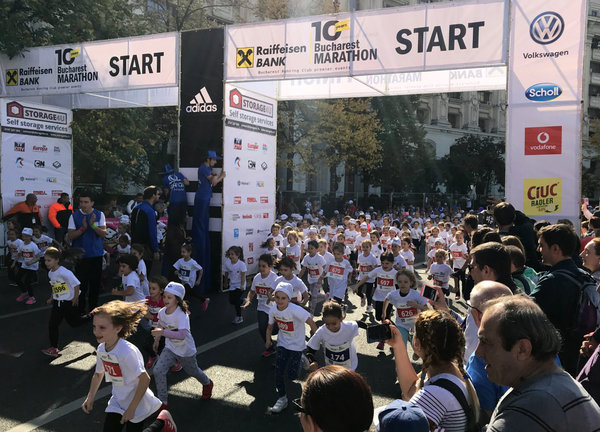 There was a kids' run. Not just one, many. Divided by gender and age, every kid got to run with its peers on a nice and easy 1.5 kilometer course. It was very well executed – there were some kindergarten teachers animating the kids with an easy warm-up, until they couldn't stop 'em from just running. Because that's what humans do.
The Elephant in the Room
Now let's talk about this "monstrous metaphor for a tyranny without measures", as historian Tony Judt called it.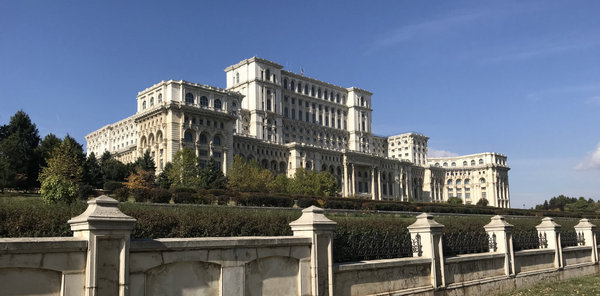 Also, the heaviest. And maybe even the most expensive, estimated to be worth around 3.3 billion Euros. Rupert Murdoch once wanted to buy it and offered 1 billion US dollars, but got denied.
What's the story? Let me introduce Mister Nicolae Ceaușescu. This guy was the head of state in Romania for a long time, from 1965 until his execution in 1989.
His execution in 1989, you read that right.
He slowly moved from a good ruler who was loved by the people of Romania towards a malevolent egocentric dictator who drove the country into extreme poverty. He checked every box on the list:
Built a secret police ('Securitate') to police the behavior of his citizens
Huge economic mismanagement lead to growing debts and state bankruptcy
Corruption, nepotism
Had a cult of personality built around him
Didn't see the signs of the upcoming end of his reign
Right when the Romanian people were starving on the streets, he thought it would be wise to invest in a palace for himself, so big it's unparalleled in the world.
"If you'd like to eat meat, why don't you just keep pigeons on your balconies!" – Nicolae Ceaușescu, paraphrased
It took five years, tens of thousands of mostly military men in three shifts per day to build this, using materials from Romania exclusively, you know, for nationalistic reasons. And the palace is still not finished. Just about 400 out of the 1,100 rooms are done. 3,000 people died while building it.
They had to tear down whole neighborhoods in the city center to get this done
Including 12 churches and several synagogues.
At the time, the cost was as high as about 40 percent of the gross domestic product of the whole country.
Every year.
For five years.
While standard working people starved.
Can you imagine the people getting mad at the dictator? I can!
Historic Intercept: The Romanian Revolution 1989
Many historic stories bore the hell out of me. This one doesn't. I couldn't stop reading about it when I first found out.
Timišoara, third most populated city in the country, in December of 1989. It is here, that the first protests against the regime began.
Can you imagine meeting with a bunch of unarmed and peaceful people to protest the government's mismanagement, and then just be shot to death?
On one particular night, 40 of the protesters were just killed by the pro-government army. The surviving protesters were removed, all corpses of the mostly young university students put into a cooled meat-truck and driven down into a crematorium and burnt without notifying anyone. At night.
The next days, the protests continued. One particular scene you have to imagine as well: A group of protesters is having a stand-off with some armed military people. The soldiers have the order to shoot them down. The protesters hold each other firmly and slowly walk towards the soldiers. They expect to die for their values, to die to further the cause, to die to make it easier for the others after them in this society.
The soldiers didn't shoot, this time.
Still, more than a thousand people died during these days, but in late December, the Revolution was over. Because in the end, the people always win. Several army generals switched sides, away from the delusional Ceaușescu, until the dictator lost so many allies that the people were able to storm the building on December 22nd. And now comes the part that sounds like Hollywood but is real.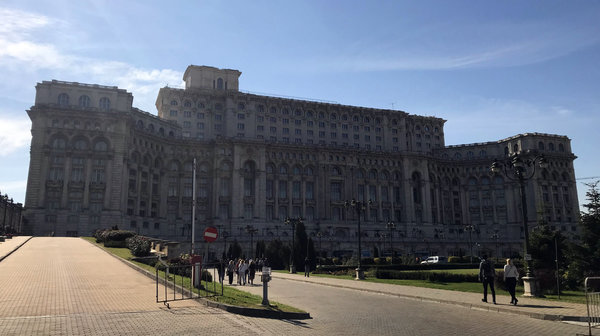 He and his wife fled to the roof, carried by their bodyguards, were picked up by a helicopter and escaped. For now. They were flying over the Palace Square.
The dictator tried to order more support in the form of two more helicopters full with armed soldiers to protect him, but received the answer:
"There has been a revolution. You're on your own. Good luck."
Even the pilot was making up excuses in order to land the helicopter at a certain spot near the city of Bucharest.
Ceaușescu's guys captured cars from citizens and tried to flee further. He and his wife, Elena, who was with him all the time, made it to the town of Târgoviște, but got caught and locked into a room. Police arrested them later that same day.
Two more days later, on December 24th, a special military court was established to deal with the situation. The trial was on December 25th, and Ceaușescu was accused of genocide against 60,000 people, amongst other things, and sentenced to death by this court he didn't accept. His wife demanded to be killed along with him. A few minutes later, both were shot to death with dozens of bullets by several officers.
Revolution Successful
Sure, it took years to normalize. But to get accepted into NATO and the EU subsequently certainly shows that the country is on a positive path. From what I saw in Bucharest, I think so, too. Romania is definitely one of the poorer countries in the economic area, and signs of it are clearly visible, but whenever there's improvement, there's hope. And that's all you basically need as motivation, I guess.
I'm truly happy for the Romanians that the situation is like it is right now, and not as it was before 1989. Knowing the background made me appreciate it all. Feeling the weight of the country's history on your shoulders to a certain extent sparks compassion.
All of us, including a bunch of certain current world leaders, should definitely learn from this that empires always fall and the people always win.
28 Years Later
Now I'm standing on that same square on which that helicopter chase started. One million people were supposed to find place on this, while the guy would announce things from the balcony of his palace. I tried to get into the building to experience that view, but the balcony was under construction for the rest of the year. Need to come back some day!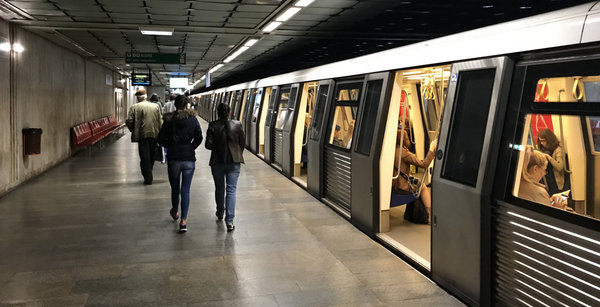 "A developed country is not a place where the poor have cars. It's where the rich use public transportation." ― Enrique Peñalosa, former mayor of Bogota, Colombia
Bucharest is doing very well on the public transport side. They even have these electric buses which have overhead contact lines above the streets, like in Russia. Along with the great bicycle streets I've shown, everything helped reduce the amount of polluting cars. I didn't come across any traffic jams.
Back at the hotel I found some time to check out the goodie bag.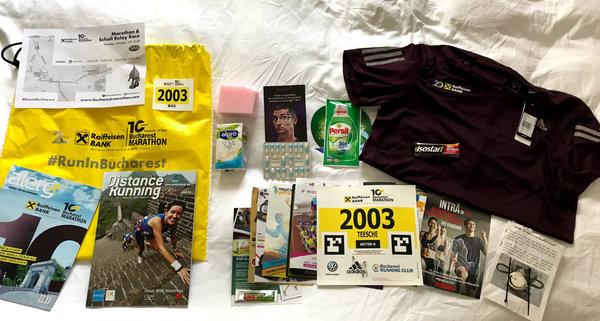 This was another rather cheap race. Just 35 Euros for all of that, including the race itself, of course. I went shopping for some food later and paid about 10 Euros for a bucket full of good quality food, including high-class artisanal water from the Carpathian mountains region of Romania, awesome. Low cost of living.
Evening of the Year
Tonight, something special happens. Special, to me. It's the IRONMAN World Championships in Kailua-Kona, Hawaii. Just like last year, they are held the night before I run a marathon. Because of the time difference, the IRONMAN race begins at 7:30 PM Bucharest time (6:30 AM in Hawaii) and will end at around 3:30 in the morning. So I can't watch it unless I were as arrogant to believe I could do the marathon without sleep the night before.
Tough!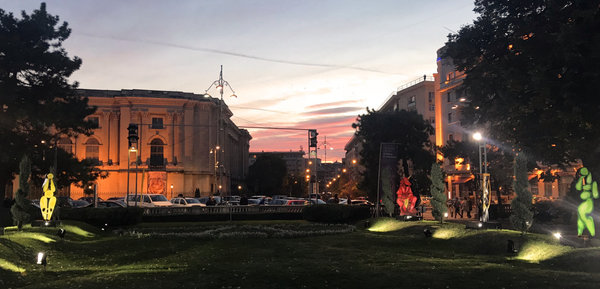 18,000 steps today, that's probably enough.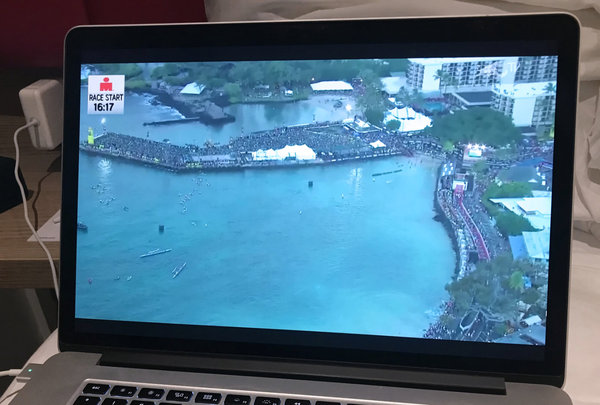 I watch the triathlon race until the athletes are about half-way done with the 180 kilometer bike ride at 11:00 PM, having reached the northern town of Hawi. The hotel Wi-Fi is amazing, no interruptions at all. Canadian Lionel Sanders and German Sebastian Kienle are leading the pack, as I reluctantly get myself together and turn the laptop off to get some sleep.
I set the alarm for 7:00 AM, the race will start at 9:30.
Middle of the Night
Then, I wake up. No alarm sound, weird. I look at the phone, it's 2:30 AM. Crap. There's no way I could avoid taking a look at the IRONMAN livestream right now, I feel it. But I try to be strong and fall asleep again. But it doesn't work. After almost an hour of moving around on the bed I give in and go to the livestream website.
I can't believe it's really happening, although I've been almost sure he would make it: Patrick Lange is leading the race just a few kilometers before the finish! The guy trains in the same pool I started swimming in back in 2006 in Darmstadt. He surprisingly reached 3rd place last year with a record marathon in the end, but then had a rather bad year following that success, almost no wins, foot injuries. I'm so happy for him he found his strength again.
The greatest thing is that I can now accidentally watch the final 10 minutes of the race live. Right as he's running through that gate, he's tearing up. Dancing, getting emotional. Can't believe it. So happy for the guy.
Sanders 2nd, Kienle 4th. Last year's champ, Jan Frodeno, got terrible back pain during the run but finished anyways, with a 4 hours and 1 minute marathon (9:15 hours total), finishing 70th. Poor guy. I thought, I can beat that tomorrow! So that's my goal.
Really happy for Patrick, I fall asleep for four more hours.
The Day of the Race
My hotel room weirdly had a full kitchen, equipped with everything you'd need. So I got out a pot and made myself some breakfast porridge. Along with a banana and enough water to drink, I'm ready.
The girl at the hotel reception confirms I can do a late checkout at 3:00 PM, which puts some pressure on me to not mess up this race. Alright.
After 20 minutes of walking through the city, I reach the expo. A 10k race is already underway, I see a woman on the finishing meters vomiting on the ground. You've got to learn how to pace yourself! How unfortunate.
There's some guided warm-up exercise.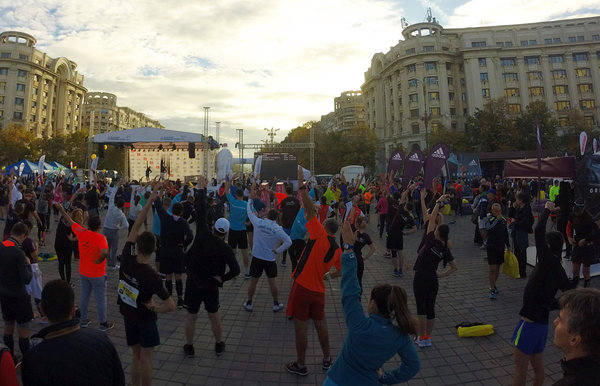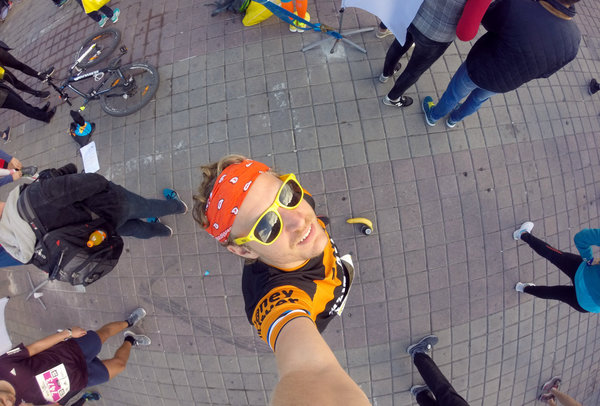 Another banana and a drink and I'm ready. Sector D is my spot, and the crowd increases steadily. Half marathon runners are with us, and a marathon relay race also starts at the same time, right here. Lots of people, more than I had expected.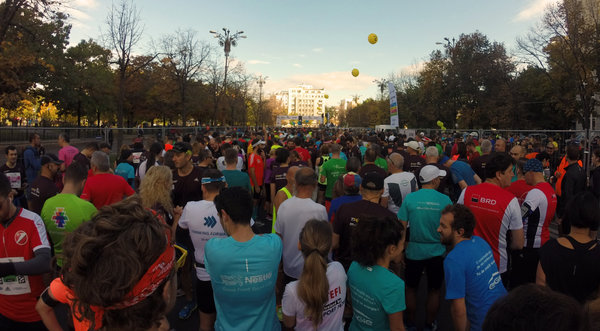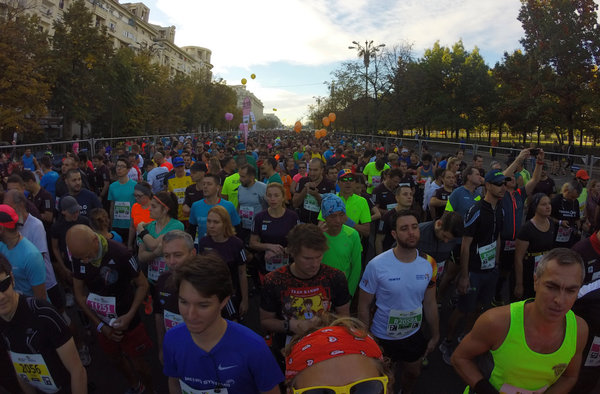 It's maybe about 12 degrees, a bit cold but alright. Hints of sun. Probably the best possible weather for a marathon.
A countdown, cheering people and music.
And It Begins!
Number 27 of 28. 42.195 kilometers ahead. Go!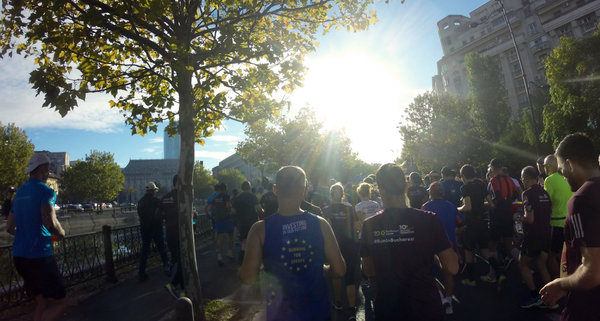 After about 200 meters, the thousands of people have to squeeze through a rather narrow inflatable gate. We come to a complete stop. Pushing a camel through the eye of a needle, as a German saying descriptively points out.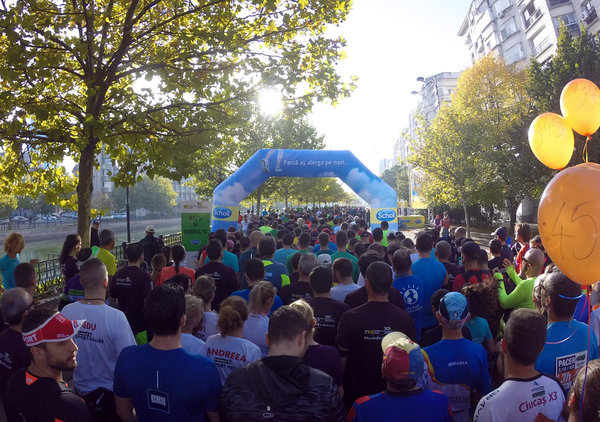 Shortly thereafter, someone talks me up from behind.
"Isn't that Tim Teesche?"
Yes it is, what a coincidence! It's Michael from Cologne, whom I've met about a year ago in Sofia, Bulgaria. He is running European marathons as well, this is number 13 for him. Amazing that we meet in this far away city between all of these thousands of runners.
Michael is usually a bit slower than me, but as I planned to run very conservatively today, we run together and talk a lot. It's great sharing all of the stories from the different races we've been to.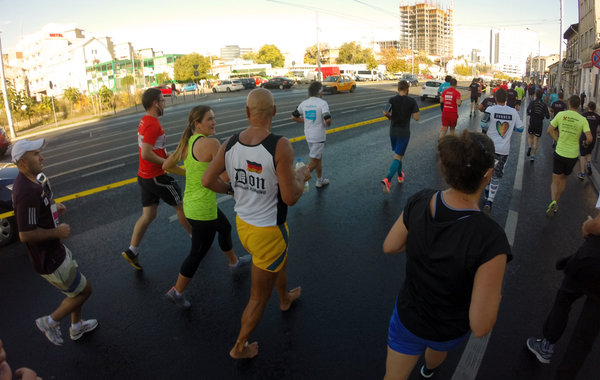 The course is really nice and full of beautiful sights. The layout is interesting and unusual as well, as it's a single lap with a few spikes and some parts that are run several times, but it never feels repetitive. I have absolutely nothing bad to say about this. Great course.
About 11 kilometers in, we reach the northern tip of the route.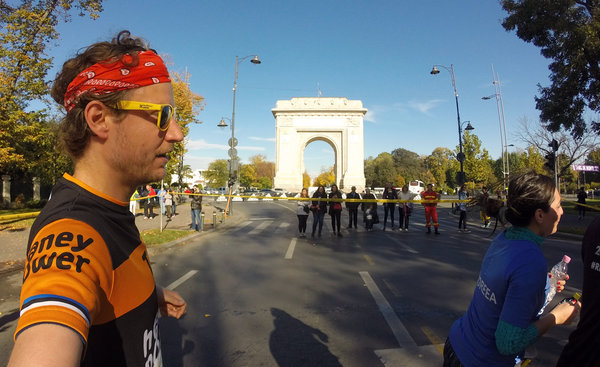 This one has been built in 1878, destroyed and rebuilt in 1922, and destroyed and rebuilt again in 1936. Talk about resilience! Also noteworthy, the bond between the nation of France and Romania. I can't really say anything about it other than the nations seem to like each other. At least if the points given to one another during the Eurovision Song Contests are any indicator!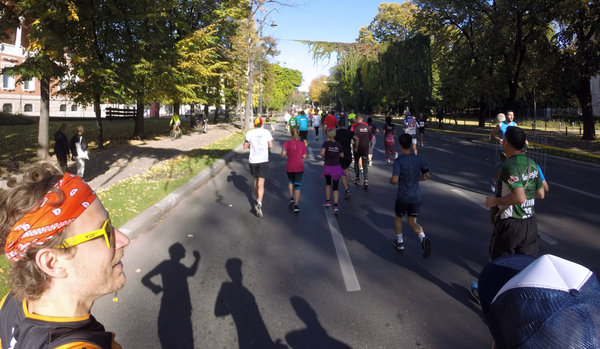 Our pace is somewhere around 5:30 minutes per kilometer, which would lead to a race finish in less than 4 hours. So far everything is going well. No pain, no rain. In fact, the weather couldn't have been any better. Sun and still enough fresh air without wind, around 18-20 degrees.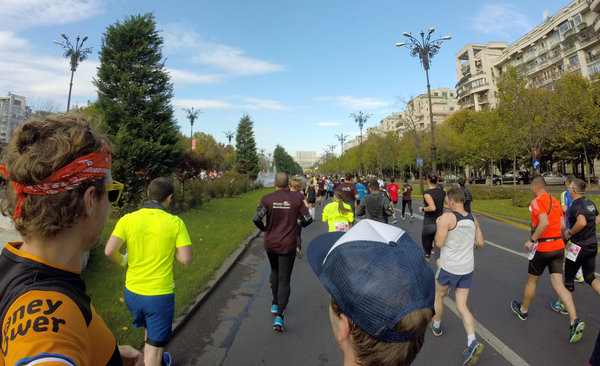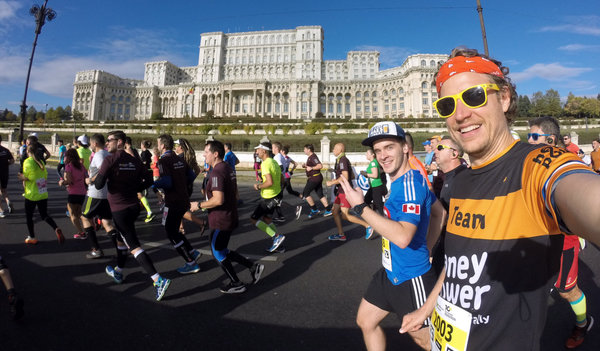 Nutrition
Michael has forgotten his powergels, so I share my HoneyPower with him, as I brought five, which is more than I need. The aid stations are organized quite well, there are no traffic jams in front of them, and the fluids are usually given out in cups. But you can choose to take a 0.5 liter bottle as well, if you so prefer. Something for everyone. The isotonic drink is highly concentrated, which is quite smart, because you can dilute it with water to your liking. This way, the organizers are making sure everyone takes in enough salt on this warm day.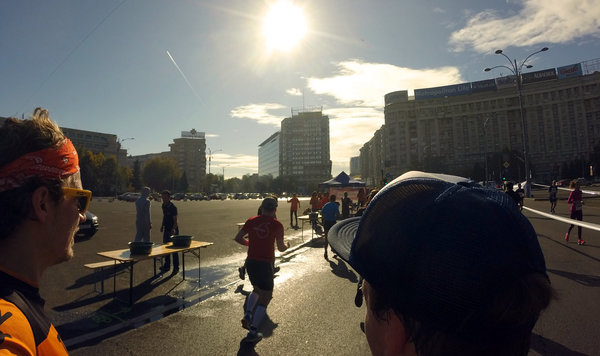 This might be the spoilt Ironman speaking, but there could have been a few more aid stations. Sometimes there were stretches of more than five kilometers without water. If you haven't loaded up quite a bit on the last one, it could get tough out here in the sun.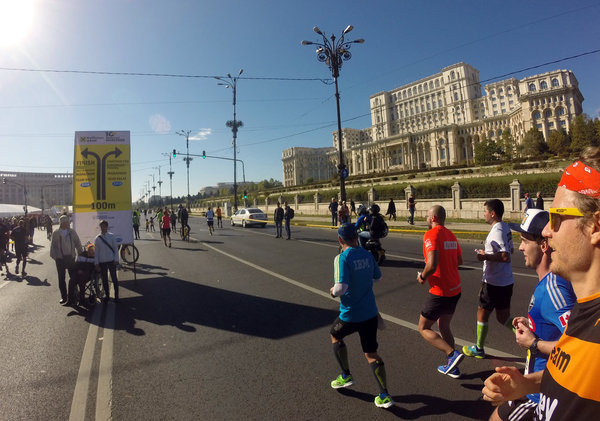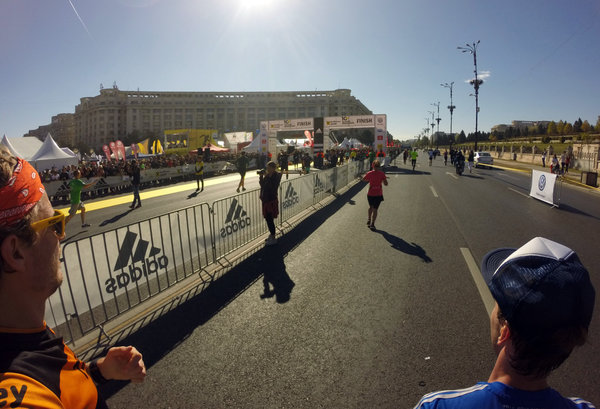 As most of the runners have finished the race right here after their half marathon, about 1,300 full marathoners are still on the course, plus all relay-runners.
After 25 kilometers it's slowly becoming a mental challenge to keep going. It always does. Michael and I are talking less now, we're both concentrating on our own stride and rhythm.
Ilie Rosu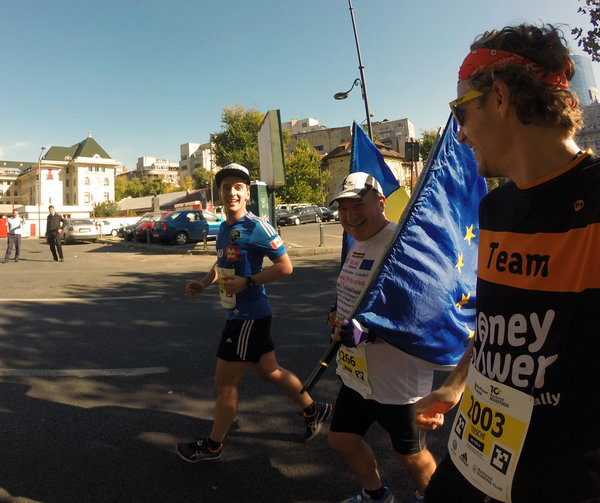 An older runner with a huge EU flag surely catches my attention. But I can't remember where I've met him before. After the race I went through all my reports, and it's been Bratislava, Slovakia, in 2015. We even had a little chat back then, as I've read in my own report. Good thing I wrote everything down – with such an apparent bad memory I need to!
Ilie Rosu is an impressive guy. You can see his stature, it's not that of a typical marathon runner. But then again, is there really a typical marathon runner?
He has done 195 full marathons by now, most of them while carrying multiple giant flags. The EU flag has been with him 92 times. He has finished every single one of the 10 Bucharest marathons – including this one, with just under four and a half hours.
Beating Frodo
These moments are quite inspiring to me. They make it easier to fight. And the fight starts to get tougher. At kilometer 30, Michael tells me he will have to slow down now. I, on the other hand, still have my goal of beating Frodeno's Ironman marathon time from this morning, which is about 4:01 hours. I'm on course. So Michael and I say goodbye, I give him another HoneyPower and keep the pace as he takes up a slower pace.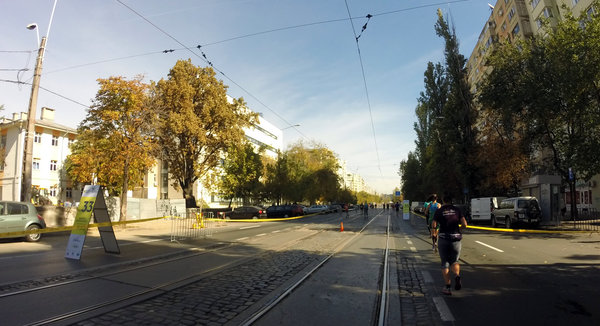 We depart from the long straight street to get to the stadium.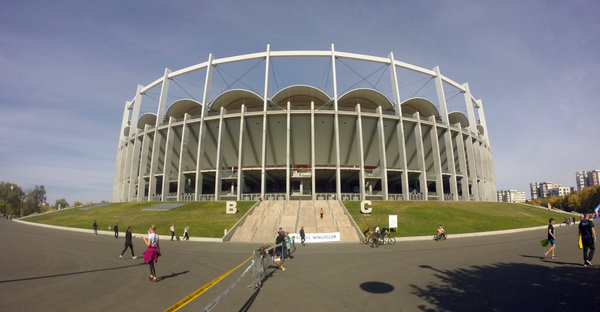 It's been a while since I've last had anything to drink. And it's getting hot right now. This isn't great. After the loop around the stadium, we get diverted to the West for some more kilometers, surely to reach the full 42.195 without too much repetition. Good idea, especially this Strada Maior Ion Coravu, because it has trees above us, blocking the sun.
I am so thirsty. Right back at the stadium, there's a stop. Close one!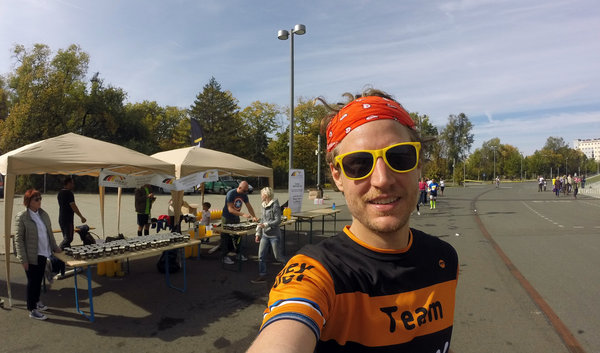 This is so good. I throw everything down my throat I can find. Who cares if the stomach fills up, I need water! And iso, and HoneyPower, and an Orange. That's better.
The Penultimate Fight
Six kilometers to go, should be doable, I think.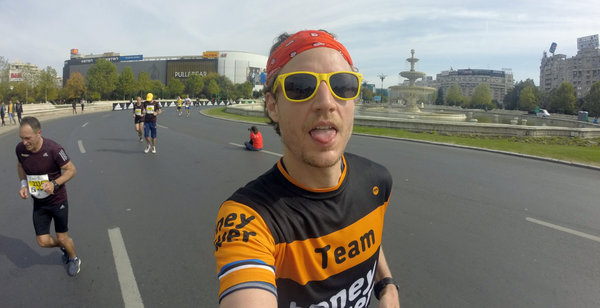 There's one last turn and we finally get to see the humongous palace again, at the horizon. It's the finish line. Finally! But it's further away then you think. Still about three kilometers away. Those feel like eternity now. Fortunately it's a slight downhill section and there are two more water stations on it.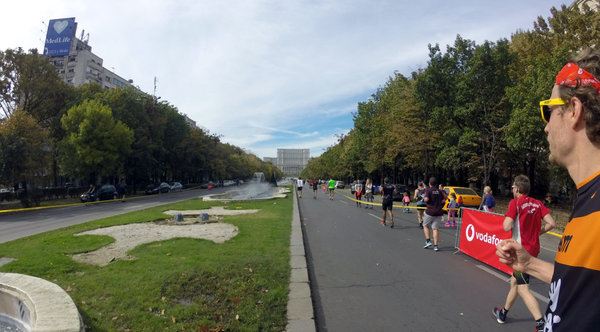 The signs 40, 41, and 42 speak a language we can all understand. Not much room for interpretation.
The crowd size increases, we make two last turns to get around the Palace Square, and then happiness commences.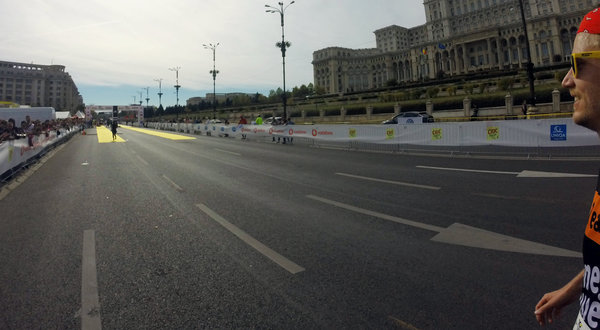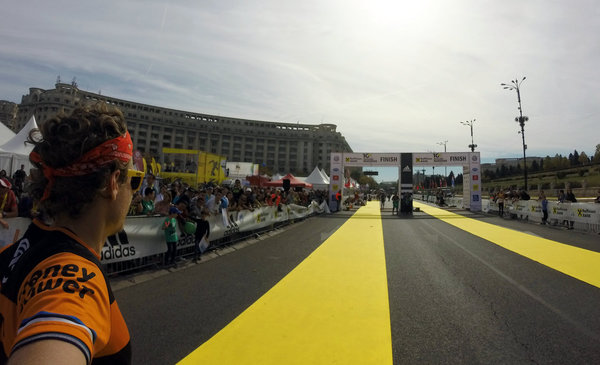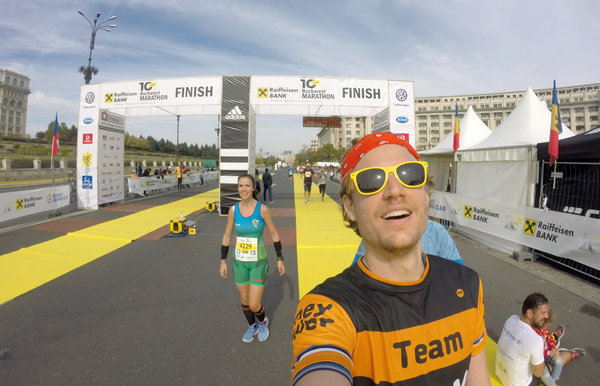 My face after the finish line looks almost the same as on the photo in Dublin, I realize. Same amount of struggle, apparently. I'm so glad I've made it! It hasn't been an easy run for me, but the race itself has been nearly perfect.
Better Than Jan Frodeno
3:57 hours, goals reached! It's been a while since I've had to fight this hard. Sitting down on the floor is a must.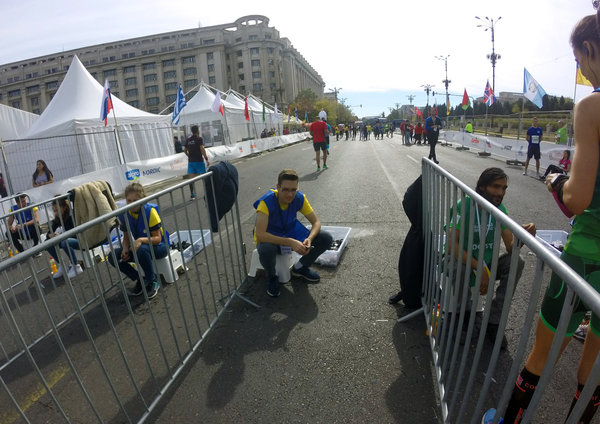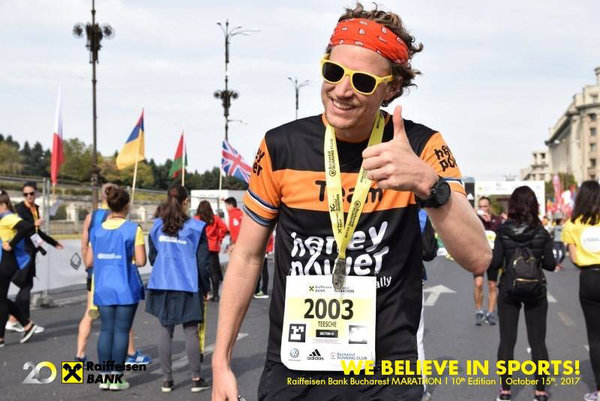 I hang out in the finisher's area, having water and juice and an alcohol-free beer to regain some strength. About 15 minutes later, Michael reaches the finish line! I congratulate him and shout: "See you in Copenhagen!" – because next year we might meet there again, together with Mike Harley. I would like to support Mike on that race and in his effort to raise awareness for the disease of ME.
Now I have to get home, which is never easy with marathon-sore feet. The area is closed for taxis, and the metro goes in the wrong direction. So I walk!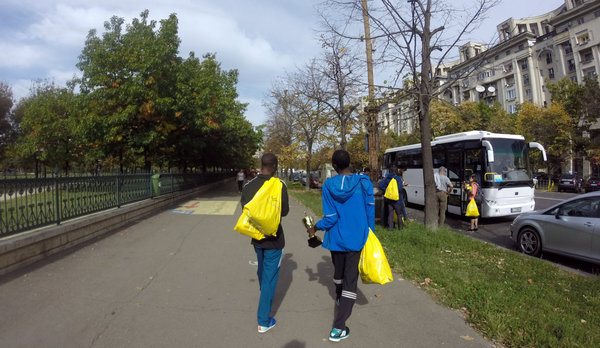 A shower and some food back at the hotel do the trick, I'm fresh again. The taxi to the airport now costs 40 Leus, so I got ripped off on the way here, by 150 percent. Well, at least the money went to someone who clearly needed it. This guy is less expensive, but his way of driving almost makes me vomit. It's time for autonomous taxis to arrive!
Time for a Review
The last marathon remaining is Brussels. That won't happen until October 2018, almost one whole year in the future. I've got enough planned for the time up until then, but I also think now is a good time to think about all the marathons I've done and compile a guide for other runners. What to expect, how to prepare, where to go. It'll surely be lots of fun to assign some points in different categories to all these races.
And that's why I started the challenge in the first place. Just to have some fun.
Thanks for reading and all the best to you all!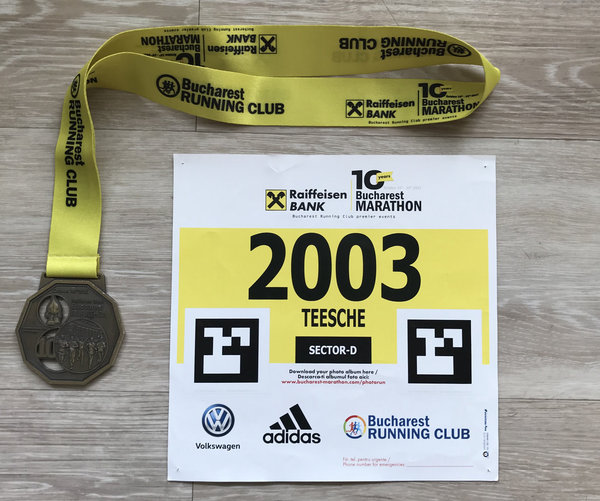 Certificate