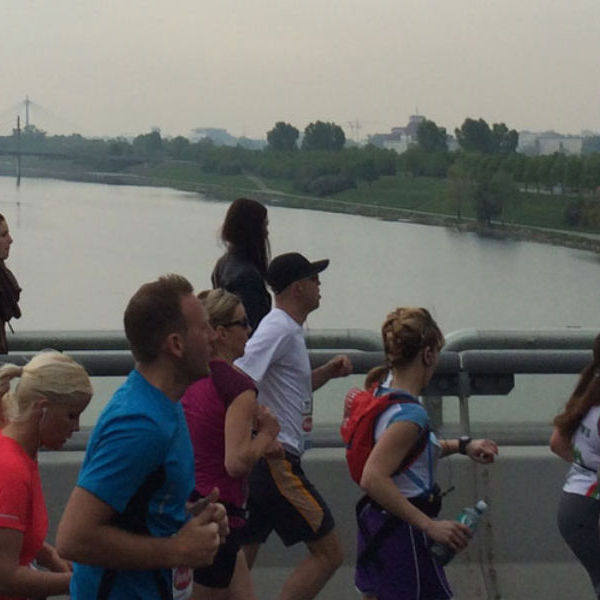 Vienna
13th of April, 2014
"Es war um 1780 und es war in Wien" – do you remember that song? I do, and I hope it is now stuck in your head for the rest of the day. Falco was quite the internationally known singer and if I remember correctly this song even made it to the top of the US charts, even though it's in German. Very few people managed to accomplish that. If you look at the video I linked, you'll see a good amount of sights from Vienna, and with the song being about Wolfgang Amadeus Mozart, who spent some of his best years in the city, being sung by Falco, who was a very proud person from Vienna, it is a bit of an anthem about the greatness of the city, I'd say.
I was very happy that Vienna was on the list this time. It is the only other German speaking country in the EU, and a place of great history. If you're interested in more details, Wikipedia will help you learn things like: In 1910, Vienna was the world's fifth biggest city, or that other great classical composers lived and worked here, for example: Joseph Haydn, Ludwig van Beethoven and Franz Schubert. It was and is a wealthy city with amazing old buildings like the Schönbrunn Palace and modern skyscrapers made of glass as well.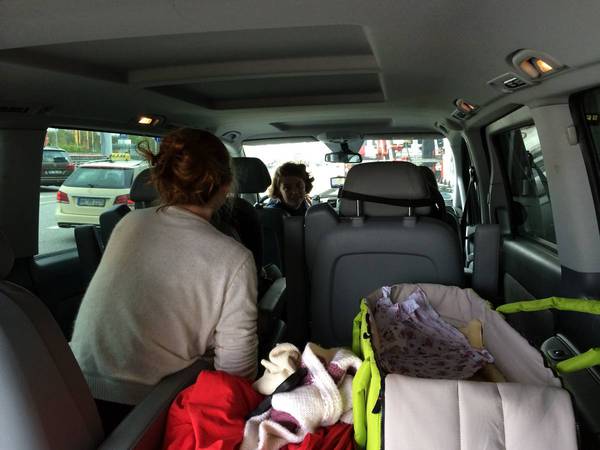 Our friend Vera was very helpful and drove us to the airport with our new car, which is a Mercedes Viano! If you remember my report about the Amsterdam marathon, which was the first one of the EU challenge, you know that we had a Viano as a rental car and I fell in love with it during that weekend and dreamt of one day owning one myself. That day has come. Just a week ago we purchased a simple and used Viano. It is just awesome and I am very happy. Finally we can put everything we need into our car and just go anywhere. For example: to the airport.
There we go, into one of those Germanwings airplanes, off to Vienna. It was a very good flight and both kids were really nice during the whole time.
Just a short train ride from the airport we found our flat quite near to the station Praterstern, and immediately noticed the cleanliness of this city. Look at this:
Of course we were quite tired after the flight, so we just fell into the very comfortable beds after I bought some necessary groceries for us. The next day started with a big breakfast and a trip to the marathon expo. Located within the Wiener Messe (Vienna fair), we could reach it by foot. As you would expect, it was perfectly organized.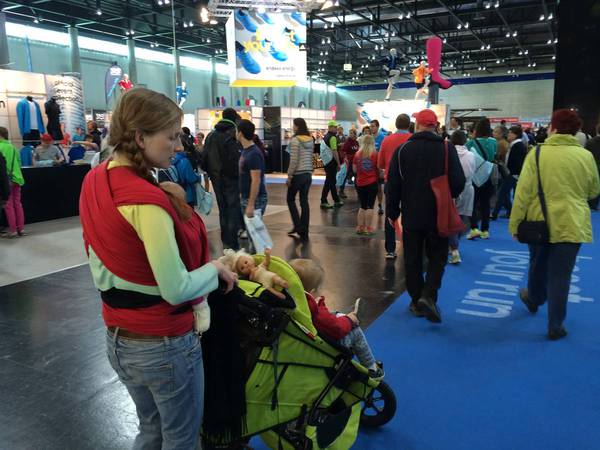 I got everything I needed (bib number, time tracking chip and two PowerGels), so we just left right away and looked for a place for little Julie to play. Amazingly, there was a playground right around the corner and we spent some time there. Julie loved the swing. On our way back home we came across the Wiener Prater, which is a city fun park that is permanently open. Comparable to the Copenhagen Tivoli, if you know that. If you don't, just imagine the Munich Oktoberfest but with much less beer. We had some lunch there and searched for a little train ride that we thought Julie would enjoy, but couldn't find it. So we slowly went home, cooked some pasta and had a really nice and relaxing family vacation afternoon/evening.
Now it's getting serious. Every marathon stands for itself. I don't think there will ever really be some kind of routine here. Especially if you don't have the time to exercise a lot. Since my last marathon in Rome, which was three weeks ago, I didn't manage to go running for just one single time. No running at all for three weeks. There was so much work and family, and then I spent three days of my free time in a recording studio with my old funk band ka-dance, which was really fun but exhausting and time-consuming. So there was just no chance to train. I saw this as a challenge though, and was looking forward to the experiment. Will I be able to pull off a marathon after three weeks of no training? Spoiler alert: just barely. Don't do this.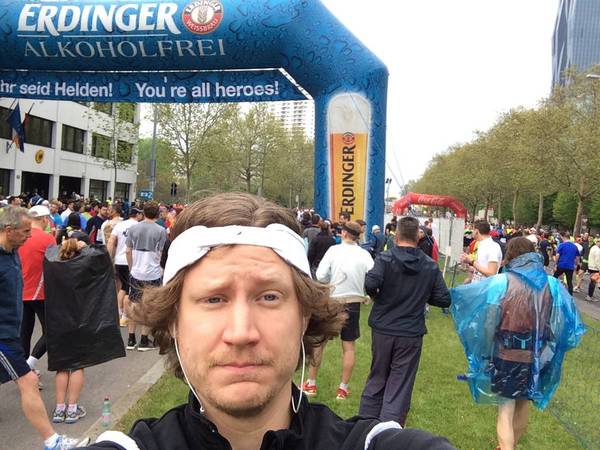 I got up at around 6:30, and if I remember correctly all three girls were still sleeping. At least a little bit. Had some cereal for breakfast and walked to the next subway station Nestroyplatz to go to the start of the race, which was on the other side of the Danube river. The train was already quite full with runners. When I stepped out of the train we were already situated right next to the start, which was perfect. There was music playing through a massive PA. Michael Jackson's Earth Song, full length, without anyone talking in between. I love that song, it has so many great parts! I felt really welcome at once. The race was very well organized as well, it didn't seem really crowded as you can see in the picture above, although there were 42,000 runners at this point.
Nearly 10,000 of them signed up for the full marathon, and the others were running a half-marathon or a shorter fun run of a few kilometers. But all those races started at the same time at this point. I just walked around for a bit to kill the time and then the race started. The crowd was cheering and the energy here was quite positive. The elite runners got a head start, we amateurs did have to wait for another six minutes until we heard a second gunshot that made us run away. Four hours of quiet in front of me! I enjoy this a lot. Having time to think about my life, my work, my family and friends, our future and everything that's related to it. It is a rare occasion these days, because mostly we all just have to function within our environment.
Back to the race. One of the first things of interest we passed, was this river: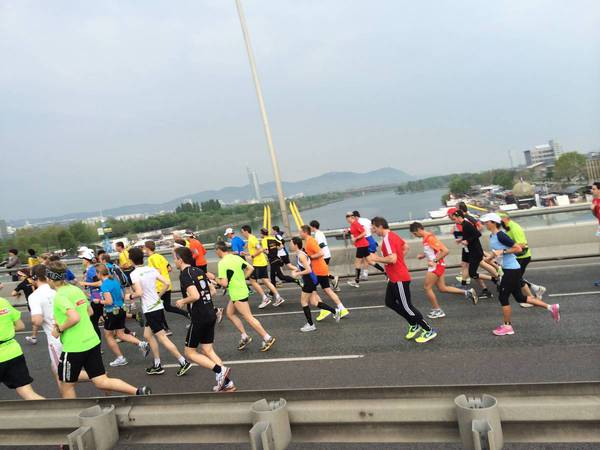 It may not look as impressive as it was, but trust me, the Danube is quite a river. At this point I remembered the marathon in Budapest, where I crossed the Danube a couple of times. And the upcoming marathon in Bratislava (Slovakia) will probably also be around this river. The Danube is everywhere!
Being from a city with a huge river myself, Hamburg, I immediately sympathize with cities that also have a big river in their centers. It gives those cities a kind of majestic touch, a calm and stable aura. Unfortunately this was the first and last time I would see the main stream of the Danube during this race.
Next there was Sophie with the two girls, already at about KM 3, which was great. The track went right next to our flat, which was well organized by Sophie. I was doing fine and had enough energy. At KM 8 we ran back to were our flat was, and Sophie and the kids were standing there again! Really cool. It was next to the Prater fun park where another playground was situated. Perfect for Julie. I was still quite fast and it felt good. At about KM20 the masses split up, because the race was nearly over for those half-marathon people. They just turned right and ran towards the finish, while we had to run twice as long. It was at this point that I noticed two pacemaker runners. I hadn't seen any of them so far and was wondering if there even were some. But these two guys were definitely pacemakers, and I got closer to them to get a look at what time they were going to run. I couldn't believe it: one was having a 2:00 hour half-marathon flag, and the other a 4:00 hour full-marathon flag. What?!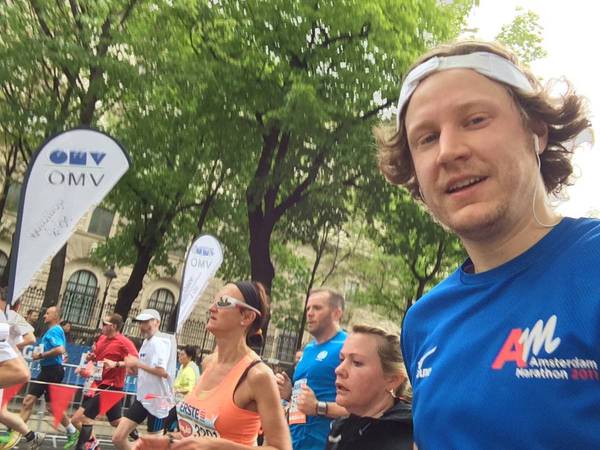 I think I have never been so fast! The two guys were saying good-bye to each other at this point, because the half-marathon was done. I felt a bit arrogant and just passed by the 4:00 hours guy. It worked! I told myself not to look back at any point to not feel like I am running away from him. That was going pretty well, too. At first, at least. At KM 26, we were at this park again, and Sophie was standing there in the slight rain, being really happy, because the kids were behaving so well. How lucky! She noticed how fast I was going and I told her excitedly that I was in front of the 4:00 hours guy. Then I looked back and saw him coming for me. Argh! I just had a PowerGel and kept running away from him. Up until KM 32 I managed to keep the pace, but then I saw him slowly taking over. It was a sad moment. I had to fight really hard to not lose my spirit at this point. I ate another PowerGel, but of course it didn't cause any miracles. I had to fight with my head now, remind myself to keep going. To add to this disappointment, my legs got really lazy and hard. I imagine I just had enough power for 32 kilometers in them, and it was just used up at this point.
What to do? As you might know about me, I will not quit a race like this. So I gathered my strength and kept going. Whenever there was some refreshments at the side of the street I used the chance to walk for a few meters to relax a bit. Starting to run again after some walking requires the most will-power, though, as you might imagine. At least they had blue Powerade again, my favorite. Then, another bad thing happened: my cell phone died! I was quite surprised by this, because so far I was able to track all my marathons completely. Then I remembered that I had installed this new Facebook messenger app, which was eating the whole battery. What a stupid app. Deleted it right away. At KM 38 Sophie and the now sleeping girls were there again to show support, which helped a lot. I forgot to tell her about the dead cell-phone, which would make it a nuisance to find each other in the finishing area. I thought about that mistake for the last four kilometers, which seemed like a really long way.
But like all other races, this one ended at some point as well. What a relief! Oddly, I felt a bit free when I didn't have to immediately hit "Stop tracking" on my phone right after the finish line. This was a new thing. Just reaching the finish line being happy that I'm done, not thinking about anything else. I liked it!
So now came the hunt for my family. I was mentally prepared to search for a long time, and even to go home on foot and wait for them there. But thankfully, they were just standing there at the runner's exit! How great was that. I could just get my big hugs, sit down for a while to relax, and then walk home with them slowly.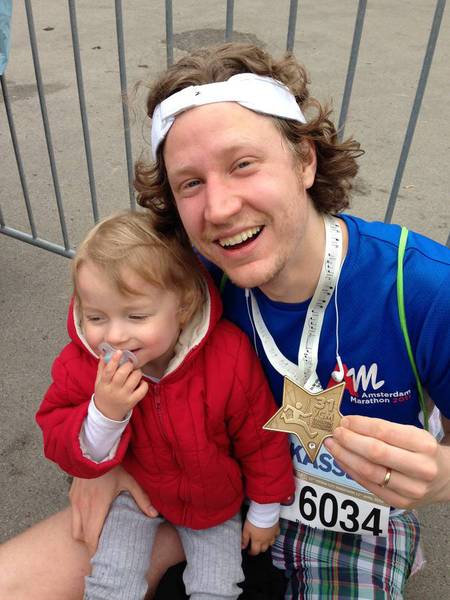 After a hot bath with Julie at home, and a huge original Wiener Schnitzel at a fine restaurant, I felt so good. All four of us were exhausted but very happy. It was a great day. When I checked my loaded phone again, I saw a message from my running friend from Austria, Jürgen Penthor, in which he congratulated me for my finishing time of 4:14:57 – he new my finishing time before I did! This is still a time of which I am quite proud. My second best marathon time so far. Also, I realized that I'm just not ready to run a Sub-4 marathon yet. But the time will come and one day I will be able to pull this off, I am sure.
The next day we made a trip to the previously mentioned Schloss Schönbrunn (Schönbrunn Palace), which was windy but really nice. Although I had really sore legs I managed to walk up the hill pushing the buggy like a Grandpa.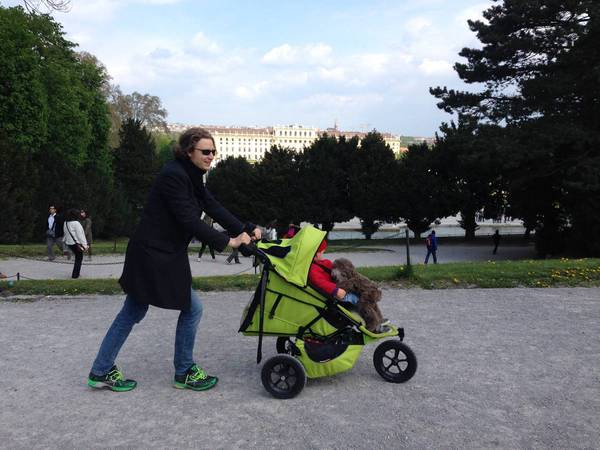 After that came another highlight: we were flown home by my good friend Hodg, who is a pilot at Germanwings. He managed to switch flights to be able to fly our plane, and that's what he did. I've been flying with him before, but this time was great because Julie got a chance to take a look at the cockpit, which is insanely interesting. During his speech to announce the directions to the passengers, he even put in a little special for us, because no one ever listens, and he said: "Good evening ladies and gentlemen, my name is Hodg." – really cool.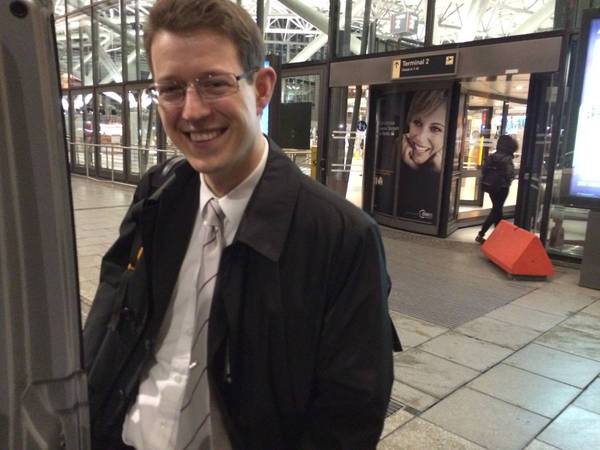 And when we arrived in Hamburg, there was another good friend to pick us up from the airport. Keno, who even took the time to prepare this great outfit including the sign for us. What a great guy. Check out the hat!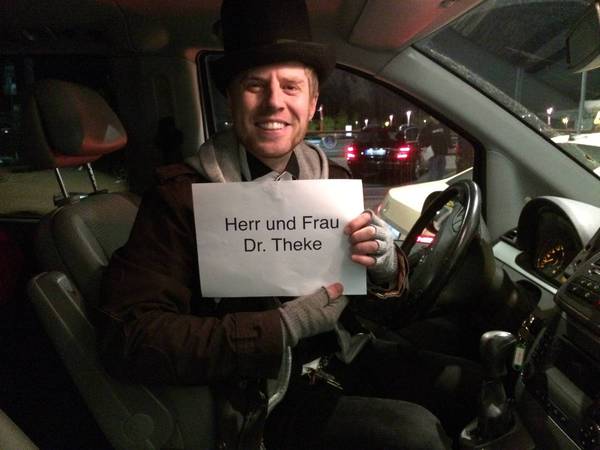 Exhausted but happy we arrived home safely and almost immediately fell into our beds. I'm looking forward to the next marathon already, which will be in five weeks, in Riga, Latvia. Looking forward to it, because I've never been to the city and heard great things about it. This time I'm going to have to do some more training, though!
Thanks for reading this and if you were one of the people who clicked on Like on Facebook: Thanks as well! I got some of those messages during the run, but the dying battery killed the last few. Next time it will work better for me.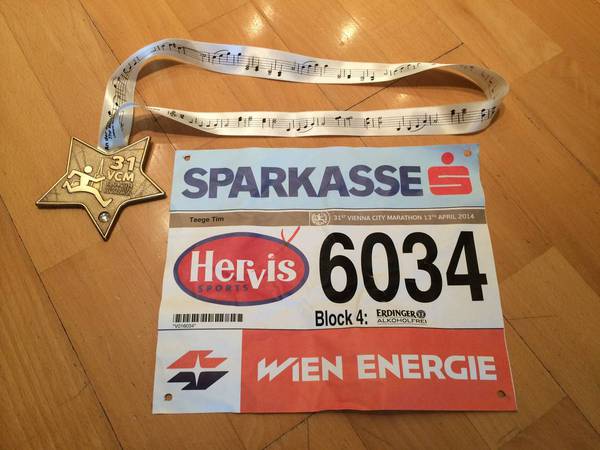 Certificate