What's It like to Run the Boston Marathon?
Boston Marathon Race Report
The Runner's Race.
For the majority of people, entering this race takes serious commitment and an effort often spanning many years. For some, it's a lifelong dream never achieved due to its difficulty. That's because of the immense popularity of the race. Why is that, and is it justified? Find out here!
👉 Do You Plan to, or Have You Already Qualified for Boston Marathon?
Keep on reading, I have some helpful advice for you! And in case you're not yet dreaming about running Boston some day, you might be going to want to after reading this post.
"Wait, 'qualify' for a marathon race?"
Yes, it's not like you can just head to some website, enter your credit card details and book flights. Before doing that, you need to prove your worth to the Boston Athletic Association (B.A.A.), because there are many more amateur runners who want to run Boston than the maximum of about 30,000 participants allows for.
🎉 Why is the Boston Marathon so Popular?
The Boston Marathon is special in several regards. The main one which is often mentioned first is that it's been the oldest continuously held marathon race. It's been going on since 1897, for 127 editions at the time of writing.
The marathon race itself was invented for the first modern Olympic Games of 1896, held in Athens, where, thousands of years ago, similar athletic competitions where regularly occurring. That race was the highlight of those 1896 games. The good people of Boston, Massachusetts, saw this and in true sportsmanship, decided to organize a marathon race at home the following year. The race survived two World Wars, many economic crises, 22 different U.S. presidents, and was only canceled once: During the COVID-19 pandemic in 2020.
Starting in the 1960s and 70s, as worldwide interest in physical fitness soared, the popularity of the Boston Marathon grew, recognizing its status as a pioneering event. From just 15 runners in 1897, a few hundred in the early 1900s, the 60s and 70s saw the numbers of participants break 1,000 and 5,000, then 10,000 in the 1990s, 20,000 in the mid 2000s, and a consistency of around 30,000 runners since the 2010s, at which point the B.A.A. set the limit in place and had to make "getting in" increasingly difficult.
The race was also the center of several historic events, such as the first female marathon racer in a major event illegally entering and finishing the 26.2 miles (42.195 km) in 1966, despite the race director firmly believing that the female body just wasn't able to accomplish this. Retroactively, that female runner, Bobbi Gibb, was officially recognized as the first woman who finished the race. An official competition for females was introduced in 1972.
More recently, in 2013, the Boston marathon bombing happened, where two brothers killed three spectators and severely injured more than 200 using home-made bombs. That event, as horrible as it was, brought runners and spectators even closer together in spirit in the years thereafter. The motto #bostonstrong was created, and out of the fun sporting competition, a much deeper sense of resilience sparked and the race's cultural significance increased. Spectators and runners started feeling even more like a team. Find out more historic information here on Wikipedia.
The whole city of Boston burns for the race, including the suburbs where the course is mostly located. This is especially facilitated since the race is held on the third Monday of April, which is a public holiday called "Patriot's Day".
🗽 What About Boston Marathon vs. New York City Marathon?
Around the world of amateur marathon runners, my observation is that the NYC marathon might even be more popular than Boston. I don't know if that's a correct statement and I look forward to being able to draw my personal conclusions at the end of 2023 when I will have done NYC too, but my current hypothesis is that New York City Marathon is a race celebrating the magnificent city, while Boston celebrates the race, meaning the athletic activity of running a marathon itself. That's why some call Boston "The Runner's Race".
This all ties in to why you need to qualify for Boston by running a fast acknowledged marathon race before entering the lottery.
The qualifying times were increased in difficulty several times over the years and depend on your age group and gender. Additionally, making it harder to get accepted into the race is another motivator for entering for many runners, even further increasing the difficulty.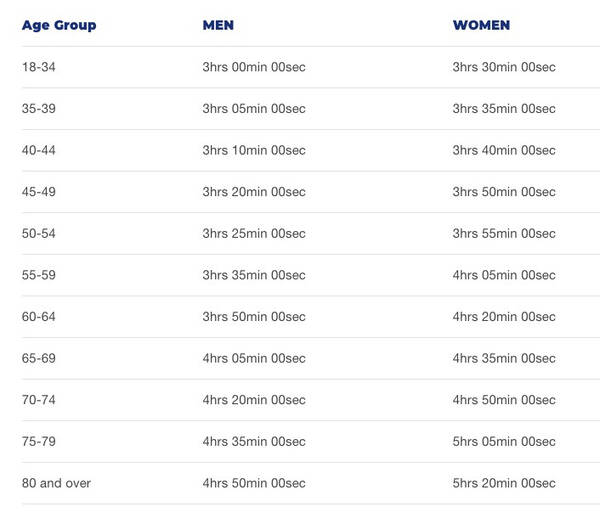 As of right now, a person of my age group, the male 35-39 year olds, needs to run a marathon race in less than 3:05 hours. That qualifying race needs to follow some standards – for example, it can't be a super easy course with tailwinds and slight downhills all the time, or unclear unofficial measurement. The B.A.A. accepts or disregards qualifying races as they deem fair. Still, in many years, more people meet those standards than slots are available, which is when the lottery goes into effect.
For me, personally, Boston came as a consolation price when I narrowly missed my goal of running a sub-3:00 hour marathon at Hamburg Marathon 2022. I ended up with 3:00:40, more than four minutes faster than Boston required, which is why I took the chance and signed up.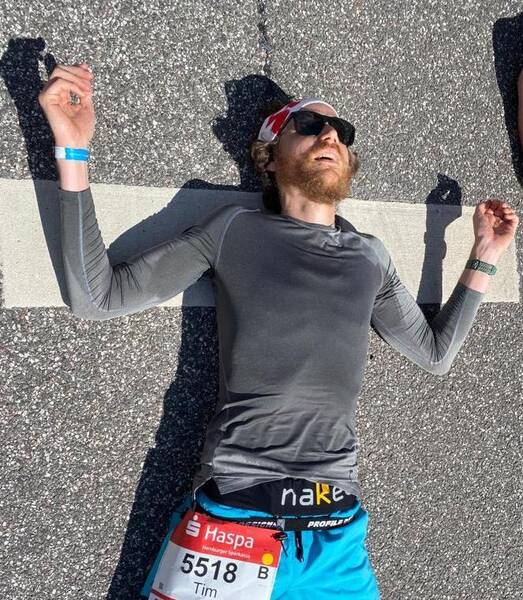 Surprisingly, a few months later, the B.A.A. sent out the news that for the 2023 edition, every single applicant was allowed into the race! Meaning the number of applicants didn't exceed the number of slots this year, which I believe is quite rare.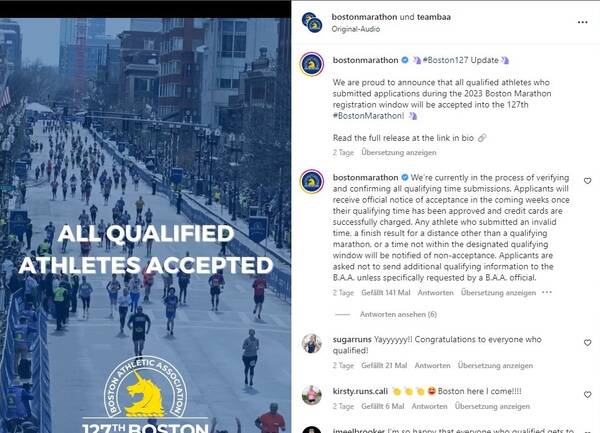 I'm not sure of the reasons, but hypotheses include the current economic uncertainty after the pandemic, the still unreliable world of air travel, or maybe even an increased awareness of the ecological implications of such a trip amongst global runners. I don't know, but I too contemplated these factors before taking the step to sign up.
In the end, the argument of it being a once-in-a-lifetime experience and quite possibly something I won't forget until the end of my days, my love of the USA as a country and city marathon racing as a sport, and of course the significance of the Boston Marathon in the world of marathon running, topped the concerns.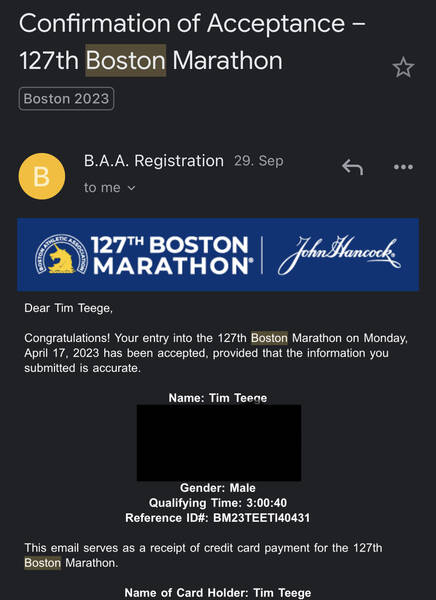 Fast forward a few months from making the decision some time in September of 2022 to race weekend, April of 2023.
On the KLM plane from Amsterdam to Boston, the flight attendant greeted all passengers by saying "And a very special warm welcome to all our marathon runners!", followed by applause and people either cheering for themselves or admiringly for those others. This was very different from all other 72 marathon races I've done so far. You go to Berlin, London, New York City, Amsterdam, Rome, for hundreds of reasons, but when you go to Boston during that third weekend of April, the one reason is often clear.
🤩 The Race Weekend in Boston Starts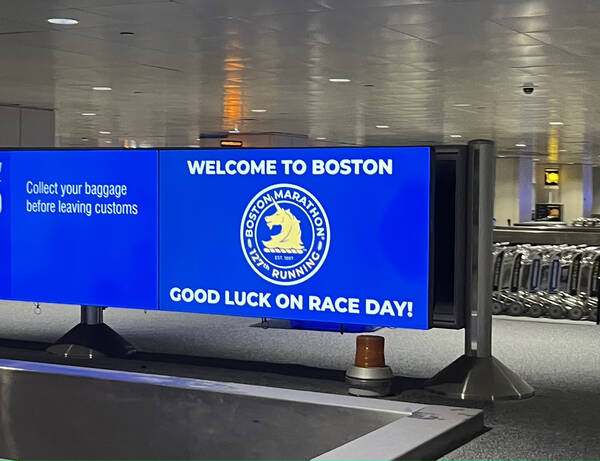 I spent the first morning after arriving walking through the city, having a 5 AM jet-lagged breakfast, and of course doing a shake-out streak run next to the Atlantic.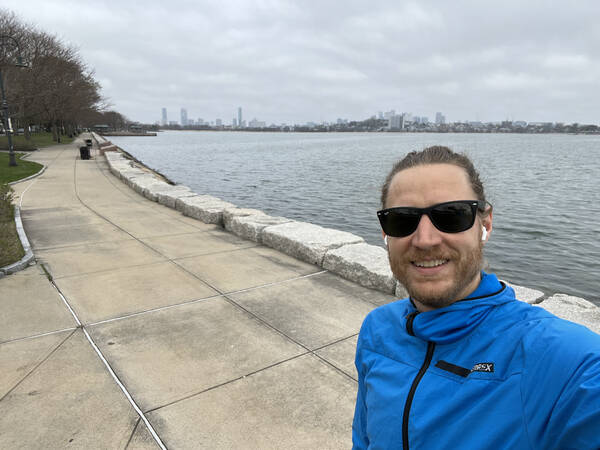 Even though my accommodation was located a 40 minute train ride away from Boston's city center, I overheard the words "marathon" and "race" seemingly everywhere in conversations. The event is on the minds of the people, and not in the negative way I am used to, as being an obstacle by blocking major roads for most of that one day per year.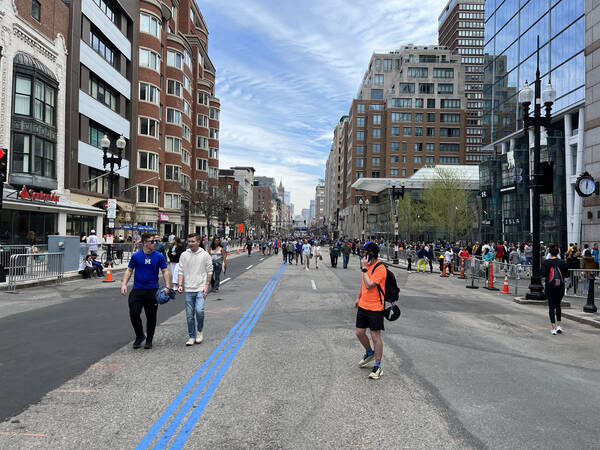 As you can see, this whole long street in Boston's center, Boylston Street, is blocked for traffic in favor of runners enjoying the atmosphere, already two days before the race.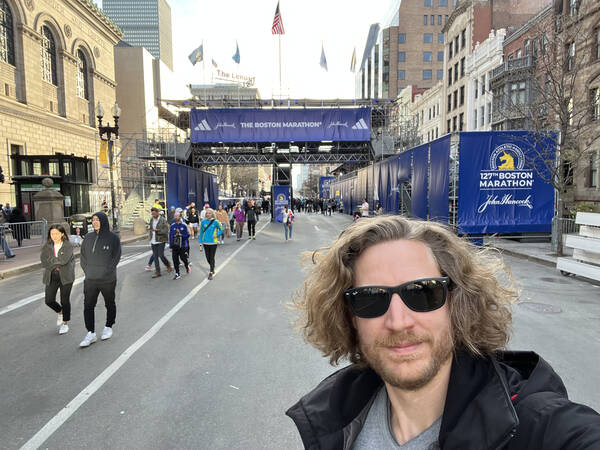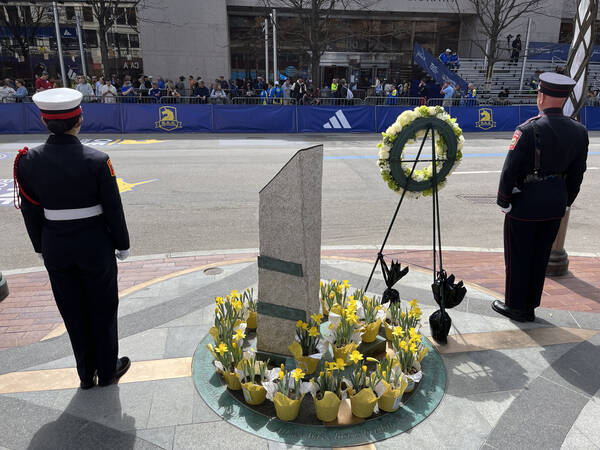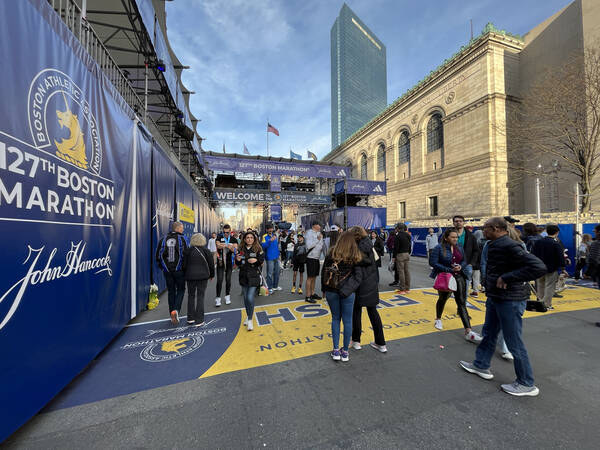 I met my friend Philipp from Hamburg around here, who had also qualified last year and made use of the opportunity to come to Boston. We went to the race expo which was so huge it had to be crowd controlled. After standing in line talking for quarter of an hour, I festively received my race bib.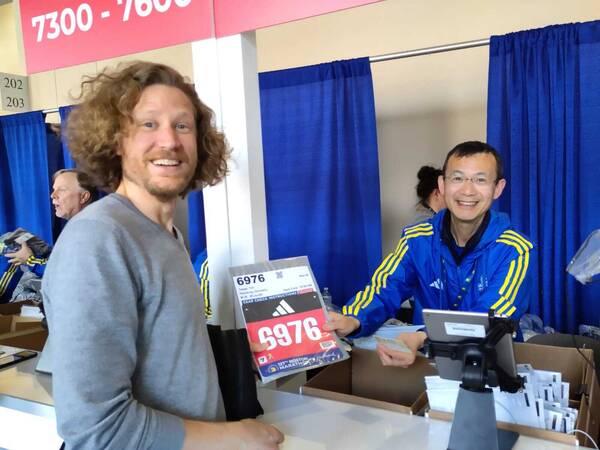 For a comparably large entrance fee of about 250 US dollars, the swag bag was rather average. I don't mind, since it was obvious how much effort and funds went into all the other organizational parts of the race weekend.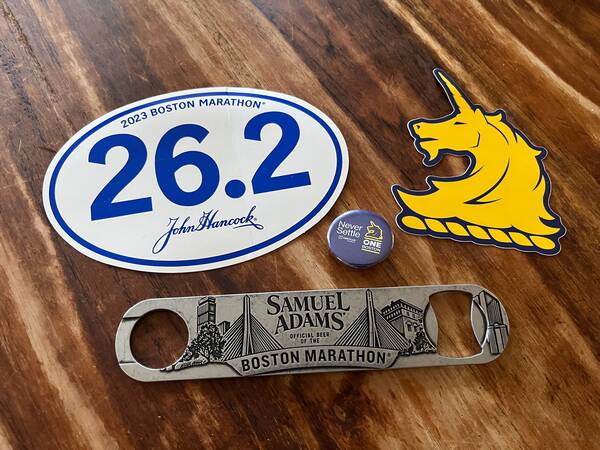 Not pictured: A long-sleeve functional running shirt of solid quality, Boston-branded, a couple bottles of electrolyte drinks, and a few other minor goodies.
🤑 Capitalism! USA! USA!
Next, we entered the immense expo. This was also different from the other marathons. About half of the main hall was used up by adidas, the big running brand with its three stripes, which seems to be some sort of exclusive sponsor because I couldn't find any other shoe or running gear brands around. The other half was set up like a museum, showcasing running shoes used in the years between the inaugural edition and today, for example. A separate hall had some usual companies showing off their products, but these were mostly obscure and not as specifically connected to running. Massage gear, nutritional supplements, that sort of thing. Also, I didn't see the charming people trying to get you to sign up for their cool races in other cities. That was a shame, because I've got inspiration for going to many great races that way before.
The huge adidas area in the main hall was clearly the main attraction. I didn't believe it when I entered, but that was actually the place where everyone bought the Boston Marathon gear to show off at home. Sort of like the gift shop of Disney World. You're there, so you feel like you have to bring something home to remember this unique experience and also show off you've made it to Boston. It was giving me the feeling of being like a theme park.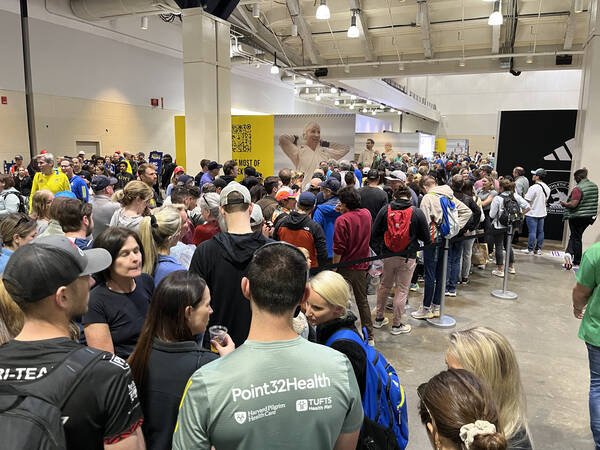 Everything about this screamed "don't do this!", but what can I say. I'm only human, too 😅. An hour later, which consisted mainly of waiting in multiple lines and grabbing whatever clothes I could as quickly as possible with Philipp's help, I was worth a couple hundred dollars less and had an even heavier backpack to carry around. The profit they make during these few days must be unfathomably high and might even outweigh their sponsorship spending to the event. A gold mine for the company. "Leider geil", as us Germans say. Unfortunately awesome.
Afterwards, we explored the street next to Bolyston, which is called Newbury Street. Here, most of the running gear companies have their permanent stores. That makes sense, because it's right next to the Boston Marathon finish line. Many non-permanent popup stores focusing on runner's needs had sprung up here as well. The road is closed for motorized traffic during race week as well and the huge crowds including us enjoyed strolling around, feeling like kids in a candy store surrounded by all these like-minded people and opportunities.
Nike had a Live DJ, at Brooks there were talks about running, restaurants had special free meals for runners, community runs with free shoe testing were happening here and there.
💡 Tip #1: Stay Longer in Boston's City Center
I had planned for just two full days in Boston before the race. And I chose a cheaper room which was quite removed from the center. For anyone going on a Boston Marathon trip in the future, I would strongly recommend to live close to Boylston Street and stay for at least 4-5 full days to make the most of all the opportunities.
In the evening, Philipp and I met up for dinner with today's new arrival Nico, who had also made it to Boston. Plant-based Impossible Burgers at the Cheesecake Factory. Delicious and full of carbs. Perfect for fueling up for the marathon. There was lots of laughing as we enjoyed this situation we found ourselves in: Having qualified for Boston Marathon, actually having made it here happy and healthy, and getting to enjoy American food without restrictions.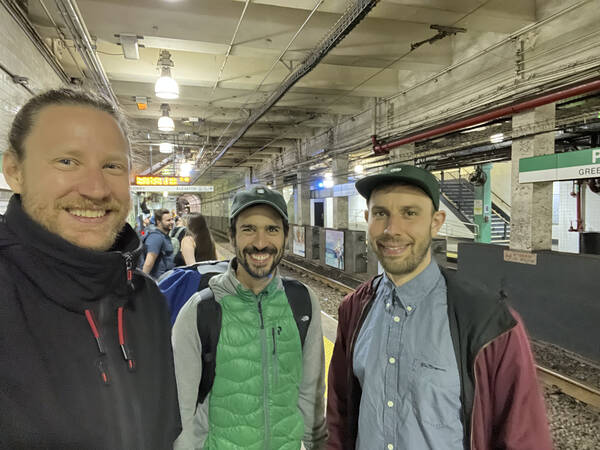 Here's a bit of advice for tourists coming to Boston.
Public transport is so weak it borders on unusable. The metro or subway, which is called "The T" seems to be under some half-hearted construction everywhere, requiring an average speed of that of a slow bicycle. Forty minutes for eight miles. It's squeaky, shaky and I routinely got dizzy in it to the point of having to exit it before my scheduled stop to avoid vomiting. During the marathon, I saw a spectator holding a sign saying "You're running a lot better than the T!" – Now I was in on the joke. There are alternatives, e.g. you could use cheap BlueBikes to cycle yourself around. But when living eight miles away from the city center like I did, that takes too much energy and the roads aren't built with cyclists in mind which makes it quite dangerous. Still, I did it twice. Cabs or Ubers are too expensive for that distance, too, so my recommendation is to take that into account and prioritize accommodation within the city center, even though that's more expensive. The advantages outweigh it.
This was part of the reason I chose not to use my additional day in Boston for another trip through the city but for a roadtrip. I spontaneously rented a Tesla Model 3 and let it auto-pilot me to Cape Cod for some fresh Atlantic air and seafood. That was well worth it.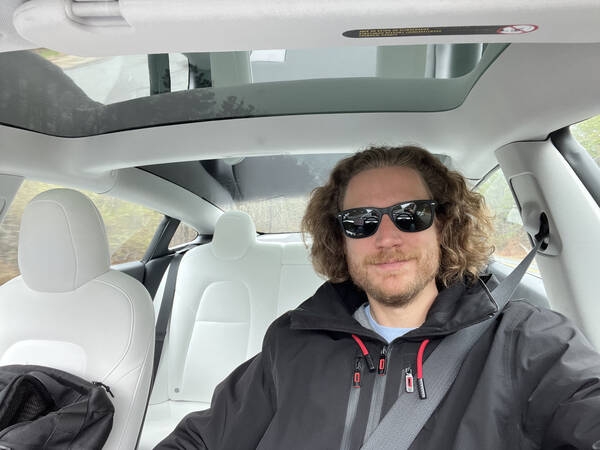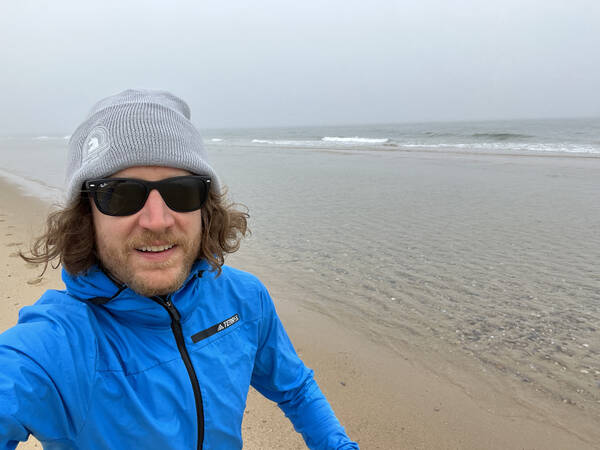 😎 Day of the Race
Monday, April 17th, 2023.
The official start of the race for my starting wave is at 10:00 AM. The professionals start slightly earlier, the slower waves later. Although that's a late time for a marathon start, I needed to get up at 5:00 AM to make it.
Don't want to miss new stories?
Subscribe to the free newsletter here:
You'll never ever receive spam email and you can unsubscribe at any point.
That's because the start is located outside of the city center, in the neighboring town of Hopkinton, more or less 26.2 miles west of Boston. It's a point to point route. All tens of thousands of participants, volunteers, and spectators needed to be moved there, which required hundreds of these yellow school buses.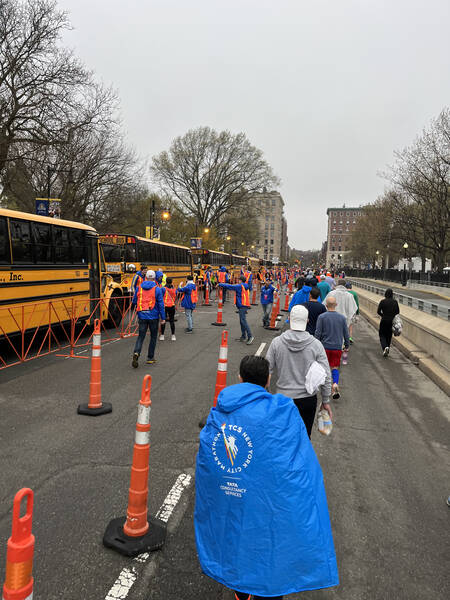 The harsh reality was that these buses are built for children, not for 6'3" (1.90m) adults like me. I was put into the very first bus. About an hour later, the friendly driver ejected all of us with a few encouraging words. It's a cold day, foggy. Quite typical for Boston in spring, as far as I know.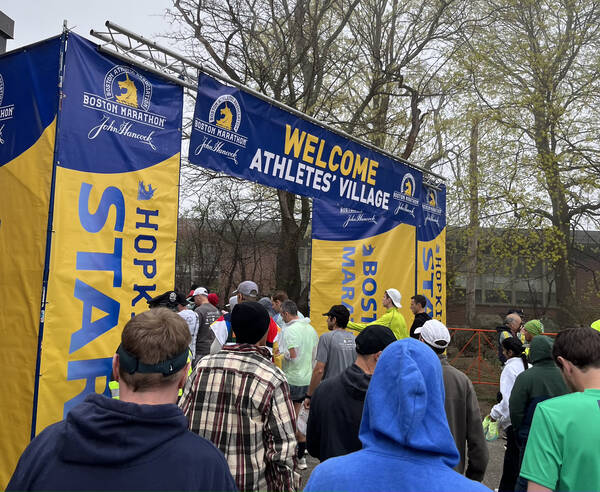 The grounds of a school were used to store all the thousands of runners until we were finally set free to run. But that wouldn't happen for another two more hours of waiting in the cold. Thankfully, they had put up huge tents on the meadow. It's less windy in these, but still fairly cold. Many runners were aware of that and had brought these aluminium sheets or "space blankets" with them in order to keep warm. One to sit on, one for the body. Old clothes were also a common option, because there were volunteers collecting those for charity on the field, making it easy to get rid of them and doing something good. I even saw a few who had taken old looking sleeping bags, were lying down and took a nap in them. I would have loved that!
An incredible amount of porta-potties, water and Gatorade, a huge jumbotron screen and an elevated emcee commenting on everything rounded up the picture.
💡 Tip #2: Plan for a Long and Cold Wait at the Starting Line and Bring Two Space Blankets
Every runner received a 1 gallon plastic bag which was allowed on the bus. I, as well as many others, used them to take some cereal bars and bananas for the hours ahead. Those are not drop bags and won't be taken to the finish line, unfortunately. I had drinks in them, too, but those are unnecessary because they are provided in Hopkinton. Space blankets are a must, though. I was shaking even in my considerably warm running gear. And on the off chance the marathon is taking place on a hot day – it happens – the blankets weigh and cost nothing.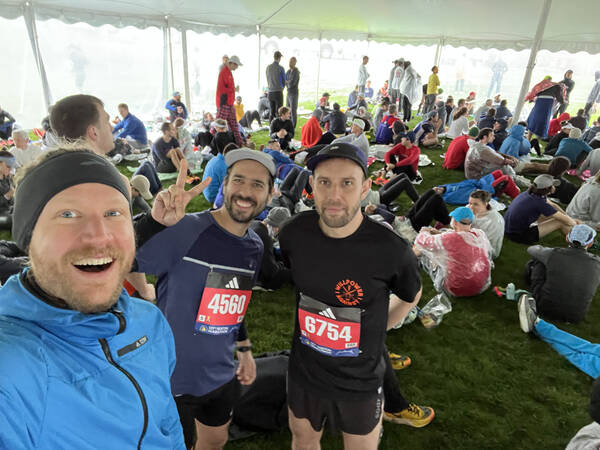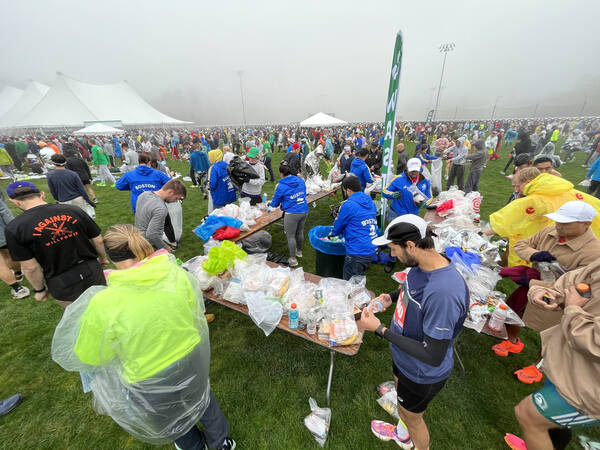 Take a look at the number of porta-potties at the end of the meadow! They had more on the other sides, too. Still, there were waiting lines in front of all of them. The number of runners at this remote place waiting for such a long time make them an important requirement.
Finally it was time to leave for the march towards the starting line.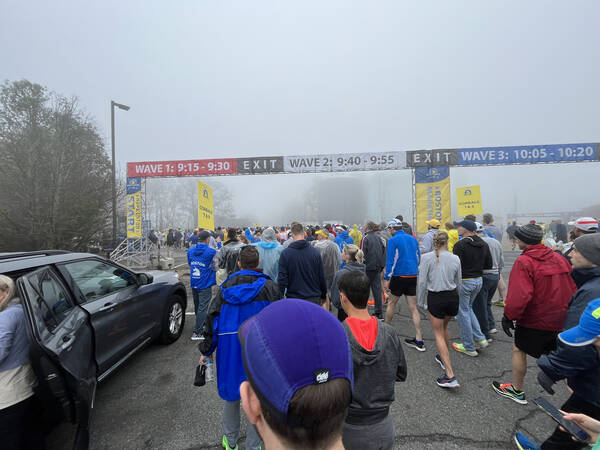 Still, it's another 45 minutes until the gun will go off. But when you're moving through the streets of the town as opposed to standing still on a green meadow, time goes by faster. All of this time between waking up and the start of the race, during which not much actually happened, was building up the anticipation for the race even more.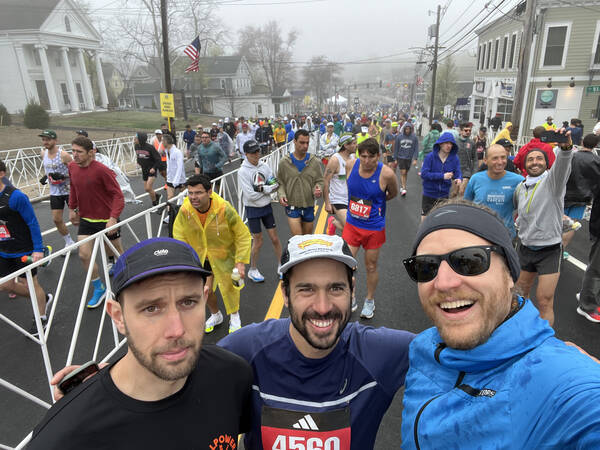 A few more minutes of waiting and chatting. The people around us were frowning because we were in such a good mood – I'm not sure why they all took this so seriously. To us, this race was a celebration most of all. I guess, since we're in the fastest starting wave along with all those high achievers, they were motivated to go for a fast result today. That kind of self-imposed pressure makes you apprehensive and not that receptive for jokes or silliness. I know the feeling.
💡 Tip #3: Don't Go for a Personal Best in Boston
A little tip on the side from me would be to just enjoy this race. If you've made it here to the starting line, don't make it a priority race or try to break your personal best. The course is too difficult for it and the weather most often rather challenging. In most years, it's cold, rainy and windy like it is today, but some years have also seen high temperatures of near 90F (30°C) on race day. This isn't just tough for most to get through at all, it also creates an unflattering right side sunburn, because the race is going from east to west at all times.
It's much too unpredictable. Today, we had slight head winds and the cold and rain were an obstacle, but just three days ago when I arrived, it was a 80F (26°C) sunny day in Boston. A few years ago, the fastest elite runner of the Boston marathon managed to pull off a 2:03, which is nearly world record on a great day with tailwinds, but in other years, the winner needed 2:15 hours or more in tough conditions.
So do your best, but stay in the moment and look around, taking it all in. Also, there are no pacers here, so in case you want to go for 3:00h, 3:15h, 3:30h or anything else, there's no one to help you. Most other big races have those pacer groups and they are hugely helpful.
🟢 Start of the Race
At the starting line, there was a little stage and a few people cheering, but it wasn't huge. Must be because this is a little village and transportation is not easy with all those buses full of runners blocking the roads. It's in the nature of this whole course that bringing your own family and friends to cheer you on during the race a few times is next to impossible. They can pick one spot and be there, but that's probably it. I'd recommend the finish line area for cheering.
I don't remember much about the start, but it wasn't a huge deal. The USA anthem was sung quite prettily, which wasn't surprising, then there was a countdown, and off we all went.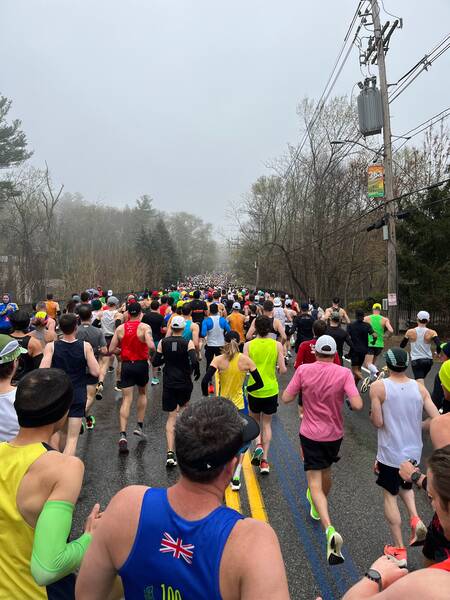 Philipp and Nico had plans to crack three hours today, which was too far from what I could hope to achieve myself, so we said goodbye early on and I was on my own in the crowds. Finally some warmth caused by the physical activity! I remember a slight bit of rain during the start, but it wasn't too bad. Since I was surrounded by trees and runners, the winds weren't noticeable, either. The temperature slowly crept up, but it wouldn't get much over 10°C (50F) – although it felt colder than that. A temperature like that is actually perfect for marathon racing. But add wind and rain and it becomes uncomfortable fast.
Even though the start is considerably far from the city center, nearly all 26.2 miles are lined with spectators. I suspect those are mainly the ones living in those villages and suburbs. They are loud and hold signs, smile, have barbecues, blast music, and enjoy the race, too. It feels like they are with you, I think. Somehow even as if you're doing this thing together. I liked that, it's a very different feeling from other city races. It's loud, though.
💡 Tip #4: If You Have Sensitive Hearing, Bring Ear Plugs
I saw a bunch of people with those in their ears and I could understand why. While mostly it's fine and the noise just adds to the race, I was glad afterwards to have some silence. You can't escape the noise because crowds are loud on either side and you can't blame them for cheering for you! Still, this is something to consider. Ear plugs cost and weigh nothing.
The first few miles make for the steepest downhill section, and in general there are more downhills than uphills on the route. This tempts many to start faster than they probably should. Most fail, but not a guy called Yuki Kawauchi, who, in 2018, ran away to the front right here but still somehow managed to take home the win in the end, against everyone's expectations. Check this video about it on YouTube, it's worth it.
I myself had set a goal of running at about 7:15 minutes per mile pace (4:30 minutes/km) and see how far I would get. Training wasn't perfect, because I got sick a few times more than I had hoped for, and my energy levels were not where I would have wanted them. This was an ambitious decision on my part, especially regarding the difficulty of the course. Nothing to lose, though. The pace felt good for a long time, so I just kept going.
I need to stress the quality of the aid stations. These were really done well. Very long, with lots of friendly volunteers, offering mainly water and Gatorade electrolyte drinks. That's usually all you need. They had a bunch more, like for example bananas, but most people get through a marathon just fine with water and sugary water and some gels. Gels were provided at three separate stations, starting at around the halfway point, which was also perfect. They had the Maurten brand, which I think provide some of the best endurance gels these days. Some with caffeine, some without – it's your choice.
The smart twist about the aid stations though, was that each of those was basically two aid stations in one: First on the right side of the road, and a few dozen yards later, another similar one on the left side. That's not only cool if you're left-handed, but also gives you a good option to have twice as much to drink. And it gets rid of much of the usual aid station congestion.
Also, there was an aid station for each mile! If I remember correctly, there wasn't one on the 26th mile, so it was 25 aid stations total – or 50 if you count the additional ones on the other side of the road. That's crazy much, in fact, I think I've never been at a marathon race with so many aid stations. Certainly a big luxury making it all quite a bit easier. No one would have a chance to get thirsty or run out of carbs and electrolytes and any point.
🙀 Entering Wellesley
Now here's the most unique experience I've ever had at any marathon coming up. It's known as the Wellesley College Scream Tunnel. And it did justice to that name.
Right before it, there was a stretch of maybe a mile without much crowds. The noise went down, as if to warn about a storm coming up.
But first, I saw this incredible man. His appearance reminded me of the Boston Marathon bombing of 2013, where many people lost limbs. I don't know if he was among the survivors or if it was a birth defect or unrelated accident, but this bold and almost defiant behavior always makes me emotional. It just shows how much we humans are capable of doing if we set our minds to something. Never give up.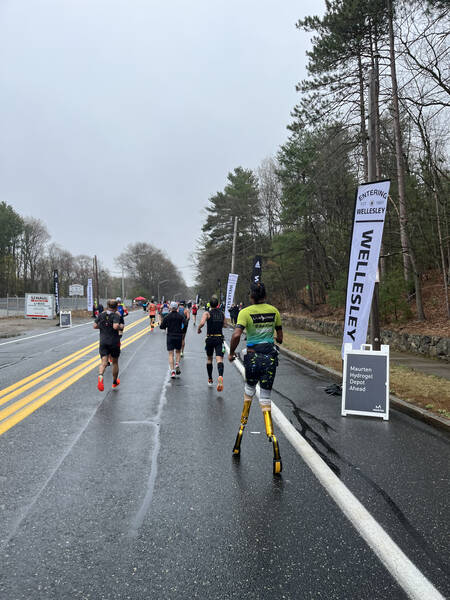 The first free Maurten gel, which by the way cost way too much if you just buy them regularly, and suddenly there was an ominous noise in the distance. I noticed it early on. Something is coming. And since I didn't know about that Scream Tunnel, the surprise added to it.
Again, the video doesn't do it justice, it was just so overwhelmingly loud! Wellesley Girls College has a reputation of doing this during every Boston Marathon, so they deliver. High fives were given out like there's no tomorrow, and I was quite surprised to read some of their signs saying things like "Kiss Me!" or "Free Kisses!", and even one that said something like "I ❤️ U DILFs!". Although flattering and well-intentioned, I think that last one went too far, for the record.
When this was over, I honestly needed to collect myself. What had just happened?
It was definitely a positive feeling. But even though I used to play in a rock band, I wished I had brought some ear plugs.
⛰️ The Heartbreak Hills
Now, onto the tricky part. At some point, two thirds through the race at around 16 miles (27 km) in, the downhills are replaced by several uphill sections. I counted four of those, the last one being known as "Heartbreak Hill". I only knew about one Heartbreak Hill, which wasn't great. On the visual breakdown, it doesn't look too tough, but at this point in the race, it is.

💡 Tip #5: It's Actually Four Heartbreak Hills, Not One
After each one I was wondering: Was this the hill? Is it getting easier now? My own pace went down considerably and the fatigue fully set in. This is the case for many, hence the naming. It would help a lot to know it's four and not one hill to climb, so here you go.
The winds and sprinkling rain didn't make them easier. During that last hill, I even had to walk for a minute to catch my breath and collect some left-over willpower from somewhere. The reminder "This is Boston Marathon!" helped. The 7:15 min/mi pace average was over. I knew right then I wouldn't be able to hold it until the end, so I just focussed on not dropping to an embarrassingly slow pace but finish with a head held up high instead.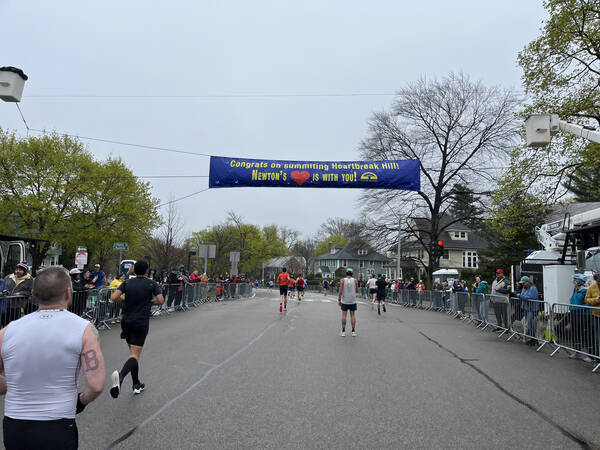 Starting from here, nearly all until the finish line would be downhill. But running mostly downhill for hours on end is also not that easy to do: You use your muscles in a different way compared to flat or uphill running training. The quadriceps need to do more of the work. For me, and I suspect for many others, this leads to a more pronounced heel strike, too. Going downhill, your foot hits the ground heel first instead of on the ball of the foot as recommended. This increases the impact and removes the ankle joint from the equation of cushioning it. It's not great, physiologically, and I was starting to pay the price here. Muscles got sore which usually never did during my 72 previous marathon races.
💡 Tip #6: Consider Wearing Shoes with More Heel Cushioning
Another mistake I've made: I chose my very hard carbon-plated racing shoes, the Hoka Carbon X3. They are made for fast flat racing, but not great for cushioning a heel strike. There are racing shoes which are good for that, though. Those fast Nike Vaporfly and Alphafly ones come to mind, and I was longing for my own Asics Novablast 3 at this point, which would have been great, as well.
We're entering the city now. Crowds are increasing, the streets are getting wider. But the weather is getting worse, too.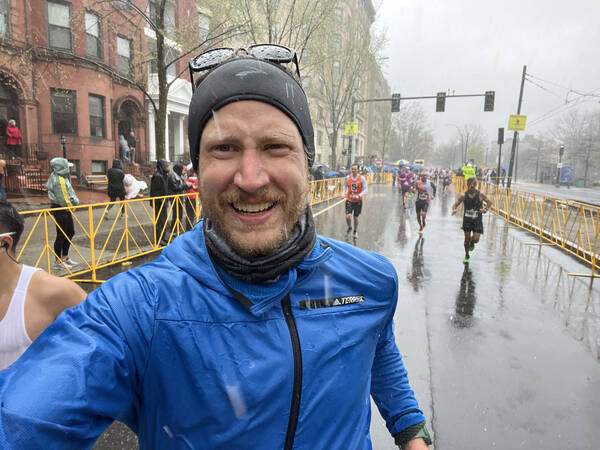 It was just a short and heavy shower, thankfully. But I was completely soaked afterwards and started shivering from the cold winds. Should've taken a rain jacket instead. I couldn't understand how so many people here were running in singlets, and I even saw a few who ran bare-chested. Do these people feel no cold? I want to know their secret! Probably the secret is being from Boston.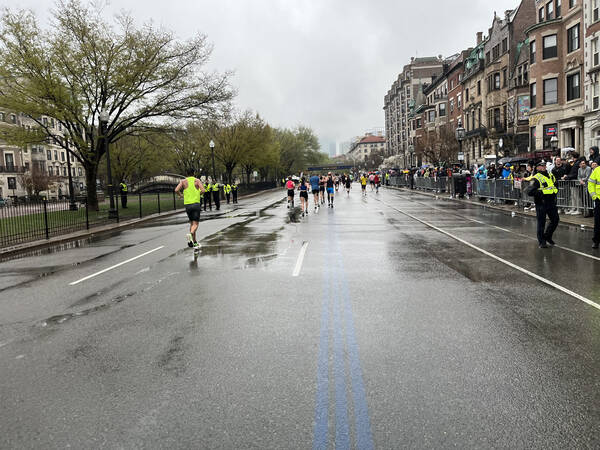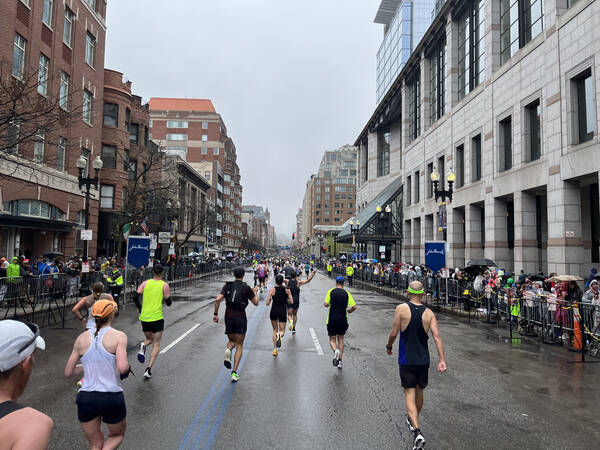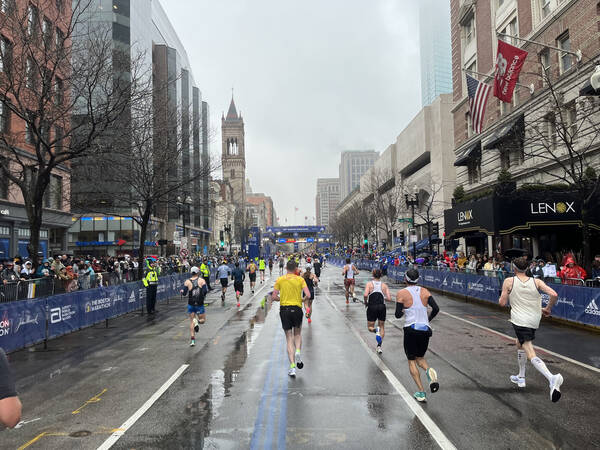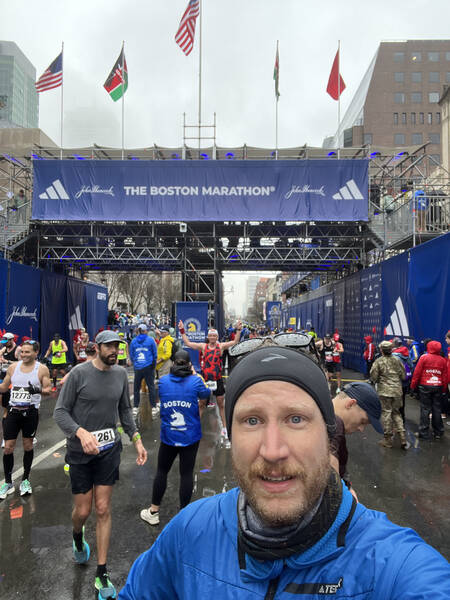 🏁 I Finished the Greatest Marathon Race of All Time
It only happens at very special events that I get this indescribable feeling. A mix of pride, relief, awe, and gratitude for being able to experience it. For a few minutes, holding back the tears didn't work. Freezing in the rain here in Boston, right after finishing the Boston Marathon of 2023, the one race that set off the global marathon craze, the coveted celebration of the sport, the king and queen of marathon races, right in the middle of this historic American metropolis – what a surreal situation. All those forks in the road of my life have taken me to this point exactly. How unlikely that was. And still it's the reality, apparently.
Boston Marathon. I just ran Boston Marathon.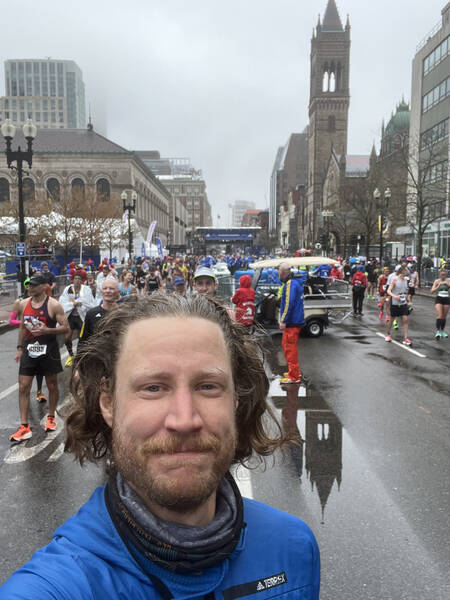 With a finishing time of 3:22h (Strava stats) I was far from my personal best and also far from my current abilities, but that couldn't have been less important to me. It's still a marathon time I'm absolutely okay with. And it made it possible for me to run a 3:14 hour marathon six days later at Hamburg Marathon, pacing my friend Mathias to his new personal best of 3:09, which was a good side effect of not pushing my upper limits today.
Also, I just finished my third of the six World Marathon Majors! After Berlin and London, Boston is checked off now. Three more are missing, and those are New York City, Tokyo, and Chicago. It would be fun to run those, too, and in fact I'm happy to state that I will do New York City this November after failing the lottery for a total of six times. Then, one day, I'll receive a 6-star finisher medal, too – which is quite an accomplishment. Mostly because it's so hard to get into Boston, by the way. Two days before today's race, I saw someone posing in front of the finish line with his six medals and this special 6-star one so his friend could take a picture, and a few dozen people around him took notice and spontaneously applauded him, knowing what it took for him to achieve this goal. Not that I'm longing for applause from strangers, I just think it would be fun to try and get into those cool other marathon races, as well. Because of the running, the crowds, the surrounding culture. I just love the sport so much.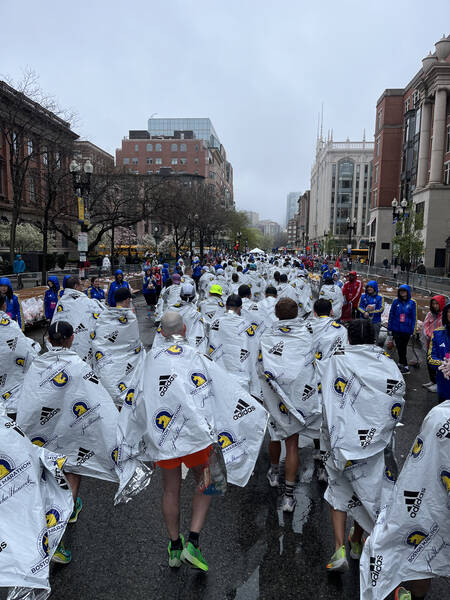 We all received a little goodie bag with some food and drinks in it. More importantly, though, we got a space blanket. It helped a lot, but wasn't enough for me. I was still soaked and shaking from the cold.
We walked towards the buses providing us our checked gear. I made a mistake here and didn't use that opportunity before the race.
💡 Tip #7: Even Though You Think It's Going to Be Nice Weather, Check in Some Helpful Finish Line Gear
I was anticipating I could just hop into a warm metro and head towards the guest house for a warm shower, but that was wrong and stupid for several reasons. First, it all takes a lot of time. Walking to the metro takes a while, sitting in it another long time, and getting to the house and into the shower as well – during all of which you'll be uncomfortable in your sweaty and possibly also rain-water soaked running gear. So unless your hotel is right next to the finish line, this isn't smart.
The next reason is that the city is hot right now. Meaning, there's something going on everywhere! The stores, restaurants, everything is focussed on the marathon. It's very cool to just spend time taking it all in. Doing that in a fresh T-Shirt and sweater is so much better! A small towel, maybe kleenex, I would even consider putting dry pants in there now.
Nico was waiting near the exit and had found a little room in front of a bank which was accessible, dry, and warm. For me, that was the next best thing. Warming up a little, talking the race over with him – he and Philipp managed a sub-3 finish, by the way, but Philipp went home to a hot shower immediately. Two others who were in this room joined in on the conversation in German, surprisingly. One, a tall black guy from Berlin who moved to Boston twenty years ago and ran the race for his 7th time, the other a guy from Sweden who lived in Germany for a year and ran Boston for the 2nd time today. The global village.
After Nico had changed into his wisely prepared dry clothes, he managed to talk me into walking down Newbury Street once more before heading to that well-deserved shower. It took him some effort because I was still hugely uncomfortable and just stepping out into the cold again already gave me anxiety. But, this is once-in-a-lifetime, so he was right. We walked over and into the Brooks store, where they gave us a warm Brooks scarf each and a branded running cap for free, as well as a buffet with bagels and cream cheese and hot coffee. Now that's how you get customers! I haven't run Brooks shoes for years, but they are making me reconsider.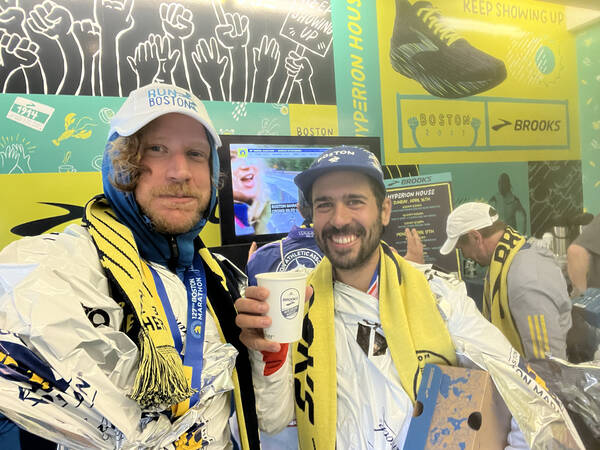 Nico even had the audacity to ask them if they had some test shoes in his size lying around. A minute later, a guy showed up and handed him a box with new Brooks Hyperion Tempo shoes as a gift, as you can see him holding there in the picture. What?! The Brooks guy checked again for some in my size, but with US 14 I'm usually unlucky, and today that wasn't any different. Yesterday, when Nico took part in a Brooks community shake-out run just for the heck of it, they gave him two other free pairs of good as new Brooks shoes. So he left the city with three free new pairs of shoes, which just baffled me. Tip #7.5: Leave room in your bag to take home some freebies 😉.
After that stroll and the hugely helpful hot coffee warming me up, I was done and needed a shower. So we said our goodbyes after Nico thanked me again for getting him into running in the first place and therefore leading him here to Boston as well. I went on that 1.5 hour journey back to the house.
On that way, the next unusual thing happened. Since I was still wearing that medal and Boston Marathon space blanket, everyone who noticed congratulated me. Politely answering "Thank you!" and smiling lifted my shivering-cold mood somehow. What a rollercoaster. Especially the cops and other officials were congratulating me. Walking from the last metro stop to the house, I saw a medical emergency crew including a firefighter vehicle parked outside, whose driver honked three times when he saw me just to give me the thumbs up. The cops at that situation also noticed and shouted "Hey, well done!" at me. This is cool! For once, people are on the side of the crazy marathoners. Loved it.
Contrary to what Philipp and Nico did, I had booked a flight back home this same evening, to be back with my family as soon as possible. So the journey to the airport had to start immediately, but when I talked to Nico later, it turned out that on that afternoon and on the following day, Boston was still in a marathon mood, with many places offering free stuff for finishers presenting their medals, for example. He did many of those things and I was regretting my decision a little. So here's my last tip for you, right after a recap of the others:
💡 Tip #1: Stay Longer in Boston's City Center
💡 Tip #2: Plan for a Long and Cold Wait at the Starting Line and Bring Two Space Blankets
💡 Tip #3: Don't Go for a Personal Best in Boston
💡 Tip #4: If You Have Sensitive Hearing, Bring Ear Plugs
💡 Tip #5: It's Actually Four Heartbreak Hills, Not One
💡 Tip #6: Consider Wearing Shoes with More Heel Cushioning
💡 Tip #7: Even Though You Think It's Going to Be Nice Weather, Check in Some Helpful Finish Line Gear
💡 Tip #8: Stay For One More Day After The Race to Celebrate
Rushing back into daily life is sometimes unavoidable, but if there's any chance, enjoy your victory and make use of the great Boston Marathon community for one more day. Eat the free food, get some more free hats or scarfs, talk with people about other cool races to do.
I would suggest a Boston Marathon trip to last for around a week, but 4-5 days at least. Two or three whole days before the race, then race-day, and one full day afterwards. If you haven't been in the New England area of the USA, plan for a roadtrip but don't sacrifice those four race days for it. New York City is just a three hour train ride away, so spending a few more days in the world's greatest city after or before running the world's greatest marathon race could be on the table, as well.
This way you're probably going to have the best Boston Marathon experience possible. But if you need to make some compromises like I did, it will still be an unforgettable trip to do.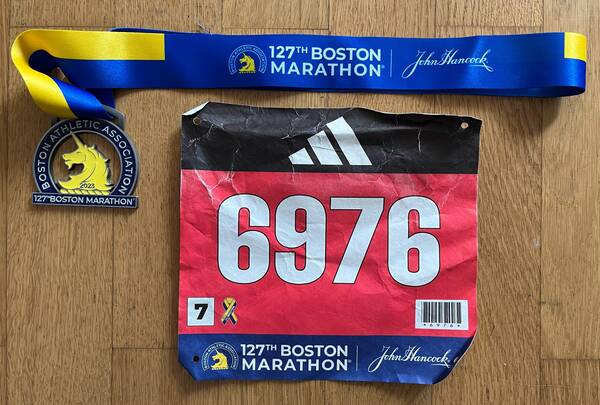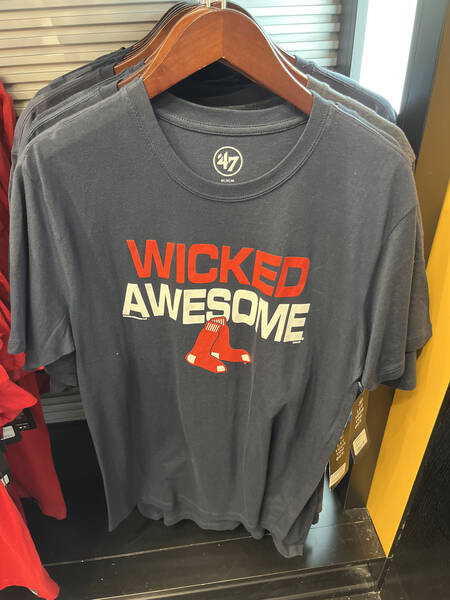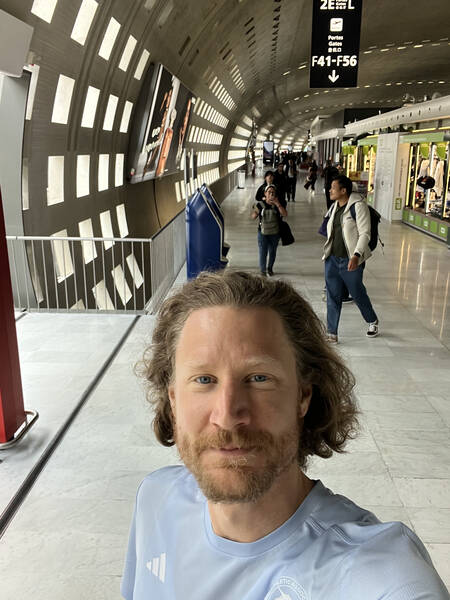 The streak continues, because running is the best!
How do you feel after reading this?
This helps me assess the quality of my writing and improve it.