For the Record: Training for and Trying a Sub-3 Hour Marathon
The story of the moving goalpost. You should know when to say "enough is enough" and be content with what you have achieved. On the other hand, as Elvis Presley famously said:
Ambition is a dream with a Tesla Model S Plaid engine.
(I might have slightly changed that quote to fit better into today's era.)
I've been running for about 10-12 years by now, 95 percent of the time without any ambition to get any faster. I'm just enjoying running for what it is. The great variety you can have just by changing distance, scenery, or company, is enough usually. But speed, of course, is another aspect of running. Mostly unexplored by me.
Am I able to run a marathon in less than three hours?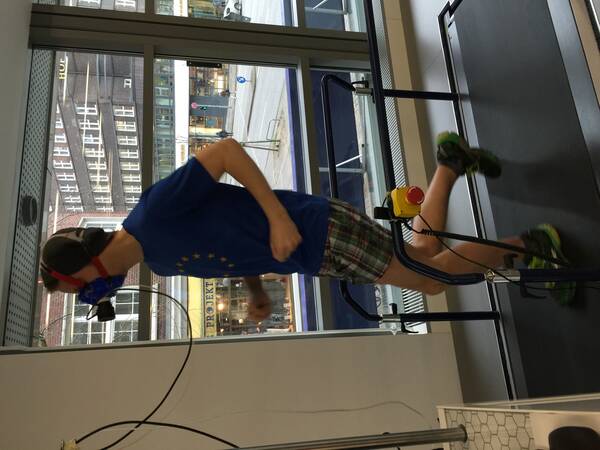 Seven years ago, in March of 2015, I did a professional performance diagnostics session at the Asics Running Lab, just for fun. After testing and analyzing every aspect of my body in relation to my current and theoretical running abilities, Doctor Joachim Schwarzer told me I could currently run a marathon in 3:40 hours, and the best possible result I can ever expect in a marathon race would be around 3:15 hours.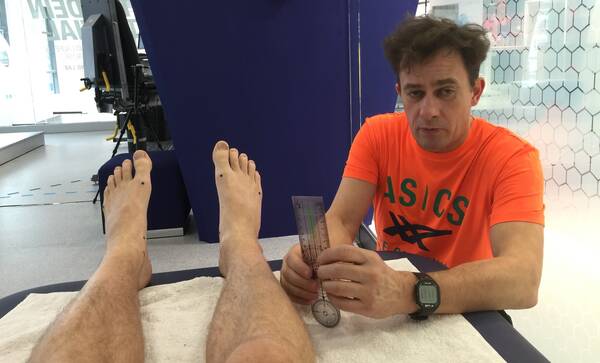 My reaction to that: "Okay, then let's find out if you're right!"
At the time my best marathons were at around the 3:30 hour mark, but that all just happened naturally – no training except for my slow and often long fun runs. No intervals ever, no plans, very little knowledge about it. Still, my performance had improved naturally from 4:50 hours (my very first marathon race) to these 3:30 races just by repeatedly running the distance.
But this session at Doctor Schwarzer's studio was a key experience. I also suddenly remembered my father once telling me about his one and only marathon race, which he finished in either 3:23 or 3:13 hours, he wasn't sure anymore. I tried to find out exactly by contacting the race organization from that early 1980s race in Wolfsburg, of all places, but no cigar. So I have to assume 3:13 hours. It's more realistic, because he used to be a competitive rower on an international level and could run the 7.3k Alster loop here in Hamburg in just 27 minutes – a pace of roughly 3:40 min/km, which is exceptionally fast.
Naturally, I now came to the conclusion that running a marathon below 3:13 hours would not only definitely set a new family record but also prove Doctor Schwarzer and his expensive machinery and software wrong. That would be nice, wouldn't it?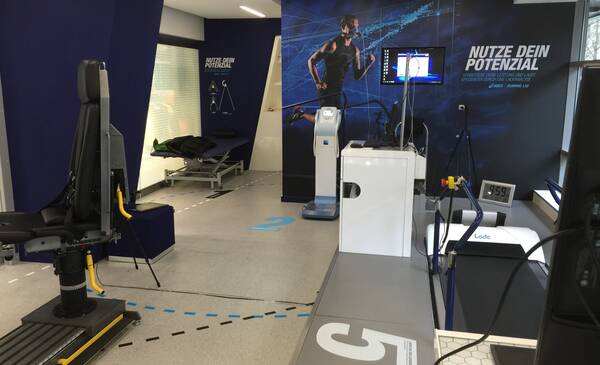 After all, how hard can it be, getting from 3:30 hours to below 3:13?
⏳ It's a Long Way, It Turns Out
A few more years went by without me acting on all of that new information. I still improved my marathon with no focussed training to 3:26 and the half marathon to 1:34 hours, which surprised even myself. All the others were training hard, going through times of injuries, really focussing their energy on it, but I simply enjoyed it, running on the majority of days of the week at a slow 5:30 min/km pace for an hour or two and got better results than many of them.
At the time, my friend Holger and I reconnected and he told me about Peter Greif. A legendary and hugely successful running coach. Holger had stopped smoking cigarettes after decades, took up running in his mid-forties, trained according to Greif's ideas and ran his first marathon in 3:23. I was impressed and asked Holger for Greif's training plan.
In 2019 I finally decided to give training a try and followed through with that plan. My blog post of that Greif training period is still one of my most visited ones, and I received many comments from international readers who've read it and subsequently followed Greif's plans as well, usually to success. One particular Australian wrote to me that he even won a race after training with that plan he read about on my blog post. I was very happy about having such a positive impact in another human's life.
After those eight weeks of tough and focussed Greif training for a cautious personal best of 3:15 hours, I reached a 3:17:40 at Frankfurt marathon. Not quite there, but a huge step up from 3:26. The reason for the slightly missed goal time was a cough I developed during race week, mostly.
The months afterwards, I went back to my standard easy-going running. But when the start of the new decade neared, I thought it must be possible to get my personal best improved a lot more. I like think of Bill Gates' "people overestimate what they can do in a year, but underestimate what they can do in a decade", and so I set some goals for the decade of the 2020s for myself.
Including setting a new marathon personal best of 2:59:59 hours or less.
In ten years total, that should be possible, right?
🦶 The Unexpected Hold-Up
Due to COVID then starting just two months later, the races were all called off and my motivation for tempo training without a race went down at first. But not for long. I used the first half of 2020 for a lot of fun running, for example, I did my first ever running streak month (#10keveryday in June), and later I went on to run a half marathon on every day for a week, aiming for being faster on each day, to success.
After doing all that, I suddenly felt so fit and healthy that I spontaneously went for a marathon run, on a track, as fast as I think I can steadily go. I chose July 28th of 2020, my 36th birthday, because celebrating with a good run is one of my favorite things. Those 285 meter laps just melted away as I pounded on at a 4:30 min/km pace, which just happened naturally. When the watch said that 42.2 kilometers were over, it stopped at 3:09:36 hours. 🤩 Wow. Exhausted, but super happy and excited. Of course, this time is not official and the GPS on a track is notoriously incorrect, but the run certainly was a good indication of my abilities at the time. As far as I'm concerned, Doctor Schwarzer was now proven wrong and my father's time beaten. But not officially! And the goal of the decade wasn't reached, either.
In the beginning of 2021, I started training with Greif's plan again. This time aiming for a 3:05 hour marathon. On a test run, my friend Philippe and I managed to break 1:30 hours for the half marathon distance, which was huge for me (but also not officially timed), and a day after I got an unfortunate ankle injury preventing me from carrying on. Most official races were still not happening due to the pandemic, so I was kind of okay with it and enjoyed the slow long runs again, culminating in the Mozart 100 in October. Afterwards, I was so exhausted I had lost all my speed and needed to recharge my running energy for a few weeks.
Coming into 2022, I planned on getting that speed back.
Now is the time, I thought. The races were on again, finally, so it's a good time to start training for an officially set record.
🔥 It's On!
I just felt a bit reluctant to go all-in with Peter Greif again. Even though my ankle injury possibly had more to do with my choice of shoes as opposed to his intense training plan, I felt like trying something new. A few years earlier, my friend Rasmus had given me a public plan that was so concise it fit on just one page. It was written by Jon-Paul Hendriksen, a running coach based here in Hamburg but originally from New Zealand (well done, my friend) and its goal is to get you to a 2:59h race. A leap for me at this stage, yes, but after hitting all the required training pace goals for 3:05h last year up until that injury, I felt confident I could get myself into the vicinity of it. The least I could do was try and see how fast I can get.
Don't want to miss new stories?
That's why there's a newsletter!
You'll never ever receive spam email and you can unsubscribe at any point.
JP's plan has a lot less intense sessions compared to Greif's. The long runs are all slow and easy as opposed to Greif's tough 35k's including race pace at the end. The intervals are "just" 800 meters long and the amount of them is 8 maximum. Greif wants you to do 6x1000, 4x2000, 3x3000, and also 3000/4000/5000 and later 6000/5000/4000 meter intervals according to his most recent plan. Granted, JP's shorter intervals are to be done faster. I thought that's super fascinating and wondered how my body would react.
The biggest difference though, and one which I thought is odd, is that JP's plan included not a single training session to be run at race pace, which is 4:15 min/km. That pace would lead to the desired theoretical 2:59:19 result. Greif was especially insistent that race pace runs are the most important and get you into the groove of what you're asking your body to do, but JP apparently thinks you can reach the goal without any of that.
Now, when you ask 10 different running coaches for the best possible training regiment, you will get 11 different answers and they'll all scream at each other until Christmas using their huge lung capacities.
The way is to try a lot and find what works best for your own body. Some plans will do great, some will fail on you. I'm sure that's just because there are still so many things about the human body, and especially the individual differences, which we just don't completely understand yet. You can really lose yourself in a bottomless pit of ideas and semi-factual "knowledge" about training at this point.
My thinking is, you need to avoid losing focus of your actual goal and instead see what gets you closer to it in a way which feels good for you. And just for you.
It's all trial and error for everyone – and that's also basically how all of science works.
Ever tried. Ever failed. No matter. Try again. Fail again. Fail better.
This Samuel Beckett quote seems very fitting to many aspects of life, but interestingly it's very out of context and quite hard to interpret. Still, this fragment is surely useful.
😬 Start of the Training Plan
In the middle of January, the 14 week long plan by JP must be begun in order to fit with my chosen race, the conveniently located Hamburg Marathon on April 24th, 2022.
Over the weeks leading up to the start I got myself into shape for the training plan by incorporating a few shorter interval sessions, like 10⨉ 400m, to ease the anxiety about those fast 800s which JP wanted to see. Training for the training.
All the "filler runs" are to be run at a 4:50-5:15 min/km pace, faster than my usual 5:30-5:45. That was the first little hurdle. I managed to do those, but the heart rate was quite high on them at first, understandably. That's the goal of training, getting the heart rate lower while doing the same pace.
Since I'm on a running streak which I started on January 1st (and still am), there are no rest days, either, at least in the classical sense of training. But, I would see to do really relaxing slower and shorter runs on those days, if I thought I needed them.
I tend to do more than what's asked of me in these plans. Some see that as "overdoing it", but again, that's just what I personally feel like I need and want to do. It just so happened that I had a marathon running date just two weeks into the training plan with my friends Michael Mankus and Martin Grüning, and we did the Hamburg route of the common project we initiated, 42_16 (powered by On). I felt great even though I was battling a runny nose and cold at the time.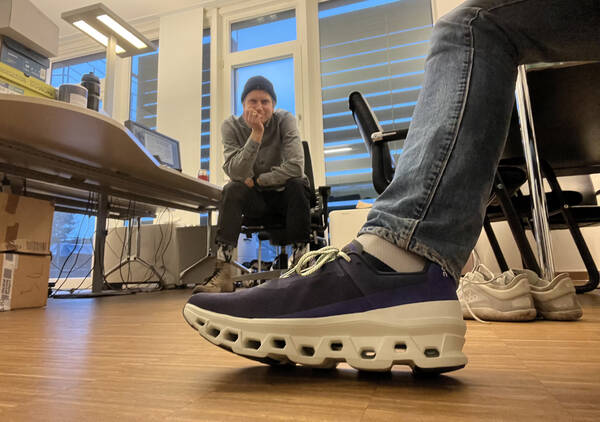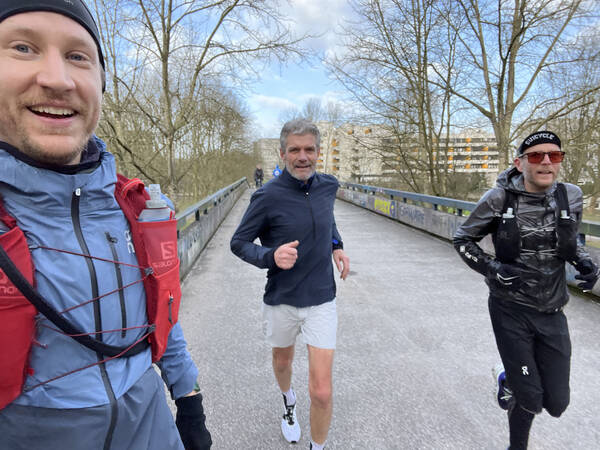 The toughest part of the training were those weekly 800s for me. You are supposed to run them in <3:00 minutes each, which is a 3:45 min/km pace. I landed a few of the six but messed up by a few seconds on the others at first. Finally, during week 4 of the training, I managed to do all six within the 3:00 minutes asked of me. A breakthrough, certainly. Also, after week 4, the nerdy running fitness tool I use, runalyze.com, predicted a marathon race time below 3:00 hours for the first time!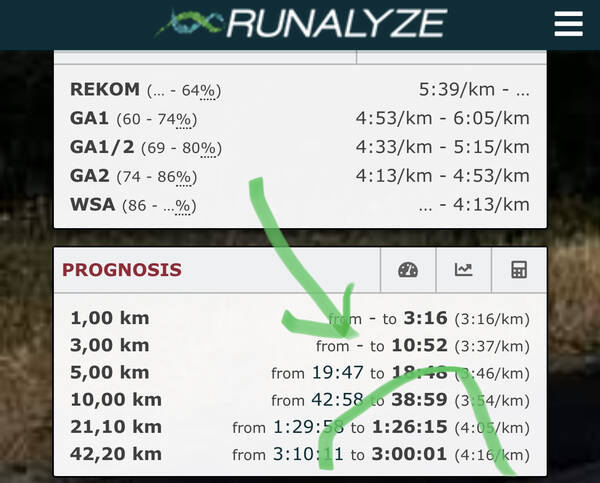 🛫 I'm on Track
After around 5-6 weeks, I felt like the plan wasn't training me hard enough, on the other hand. See how things change.
I had too much spare energy for my taste. So I did some additional Zwift bike riding indoors, which is supposedly helpful but fun first and foremost.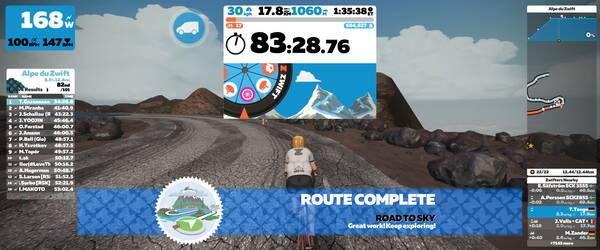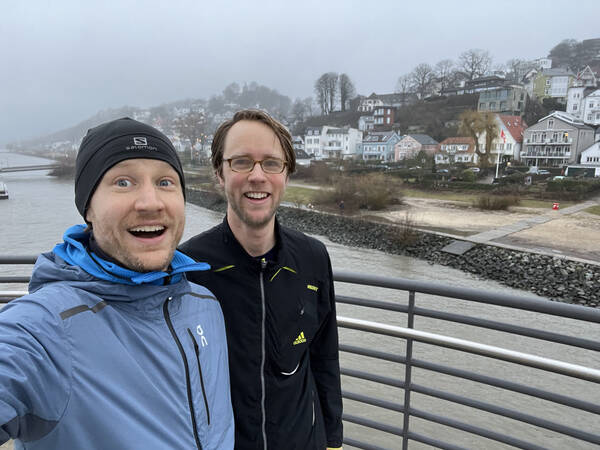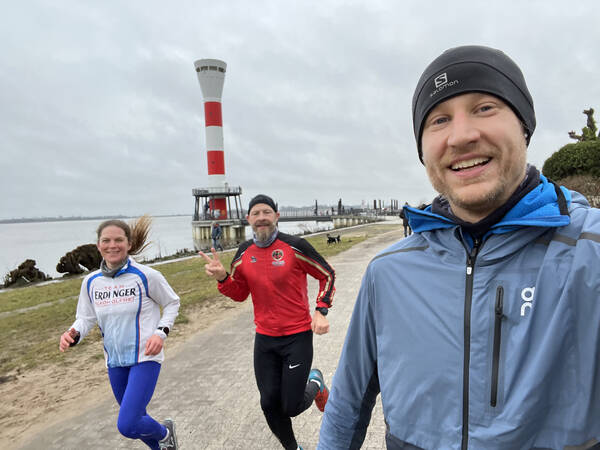 Also, I felt like using my newly gained fitness status to give the Sub-40 (minutes) a try on the 10 kilometer distance. Tried it a couple of times in the years before, always failed, so why not now. Henning Lenertz helpfully agreed to pace me during a training run of his, and it actually worked out! The course Henning chose was perfectly suitable, but the weather horrendous. Rainy, cloudy, cold, headwinds on the last three of the ten kilometers. The watch stopped at 39:34 minutes and 10 kilometers, and I was over the moon! And just like that, thanks to Henning, that ✅ is now also on my bucket list.
Right the next day, a 140 minute long run at 5:15-5:00 min/km was on the plan, but that's not good enough for my taste. So I did the last 20 minutes at 4:15 min/km race pace, similarly to what Peter Greif recommends. Mixing the two philosophies could be interesting. Some friends suggested that it might also backfire, but I do know my body a bit so I went ahead. Some lessons you have to learn yourself, if even. Getting at it via using first principles and questioning the conventional wisdom is the only way to make real progress. Trying something new and risking a slightly increased chance of failure is preferable to me in this case.
Halfway through the 14 weeks, the race prognosis was down to 2:56 hours and I was on fire. Runalyze.com recommended doing at least one 32k run per week to get the marathon shape ready, but with JP's 120-140 minute runs, I wouldn't reach 32k's at the suggested pace. So that was my next adjustment, increasing the weekly long runs of the plan so I would at least do 32k.
💪 The Fitness Check
Here's JP's ace up his sleeve: at two separate stages into the training plan, he asks you to do a 90 minute tempo run at a pace of 4:01-4:09 min/km. This pace is right between the marathon race pace (4:15) and the speedy 800m intervals (3:45). But for 90 minutes, no floats, no breaks. Naturally, I was uncomfortably excited, as my training buddy Philippe would say. If I managed to do these, it would mean a half marathon time of 1:25 to 1:28 hours, which would be a huge personal record for me.
I was relieved the weather was playing nice this time. Almost no winds and no rain. After warming up I got right into the middle, 4:05 min/km pace. Unthinkable just a year ago. I held that pace until somewhere around 5-8 kilometers into it, when my average slipped down by just one second to 4:06 min/km. I tried to get it up to 4:05 again but it stayed there. Right until the end. This was incredibly intense for me, but also really satisfying to look at the watch and see these never before seen numbers on it. 93 minutes in a pace of 4:06 min/km, woah 🤯. So my new unofficial half marathon best is now 1:26:27 hours, down from 1:29:58. A massive step. Thanks, JP, the training works!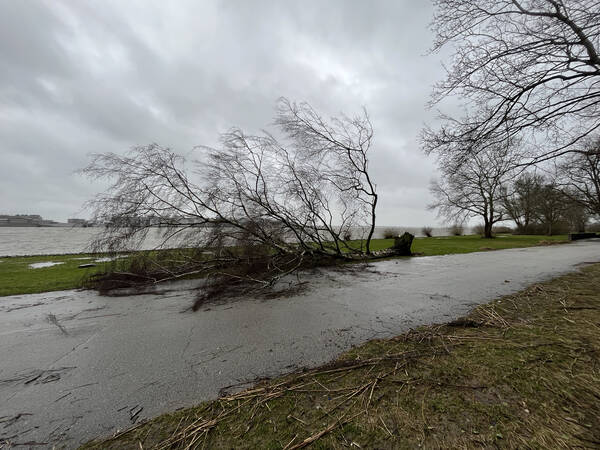 As I'm sure you're not surprised to hear by now, I put in another totally uncalled for marathon a week later. We were on a family vacation down in Bavaria so I used my chance to run 42_16: Bavaria. What a course, what a route! My recommendation. Carrying all my own water and food requirements, I effortlessly flew through the hilly course in 3:50 hours, even including a few breaks. Afterwards, in the car, I couldn't wait for the next intervals session. I'm doing something right, apparently.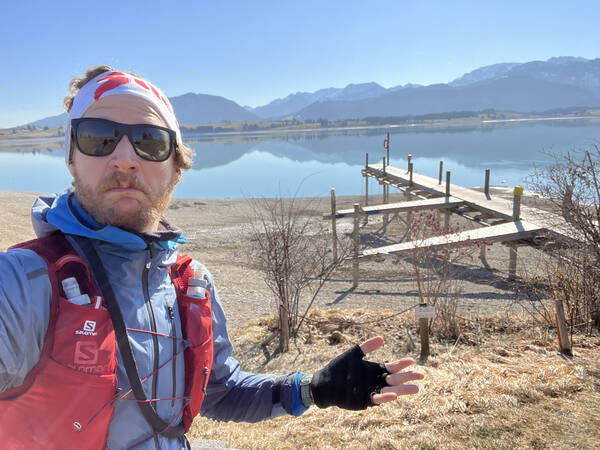 🤒 But Then, COVID
The next morning after that Bavarian goodness, my quick antigen test came up positive. I felt weak, had suddenly developed a cough, my legs were aching, and the fever reached 38 degrees Celsius. That's it for the Sub-3, I thought. Six weeks before the race, how could that ever work out? It's over. 😭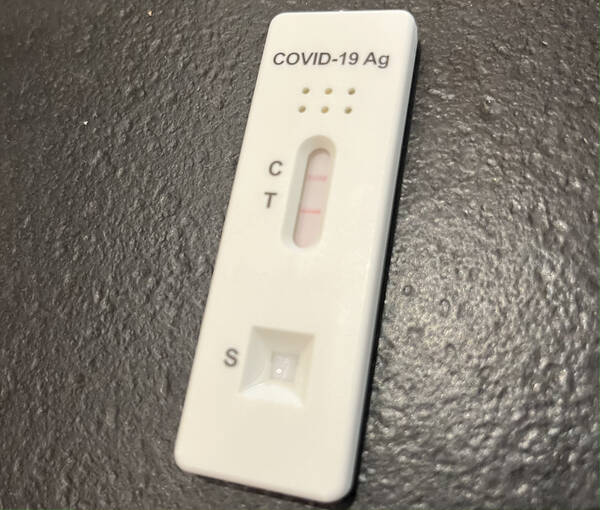 Maybe I can postpone the race day to a different event in May or June to have enough time to recover?
Wait and see. That day, I still put on the running shoes and managed to get through a 5k at 5:30 min/km, but it wasn't fun. Surprisingly it worked, though. No chest pain, just very low energy.
A long night of sleep later, the aching legs were fine again, the fever down to 37.2, the cough better as well. What's happening? Somebody playing a prank on me or did my combination of Listerine Cool Mint, Wim Hof Breathing, and Ibuprofen do the trick? The second COVID test was immediately positive, again. So it wasn't a fluke. Forty minutes of running at 4:40 min/km was doable today, still. Heart rate slightly higher that I would have normally had, but I'll take it!
Another day later, a runny nose and a headache said hello to me and I felt like 💩. It's a rollercoaster of emotions. So another slow 5k just to be on the safe side.
Third day, everything's fine, 4:39 min/km over 45 minutes.
But now, the toughest interval session of the whole training plan has arrived. On my fourth day with COVID, I'm supposed to do 8⨉ 800m at 3:45 min/km. In the windy Bavarian flats, 700 meters above zero. But, drum roll 🥁, I actually did it! 3:41, 3:41, 3:41, 3:40, 3:40, 3:40, 3:41, 3:41. How is that possible? The virus must have been afraid and left sooner than planned. Or did I outrun it?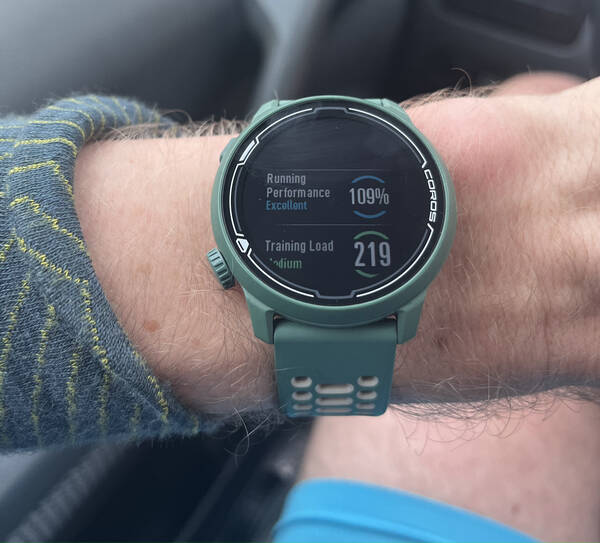 Even still, I didn't feel at one hundred percent. But as the training worked, I got my optimism back. A week later, the second tough tempo test of 90 minutes at 4:01-4:09 was on the table. This time, I chose to increase the difficulty a bit in order to simulate the race situation a little more accurately. I included a little hill and coincidentally, the Hamburg Spring winds had woken up, too. I fought really hard against both and landed on a 4:08 min/km average. Still fine and within range, but secretly I had hoped that at this stage I would be able to top that first 90 minute tempo run pace. Blame COVID and the weather.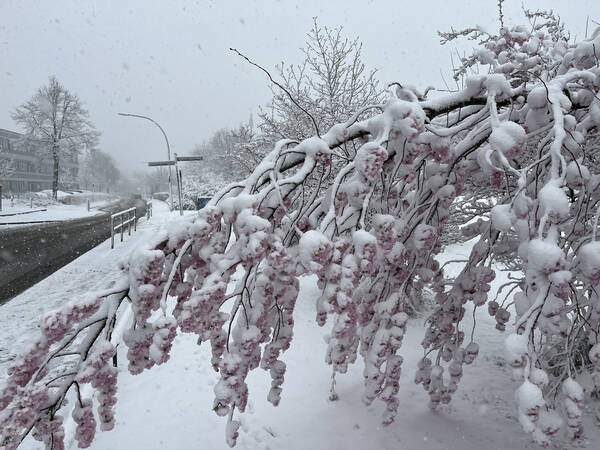 🤲 Up For Another Marathon?
No, not the selected race in Hamburg yet. Another training marathon, of course!
Before the pandemic started, I had signed up for the official Freiburg marathon. It's a lovely city down in south-western Germany. My ticket was moved and moved again, as is tradition by now, but this year, it was happening. I was looking forward to it a lot! I planned on doing it as a long run at 5:00 min/km pace, just following the pacers for an easy 3:30 hour finish and practice the racing situation because it's been a while. The pacers ran a bit faster, and since I felt particularly strong that day I overtook them at km 34 for a 3:26:37 hour finish (4:50 min/km pace). Easy heart rate of just around 75 percent of my maximum. Muscles and mind were doing great, too. Really happy I took the train down here. Getting to experience such a race event again put a smile on my face for a few more days to follow.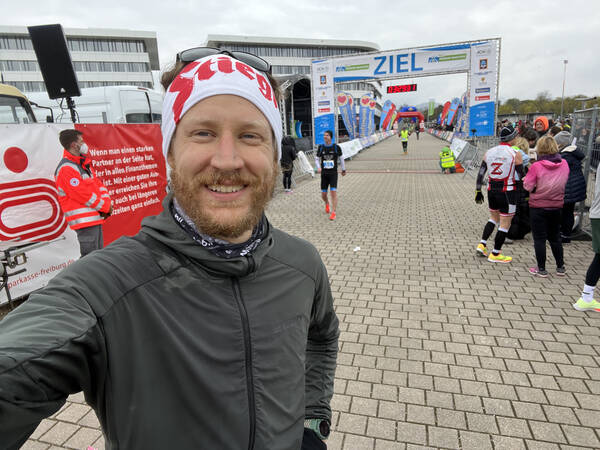 With three weeks to go and all the intervals done, I incorporated some more race pace running into my runs because there was none in the plan. 15k at 4:10 min/km, then on another day 2⨉ 15 minutes of 4:15 min/km, for example. The remaining long runs got my race pace treatment, too. To mixed success, though, as the April's hail and wind conditions sometimes made it too tough for me to keep it fast.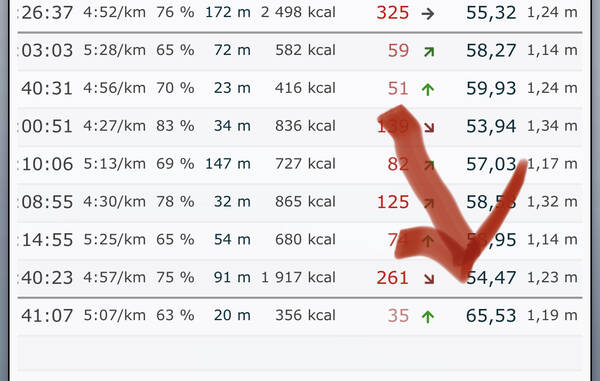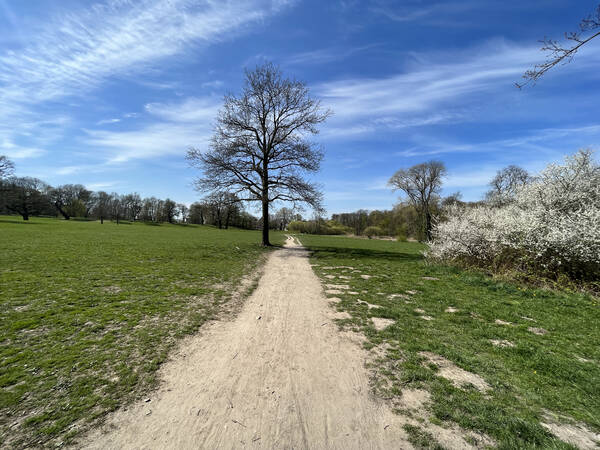 😳 Getting Nervous?
Not yet, no. I felt like I did the work and put myself in a great position to reach that goal. But then, on two separate occasions, my experienced friends Michael Mankus and Martin Grüning (the latter having a marathon personal best of 2:13 hours!) told me they had doubts I would make it. They didn't specify but both said they would need to teach me better training techniques afterwards and hinted I should listen to their run training advice. Each of them. As I've said, 10 coaches, 11 answers. Still, though. I trust them and they are great runners, so there's definitely some truth to their perceived inaptitude of my training. Martin told me to really keep it at 4:15 min/km at all times during the race, because just being slightly too fast at any one point would kill my goal since it's such a close call with me.
A week before the race, Micha and I organized the first Grüner Ring 200 race. A night without sleep, lots of work and energy invested, but also a lot of happy feelings gained. I squeezed in the last long run, 2:07 hours for 24.2 kilometers. A bit tough to do because of the circumstances of the race happening at the same time and just three hours of sleep.
The last week before the race is reserved for "tapering". That means relaxing while still running a bit. Just no hard or long runs anymore. Reduce it every day, let the body store some energy for the race. Eat healthy, sleep well. A bit unlucky, I caught another cough, but Ibuprofen thankfully saved me from it last minute.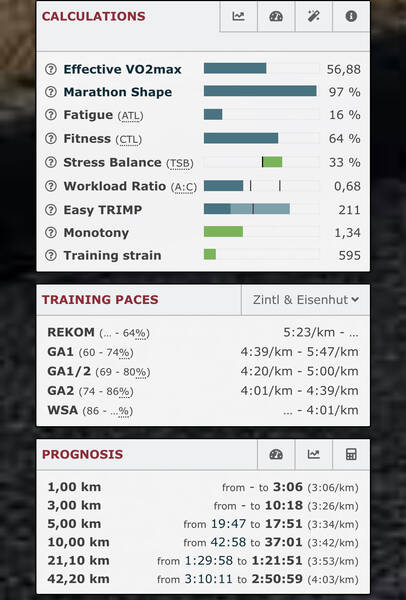 The day right before the race, my two oldest kids did the tenth of a marathon kids' race, which is part of the Hamburg marathon event weekend. Taking the whole family into the city, all four kids, is currently hard – they are boycotting a lot at the moment. To add to the strain, our kids' stroller suddenly broke apart during the trip. The aluminum bar, now two bars. Meaning, I had to carry it and the stuff we brought, and motivate the kids to walk on their own through the busy city.
The girls ran-walked the 4.2 kilometer race but enjoyed the gift bags at the finish most of it. I was happy I got the chance to meet JP at the marathon expo for a few minutes and thank him for his training plan. He said he followed my training on Strava and thought I had it in me to make it in 2:59 hours tomorrow. Now that's what you like to hear!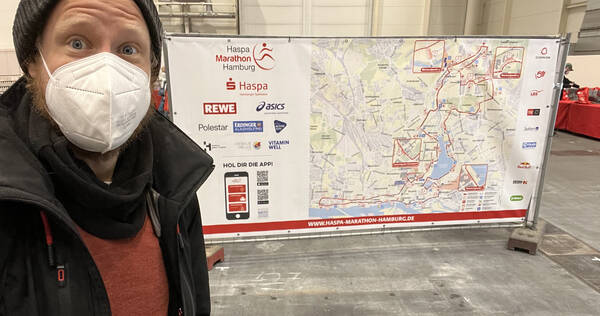 Coming home from the marathon expo, we had another event. Our third daughter's sixth birthday was a few days back and the extended family came over to celebrate. Hosting them all was nice but of course another strain on the energy reservoirs.
Due to a wrong move with a kid on my lap during it, my shoulder got dislocated. Nothing major, but a sharp and persistent pain in the back. Oh come on universe, that's enough now!
With quite mixed feelings, to put it lightly, I ate my favorite pasta and called it a night. No other choice than to try my best tomorrow. Nothing of this could have been retroactively changed.
💭 Thoughts Before Race Day
The 14 weeks (plus a bunch of years) of preparation for this three hour race inevitably put pressure on it. Don't screw it up now or all the work will be for nothing, is what the mind suggests without any reflection. I don't see it this way. It's always about the way towards the goal, not about the goal itself. And in case the destination is reached, a new one will be set and a new journey towards it commences. The journey is the main part and therefore should receive the most amount of focus, not the goal.
Some internal expectations management is not the worst idea. It's always a possibility that the set goal won't be attainable for any reason. If your world would crumble in that scenario, rethink the whole idea. If it would make you feel worse than you felt before, full of regret or other bad emotions, it's probably not for you.
For me, this particular journey was enjoyable.
I was looking forward to the intervals.
I was anticipating the long runs with fast last kilometers apprehensively, but was always glad I made the effort afterwards.
Before the two very fast 90 minute runs, my face looked like this 😬, and afterwards like this 🤩.
Never once did I regret that I went out for a run.
A race is subject to so many external factors which are uncontrollable. If you don't enjoy the journey, which in this case are the tough intervals, the weekly long runs, and the required mileage and therefore invested time, but are really eager to reach this particular goal nevertheless, you're doing it wrong. I think that's true in many regards of life, but especially in recreational activities. Marie Kondō would ask if what you're doing sparked joy – what is worth more to you if you had to choose just one: spending a few months training hard, feeling fit and getting stronger, or being able to claim for the rest of your life you once did a Sub-3 marathon? Not an easy decision for many.
😏 Confidence? Who Needs Confidence!
Am I confident I can make this race in less than three hours? For me that's the wrong approach to it. Confidence is an emotion which I think isn't fitting well here. Again, because of the external factors. Since reading more about the philosophies of the three main Stoics Seneca, Marcus Aurelius, and Epictetus, it is my belief that for any such task it's more helpful to think of it in terms of:
Did I do my best to get myself into the position of being generally able to make it?
And if the answer is yes, then we just have to give it our best shot now. No need for possible disappointment, shame, or negative feelings, ever. You do what you can do, that's it. The rest is up to luck. Confidence just sets you up for disappointment about things not within your control.
☀️ Race Day
6:00 AM alarm, coffee, a liter of my green smoothie. A look out the window reveals a blue sky, it's not supposed to rain today. Four gels into my running belt, half a liter of Coke in my bag. A bunch of comfortable clothes for after the race, too – today I want to make it nice for myself.
Enter, Nico.
Him and I have had a close running connection during the last couple of years. He took up our now common hobby just then but found a talent in himself and quickly got up to my level and past it. The Munich Great Breweries Ultramarathon which he initiated and we then did together was one of the most fun activities of 2021 for me. When I looked at his running stats, I thought he could be fit enough to follow through with this Sub-3 training plan with me, and he did. I even told him he should aim for 2:55h, but he wanted to be careful at first. Almost all of the sessions of the plan, he ran as well. Many of them, faster than me. Him in Munich, me in Hamburg. It was nice to have someone else with me to go through these weeks together. So today, it was a big day for both of us. He cycled over, taking his fun dad with him, and we made our way towards the race center.
Nico changed some clothes, I drank my half liter of Coke for a caffeine and sugar head start, and we made our way into the starting block B.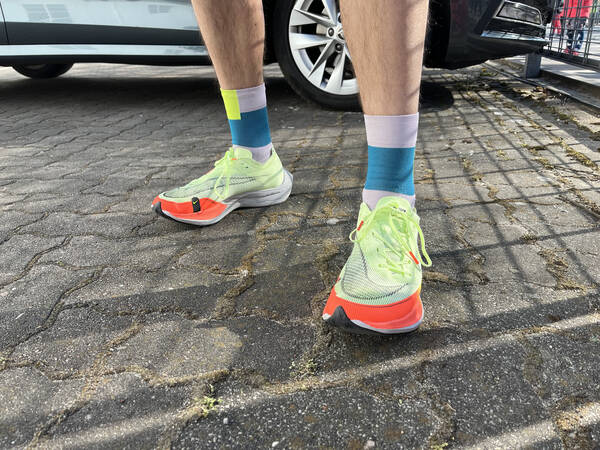 There were supposed to be some pacers helping us keep the necessary tempo to finish in under three hours, but today, unfortunately, there were nowhere to be seen.
Good thing I knew that this could happen and so both Nico and I had written down the 5k split times with a sharpie on our hands.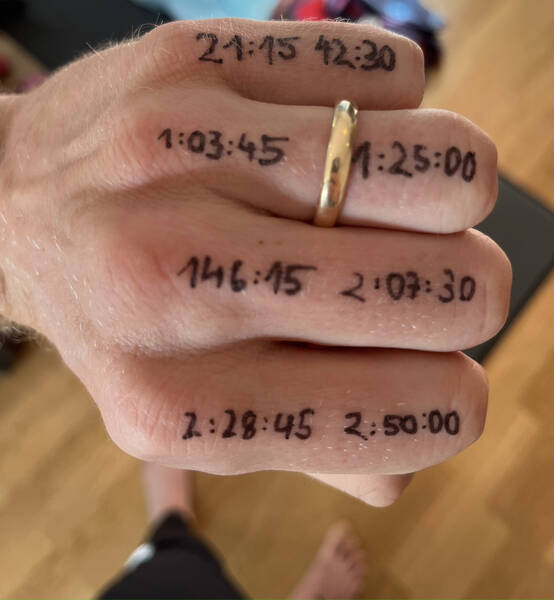 One of the difficult things with this type of racing at the body's limits is the accuracy of the GPS watches. For normal runs, they are sufficient and great, but when it's an officially measured race and you're not running on the ideal route, the meters add up and it becomes hard to know where you stand according to the plan. The 5k splits will help because you can then just compare the passed time right when you run past the kilometer signs.
Every 5k split needs to be completed in 21:15 minutes or less.
5k: 21:15
10k: 42:30
15k 1:03:45
20k: 1:25:00
21.1k half: 1:29:39
25k: 1:46:15
30k: 2:07:30
35k: 2:28:45
40k: 2:50:00
42.195k: 2:59:19
This is according to the 4:15 min/km goal race pace which I used as a base. Of course, this has to include all possible stops – open shoe-laces, gel breaks, aid station water stops, toilette, or even falls. That's part of the reason Nico trained with 4:14 min/km as his goal pace. I thought, this one second won't matter in the end. Or will it? #foreshadowing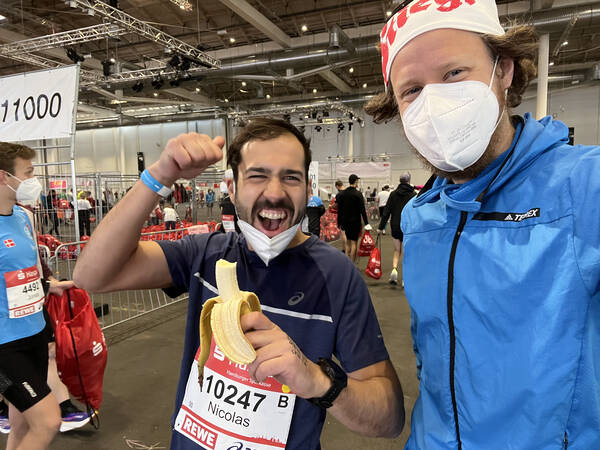 Here we are, standing in the field of nervous runners. Excited, but obviously also a little nervous. Most of all, we're here to have fun and try to keep the 4:15 pace steady for a long as possible. Hopefully for just under three hours. It's good to have just a single point of focus now.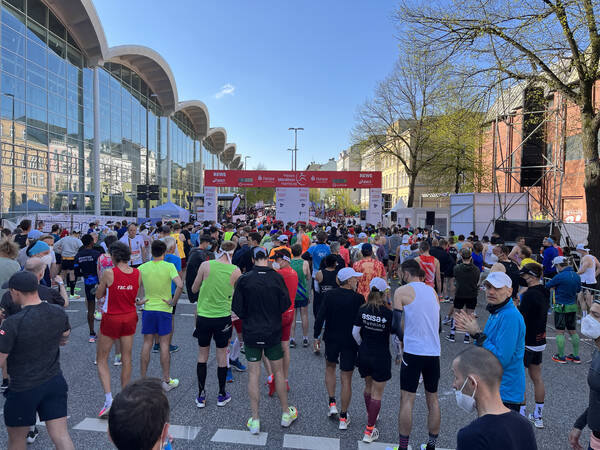 The day is great and the feeling of a big city race has finally come back after these years of COVID. It's full with people, there's music, and an emcee is guiding us through it. The fastest runners are introduced, many receive an applause from the crowds. Energy is in the air. And then, there's the countdown.
Point of no return.
🚀 Let's Go!
It all happened so fast in the beginning. I was worried slightly that it will be too crowded to quickly find the race pace without crashing into people a lot, but it turned out it was no problem. A few hundred meters after the start, a girl was standing in the middle of the road suddenly, looking like she had either lost something or just suffered a panic attack. Hard to say. In any way, that's an unfortunate situation for her and I would like to know what her story was.
Already after a few more minutes, around the Reeperbahn area, I lost Nico. That's fine, we both said to each other that we'll have to run at our own body's most comfortable paces to do this properly. He listened and ran a few seconds faster, I listened to Martin Grüning and kept as close to the 4:15 min/km as possible.
Lots of lovely people came to the race to cheer for me. In earlier days, I would often stop and have a chat before continuing, but not today. A friendly wave of acknowledgment and a shouted YEAH! back from me must be enough of a display of gratefulness today.
I got into the rhythm of the pace really well. Even the Königstraße hill couldn't make me lose my cool. There will be a downhill for every uphill.
After six kilometers, the closest point to our home is reached, and with it, my lovely family. It was a particularly crowded area, lots of welcome noise, but I spotted them and gave, or rather, threw, my jacket to Sophie as I raced by smiling. Woah, at that point I suddenly felt the sheer speed of me and the runners around me. We're rolling through here like a big and unstoppable wave. And a sudden burst of that weird feeling called confidence came upon me as I shouted das klappt heute! (this will work out today!) back to them.
21:24 minutes for this first 5k split.
That's 9 seconds too much, but I wasn't worried as this section had the most elevation gain and the busy starting area, too.
The downhill section starts at Elbchaussee. A view of the harbor doesn't hurt either. But now it becomes obvious what today's main challenge is going to be: the winds. After the turn back towards the city and therefore now going in an eastern direction, there are headwinds. So far, the field of runners is close together and the trees above us are thick, so it's not much of an issue yet. Still noticeable, though. Anyways, keep going, don't think about it, hold the pace.
My friends Rasmus and his wife Gesine live here and came out of the house to cheer. So nice. Rasmus was supposed to run today, too, but he got a stomach bug a few days before the race – all the things that can happen to you. He ran a few meters next to me and offered useful advice: In der Ruhe liegt die Kraft! (In tranquility lies power). Definitely true today. Breathe slowly, deeply, don't get excited, keep calm. Roll with the herd.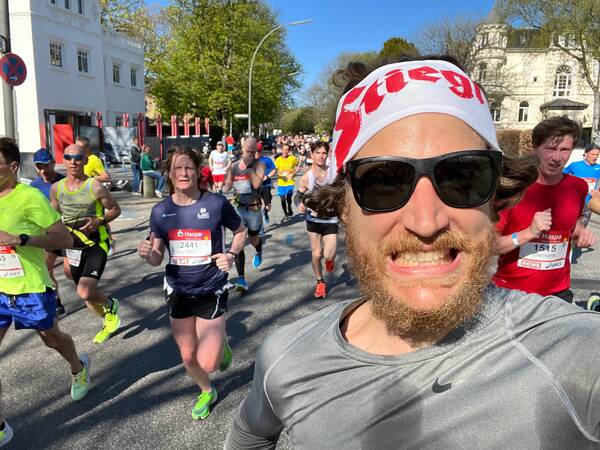 Manzino is shouting my name next to the Altona town hall, and Mättz does so next to his running gear store, Running Green. Energy +1 each time.
21:01 for the second 5k.
I'm right on point now, five seconds to spare even. Ten kilometers in, that's a good indication that I'm making progress and that it's going well. The downhill towards Fischmarkt follows, a good opportunity to gain some more seconds, but I keep it easy and listen to my body. Don't overdo it. Remember Martin's advice.
The winds are now increasing, I can feel them from time to time. Into the Wallring tunnel, where noise of the crowds stops, as well as the signal for the GPS watch. So you have to go by feel here. Words of encouragement are screamed by some runners, because here, nobody apart from us runners can hear them. Camaraderie.
Coming out of the tunnel, the time and pace tracking of the watch is weird at first, which makes it harder. About an hour into the race, I eat my first gel as I planned. Because the heart rate is near the so-called threshold pace during an effort like this one, the body will burn a lot more stored glycogen / carbs than fat and needs to get some replaced if you want the body to keep the pace up there. Usually, when I run slower, that's never a problem, because everyone's fat reserves are seemingly endless – even if you're looking lean. Starting now, the plan was to eat a gel every half an hour, with a bit of slack in order to see how my stomach adapts to it.
Now, the Binnenalster lake loop. Fifteen kilometers down, there's an aid station right at the timing mat, so I have to push the lap button on the watch, look at the number, eat a gel, and have a little water at the station, all at the same time. An interesting challenge!
21:22 for the third 5k.
Slightly too slow, but just slightly. Everything is still looking fine, I'm glad. As we run over Kennedybrücke bridge, the winds become tough. The streets here next to Außenalster are so wide and the race now fully in flow that there are not many runners to hide behind anymore. We all battle the winds the same, some begin to curse and drop the pace. I won't give up.
I run next to one guy who feels chatty at this 4:15 min/km speed. He had hoped for pacers, too.
At 18 kilometers, my sister, her husband, and their two daughters waited for me and get me another energy +1, thanks for that! It's amazing how much this helps.
Up north, more winds. The sun is great, though. I love the temperature of around 10 degrees, it's perfect for marathon racing.
20:58 after another 5k, 1:24:45 for 20k.
Not too sure about how this could happen, I gained 20 seconds on the needed average in spite of the headwinds exposure. I hope I haven't used up too much energy for this, but I didn't notice the increased pace. That's 1:24:45 for the first 20k, 15 seconds below goal pace. Great! I cross the 21.1 kilometer half marathon mark at 1:29:22 hours. Perfect.
The next five are relatively uneventful as I don't know many people who live here. We run around the southern border of Stadtpark, and get some more wind in Barmbek.
21:19 from 20 to 25k.
I lost four seconds somewhere here. Blown away with the wind. Funny how it can be about just a few seconds in a three hour race. It's still very realistic to reach my goal, but as expected, rather close. Of course, that's part of the strategy: don't waste the energy, keep the pace steady.
At the aid stations, I barely drink anything. Due to not wanting to stop at all, all I ever get to grasp is one half cup of water and trying to drink that while running at the same fast pace is a real challenge. But I figured this won't matter in the end as losing ten seconds for a controlled easy drinking stop is just too much to gain back over the kilometers to come. Not much water needed on a day like this and an effort that's not super long, anyways.
21:16 from 25 to 30k.
Nearly perfect! Around City Nord, and up north to the train station of Ohlsdorf, everything seems great. Because there's a stretch where the route is leading west, the winds allow us a bit of a break.
21:29 from 30 to 35k.
At Ohlsdorf train station, I see a few familiar faces again, because the Ambs family, good friends of ours, had a suspicion that I would be running and cheered loudly for me. 🙏 And nominally, from now on, the route leads back towards the finish line, mostly in a south-western fashion, which must mean tailwinds. With the wind on my side, I was hoping to gain a few seconds here, but that wasn't the case, unfortunately.
Somewhere during this part I overtook my friend Uli, who, at a few years older, managed to hold this fast pace as well. He had done some Sub-3 marathons before and he just runs whenever he gets the chance to, but here I saw that he was fighting, too.
I knew that it was looking alright for me, because I reached the 35 kilometer mark after 2:28:49 hours, just 4 seconds behind the black marked schedule on my fingers. That's totally realistic to make up in the end. And I knew from experience that the big kilometers signs sometimes are a few dozen meters off. In addition to the 41 seconds of a buffer resulting from the 4:15 min/km pace anyways, which leads to 2:59:19 in the end. There's still room.
On the other hand, just looking at the plain number, this was my worst 5k split so far, and I knew that right away. However, I felt glad that I made it this far keeping the pace, already breaking multiple personal records.
22:00 from 35 to 40k.
It's getting really hard now. At 36 I overtook Philipp, a new friend I just met a week ago as he helped me serve at our Grüner Ring 200 aid station. He had trained for a Sub-3 marathon, too, and his stats were looking really good going into it, but here, he had just given up and was walking. I tried to motivate him into fighting together with me, but he just couldn't. Some days it's not meant to be.
At the aid station I was by now just grasping a cup and splashing my face with it. The strain of the kilometers so far has beaten me to a degree, too. I started with positive affirmations, and quietly but audibly said to myself things like come on now, you have it in you, you can still make it. My willpower isn't the problem, I knew that. I have a lot of it.
The nutrition was also working really well. All the gels were more than I usually consume, but I was able to hold them down in my stomach and I'm quite sure they helped me keep up the output. 🙏 Thanks to Mathias, my friend who has read every single published study about race nutrition ever. I couldn't have eaten any more gels than these four, but maybe that's something worth practicing and learning. I hear the pros can take in even more carbs during these efforts and it obviously helps them.
I was still slowing down. Just by a few seconds, but when it's this close, that makes all the difference! The average pace on this split was just 4:24 min/km now, losing me 9 seconds on each of the five kilometers. Not great.
The route is leading through the densely populated Eppendorf neighborhood here, and that's always great because the people are having a huge party. I was smiling in spite of the situation and exhaustion. Lots of fun. I love this race. Along the side of the Alster river, my friend Angel was running next to me for a few meters, giving me hope and motivating me, the nice guy. And an old friend from school, Moritz, also showed up and said my name. Loved it.
At the side of the road, three medics were surrounding another runner who had apparently fallen down. He was looking like he had lost consciousness and was bleeding heavily from the head. This didn't look too good, but I was glad the professionals were already here and helping him. That's another situation where I have to remind myself that I'm not running for my life today. If there are a few seconds missing, I'll train harder and come back – I'll not exhaust myself so much that I lose consciousness and fall, it's not worth it.
For now, I can still try and give everything I have within a reasonable way. I don't feel light-headed, just incredibly exhausted. The little uphills require my posture to change now. The wind hits again from time to time. I grind my teeth. Come on.
Then, the most feared part of the Hamburg marathon route begins, Gorch-Fock-Wall, an uphill just two kilometers before the finish. Today, with additional headwinds. I knew that I had to save energy for this, but trying to keep up the pace was impossible now. How is my time buffer looking?
I saw the kilometer sign 41. Looking at my watch, I had exactly 5 minutes to spare for these remaining 1.195 kilometers. Not a problem, usually, I thought. This must be doable. It's sooo close, come on now!
Uphill, headwinds, get out of my way!
The last turn, towards north, the finish is almost in view, my friends Michael Mankus and Marcel Leuze, who both made Grüner Ring 200 happen with me last weekend, saw me and screamed my name, they knew about my goal time and were sure I was making it from looking at the clock.
Just a few hundred meters now. The red carpet begins, the Heinrich-Hertz-Turm in view, I take another look at the watch and see how it moves from 2:59:59 to 3:00:00, seemingly in slow-motion. Just bring it home, come on. A few more steps, as fast as possible, finish line.
😫 3:00:40
Noooooo! So close and yet so far! There's Nico, he waited for me. I'm so exhausted, I can barely talk but ask him if he made it – yes, 2:56 and something, he says, wow, big congratulations to him, but I need to lie down real quick, sorry, ok, thanks.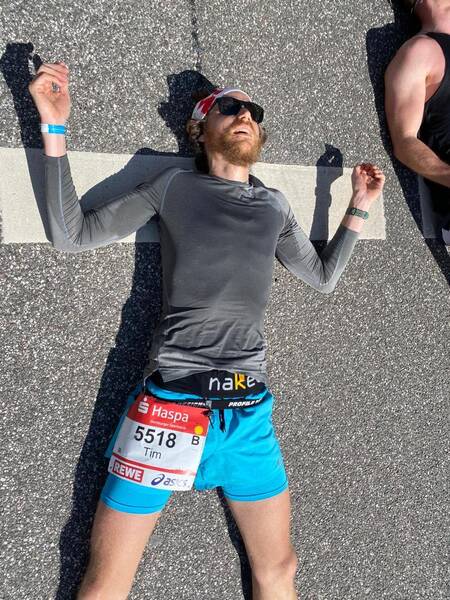 That's better. There's the sky in view. Damn my heart is beating fast. The beeping of some other runners coming through the finish line. 3:00:40. Just missed it, F******CK. I scream. For a few minutes, I'm annoyed that it hasn't worked out today. Annoyed and exhausted, both. Full of a bunch of other emotions, too. Another few screams. A nervous laugh.
A guy is lying next to me by now, probably nearly the same situation for him. People who finish now all closely missed the Sub-3. Without looking at each other, we exchange a few words. "Did you also .. ?" – "Yes, you too?" – "Yes. Crap." and hold each others' hands for a second in compassion. Never seen the guy before. Intense.
Nico helps me stand again. He says it went really well for him, I start joking around about his cheater shoes which he got – the fastest Nike Vaporfly Next% ones which the pros all use. They must have done the trick 😉 – if only I had bought them, too! He is doing great and is happy about his result and even managed a #fastlastk at 3:30 min/km, the monster! Even though we had nearly the same training during these past 14 weeks. Funny how people are different. Granted, he doesn't have four kids but just one, and work isn't as stressful as mine for him, either. Not to mention, the shoes! Did I mention the shoes? Do I need to get new ones? Ha, no, don't jump to quick conclusions now.
After a few more minutes pass, the disappointment over my result changes into appreciation.
Never before have I run a marathon this fast.
🤩 3:00:40
This is a huge personal record for me, 9 minutes faster than my previous best, and 17 minutes faster than my previous officially measured best. And now I have officially beaten Doctor Schwarzer's announcement and my father's record by a huge margin. No one can take that from me or doubt this until the end of my life. Here's the Strava tracking proof from my watch, and here is the official Hamburg Marathon proof.
Also, I showed that I have it in me to run a Sub-3 marathon. If it hadn't been for a few factors surrounding the race, like the winds and the missing pacemakers, or the carrying of the broken buggy and hosting of a party the day before, it would have been possible. I just would need a little more luck. There was no big miscalculation or bad training that led me to this, I did most of it right. That's a victory and should be appreciated and celebrated accordingly.
🍻 Cheers, My Friend!
Nico had made it possible that we could celebrate this achievement in style. He got out of his way to get some of Munich's finest beer to the finish line and had his dad smuggle it through the locked gates for us. I was still somewhere else with my head and just glad I was able to stand upright again, when he held a Giesinger in front of my face. Another spontaneous scream left my lungs, this time a scream of joy. A security guard noticed us, saw the reason for my happiness, and instead of confiscating the beers or making us move along, he smiled, nodded, and let us carry on. He must have run a marathon himself before!
I didn't drink any alcohol for the last four months in order to not jeopardize my training effort, so this beer obviously kicked in fast. Just after a few minutes I was giggling. The amount of endorphins in my blood was also too much for me to handle. I can't describe the happiness, but it was way up there. No bad feelings about the missed goal at all, anymore. I felt like I did everything I possibly could, there's nothing within my control which I could have changed, so I shouldn't be angry. And I wasn't.
Walking through the athletes halls and grabbing some more food and drinks, chatting to a few of the other runners we knew and met here, but then making our way to get the warm and comfy clothes back on. I think I was still giggling while changing clothes. Smiling all the time. It's done, I did it.
Well, almost did it, but kind of mostly did it.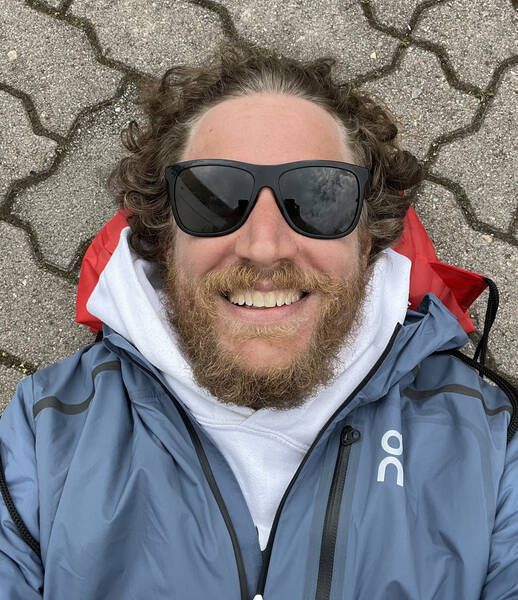 A bit of hanging out with Nico and having a bit more food and talking the race over was really nice, before we made our way towards the bikes and the relaxed ride back home.
📝 What Did I Learn?
Running in order to primarily do speed training is fun.
Building speed over time and watching my own improvements, too.
Life sometimes gets in the way, there's a lot we can't control. It doesn't matter, we can still do our best and come a long way regardless.
Not quite but almost reaching the goal can still feel like a victory.
Not entirely sure, but I think not drinking any alcohol plays a part in improving fitness. 🤔
Preparing meticulously for a single and short event over a long period of time builds the anticipation and makes the event enjoyable in the sense of a release of emotions.
It's not even necessary to ask if it was it worth it, because there was no sacrifice. I liked the training.
🔁 What Will I Change?
Of course, one of the first reactions is, that something in my training wasn't optimal. Also of course, that's always true – there can't be a perfect training by definition. But as the numbers show that my fitness improved by such a big margin, getting me from 3:09h to 3:00h, I think that it was basically effective. There are a few things which I will improve when I do another try of a Sub-3 training cycle, though. These are:
Choose a goal pace of 4:10 min/km and train for that instead of 4:15 min/km, just to have a safety net in case of headwinds, or missing pacers, broken strollers to carry, COVID episodes, what have you. This would make the intervals harder of course, but after this great training I am able to do that.
From the beginning on, do long runs with race pace at the end for increasing amounts of time. My man Peter Greif got this right and I'm sure this would have given me the edge and the power to keep the pace after 35 kilometers.
Do more race pace running. 10k or 15k, once per week.
As I plan on keeping a certain level of this fitness going by still doing weekly long runs and weekly speed session, I will probably not do the whole 14 weeks next time, but more realistically a reduced version of around 6-8 weeks.
Everything else, I'll probably keep this way. The result will be a healthy mix of Peter Greif and JP Hendriksen, and that's not a bad thing. There's some truth to every training protocol, you just have to find what works best for you. In JP's plan, I liked how he had more medium paced runs at 4:50-5:00 min/km, and his 800m intervals helped me tremendously to gain speed and fitness. Greif's longer and harder intervals were sometimes a bit too much, but I think his version of long runs and his focus on race pace are a good idea for me.
The amount of time I spent running during these 14 weeks was quite high, unsurprisingly. I'm averaging somewhere around 8 hours of training per week, most of that time spent on the weekend mornings because of the long runs. It amounted to roughly 90-110 kilometer weeks, the lowest week being at 80.9 km and the biggest at 130.0 km. This didn't seem like too much for me. I could have run more, but the time constraints of my life play a role, too.
Many people think about effectiveness in running training in terms of optimizing for least amount of running for maximum amount of gain, but that's not how I think about it. I even think that it's weird, because it gives away that you would rather be doing something else if you want to reduce the time running. If you don't like running, look for another hobby! It's all optional.
I don't want to reduce the running, I really like the running. Some also said I should do more rest days to give my body a chance to adapt to the harder training. As you know I'm not a fan of that either, so I didn't take any rest days at all. Instead I had some really slow days of just a 5k at 5:30 min/km, which felt like a brisk walk by now. Just sitting at home can't be the answer, I thought. And looking at my improved fitness, I'm not convinced I did it wrong.
🔮 What Am I Going To Do Now?
Try again, obviously!
The endorphins I got lasted for days, it would be good to repeat that.
In fact, I was so energized by this race that I found myself searching for another race within the next 4-6 weeks, because I thought I can gain the necessary fitness to shave off the 41 seconds of my finishing time in that timespan. But thinking about it, it's not fitting perfectly into our family situation at the moment for me to leave Hamburg for yet another weekend, and as I was looking forward to doing a bunch of runs and races which were probably not improving my marathon fitness status (see 42_16), it makes more sense to use the summer for all of that random stuff and do some more focussed running training towards the fall.
Right now, the plan is to try again in Cologne on October 2nd. That marathon has supposedly just 36 meters of total elevation gain, whereas Hamburg has somewhere between 120 and 200 meters, depending on whom you believe. So that increases the odds for me. A flat and easy city marathon. My new friend Sonja is planning to run Sub-3 with me, so we might do some training together – maybe even joined by Martin Grüning, her husband, who said he wants to do Sub-3 again as well. At 60 years of age, that would be impressive, but he certainly has the power. A rag-tag trio.
🧐 Boston?
The world's oldest annual marathon race in Boston is one of the hardest to get into. Since 1897, they had a race every year except for 1918 (World War I) and 2020 (COVID-19). People from all over the world would like to race in Boston, as it's not only special in that regard, but it's also one of the six World Marathon Majors, next to New York City, Tokyo, Chicago, Berlin, and London. Apparently, Cape Town might join them soon as a reader of my blog from Cape Town, Marnus, told me recently. About time.
The Boston Athletic Association has decided to limit the entrants by establishing qualifying rules based on previous race results and your age group. These are tough, because everyone wants to go. Males between 18 and 34 need to run below 3:00:00 in a certified race, and males between 35 and 39 need to have taken less than 3:05:00. That's me! I can now apply for entry for the 127th Boston Marathon! It's in April 2023, so still quite a long time to go, but I'm intrigued. I think I should use this opportunity, but we'll see how this year goes and what might happen until then to change my mind.
🏁 Conclusion
Great idea. Repeat.
How do you feel after reading this?
This helps me assess the quality of my writing and improve it.