Running a Marathon in Every EU Capital City
🇪🇺
From 2011 to 2018, I was on a quest to run the official marathon races in the capital cities of all EU member states.
At the time, I maintained a website for it and wrote reports about all the 28 races. Now, 5 years after the conclusion of the project, it feels like the new home of it should be right here, at teesche.com.
There's a lot of information about all those hugely diverse countries of Europe in these reports. And my own journey from 5 to 3:30 hour marathoner as well as the growth of my family from two to six people over the seven years might be interesting, too.
Update February 2020: I added a 29th one to it, since it finally became available this year: Nicosia, Cyprus!
---
The Book Is Here!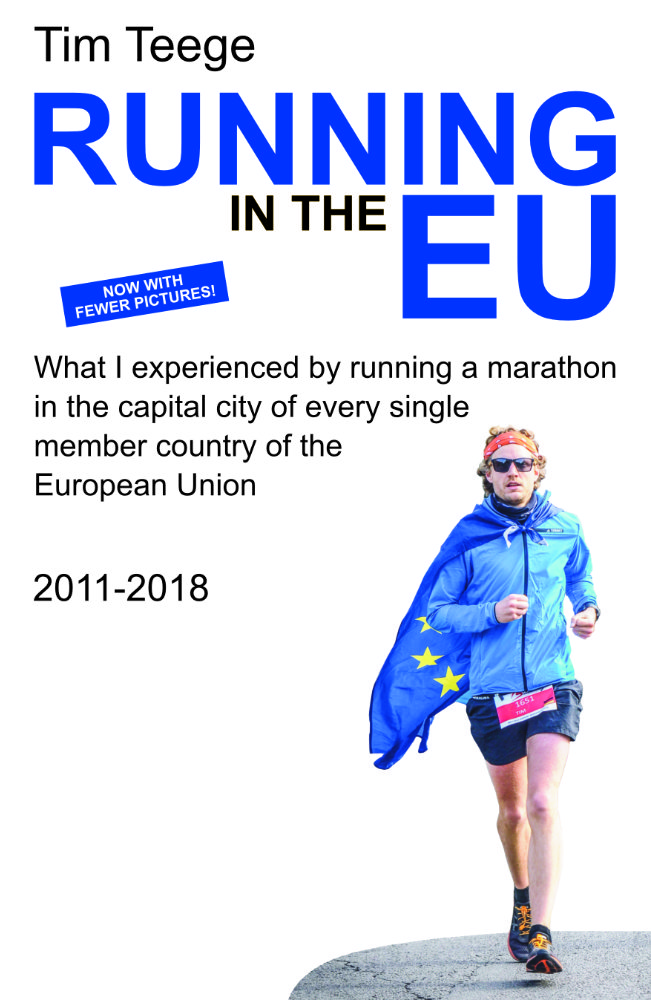 Buy on Amazon
100% of the proceeds go to Doctors without Borders
Or download the free EPUB version of the book here.
---
All EU Marathon Reports
---
The Stats
1
Amsterdam

Netherlands

NL

16th of Oct, 2011
04:36:51
2
Copenhagen

Denmark

DK

20th of May, 2012
04:25:42
3
Lisbon

Portugal

PT

09th of Dec, 2012
04:23:31
4
Madrid

Spain

ES

28th of Apr, 2013
04:19:42
5
Luxembourg

Luxembourg

LU

08th of Jun, 2013
04:22:10
6
Berlin

Germany

DE

29th of Sep, 2013
04:17:02
7
Budapest

Hungary

HU

13th of Oct, 2013
04:10:01
8
Athens

Greece

GR

10th of Nov, 2013
04:50:53
9
Rome

Italy

IT

23rd of Mar, 2014
04:18:55
10
Vienna

Austria

AT

13th of Apr, 2014
04:14:57
11
Riga

Latvia

LV

18th of May, 2014
04:08:40
12
Helsinki

Finland

FI

16th of Aug, 2014
04:57:01
13
Warsaw

Poland

PL

28th of Sep, 2014
03:59:22
14
Ljubljana

Slovenia

SI

26th of Oct, 2014
03:53:46
15
Malta

Malta

MT

22nd of Feb, 2015
03:53:38
16
Bratislava

Slovakia

SK

29th of Mar, 2015
03:59:48
17
London

United Kingdom

GB

26th of Apr, 2015
04:00:48
18
Stockholm

Sweden

SE

30th of May, 2015
03:45:28
19
Tallinn

Estonia

EE

13th of Sep, 2015
03:40:47
20
Cyprus

Cyprus

CY

06th of Mar, 2016
03:47:08
21
Paris

France

FR

03rd of Apr, 2016
03:51:57
22
Prague

Czech Republic

CZ

08th of May, 2016
03:55:33
23
Vilnius

Lithuania

LT

11th of Sep, 2016
03:43:46
24
Sofia

Bulgaria

BG

09th of Oct, 2016
03:31:58
25
Dublin

Ireland

IE

30th of Oct, 2016
03:37:20
26
Zagreb

Croatia

HR

08th of Oct, 2017
03:50:08
27
Bucharest

Romania

RO

15th of Oct, 2017
03:57:34
28
Brussels

Belgium

BE

28th of Oct, 2018
03:51:50
---
A Map of All 28 EU Capital Marathons
---
Why Would Anyone Do This?
Note: I wrote this a couple of years into the challenge, which was around 2013/2014.
My own personal reason is quite simple. Because it is possible!
After a very unmotivated phase of my life I began to think about creating a kind of bucket list of things that I want to experience in my life. The result was a long document that grows a lot faster than I can cross off items. The list is more than 20 items strong.
Some goals can easily be accomplished via the popular strategy of using money, like for example doing a long vacation in the South Pacific or a biking tour along the Way of St. James. Others are relatively intense like crossing the English Channel swimming or completing an Ironman distance triathlon.
Update 2022: I have done some of them and now publicly keep track here.
For some reason, many items on my list are of athletic nature, although I wouldn't call myself an athletic person. After a childhood of experiments with tennis and field hockey my athletic career was kept down by my huge laziness. Eventually, during university, I tried some outdoor running and that stuck with me. When I entered adulthood by having a real job in a real office, the urge to go running in my free time grew even more. I did around 30 kilometers per week and at some point I found myself registered for the Hamburg marathon, together with my co-worker Kristian.
That was the end of my laziness. What followed was a biking tour from Hamburg to Athens, Greece (about 1,200 kilometers in three weeks, including crossing the Alps from Munich to Venice), my first Olympic distance triathlon in Hamburg (1.5 kilometers swimming, 40 kilometers biking, and 10 kilometers of running), as well as lots of halfmarathons and 10k's in Hamburg and the vicinity with improving results.
It became clear to me that running will stay with me for a long time. I consider it being a very elegant sport, because:
no special skills or technique is necessary
there is no need for expensive equipment
also no silly club memberships
you can just go out and run. Everything you need is already there. Just a bit of practice that additionally makes your whole body stay in shape. Best sport ever!
In 2010 I finished my first ever full marathon in Hamburg, just to experience what it's like. After 25 years without a real sport I was prepared in a disastrous and naïve way and I finished in 4:51:30. It was one of the best moments of my life.
I remember it like it was yesterday how I wobbled for the last eight kilometers, half walking and half trying to jog, always thinking about quitting but still fighting. At kilometer 41 my then-girlfriend Sophie (now she is my wife) jumped out of the crowd onto the course and ran along with me until shortly before the finish line where she was taken out of the race by the security guards.
That gave me enough energy to run for the last few hundred meters to the finish, my head held back because my neck muscles were so sore, my body leaning forward and my mind completely focused on not falling down and instead putting one foot in front of the other one, until finally I heard the beeping sound of the chip tracking machines and the clicking of the photographers that confirmed I finished the race.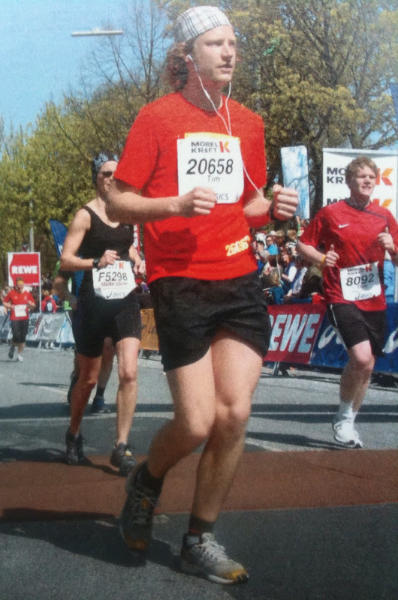 A nice lady handed me my medal and there I was, with my victory against myself. I cried a few tears of joy. My feet felt long and flat and were full of sore spots and blisters. I got a black toenail. My whole body was aching and there wasn't one muscle that didn't feel sore. I was very hungry, tired, but extremely happy. My sister picked me up and drove me home.
The first thing I did back home was google more marathons.
But I did not just want to run any random marathons, I prefered to have a concept behind it. I just found out how happy it makes me to have a huge goal and fight real hard until I finally manage to reach that goal, so naturally I wanted to set new and bigger goals immediately. I got the idea of running a marathon in every EU capital for no particular reason except that I love Europe and the idea of different kinds of peoples coming together to cooperate with each other's best interests in mind, as opposed to exploit and kill everyone else like humankind has done over and over again.
One worldwide people with a common idea of sharing Earth and keeping each other alive. In my mind, this starts here in Europe – we're the guinea pigs it gets tested on. It's clearly not always easy to follow through on this huge political vision, but in my opinion nothing worth having comes easily.
Just like with running a marathon, you have to put in a lot of work until great things happen. But apart from this point of raising awareness I didn't do it to achieve some world records or anything, it's also just that I like to travel and get to know new places.
Throughout these years I've met many great people through this website. So if you're thinking about talking to me, feel free to send me an email!