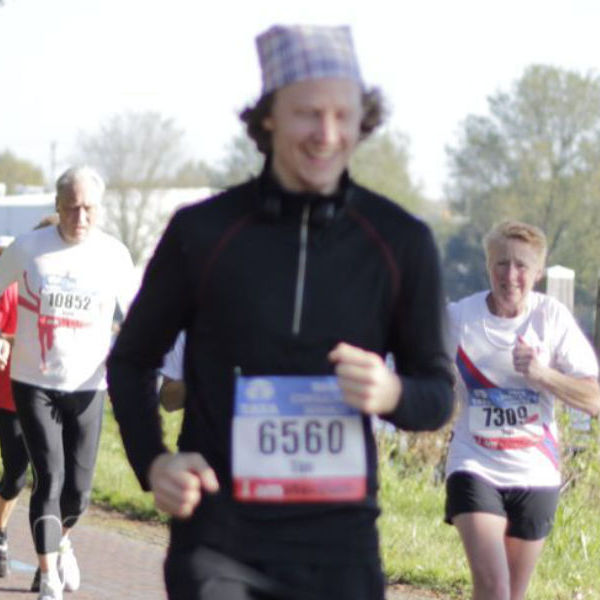 Amsterdam
16th of October, 2011
It began on Friday, the 13th of October in 2011 at Hamburg Central Station. My girlfriend Sophie, who is very pregnant at the time, and me are meeting the people who are coming with us. Maddin and Kiro, Serzhey and Lucia, and another nice girl whose name I forgot. She also wanted to go to Amsterdam, so we took her with us. We got us a Mercedes Viano for the ride. What a car! Since that trip this is my absolute dream car. So much space and luxury and still not insanely large. Just right. I hope I can afford it some day!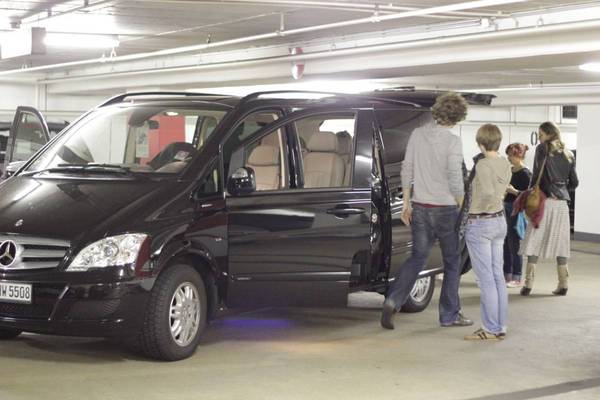 What followed was a very relaxing drive to Amsterdam. Those 5 hours from Hamburg don't ever seem to be that long. We booked a little bungalow at a camping ground in Amsterdam, which was quite the contrast to our car, luxury-wise. But it had beds and heating, which made it far better than a tent. One thing that always makes everything better: free Wi-Fi. Woohoo!
The following Saturday we went to explore the city on foot, ate interesting Burgers that we bought out of a wall of locker-like compartments and, of course, visited the marathon expo to collect our race numbers. That place wasn't located in the city center, so we had to take the Metro. Buying the tickets really gave us a hard time, but that fact made us laugh a lot, too. That day happened to be Serzhey's birthday, who got some nice and freshly baked muffins in addition to a couple of really weird gifts, e.g. a Hello Kitty running bandana…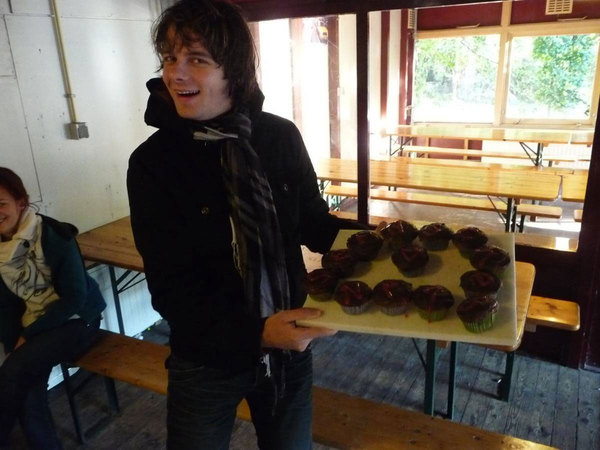 The camping ground had a big common kitchen, which we could use to have our own Pasta Party in preparation for the marathon tomorrow. Lots of people had the same idea and many of them were running tomorrow as well, so we shared everything, which was quite nice. After that, the three of us who were going to run the next day hoped for a good night's sleep. Our common experience is that this never happens the night before a marathon, because there is a lot of excitement for the race. But this time it went a lot better than I thought, and the next morning was wonderful – except for the weather. Humid, foggy and cold. After a big breakfast we took the awesome Viano to drive to the start of the race. I was especially nervous, because this was going to be my first marathon after more than a year, and my second marathon in total. I didn't really know anything about the course either. Amsterdam is flat, but you never know how the wind is going to be.
I am positive you can see the nervousness in our faces on that picture to the right. This is Serzhey's second marathon as well, he ran the Hamburg marathon that same year in 4:19. Maddin (right) is the only one who hadn't done a marathon race before and is almost sure that he won't make it. Not enough training, knee doesn't work well. We'll see.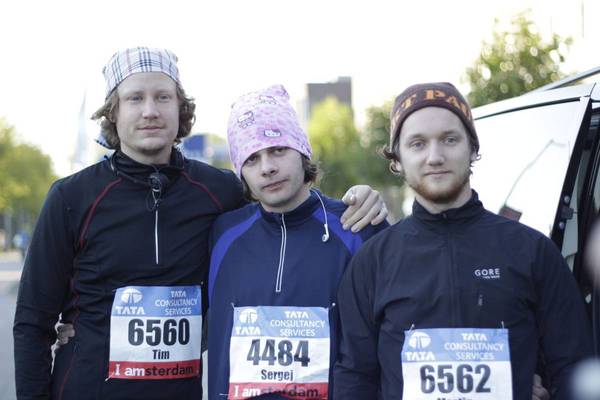 Amsterdam has quite a big marathon. I am very bad at guessing the sizes of such masses of people, but I would say it was more than 10,000 runners. At the same time, a half-marathon and quarter-marathon were also held, in big parts on the same course. The more, the merrier! The starting point was inside of a stadium that had only a small hallway as an entrance. So there were thousands of nervous runners trying to get through this 2 meter wide passage. We had to wait a long time in the queue behind it. When we got to the passage itself, I could see that inside that tunnel was the place the toilets were situated. Well, this is not the best planning. I had lost the other two guys in the crowd and was alone when I heard the gun going off, signaling the race had started. A few meters next to us, separated by big fences, I could see the faster runners coming out of the stadium again, already on the course. The race had started! Ten minutes later I also reached the starting gate. Now it really started! Now inside the stadium I took a look around the spectators and could spot the three girls, who were waving to me! Really cool. Motivated and happy I jumped through the first meters. Suddenly Maddin was behind me again and we wished each other good luck and a nice race. Though he had no experiences with marathons, we were both sure that he would reach the finish faster, because he is generally much more trained than me. The same is true for Serzhey, who probably was far away already.
The course turned out to be very beautiful. At first we went through Vondel-Park in the heart of Amsterdam, full with people cheering us on. It was a very nice atmosphere. The fans had made funny posters and there were a lot of action runners between us who were wearing costumes or were running barefoot or pushed a stroller in front of them. Respect to them. I found my perfect pace and managed to stay as fast right away. After that we got out of the city and ran south along the river Amstel. The weather had improved a lot, it got really warm and sunny.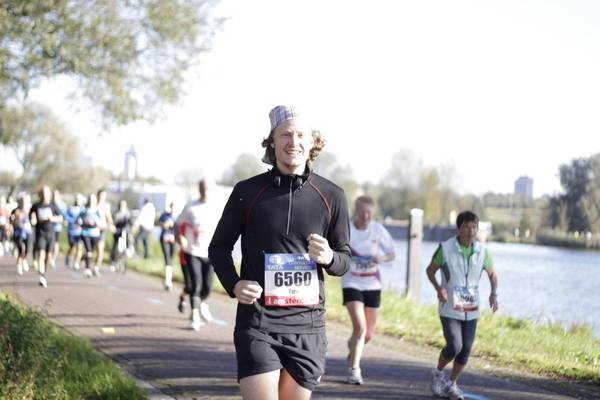 At KM17 I met the girls! They said that Serzhey and Maddin were still in front of me. On the other side of the river I could see the leading group now, because the course has a turning point and leads north again over there. A few kilometers further I reached that turning point, it was within a very cosy looking village. I really like the Netherlands. We crossed a bridge and went north again, in the direction of the city. Even in this quite remote area there were many people standing on the streets, cheering us runners on. They just had to come out of their very small but cosy looking houses and there was the big race. I had no music on my headphones and even deactivated my running app sound in order to not be distracted and really be able to listen to my body. So I basically had no idea about how fast I was going, I just had a bit of a feeling of it. Then I crossed the half-marathon marker, which had a screen showing the current time: 2 hours and 7 minutes. Very good! I will be able to finish, I thought. I ate a PowerGel that I brought with me and went on. On the Amstel river there were a couple of boats cruising around, one of them had a live band on top of it which was performing strange Dutch folk songs. I have definitely heard better music, but this was a nice idea. Next time please play some progressive Mathcore.
And further we go. Leaving the Amstel we entered an industrial area. It was not very nice to look at and had not as much fans, but on the other hand it was quiet and relaxing without all the noise for a change. The crowd of runners had spread across many kilometers by now, so everyone had a lot more time and space on the refreshment stations now. Everything was perfectly organized and they even had my favorite drink for free: blue Powerade! I passed lots of kilometers and didn't feel sore or tired at all. Probably because I wasn't going as fast as I could. My main goal is to reach the finish line, and nothing else. At KM30 I saw a lady holding up a sign that read: "A marathon starts at KM 30" – and she is definitely right. Now I realise how far I've come and the race starts to feel longer and longer. But I still feel optimistic. Serzhey might already have finished, I thought. In the streets there were more and more bands as we came closer to the city. Drumming squads next to rock bands, but also a 30 piece Gospel choir. Very diverse, I like that. At KM34 I met the girls again, and they told me that Maddin was just there and is very tired and slow, but Serzhey has passed them long ago. Let's see if I can meet Maddin! I still had some power left. Not enough to be running faster, but enough to be keeping my pace. We are crossing the Vondel-Park again, next to some strolling tourists, KM39, KM40, KM41: suddenly I see an orange, small man, walking on the right side of the track: it really is him, Maddin. Poor guy! He looks beat up and disappointed. His knee is hurting badly. But I can manage to cheer him up and he really doesn't want to see me finish before him, so he gathers some more courage and starts running again! In the mean time it got quite hot and I feel sunburn on my forehead. Maddin runs and we talk, and he starts to run faster and faster until I even have problems to keep up. But I am still able to stay with him, and so we cross the finish line together, being really happy. Marathon completed! 4:36:51, that is 15 minutes faster than my last marathon in Hamburg!
Now everything is not so important anymore. A couple of minutes later I met the girls again and we found Serzhey coming out of the showers, who finished in less than 4 hours (!). We just fall into the car and drive back home. The obligatory stop at Burger King to celebrate the race with a huge burger couldn't be left out. Happy.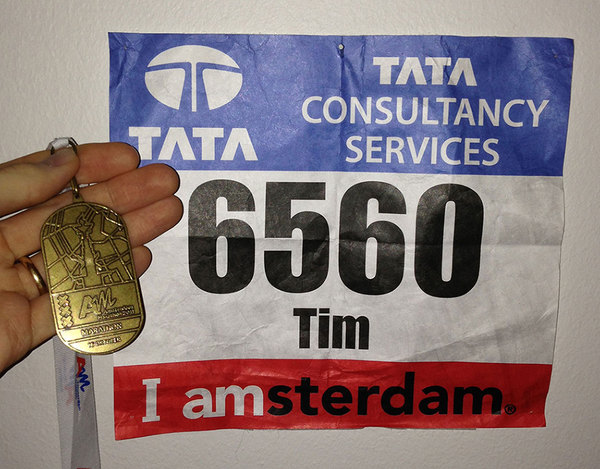 Certificate