Luxembourg
8th of June, 2013
The fifth marathon is upon us. It's the city of Luxembourg within the country of Luxembourg, on June 8th, 2013! I knew the city quite a bit thru a few visits during my college years in Saarbrücken, which is just about 1 hour away by car. A good reason to come to Luxembourg during that time were all the rock concerts. This time there was no official concert, but a race to run. Although there were a lot of bands playing during the race. On Thursday before the race weekend, after an interesting day of work, me, my wife and our little daughter Julie got into the car we borrowed from Sophies parents and drove down to Luxembourg. A trip of about 600 kilometers from Hamburg. Not the easiest thing to do with a 1.5 year old in the car, who usually prefers to run around all over the place. We read a good amount of children's books with her, sang some songs, and to repay us for all that Julie even took a nap during the ride. At about 11:00 PM we arrived at the privately owned flat we rented via AirBnB and met a very nice landlord named Philippe. The flat was next to the center of the city, right at the marathon track, and minimalistically but very practically furnished.
Arriving on Thursday night, we had the whole Friday for the usual activities: visit the city center, buy some groceries, play with Julie, and of course collect the racing documents, which were located at a congress center called Luxexpo. That was also the place where the start and finish of the race were going to be situated. Everything was perfectly organized by the officials, incredibly clean and filled with very nice and helpful staff. Exactly what you would expect from Luxembourg. For example, every runner would receive a small plastic bottle with water along with the racing documents, and because of this there were huge garbage bins every 5 meters so there would be no waste on the ground or at other places.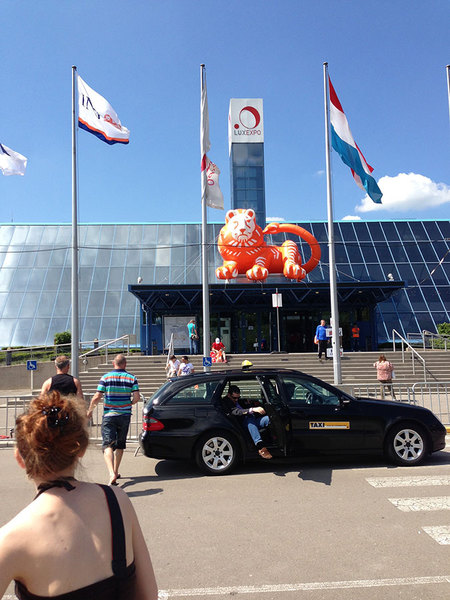 Walking thru the streets of the city we noticed how clean it is again and again. There were medieval castles and walls everywhere, which were maintained carefully as well. Together that produced a very unique atmosphere. This country has a lot of unique things about it, but it can't be explained and there are no fitting clichés for it, I feel.
The night from Friday to Saturday was really good, I wasn't nervous at all. I am sure this is because the race won't start until 7:00 PM The day itself though was kind of nerve-wrecking. You don't know how to use your powers and not wear out your legs so much before the race. I was really careful with eating the right things, too. But there was just too much time during the day to think about the race and get nervous because of that. I didn't like it very much, and now after it's done I have to clearly admit that I prefer the marathons that start in the morning.
At around 5:00 PM I couldn't wait any longer and decided to leave for the start of the race. There was a free shuttle service which took everyone who wanted from the center of the city to the start of the marathon, which was located about 7 kilometers away. It was already quite crowded there and the atmosphere was very positive. I was surprised by the size of the event. Though there were just about 1,000 full-marathon runners, a half-marathon and a relay marathon were held at the same time. Those races were also quite popular. I was one and a half hours early and that didn't help fight my nervousness. I walked around the whole area and met a few interesting people, one of them Michel Descombes, who is a French-German guy who is known in the marathon community for his clown-like costume which is based on a number of French stereotypes. For example, he is usually holding a sign, but the stick attached to it is a fake Baguette bread. He is running about 40 marathons per year, just to cheer for the other runners and have fun. In his early days he had a quite impressive amateur career as well. We talked for a bit and he told me that Hamburg is his favorite marathon event, in which he took part every single time since its existence. That's about 25 times, I think. Not bad! He also said, that Luxembourg has a rather challenging course. Ok. In a bit of arrogance I didn't really gather information about the track before-hand, so I did not really like to hear that. I knew it would be a little hilly, but I thought that I was prepared well enough, having run Madrid and Lisbon before. Both of those races are known to be challenging because of their profiles. Well, we will see how it goes.
The nice little chat with Michel was interrupted by an arriving phone call from Jürgen Penthor, another multi-marathon finisher. He is from Austria and also writes a blog about his runs at 42komma195.at. We started writing emails because of this a few weeks ago. By accident we were both signed up for this Luxembourg race and decided to meet. After a few technical difficulties, because the cell-phone carriers were used more than usual in this area, we met right in the middle of the runner's field. He was with his wife Sonja, and they even brought a little gift for my daughter Julie! They are very nice people. We had a little chat and complained about the humid weather, but were excited for the run. The last half hour before the start went away in what felt like seconds, until our talk was suddenly interrupted by the gunshot that started the race. Here we go! Running together is more fun, so Jürgen and I just kept the same pace and talked away. He told me a lot of interesting and fun stories about all the marathon races he's completed so far, and about the interesting people who are in his marathon club. I couldn't really keep the quality up with my own stories, but I am a good listener. When we reached the place were Sophie and I had our flat, Jürgen also got the chance to meet Sophie and little Julie and I could give them the little Teddy bear that Jürgen gave me as a present. Julie was very happy. And on we ran. Suddenly I noticed the first kilometer sign during the race: 17. 17 kilometers? That was fast! This talking thing seems to be a good tactic!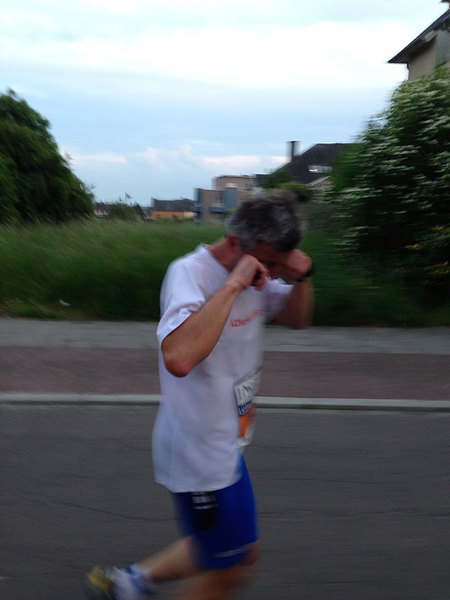 Shortly after we finished the first half of the marathon Jürgen decided that he would like to run a little slower than me and convinced me to run my own faster pace. Said and done. We were just behind the 4:14h pacemakers, who are normally too fast for me, but in a delusion of grandeur I passed them by. Running away from the pacemakers is easier than following them, I think. Fitness-wise I was doing okay, no cramps, no blisters, enough stands with water supply and fresh fruits, Sophie and Julie at KM 8, KM 12, KM 20 and KM 36. Jürgen's wife managed to be at the course even more frequently and took lots of photos. Between KM 20 and KM 30 I kept a constant fast pace, but I soon realized I wouldn't be able to keep it for the whole race. But I tried this new tactic.
At KM 30 I was a bit surprised by the course, which led right down into some kind of canyon. Every meter we went down, we would have to climb up again, I thought. That feeling annoys me a bit. Down there it was cool and quiet, but because of the different pressure in the air there were lots of little flies and mosquitos. Most of them were on my face after a few minutes. Then began an ascent that stretched over the next 10 kilometers. Thankfully it wasn't as bad as I expected, because of the long distance. Between KM 32 and KM 34 we reached the old city center again, where the atmosphere and crowd were present again. Because midnight was approaching fast and it was a Saturday, there were many drunken young people in the crowds. They cheered a bit more than necessary and it smelled like cigarettes and alcohol everywhere. KM 36, and there was Sophie again! It is about 11:00 PM right now and Julie is sleeping in her buggy. This meeting gave me some more energy that I desperately needed.
Now it's getting difficult again. The 4:14h pacemakers passed me by and I just couldn't manage to keep up with them. It was a long straight street the led upwards back to the Luxexpo, and I needed lots of concentration to run further. The last few kilometers still melted away and finally the upwards section was done and I saw the KM 40 sign and soon afterwards the halls of the fair, where the finish line will be. The crowds were getting louder and louder, the music from the finishing area too, and suddenly I entered a big gate into the halls. The last few meters were insane, it was full of people and really loud music played while a huge light show was taking place. There were half-naked cheerleaders, and then there was the finish line. YES! Hands up in the air, I did it!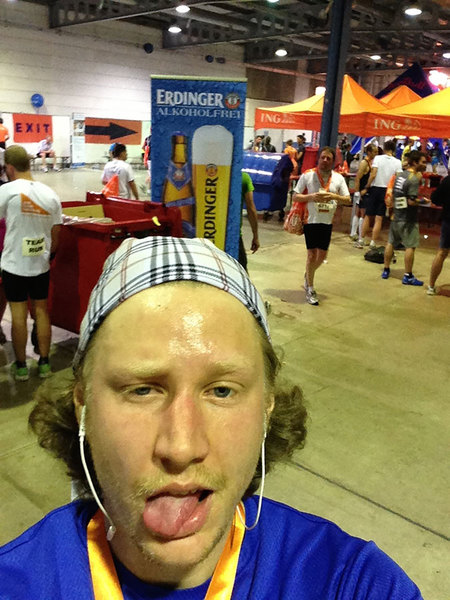 The feeling is always amazing. I did another marathon! This one was definitely one of the more difficult races, as you can see from my facial expression. Later I found out that I ran both half-marathons at the exact same pace, right on the second. 2:11:05, 4:22:10 in total. Funny. I was wobbling through the halls a bit more but then tried to find the shuttle bus quickly. Everything worked out fine and at about 1:00 AM I was finally in our bed, next to Sophie and Julie. A great feeling.
What remains is the long drive home. A little moment of shock was waiting for us the next morning: after we packed our bags and were ready to leave, I wanted to get our car out of the public underground car park. I saw a sign there, that said it was closed on Sundays. Oh no! The telephone hotline didn't answer my calls and all the doors were just closed. Did we have to stay for another night? Thankfully Sophie found another hotline number and a guy answered who was really nice and gave us the information that we needed: as soon as you paid the parking fee at the machines, the doors to the garage would open. Of course it worked, as we should have imagined. Six hours later we were back in Hamburg. Marathon number 5 was done, see you next time!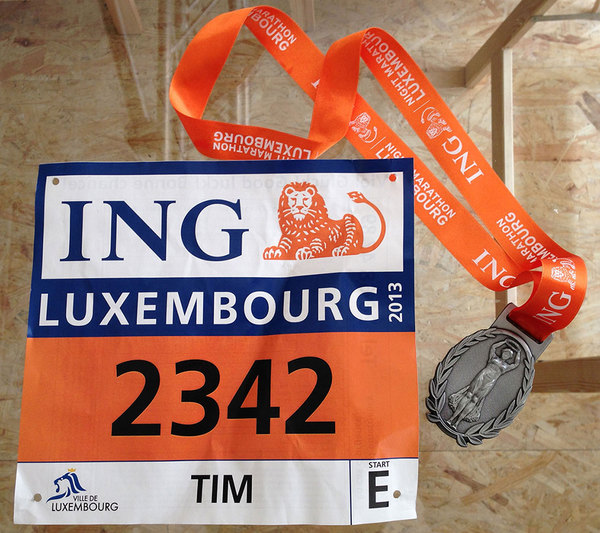 Certificate