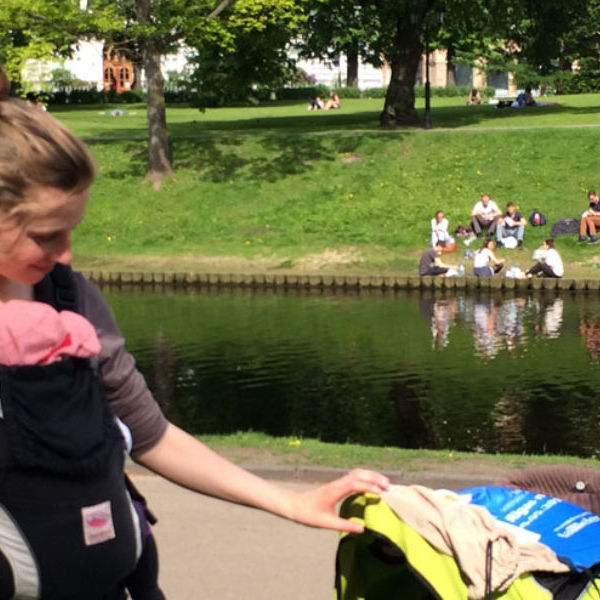 Riga
18th of May, 2014
If you have read some of my marathon posts, you probably know that I like to say some things about the culture of the city I'm in, usually at the beginning and usually about the field of music, because that's what I can relate to most. This time it's been quite difficult though. Riga, Latvia – do you know any important historical figures that achieved something in music who are from Riga? Or from Latvia in general? I had to look it up on Wikipedia, and found two people that couldn't be more different from each other.
Richard Wagner lived and worked here. He is originally from Germany, and got famous because he wrote intense, sophisticated and dramatic classical music, but foremost he was loved (literally loved) by Bavarian King Ludwig II who paid for all this. For example, King Ludwig II built this insane castle of Neuschwanstein as an homage to Wagner, specifically his work Tristan and Isolde. I once visited the castle. It truly is amazing and insane at the same time.
The other person I now associate with Riga goes by the name of DJ Lethal and used to be in the rap/rock band Limp Bizkit, which was hugely successful during the late 90s and early 2000s almost all over the world. There is a famous phrase: "DJ Lethal, bring it on" – after that he would go insane on his turntables. He sold millions and millions of records and also produced many other successful musicians. DJ Lethal stated in interviews that he still feels very connected to Riga.
I like how different these two examples are, and they maybe represent the diversity of this great city. We were blown away by the beauty of Riga and really recommend visiting this place to all of you. The trip began with a flight with airBaltic, which is great and has the best airline website I have encountered so far. Service was great, too. Little Vera was a little bit annoyed at times, but all in all it went very well.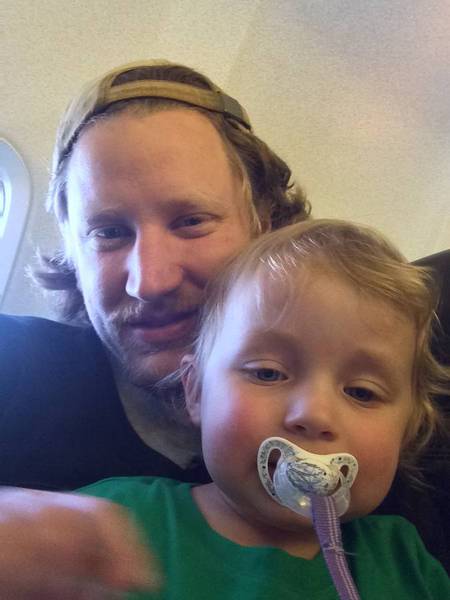 A very cheap and nearly noiseless hybrid taxi took us to our flat, which was right in the middle of the Old City of Riga. Perfect. A good night's sleep and a nice Saturday filled with walks through the city followed. First, to buy some groceries, then to get to the marathon expo to collect my marathon bib and then just to explore the beautiful city.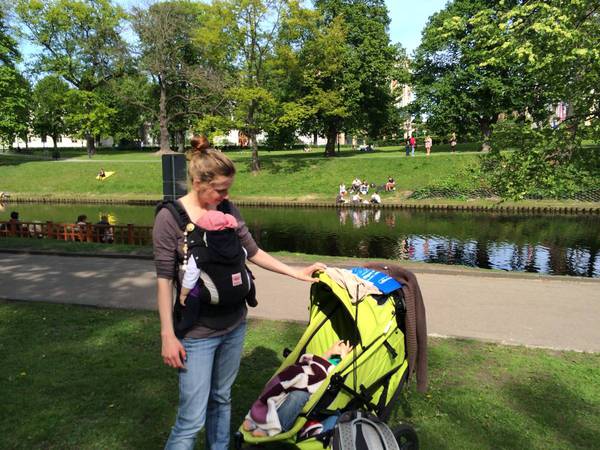 The prices were a little weird. I was at a grocery store with Julie and paid about the same as I would have back in Germany. But in the evening we went to a Restaurant and had full meals for everyone including drinks for about a third of the money it would have been back home. Latvia had just introduced the Euro currency this year and I guess there is still some confusion going on. Also, the city is still full of money exchange stores for this reason. I like how more and more countries make the Euro their currency. We're getting closer together, and that is always a good thing. The EU money has done a lot for the country, as well. Infrastructure has improved a lot, the economy is strong and growing. People back in Germany sometimes worry about their money going to waste in countries like Latvia – but I suggest just to visit some of the formerly weaker European countries now, you'll change your mind very quickly. Get rid of all prejudices.
After this very sunny day we were exhausted and thankful to have found such a nice apartment to fall asleep in. A tiny bed for all four of us made it very cosy and comfortable, I really liked it.
The next day, Sunday the 18th of May, 2014, I got up earlier than everybody else again. All three girls were sleeping when I got my cereal and prepared for the race. We're in a slightly different timezone, one hour in front of Germany, which made the girls sleep longer. But I'm glad they all got some good sleep. We had checked out the course before and figured out where to meet. There were many chances: At kilometers 4, 10, 14, 22, 32, 38 and 42. All of these places were very close to our flat, which was again very well planned by my wife Sophie. The starting area was also just around the corner from our flat. I could just walk to the place and enjoy the crowd. The music was very good again, when I arrived I heard The Killers, followed by Queen. A guy was emceeing the crowd, about 20,000 people. Marathon, half-marathon, 10k, 5k. He was greeting the ten most represented countries in their individual language. Impressive! Starting with Latvia, Estonia, Finland, Russia, Lithuania, then Germany. We're always quite well-represented. He basically said: "I hope you have a great race and feel like being on an Autobahn and after finishing, party as hard as at Oktoberfest!" in German. The Finnish greeting mentioned lots of Saunas. Nice idea, I felt welcome.
After that, a conductor appeared and made us sing a Latvian traditional song. But first we had to stretch and warm-up. Nothing new here, except for this: he got us all to turn to the Daugava river and then he said: "Now give the person in front of you a neck massage!" – people were giggling a bit, but almost everyone took part. Fun! After a few more speeches by the organization people, who never failed to mention that Riga was named the Culture Capital of the EU for 2014, a guy with a gun showed up and made us run away really quickly.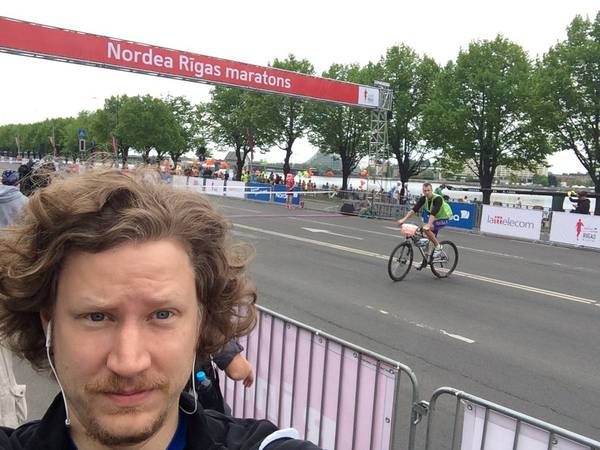 Here we go! Running again. Five weeks since the last marathon in Vienna, I felt regenerated. My plan was to go practice some more this time, but that didn't work out well. A week after Vienna I ran about 8 kilometers, pushing Julie in her buggy. Then we had a week-long vacation in Sardinia where I got sick and couldn't run, and when I finally got my strength back I ran another 10k, but that's just been a week ago. Wow. Not much time for fun activities like training. Still, I felt really good. Nothing hurt, no sore muscles, no blisters – perfect condition to run a marathon. I was thankful that this course turned out to be very easy. No hills except for some bridges, great weather but no direct sunlight, not as crowded as the bigger city marathons.
The music was great, too. I heard Muse, and even Korn. Every few kilometers, they had a DJ and MC standing there, representing one of the represented countries. The German DJ played "99 Luftballons", some Scooter, and mainly German electronic dance music. I guess that's what we're known for, here. Could've been worse, but not by much.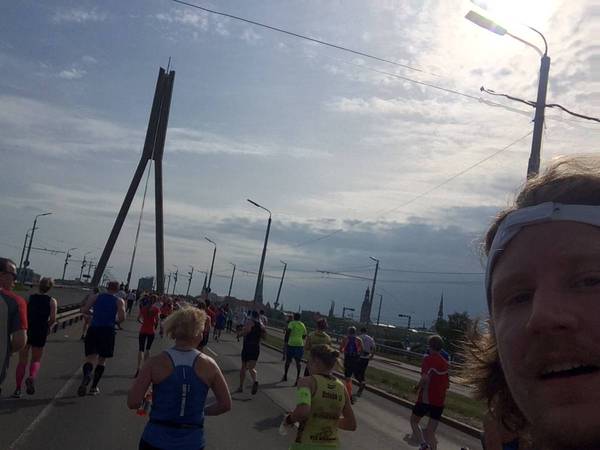 At kilometer 10 they had the so called Culture Kilometer, with a big Latvian choir and band, lots of Latvian people cheering while wearing traditional clothing, and in general a very warm and nice atmosphere. At kilometer 14 we ran across the same place and saw it all again. And this time, Sophie and the kids were there! They missed the first two meeting points because of sleeping and well, because Sophie has to take care of two little kids at the same time, which is not easy. I was very happy to see them and probably lost a minute to hugs and kisses. What better way to lose time?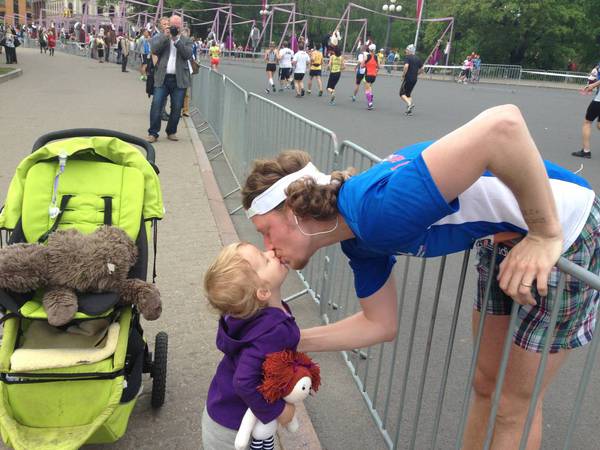 The course was very easy and interesting. I especially liked all the streets next to the river, called Daugava. A beautiful and big river, connecting the city with the Baltic Sea. The kilometers melted away and suddenly the half-marathon runners were already leaving us for the finish line. We ran a little further before, so that we were at 23 when they left us. The finish was right next to us and it felt a bit strange to really see all of them finish, get their medals, walk, sit down and relax while we had another 19 kilometers in front of us. First time experience at a marathon, but interesting none the less.
The remaining part of the race was basically another lap with a few additions. I realized that I didn't pay very much attention to the course because many places didn't seem familiar. The MCs got a bit more annoying now, probably because they were already standing there cheering for a few hours. They repeated themselves a lot and sounded tired, but what can you expect. Still a nice idea.
At 32, I finally met the family again! It's always so great to see them. Julie got really excited and jumped up and down screaming "Papa! Papa! Papa!", it was so cute. I was still doing well, right before crossing the Daugava again. Another lap in the south of the city and crossing the bridge back north. This was kilometer 38 and now I started to feel my legs. But just a few minutes to go, this is going to be no problem. And who's there to help? Countless friends at home clicking Like on Facebook and cheering on Runtastic, which is directly transmitted to my headphones, and also: the three girls again! This time they had painted the street for me: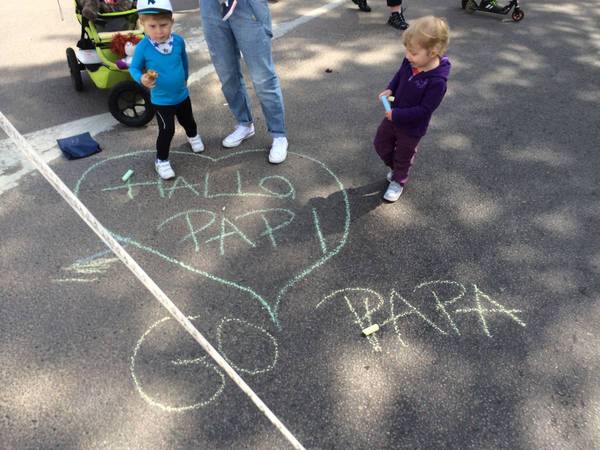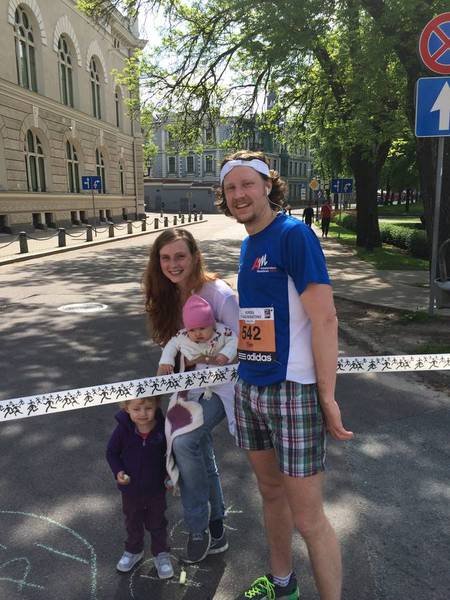 Ok, I can do this. I've done it before and I know how to fight. Water and Iso drinks always help and were well situated. But the main thing is will-power. So I got myself together and pushed until I saw this: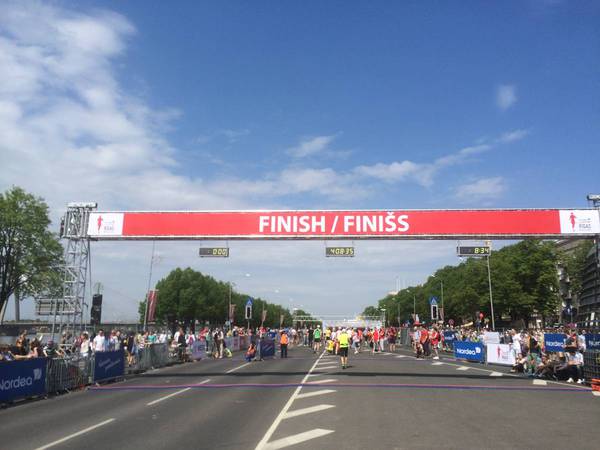 Can you see the time on the screens? New personal best! A good minute faster than in Budapest last year. Very proud. After I exited the area, Sophie was just standing there waiting for me, and I got the opportunity to sit down, relax a bit, and take this photo: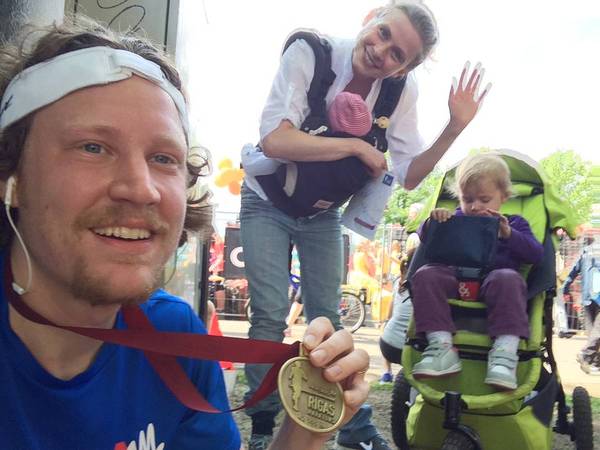 What a great race! I felt very good and everything went according to plan. Time to celebrate with great food: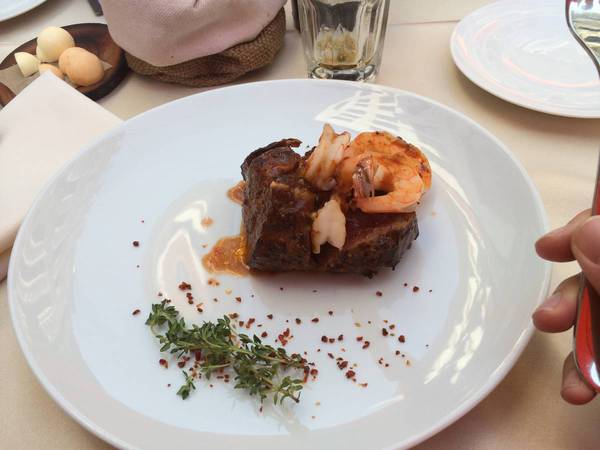 Thanks to everyone who read this, and to everyone who cheered on Runtastic, it helped a lot! It's been a great day and you guys were with me.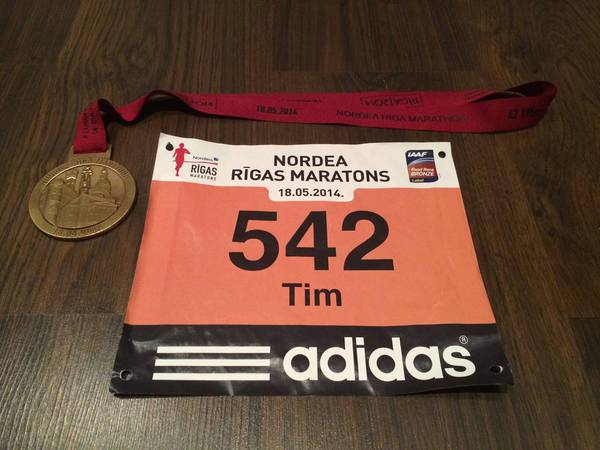 Certificate