Moinsen, everyone! 👋
Number four of the new weekly newsletter is here! Thanks for staying on, and please consider sharing this with a friend if you feel someone else could be interested.
As you're aware since you're receiving these newsletters, I have published a post about my new fastest known time at Fehmarnumrundung in memory of my late father-in-law, Peter Huggett. Since publishing it, I have received lots of thankful and positive feedback for it. Even people who didn't know him (nor me), replied that it touched them and some said they cried while reading it.
I'm glad my writing helped to show how thankful I felt for him, and also, what an important role the simple sport of running can play in our lives.
The main takeaway from all of this is that life is short and we need to appreciate the good people around us.
The new tiles are: My current location, and the current weather I'm experiencing. (Yep, it's been hot here lately.)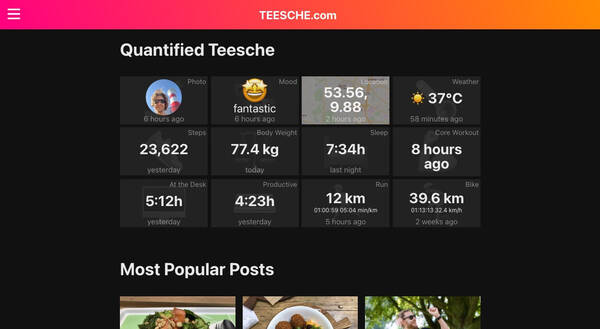 I figured those are interesting additions, because they help me later to correlate between felt emotions and the circumstances around me. I do love the heat!
In case you missed it, the post about the initial built can be found here.
📍 Location: This was a bit tricky due to the fact that I decided in favor of the mapping engine OpenStreetMap and against Google Maps. OpenStreetMap is mainly run by volunteers and without a commercial interest behind it – which is fitting better to the effort of mapping the world, I think. That task should be a collaborative effort. But the downside is that when run without any money to be made, the incentives to build it perfectly usable for everyone are a bit smaller. Still, it works well. I have added a little "Update Location" button to my own little logging dashboard website which will ask the browser's location and send it to my server. There, the map will be downloaded after deleting all but the first two decimals of the coordinates – for privacy reasons, obviously. This will lead to a picture of the rough neighborhood I'm in. Good enough!
Keep a look at it, because within the next few days, that location will change significantly and often 😉.
🌡 Weather: This one was a lot easier to do. I had already written the code for it before, when I made the iPad dashboard for our kitchen a few years back (it looks a lot different now, I made many tweaks). Getting the temperature obviously first requires a location. But now that I have the location, I can easily pull the temperature and other weather data from the free and open Dark Sky API. I just now saw that after being acquired by Apple, Dark Sky will turn off this public API and will be replaced by Apple's own WeatherKit end of March 2023 – so I guess I need to get coding again until then!
Both new regularly updated data points are a fun addition to the list of measurements and will certainly make it more interesting once I start playing with the aggregated data in a few years time.
Life is running. I'm still benefiting from having run all the 28 EU capital city marathon back between 2011 and 2018. All those fun memories! I have a lifetime to enjoy them now. That's a good reason for doing unusual or adventurous stuff early in life, too.
This week's marathon is Sofia, Bulgaria. A little obscure, sure, but I found that these cities which aren't known for being the most tourist-y actually provide a lot. Just look at the title image of that soldier and me hugging.
Interestingly, maybe, this was my fastest of the 28 EU capital marathons at 3:31 hours. It was back in 2016 and in Sofia I ate Edamame for the first time in a Veda cuisine specific restaurant and learned more about vegan food. Now, would you have expected that from the country of Bulgaria? Going to all these places certainly opened up some horizons for me.
Since I mentioned my homemade sugar mix in that recent post about the fastest known time on Fehmarn, a couple people have asked for the recipe. So here you go! Recipe first, explanation second:
200 grams of glucose
120 grams of fructose
2 grams of citric acid
4 grams of magnesium citrate
6 grams of salt
Mix it all together and store in a dry place. When I go for a rather long run (three hours plus), I use 50 grams of it with 500 to 750 ml of water and put in a few drops of mango or raspberry flavor. Done!
The main part is obviously carbs. That's what our bodies long for after prolonged exercise. We can run on the energy of our fat storage after having used up all the stored carbs, yes, but we'll be slower and more fatigued doing so. Filling in new carbs makes us go faster for a longer time – simple as that.
Why do I mix this myself? First, it's a lot cheaper and wastes a lot less plastic than these other electrolyte and isotonic powders while doing exactly the same. Second, more recent studies have shown that the mix of the different types of sugars has more of a benefit to our bodies – and all the chemicals in the pre-made store powders just aren't necessary.
I have gone through a bunch of trials before and refined the recipe over time. By the way, if you want to make it really easy, you can just take standard household sugar instead of the pure glucose and fructose – it's just ever so slightly less effective apparently. In any case, don't obsess over it, it's not worth it.
Save plastic, save money, mix your sports drinks at home!
I'm currently almost finished with Richard Feynman's anecdotal autobiography, "Surely You're Joking, Mr. Feynman!" – it's a very fun read. The guy was a professor of physics, won a Nobel Prize and is mainly known for his work at Los Alamos, laying the foundation for making the development of atomic bombs possible. I was hoping to find some contemplation about what his work has caused, but there's not much on it. Maybe his way of coping.
But still, the book is very worthwhile, he used to be one of those curious people, exploring all areas of life with lots of energy, while being a loving and funny teacher – not so much unlike my late father-in-law, Peter.
As always, I'll write a more in-depth analysis of the book on the bookshelf section of teesche.com and afterwards I'm thinking of reading Yuval Noah Harari's Sapiens. It's hugely popular and after having heard some podcast interviews with the author I've gotten interested. Have you read it? What are your thought? Let me know!
---
That's it for this week's newsletter. The next edition will be written from inside a plane, if all goes well. Fingers crossed. I'm going to collect some more memories to draw from for the rest of my life, hopefully!
Thanks for reading! All the best to you and stay healthy.
– Teesche