Moinsen, everyone 👋!
This is the last edition of the weekly updates newsletter. From now on, I will throw out emails to you via this list only as notifications when new blog posts have been published.
Thanks for staying along for the ride during these past three months since the beginning of July! Writing these newsletters and reading your replies has certainly been fun to me, but I have now chosen to batch these updates together in a more compressed way and less regularly than weekly, and as proper blog posts instead of emails.
Another advantage of this change is that it's more convenient that way to be able to go back in time reading through the updates.
This week also marks the last one of my 8-week training cycle for reaching a new personal best of 2:59:xx hours on the marathon distance. Usually, the last one to two weeks of such an effort are meant for tapering, which is relaxing and letting the body adapt and gain strength for the grand finale, in my case the Cologne Marathon on October 2nd.
Coming out of a week of battling a cold (headaches, snotty nose, cough), I wasn't in the best of moods, and the demanding weekend with the family in Berlin witnessing the G.O.A.T. Eliud Kipchoge break his own world record took the rest out of me. So, I took a day off on Monday and thankfully my colleagues covered for me.
This past week felt a lot better and I can say that my body recovered, although these last few short and easy runs didn't feel as great as they were supposed to, for obvious reasons.
Which brings us to the big race. One of my hopeful highlights of the year 2022.
While the big and important parts of the training went really well this time, the sickness at the end nearly killed my spirits. Having my nerdy fitness analyzing tool, Runalyze, state that my predicted finishing time of a fictional marathon race dropped from 2:57 to 3:08 hours didn't help, either. 😩
I got on the train to Cologne with some degree of nervousness and apprehensiveness, but determined to give it my best shot and follow the pacers at 4:15 min/km race pace for as long as possible.
There will be a full blog post about the race coming up soon.
Here's a little spoiler: The quest will have to continue. I managed to keep the 4:15 min/km pace up, got through the half marathon gates quite perfectly at 1:29:52, but at kilometer 28 my spirits left me. So I jogged the remaining 14 km to the finish and came in after 3:23:22 hours. You could put this down as an #epicfail, but I don't see it that way. The training situation I was in was far from perfect to begin with, and that's just life. Part of me is appreciative that the challenge continues, to be honest. The Runner's High is helping, too 😉.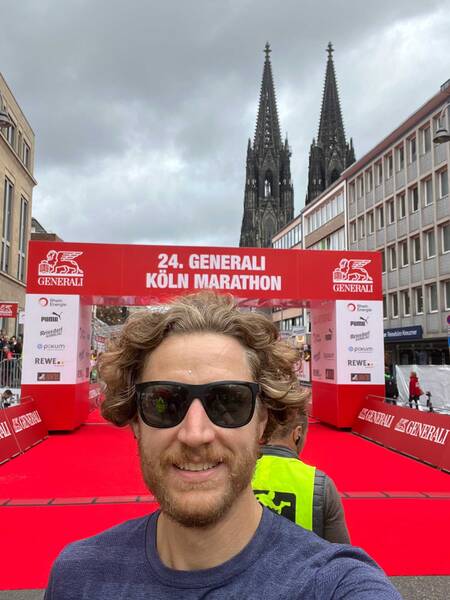 On to making new plans!
A few upcoming highlights include
🤩 The annual IRONMAN triathlon world championships in Hawaii on October 8th, which I will most certainly watch despite the timezone difference and length of it making it usually end at 3:00 AM.
🙏 Our long time friend Laurie will come over from New Zealand to spend a week with us in Hamburg starting October 9th – first time we'll see him in person since our stay over there in the beginning of 2019 (and COVID, of course).
⛰️ Le Endurance Trail des Templiers on October 21st, for me it's 2022's qualification race for my goal of the decade, participating in the Western States 100 Endurance Run. I'm traveling to the South of France on my own in order to focus on finishing these 106 kilometers with 4,600 meters of elevation gain.
⛪ A weekend in Dresden at the end of October, visiting friends. After Berlin's exhaustion, we're not 100% sure yet if we will have the amount of energy needed for a similar trip with the whole family. 🤞
As I have been doing for every quarter of 2022, I'm going to publish a post containing a review of my Summer Season of Reflection and the ideas I'm having for the upcoming Fall Season, which I will probably put under the theme of Courage within the next few days.
And now, for the final time, exclusively for you, here's my
How could I pick anything else than Brussels, Belgium for it. ❤️
I chose it as the final marathon of the 28 EU capital marathons because it's the de facto EU capital. It wasn't the easiest race as the late date in the year caused it to be cold and wet. It's still been a very worthy end of that 7-year project and I would definitely race that one again one day.
I hope you enjoyed this little experiment – thanks a lot for staying on board and throwing out likes and replies to me. Made me feel appreciated.
All the best to you and thanks for being a subscriber,
– Teesche