Moinsen, everyone! 👋
I hope you are all doing fine and enjoyed a great weekend. My family and I went to Berlin and had the chance to witness history first hand: Eliud Kipchoge ran past by us twice at 2:52 minutes per kilometer (about 21 km/h) on his way to beat his own marathon world record.
What an incredible athlete – setting the new bar at 2:01:09 hours for 42.195 kilometers.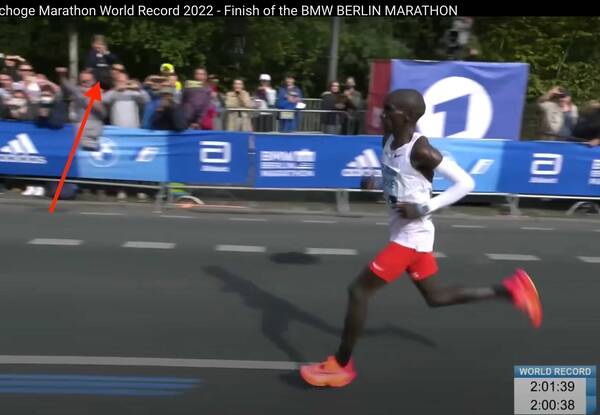 In the event coverage, there is a split second when you can see my daughter Vera on top of my shoulders looking at and clapping for Eliud. What a moment. I was so overwhelmed. 🤩
My guess is that this new record will stand for a bunch of years. He isn't the youngest anymore and I don't see any other runner who comes even close to him at the moment.
Also, these shoes! I had to look them up, of course, and they are called Nike Air Zoom Alphafly Next% 2 apparently. They come in at 300 Euros. Now that's a bit too much for a hobby athlete like me, but they were certainly responsible for a few seconds of that new world record.
While Eliud can lift up his legs now after a job perfectly done, for me it's on to race week starting today. Tapering is the most important task at this stage, in order to gain strength and be able to run a marathon in just about 59 minutes more than he did, at 2:59 hours total hopefully. On Saturday, I'll hop on the train to Cologne, hoping for good conditions at Sunday's Cologne Marathon, a supposedly rather flat and easy one.
Last week did unfortunately not go as planned. I developed a snotty nose and cough, as is tradition in this hemisphere for almost everyone during the first colder days of the fall season. I still ran through it and kept my streak going, but just did the bare minimum. Training-wise, this set me back for sure.
Was what I did in the weeks leading up to it enough to get me under the three hour barrier in a few days or not? We'll have to wait and see.
But, if not, something else which is interesting has come up during the weekend.
It's looking rather good that I'll get accepted into the world's oldest and one of the most prestigious marathon races, the 127th Boston Marathon!
Because there are a lot more runners who would like to go run in Boston than the event limitations can allow, there's a qualification system. This one is different, though, in that it's not a lottery, but a system based on achievement. People are divided into age groups (I'm in the male 35-39 year old group), and minimum standards are set. Similar runners as me needed to have proven at an official marathon race within the 12 months preceding the registration period to have finished a marathon in less than 3:05:00 hours.
That's a tough one to do for many, but thankfully I did just that with my time of 3:00:40 at Hamburg Marathon in April. So I applied.
Often, the amount of applicants is still too high, in which case the B.A.A., which runs the Boston Marathon, just accepts the fastest ones in each age group bracket. So some luck still is involved most years. But not this year! At the end of last week, about September 22nd, the B.A.A. posted this: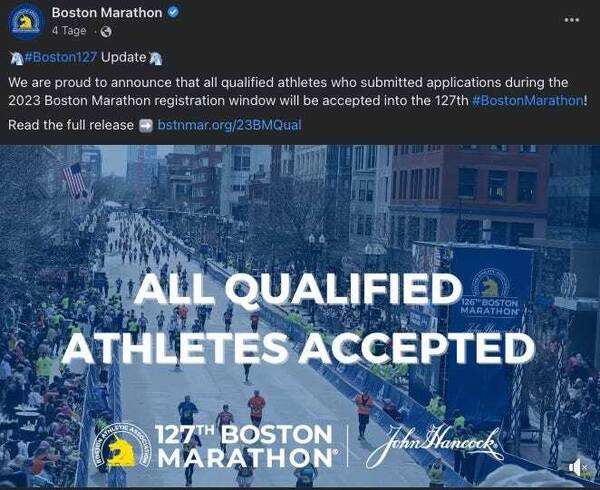 While my athlete profile still shows this screen here: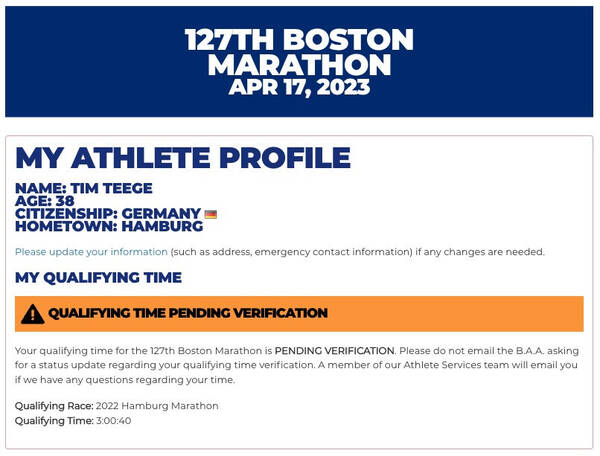 The chances of me getting in converge to 100 percent. I'm looking at flights at the moment. For me, this is very exciting and I'm looking forward to run a fast Boston Marathon next April!
While last week wasn't the greatest due to my brush with an annoying cold, I managed to write a few more lines of code for www.readandrun.club despite the headaches the cold caused. As is sometimes the case in the development stages of such a project, I broke a bunch of code, too, and had to rewrite some of it, mainly the registration process, but I also made progress on the books side of the project.
My plan to go with using the goodreads.com API were destroyed since goodreads has officially retired their API a year ago, which I didn't know. That's unfortunate, but an understandable business decision from them. It's costly to provide something like that to developers and apparently the financial side of it didn't make sense for them anymore.
To the rescue comes the Google Books API. One of the more wholesome projects of this tech giant (or rather, just "giant") is their effort to catalog all of the world's books in order to provide the knowledge of the world to the people. And since the company is insanely rich, the API is for free, too. I wrote some code and made an auto-suggest search for any book happen. Saving them to your own "bookshelf" is not yet possible, but will be the next step.
Speaking of books, I had the idea to mark some of the books which I have read as "top books" on my own teesche.com/bookshelf section, before the Read & Run Club is taking over that page. Seems to be useful to visitors. Now you can see my personal top 12 books right at the top and view my notes on them right there with a single click.
Since we have just had another world record on Berlin's soil just a day ago, here is my report from back in 2013, when I ran my country's capital city marathon on the same course as the greatest marathon runner of all time, Eliud Kipchoge. I ran a personal best at that time of 4:17 hours. Thinking of how I'm now scratching at 3:00 hours, it brings to mind that old quote:
People overestimate what they can do in a year, but underestimate what they can achieve in a decade.
Longterm thinking is where it's at.
---
I hope you enjoyed reading this penultimate edition of the Teesche Newsletter as much as I enjoyed writing it.
Have a great week, pick up a new book, go for fun and relaxing run, and enjoy life!
All the best to you,
– Teesche