👋 Moinsen, everyone!
Here's another weekly update of this newsletter about running, reading, and related matters. Thanks for opening it!
Let's get right into it.
The marathon race in Cologne on October 2nd is just four weeks away. It's getting serious and at this stage I am struggling to believe I can get fast enough until then. These phases are part of it, of course. They might even be necessary in order to increase motivation and the resulting training effort.
My first three weeks of the eight week training cycle went alright, but last week I got unlucky. First off, a stomach bug I caught on Saturday forced me to reduce the weekly long run from 35 kilometers to about 3. Normally, I am quite resistant to these things, but not this time. Still haven't figured out where I got it. The next couple of days were going better but I wasn't anywhere near being able to pull off a set of fast intervals.
Then, on Thursday, another annoying and surprising thing happened to me. I got a sever allergic reaction to something. Still I have no idea what it is. Never had any allergies. But it took me out for a day and made me weak for another. Sometimes, bad luck hits twice in a week and there's nothing we can do.
I'm glad I managed to do a long run of 27 kilometers this weekend.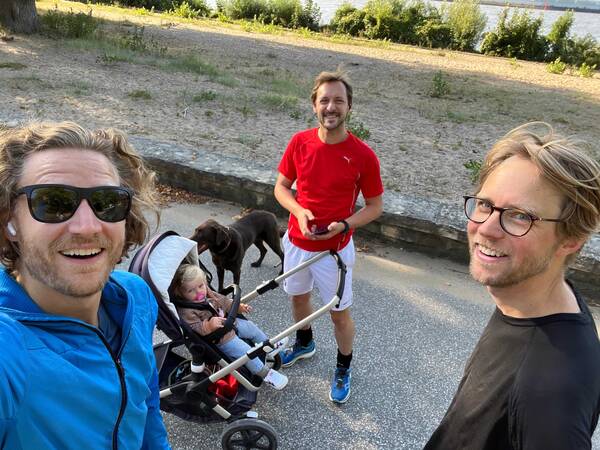 And thankfully my helpful friend Micha, who works as a run training coach, gave me some confidence that I can still make it. He says, if I increase the amount of longer weekly intervals, e.g. to 8x 1,000 meters, and do one long race pace run of 20-25 kilometers length per week, I still have a good chance. So that's what I'm doing now for these remaining four weeks. Fingers crossed!
The registration is up now, and I'm proud to say we already have 10 applicants – even though the race isn't taking place until April 2023, some seven and a half months from now.
Sign up here or please contact me if you would be available to help out at an aid station! We can use every extra hand and it's a remarkable thing to be a part of. Read my blog post about the most recent ultra race we pulled off here to get an idea.
Not unlike the /now page, it's also based on a movement which was created to create connections and help people get to know each other from a different angle. The idea here is that you make a list of all the hardware and software and related devices you're using for either work or interesting hobbies, and talk about why you chose those specifically. For many people, including myself, it's fun to read through those and come out the other side with a few recommendations or inspiration which is not commercially motivated.
Thinking about extending it with a running gear section. Would you like to see that? Tell me!
Still somewhere around the halfway point of reading through the brilliant "Sapiens", I have put a few other books into the mix.
Now, Ross Edgley's "The World's Fittest Book" is capturing some of my attention, and I have recently bought the classic "How to Win Friends and Influence People" by Dale Cargenie despite its cringy title. But someone I trust (can't remember who it was) told me that this title was a type of clickbait back when the book came out in 1936 (!) and it should more fittingly be called "How to Be More Empathetic". Now that's something I can get behind and since the book has become such a huge hit and talked about classic, there must be something to take away from it.
Sapiens is still hugely interesting, I just need something a little lighter in between which also works when read in ten minute bursts.
Yes, Sweden is beautiful, the people are great, everything just works. The race was quite unusual, though. Ice-cold rain at the end of May – a bit unlucky. I nearly froze my face off! But the crowds were still going "Heja!" to cheer for us and the bands along the the course played ocean themed songs because it felt like the whole city was about to become submerged by one. It took a quarter of an hour to regain the feeling in my fingers in the hot shower afterwards.
So worth it.
---
Thank you for reading this week's edition and please consider sharing it with someone who might enjoy it as well!
All the best to you and have a great week,
– Teesche