Double Marathon Weekend: Aabenraa Bjergmarathon & Flensburg liebt dich Marathon
Will I have it in me to do two marathons races on two consecutive days? No other way to find out except to try!
Of course, this sounds crazy at first. People usually can't even walk pain-free for a few days after a marathon run. But then on the other hand, there are stories from possibly exceptional runners who are not only able to run two marathons on two days, but a lot more. One of my favorite stand-up comedians, Eddie Izzard, for example. A normal dude, not even particularly fit, managed on two separate occasions to run dozens of marathons on consecutive days. 27 on 27 days remembering the 27 years of Nelson Mandela's imprisonment, for example.
Two marathons on two days seem to be a breeze now! It's just a matter of perspective.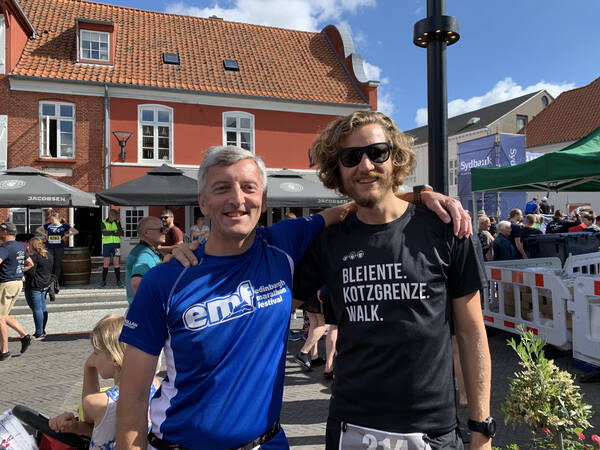 My marathoning friend Jürgen from Burgenland in Austria told me about this idea years ago when he did a mountainous marathon in the country of Liechtenstein on a Saturday, then drove through most of Switzerland right afterwards to do one in the Alsace region on the next day. Sounded crazy to me then. But these days, especially after my first successful go at the 100 kilometer distance run in one day, it's a lot more realistic. So when Jürgen proposed the idea of doing Aabenraa Bjergmarathon on Saturday, 22nd of June, and Flensburg liebt dich Marathon on the Sunday afterwards, I just signed up for it.
What's the worst that could happen. Not like we're doing wing-suited base jumping here or anything.
Family Trip to Denmark!
That's always the best part of this for me, personally. Having a weekend getaway with the five girls. Two hours of driving north is not so bad either and also quite a lot better for the CO2 footprint than all the flights we used to do for races.
Aabenraa is a small but nice town just half an hour's drive north of Flensburg, Germany's northern-most city. It's always great to be in Denmark, I really like the country.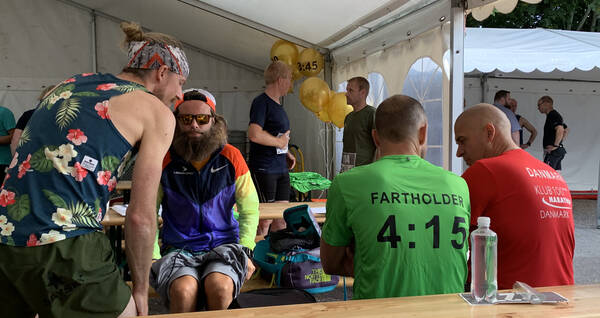 In the morning of Saturday we met the Penthor family from Austria, as planned, right there in the tents that were set up for the race number pickup.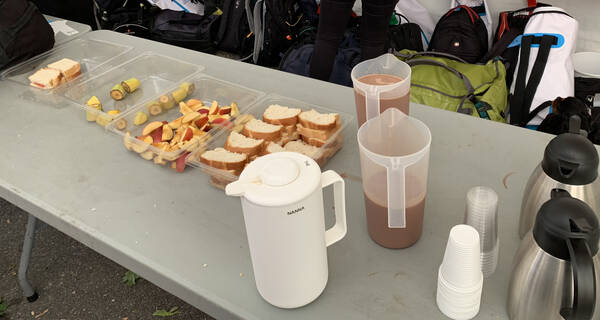 What a great idea! I don't think I've seen that before at other races. Happily, Jürgen and I stuffed our faces with free honey sandwiches and fresh coffee.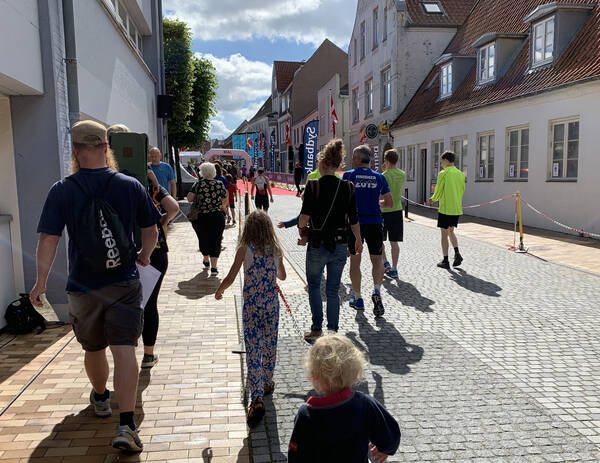 As per usual, Jürgen and I have a lot to talk about and were pulled out of that by the starting gun, which came with confetti cannons this time.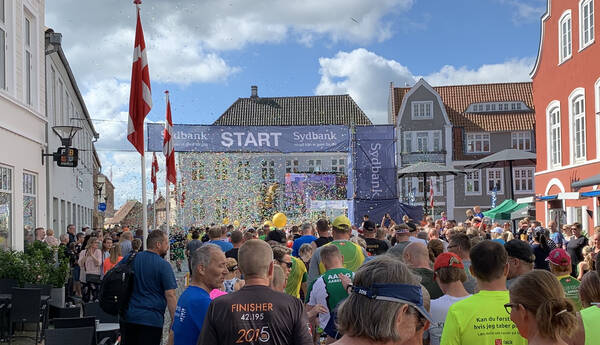 This didn't feel like a small event. Lots of people signed up, different race distances were offered, too. And because of the great weather, it seemed like the whole town roamed the streets of Aabenraa to enjoy that spectacle.
The course was very interesting and involved lots of nature. No trail shoes necessary, though. The myth of "flat Denmark" proved to be not completely true here as well. It's called "Bjergmarathon", after all. In total, there were 560 meters of vertical gain to overcome. Not much, but also definitely not flat.
The marathon distance was divided into two laps, but the staff had the great idea to change the direction for the second lap. That way, the course seemed new to us during the second half.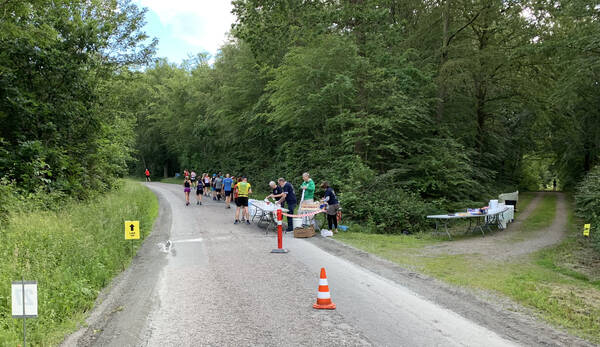 This was very cleverly done, in my opinion. Organization-wise, the reverse second loop is of course only possible if you don't have a huge number of participants. Here, with around 200 full marathoners, it was absolutely possible.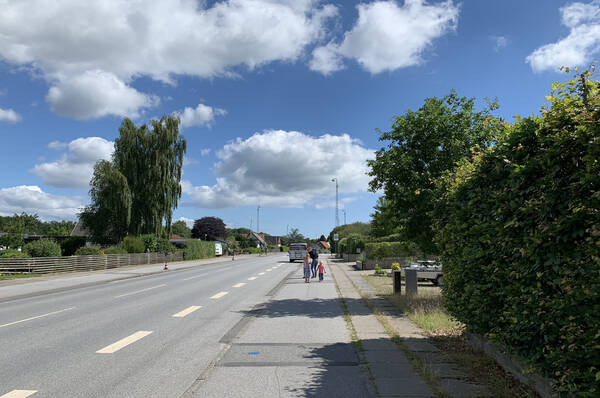 Jürgen and I ran together at first. Because of tomorrow's second marathon, we decided to play it safe and don't rush today. A 6:10 minutes/km pace seemed to feel right.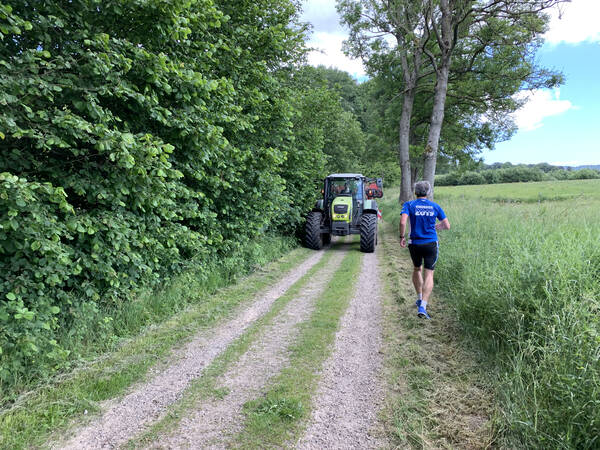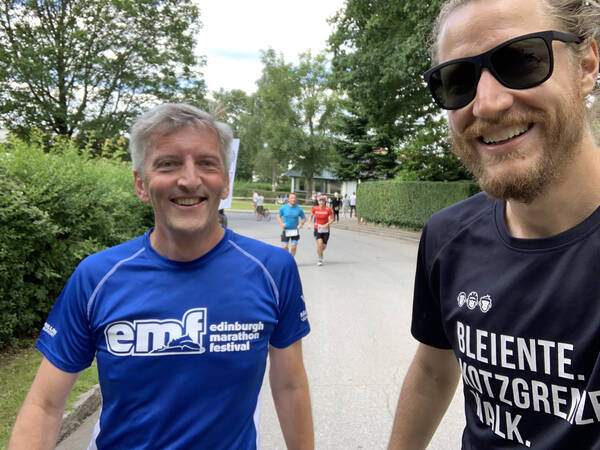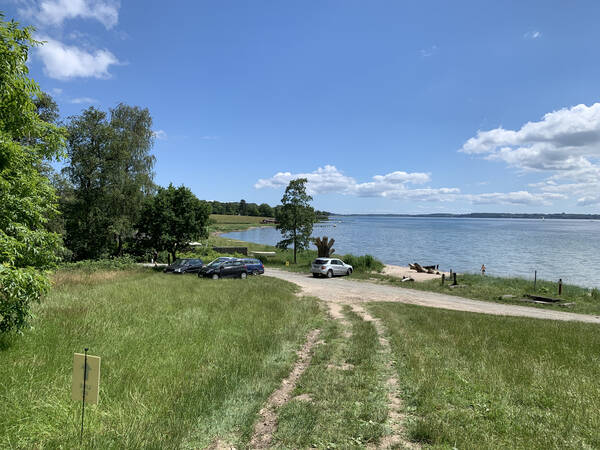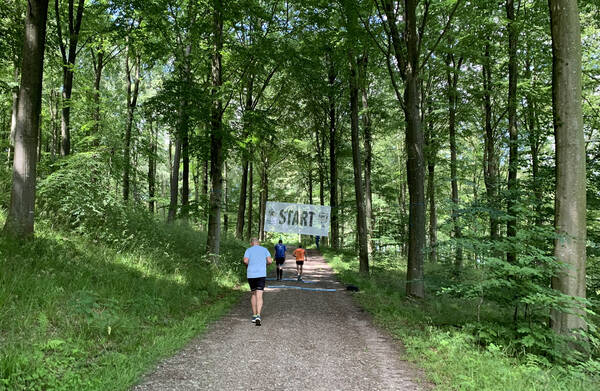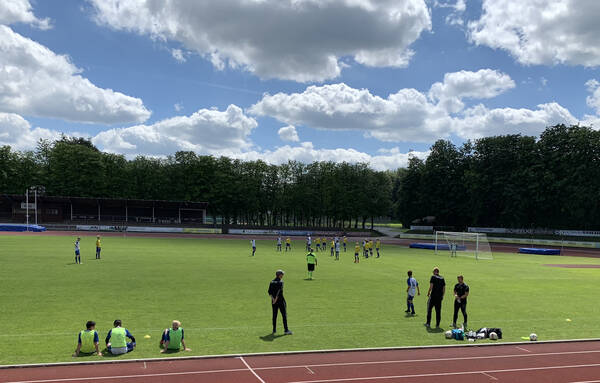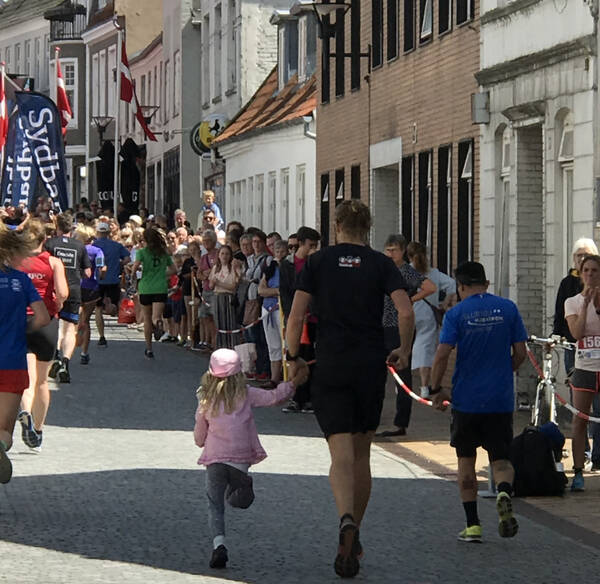 Very nice race, well organized and on a great course. Some Strava tracking info. 4:19:54 in total in the end, 103rd of 167 male finishers.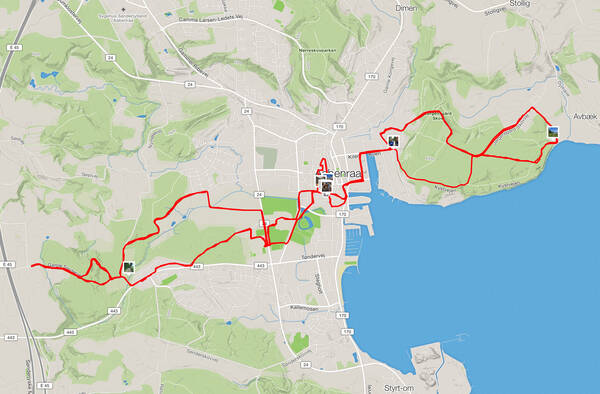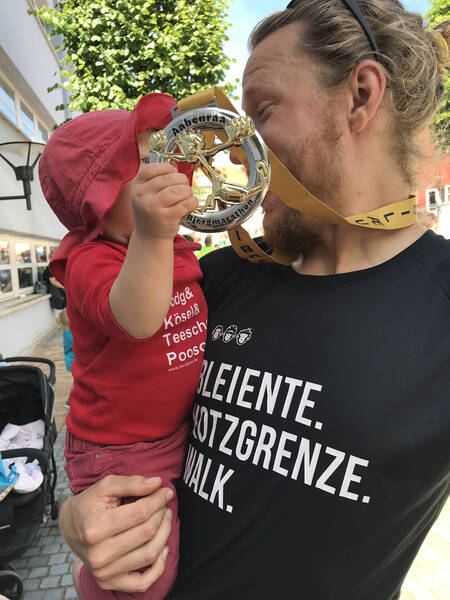 Great medals, by the way! Heavy and well designed.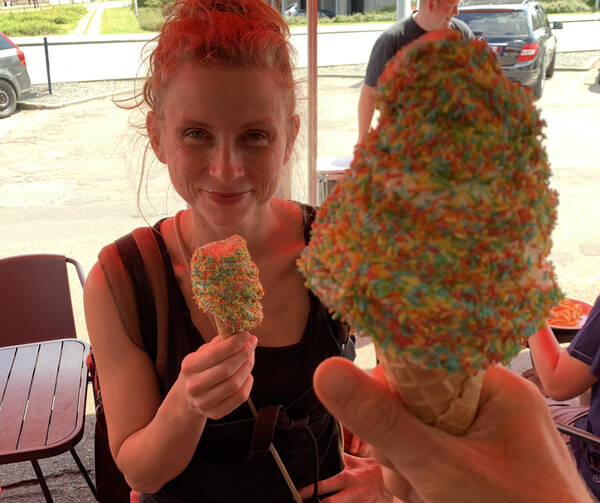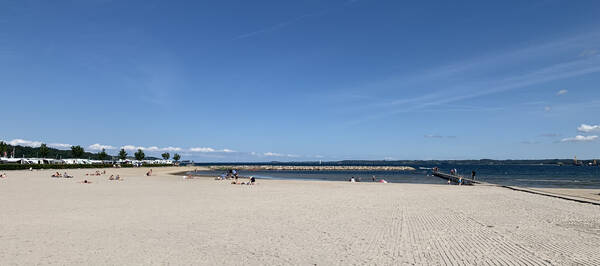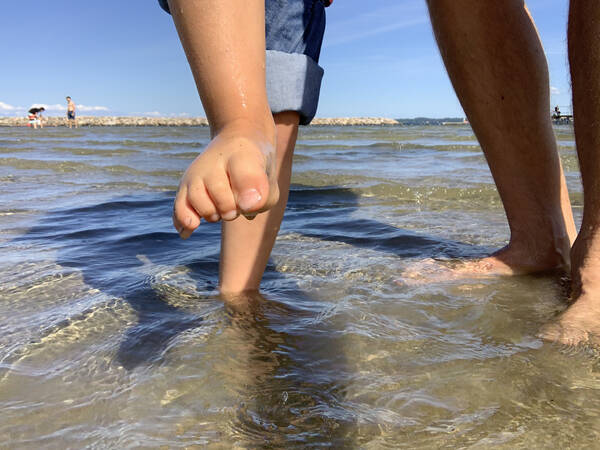 That went well, now the plan is to regain the energy as quickly as possible to be strong and fresh for tomorrow. There were two things I specifically did to make this as easy as possible.
First, I brought two different pairs of running shoes. The lighter, harder, and faster pair for Saturday – Asics Roadhawk FF –, and the softer, more cushioned pair for Sunday – my beloved Altra Ego's.
And second, my dear wife Sophie prepared the best possible dinner for us, nutrition-wise. Pasta, lots of baked beans, broccoli, mushrooms. Absolutely everything you need to get the lost power back. I think this might have done the trick.
Flensburg liebt dich
Flensburg is a welcoming city and loves you, apparently. 88,000 inhabitants only, but very friendly people and a pretty little inner city. Lots of water, too, as it is built right on the Flensburg Fjords, part of the Baltic Sea.
I fell into another Wikipedia hole when I found out about the following lesser known chapter in the history of Germany.
Flensburg used to be the German government's seat. But for just a few weeks. Right at the end of World War II, after Hitler and Goebbels had committed suicide and Berlin was lost to the Russians and most of the West to the other allies, the new Nazi chief, Grand Admiral Dönitz, decided to move the government to one of the places that are as far away from the enemies as possible. The Flensburg Government was established.
Neighboring Denmark was a protectorate of the Germans during the war, and didn't partake in the fighting as it saw itself to be neutral. Therefore, Flensburg seemed to be a good choice for Dönitz. But of course that didn't last long. From April 30, 1945, to May 23rd's complete surrender. Interestingly, Karl Dönitz afterwards just got 10 years of jail-time and went on to live until 1980 in the small town of Aumühle in the vicinity of Hamburg, where he died aged 89. Germany's last Nazi head of state. Good riddance.
He didn't leave any sort of impact on Flensburg, it seemed. This city has a very open vibe. I noticed lots of people wearing shirts that said "MOIN", the northern German greeting, but when you looked closer, the line underneath said #refugeeswelcome. Well done, Flensburg! Flensburg liebt dich.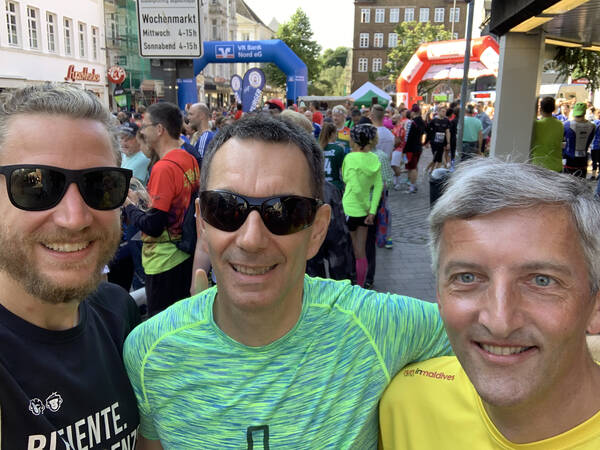 Looking forward to the race, as always. Right after the start, my little ones were waiting for me and I of course stopped to have a few hugs. We hadn't seen each other for about 15 minutes already, after all. This meeting led to me briefly becoming last place in a marathon race and I had to do a little sprint to get back into the pack. Phew!
Today, Jürgen and I decided to each go on at their own pace because the challenge is hard enough as it is. We must listen to our bodies today especially.
The only things I noticed about my body today were the stiff legs during the first couple kilometers. The soft new shoes did the trick of making that quite easy, I think. And when you just go on to use the legs, they will eventually loosen up as well and work as intended again. This was great to witness. A day of complete rest with no movement at all is usually worse for the body than just going on about a normal day in spite of the sore muscles.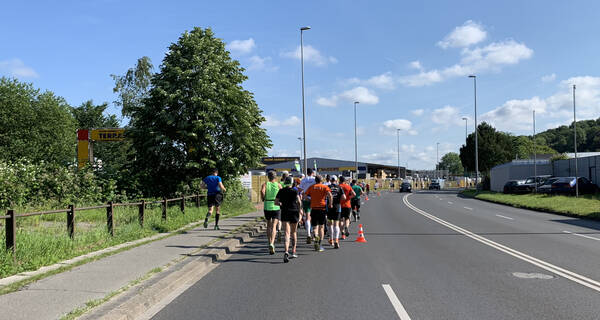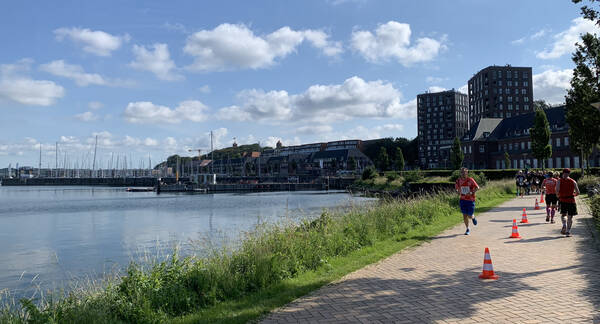 As Flensburg isn't huge and they probably wanted to make the organization of the event a bit easier, the course was four identical loops. No direction changes here. That is usually the way the marathons at Ironman triathlon events are orchestrated and I felt reminded and also motivated for Ironman Hamburg, coming up on July 28th, my 35th birthday. That's going to be great.
Back to Flensburg. Four loops also mean that you get great support, both by the crowds and by aid stations. Here, that worked out as well.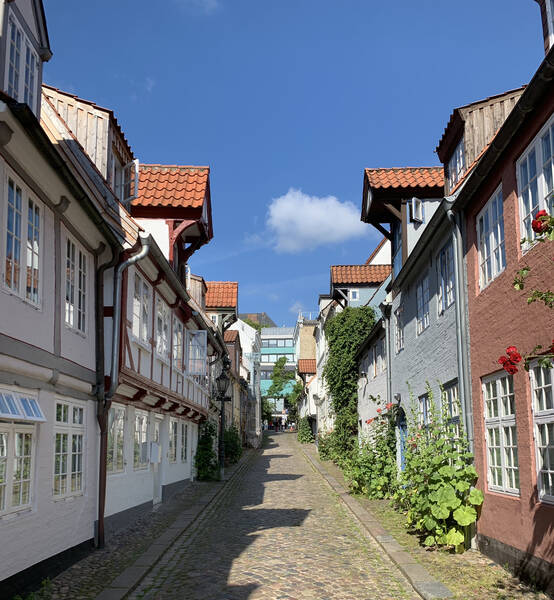 Again, we had perfect weather. Some might have said it was too hot, but I think 23 degrees with wind are very acceptable.
Iso drinks, water, and coke went into my body in liters, though. I would have liked some additional salt. In Aabenraa, they had the great idea to offer cucumber slices and put a box of salt next to it for you to dip the cucumber into. I tried that and this was smart. No only does it keep the salt box clean and makes it easier to get the salt into your system, it also just tastes great and fresh. Something like this was missing here, I thought.
Other than that, everything was very well done. In retrospect I can't believe how they pulled that off with the very small entry payments of just 35 Euros for the whole marathon.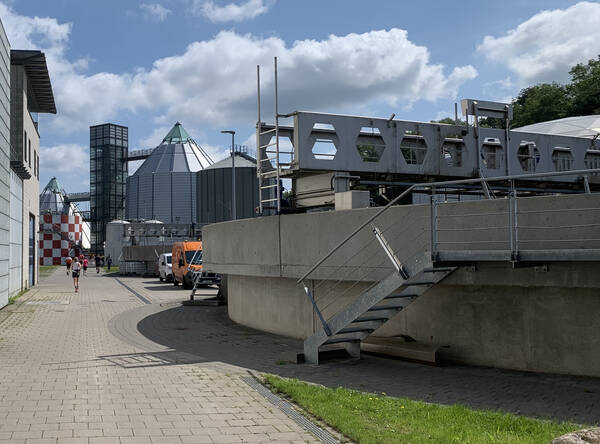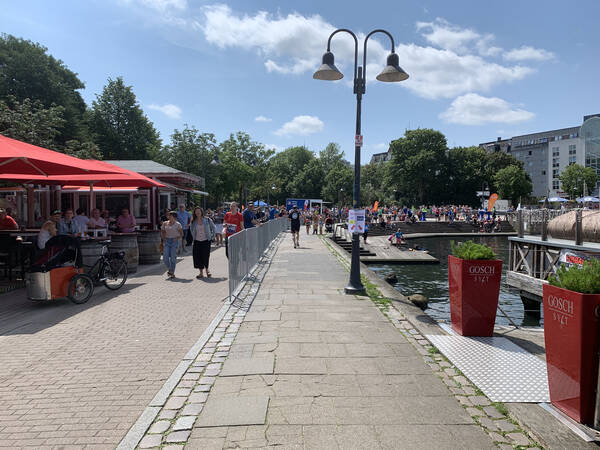 There was a group of friends who put a cozy looking couch next to the course, had a few Flensburger Pilsener beers prepared for themselves and shouted at everyone: "Flensburg liebt dich!" – on all four laps. Good lads!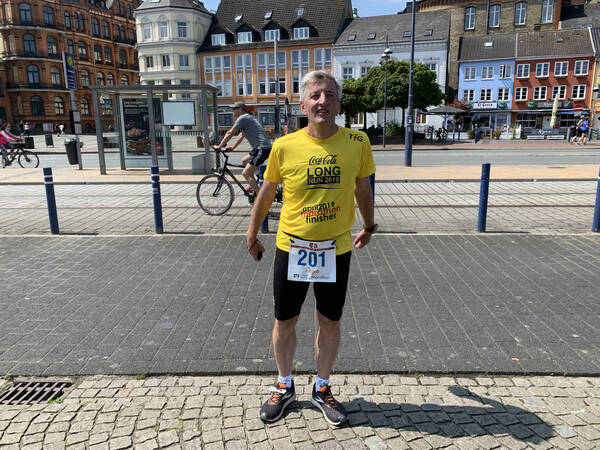 Jürgen chose a slow and easy pace to get through the race in the best possible way. I was doing fine and felt good. I myself was on track to go sub 4, even, to my own surprise. It just worked out really well for me, today. The tiredness from yesterday's marathon was nearly gone.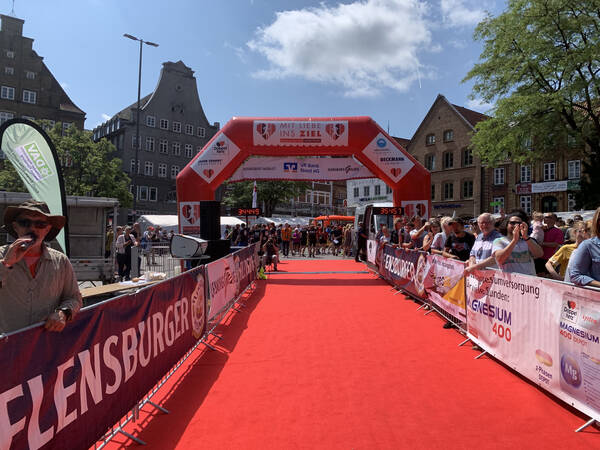 And there it is, 3:54:27 in the end! Double marathon weekend is a success. Placed 95th of 263 male finishers. Some Strava stats.
The final thing which Flensburg again did correctly, was the tent in the finisher's area. Hot vegetable soup! Cookies, fruit, coke, water. Couldn't have been better up here. This is definitely a race to come back to and maybe even include in every year's schedule for me.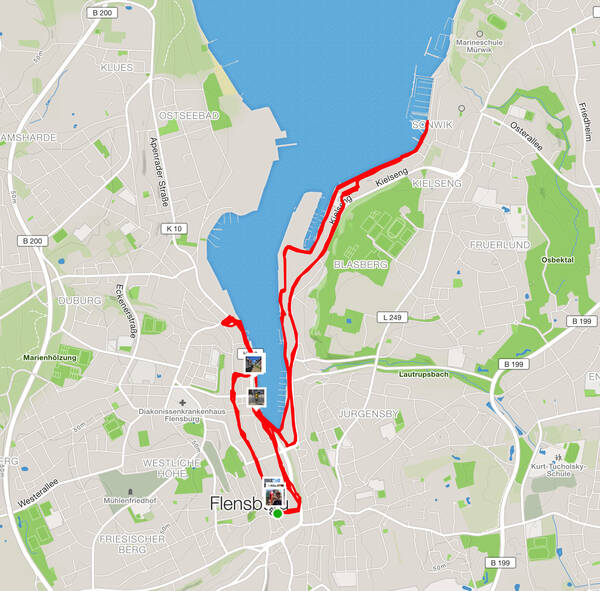 Afterwards we had some food with the Austrians and Jürgen and I made use of the free offered showers before the weekend ended with a bit of Autobahn driving.
I felt like a third marathon on the coming Monday would be possible too. Maybe I'll try a week of marathons some time soon. 7 days, 7 marathon runs. Must be possible, and it would be interesting to see how I will adapt to it – what kind of food cravings I'll get, how the legs will hold up, that kind of thing. If I'll go slow enough and eat well, it shouldn't be a problem I think.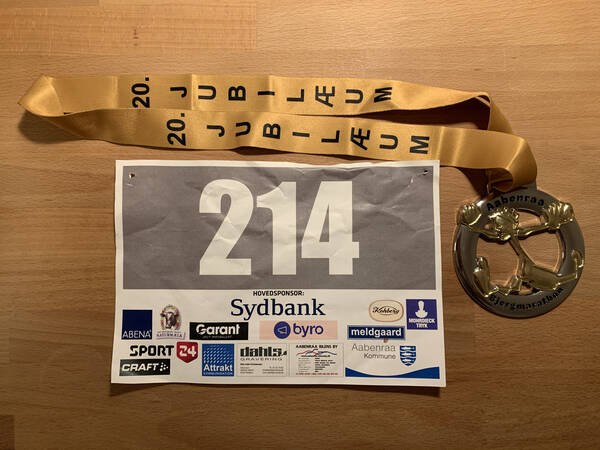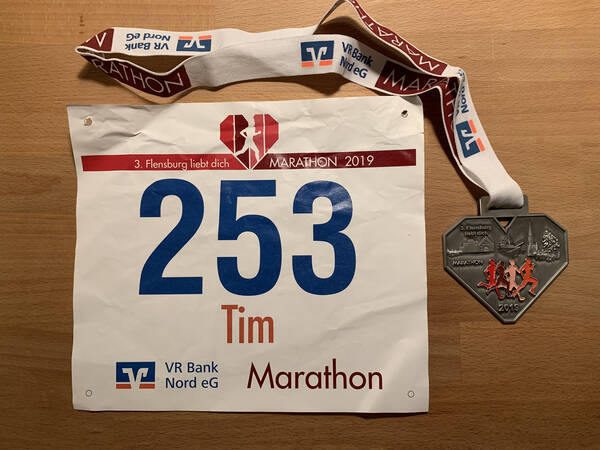 How do you feel after reading this?
This helps me assess the quality of my writing and improve it.