How to Create an Insane Ultra Race: Hamburg Everest 2019
During the weekend of August 17th and 18th of 2019, Michael Mankus and me hosted a running race in Hamburg, in which the main objective was to have runners reach the elevation equivalent of Mount Everest: 8,848 meters.
Wait, what?!
Even compared to many well-known crazy ultra races like the Western States 100 or the Leadville, this borders on insane.
So, how do we go about this?
First, a few sentences about the origin. Last year, I had the idea to create a running event of any kind and in the end partnered with the Triathlon Affen to create Hamburg 1000 Reloaded, a run based on their own previous bike race Hamburg 1000, which was a bike ride with the declared goal to reach 1,000 meters of elevation in Hamburg. That running race went well and we had a blast. Among the participants was Michael Mankus, who himself has done a huge number of crazy ultra races, found my blog about the race, and decided to contact me. He wanted to repeat this Waseberg run, but make it more insane and virtually climb Everest on it.
Make a hard run about 9 times harder? Say no more! Of course, I was immediately in.
Things to Think About
What do you need to do if you're planning to create an event like this. A practical guide.
Have a connection to enough crazy runners and volunteering friends, or know someone who does.
Yes, for me it's the latter. An overwhelming majority of my friends are neither crazy runners nor have the time to help out for a whole weekend because they all have small kids. Thankfully, Micha's social circle is much wider and he is the one who could deliver on these most important points.
Set the course, entry money, reach agreements about the circumstances, and make all that public.
Micha and I just met a couple times and talked about the main variables. We soon reached the basics and I created a little website, www.hamburg-everest.de, in order to make it easy to reach and inform interested runners.
Buy some stuff. Trophies, medals (in this case, participation gifts), water, food, a bit of useful gear.
Easy. Make a list and drive around town.
Show up.
It really is nothing crazy. In the end I estimate the preparation cost me around 15 to 20 work hours total. That's even less than the whole event was supposed to have. Sure, I had to squeeze these hours in somehow, and at times I would have preferred to play with the kids instead of writing emails to the trophy producing guy about why he's late on the delivery. But taking all into account, this was absolutely doable.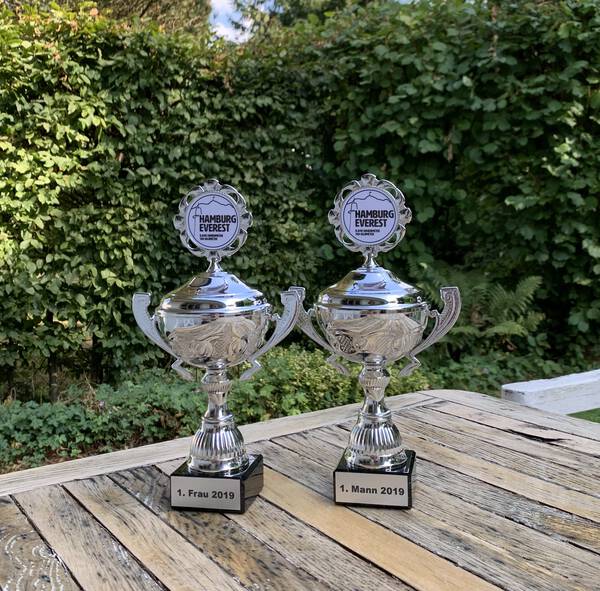 The Main Facts
The course. To reach Everest, we again used Hamburg's Waseberg, a hill in the western suburbs of the city. From sea level, it's 87 meters high. When planning the route, we could rely on the experience from last year's race, and also had the advantage of a good connection to the nice kayaking club next to the hill's base. Michael knew one of the people there, Ulli, who in the end also signed up and ran with us. So, the kayaking club grounds would be our starting point and ending point of each loop. From here, I planned the shortest possible route to the top of Waseberg. Several mapping services suggested a height difference of about 70 meters between both points, but after the event we're guessing it's more like 75 in reality. But I had to start with the 70 meters assumption, divide 8,848 meters by 70 and therefore ended up at 127 laps necessary to reach the top of Everest.
To show the runners how the course would go, I made a few basic arrow signs, laminated them because of the certain rain here in Hamburg, and attached them to sticks.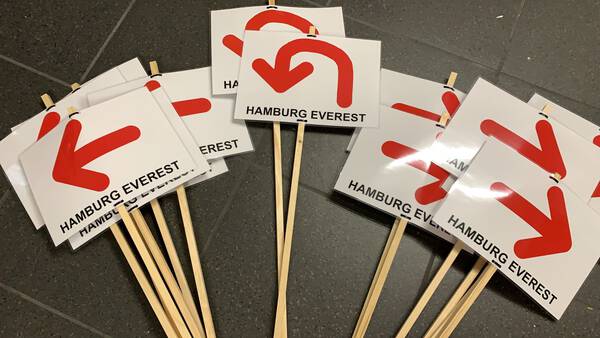 The legal aspects. Micha and I agreed that we would host the race as a privately held "training run" in order to avoid legal complications and possible problems that could lead to it being canceled for bullshit reasons. But nobody can say anything against a bunch of people running around on public streets for hours, so that's what we did.
The cost. Micha suggested that we would need 10 runners minimum to make this happen and should charge 50 bucks each to cover costs. He also thought that 30 people should be the uppermost limit. I relied on his experience, of course. At the day of the race we had 16 signed up runners, including myself, so that worked out pretty well. The financial side of things was not the best, we both ended up slightly paying – voluntarily, though, because we wanted to do certain nice things for the runners which were rather optional and could have saved us money. Examples: printed bib numbers and quality food.
I created a list for all the stuff we needed and made a time schedule for the volunteers, for Micha to share around. Thankfully, enough helpers entered their names into it. Also, the people from running gear store "Running Green" offered to help with food and a tent.
The timing. We estimated that the total distance of the race would amount to around 140 kilometers. GPS measurements and those mentioned mapping services suggested a lap length of ~1.1 kilometers. 127 of them would therefore amount to 139.7 kilometers. From our experience we were quite sure no one would be able to finish this in less than 24 hours. So we set the time limit at 36 hours. An early start at 4 AM on a Saturday seemed a good idea, so the end would be the following Sunday at 4 in the afternoon.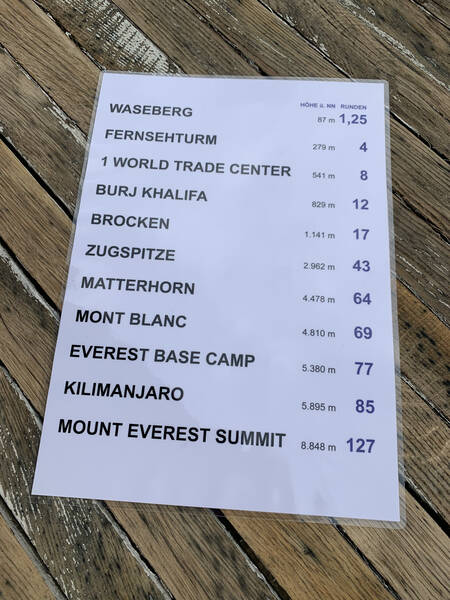 Things to buy. Trophies, of course. There's a store in Hamburg which I contacted and had them create two trophies for us. A little logo was made free of charge for us by my designer friend Kristian. I started checking for finisher medals, but Micha was quite sure that there's a high probability no one will even finish this race, due to the toughness of it. So we quickly discarded that idea, also because of the high cost of custom made medals. Beer glasses with the logo on them seemed like a better idea, so I created and ordered enough for every participant. Also, bib numbers! There's an online services that prints them for you which I used.
Everything else is just food. I made a list of estimated amounts – which is hard to do. How much food will 16 runners eat during 36 hours of running? What if 80 percent of them give up after 12 hours? What if the volunteers bring all their friends and get hungry, too? What if it gets incredible hot and we need a lot more water? We wanted to have everyone who showed up not get hungry or thirsty at any point. Better get more than probably needed. At the same time, we couldn't exceed the budget (by much), of course.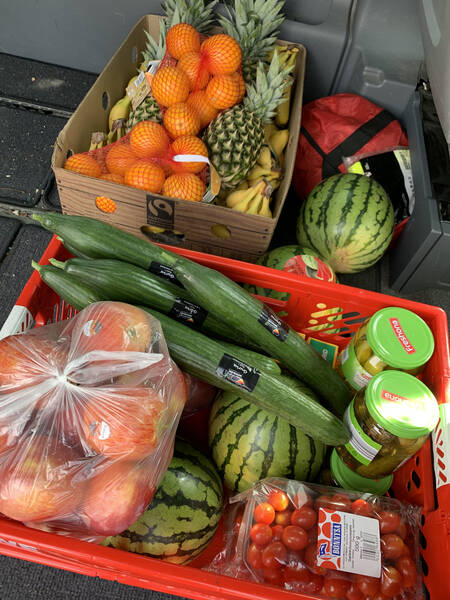 Also, Mätts from the Running Green store promised to provide us with hot home-cooked food and had a bunch of energy gels and bars, as well as iso drink powder from his shop for us. Amazing guy. Go buy stuff at his store.
My great clients from Paloma Lemonade also gave us a whole lot of their drinks and a few branded beach chairs to use. Cool move, as well.
The last thing to do was gather all relevant info and send out two mass emails: one for the participants, one for the volunteers. Done and done.
This Might Just Work Out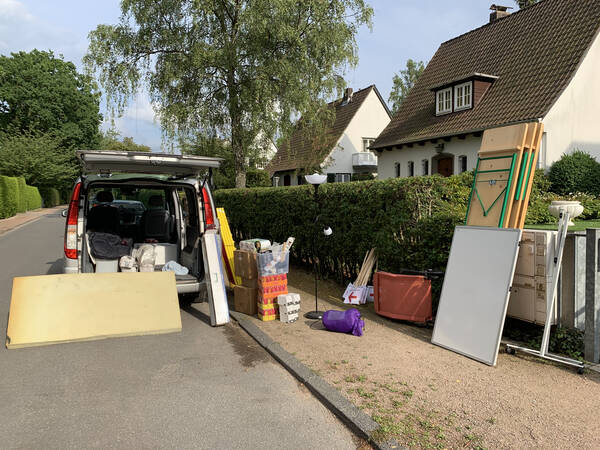 We also borrowed a few things like a big whiteboard to keep track of the laps.
Saturday, August 17th, 1:20 AM
The alarm clock goes off. I slept in a tent in our garden to escape the noisy kids and have a few hours of solid sleep. Didn't work out, the neighbors had a party. So coffee it is.
2:15 AM, Micha shows up, we drive through the silent streets to Blankenese. The gates to the kayaking club have been opened, great.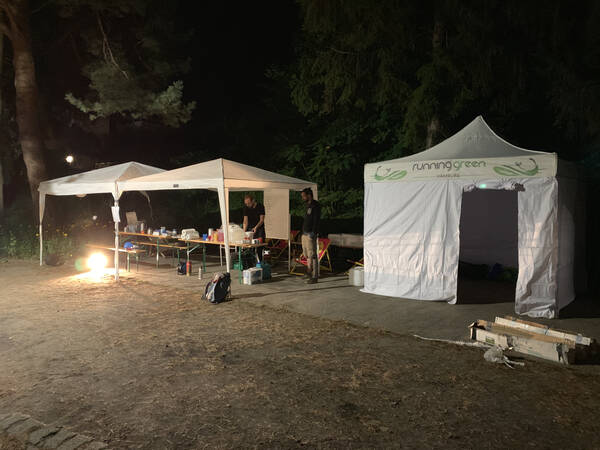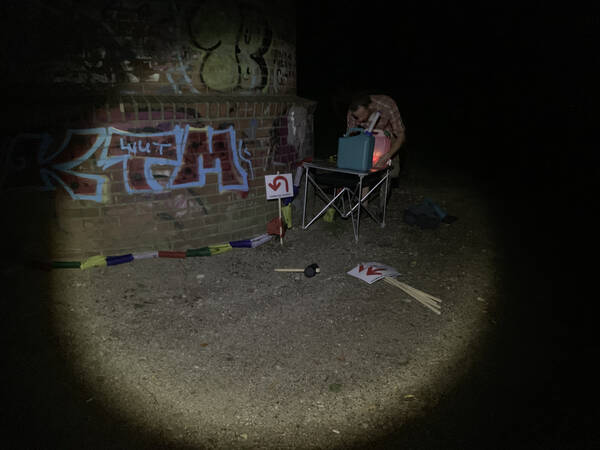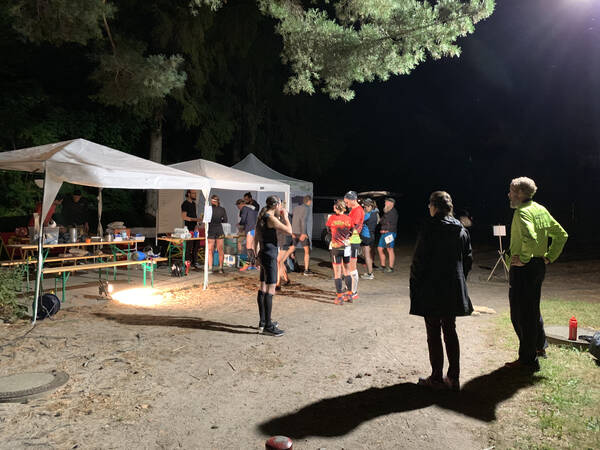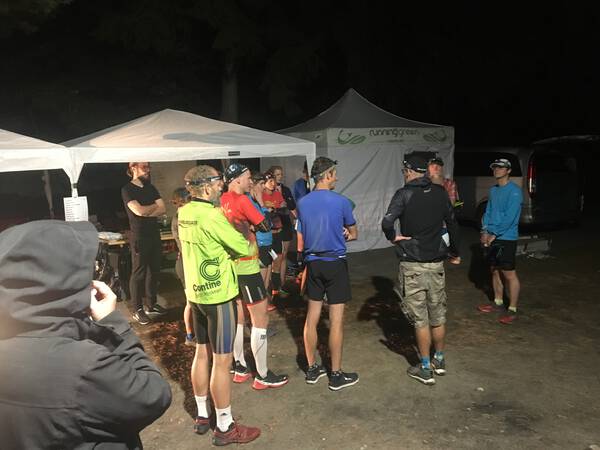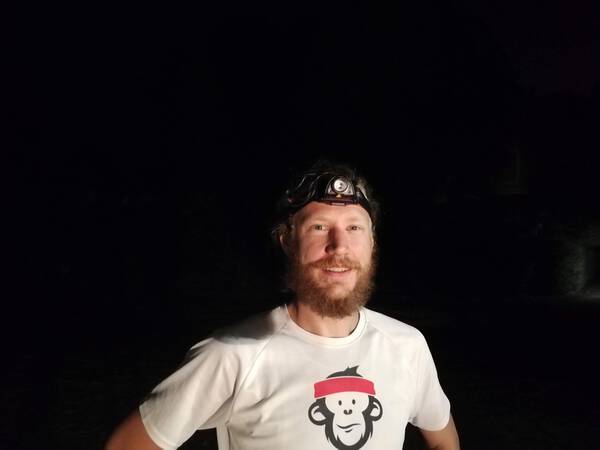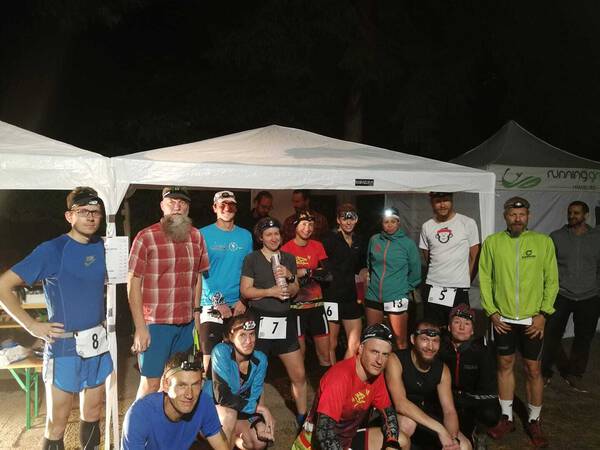 Just one of the 16 participants didn't show up, and another one decided to skip the running and volunteer instead. So, 14 crazy ultrarunners make their way up the hill.
We had a slight timing problem for several reasons and ended up starting the race 18 minutes late at 4:18. I hope no one minded that much.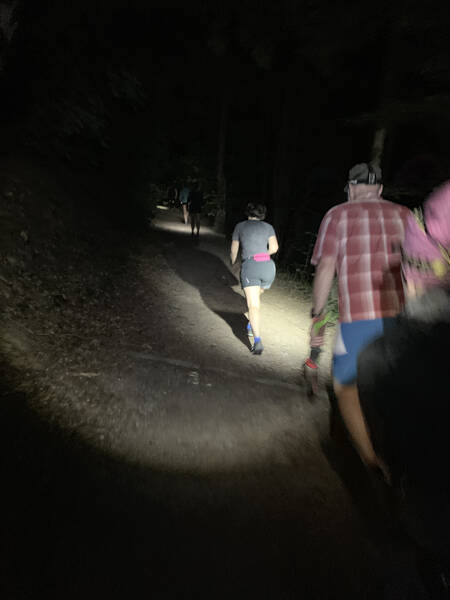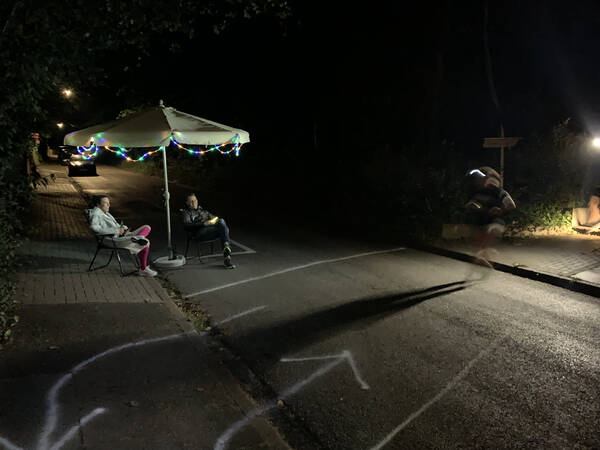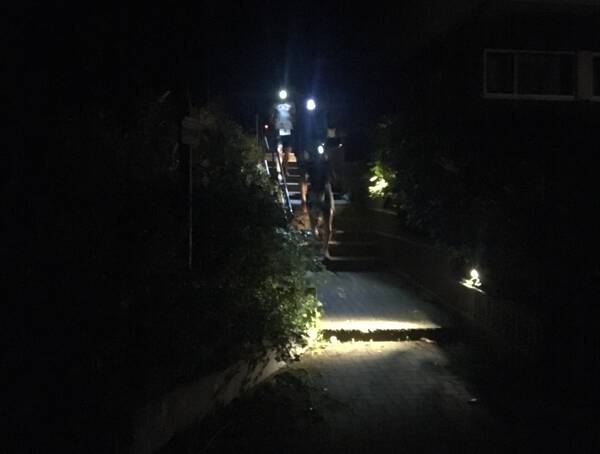 Micha The Man
Initially, Micha had planned on running the race as well. A few months before the race though, he decided that it would be very tough to pull it off while also organizing things like the food, lap counting for everyone, and the volunteers at these tasks. So he dropped out before signing up and became a full-on staffer instead. I think, if we repeat the event, we'll have to switch roles.
This time, he would throw the whole thing from our support tent, party his ass off, smoke and drink, joke around, motivate everyone, and rightfully get all the fame for it.
The guy is pretty unique – just a couple weeks earlier, he did a 100 mile race in southern England, and his whole summer has been full with other crazy deeds like winning back the Fastest Known Time on the 2. Grüner Ring in Hamburg from yours truly, or completing the Lake Constance lap in one go, nearly 200 kilometers. All the while never shying away from hanging out with friends and drinking. I have lots of respect for that.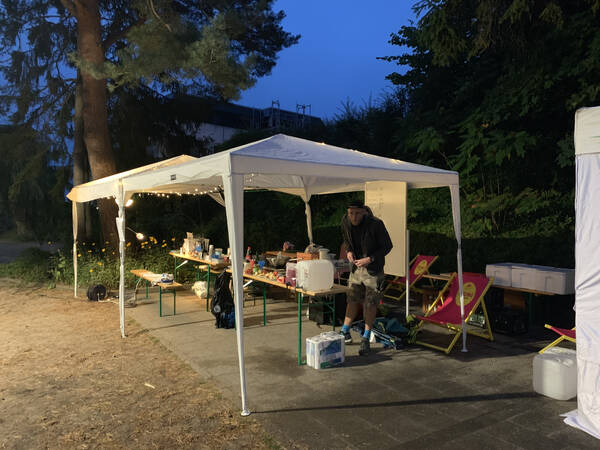 The Cops
After about an hour of silently running up and down, a furious woman appeared on the streets not far from our turning point. She yelled "You need to stop now! Stop doing this!" and things like it to us. Apparently it the sound of our shoes hitting the ground was too much for her, and the light from headlamps irritated her as well.
As we had done nothing wrong and weren't trespassing on her private lands, we chose to not react. What we're doing isn't against the law – and not even really that annoying. So she called the cops on us. They arrived and talked to our volunteers Aref and Flo, I think. Impressed by the insanity of our "training run" and not impressed by the complaints of the lady, the cops soon went off to fight real crime, hopefully.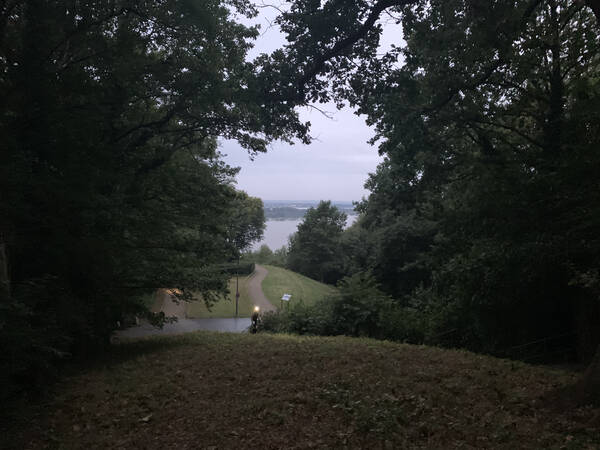 It rained from time to time. Weather could have been better for mid August. But at least the temperature was pleasant.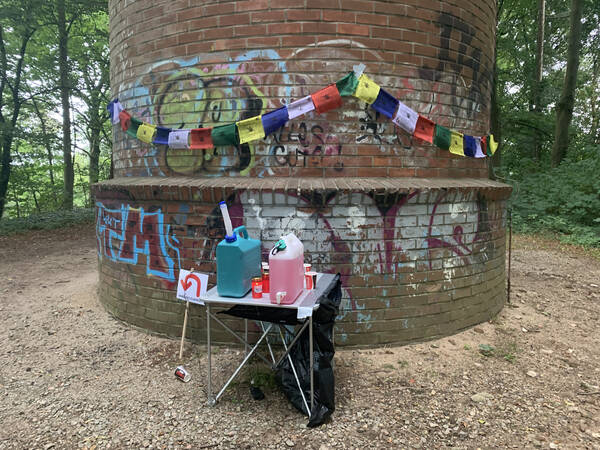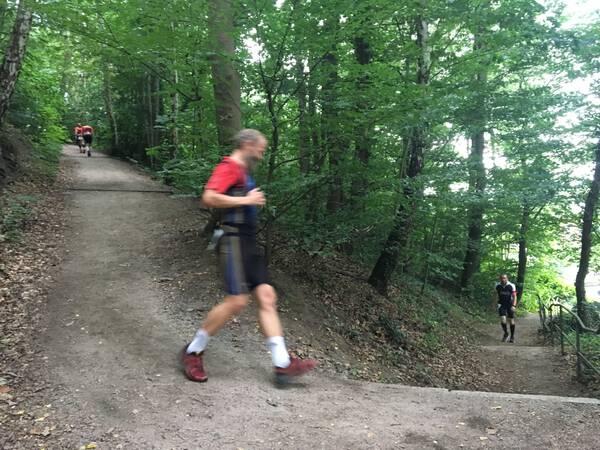 The Runners
On the left you can see the Griegers, Katrin and Matthias, gallantly making their way upwards. Ulli, the machine, is running down, while Zenni/Benjamin climbs the stairs currently.
During one of my descents, Katrin Grieger, who is clearly among the best runners of today, comments on my downhill technique. "Seems like you need to work on that!" she says. Yes, no shit! I have no idea what I'm doing here. She tells me that these races are won on the downhills. I have a lot of work to do, I know that. But today (and tomorrow) I'm just finding out what I can do regarding my current situation.
The Griegers really are incredible. Matthias' technique looks unusual, he develops a glowing red face early on and has his eyes focussed on the dirt one meter in front of him all the time. You rarely get to see his face. But he just doesn't stop, and he's fast. Katrin is even more interesting. She has won a few ultras before (overall, even), including the 100 mile Berliner Mauerweglauf, and she looks like this is nothing to her. She runs up the stairs usually, and on the downhills she jumps, making huge steps and just ever so lightly touching the ground. It's beautiful to watch. Oh, and she's smiling most of the time. No big deal!
They have competition, though. Philipp Matzke, young and fast, technique looking great as well. He's won at least one 100 mile race as well and keeps up with the Griegers. He and Matthias soon have one lap gained on Katrin, but she prevents the gap from increasing.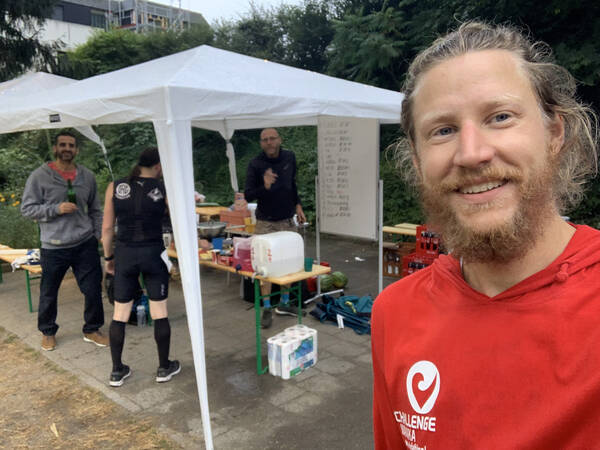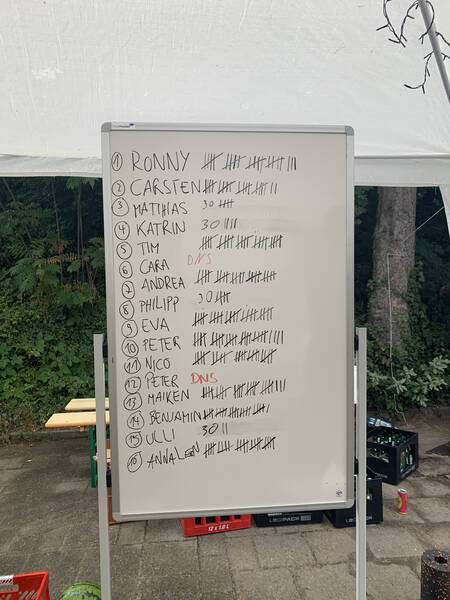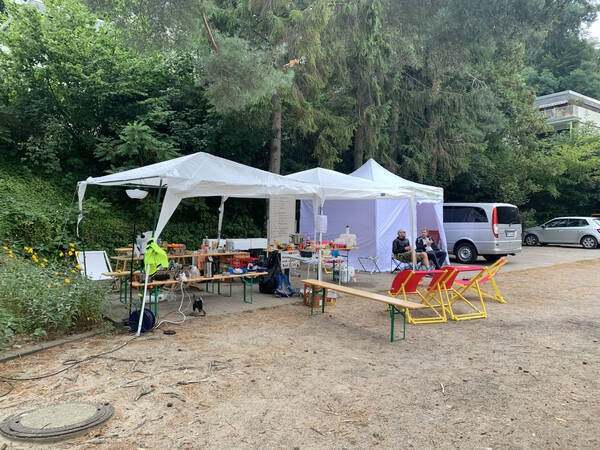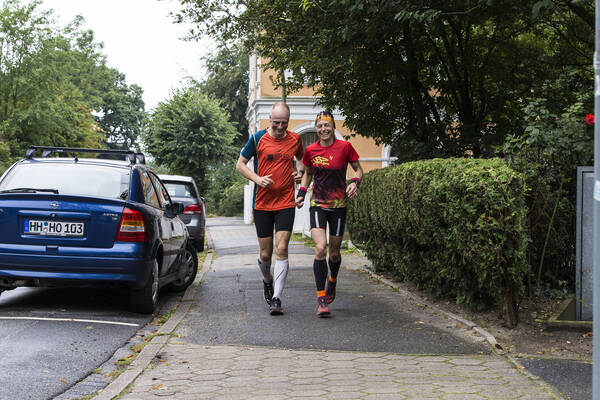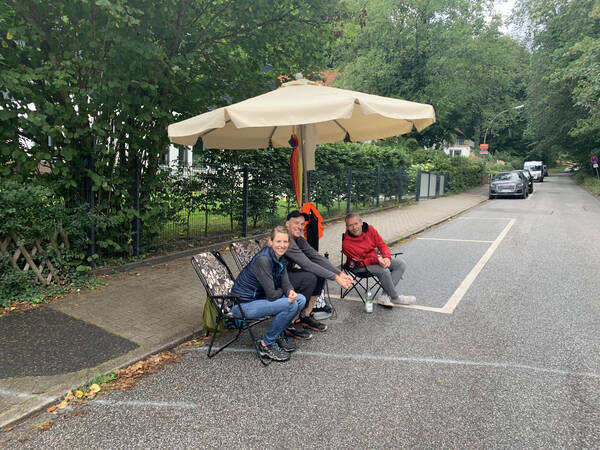 As the day goes on and the laps add up, naturally the fatigued state of some runners increases as well. The average time people need to complete a lap is noticeably longer now, and the break times extend as well. That might also be due to the greatness of the buffet – Micha bought the good stuff, and the veggies I got also get devoured. Interestingly, the bananas are not as coveted as the pineapple. I knew about the anti-inflammatory features of pineapples, but is this something that the ultra runners are also aware of and therefore prefer as opposed to the magnesium and potassium rich bananas? Or maybe it's just because they're delicious.
The Drop-Outs
Micha and I were sure that almost everyone would drop out at some point. Maybe even everyone. He thought, about four of the participants would have it in them to finish the full 127 laps in time.
Just half past 10 in the morning, it begins. Eva has problems with here ankles and calls it quits after a good 26 laps. That's just shy of 2,000 meters of vertical gain, mind you. Annaleen is done after 7:15 hours and 30 laps, Peter joins both after 9 hours and 43 laps – the height of Germany's tallest mountain, Zugspitze.
I take a short break after 20 laps and 4 hours to catch an hour of sleep and change into dry clothes. The next 20 laps are quite a bit tougher and take me 20 percent extra time. Another hour of sleep, and new clothes because of the rain. The plan is to keep doing this – sets of 20 laps with a longer break in between. During the second set, Sophie and the kids arrive! Of course I take my time for them, and they even accompany me on one complete lap. I have to carry Vera and sometimes Emma, but we make it to the top of Waseberg and that lap counts. Half an hour later they leave again and I keep fighting uphill and downhill.
During my third set of 20 laps, a surprise happens, 11:22 hours into the race. Philipp quits! DNF, did not finish. After 64 laps, half-way there, height of Matterhorn, still being close to the front, he thinks this is it for him today. His will to fight it out with the Griegers has left. It's a shame to see him leave, but he is happy he showed up and tried. "This is an insane event. Thanks, Tim!" he says to me.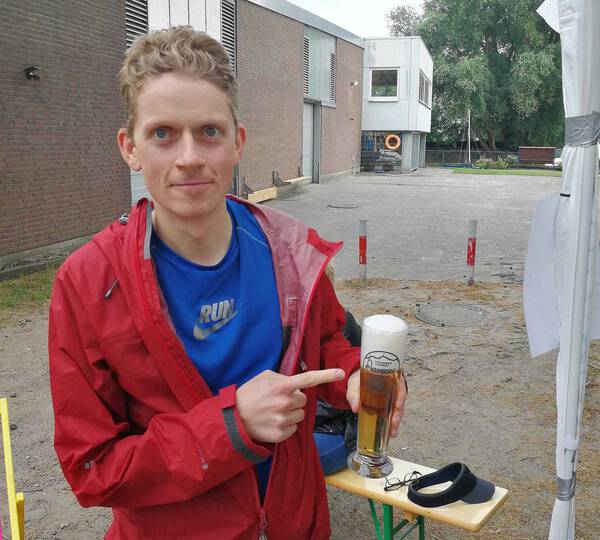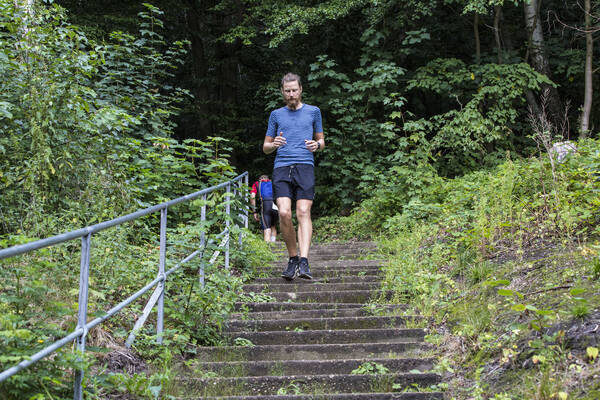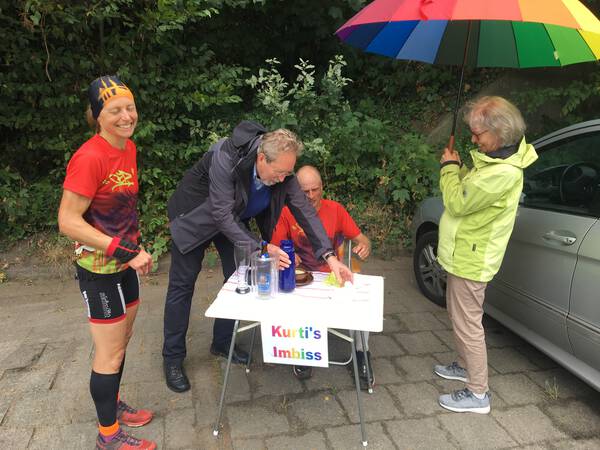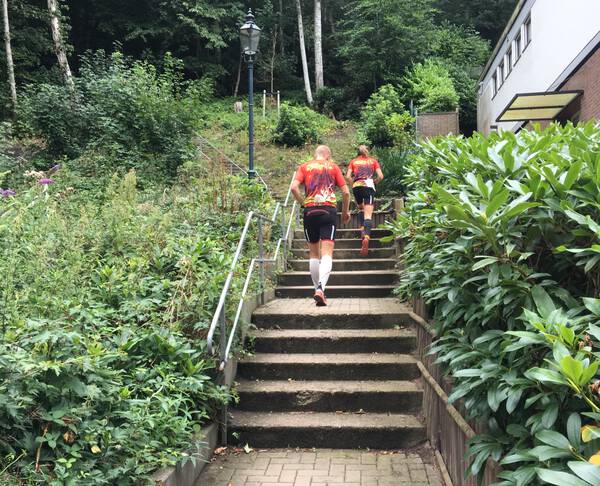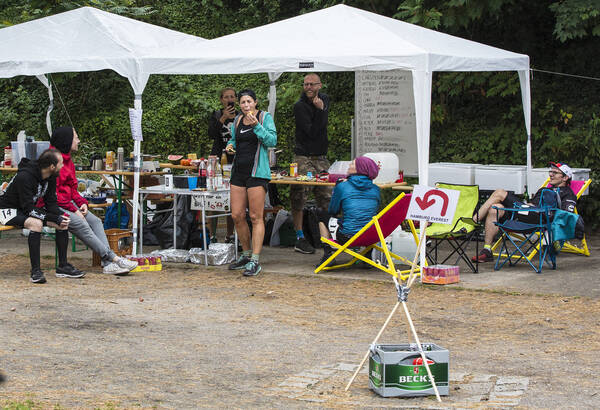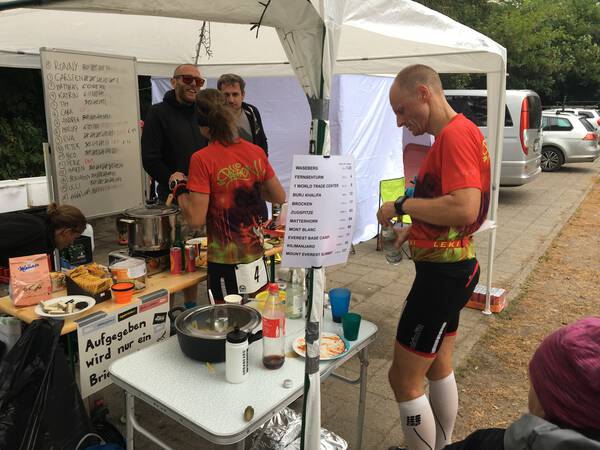 "Schnäppschen?"
Whenever anyone completed another lap, Micha keeps offering them a shot of strong herbal liquor we got as a gift from Philipp (I think). I had a couple, because as a wise man once said to me, alcohol is no problem when seen from a sports-physiological point of view. Michael Mankus was that wise man.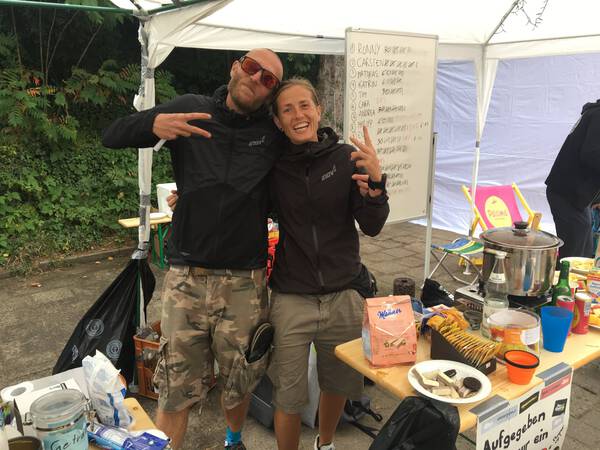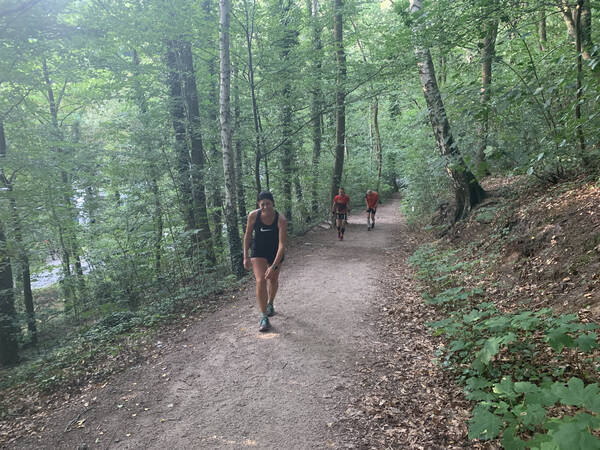 Matthias has a little crisis but keeps on running. He is walking for a short while and I catch up with him. We chat a bit and he tells me about other races he's done before, for example the Mt. Everest Treppenmarathon in the vicinity of Dresden, which has the same basic idea as our run today. I wasn't aware of it, but it sounds almost as insane as today's challenge. It's seems to be easier, because its total distance is "just" 84.4 kilometers, compared to our 140.
He slows down, waiting for his wife Katrin to catch up on him. They had been running together for most of the day, him being one lap ahead of her, but now they decided to make it equal again. As soon as Katrin catches up, they continue running strong. Crisis averted.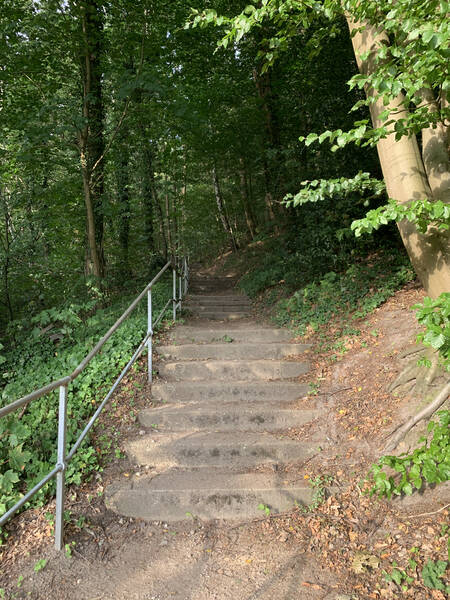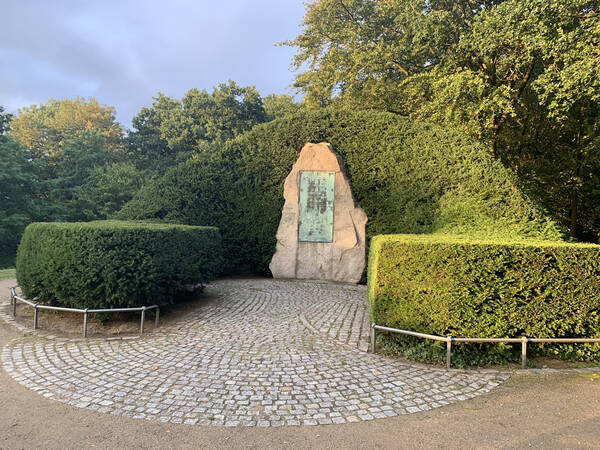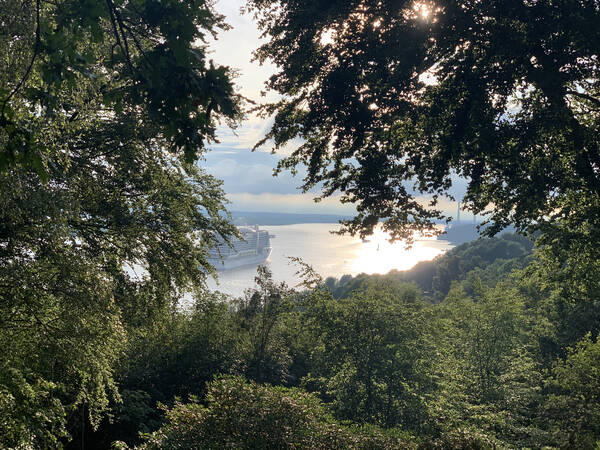 The Cops, Again
That poor neighbor from this morning who just couldn't handle the noise of our footsteps next to her house showed up again. She had probably thought the race would be over after a few hours, and not 36. So she decided to complain again. "Everyone else in the neighborhood despises your behavior, too! You didn't even ask us for permission!" After we told her to accept that running on public streets is completely legal, she again called the cops. This time, they were a bit more focussed on making her happy, for whatever reason. An agreement needed to be forged.
End result: we will change the course slightly so we don't run next to her house, and during the 100 meters that are closest to her house, we will need to create a "walking only" section. Between 10 PM and 7 AM the next morning, this has to be obeyed. She was happy. We're okay.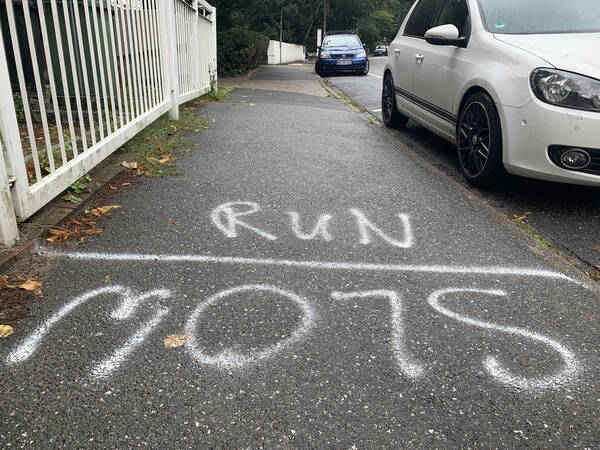 Right before 10 PM, the daylight being gone already, we fetch everyone who's on course to relay the new information and walk through course change.
The Nightking
I myself feel exhausted and depleted after my three sets of 20 laps each, totalling 60 laps or around 4,500 meters of vertical gain. Mätts from Running Green is here and warms up some pasta which I devour. The night begins. Most others keep running, Micha still has the party going, but I need a break. I climb into my van at 10:30 PM and set the alarm clock to 2 AM. Three and half hours should do – they were enough last night, too. And there's always coffee, I think.
But while making that decision I forgot about the 70 kilometers I ran today during about 15 hours of netto running. So that alarm clock yelled for no one. I opened my eyes for the first time and saw 4:30 AM on the watch. "Just 10 more minutes!" and it's 8 AM. Well alright. There's still 8 more hours to go before our cut-off at 4 in the afternoon. Time for a few more laps!
Crawling out of the van I need to reverse that decision. The legs are fried. DNF for me, too? I decide to give it a bit of time and see what the situation is. Seems like I got the most sleep of everyone, this night. Best at sleeping, great achievement. Micha tells me he even checked on me through the van's window because he thought there might be something wrong. Yeah, no. Just incredibly tired.
Unfortunately, my sleeping in prevented me from witnessing probably the best moment of this whole event.
The Griegers Did It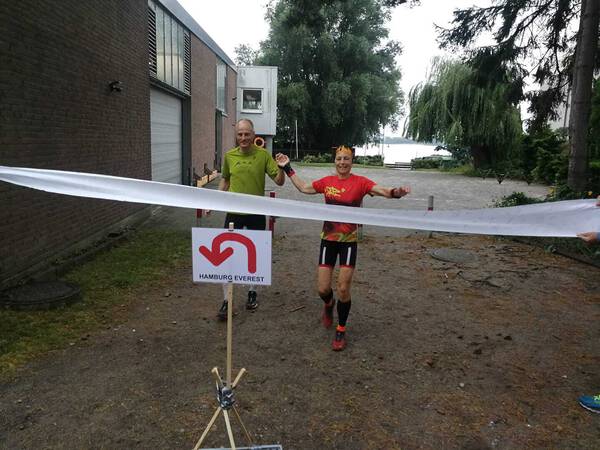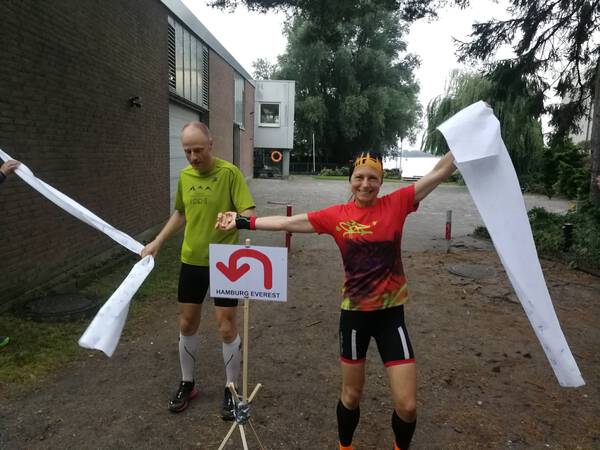 This leaves me speechless. These two are nothing short of incredible. 26 hours and 46 minutes of continuous running. I rarely ever saw them take a real break, except for that special parents' lunch.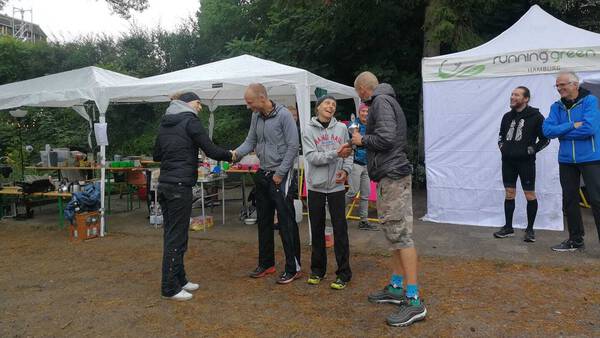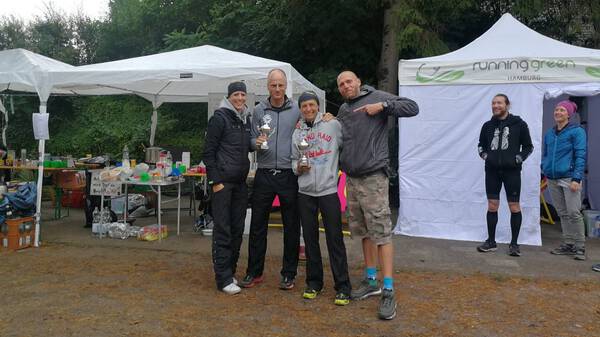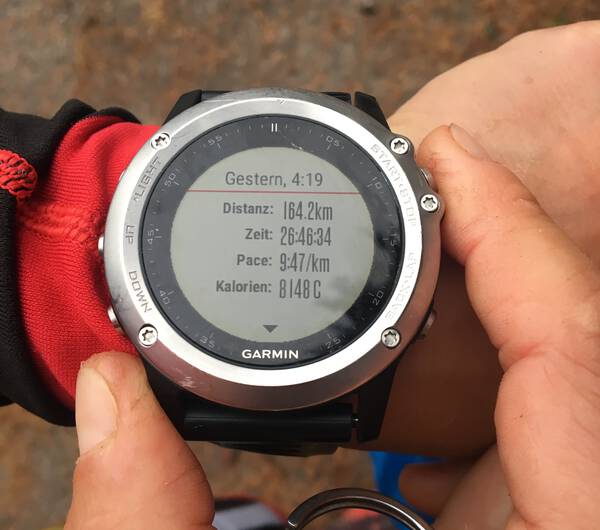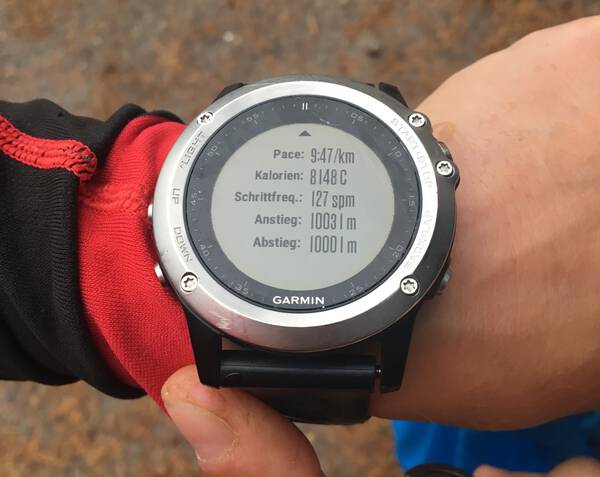 The problem with the GPS tracking is that it's never accurate, especially in measuring the elevation. Still, judging from my own and the other participants data, I'm guessing that the lap had a bit more height gain than our estimated 70 meters. Maybe 73-75.
What we can definitely say, though, is that the Griegers made it up Mount Everest and are rightful finishers and winners of this inaugural event. Congrats!
But the Race is Far From Over
While the Griegers can take a shower and enjoy their trophies, a few of us are still on course. I walk over to Micha, who is now manning the street crossing.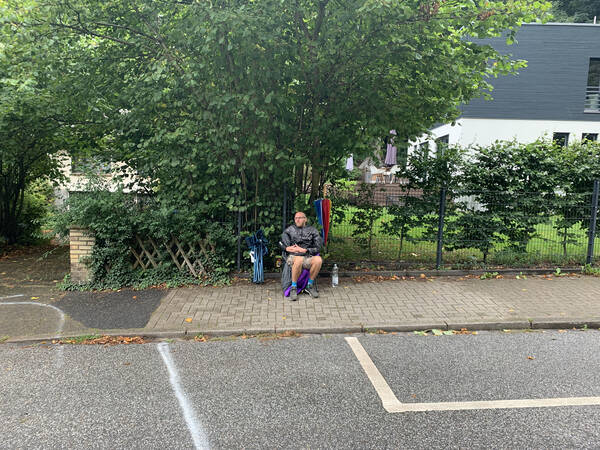 He greets me with an insult about my long sleeping – yes, I deserve that. Up the hill now please, he says. It's funny what a little sentence like that can do to a person. I was sure I needed to quit the run, but now I feel like I can do a few more laps. Maybe reach Matterhorn. That's just four more laps, after all. So I continue.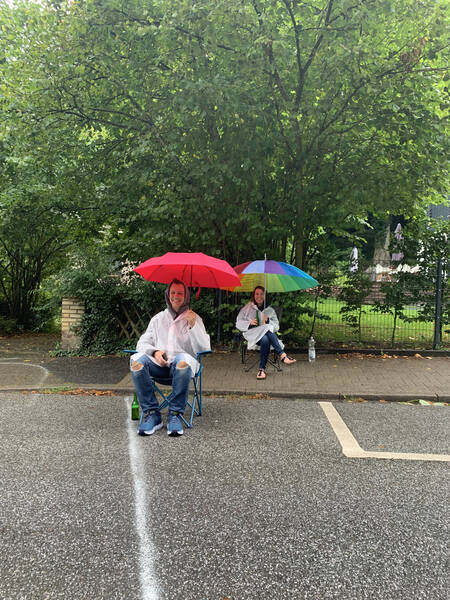 We are four or five runners who still make laps. None of us can theoretically still complete the 127 laps in time before cut-off. But we still run. Because we like to. My buddy Zenni is also on the course, a few laps ahead of me, on his first ever ultramarathon.
A few more hours later we all decide it's enough. Around noon, the last laps are used to disassemble and carry down the Waseberg top station, like little ants. Group effort.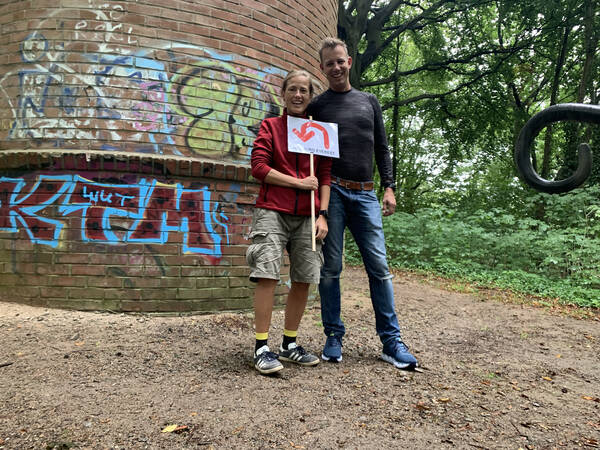 Zenni ends on 69 laps (Mont Blanc height) while I devilishly do just one more for 70 total. My own tracking watch ended up with 82 kilometers and 5,554 meters of gain for those. Not sure how close to reality this is, but definitely sure it was enough to give me the sorest muscles of my life. For three days, I could feel it. A week later I ran a flat marathon race in Plön in 3:41 hours, and that went completely effortlessly. It was a joke in comparison. New levels!
What a Weekend!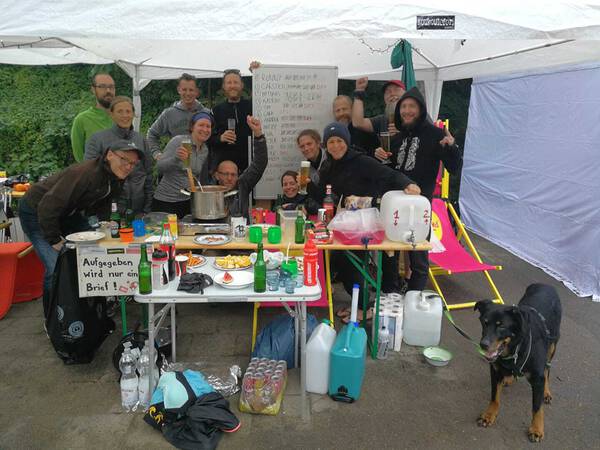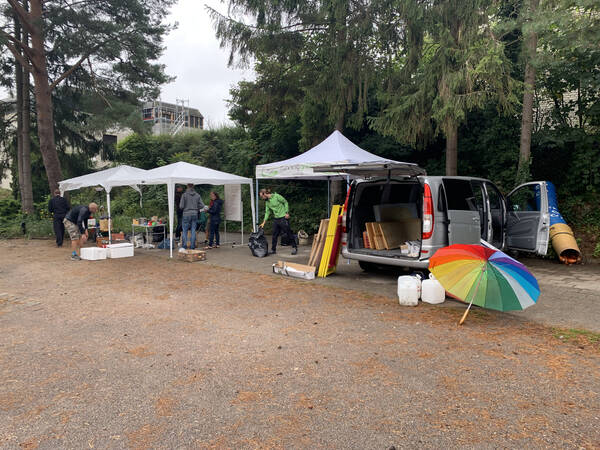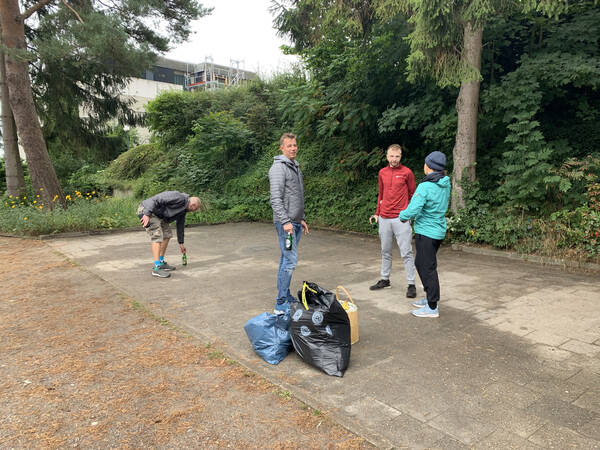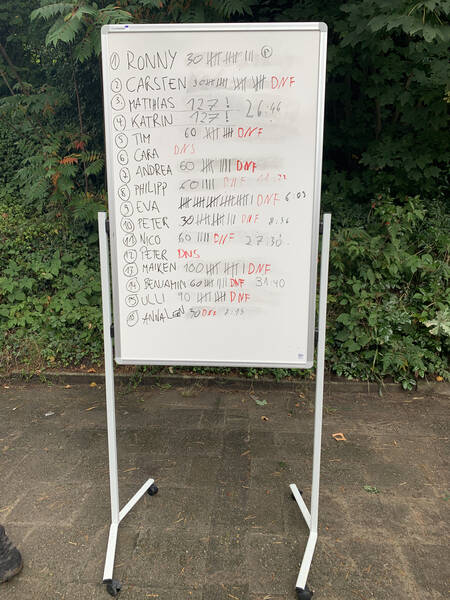 I'd file the race under success. Nothing major went wrong, no one got hurt, we had two finishers (so we could see it was possible to finish), the food was plenty and thanks to Running Green even warm and delicious. The water didn't run out, no big incidents except for that annoying woman and the cops, and everyone seemed to have left happy.
We'll see if 2020 will have another Hamburg-Everest.
Huge thanks to all participants and volunteers! ❤️
How do you feel after reading this?
This helps me assess the quality of my writing and improve it.