Going into Round Two: Cologne Marathon Sub-3
At some point between the start and end of the 2020s, I would like to run a marathon in less than three hours. It's the next magic barrier which separates the ambitious amateurs from the really ambitious amateur runners. At many big races, you'll be in the Top 5 percent of the field with such a finishing time. Many smaller races can even be won with a 2:59h.
It's a fun goal to chase, mainly because it just is quite hard to do.
My first shot at it happened earlier this year at Hamburg Marathon in April, and I almost cracked it. 3:00:40 was my finishing time then, so close and yet so far. I wrote about it here.
Obviously, the story wasn't over then. The quest continues.
I chose Cologne Marathon because it was conveniently located at the beginning of October, is known to be rather fast, and is easily reachable. Practicability needs to play a role, too!
After Hamburg, a summer of non-focused fun runs transpired. I enjoyed not being bound to a training plan, which is not to say that training plans are not enjoyable. It's the healthy mix of both that works best.
A few triathlons, the Peter Huggett memorial Fehmarn Ultra. Then, a trip to the USA and the Manhattan perimeter ultra run. It's been a lot. So, a day after coming back from New York I was tired at Munich's 2nd Great Breweries Ultra with a bunch of other guys and had to quit after 30 of 75 kilometers.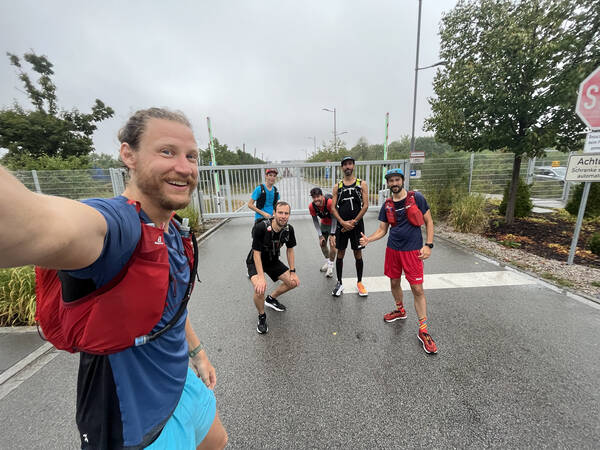 A bit sad about that result, I realized my body needed to be taken care of. That day marked exactly eight weeks to the Cologne Marathon, where my training cycle begins.
This time I chose to not follow a fixed plan, but instead use my newly found experience and knowledge about my own body to guide me. The JPH plan I followed for Hamburg seemed to be good, but not perfect for me. I thought I needed more tougher intervals, more race pace running, more hard long runs.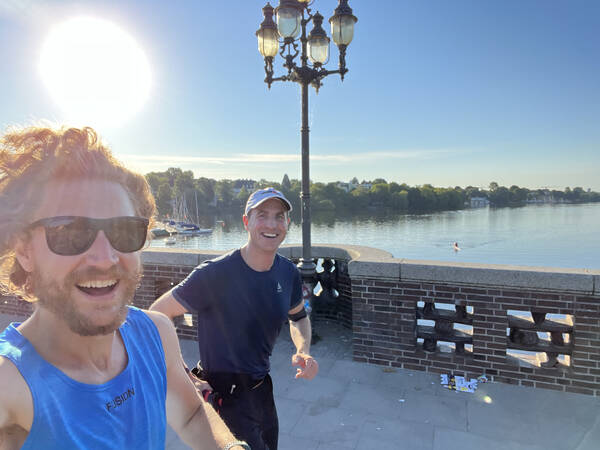 So I did just that. At the beginnng it worked well, the results were promising. The intervals were always tough, just as they are supposed to be, but I pulled it off. All of them.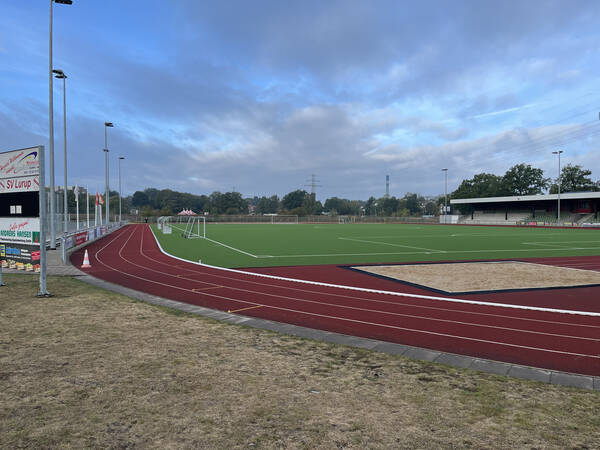 Week 2 of 8, for example, started with 2x 5,000 meters at 4:10 minutes per kilometer, slightly faster than race pace 4:15, on Monday. On Wednesday, I ran 4x 2,000 meters at 4:00 min/km, on Friday there was a fun little race of 7.5 kilometers length which I did at exactly 4:00 min/km again, before doing a 35 kilometer long run on Sunday. That was a tough week, and the 35 on Sunday had me destroyed. I realized there that three speed sessions and a long run are too much in a single week.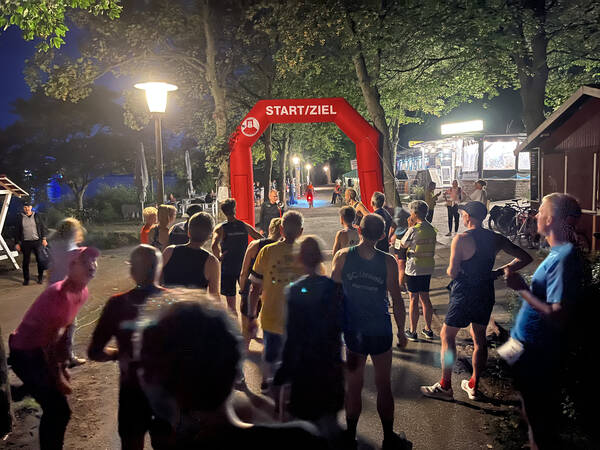 Additionally, since I'm still streak running since January 1st, all the other days were filled with shorter and slower runs of 5-12 kilometers usually.
But, I didn't do anything crazy. For example, the Runner's World guys and I hosted the Hamburg marathon run of our common 42_16 project, but I kept the running shoes at home and played bike support instead. Can't say I wasn't tempted, but I stayed strong!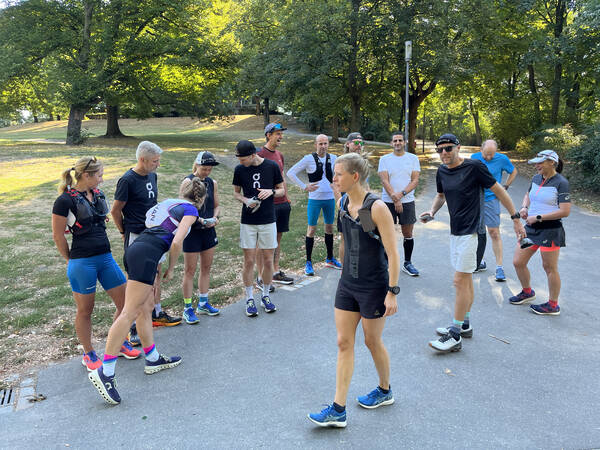 In week 5, I did my best intervals to this date, 8x 1,000 meters at less than 3:45 min/km each.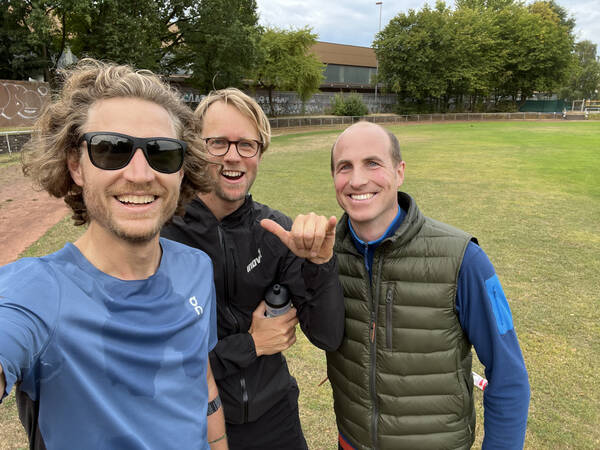 Same week, a half marathon at roughly race pace 4:14 min/km. My friend Michael Mankus noted at this stage that I should do more longer intervals now and forget about the long runs since I have the base endurance in me already. I followed his advice and went for a session of 3,000, 4,000, 5,000 meters with 1,000 meter floats in between at 4:00 min/km. Tough but possibly very effective. That week was rounded off by a 25 km run at race pace 4:15 min/km on the weekend.
Then, a cold with a snotty nose, a cough and headaches got me at the beginning of week 7. That was annoying! But it's just life, you can't control these things. Thankfully, after three days, most of it was gone. Tough training was out of the question until week 8, race week. That's usually meant for tapering, so I just did two shorter workouts with a little bit of race pace to get the legs going.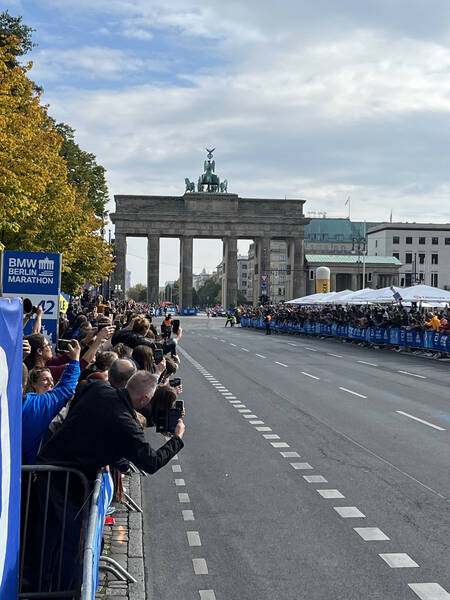 And that's it for this training cycle. Far from perfect, unfortunately. Started weak, had some highs in the middle, then got sick. The race prognosis from Runalyze gave me a good 2:57h after six weeks, but because of the sickness it dropped down to 3:08h on race day.
As you might imagine, I got on the train to Cologne quite nervously.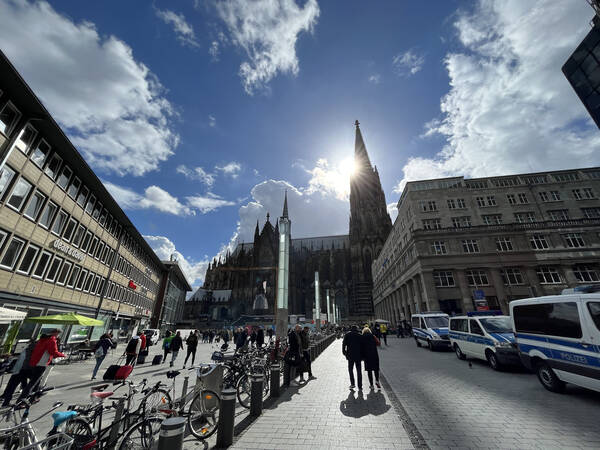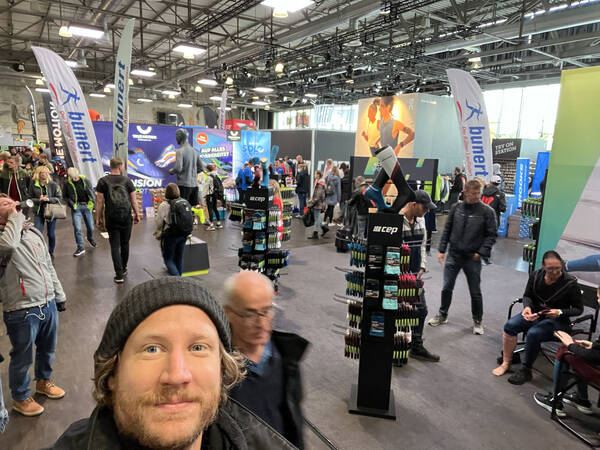 I was in no position to make any big plans or develop any strategies for the race. Start at 4:15 min/km and hopefully end at 4:15 min/km pace, that's all.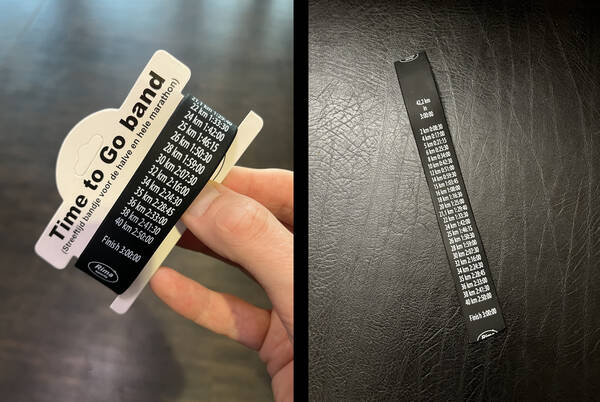 From April's Hamburg Marathon I had gotten the experience of proper gel based fueling. I hit it perfectly at that point, I felt. So I went with the same technique of taking a gel at every half hour starting from one hour into the race. But I took two extra gels with me, just in case I would manage to get more of them into my stomach. That's the limiting factor. The more gels, the better, generally speaking.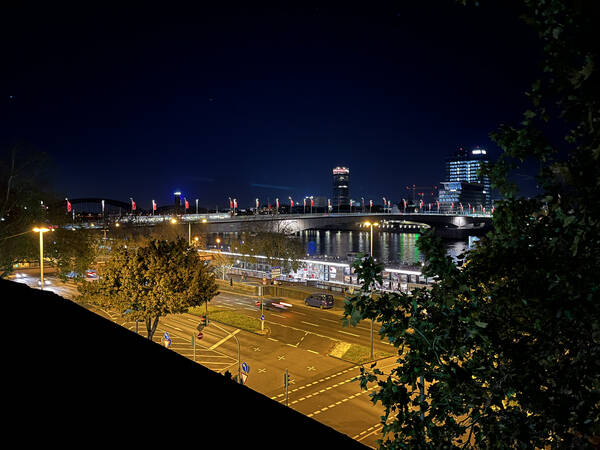 The hotel breakfast was alright although nothing amazing, so I added two bananas and two cans of coke to it while on the way to the starting line.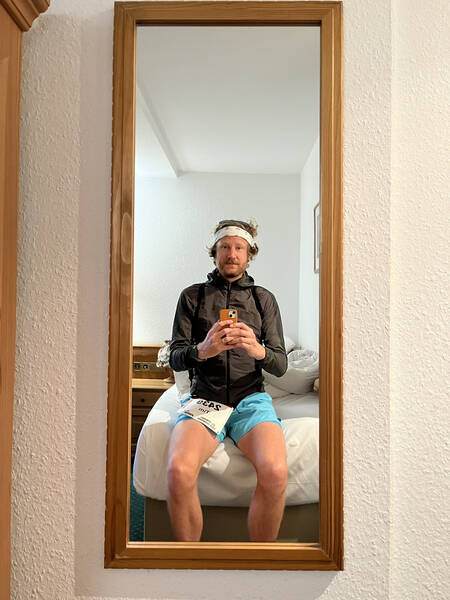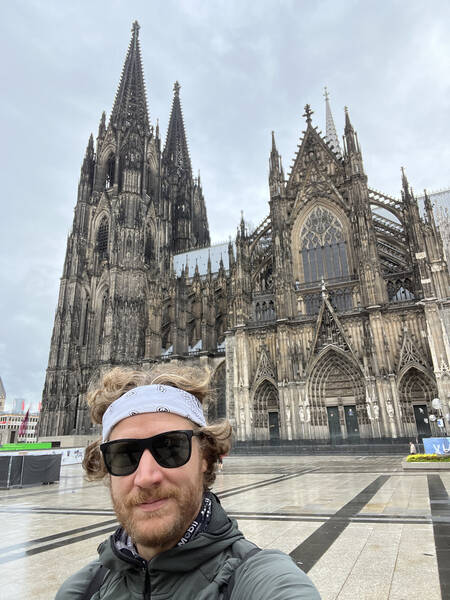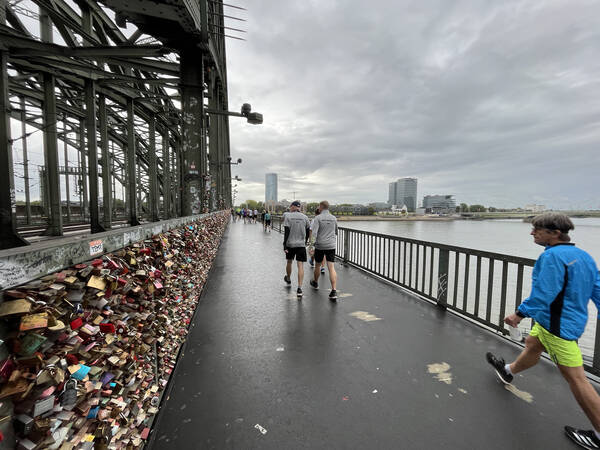 The weather is nearly perfect for marathon running. Around 10 degrees Celsius, nearly no winds, cloud cover. And the best thing, I spotted a 3:00 hour pacer right away! Those guys are tremendously helpful, but famously they were missing at Hamburg Marathon, which made it a lot harder for me then.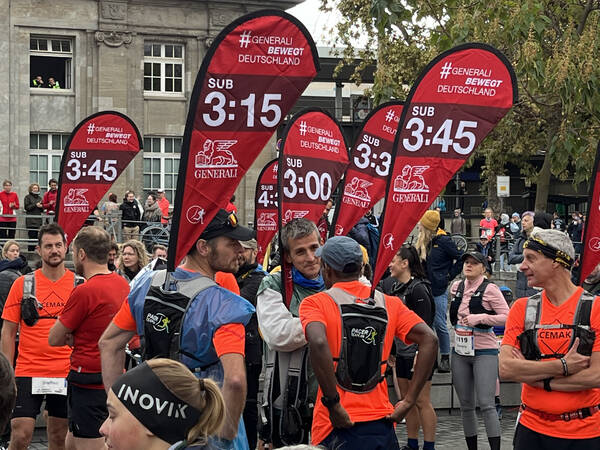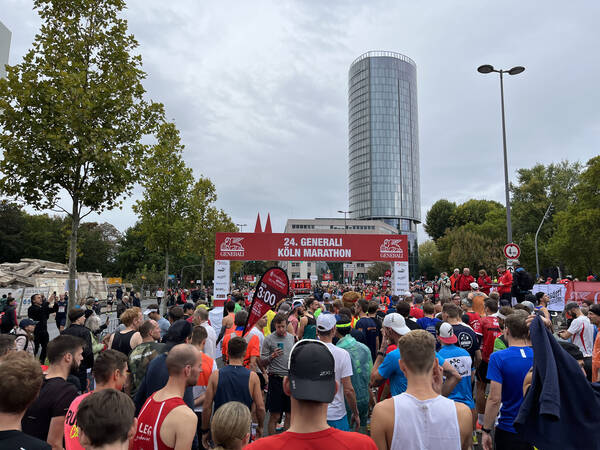 After a short warm-up, I followed the 3:00 hour flag right towards the starting gate. Standing so close to the gate at the beginning at a major city marathon is still feeling weird for me. Like I don't belong.
Start of the Race
Right away, these two pacers meant business! The course starts with a Rhein river bridge uphill section and they attacked it at 4:05 min/km, notably faster than the target of 4:15.
In my head, I divide a fast marathon into 5k bits. Eight of them and a bit extra to the finish. These numbers are manageable. The first 5k is over after 20:54 minutes, a 4:09 min/km average. Too fast. The variance in the pacers' pace was high, too. Jumping from 4:00 to 4:30 at times. I didn't expect that, but I still thought my chances were best if I stayed with them as closely as possible. First lesson of the day for me.
☝️ Lesson #1: Prepare for Pace Variance, Even on a Flat Course
This marathon race is one of those with kilometer signs for every single one of the 42. That's very helpful as you can compare them to what your watch says in order to find out what the reality of your progress actually is. For a GPS watch it's not uncommon to diverge a few percent from reality, so at a narrow pacing goal as this one, where a 200 meter difference means nearly a minute, it can break the race for you to solely rely on the watch.
The second 5k, from 5 to 10, was done at a more sustainable pace and felt really comfortable to me. The weakness from the cold of two weeks ago was still in my system, I felt that. My heart rate settled in well, though. I had made the choice to ignore the number, but I felt it wasn't too bad.
Going from 10 to 15 was a bit too fast again, but I stayed right behind the pacers. Unfortunately, the pressure in my bladder had built up until the point at which I was sure I couldn't ignore it for the rest of the race. I had to make a break and hope to make up for the lost seconds. At 17, I did just that and lost around 20 seconds for it. My thinking was, better now than later when I was more tired. Making up just one second per kilometer over the next 20k would get me back to the pacers in time, I figured. This, I think, was the right call.
☝️ Lesson #2: Mishaps Happen, The Way to Prepare is to Train for a Faster Pace
During training, I tried going for a 4:10 min/km goal pace to have a 5-second buffer for every kilometer. This was possible for me during a few training runs, but not all. Especially during the end of the eight weeks, I was missing a few key training sessions with that pace due to the sickness. That's unfortunate, but such is life – you can only aim for an even bigger cushion in order to be prepared for these things. And hope for some luck.
I manage to eat away a few meters from the gap which has now built up between me and the pacers. I can see them well, maybe 200 meters in front of me. A group of around 50-80 runners are still with them and a few smaller groups of a handful runners each are between them and me.
Every few minutes, a runner or two are dropped from the three hour pacing group. They slow down and I slowly overtake them. This creates the illusion that I'm getting faster, but the flags are still nearly the same distance away as before. Practice patience. Eat away slowly, second by second, I'm thinking.
Through the halfway gates. The 21.1 kilometers were over after 1:29:40 hours according to my watch, so that's perfect. Some confidence gained back. Now I focus on not losing sight of the pacers. It's very hard to do and getting harder with every passing kilometer. On the other hand, I'm very happy to have already made it so far considering the circumstances.
At 23, one of the two pacers drops back. I overtake him. It looks like his flag broke, but maybe he was just not able to keep it up this fast.
Kilometer 20 to 25 were still on point, I kept the necessary pace. Stomach is fine, second gel. A bit of water and electrolyte drinks at the aid stations are worth it, too.
Around here, I begin to calculate. Trying to guess the distance between the pacers and me. Since I'm not getting any closer to them albeit trying, the seconds between them and me will make or break the three hour finish. It looks like a few hundred meters. And by now it's even slowly increasing. My legs are not fresh anymore and the fatigue sets in. I give it my best shot to increase the pace and close the gap, but it just doesn't work. Over the next few minutes, this makes me realize that it's not going to work out today with my three hour goal.
At 28, two thirds of the way, I throw in the towel. Today is not the day. The hope is gone.
Running for another hour at this blistering pace, even increasing it in order to get to the pacers, seems impossible to me.
So I drop back to 5:00 min/km. Phew, this moment of defeat doesn't feel great right now, but the relief of a lesser power output helps.
So, What Was the Problem?
Of course, right away, I think through all the possible factors. The heart rate wasn't too high, the sickness behind me, no injuries. In the end, there are no excuses. The reason something like this doesn't work out as planned is always the same: it's the training. It just wasn't smart enough or the right fit for me.
It's certainly interesting to see that my self-made training was apparently worse than the JPH plan I used for Hamburg's 3:00:40. And here I thought I was improving things! A lesson in humility.
My friend Martin Grüning, the editor-in-chief of Runner's World Germany, said that we need to incorporate our own private lifestyles more into training. Take it more into account. There's not much I can improve there, so I need to adapt and make the training work despite the challenging days. Catching a cold from the kids is always a possibility. Spending a weekend with them in Berlin a week before the race can sometimes steal more energy than it gives back. That's just as it is, but I'm not willing to make compromises on that end.
I still think it must be possible for me to break three. I came this close, after all. Maybe with some outside help. That's why a week later, I asked my friend Mathias to help with my next try and he thankfully agreed right away. The quest continues!
☝️ Lesson #3: You Don't Have to Do Everything Yourself. Ask for Help.
Back to the race. Now, I still have 14 kilometers to go. I won't give up this marathon just based on the fact that I'm not fast enough for reaching my goal anymore. But there are no injuries so I have no excuses. My pace drops to 5:30 min/km soon and I realize how much energy these paced two hours have taken out of my body, but on the other hand it's nice to be able to fully enjoy the aid stations and take time for proper refueling.
Also, I suddenly notice that I'm in Cologne here. There are people cheering! Interesting areas where we're coming through. Before, I was just looking ahead at the flags, didn't see much else in full focused tunnel mode. Now, I'm fully in the moment, taking it all in. And it's great! Reminds me of my earlier marathons. An unexpected upside to the fail of just minutes before.
The legs are fried, the pace drops even further down to 6:00 min/km. It doesn't matter at all, anymore. My friend Patrick suddenly appears and has a few kind words while jogging next to me for a few meters. He asks me to now at least break his own personal best of 3:20h, but I don't think I still have that in me. Wouldn't be smart in this situation, either.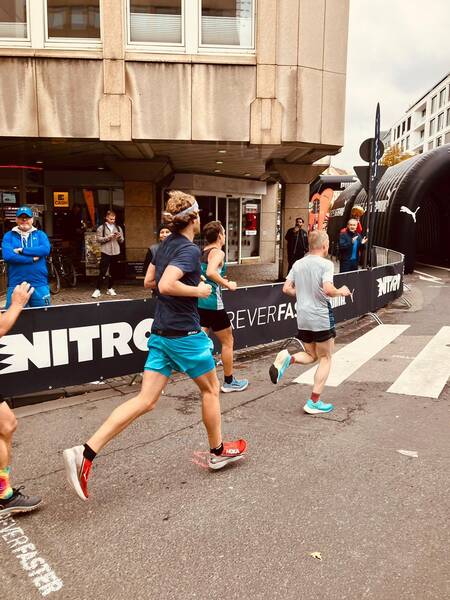 As we get closer to the city center, the crowds increase again and the noise with them. A running club shoots confetti over me and screams.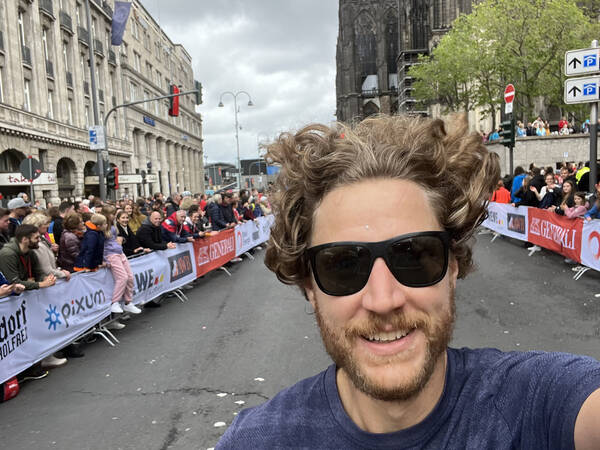 Right before the finish, the course leads us next to the Kölner Dom and that's also appreciated. That building never gets old. Great course layout.
The finish line stretch is well planned, too. Big red carpet, crowds on platforms, an emcee. He sees me alone on there and mentions how good my hair still looks. Well, thank you! Turning my bad day into a nice one, good on you. The crowds cheer just for me because there's nobody in my immediate area.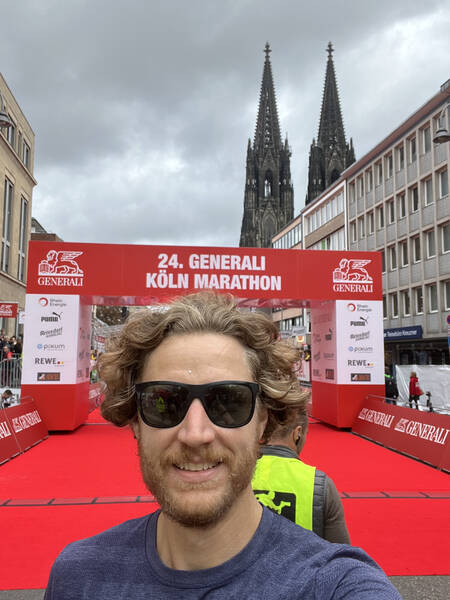 ☝️ Lesson #4: If You Don't Make It, Doesn't Mean You Can't Enjoy It
After 3:23:22 hours officially, I have arrived. Here are the full stats on Strava. This is my 70th full marathon race, by the way. But not my best one, obviously. Still, marathons are great and my fire for it has been ignited again today, not extinguished.
I mostly know what the problem was, and that's weak training and getting a little unlucky. It's fine, I will hopefully have enough years left for more tries. I still get to enjoy a free ice-cold shower and a great massage after the finish, and most of all, a huge runner's high. It's been a while, but those always feel great. Being content and just relaxed for the rest of the day is the best.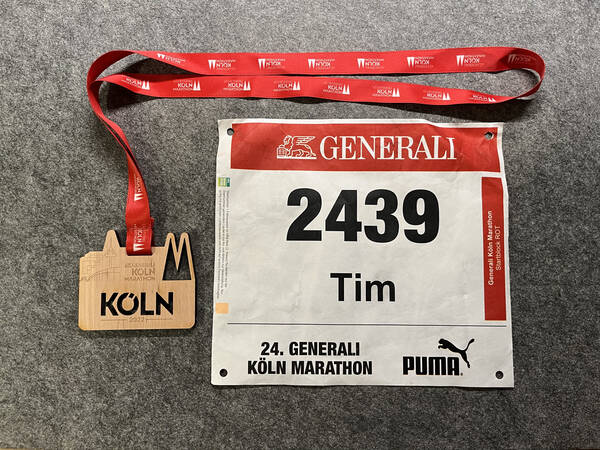 And, oddly enough, when I look at my stats afterwards, my new race prognosis went up from 3:08 to 2:58h again just because of this race today! Turns out, some more long runs might have helped after all.
Making New Plans
Almost immediately, I'm thinking about Round Three. At first sight, the obvious choice would have been Hamburg Marathon 2023 in April. But, just a week ago, I got the news that I got accepted with my qualifying time of 3:00:40 this April for the 2023 edition of the Boston Marathon! Now that's one hell of a consolation prize!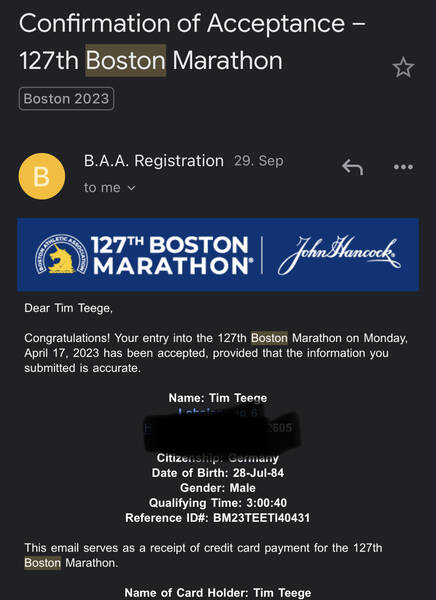 That's something many people try to do for many years. Boston is the world's oldest marathon race and one of the six World Majors. And I'm jumping at the chance to go to the USA again. The race date is just one week before Hamburg, so that makes a fast Hamburg Marathon impossible. I could try to run Boston in 2:59h, but I looked at the route – it's downhill, point to point. So a personal best doesn't really count over there. Looking around some more, I found Hannover Marathon, happening on March 26th of 2023. The city is just around the corner, the course is a flat and easy loop, and it's exactly 12 weeks from January 1st, 2023. Perfect! So that's the new plan. Hannover, coached with the help of Mathias.
The Quest Continues!
How do you feel after reading this?
This helps me assess the quality of my writing and improve it.