Hamburg Marathon 2019
Back in Hamburg!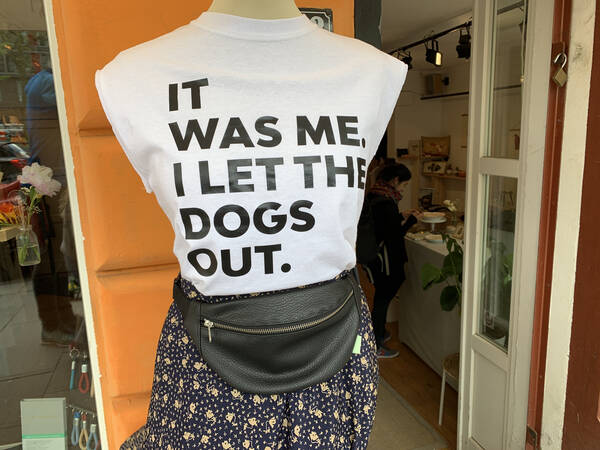 Three and a half months of being on the other side of the world are over. My hometown has me back. What better way to celebrate than to run the official Hamburg Marathon?
Also, it helps in combating a 10 hour jetlag and the 45 hour journey home from Auckland, New Zealand. One night of rocky sleep in my own bed, and it was time for a trip to the city center to collect the starter's bag.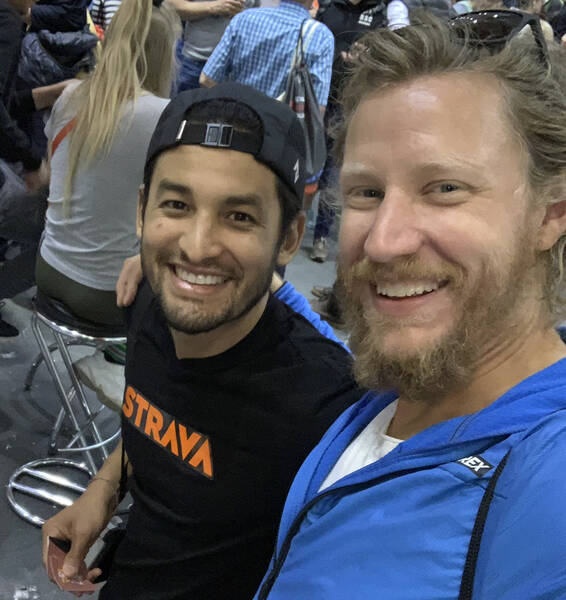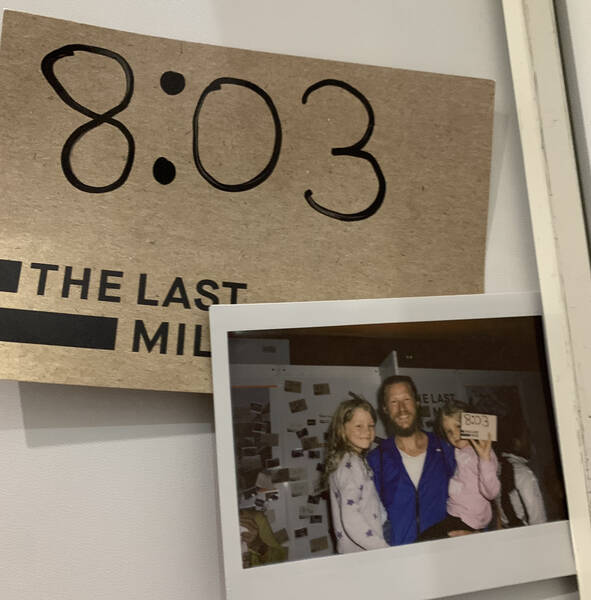 The last few months in warm New Zealand went really well for me – I completed five marathons and came home feeling strong. Although not quite strong enough to try for a new personal best (3:26 hours), I thought I could do a 3:30 probably. As I know the course now after having run the race for a few times, trying for a good time seemed like a fun task.
On Sunday morning, I met with my buddy Rasmus, who wanted to do a 3:05 hour marathon – he's in a different league! We both biked to the start and had lots to chat about after not seeing each other for four months.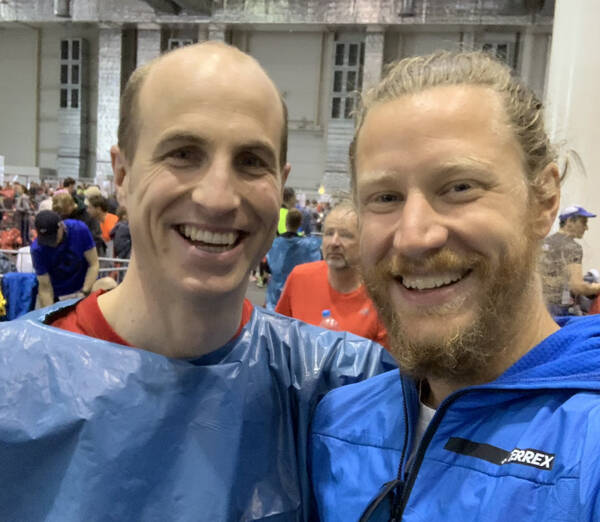 It's a cold day at about 5 to 10 degrees and slight rain, so I had a few additional clothing layers ready.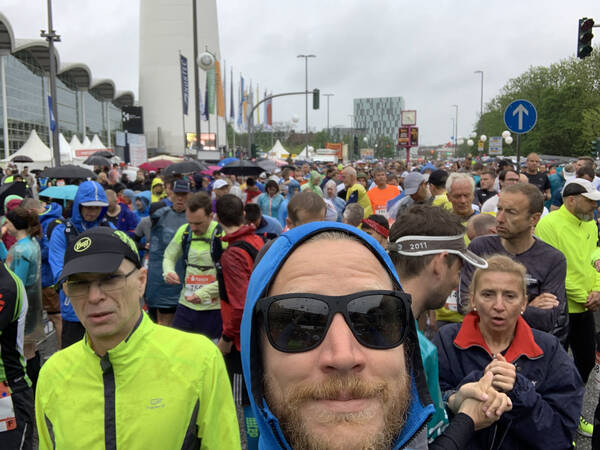 It's been a great feeling being home standing here in the crowd, ready to go, listening to the mayor's speech and feeling the excitement of everyone in the air.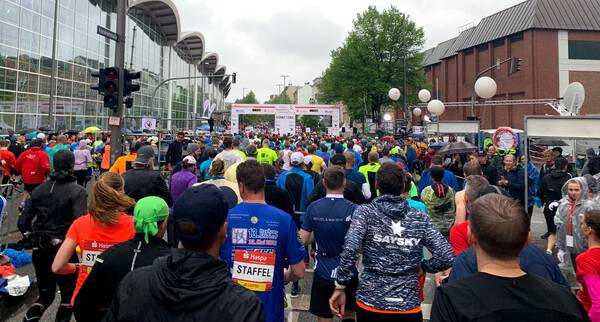 After just 6 rainy kilometers, I reached my neighborhood, and with it, quite a bunch of my family and personal supporters. That has been the best part of the race. I threw out hugs left and right, so happy to see them all.
The course was changed slightly from last year's, but the very important parts were not missing.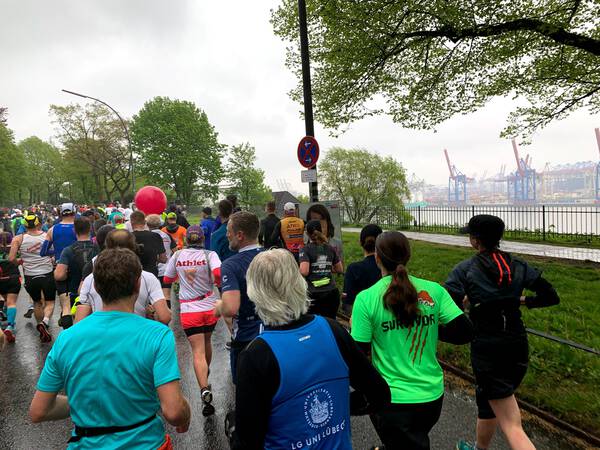 I aimed for a flat 5:00 minute per kilometer pace, but had problems to keep up to it. I lost a whole minute for the hugs and couldn't really bring myself to regaining it, hovering around 5:05 minutes instead. So I decided early on to just keep this nearly 5 minute pace and see how it goes.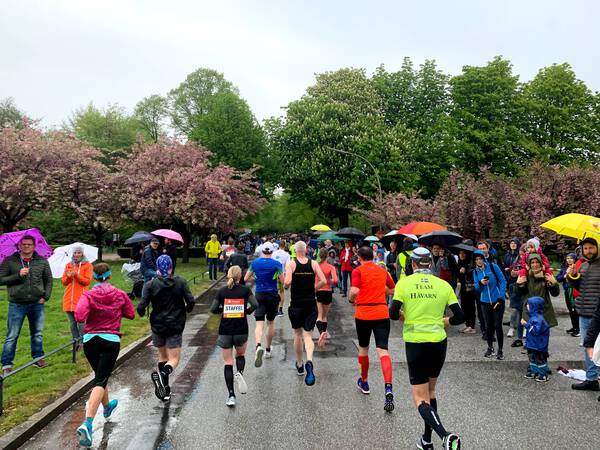 At 38 kilometers I saw Angel again, he was part of a cheering station set up by the Tide Runners running crew. Hugs again, and he even followed me for a while to talk, being the good sport that he is.
This time I went without any power gels and just drank the water and iso they offered. Turns out, that also works.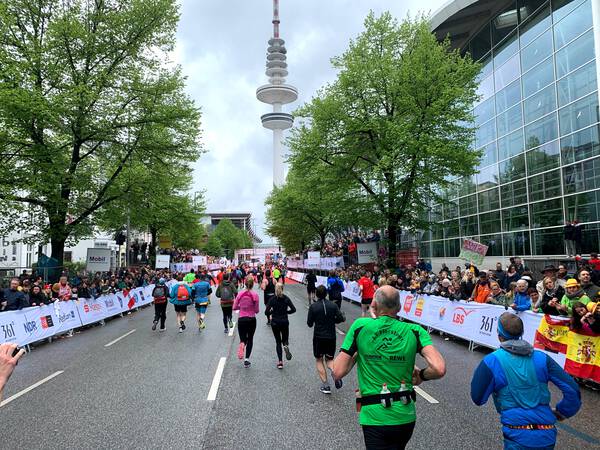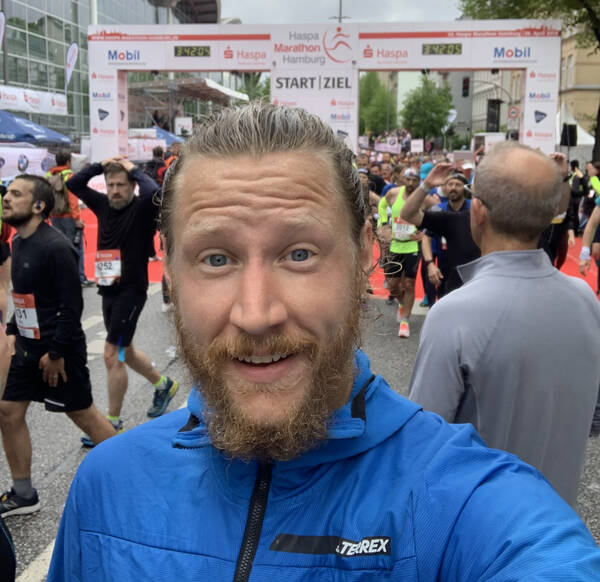 Now comes one of the best parts of the Hamburg Marathon: the food! In the halls right after the finish, there's so much free stuff to eat, from hot vegetable broth to bananas, chocolate bars, salty pastry, fresh grapes, alcohol-free beer, apples, croissants – it's paradise! Rasmus was here, too, indulging into the offerings. He reached his 3:05 goal by finishing after 3:04 hours, well done!
It's good to be back home. A day later, I of course signed up for Hamburg 2020 immediately. Maybe then my personal best will fall!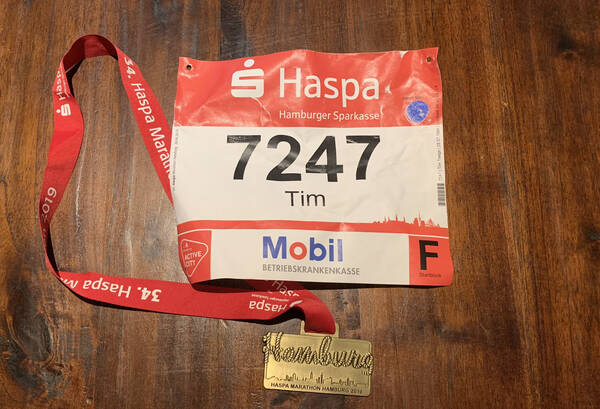 How do you feel after reading this?
This helps me assess the quality of my writing and improve it.