New Book Out – The Story of my EU Marathon Runs
You can now buy an eBook written by me and it's called "Running in the EU".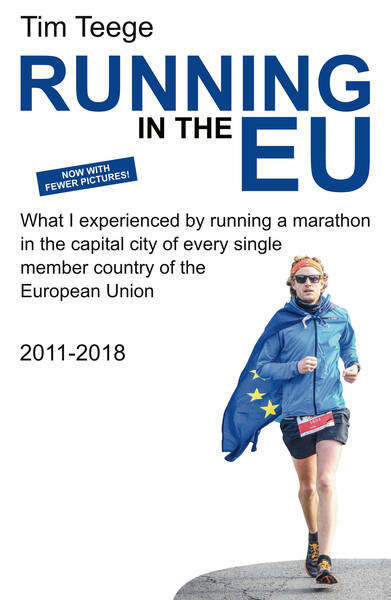 As the title says, this is a compendium of the blog posts I wrote during the time I ran all the EU's capital city marathon races from 2011 to 2018. It's been a wild ride and to me it's especially interesting how my style of writing and experiencing these trips slowly changed over the course of those seven years. Compare that first to my last marathon report, Amsterdam vs Nicosia – they're worlds apart.
Here's the Amazon link to buy for your kindle, but if you're more into reading for free or on Apple's Books among others, you can also download the EPUB file format version on my website www.teesches-marathons.eu.
Since I've self-published the book, I arbitrarily set the price on Amazon to 4,99 €, but I will give any money I get paid 100% to Doctors without Borders. That's just in case Amazon doesn't decide to keep it all for themselves, which I sort of suspect. Gotta pay for Bezos' rockets!
Anyways, if you decide you like it, tell a friend, and if you feel really enthusiastic about it, please leave a review. If it's a disappointment to you, please keep that to yourself. 😉
How do you feel after reading this?
This helps me assess the quality of my writing and improve it.