New MacBook 2018
It's easy to measure the perceived worth of some items in your life if you take into account how much time you spend with them. That's why I rarely hesitate to buy an expensive new phone. It's with me all day and does a lot of work for me – it makes sense to buy a good product.
The same goes for my main computer. As I work in web design, it's the only tool I need to do my job. It's allowed to be expensive because it will be worth it.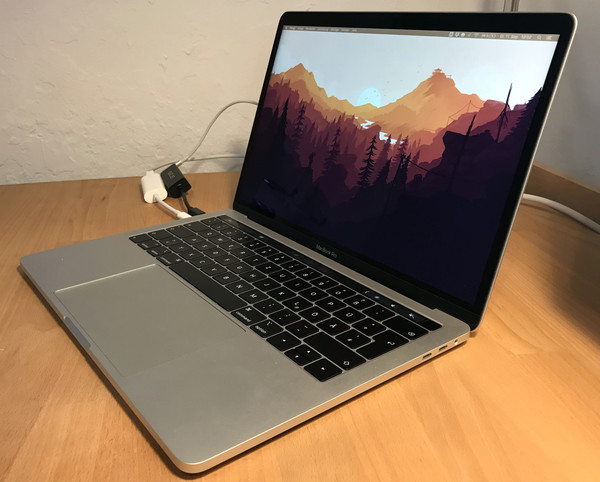 The MacBook this one replaced is a Late 2013 MacBook Pro 15" with Retina Display. I used it a lot over those last five years and it never let me down. Even the battery was at a great 92% of its original capacity. To be honest, there was no real need to buy a new one, as the 2013 MacBook still held up very well to all the tasks I needed it for on an every day basis.
The Problems with New MacBook Models of the Last Years
The improvements that Apple made on the MacBook Pro models over the years didn't really excite me that much. Additionally, there were apparent problems with the redesigned keyboard of the 2016 and 2017 models, which is just unacceptable to me. Keys failing for lots of customers, replacements were taking weeks and not solving the underlying problems. This 2018 model is said to have solved the keyboard problems. Finally.
Touch Bar
The only new feature, the visual Touch Bar, is completely useless to me. I watch the screen while typing, not the keyboard, so it's not practical to look down on the Touch Bar to see what options it offers me in the different Mac apps. I only use the sound volume and brightness controls from time to time, as well as the virtual escape key. The latter one's position has made it into my muscle memory already.
Lack of Ports
This is another thing that people complain about. "Dongle Hell" is what they call it, because they require lots of adapters, apparently. This model has four USB-C shaped ports, all with Thunderbolt 3 and power-support. The only other port is a 3.5 mm headphone jack. I miss the brilliant MagSafe power connector which used to be a magnetic failsafe to avoid damages due to careless cable management. That was really clever. But all the other previous ports are not important to me:
USB (type A): I sometimes used those to load peripherals like my AirPods case or iPhone, but now I just use those chargers. For data transfers, wireless options are perfect.
HDMI: never needed it.
SD card slot: also never needed it, and nowadays there are WIFI supporting SD cards I've heard.
FireWire: that's just an obsolete standard now.
Thunderbolt: as this was Apple proprietary, USB-C easily replaces it.
That being said, I did get two adapters for myself.
Thunderbolt 3 (USB-C) to Thunderbolt 2: this is necessary to connect my ancient (it's from 2011!) Apple Thunderbolt Display as an external monitor.
USB-C to MagSafe 2: this allows me to use the ancient Apple Thunderbolt Display's MagSafe power connector as a power cord for the new MacBook. This eliminates the need for a power brick.
I'm still waiting to buy a new external monitor which is able to do both on its own. There's the LG Apple co-op 5k monitor which can power the MacBook as well as receive the visual data at the same time through just one cable, but I think Apple will soon produce a new and better monitor. So far, the solution works very well for me.
So, What's the Reason I Got a New MacBook?
I wanted to have a smaller laptop. Going down from 15" to 13" while getting all the benefits of 5 years of Apple development seemed a good idea. I must say, it's actually quite a difference in my backpack everyday while I bike to and from work. Having a more powerful machine also doesn't hurt, but it's not really been necessary for me so far.
The Stats
I got the best version of the 13" with Touch Bar and upgraded the CPU and RAM to the maximum options, while keeping the SSD storage at the lowest.
2.7 GHz Intel Core i7 CPU
16 GB of RAM
500 GB of SSD Storage (of which I currently use just 75, as I don't work with big files. And when I do, I store them on Google Drive or Dropbox)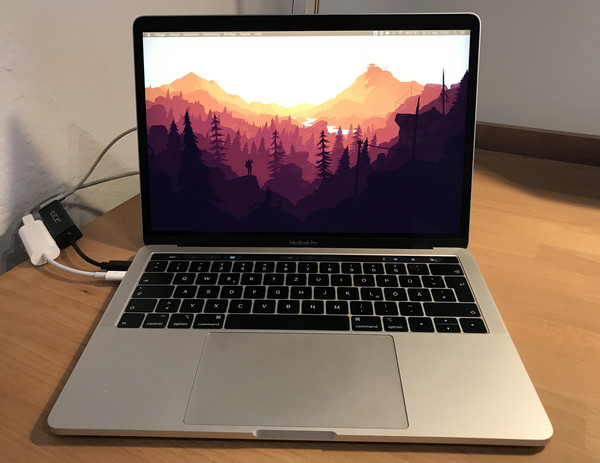 That picture, by the way, is a fictional rendered Wyoming mountain area, taken from the awesome game Firewatch. I love the game and the atmosphere of nature it sets. This is supposed to be relaxing.
The Verdict
After about two months with this new machine, I must say I'm glad I bought it. It's a very solid and reliable laptop that has enough computing power for many years and looks pleasant as well. The new keyboard feels nice to use and the improved True Tone screen is easier on the eyes. I can recommend getting this model if you're in the market for a new MacBook as well.
How do you feel after reading this?
This helps me assess the quality of my writing and improve it.