The DUAL: Motutapu / Rangitoto Traverse Marathon
This marathon concludes my New Zealand marathon adventure and new personal record attempt of completing four marathons in three weeks.
Half a year ago, I tried and completed a 3 in 2 weeks challenge in Austria and Germany. Inspired by British comedian Eddie Izzard, who ran through the UK and South Africa, one marathon per day, for 43 and 27 consecutive days, respectively. Obviously, that's still far off of what I'm doing, but he once did mention during a show in Hamburg which I attended that he would like to do a year of one marathon per week. I think that's a reasonable idea, achievable as well. Might be somewhere in my future. But for now, it's 4 in 3 weeks, as the logical step up from 3 in 2 weeks.
It started in New Plymouth with a an easy street race, continued over to Waiheke island's hills, and one week ago, it ended on a high note at Te Houtaewa Ultra, with my first ever race win. But one more is in my calendar. A bonus race, so to speak.
Since we've landed in Auckland and started exploring the area, this one mountain always kept coming up. From our current place of living in the North Shore area, it's often visible. Rangitoto, a volcano just off the coast within the Hauraki Gulf of Auckland.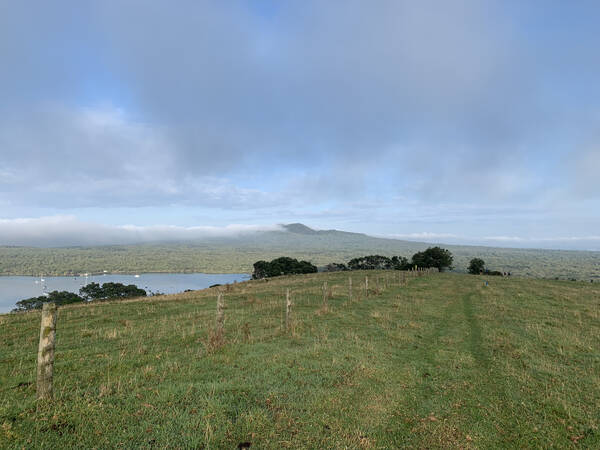 Interestingly, right next door there's another island. Much older and non-volcanic Motutapu. The islands are very close together and linked with a human-built wooden bridge. The run would make use of both islands, and hence, its title of The DUAL.
There's supposedly no homes on the island as it's the center of a conservationist effort. Trails and hills through New Zealand's beautiful nature, untouched by dirty humans, sign me up!
Dark Skies on Race Day
Again, my favorite, an early alarm was necessary to make it to the starting line in time. 4 AM, this time. For this reason and a few others, Sophie and the kids decided not to accompany me to Rangitoto. The race course wouldn't make it easy to spectate and the older two kids' school had a Fun Run event going on, starting noon. So I enjoyed the quiet morning alone today.
It's even too early for Auckland's otherwise great public transport, so I had to pre-book an uber to get to the Queen's Wharf and onto the ferry in time. Then followed a ride through the gulf in the dark. When we docked on Motutapu at around 6:45 AM, the sun was just about to show up.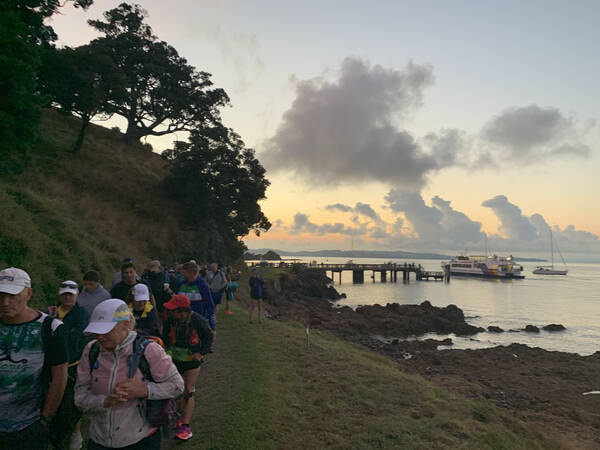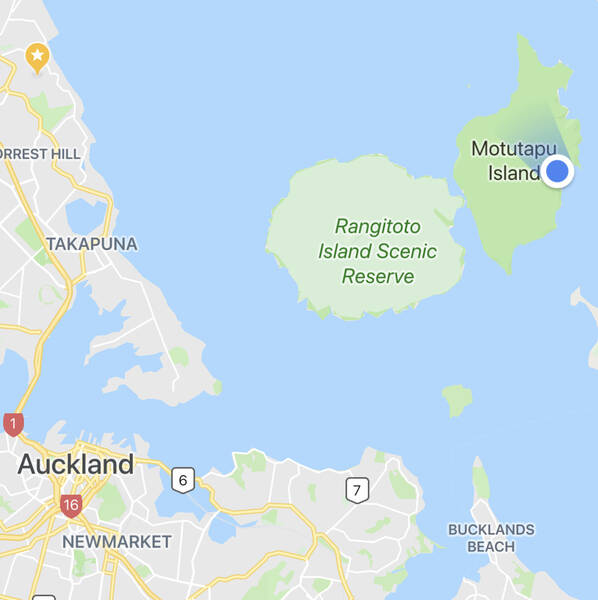 The ferry was full, maybe a couple hundred people. The event has been popular with Aucklanders for about 10 years, and includes several side-events like a half-marathon, 10k, 6k walk, 26k mountain bike race, and even a short distance cross-triathlon. In total, there were probably close to a thousand people on this otherwise empty and quiet island today. How does that work with the conservationist efforts? For a start, everyone has to clean and disinfect-spray their shoes before setting foot on the island. There's a danger of spreading germs harmful to Motutapu's or Rangitoto's flora. Everything necessary for the racing events had to be carried over here. That definitely left an impact on the island. But, the whole event raises awareness and collects donations for the conservationists. A lot of it. It actually helps keep the islands well and healthy. And we're all happy to pay for that.
Walking around exploring the bay area, someone talks me up. "Hey are you going for the win again, today?" – he recognized me from last weekend at the 90 Mile Beach Ultramarathon which I won. (Still looks weird written down.) Feels new, this sort of fame. We chat for a while.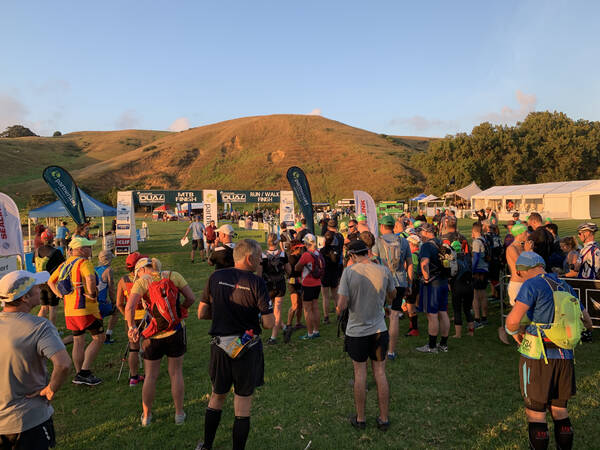 The race marshal used the chance to crack a few jokes and talk about the history and goals of the event. He also asked the crowd if someone would be about to do his first marathon here in a few minutes. One anxious guy raised his trembling hand. Encouraging applause followed, and an especially motivated lady walked over to him for a high-five. The guy was clearly out of his element. It takes a brave person to premier the distance on a 1,100 meter elevation gain trail run across a volcanic island. Kudos!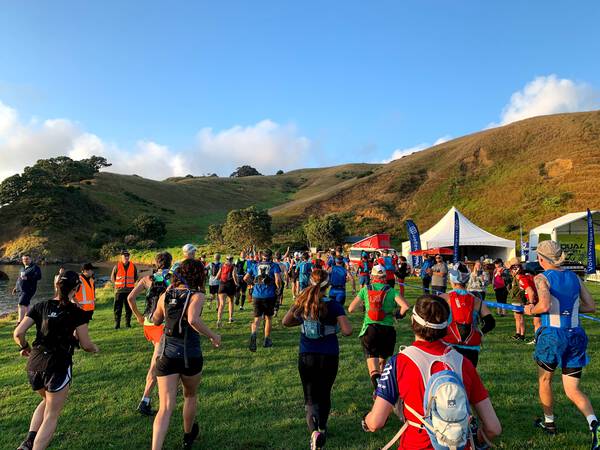 From the bay up about 100 meters right away. Awake!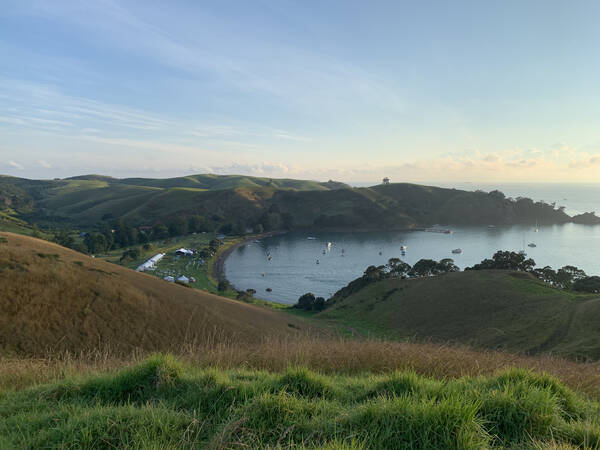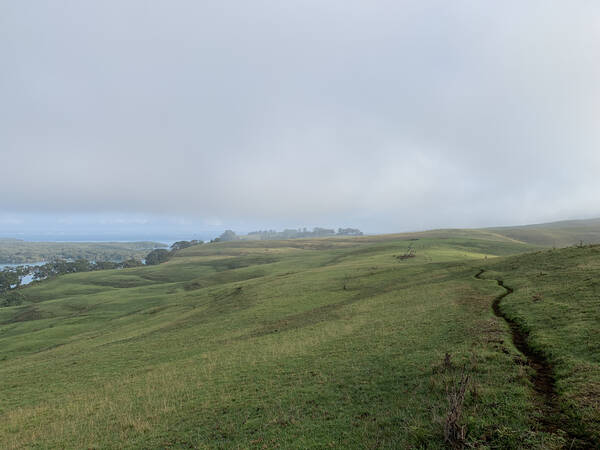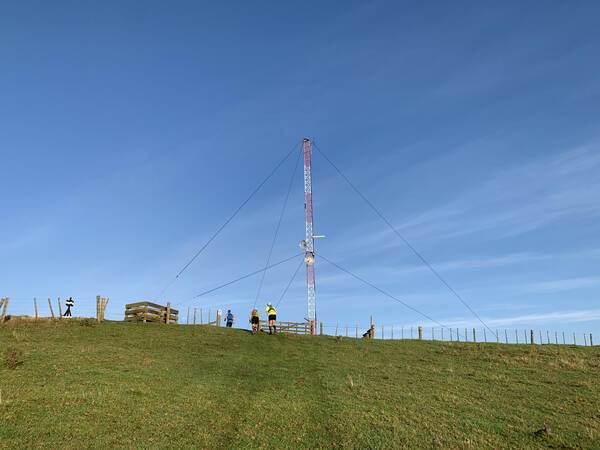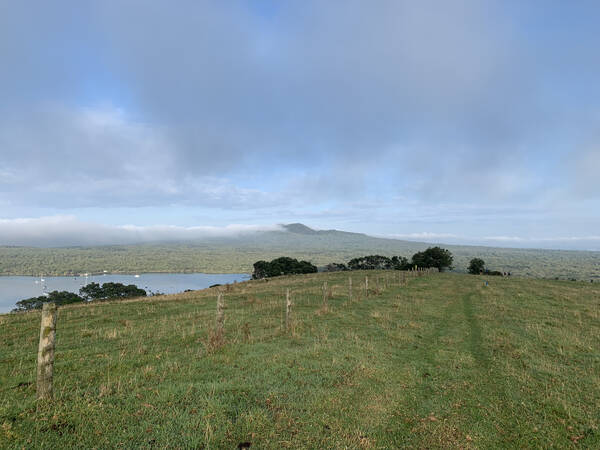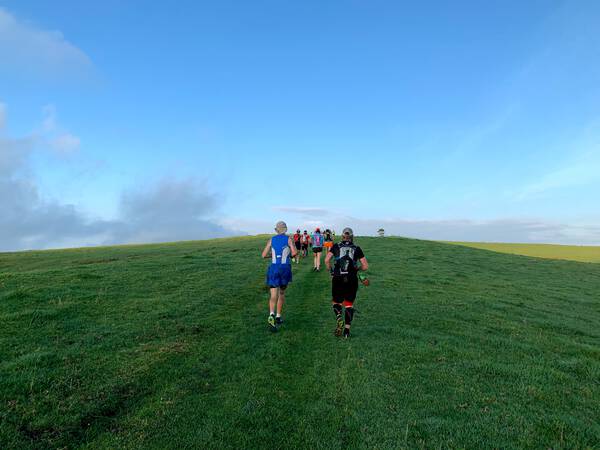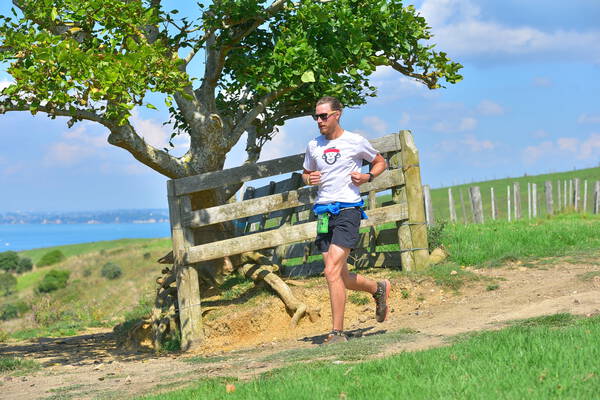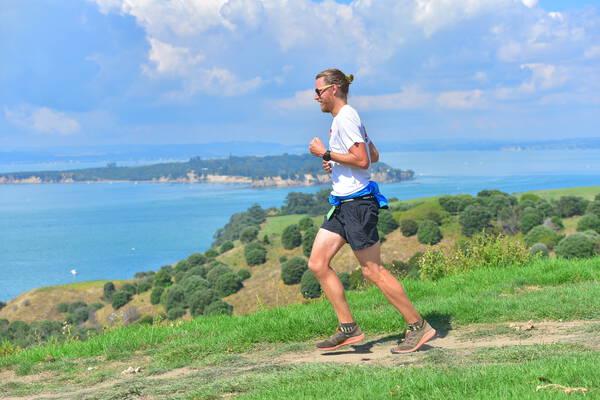 And then, it's over the little wooden bridge, traversing from Motutapu to Rangitoto. Suddenly, the ground changes. It's volcanic now. Also, it's not meadows anymore, but more like a jungle. Trees everywhere, moist air, rarely direct sunlight.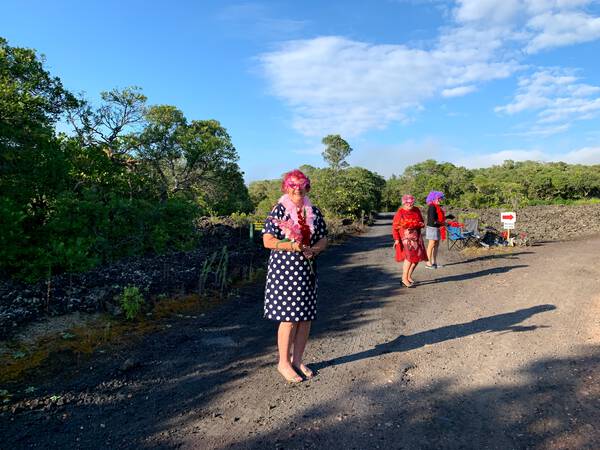 The aid stations, by the way, were really well made. Water and enough electrolyte drinks, always bananas, sometimes potato chips and even New Zealand's favorite gummy sweets, Jet Planes.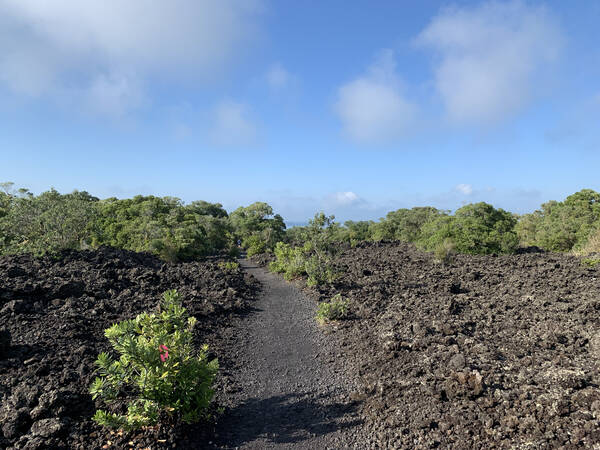 Meanwhile, around 5 to 8 kilometers in, the mountain bike race had started and was using some of the same routes. So, sometimes we had to be very careful as crazy people raced down the narrow tracks at high speeds.
"It's not a real sport unless you could die from massive internal injuries."
But then, it's uphill sections which would get them. Some wished that they had taken their e-bikes instead. I even managed to pass by a few, running.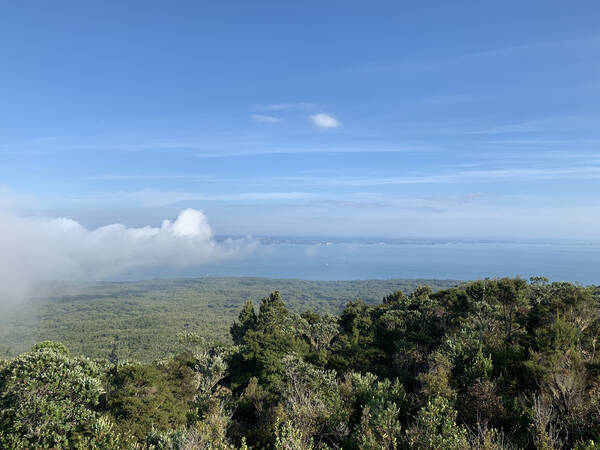 The Auckland skyline views were obstructed by clouds, unfortunately, but instead I could have a look at the North Shore, our current home. Somewhere there at the horizon, my girls would go about their business right now.
Around here, the ground color would change a bit from black towards red, signalling a higher iron content.
The descent from the top turned out to be very technical and tough to survive. Slippery, very steep, full with these light volcanic stones. I was glad I made it through in one piece. At the end of it, an aid station was set up, and a man sat there attending his wounds. Yeah, it's not easy.
Now, the course would become really hard. No insane climbs for a while, but up and down all the time, and very rugged stony fields to navigate. Every step has to be perfectly placed. Steps up, steps down, jump, walk, run, crouch, all of the above. Until I came across this point.
It's an adventure race now. This wasn't the only water hazard, I counted three of them. One of them was knee-deep and I bet some people fell due to its uneven ground. I loved it!
The squishy shoes would dry off quickly during the next kilometers.
So far, the race was a bit lonely due to the relatively low count of participants on the full marathon. Just about 75 of us were on the trails. During the volcanic rocks trails I suddenly found myself behind a nice lady and we ended up talking for one or two kilometers, me trailing her. I was faster, but it was rather tough to pass by someone on these narrow and demanding grounds.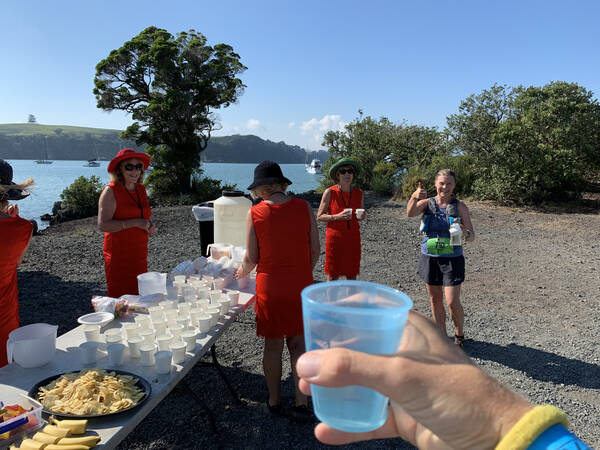 You might notice me carrying a collapsible silicone cup here. Quite cool, the race team encouraged the use of these by having pitchers of water and isotonic drinks next to the plastic cups. That way, less of the throw-away cups would be used. Naturally, I was happy to comply.
Halfway done, 2 hours 40 minutes in. Far from a personal best half marathon time!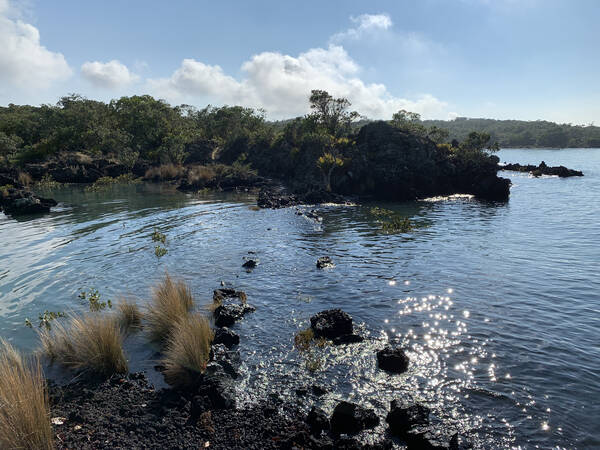 Sure, why not. Cooling off the feet isn't a bad idea.
We reach the end of our Rangitoto loop and come closer to the island of Motutapu. There's this wooden bridge connecting the two coming up. Not far before that, the trails led around what seemed to be a tiny ghost town. Several wooden houses, built into the jungle, looking lost and forgotten. I wonder what happened here. Were the people disowned because of the conservation efforts? Or were these used as some sort of vacation homes, occupied only for a few weeks a year? Why were they allowed to build them in the first place?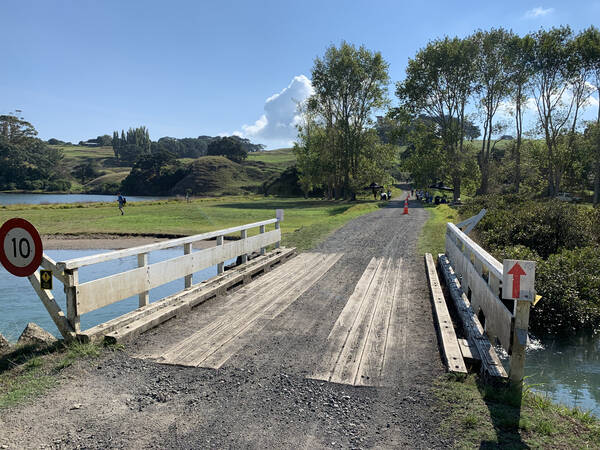 No more volcanic stony trails! It's a bit of a relief to have softer ground beneath the feet. But on the other hand, the bigger ups and downs are starting again. I still got energy from a good breakfast and the well stocked aid stations, though. And the views keep being worth it. We go on a northern loop of the island, and it's even more beautiful than what I've seen so far.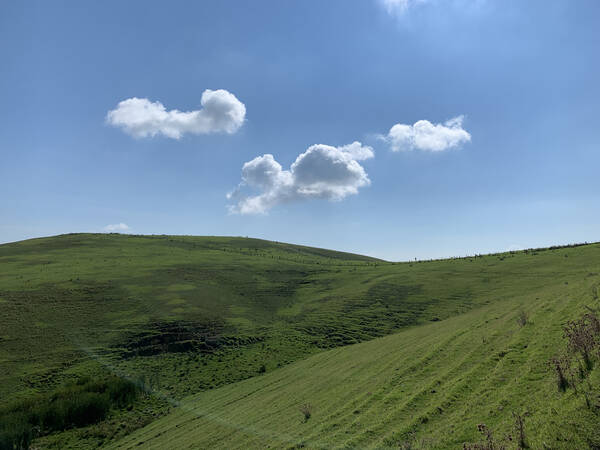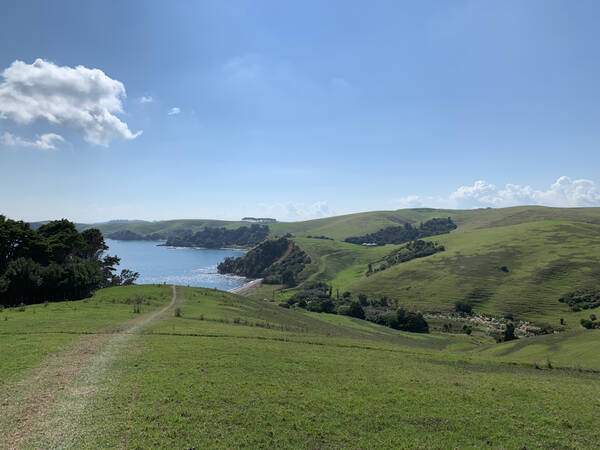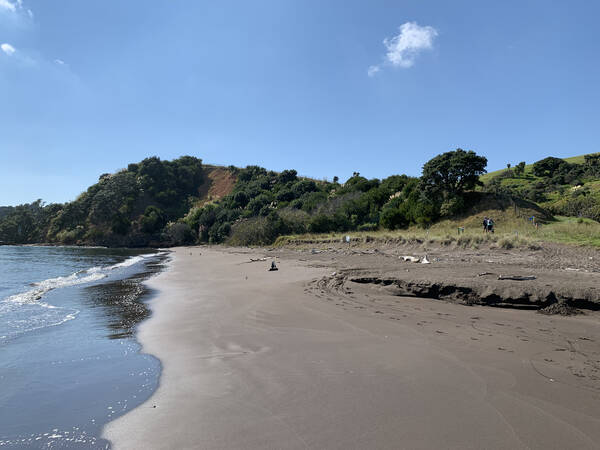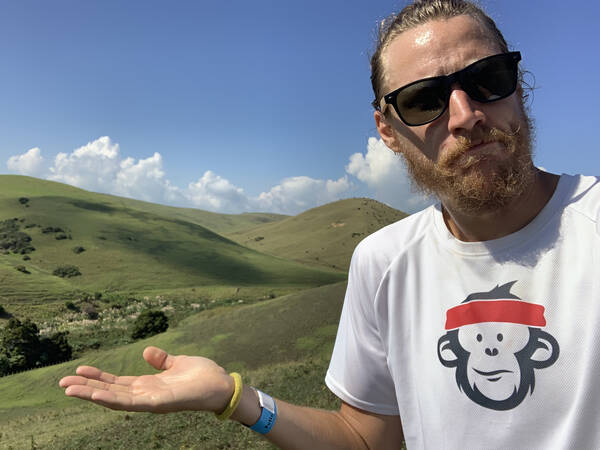 A few more mountain bikers roam the trails. Again I'm overtaking a few during the uphills. Those huge machines they use are really heavy these days. Also, there are a few farms on this island, herding cattle. I wonder how that fits into the environmentalist agenda.
The second half of this race has four more note-worthy ascents to offer, each going from ground level to about 100 meters above. These are tough, but all doable. It's no mountains, just hills.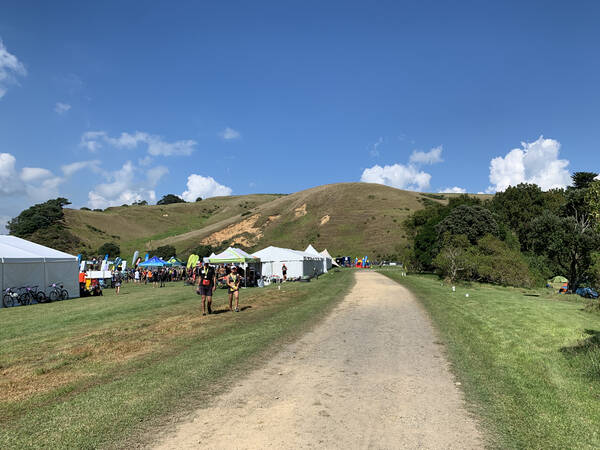 For a split second there I catch myself thinking, now that I've seen everything of the island, why not just finish the run here. But then I come to my senses. Of course I'm going to finish it, but that will happen after 42.2 kilometers, not before then.
So it's up another hill. By now, the 6k walk has started and the path is full with slow families and elderly people. Great they're getting exercise, but a bit annoying to go around them all the time as they don't really seem to know about us marathoners being here on the same course.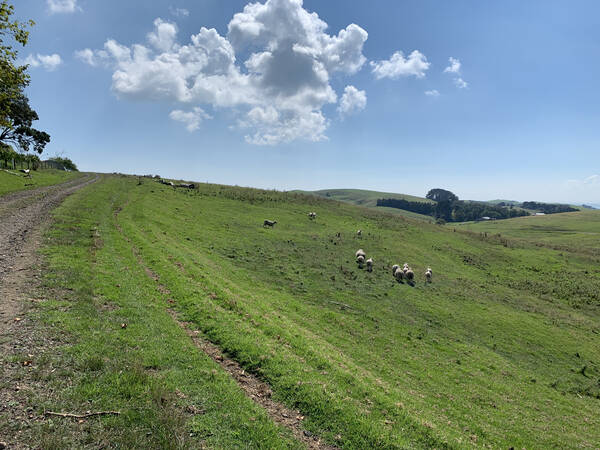 Once being known as the sheep country, New Zealand has since replaced many of their dozens of millions of sheep with cattle. It's more profitable, probably. It has also made New Zealanders the top 3 world-wide country in beef consumption per capita. Also, the country is in the top 3 of cancer rate per capita. All the cancers across the board, by the way. Might be a coincidence, no one can say for sure. Still, we know it's better for your own health and the planet's well-being to at least limit meat consumption.
Sheep are able to keep the meadows cut just as well.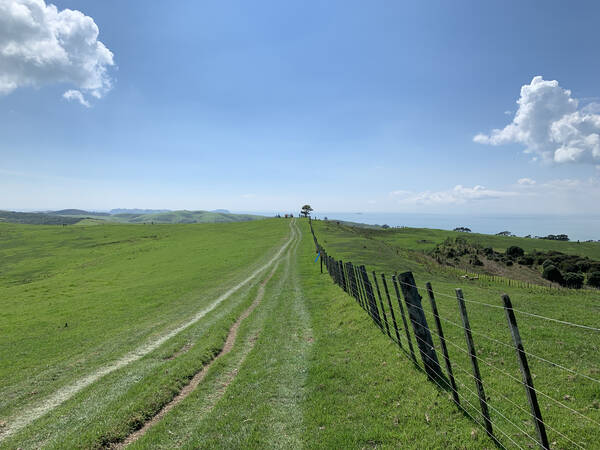 Then, I notice a sign post saying it's just 4 more kilometers to the finish line. The first of this sort. My watch says we're at 36 though. Two are missing. Did I take wrong turn somewhere? Has my GPS watch failed during the wild jungle parts? Or maybe the signs are meant for the half marathoners or mountain bikers? Then, some marathoners I recognize from before come running towards me, fast. No time to ask, but are they on an extra-lap of sorts? Is one coming up? I'm confused, but decide to keep going to see what will happen.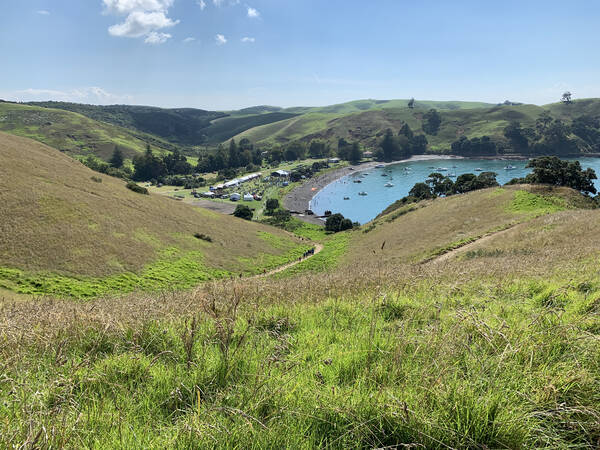 There are no more options. I'm sure it's either the wrong GPS, which is unlikely, me having taken a wrong turn somewhere, or a measurement error done by the team here. On the final descent another marathoner come running towards me and I ask him. He says, he is four kilometers short of the full marathon distance and decided to do an extra loop. That narrows down the possibilities but confuses me even more. Why would there be another divergence between me and the others? Shouldn't we all have the same kilometer amount missing?
What's my course of action on this? After the final descent, a few hundred meters in front of the finish line, I decide to take a last minute extra-lap. About 10 of them, because they are short.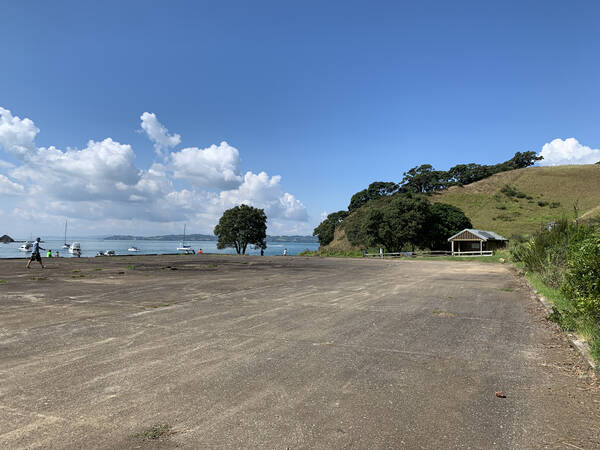 It would just feel wrong to finish this with just short of 40 kilometers on the watch. I'm tired but this is more important to me. A marathon needs to be 42.2 kilometers long. Takes another 10 minutes and pushes me over the 5 hour mark, but due to the nature of the course profile the time doesn't matter to me. This a bonus run.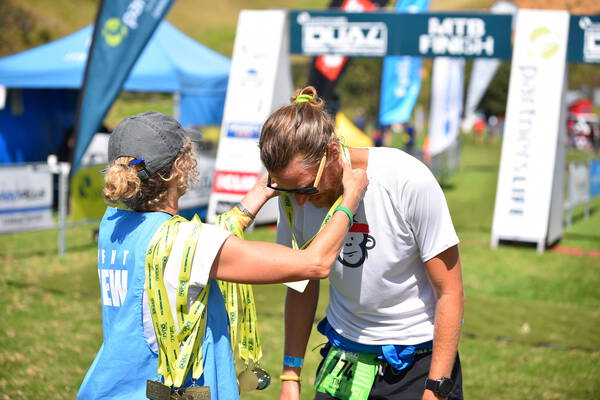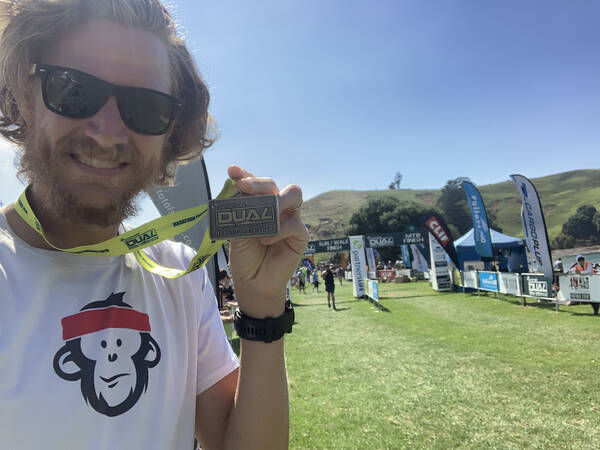 Phew! A hot day it's been, I realize now. Quite a bunch of sun. A few months of New Zealand summer have made me a bit more immune to that though. I like the heat. Sitting down in the shadow is neat, too.
This was a very good race I think. Unique in many ways, offering lots of amazing and very diverse nature. Organisation was really well done except for that distance measurement hiccup or weak signage. Aid stations were near perfect. Crowd support was very rare but punchy when it occurred. The metal medal was a bit of a letdown, but that's only compared to the beautiful wooden Tarawera Ultra medal and the Waiheke handmade ceramic one. Definitely a recommendation, this race. Not to forget, here's some Strava tracking of the run, 5:02:19 was my official finishing time, placed 23rd out of 52 male finishers, 25th out of 74 total. Back to normal after last weekend's win.
Afterwards, I felt a bit sad that this was already the last marathon during our New Zealand stay. Who knows when or if I'm ever able to run another race on this country's soil. Might be a long time. The next marathon will be a home run again, Hamburg marathon on April 28th. Flat and just about no nature at all. Polar opposites. Still good.
Next steps: Ferry back to Auckland, and food.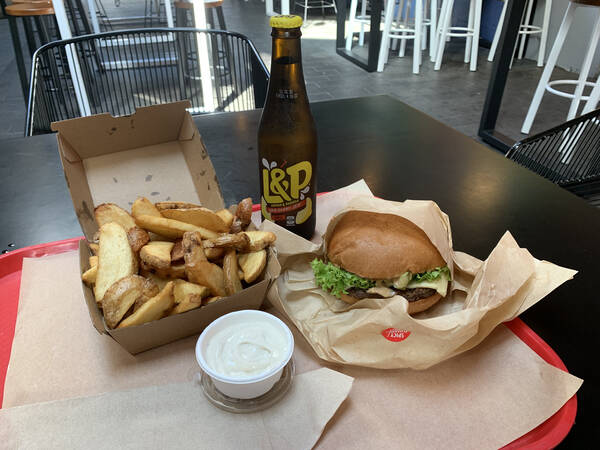 Off to our home to have a shower and play with the kids, who had a fun day filled with running around like crazy as well. Homo sapiens must run.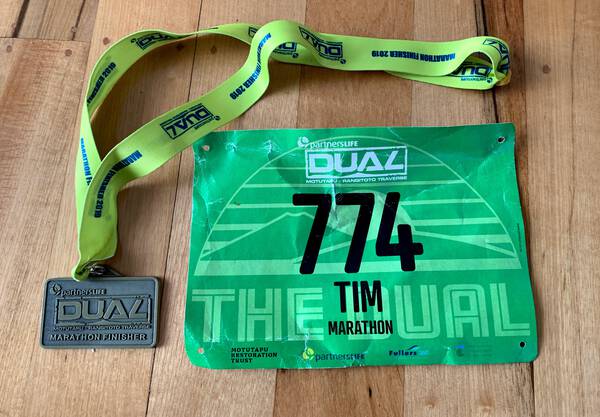 How do you feel after reading this?
This helps me assess the quality of my writing and improve it.