If money isn't making you happy you're probably not spending it right.
During the last week, as teased in my previous week's update, I took that quote to heart and tried to do as many things which I thought would make me as happy as possible. And now, after that week has come to an end, I feel like I have succeeded.
After last Sunday's Manhattan Perimeter Ultra, I, together with two friends, went to the world's best restaurant of 2017, the 3 Michelin Star place called Eleven Madison Park. It wasn't easy to get a table there, understandably, probably not only because it's one of the best restaurants in the world, but also because it's unique in the way that it's the only one of them which offers just plant-based food. No meat, fish, or any animal products whatsoever. As soon as I heard about that restaurant on the Rich Roll Podcast, eating here became a clear bucket list item for me. And during this trip I got to do it. And it was worth every penny spent. For example, I learned about the existence of celtuce and epazote. Reply if you'd like to know what the evenings's menu was!
The next morning, I made two other things happen. Driving a rented Tesla on Autopilot through the US, and running a bit of the 2,200 miles long Appalachian Trail.
I have driven Teslas before, but just for short test drives. It's just the magical unicorn car of the future and all others stink in comparison once you have been driving one. So I decided to rent one for a short roadtrip. It's just so nice to comfortably go down the Highway. Autopilot was fun and interesting too, from a technical perspective, but due to regulations you still have to touch the steering wheel most of the time (in case you haven't installed the newest experimental beta versions, but that's impossible in rentals) so that was a slight disappointment.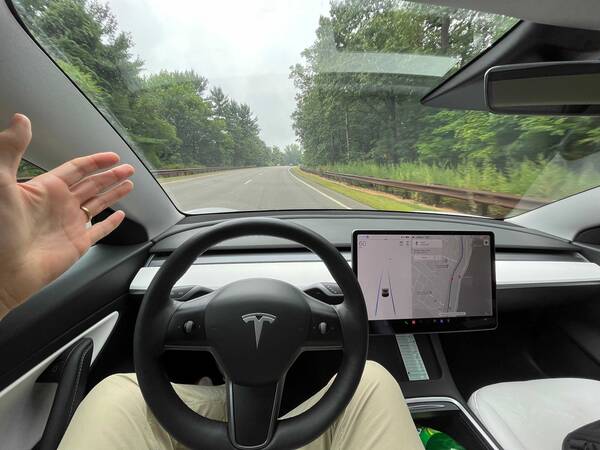 Ever since I've read the book "North" by Scott Jurek, I wanted to see for myself what he was writing about. Jurek is one of the greatest and most successful ultra trail runners in the world, who has won the Western States 100 Endurance Run not just once, but seven (!) times. In this book he tells the story of his quest to beat the Fastest Known Time on the full Appalachian Trail, a 2,200 mile long trail on the rugged Appalachian mountain range which runs from the state of Georgia up to Maine. It was fascinating. And now I was there to see it for myself!
I chose the conveniently located Bear Mountain State Park portion of the trail, because it's not too far from New York City (just one and a half hours by Tesla) and not too tough on the legs – since I ran an ultramarathon just the day prior.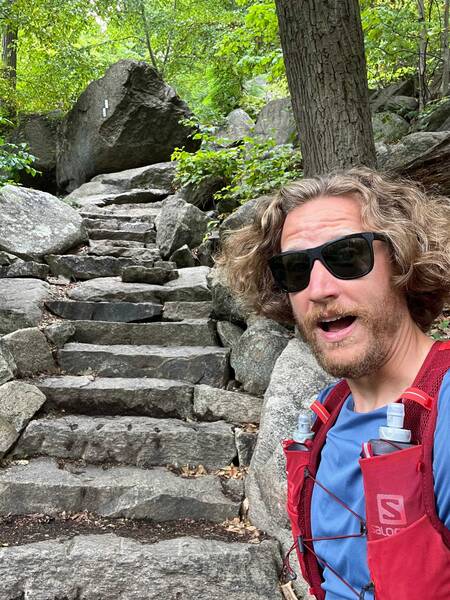 This bit of the "AT" was perfectly maintained. This is all done by volunteers, by the way. I planned a route along the trail which would lead me up to the top of Bear Mountain, and with a little custom loop, back to the visitor's park again.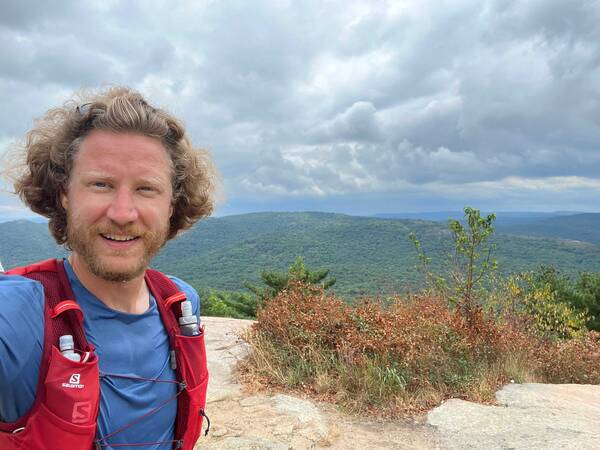 The views from up there were great. And I could understand why it's such a tough endeavor to do a Fastest Known Time on the AT. You really have to watch every single step. And at 46 days for 2,200 miles, which is 48 miles (77 km) per day, you need to be able to do this for a long time during every single day. 🤯
Nothing but respect for these runners. Jurek's time has meanwhile been beaten by Belgian monster Karel Sabbe who needed a whopping 5 days less than Jurek. Just incredible.
I ticked off a few more items from my list, for example going to a rock concert in the US to see how it's different from the ones in Europe. Luckily, two of my favorite bands played during my week there. Coheed and Cambria (not my video) played Forest Hill Stadium in Queens, NYC, and I got to see Polyphia (not my video) in a smaller venue in Baltimore. Both were very different from each other, but even more different from the times I've seen both bands play in Hamburg. Better. A lot more energy in the crowds, and obviously better ability to sing along! Lucky I got to experience this.
I read more of Yuval Noah Harari's book, Sapiens, and, inspired by it, thought of using my time in Washington D.C. to visit the Smithsonian Museum of Natural History. It's free, huge, and probably the best museum I have ever visited. The tract dedicated to the history of humankind had me especially fascinated, because they built models of early human stages from 3D recreations of found bones and other remains. Incredible details, though obviously still containing some guesswork or "artistic freedom".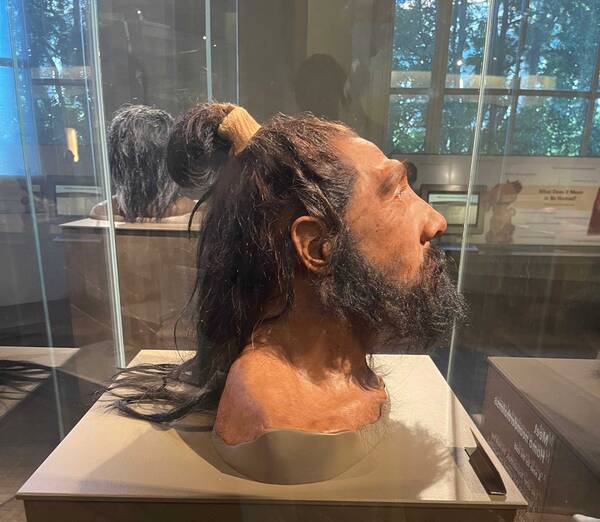 Neanderthals famously went extinct and made room for the victory of Homo sapiens – but was it due to the Man Bun hairstyle they used to wear? We'll never know!
🥁… it's Tallinn, Estonia! All three Baltic sisters were amazing host cities. I remember Tallinn fondly because everyone was so chipper and friendly, everything was inexpensive but still of great quality, the weather was good and the Baltic Sea next to the route. I ran that one three weeks after my first ever full Ironman race and it felt like a victory lap, so that made for a fun experience, too.
That's it for this week's newsletter – please consider sharing this one with someone you know who could like it, too!
All the best to you and have a great week,
– Teesche