Moinsen, everyone! 👋
The second edition of the weekly update is here, so now it's officially not a fluke 😉– let's keep this going.
🏊🚴🏃 First off, this weekend (July 9th and 10th) the world's biggest triathlon takes place in Hamburg, WTS Hamburg Triathlon.
7,500 athletes have signed up for all events and my dear wife Sophie and I among them. A bunch of friends will be swimming the Binnenalster, cycle along the Elbe, and run next to the Außenalster as well. I'm looking forward to this every year, and this year it will be the 10th year total that I take part, making me eligible for Fast Lane Access and a special black starter's bag, oh yeah! 😎
In my opinion, triathlons are one of the best possible ways to use our human bodies. Swimming, biking, running – all are great types of endurance sports for us. And doing this next to so many likeminded people will inevitably motivate everyone to keep pushing. Every year, this is one of my most cherished weekends.
On Friday I went on a run with this beast of an endurance athlete. Starting Saturday, July 17th, Frank will be doing a continuous Deca Triathlon in the UK. This means he will be:
Swimming for 38 kilometers
Cycling for 1,800 kilometers
Running for 422 kilometers
The clock isn't stopped during it and the time limit is 12 days. Can you imagine what that would be like?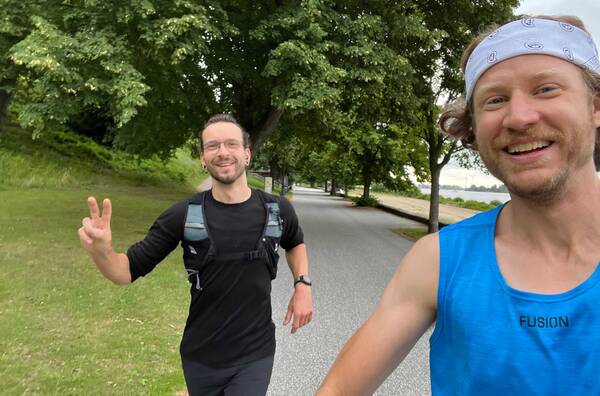 There are more unusual things about Frank. He usually runs in running sandals, not closed shoes. These are better for people's joints and work with some specific toe problems he has. Also, this way he will avoid blisters and black toenails from shoes – smart, when you think about what 422 km of running might be able to cause in your feet!
And this is Frank's custom bike he will be riding for those 1,800 kilometers: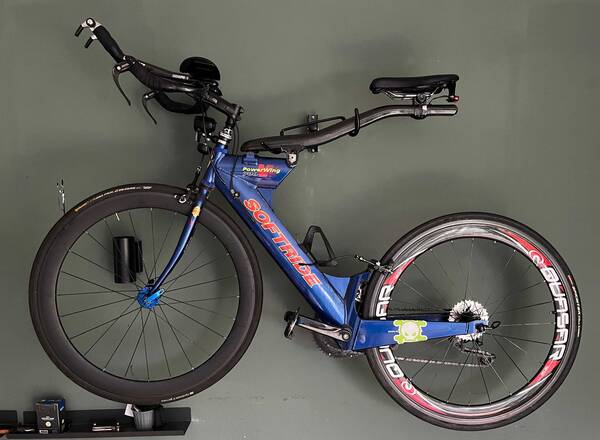 He built it up himself and says that the carbon upper piece which connects the frame with his saddle is the perfect suspension for riding comfortably for such long distances.
Humans are killing animals in the billions every day, and as a vegan athlete, it's Frank's idea to help promote moving society away from accepting this as normal. You can help him by giving some money for this great cause here (I just did):
(Website is in German)
I myself plan on running more marathon+ length distance in the upcoming weeks. My next race will be the official Cologne Marathon, during which I plan on cracking the 3 Hour Barrier, but it's a long time until October.
So, this coming week I will try to run around the island of Fehmarn, on which my family and I will go on a holiday. The perimeter is roughly 68 km, so it'll be a challenge. Fortunately it's all flat terrain. I plan on extending it to 75 km, in order to celebrate the life of my recently deceased father-in-law, Peter Huggett. He was an all around amazing person who taught me how to build bicycles, himself being an avid cyclist as well, and his 75 years on earth were much too short. The disease of ALS is terrifying.
As we will be on the island of Fehmarn, my spark for long distance swimming is again lighting up. The crossing between Fehmarn and Denmark (Fehmarnbelt) is a famous swimming route – comparable in difficulty to the English Channel crossing with around 25 kilometers of length and cold strong currents. I spoke to Claudia Markwardt this week, who swam it, and Anke Tinnefeld, who also did it but is going to try and be the first woman to ever cross this Fehmarnbelt TWICE in one go later this year. Talk about inspiration.
As you have to do these sort of swims without neoprene, otherwise they won't count, I was glad that Claudia Markwardt sent over this video to me for inspiration. The cold helps! It's our friend. Just ask Wim Hof.
My notes on The Art and Business of Online Writing by Nicolas Cole are now published. I learned a lot, definitely worth reading if you're interested in how captivating writing can work. There are some asterisks, but you'll find them in my round up linked above.
Now I have moved on to reading Richard Feynman's book "Surely You're Joking, Mr. Feynman" – the guy is a Nobel Prize–winning physicist, quite a curious and funny character, and this is his autobiography. I'm loving it so far, it's very easy reading and makes for good evening relaxation on the couch. There are apparently serious bits to it later in the book, because he was among the physicists who worked on the Manhattan Project which developed the nuclear weapons during World War II which were used to kill between 129,000 and 226,000 people in Japan. How do you live with that?
Then, there's Ross Edgley's book "The World's Fittest Book" which Frank Stamp gave me on Friday, and I will certainly go through it in the coming weeks, too. That guy swam around the whole of the British island in 157 days.
For this week, I have picked Dublin, Ireland. It was one of the later races of my 28 EU Marathons project and the people of Ireland made it rather special. Pub culture and sportsmanship combined, and a surprise appearance of jailed Tennis legend Boris Becker make for an unusual marathon report. Oi!
Next week, I mostly look forward to our family holiday on Fehmarn. We will spend a lot of time with kids and parents, use the sauna of the apartment, I will go for runs and try to make it around the island in one go as mentioned, but most of all I'm hoping to get a needed break from daily life at home.
🙌 Have a great week, everyone!
Don't forget to go for a bunch of runs (walks count, too!) and keep on reading books you love.
Feel free to reply directly to this or share the newsletter with someone who you might think will find this interesting, too.
– Teesche