👋 Moinsen, everyone!
Two days late, here's the fifth edition of this newsletter. This delay didn't make me happy, but it has turned into the foundation of this week's thoughts. How do you make the most of life?
I'm writing these words inside of an Amtrak train going from New York City to Washington DC. It's a solo vacation for me, which is a very rare occasion I treasure a lot. I have booked this trip about five months ago and whenever I've felt overwhelmed or stressed since then I had the possibility to say to myself: "Don't worry, the US trip is coming up soon!"
Needless to say, I have planned these few days here in a way so that I can make the most of them. And that's the reason I couldn't find the time to write the Weekly Update since Friday. But, the good part is that there's lots to talk about!
Although my trip has so far consisted of more highlights than I can count (my personal journal of these few days is nearing book length), I think the top one would be the loop I ran around the whole island of Manhattan on Sunday July 31st, two days ago now. I have seen so many diverse things and felt like I've really gotten to know the borough more than ever before (it's my third trip to NYC so far).
Sure enough, I will soon write a full blog post about the run. So much happened, I can't let the opportunity slide.
Here's a little teaser in the form of my Strava run tracking post.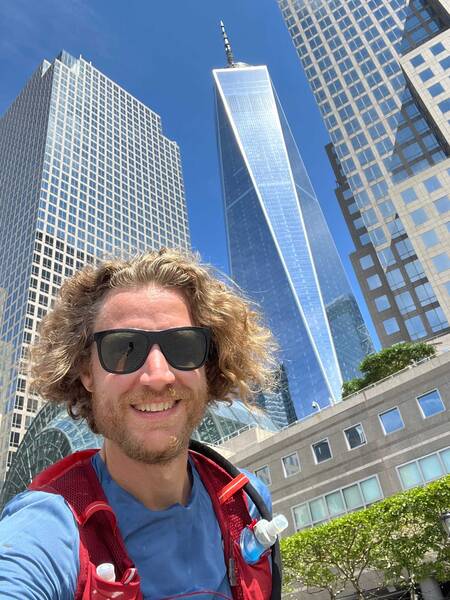 The 30 degrees (Celsius) were a challenge, and the lack of street vendors and public water fountains in the North of the island, too. Other than that, this was a great experience.
In the days leading up to this journey, I was unfortunately battling an annoying tonsillitis, but thanks to two great doctors in my family the best medication was swiftly found, applied, and solved the problem.
I have seen and done quite a few more things here so far, but most of them don't fit the description of this newsletter very well. If you're interested in my whereabouts, you can check the teesche.com front page from time to time – my regular location updates and photos in the Quantified Teesche section give a few things away!
As I am still running every single day, which means my Strava feed is also more interesting than usual these days.
Two runs took place near Heathrow airport in London, because I had to have a planned layover there. On Saturday I ran in Manhattan already, and while I had planned to do 10 easy kilometers due to the Perimeter Ultra the next day, I couldn't stop and landed at 20 in the end. Exploring the High Line and running the Central Park loop was just a must. I couldn't pass on the opportunity. So Sunday, for the 55 kilometers of the Perimeter Ultra, I had some tired legs but it worked out fine. Making the most of it isn't possible without compromise.
This solo trip is a chance for me to recharge. On the spectrum between introverts and extroverts, I'm probably more on the introverted side – I know this because the standard defining question "Do you recharge when you're alone or when you're with company?" gets a strong answer from me. A few years ago I read this spoof of those test questions aiming to sort people into the two categories where the answering option for the extroverts was "I feel the most recharged when I'm snorting coke off of a park bench with 80 of my closest friends" – loved it. #teamintroverts
Of course, this isn't a black or white / A vs. B thing, we're all somewhere on the spectrum and have qualities from both sides.
Recently I heard a podcast interview with Susan Cain, who you could describe as a person bringing light into this personality phenomenon, and who is known for her TED talk about introverts. She's more like me, needing time alone when her energy levels are low.
Chances to be alone are rare for me, so making the most of them is a high priority. It's definitely working, judging from my Sleep Cycle app tracking – the past few nights I reached 100%, which I can't remember when I last achieved that. But there's still the question of how to recharge in a sustainable way. I can't go to the US every couple of months when I'm exhausted. So far I have learned that I can trick myself by planning such a unique trip very far into the future, thereby building the sustaining bridge of anticipation until it finally happens.
To me, despite all which goes wrong here, I am still fascinated by this country and have more positive than negative feelings towards it. You can't deny it's one of the most popular countries in the world – and for acceptable reasons. I'm sure if you asked every person on Earth which country they would move to if they could or had to, the US would be the number one choice.
And imagine this scenario: our new James Webb Space Telescope finds alien life, we make contact, and suddenly there's a galactic federation with trade and other political agreements to deal with – which city would we designate "Capital of Earth"? My guess is that if everyone on the planet voted, it would be New York City. Not London, not Tokyo, not even Delhi or Shanghai I think. Do you agree or disagree? I'm keen on finding out why, please leave a comment!
I would like to do many more trips to the United States in the future. There's just so much to see. At least the one trip which would be required to reach my goal of the decade of running the Western States 100 Endurance Run. And lately, I have been bitten by the triathlon bug again – my improving athletic results got me thinking that given some more dedication over the next few years, chances are I could maybe even make it to the IRONMAN Hawaii race some day. Early stages of these thoughts, so let's see. That would be quite something.
---
That's it for this week's edition. Let me know your thoughts by clicking "comment" or just responding to this email. I love reading the replies.
Have a great week and take care!
All the best to you all
– Teesche