Moinsen, everyone! 👋
Thanks for opening this edition of the weekly update – just two more of those are coming before I'm putting the experiment at rest.
Let's get going!
Another week has passed, this is week 6 of my 8 weeks of focussed training, which means, just two more are left until race day. I'm confident I have done well so far, survived the ups and downs, and if I can keep the same rhythm and nothing external holds me up, I'm good to go.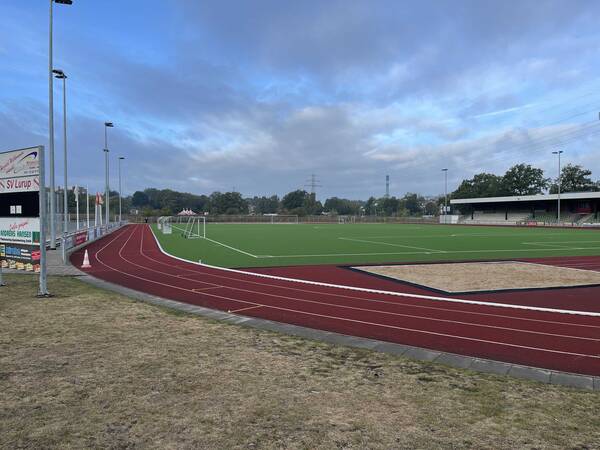 This week, my friend Rasmus and I went to a 400m track which requires a 5k bike ride but was in great condition as you can see. We jumped over the locked fences, as is tradition here in Germany with running tracks, and went for a tough interval session:
3,000 meters, 4,000 meters, 5,000 meters.
All of them at roughly my current half marathon race pace of 4:00 minutes per kilometer with slow recovery breaks of 1,000 meters each. Super fast, high heart rate, exhaustion, dopamine. We did it and it went well.
Afterwards I went with three easy days to prepare for yet another pace test, on Saturday this time. It's 25 kilometers slightly faster than race pace, that's around 4:12 minutes per kilometer for me.
As often the case, you make the plan and then reality hits. This time in the form of rain and wind from all sides except from the back. Still I somehow found the energy to make it through the 25 kilometers at race pace and not below it. 4:15 instead of 4:12 min/km average, but that's fine. I feel like I'm on track. Two week left to Cologne!
Again, I have tinkered a little on teesche.com. Take a look at the new /future page I mentioned last week, because now it has my list of honorable mentions at the bottom. Those are bucket list items I once thought were cool to have on the list but later threw in the trash because I changed my mind. Maybe slightly embarrassing, but certainly fun.
You know that feeling when a book you're reading either requires lots of focus and attention or isn't just the right one for the moment but you still want to know everything in it?
That's my situation with two of the books I'm currently reading. But, I'm making progress and am still enjoying them both. I just feel the need to switch back and forth a lot between them.
Now, I have reached the halfway point on both books, and these are the before mentioned Sapiens by Yuval Noah Harari, which is amazing and requires me to make notes on almost every page, and the easy and fun classic, How to Win Friends and Influence People by Dale Carnegie with its atrocious title, which is surprisingly up-beat and which I can already recommend to anyone who ever talks to people.
And now on to the big one.
Perfectly on brand, I am but barely ready to publish my new side project to you today. It's called READ & RUN CLUB, as I've teased before. You can find it at www.readandrun.club.
The basic idea was born out of necessity for me personally but the more I thought about it, the more I convinced myself that it could actually be a helpful tool for more people who are interested in reading and running.
As you might know, for a bunch of years now my annual aim is to read 12 books and run 12 marathons. It's one per month of each, which has proven the right amount to stay fit and engaged.
But how to keep track of that – and, maybe even more importantly, how to stay motivated? Let's solve that problem together.
Enter the power of PPP, Positive Peer Pressure.
Us humans are creatures which put a huge amount of importance on our own social standing and how we're perceived by others. There's nearly nothing we can do about it, it's in our DNA because being social animals used to be foundational for our survival.
These days, it's not as important for our survival anymore, but we still have it in us. So why not use it to our own advantage?
We know that reading and running is beneficial to all of us, there's no need to explain it (although I still did so on the website www.readandrun.club, just in case). If only we would be able to find the time, right?
Turns out, we all have the time. We just need to prioritize things in a different way.
Here to help us do just that is positive peer pressure.
If we see our friends finish another book and moving ahead, maybe even one that sounds interesting to ourselves, we wanna read it, too!
If the buddies went on a trail run through the pretty nearby mountains and came home smiling, positively exhausted, and in desperate need for a shower, we feel the urge to be with them the next time, too!
The READ & RUN CLUB's aim is to create that craving by showing the books and finished runs of marathon length of all its members to the others.
Additionally, you can feel good about yourself by showing your own progress, or use your lack of progress as a reminder to keep at it. Either way. Remember, it's for our own benefit, nothing else.
While I have something to show and for you to try out and use, it's very basic yet. These are the features currently available.
You'll see the front page of www.readandrun.club has a little introduction on the purpose of the website and a huge "REGISTER" button.
Clicking that button leads you to a sign up form requesting your email address. Enter it, you'll receive a confirmation email with a magic login link.
Via that link you'll get back to www.readandrun.club, now a confirmed and authenticated user. Welcome to the club!
You know have the option of either setting a password for later if you want, and set up a connection to everyone's favorite run tracking app, strava.com. The latter leads you to Strava, where you allow READ & RUN CLUB a connection to your account for auto-importing your runs.
Once you're back, you can click the Strava Import link, which will then automatically go through all your Strava activities of the past 12 months, look for those which are runs and of marathon length at least, and save them for you in our database.
Your marathon runs are now shown on the home page of the website.
Next up, apart from making things a little prettier while at it, I'll write the code for:
Giving you some stats and nice related motivational messages within the website, for example "The average timespan between your marathons is 46 days, aim to do one every 30 days to get fitter – why not explore the nearest forest you've never been to next Sunday for a few hours?"
Auto-syncing new runs so I can auto-send emails to you whenever you've logged a new marathon run on Strava, giving you congratulations and updated stats.
A manual entry option for marathon runs for those who aren't using Strava.
A recurring weekly auto-email for all users giving them their current stats for motivation. Also, an overview of the runs which other users (or maybe friends) have done this week.
A feed on the front page of runs which are set to public, so everyone can follow the progress of the others (who want to share it).
Like and comment feature for the runs. (Maybe befriending, too.)
The next big sub-task is doing all of this for tracking reading, too. I'm thinking about using the goodreads.com API, because lots of people already use goodreads.com for tracking their own book reading progress and getting good personalized recommendations, and it's also quite possible to do something similar to what I've done with Strava – that is, giving users the possibility to establish a connection to goodreads.com in order to auto-sync the books over to READ & RUN CLUB and make all the stats and motivational insights visible in a similar way to the runs. A manual entry of books will be added for those not using goodreads, too, of course.
And that's the basic functionality I'm going to build in the next few weeks. I'm sure that countless other ideas will pop up along the way, and that's part of the fun.
Now, what do you think of it? Do you have additional ideas for the project? Please let me know! And if you think this would be cool to use, feel free to register at www.readandrun.club right now, I'd love some fellow users and testers. Thanks!
This time I've chosen Double-Cyprus – one in Paphos, one in Nicosia, the capital.
Why two? During the project's timespan from 2011 to 2018, Cyprus' capital didn't have an official marathon, so I just did one of the other races in the country in the coastal town of Paphos. Awesome weather, pretty area, nice and small race.
Then, two years after I had finished all other EU capital marathons, Nicosia suddenly announced they were continuing holding the marathon race after a eight year break, if I remember correctly. So I booked the tickets and went for an encore in Cyprus. That one was unusual in that I didn't have the best of days. It might be interesting to you to see how I chose to deal with that and what I learned from it.
---
That's this week's edition – thank you for reading until the end and have a great new week!
All the best to you all.
– Teesche