Erfurt & Kassel's Double Marathon Weekend: A Runner's Perspective
At the beginning of 2023, I've set the goal to read 24 books and run 24 marathons during these twelve months. As you can see on my progress page, my reading is up there, but my marathon running, not so much. So, when the opportunity presented itself to run two official marathon races on just one weekend, I jumped and took it!
It does sound like a crazy idea to run two marathons on two consecutive days, but in fact I've done it twice before and it wasn't so bad. In June of 2019, after my friend Jürgen from Austria had found out that there were two marathon races on one weekend, located a mere 30 kilometers apart from each other: Aabenraa, Denmark, and Flensburg, Germany. We went there and both finished both races. It went really well, because after the first marathon I did the right thing and refueled with lots of Danish ice-cream. 🤤
The second double marathon weekend I did was during the pandemic and therefore it was a self-timed one in Jenischpark near our house. I ran the outer-most lap, which is about 2.5 kilometers long, 17 times on Saturday, July 4th, in a clockwise fashion, and 17 times on Sunday, July 5th, in a counter-clockwise fashion. The park's elevation gain of around 600 meters per marathon made me a bit slower than usual, but I still made it, thanks to two crucial pints of Ben & Jerry's after the first marathon. Spot the pattern?
Provided I find enough ice-cream, what could possibly go wrong!
🔋 Getting to Erfurt and Kassel Economically
Both cities are roughly located in central Germany, in the states of Thuringia and Hesse, respectively. Eastern and Western Germany. Getting there by train from Hamburg, while possible, would involve lots of stop-overs, increasing the risk of missing a connection because of fragile Deutsche Bahn. The tight window of the bib pickup at Erfurt Marathon's race center wasn't to be missed. And, weirdly, the three needed train segments would have cost me nearly 200 Euros, not even traveling in First Class. Since Sophie needed our family car during the weekend for kid logistics, that left only one more option I could think of: getting a rental.
During the last few opportunities, I have rented a Tesla whenever I got the chance. Those had been a bit more expensive, but the low electricity cost compared to the gasoline prices made it a good deal for the luxury you're getting.
But this time, something incredible happened: Thanks to especially high gas prices, even using my own car would have been more expensive than renting a Tesla! The Diesel price is at 1.85 Euros per liter currently, and 850 kilometers at 9 liters per 100 km would have set me back 140 Euros. Renting the Tesla, on the other hand, cost 136 Euros for the weekend. The Supercharging needed would be about an additional 40 Euros, but for some unknown reason the rental company, which is called Sixt, doesn't even charge you with it.
Is the tipping point reached? Renting an electric car is now cheaper than driving your own gas powered one.
When you add the real cost of owning your combustion engine car, like price depreciation over the years, insurance, taxes, and maintenance cost over the years due to wear and tear, the situation becomes even clearer. We should take that into account when thinking about getting a new car. Electric isn't just better for the planet, it's also more economical now.
Add to that the comfort and fun experience that driving a Tesla provides, as well as the increased flexibility you get when comparing this to using the train, and, of course, the environmental advantages compared to using your gas powered car, the decision is easily made. The downside is that sitting in a car for 10 hours of the weekend is dead time. In a train, I could have written some code or blog posts, read a book, or got admin work done, but in the car, the only productive option is listening to educational podcasts. But, it's also nice to not always be productive.
🏘️ Erfurt, a City of Remarkable Beauty
It's been nearly two decades since I last visited Erfurt, a city which I used to visit often due to some friends who had moved there for university. I held it in good memory and I wasn't disappointed. Erfurt seems to have a unique combination of a bunch of good characteristics. It's small, but not too small. You'll still find everything you need. It has a wonderful inner city which is old and full of well-maintained beautiful buildings. It has a vibrant student culture. It has great nature surrounding it and a lovely little stream flowing through it: the Gera. And because it's conveniently located in the center of Germany, places like Frankfurt, Berlin, or Munich are easily reachable.
Interestingly, the state of Thuringia, of which Erfurt is the capital, is one of the very few regions in the world in which Coca Cola is not the best selling caffeinated soda beverage. It's not Pepsi either. No, their alternative is called Vitacola and it's so delicious!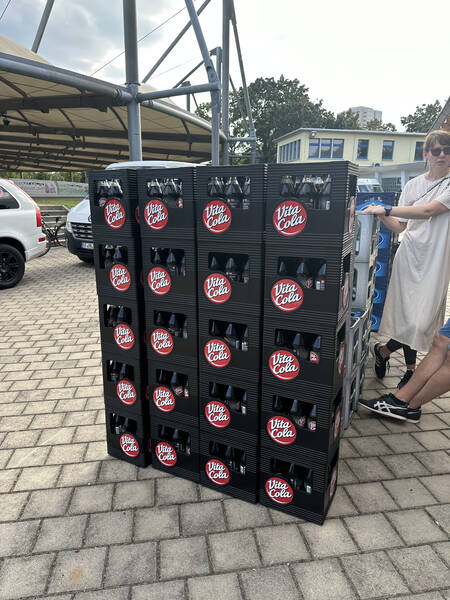 The product originated when Eastern Germany was still administered by the Soviet Union and western products weren't allowed. People still started to crave sugary drinks which would get you going, so the planned economy created the drink. It was a success but then briefly disappeared after the Wall came down. Some smart people then took it upon them to create a real capitalist company out of it and the numbers continued to grow. If you get the chance one day, try Vitacola – it tastes a bit more like lemon and cherry than standard Coke, but not too much.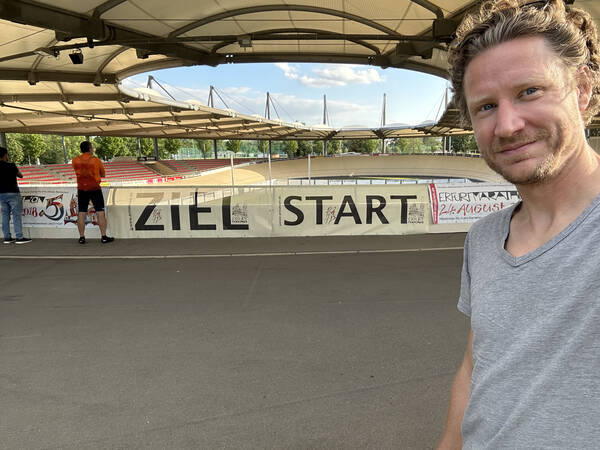 This would be my first marathon at which the aid stations would offer Vitacola. A very special treat!
What's also great about Erfurt is that prices aren't as high as in the huge cities like Hamburg, Berlin, or Munich. At the hotel I was asked if I would like to upgrade to a Junior Suite for just thirty bucks extra, to which I said yes, but when I entered the room I was convinced I must have understood them wrong. Maybe one hundred and thirty extra? Two hundred and thirty? What did I agree to? But it was true: The huge and luxurious apartment was really that cheap.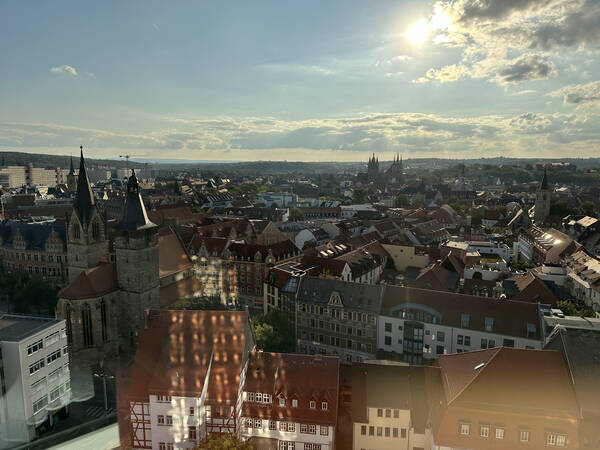 When I compared some more prices, my observation was confirmed. I ate like a king at one of the best Italian restaurants and was again surprised by how cheap it was.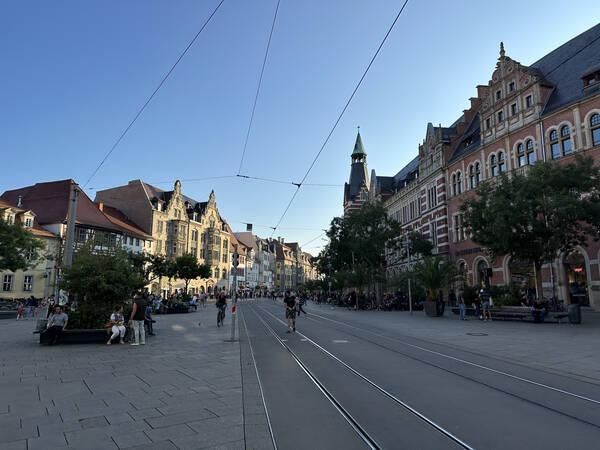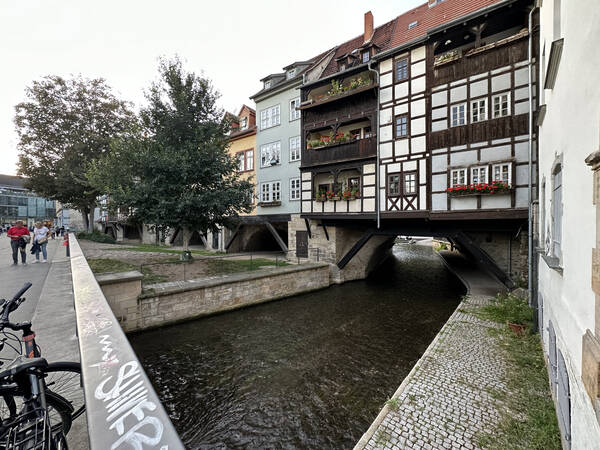 After taking a hot bath in the giant tub, I fell asleep in the comfortable hotel bed and woke up to a wonderful sunrise. This weekend started very nicely.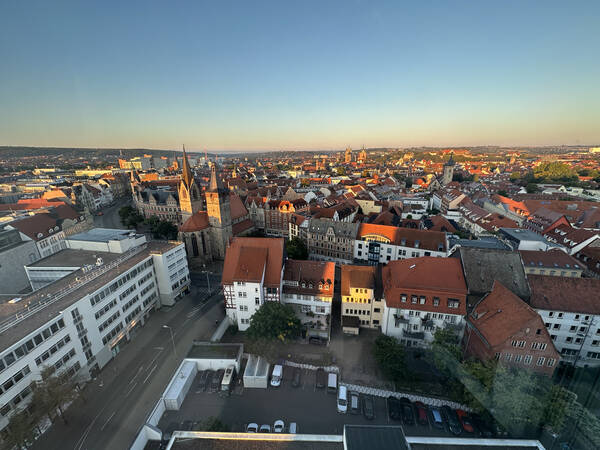 Weather predictions were favorable, spirits high, the hotel breakfast – I was their first guest – was 5/5 stars, and so I made my way to the start of the race in the Tesla. It couldn't get much better, I thought.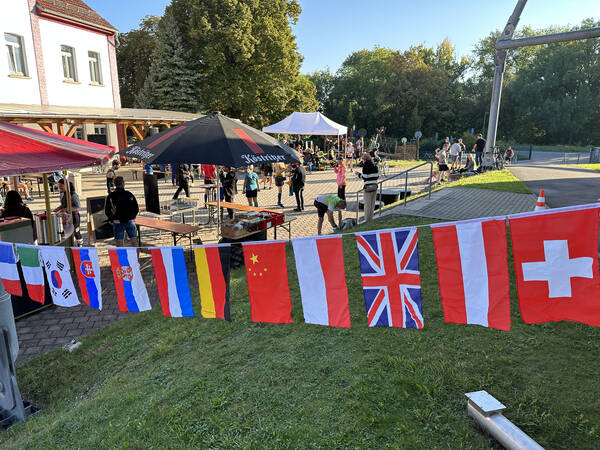 With a limit of 250 athletes across a bunch of different races and just around 70 who did the full marathon like me, it was a cozy and small event. Ten Euros per ticket went to a charity aimed at promoting children's artistic education. No big sponsors, no big fees, no police escorts, just a few people who enjoy running. The laid back MC was talking through a PA and at one point greeted me specifically to pull me in for an interview. Sure, why not. When I mentioned I came here from Hamburg, people were looking up and he felt slightly proud this tiny race did draw someone from the big city. "Erfurt is a lovely city, that's why I'm here!" I told him, like I was a pro at being interviewed. But I meant it.
Since Erfurt is quite small with just over 200,000 citizens and not much else happened in the city this Saturday morning, the mayor came by and said a few words about the benefits of sports and supporting sporting events in a city.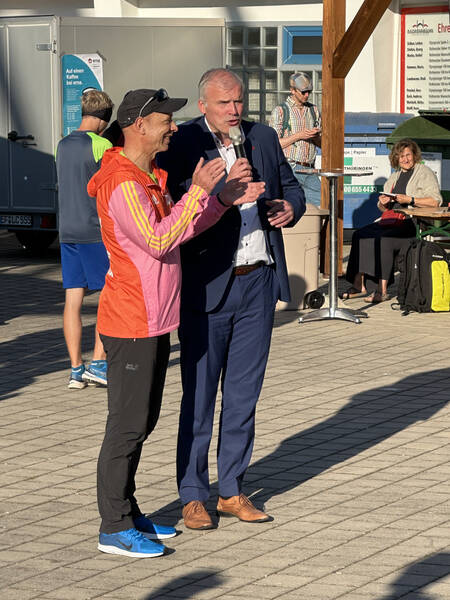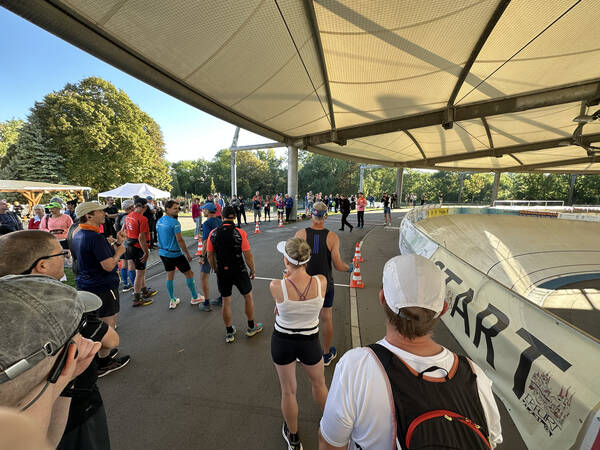 🟢 Start of Marathon #1: Erfurt
The first kilometers took us north through a clean park and some more nature. I was somewhere in the top 10 of the field at my comfortable 5:00 minute per kilometer pace. I saw a runner coming towards us who had just taken a false exit and had to retrace his steps to rejoin the correct route. Although the people putting the race together had tried to do a careful job at marking the turns, it wasn't always easy to spot those. Right before the start, we were told to download the GPX track of the route just in case we got lost, so I did that.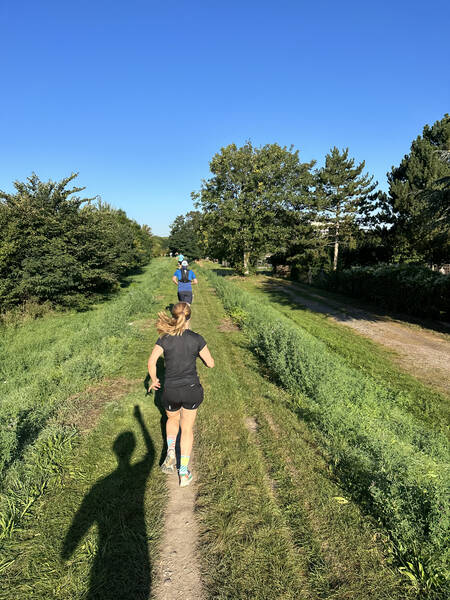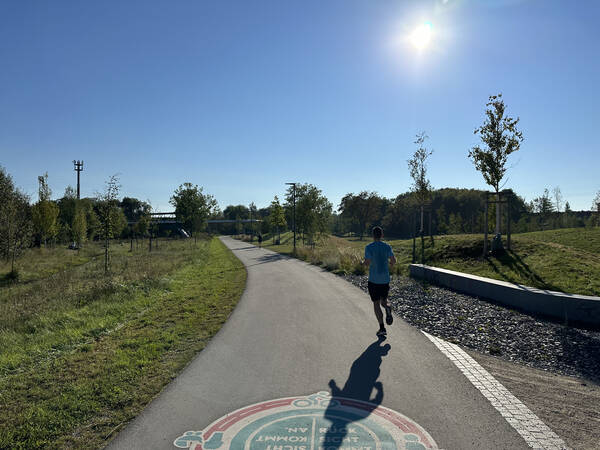 There was an official with a visibility vest on a bike who passed me by a bunch of times to then stand at difficult to spot turns showing everyone running by the correct direction. He couldn't be everywhere all at once, of course, but it seemed like he was helping me specifically.
The first Vitacola after 10k tasted amazing. I'm already loving this. The course now leads through the inner city with its cobblestone streets, then up on one of the ancient city defense walls, where we get to soak in the view.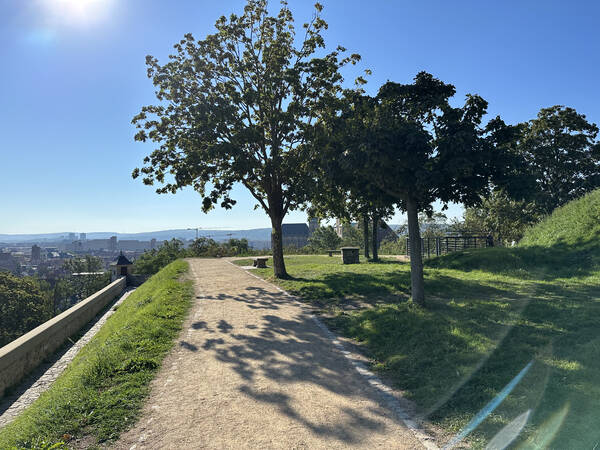 No one is in front of me, no one behind. It has been like this for a while. So I just do my own little guided long run, but I have to take care of the routing myself, too. The yellow flags and arrows are sometimes not clearly visible. So what happened next might have been inevitable.
🔙 Wrong Way!
I was roughly aware of the routing, but didn't know the details. Looking at the phone every few minutes got annoying so I got sloppy. Until at one point, I missed a very important turn and just ran along, following the yellow markers, thinking nothing of it. It took some time until I noticed that I had re-entered the inner city suddenly, and I knew that wasn't supposed to happen until we had done a southern loop and were on the way back home. So I looked on the phone, much too late.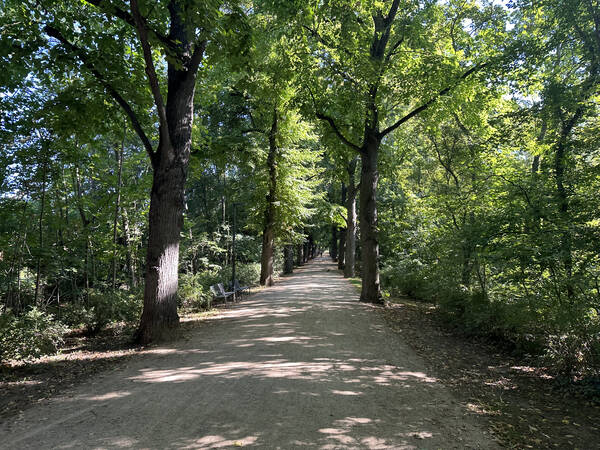 Turning around, retracing the route, finding that one spot where I went the wrong way. There was a brief moment when I realized the mistake that I was quite annoyed by it and even thought about just going home and calling it a day. If only that guy on the bike would have positioned himself at that difficult junction! But then I came to my senses quickly. It's a beautiful day, I have run ultramarathons before, whatever! Keep going.
At the now infamous junction I found out that I had done an extra 3.5 kilometers. I was now back many positions and had to overtake runners who were a lot slower than me. The upside is that I now have a few more people in front of me helping with the routing.
One slow guy I'm overtaking tells me I need to save my energy for the upcoming hills. I thank him, but think to myself, why would someone do this? Give out unsolicited advice to a runner who is clearly running a lot better? He doesn't know anything about my experience – my mountain ultras, my ability to run nearly 3:00 hour marathons, my second place at the hilly half marathon recently, why would he just assume I don't know anything about pacing myself? I'm not sure it was even meant well, it's condescending and insulting, and, a typical German thing. Well-traveled writer Derek Sivers says:
"Live in Germany for a while and learn how to be frank, but leave before you start scolding people in public."
He wasn't really scolding me, but I think you get the point.
The uphill is a refreshing break, I realize. It's steep and I actually have to walk for a bit, but even so I pass another 10 runners. Up there we reach halfway point and some more cold Vitacola in the sun. It's so lovely here.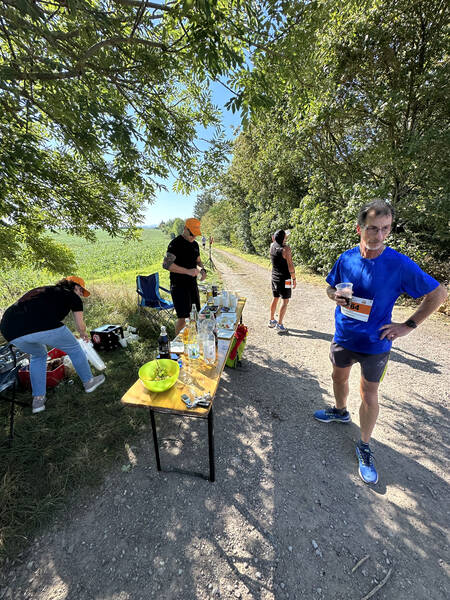 My energy levels are high up there and I enjoy the downhills which I manage to do at 4:00 minute per kilometer pace because I finally got noticeably better at downhill technique. That's been possible because I increased the amount of strength training recently, I think.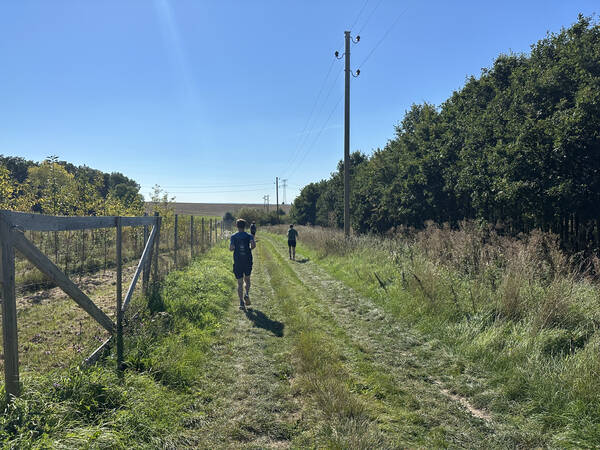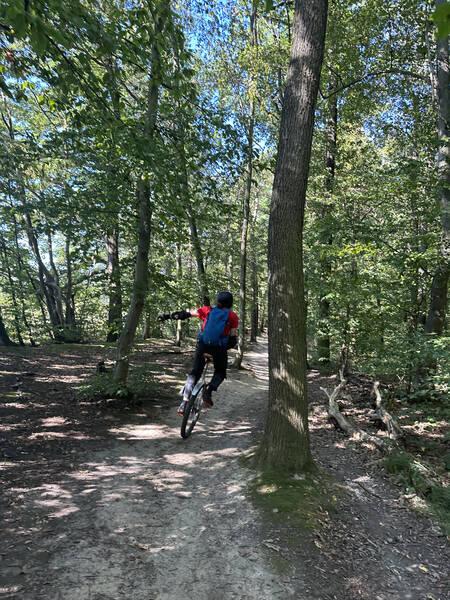 🔂 Repeat
Then comes the part I had already done before by accident. I feel good because I'm now 100% sure I'm on the right track.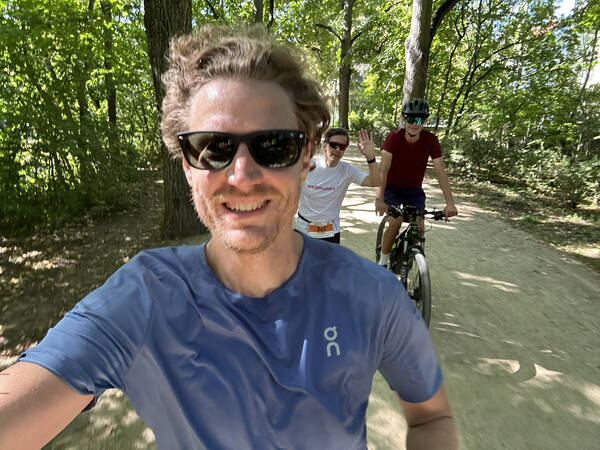 According to my calculations I could still make a sub 4:00 hour finish even with the extra loop. Weirdly, when I compare the kilometer signs with my GPS, the length of the additional lap decreases slowly. Right after my mistake, it was at 3.5 kilometers, now it's just 2.5 kilometers. That's probably because the actual route is slightly short of the 42.195 kilometers, which happens sometimes. I still check the phone from time to time to make sure I'm on track, but on some different points I'm clearly not, even though I'm correctly following the yellow markers and occasional volunteers pointing the right way.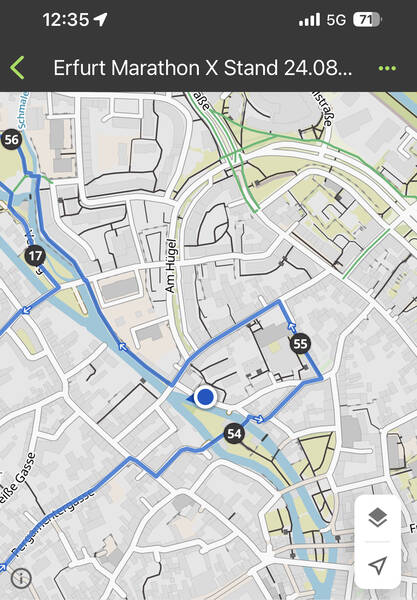 I choose to not care about it anymore and enjoy the day and race for all its other aspects – of which every single one is favorable.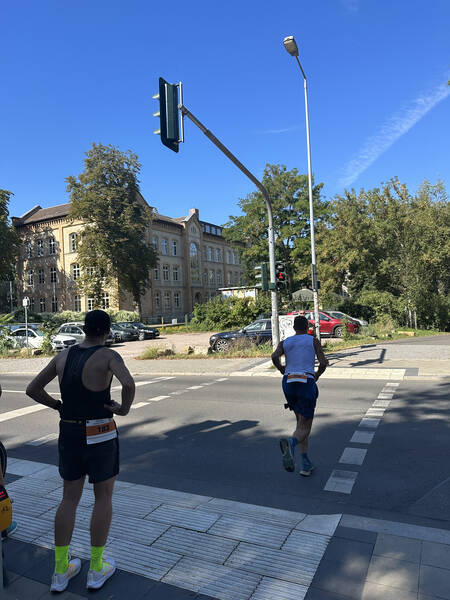 🏁 Finish Number 1
When I enter the stadium for that final celebratory lap well under the 4:00 hour mark, the MC recognizes me immediately and announces the presence of that runner from Hamburg. I'm famous!
Very happy about my finish, full of endorphins and with a slight sunburn, the MC calls me to him to tell me personally about the special handmade clay medals, so everyone in attendance can listen through the loud PA how I, the famous Hamburger, react to it. The medals are lovely, no question, the people here have put so much love into this event, I'm really glad I came here.
In the end, I tracked just 44.2 kilometers, meaning 2 km extra. That's fine, I'm very happy with the result of 3:52:00 hours and with increasing my 2023 marathon count by 1. Also, I placed 8th in the field, which isn't too bad. Without the extra mile I could've made it to the podium. The winning time was 3:13h this year, 12 minutes slower than my personal best, which is currently totally within my range of possibilities if I had made this race a priority. Maybe I should make that my goal for 2024!
When I enter the showers, I'm surprised by how there's no separation of men and women here. Right, the people in Eastern Germany don't do that! It's a bit weird at first, I must admit, but thinking about it, it makes sense. We're all just the same. Also, this solves the current gender issues in these situations.
Some volunteers provide free massages, of which I'm a fan. Two of them knead my calves heavily when one asks me: "Your legs feel too fresh, have you even run the race?" – I'm surprised, it doesn't sound like a compliment but more like he's investigating if I'm just some guy who wandered in to get a free massage. I clear up the situation and become more confident about tomorrow's marathon.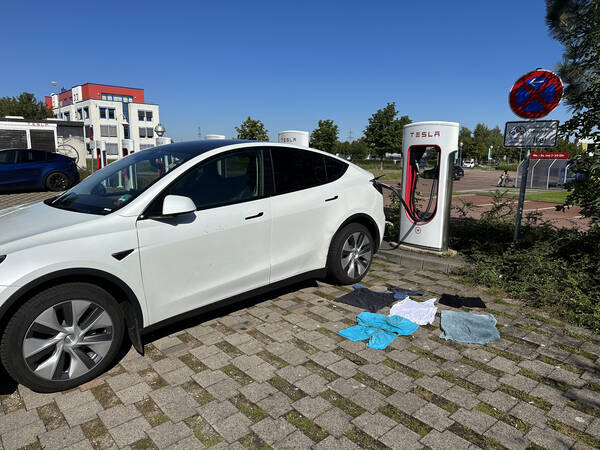 I really enjoy these mandatory Supercharger breaks. Having a twenty minute stop to shake out the body at a place which doesn't smell like gasoline and poo every few hours feels good.
🏙️ Arriving at Kassel
I never really had a connection with Kassel, so I'm quite surprised about the size of the city. Although it has nearly the same amount of inhabitants as Erfurt, about 200,000, it seems like a much bigger city. Lots of historic events took place here, and the race is a lot bigger as well. Start and Finish are near the Auestadion, a major football stadium. I drove directly here to pick up my bib number but I'm surprised to see how there are several other races going on with thousands of people roaming the area around the stadium.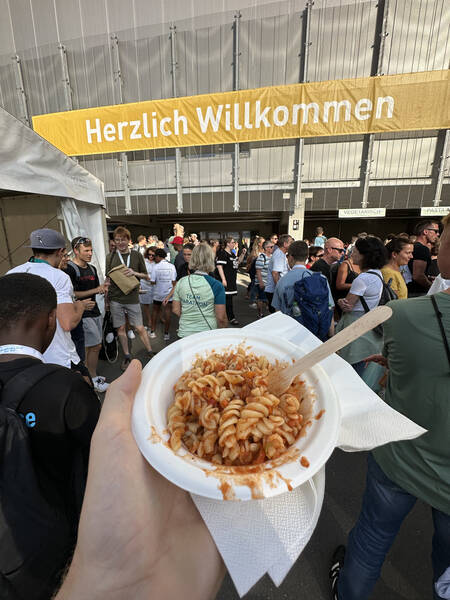 My hotel room is cheap and tiny, there's no incredible upgrade available as in Erfurt. I find a good Italian restaurant, refuel on carbs, and call it a night. There's no breakfast at this place either, so I have to improvise with a banana, cereal bars, and some Oreo cookies. Of course, with Vitacola. Should provide enough energy for the race.
Sleep was good, legs are astonishingly doing really well, and the weather is supposed to be easy on us, too.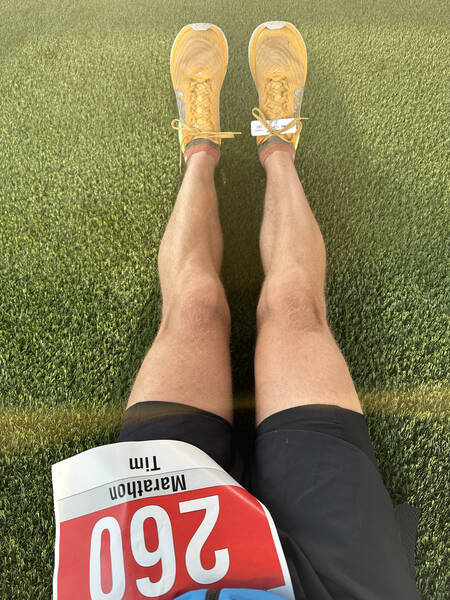 This event has a total of 8,200 athletes competing. But, just 300 of them will do the full marathon with me. 1,700 are here to do a half marathon and the rest are doing a team relay marathon as teams of four. Meaning, it's an inclusive event giving everyone the opportunity to be a part of it, regardless of how fit they are. That's okay.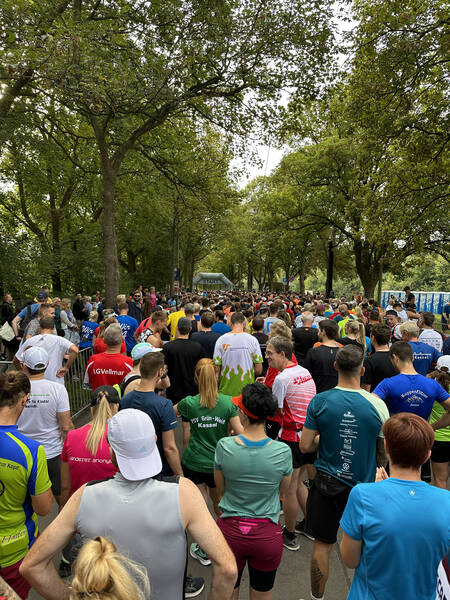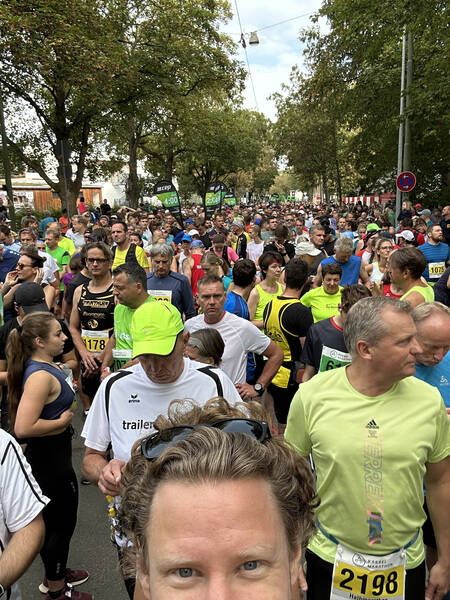 Again, the mayor had been called to say a few words and find excuses for not running today himself. Then it's our turn.
🟢 Start of Marathon #2: Kassel
My legs don't feel completely fresh, that's for sure. But they aren't bad, either. The first few kilometers are a bit hard to do, but it's actually getting better from minute to minute. This again confirms that movement is the solution. I hover around a 5:15 minute per kilometer pace and would feel really happy if I could sustain that until the end. But my body has a different plan: Without a conscious decision, I move up to a 5:00 minute pace and somehow stay there, comfortably. Risky! Let's see for how long that will work.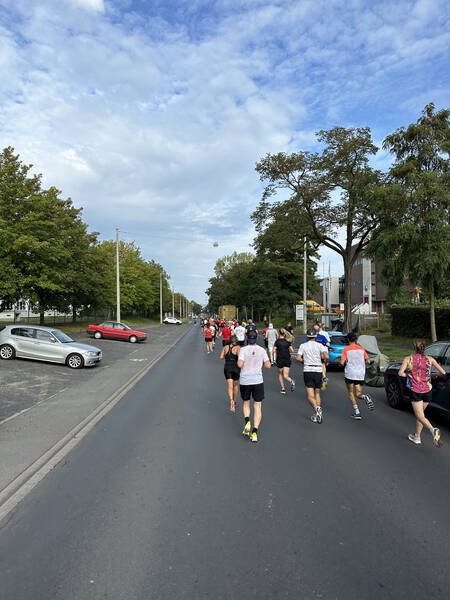 I notice a few slight hills, there's some cloud cover, but in general everything's perfect for marathon running. The amount of people in the streets is quite high and at some points that's almost annoying, but I'm still fine. After 16 kilometers there's a little downhill section and to my surprise I manage to exploit that by doing a 4:30 min/km pace for a while so my average is suddenly down to just 4:53 min/km total. A lot can still happen, though.
🔂 Lap 2/2
The event staff here decided it would be easier to have the full marathon route consist of two half marathon laps, which is fine by me. After just over 20 kilometers, us distance runners are diverted around the finish line towards rejoining the same route of the first lap. Suddenly it's all very quiet. Of the 8,200 athletes, just us 300 are still on this route and with my current pace I'm in no man's land. Alone.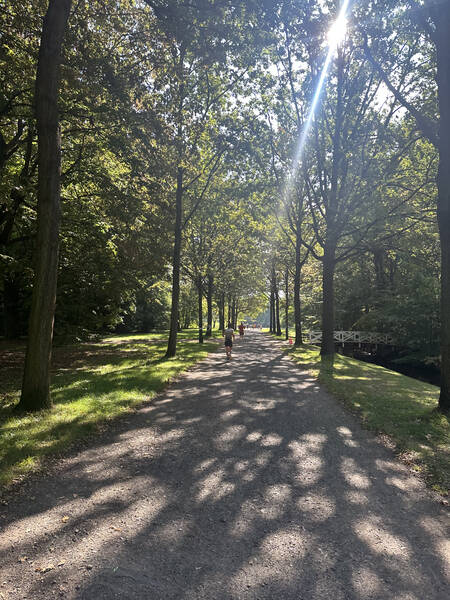 Just when I reach the halfway mark somewhere in a park, I see pace runners ahead! Those are the 3:30 hour finishing time people and I'm surprised. Over the next few minutes they act as magnets for me.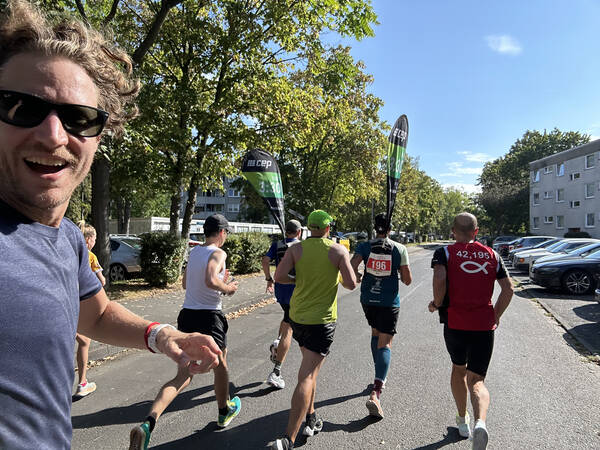 I'm so surprised I decide to play it safe now and keep staying with them for now.
The aid station situation isn't as great as yesterday with all the Vitacola, there's mainly just water and a type of electrolyte drink which tastes like it has reduced calories. That's not what you want. Carbs are key at a race like that. So I have to keep drinking a lot of that stuff. The heat is also turning up now, which makes me throw lots of water on my head at the aid stations to cool down. This is a feeling I really love, honestly. Running in the heat and throwing cold water on my head. I'm weird that way.
For the next 5k I stay with the 3:30h pacers. One of them has a bit of a problem with his flag so they slow down to fix it, which is when I pass them. The group isn't big, it's just a handful of people following them. I'm just slightly faster than them, but over the distance that adds up, naturally. And soon, there's a gap between me and the pacers. I'm on sub 3:30h course!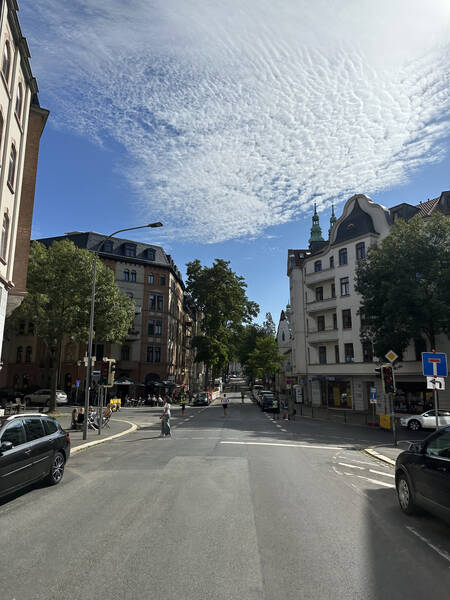 At 30 kilometers the heat is also right near the 30C mark. It's becoming a fight to keep the pace, but I have now decided to do so as long as I can. The downhills will start at about 38, so that's my next mental goal to focus on. Kassel actually is quite pretty in the sun, I realize! And nice crowds, too. I wonder where all the relay teams are, though. They must need some time to get through the full distance, as well. But it's getting really empty instead.
The downhill section is really fun. Not as fast as last time, but I enjoy the change in muscle groups a lot.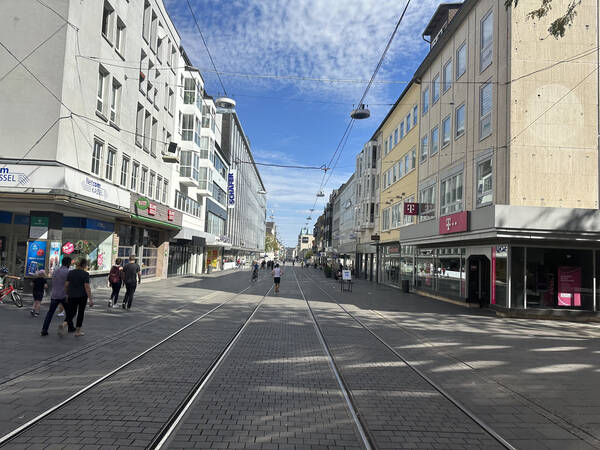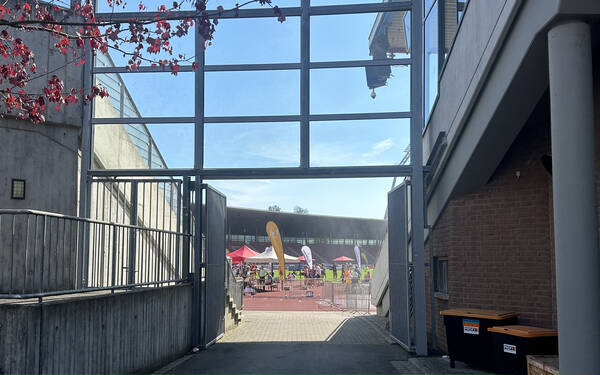 🏁 Finish Number 2
The MC greets me personally and notices I've got alliterative initials. Welcome back to Auestadion, he says. Thank you!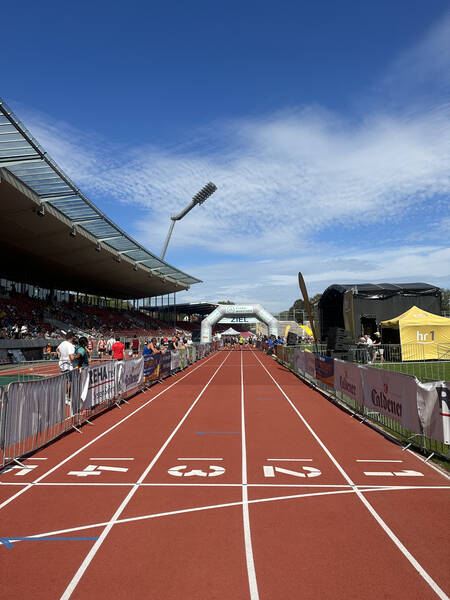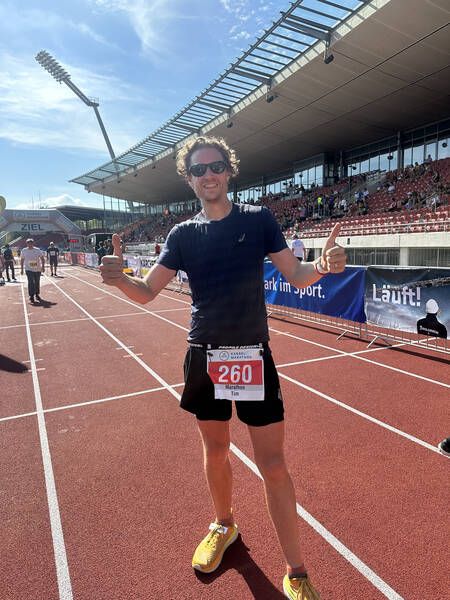 Always the best feeling. And my finishing time really puts the cherry on top. It's 3:26:51 hours, which I think is really great, especially considering I ran a marathon yesterday as well. A negative split over the two marathons, so to speak.
They have a firefighter hose installed which is constantly spraying cold water, so we can use this as a shower to cool down, and a volunteer also offers to put some cold water from sponges on my back – I take it all. The 30C really got me heated up.
A bit disappointing is the final aid station right here in the stadium. It's also just water and that weird electrolyte drink. I can't have any more of it. And unfortunately the half marathon people have downed all the available beer! That's a shame. I was looking forward to it so much, because it was supposed to be non-alcoholic wheat beer, my favorite. Fortunately, there are bananas. Anyways, nothing can make me sad now after this great weekend.
Even though I felt like my choice of shoes was a good one, I earned myself two new blisters today – but on these battered feet, they're barely even noticeable.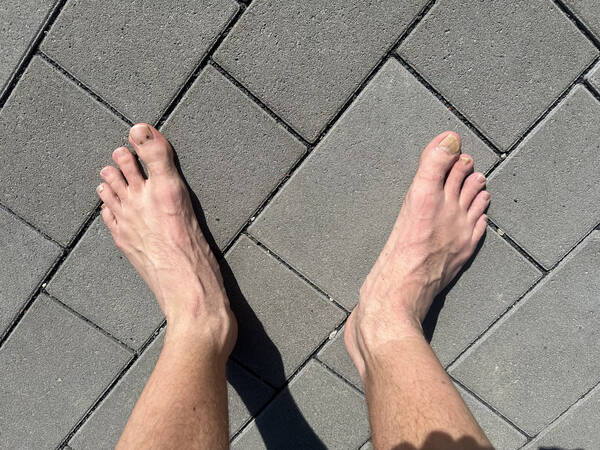 Just for those interested: I chose the fast Asics Novablast 3 shoes for Erfurt Marathon, and went with Hoka Mach 5's for Kassel, because those are more cushioned and their rocker construction makes for less impact on the joints. Using two different pairs of shoes did also help the feet not receive too much of the same stress. It went well enough.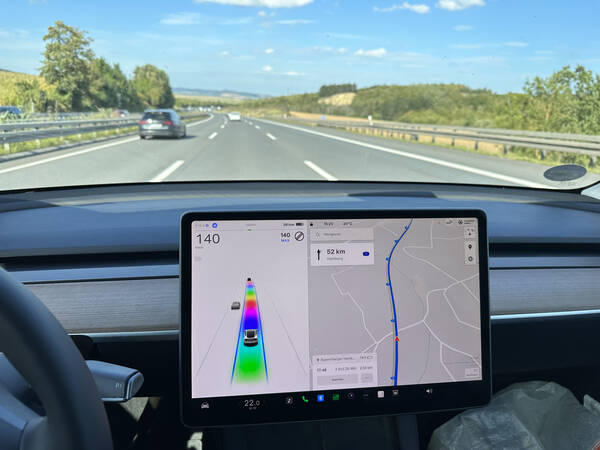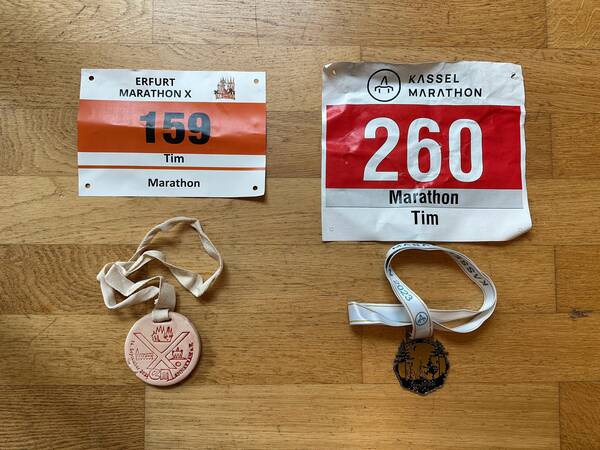 What a great weekend! I enjoyed the trip very much and if you've thought that doing two marathon races on two consecutive days is a bad idea, think again. If the chance presents itself to me in the future for another time, I'll most certainly take it. My marathon season is off to a great start and I'm looking forward to many more races before the end of the year, culminating in the November 5th New York City Marathon – a huge highlight for me.
Thanks for reading and have a great day!
How do you feel after reading this?
This helps me assess the quality of my writing and improve it.